Hodson Motors' Viper-Powered Jeep JRT10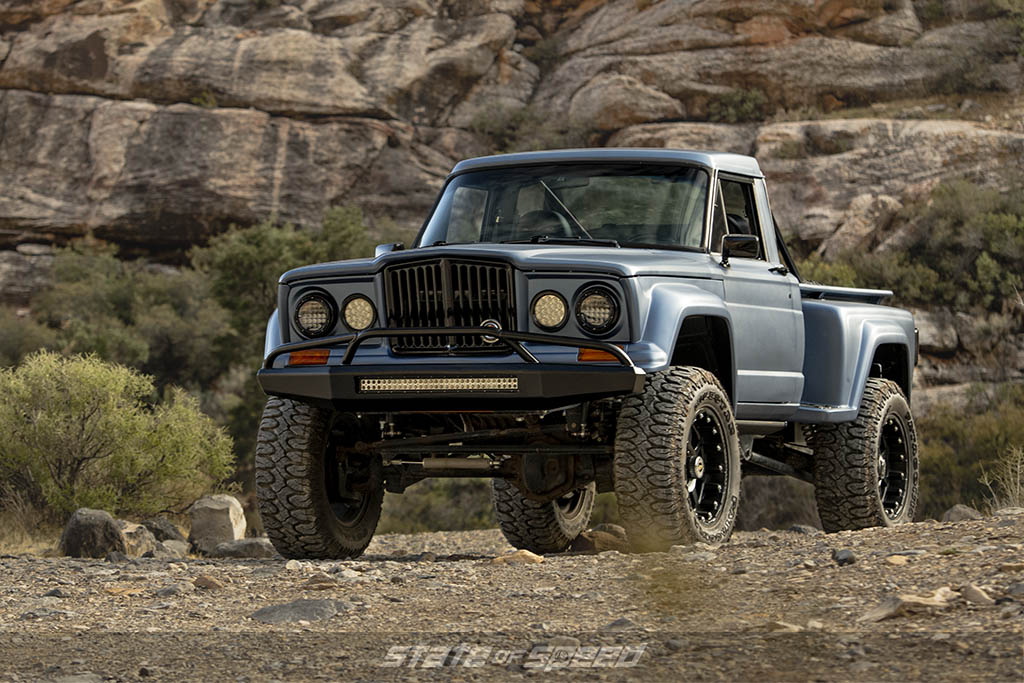 Lifted trucks, classic trucks, rare trucks—if you consider yourself a fan of either or all of these categories, then you've surely heard of Hodson Motors out of Las Vegas, NV. Derrick and his son Riley Hodson operate their modest shop in the middle of the desert that houses parts and pieces from some pretty not-often-seen medium duty pickups from the past. Crew cabs that you never even knew existed are there, as well the other key ingredients required to create their insanely cool one-off machines.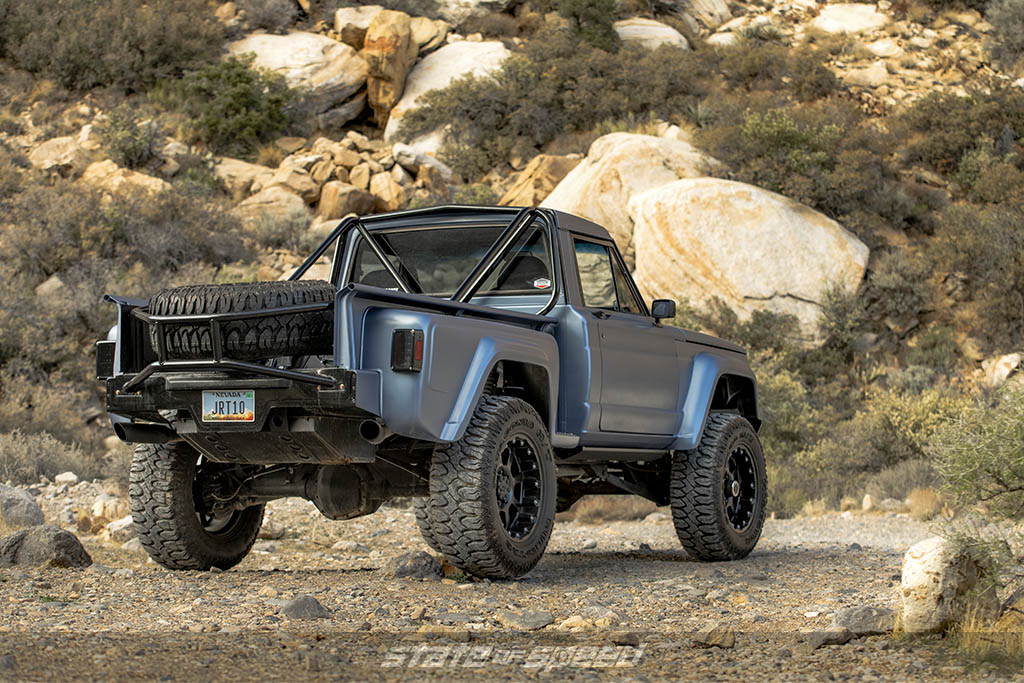 So the way Derrick and Riley operate is pretty simple—Derrick comes up with the grand ideas, and then brainstorms with Riley and lets him loose on figuring out how to make those ideas come to life. The guys have come to rely on a network of tightly knit shops to assist in their builds over the years, and in that time the Hodsons have amassed quite the personal truck collection, including this 1983 Jeep J10 that they affectionately call the JRT10. Derrick started on it seven years ago alongside local Las Vegas off-road fabricator, Cameron Chin, who owns and operates Nefarious Kustoms. Wanting to finally button up the build, they kept running with their vision of a rarely seen Jeep pickup model beefed up and customized to meet their specialized criteria. Also on the docket were a couple of imported tricks to make the J10 truly different from the rest.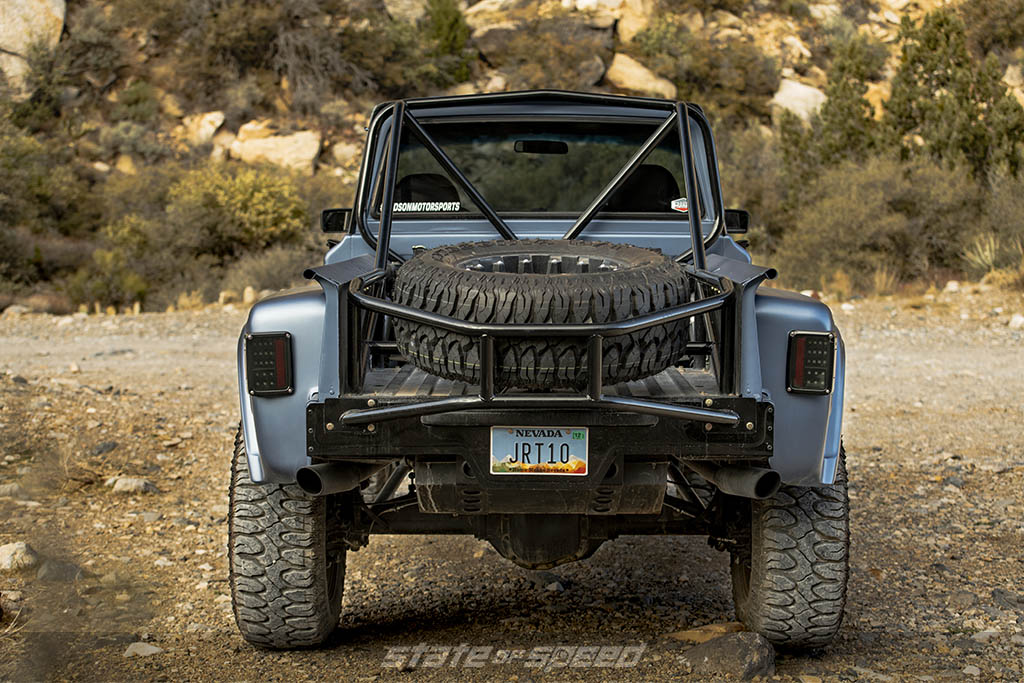 In the end, the time-consuming engine swap was well worth the effort just for the sake of saying that the Jeep now has an SRT-10 mill under the hood…
With an engine swap already in the stars for the Jeep, the guys narrowed the running down to a Viper SRT-10 engine. Yeah, that's quite the jump, and a little more in-depth than Riley had initially anticipated. "The install was complicated", he admits. "The firewall had to be chopped, and the radiator actually had to be relocated back to the bed if you can believe that. It just didn't fit in the engine bay, so we had to run stainless tubing for the water underneath the truck." In the end, the time-consuming engine swap was well worth the effort just for the sake of saying that the Jeep now has an SRT-10 mill under the hood—and, it lent a hand in creating a pretty catchy nickname for the truck.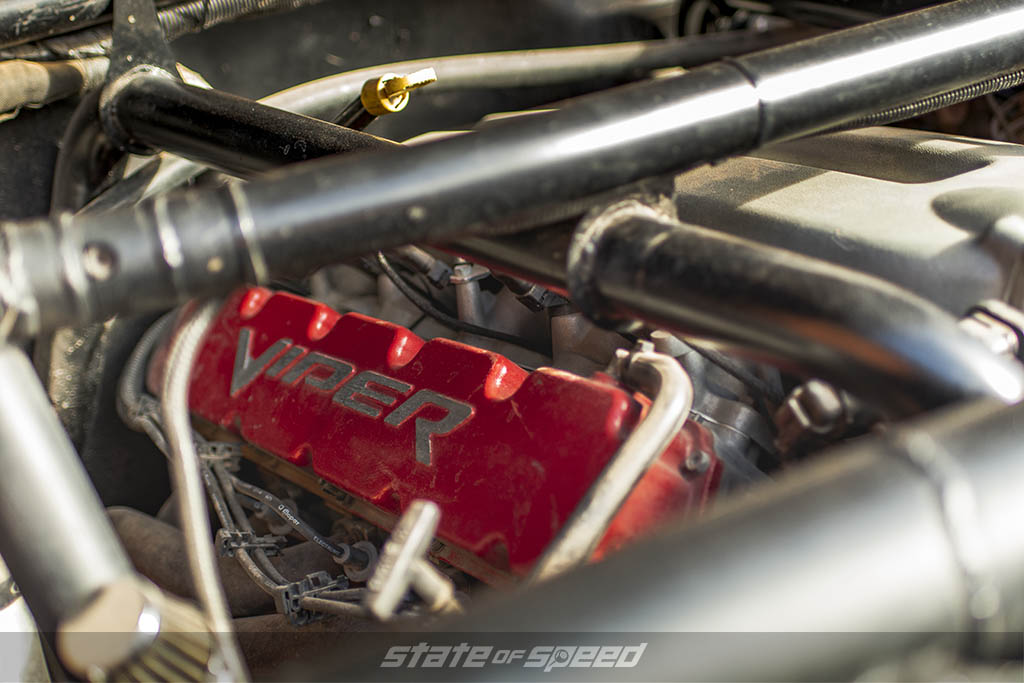 Since the Hodsons have been building cool trucks on a more frequent basis over the past six years or so, they've whipped up their own winning recipe that is applied to all of their projects, which always includes a killer suspension setup. The Jeep now sits on a full front and rear 4-link suspension system complete with a caged rear frame and Radflo long travel remote reservoir coilovers, so you just know this thing rides comfortably—even on the rough stuff.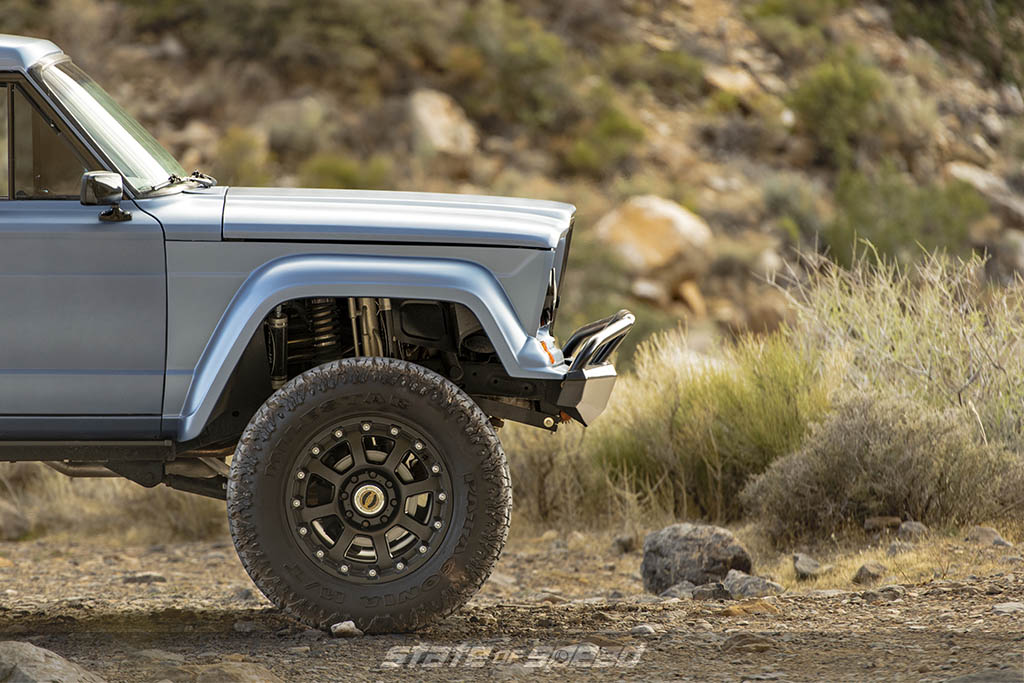 With the all-around lifted ride height, a healthy set of rubber could be thrown into the mix without any clearance issues. 37-inch Milestar Patagonia M/T tires were selected for their tried and true all-terrain exploration capabilities. While tires of this stature are commonplace in the lifted truck scene, so is the use of stock fenders, unfortunately. Hodson Motors has come to appreciate the importance of keeping proportion in mind when incorporating large tires, and to do that they like to go with larger fenders to keep up. To give the JRT10 correct proportional balance, AutoFab wide body fenders were utilized up front while the bedsides were widened six inches with fresh three-inch wider rear fenders to boot. Now, give the truck another look. All that extra bodywork makes much more sense when understanding the method to their madness.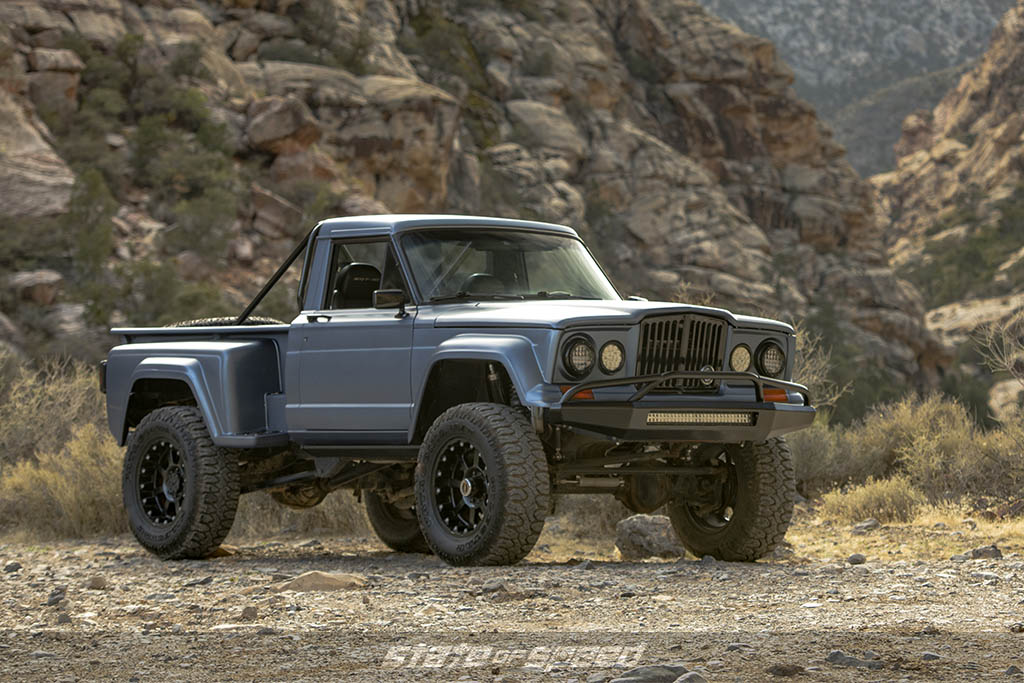 With the truck getting closer to paint, the guys started debating what color to have it sprayed. A specific Lamborghini color caught their eye, but it turns out they don't typically release the actual codes to their paint—go figure. Instead, Matthew Miller of Nefarious Kustoms had to trust his eyeballs to match up an opal blue metallic pearl color that came pretty damn close to the Lambo shade. He then sealed it up with an eggshell matte clear coat, and blacked out all the exterior trim for good measure. The original front end was swapped out with a Gladiator Rhino grille conversion, and new LED lighting was wired up for updated looks and increased nighttime visibility.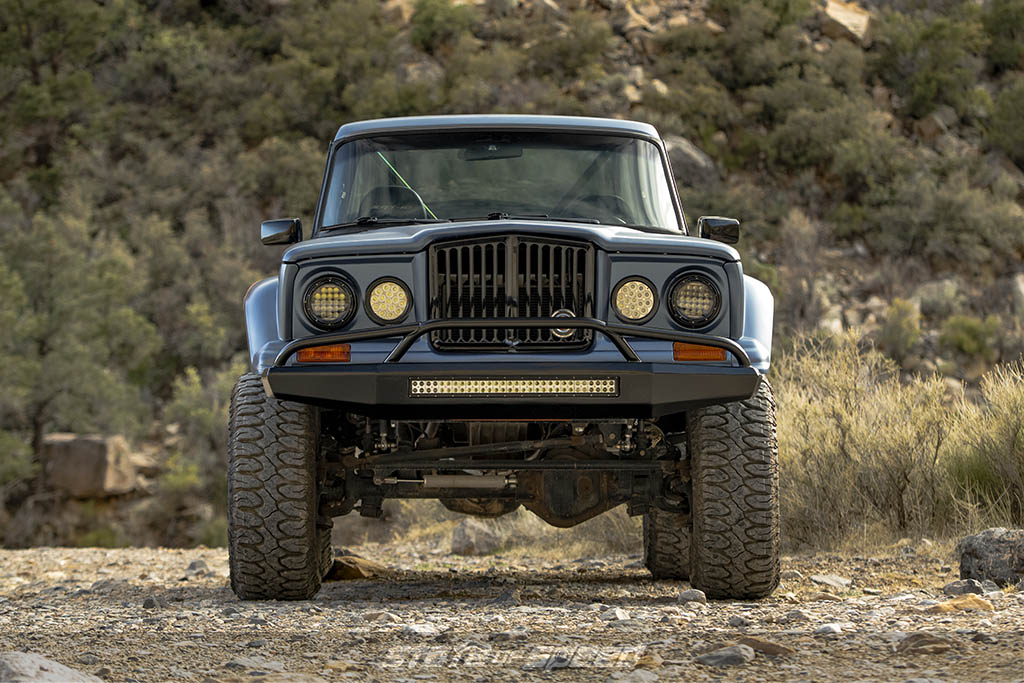 Other items that were scavenged from the SRT-10 donor were the black suede power bucket seats and dash cluster, which look right at home inside the Jeep. "All of our builds also feature what I usually refer to as creature comforts", Riley adds. "These are just the common modern amenities such as power locks and windows, and air conditioning—all those little things that we enjoy in our daily drivers should be included in custom classic builds as well." With the added Bluetooth stereo system, push button start, leather-wrapped steering wheel and dash, and a whole lot more, the cab space feels much more plush than one might expect from the Jeep at first glance.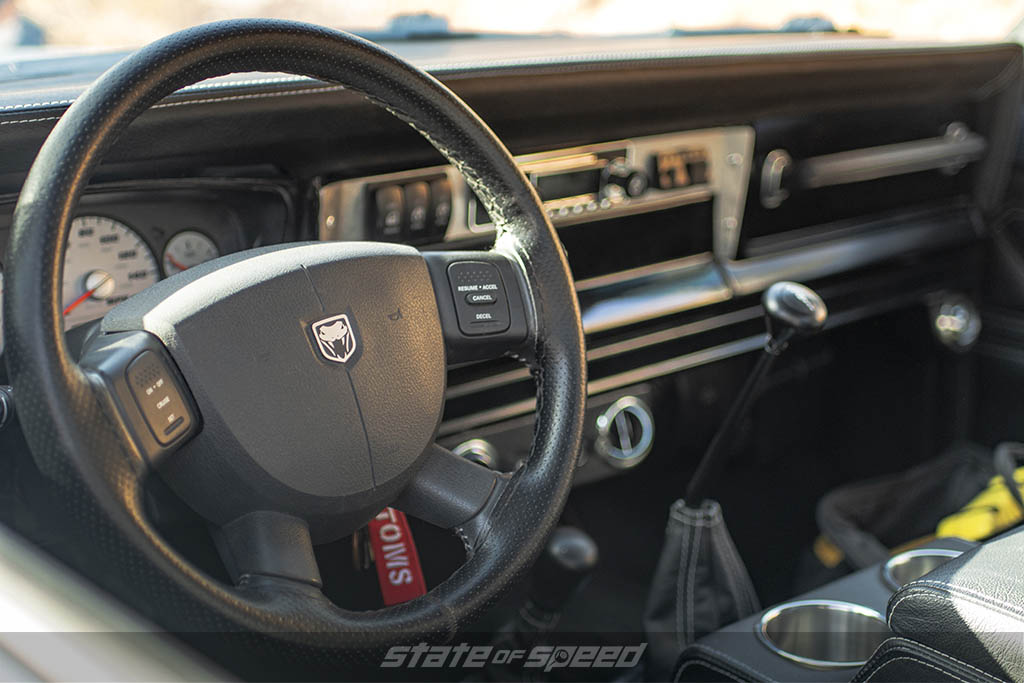 While the JRT-10 is a permanent part of the Hodson Motors collection, it does serve as a representation of what type of truck Derrick and Riley enjoy building and driving. If their custom trucks are good enough to make them happy, it's a safe bet the ones they create for their customers will be finished off even better. If you're looking to check out some crazy off-road rigs that perform just as good as they look, Hodson will surely scratch the itch of the uncommon utility truck fanatic.