Evil 1956 Jeep Willys:
The Ultimate Off-Road Adventurer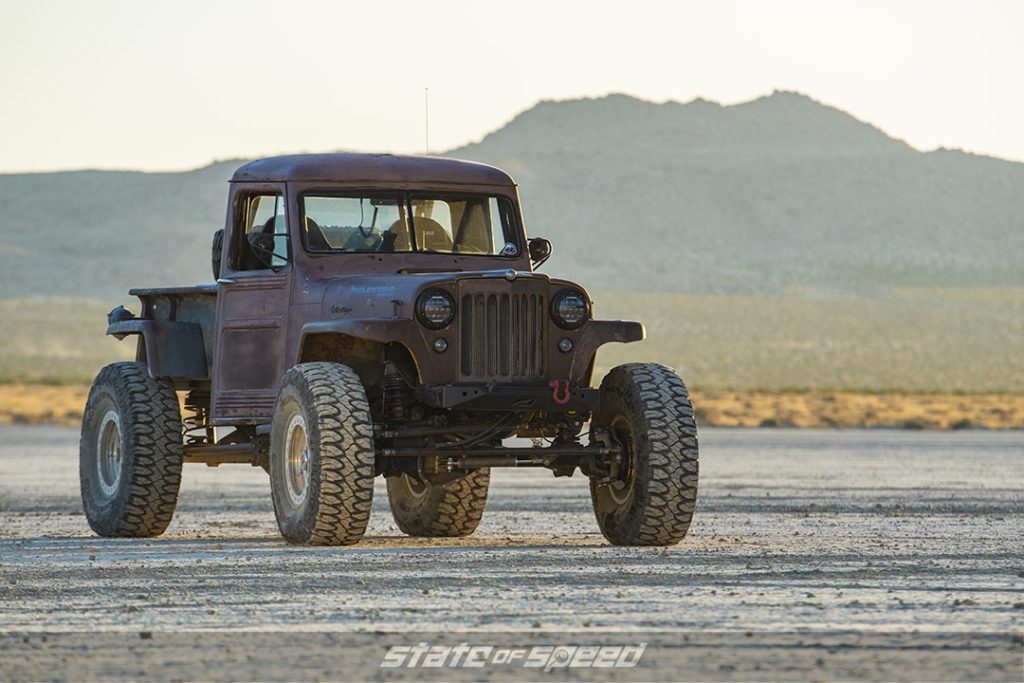 There comes a time in one's life when "fitting in" takes a back seat to being unique and truly different than the rest of the pack. Pat Soffe (@offpvmt) of St. George, Utah found himself in this exact category while figuring out what vehicle to build. His major prerequisite was one that could keep up with his off-roading, rock crawling habits—but that all changed before he even began.
…

Just make sure to measure the height of the door before you get started though

…
As the sun started to set on Pat's time with his 2001 Jeep XJ, he began weighing the pros and cons of building a newer Jeep—a JL. Unfortunately, the cons quickly posed a very real sign to go into a different direction. "The first deterrent of building a new JL was the price of a new JL", Pat admits. "Purchasing a brand new stock condition vehicle that would need so much additional money invested to match the capabilities of our old Jeep was just too cost prohibitive."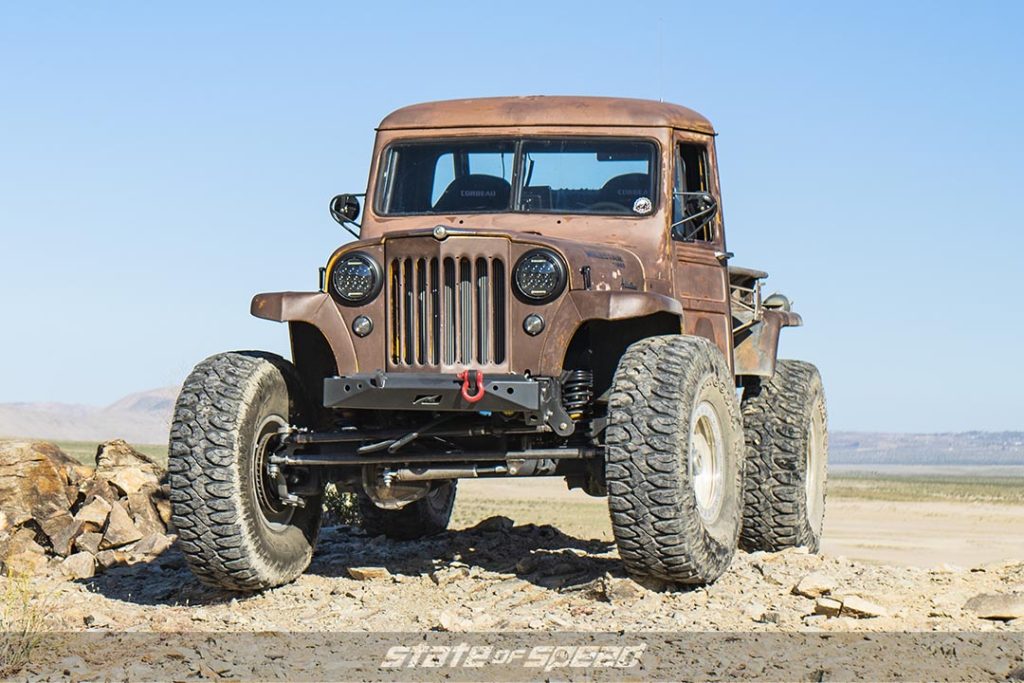 With the towering monetary barrier causing Pat to find another way forward, he began scouring the used JL market, but was soon hit by another block in the path. "We took our old XJ to three JP Magazine Dirt & Drive events among other meets throughout the years, and something that kept telling us to stray away from going with a Jeep JL was that literally EVERYBODY else had a JL. I wanted something that would get noticed and stand out."

While Pat still didn't know exactly what kind of rig to build next, he did start watching past Four Wheeler magazine's Ultimate Adventure videos in hopes to find nudge in a certain direction. "I was going through hours of coverage to get some bit of inspiration, and then there it was", Pat says excitedly. The vehicle he spotted was a 1949 Willys truck, and it belonged to JP Magazine's own Verne Simons. "I was instantly hooked. I soon found myself literally taking screen shots of as many photos as possible of Verne's truck. As luck would have it, I had a chance meeting with Verne at the Lucas Oils Off Road Expo in Pomona, California. It was that exact moment that solidified my decision to build a 1956 Jeep Willys truck."
With the big picture crystal clear in his mind, Pat soon embarked on his own Willy's build—starting with a 1997 Jeep TJ frame. "We literally started with a blank slate", he says. "The humble beginning allowed for the build process to move ahead rather simply." First, that TJ chassis was stretched at the top of the rear axle rise and extended 42 inches to provide a proper place to mount the bed, as well as obtain a 118-inch wheelbase. The front Dodge Dana 60 Kingpin and the rear GM 14-bolt axles were then built up before the custom front 3-link Skyjacker suspension setup, as well as a rear 4-link system that both feature TJ 2.5-inch dual rate springs and ADX reservoir shocks were assembled.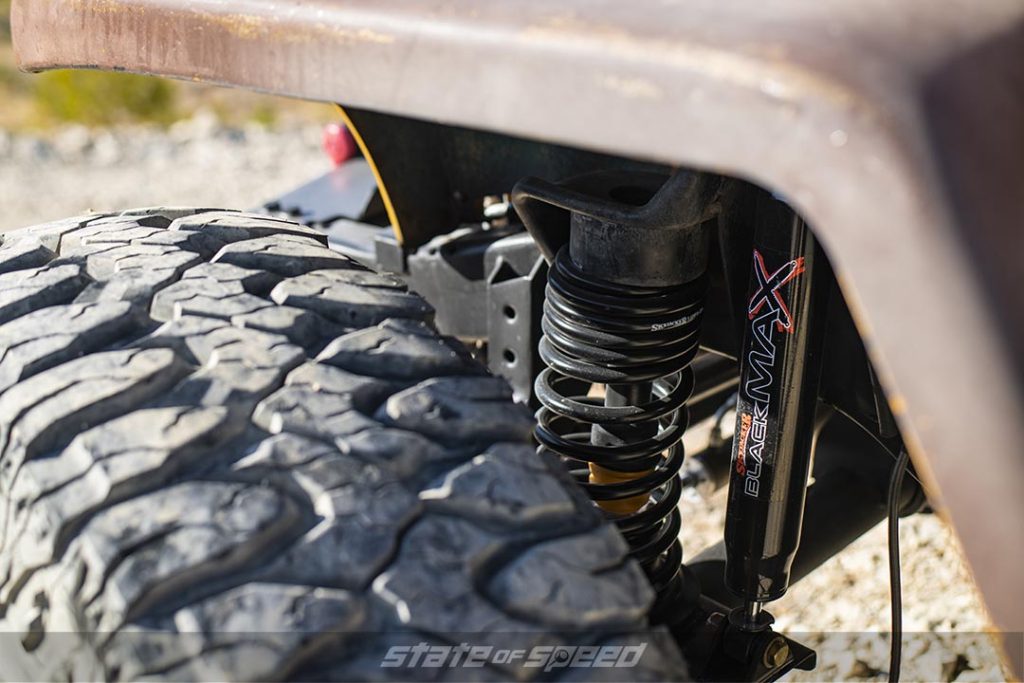 To handle the terrain shredding, rock climbing duties Pat was after, he selected a set of TR Beadlock HD17 wheels and 40×17-inch Milestar Patagonia tires that are well known for their established prowess out in the wild. So far, Pat's Willys project was showing some real promise while on the ground floor. Next, he would begin the process of finding an adequate power source to fuel the level of adventure he had in mind for his soon-to-be assembled pickup.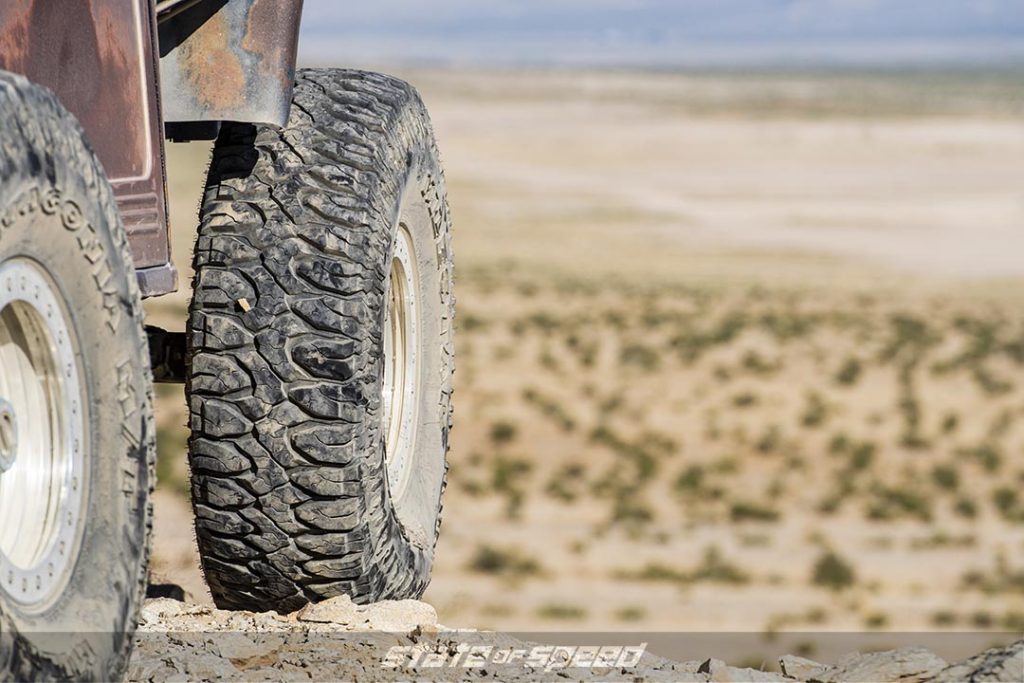 Pat could've run with many different engine options but he ultimately chose a 2002 GM 5.3L LS power plant, as well as a Monster TH400 transmission to propel his truck through the elements. The LS provided modern reliability, as well as more than enough horsepower and torque to get him out into the great wide open and back home again. To keep the engine cool even during the hottest day in the desert, a Champion 3-row aluminum radiator with a Spal fan was selected, which is actually a Jeep CJ V-8 conversion that fit the bill perfectly.
…

The first deterrent of building a new JL was the price of a new JL

…
Now as far as the '56 Jeep Willys truck cab, front end and bed, Pat didn't do a whole lot to prep it for installation onto the frame. The natural 66-year-old patina, which is impossible to duplicate otherwise, was left in place as a nod to the experience this truck has seen in action. Pat did include many new conveniences to the Willy façade in the way of a front and rear bumpers, a Warn winch and a whole arsenal of Rigid LED lighting, which is required equipment for the environment Pat tends to frequent.
Next, the interior space within the cab was completely Raptor lined before it was outfitted with a set of Corbeau Baja XP seats, light gauge sheetmetal door panels and aircraft style toggle switches. The Willys' cabin is comfortable enough to allow Pat to navigate his truck through some pretty rugged terrain without feeling like he was roughed up too badly at the end of the day.
Now that we see a physical manifestation of Pat's latest rig build, the many questions regarding the 'how's' and 'where's' behind the project begin to surface. While he does have some fabricating experience, he didn't put the truck together at a professional shop. "This truck was built in its entirety in a two-car garage", he says proudly. "While I did have some know-how to go on, not so much with our old XJ, which was put together with mostly off-the-shelf parts, I never put together anything of this magnitude before."

Once the dust settled, Pat begin to look right where he started to prove that his creation was ready to take on the Ultimate Adventure—the very event that gave him the inspiration to put the truck together in the first place. While he was told that the unique and not-often-seen trucks are usually selected to participate in the event, his truck was not chosen the first time he applied. He did, however, get in on it the next year. "It truly was an adventure of a lifetime", he states. "During the entire 6 days of the event, we only encountered two problems—a rock hole in the trans pan and a shorted wire in the ignition switch. It was great to see how it performed in the event that ultimately pushed me to build it."
Pat did share with us that his first real trip in the truck (even before the whole Ultimate Adventure experience) was a rip through the famed Rubicon trail, which he completed in one day—14 hours. The truck was mostly untested at that point, but he just had to get out there and match his build up against the realest of proving grounds.

"I couldn't have made it to this point without seeing what Verne Simons did with his Willys truck first", Pat says with great pride. "Once I got started with my truck, I gathered a lot of support from some very awesome manufacturers. A huge THANKS goes out to Milestar Tires, Skyjacker Suspension, TR Beadlock Wheels, Motive Gear, Rigid Industries, PowerTank and Warn Industries. Here is proof that you too can build a legit rock crawler in a two-car garage. Just make sure to measure the height of the door before you get started though."