Formula Drift New Jersey
Formula Drift hosted their 100th round of competition at Wall Stadium Speedway in New Jersey and it was nothing short of exciting. With Round 4 being the midway point of the eight round series, spectators and live stream viewers alike are used to the carnage that "The Gauntlet" dishes out…and there was no shortage of it this year. Even the highly consistent "Norwegian Hammer" – Frederic Aasbo – collided with Forrest Wang and sent them both into the wall. 
Fans came out in full force to be a part of Formula Drift history with the first 100 fans in line receiving a special edition key chain. With tons of other giveaways in the paddocks, including used tires, few fans left disappointed. They came to the autograph sessions in droves with fenders, dashboards…literally whatever they could get their hands on.
Of course, no round of Formula Drift can be complete without the interactions between Jarrod DeAnda and the crowd. They connect with him in a more personal way, whether it's through their hilarious signage that he spots while announcing – see the "Deane For President shot as an example – or heeding to his calls for a giant "Wave" in The Great Eight. One spectator even managed to catch Jarrod's eye with a sign made to sell a used BMW!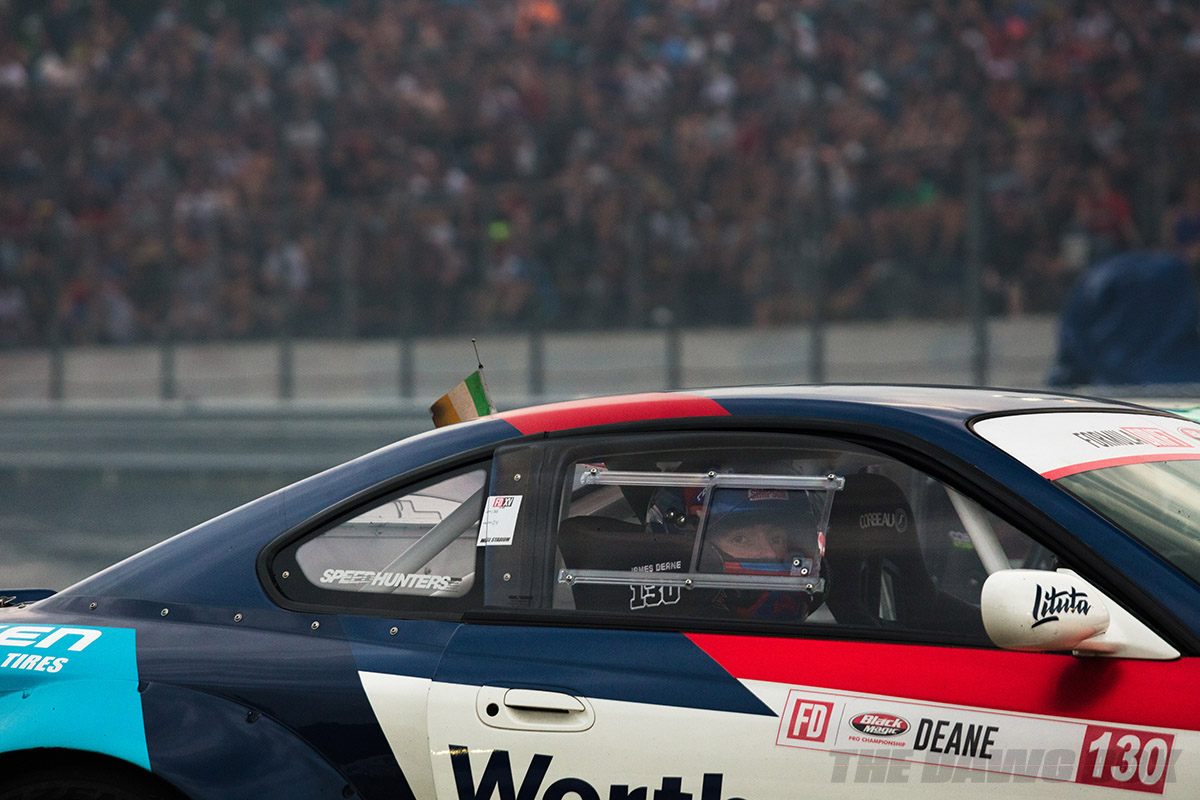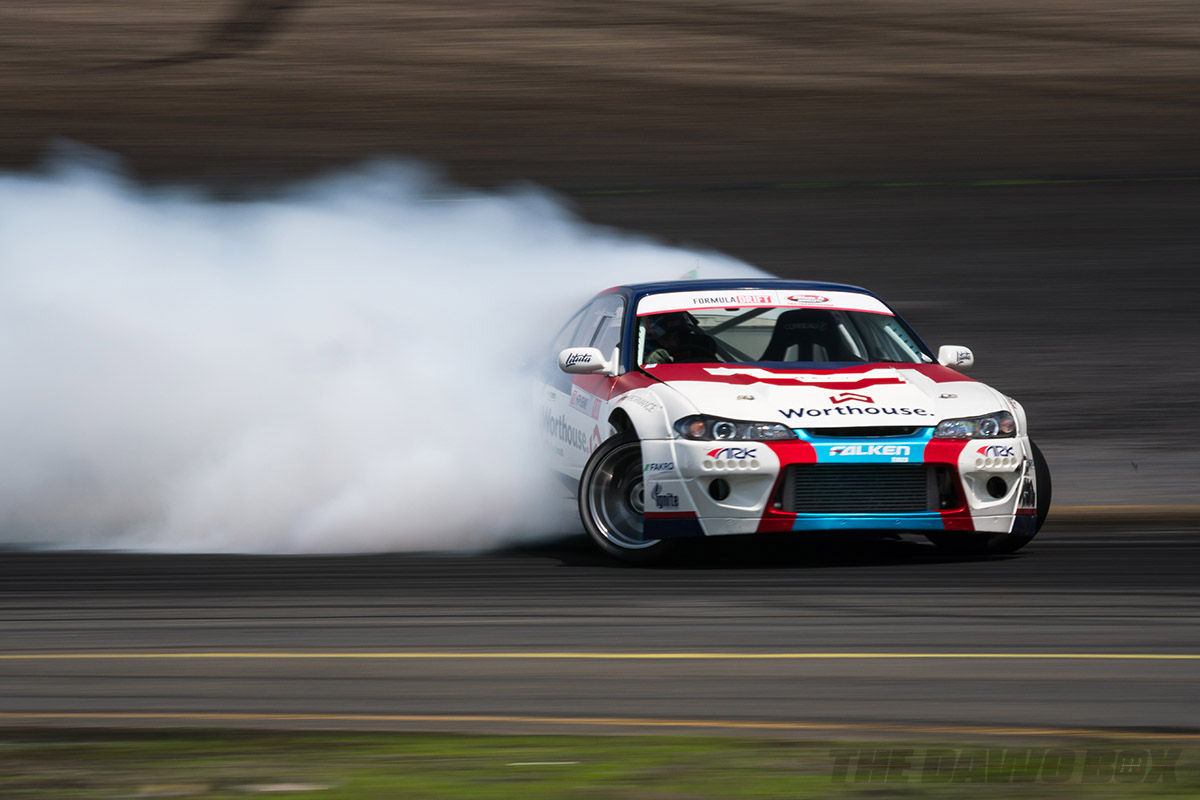 THE (NEVER ENDING?) HORSEPOWER DEBATE
As expected, there were some notable battles that took place. The Worthouse Drift Duo of James Deane and Piotr Wiecek were door-to-door in both their leads and chase runs, making everyone practically forget that they were even teammates. Another wild battle between rookie Matt Vankirk and veteran Jhonnattan Castro – a driver who's been making noticeable strides in the last few years – resulted in Vankirk getting the win, and bringing him into the Top 16 for the second time in his career as a pro driver.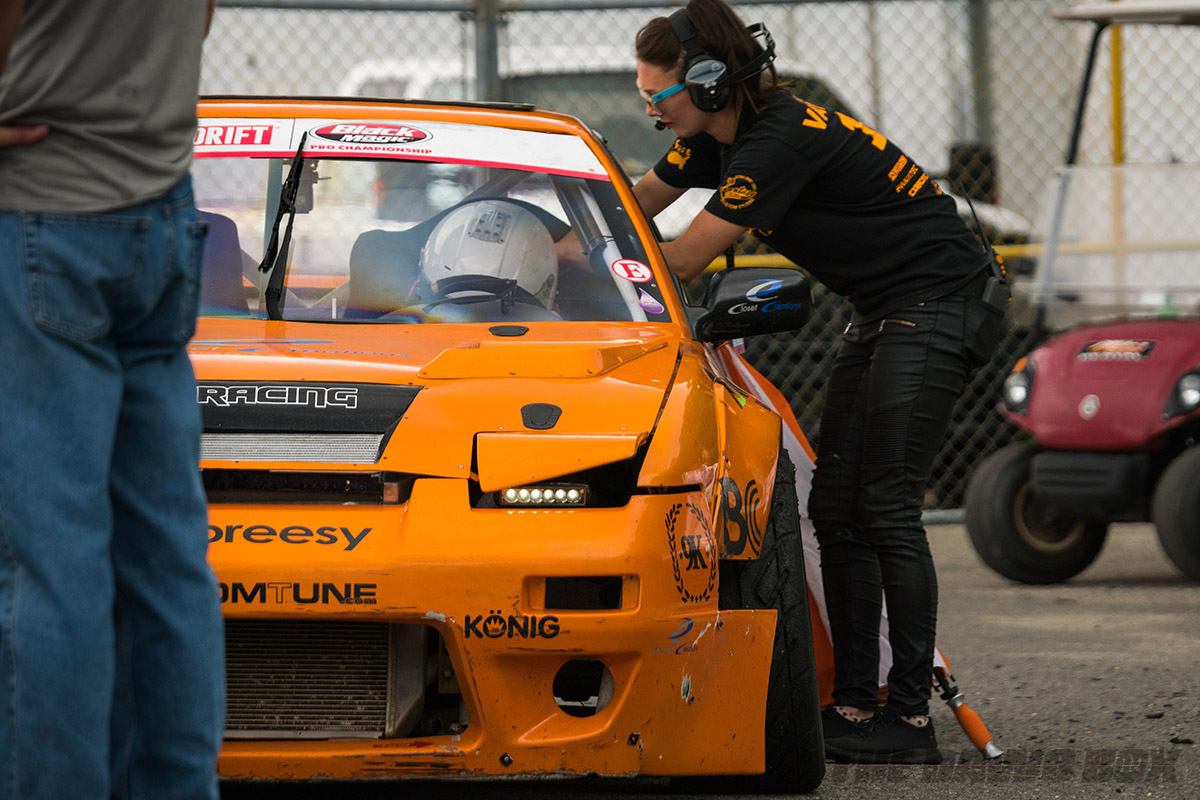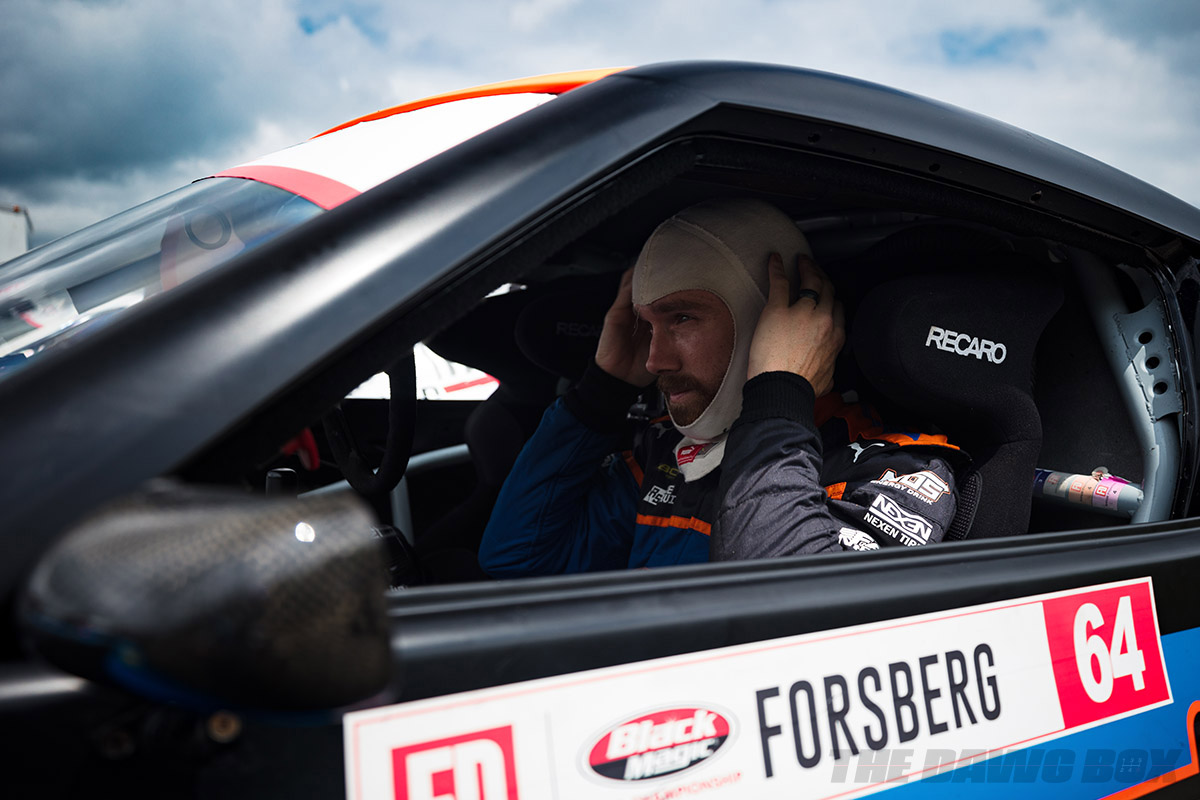 But Vankirk's win doesn't just improve his driver standings in the series, it also brings into question a topic of much debate: The necessity of super high-horsepower cars in Formula Drift. Do drivers like Chris Forsberg need such a technically advanced, 1000+ horsepower, twin-turbo, VQ-powered competition car that, so far, has had a slew of issues, when drivers like Vankirk can make it just as far with one of the lowest horse-powered engines in the series? Can Dean Kearney rely on a twin-turboed Viper if midway through the season he needs to use Forrest Wang's spare car just to stay in competition? For Forsberg, a current ranking of third overall and 39 points shy of points leader James Deane suggests otherwise. What's more is the return on investment for this new engine setup has the potential to be pretty high if Forsberg can clinch a fourth championship.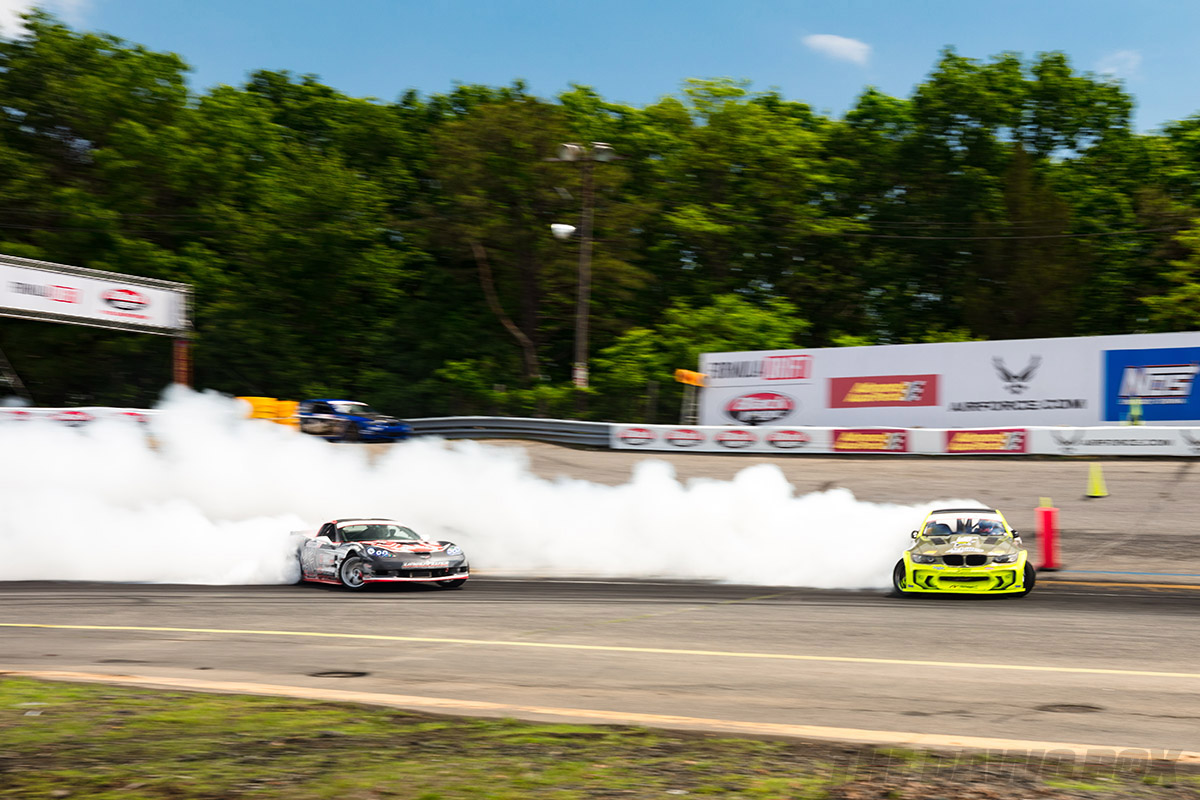 PROGRESSION OF FORMULA DRIFT
With the competition continually getting fiercer, and battles becoming more exciting at every round, it's difficult to ignore how Formula Drift has progressed as a whole over it's 15 year lifespan thus far. Along with the increased amount of coverage sources, advancements in drifting journalism from the Maximum Driftcast podcast in combination with Laurette Nicoll's improved on-site reporting has no doubt helped. Ryan Lanteigne's explanations of the more complicated judges' rulings definitely doesn't hurt either.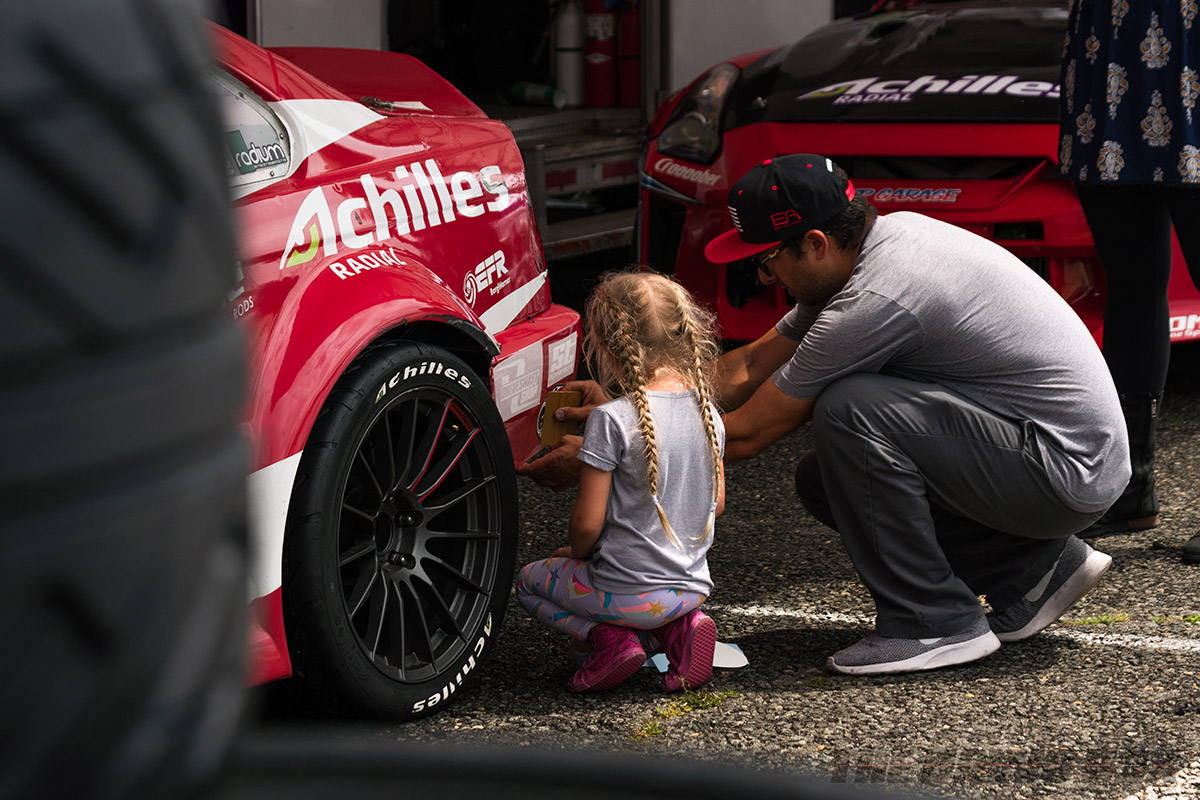 There's also no question that more teams in Formula Drift have had better budgets in recent years, resulting in more families on both the driver and spectator sides attending each round. Pros like Ryan Tuerck used to drive competition cars to each round by themselves with all the spares and tools they could fit in them. Now many drivers trailer their cars, and bring their family and friends with them too.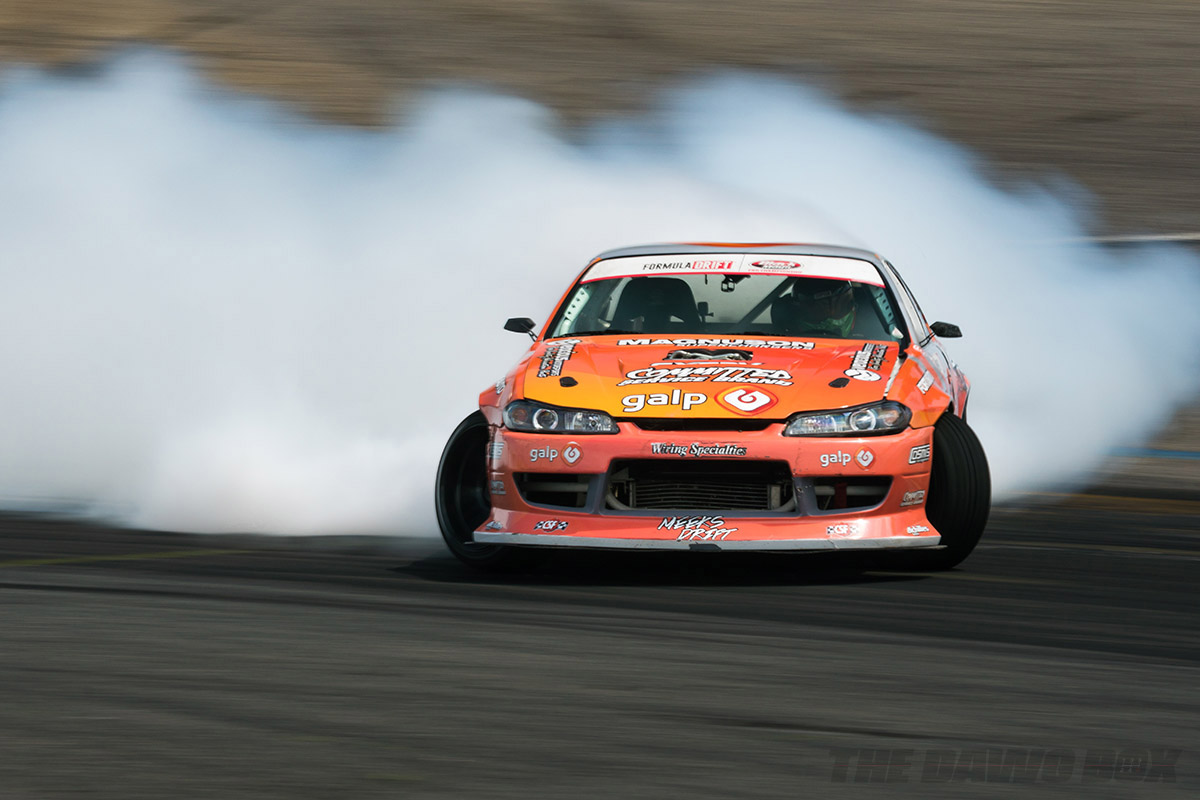 Although these are obvious statements, they are worth mentioning, not only for those who've only recently started following the series but also, as a benchmark for how the series will surely grow in the future. Here's to another 15 years!