And the Winner Is? 2JETZ
There isn't a car kid in America that doesn't know the name Hot Wheels (HW), heck, we've all stood on one of them with our bare feet. Back in 1968 when the line was launched, the first 16 cars were called the "Sweet Sixteen" and they supposedly reflected the prevailing trend in car design. They included Ed "Big Daddy" Roth's "Beatnik Bandit" and several mildly customized production cars.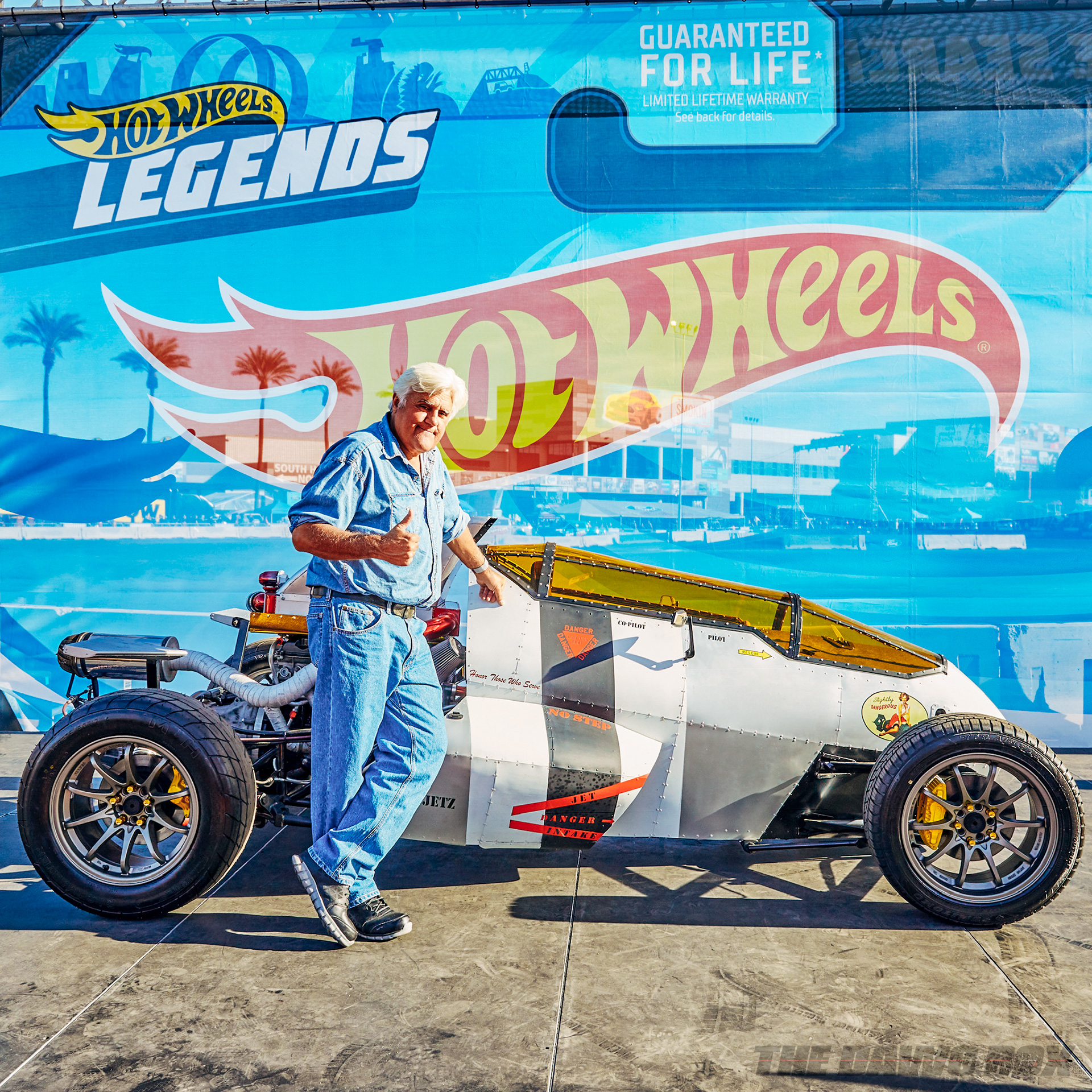 To celebrate their 50th anniversary, HW launched a nationwide search for the latest "Sweet 16" with the 2018 Legends Tour that began at HW HQ in El Segundo, California, and visited 14 Walmart stores across the U.S. in car-culture-centric cities such as Detroit. At each stop, judges that included members of the Hot Wheels design team, automotive influencers, and Walmart store managers cast their votes.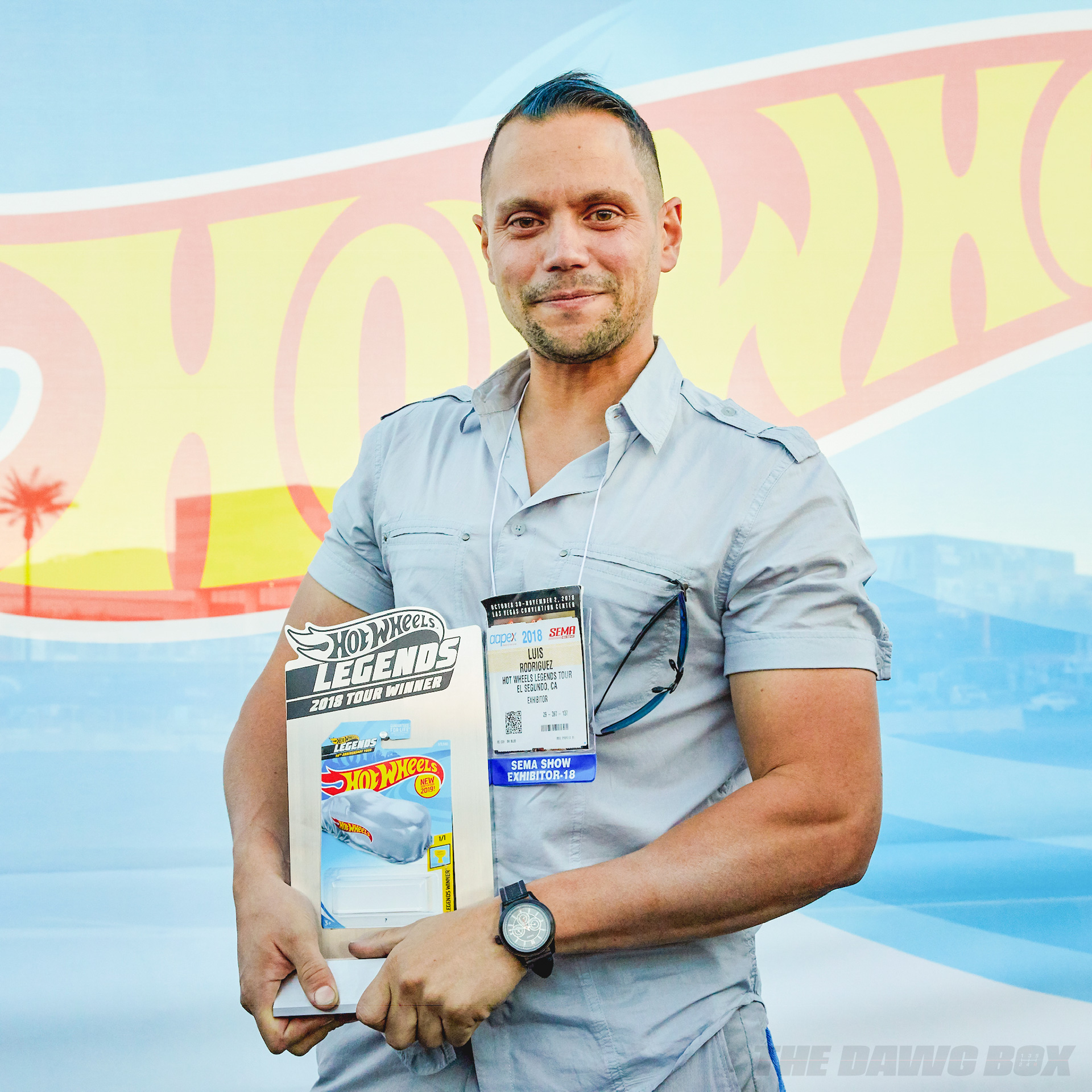 The winner from each stop won a trip to the 2018 SEMA Show where their car was displayed at the Hot Wheels Legends Pavilion. There, one car was chosen to be made into a die-cast and the ultimate winner was Luis Rodriguez' entirely home-built, aircraft-inspired 2JetZ.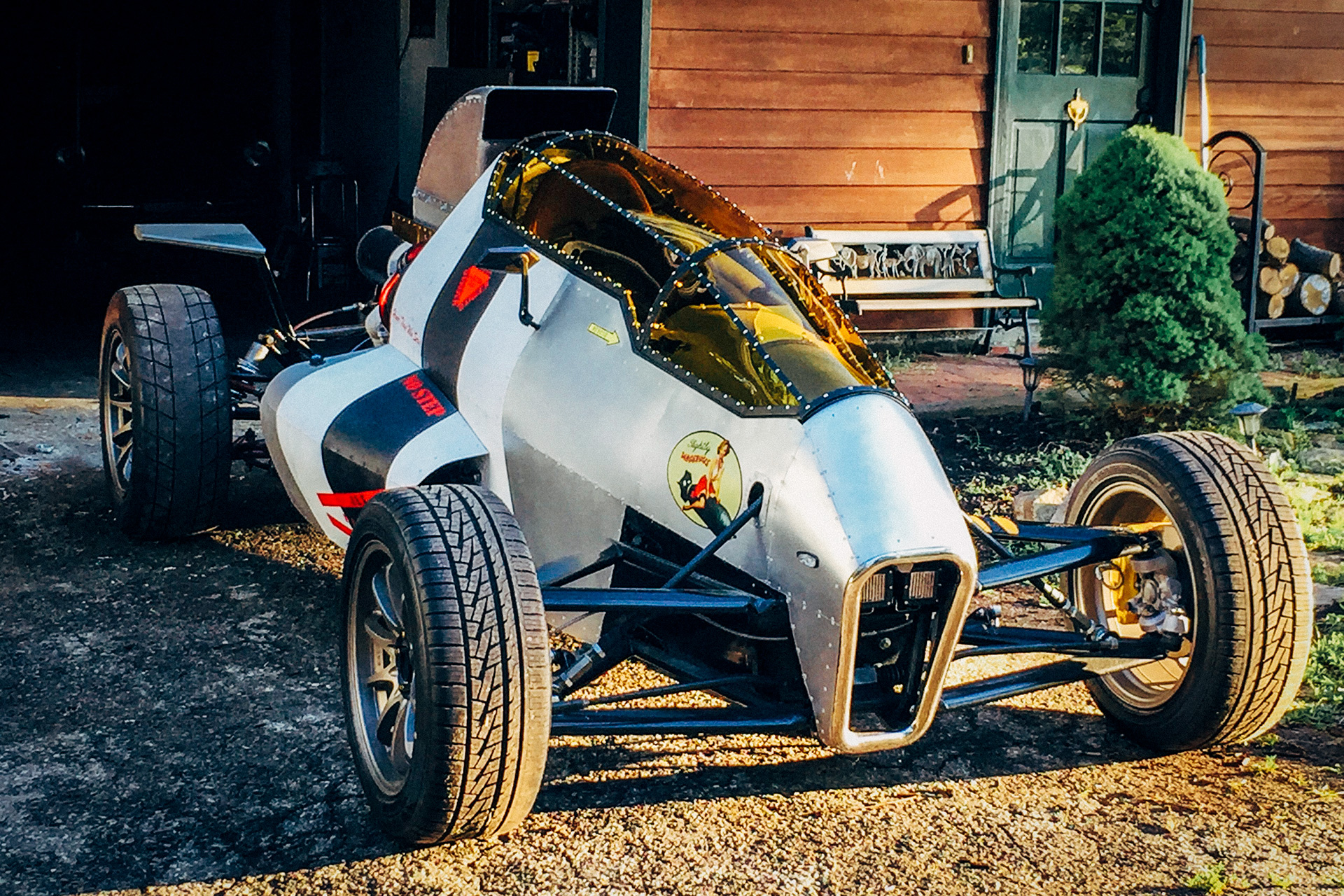 Airplanes have often provided the inspiration for automobile styling and designers such as GM's Harley Earl looked to the skies for inspiration. Earl was so enamored of the Lockheed P-38 fighter that little bumps fashioned after the plane's tail fins appeared for the first time on the rear fenders of 1948 Cadillacs. Those little bumps grew into the fins that we so fondly associate with fifties styling.
…a radical, mid-engine, Hemi-powered, open-wheeler with a fighter plane-style cockpit.
Luis Rodriguez of Hope, New Jersey was likewise inspired by jet planes and the land speed racers saying, "I came across a stunning conceptual design called 'The Face Peeler' by Dwayne Vance. I contacted Dwayne and with his permission, I adapted his artwork into something I could build."
Dwayne's concept, of which he also made a model, was a radical, mid-engine, Hemi-powered, open-wheeler with a fighter plane-style cockpit. It took Luis a year and a half to complete, working in a one-car garage where he fabricated a custom chassis using 4130 Chromoly tubing, a 1990 Nissan 300ZX donor car and a Toyota Supra in-line six, DOHC 2JZ-GTE engine.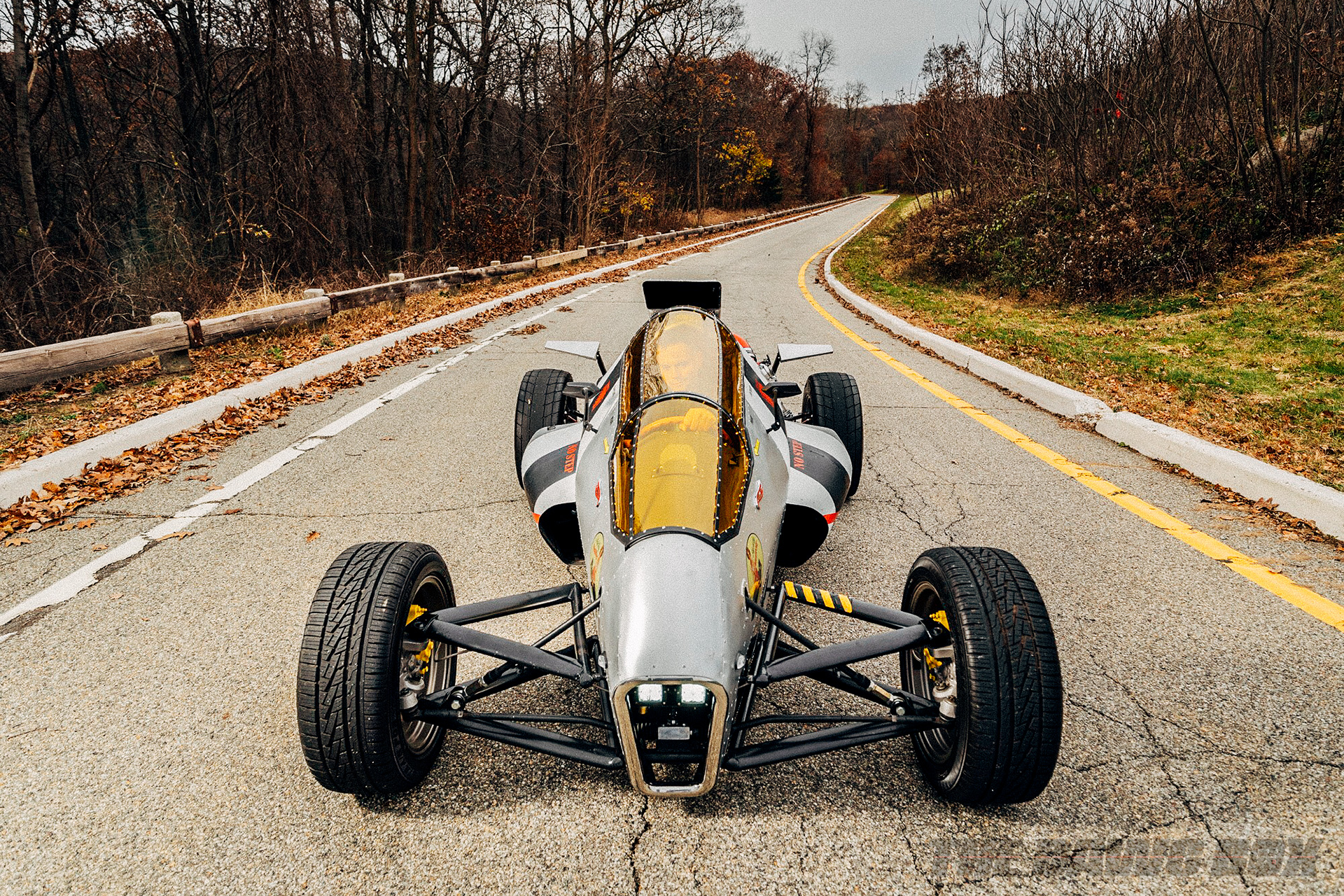 The engine, however, is far from stock having its iron block "shaved" to reduce weight and fitted with Wiseco pistons, adjustable Chromoly pushrods, BC cams with aluminum cam gears, Ferrea valves and BC valve springs, retainers, and locks. It also features an AEM V1 engine management system and boost controller, an HKS ignition, a Titan high-pressure oil pump, a GReddy Kevlar timing belt, and ARP fasteners.
Rather than the stock Supra twin-turbo set-up, Luis opted for one PTE 6262 turbo with a Nissan Q45 throttle body, a K&N filter, and a Tial water-cooled wastegate. Weighing in at only 1,650 pounds, the 2JetZ with 627 horsepower at high boost on 93-octane gas enjoys a very favorable power-to-weight ratio.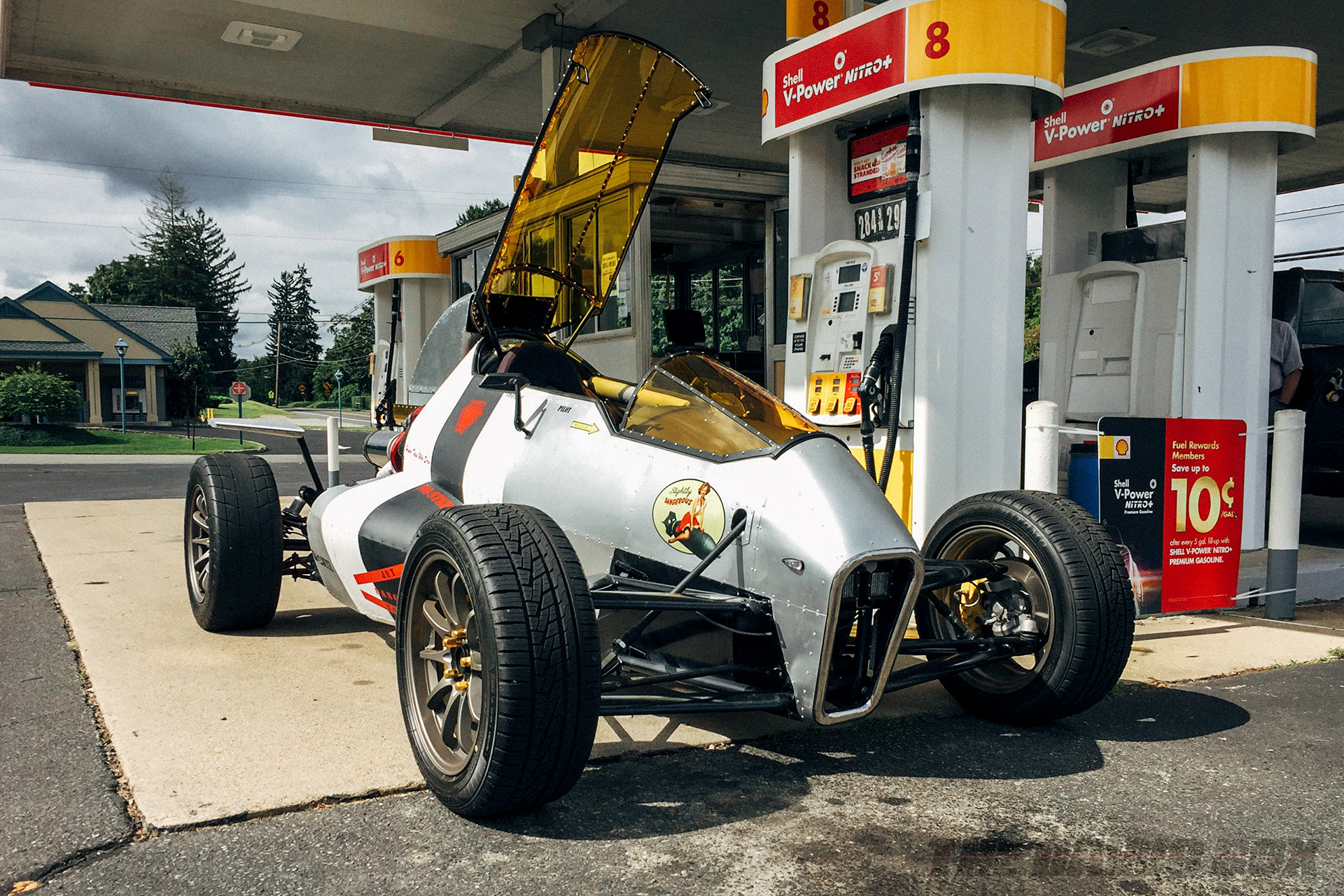 The drivetrain comprises a custom 1-inch aluminum adapter plate, a custom Fidanza flywheel, an ACT 6-puck clutch and ARP flywheel bolts. The gearbox is a six-speed Subaru STI unit converted into a transaxle with the rear output welded shut. It is fitted with a Quaife limited-slip assembly and Driveshaft Shop 1,000 HP axles.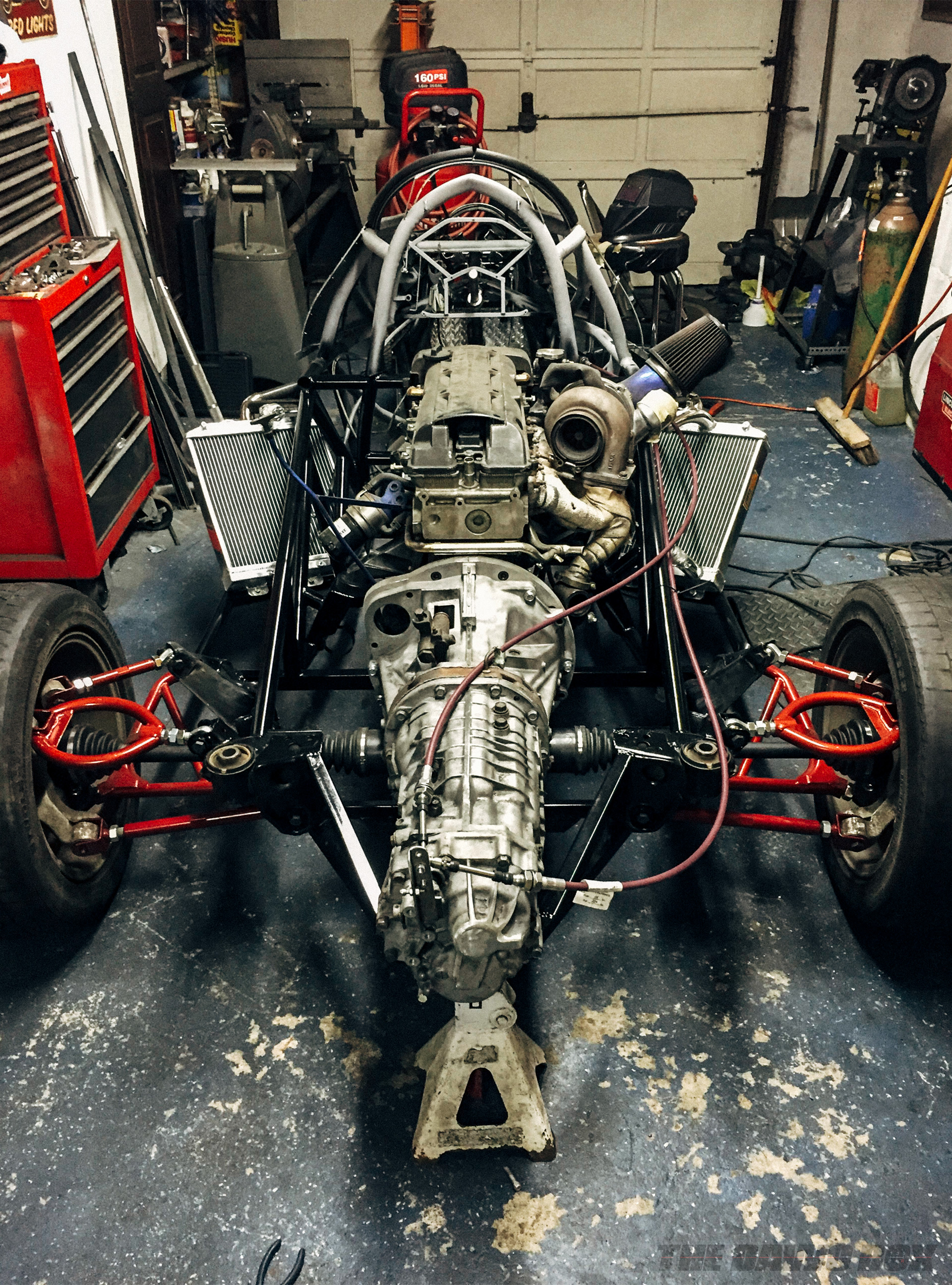 Keeping the monster cool is a pair of Honda Civic aluminum, three-row radiators mounted in the side pods assisted by Spal electric fans. Meanwhile, a custom 4 by 24-inch intercooler is mounted in the bottom of the scoop behind the cockpit.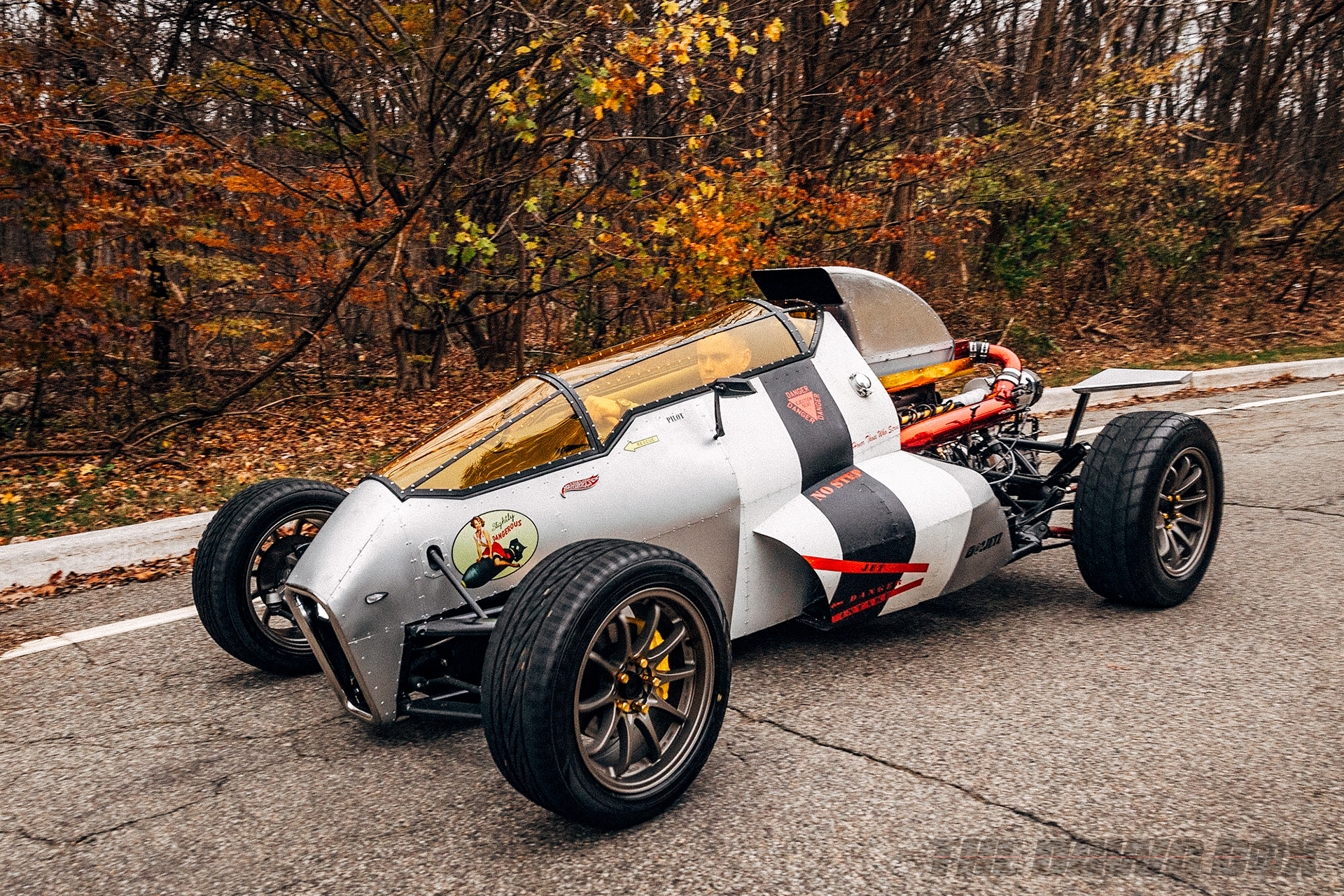 The exhaust was also ingeniously fabricated by Luis using 3-inch stainless steel tube, a Magnaflow muffler, and a "restaurant grade" stainless steamer basket that is cable operated from the throttle. It opens and closes as the throttle is activated and adjusts the pitch and tone of the exhaust. According to Luis, "It helps quiet the motor so that it's comfortable to drive until you hit the gas and it opens up."
Up front, there is race car-inspired cantilever suspension made from aero tubing angled forward at 30-degrees to increase downforce. Speedway coil-over shocks are mounted horizontally along the inside of the body.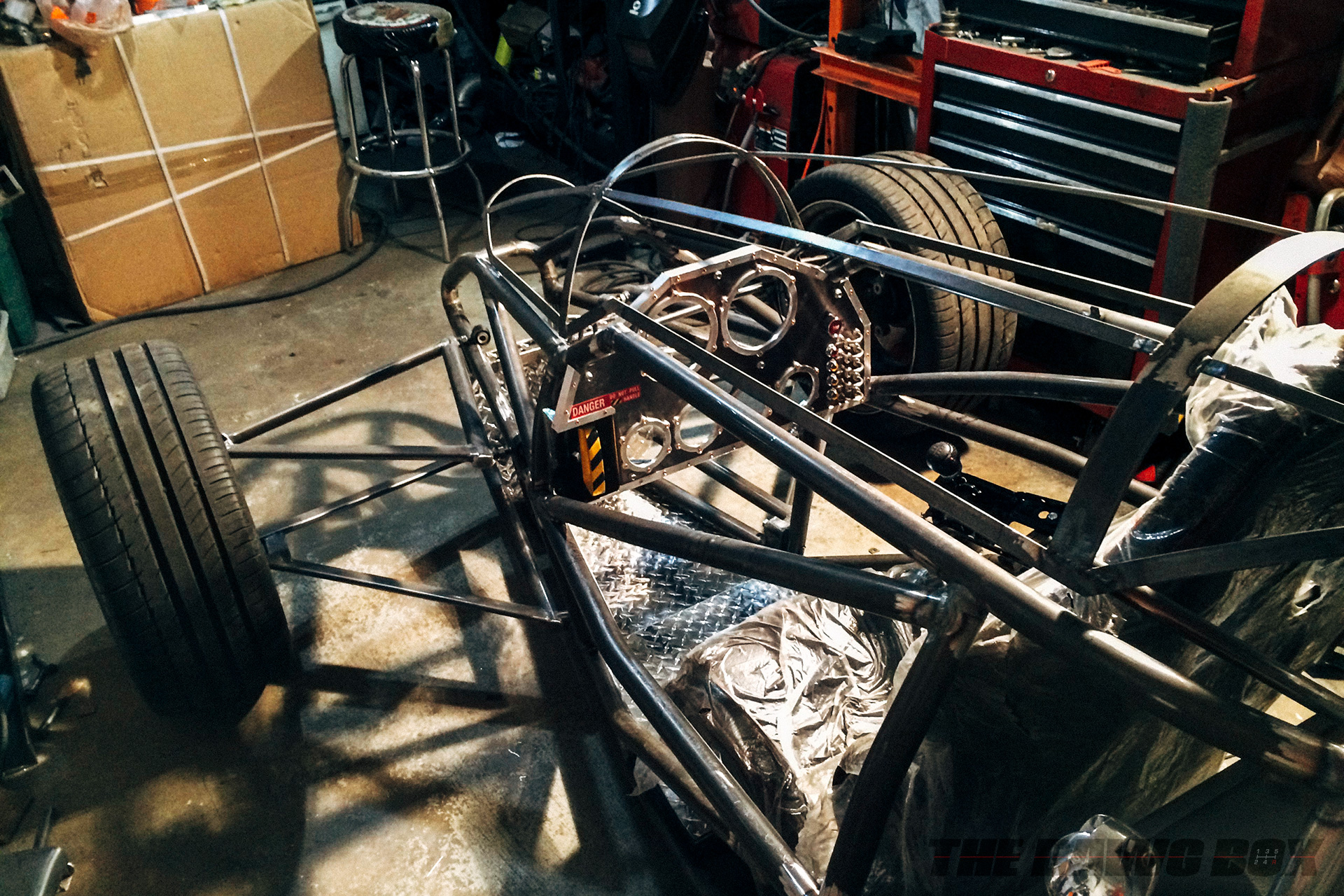 The braking is handled by more 300ZX take-offs including the aluminum hubs, calipers, master cylinder, and booster. It worked for Nissan. It works for Luis.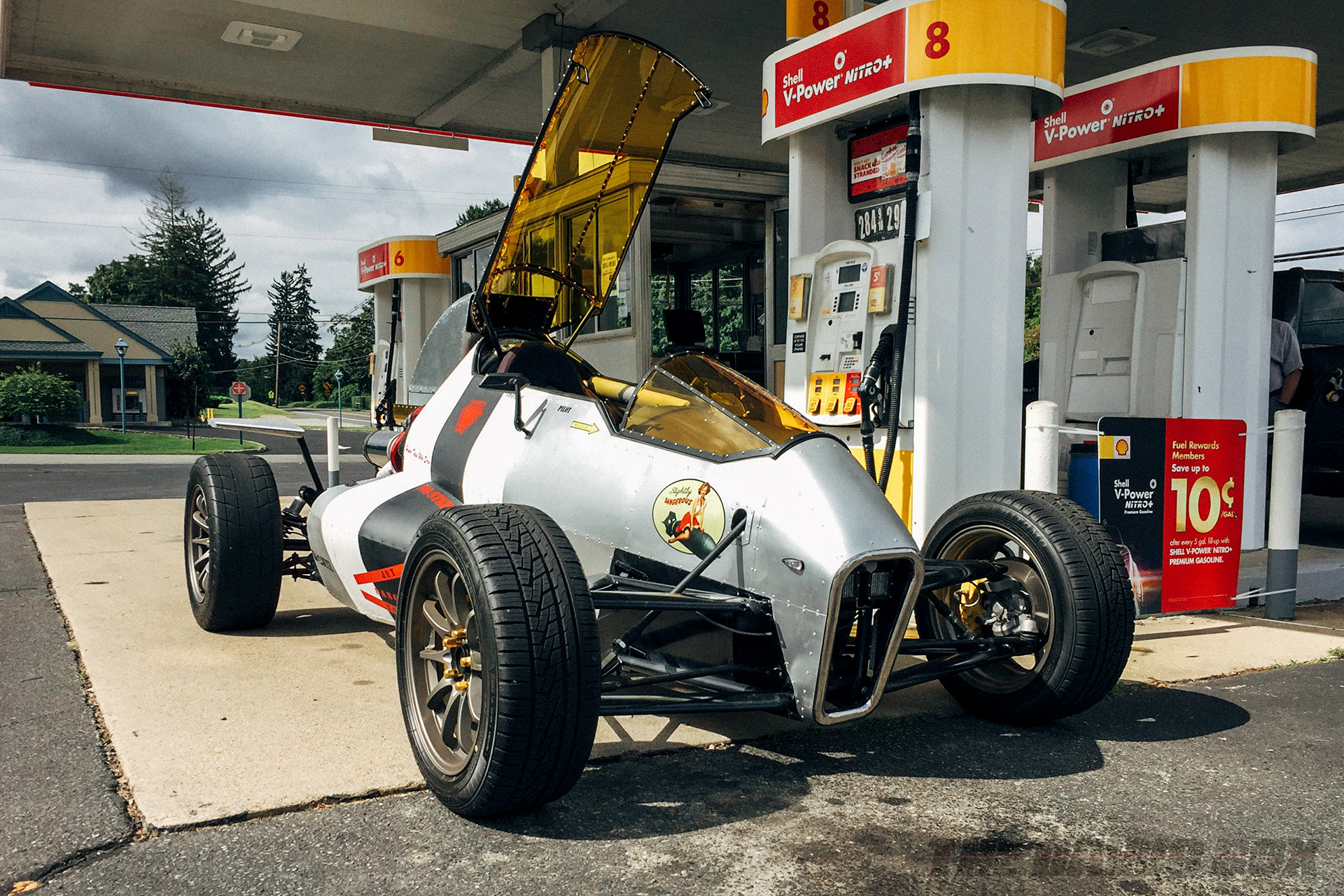 Luis hand-formed the fuselage using 6061 aluminum sheets attached to the sub-structure with 3,000 aluminum airplane rivets. The sectional canopy tilts up from the rear allowing ingress and egress and was likewise hand-formed using Lexan and features a remote, keyless entry system.
…it's comfortable to drive until you hit the gas and it opens up.
The steering is a narrowed dune buggy rack-and-pinion unit that connects to a collapsible column and a generic 14-inch, quick-release, wood-rim classic-style wheel. Other cockpit accouterments include a 300ZX pedal assembly, a Toyota MR2 shifter with an STI knob, and a generic race seat fitted with an RCi quick-release four-point harness. The heads-up instrumentation is from Autometer.
The front and rear wheels are 17-inch RAYS Volk Racing forged monoblock CE28Ns fitted with 255/45-17 Sumitomo tires up front and M&H 275/50-17 drag radials at the rear end.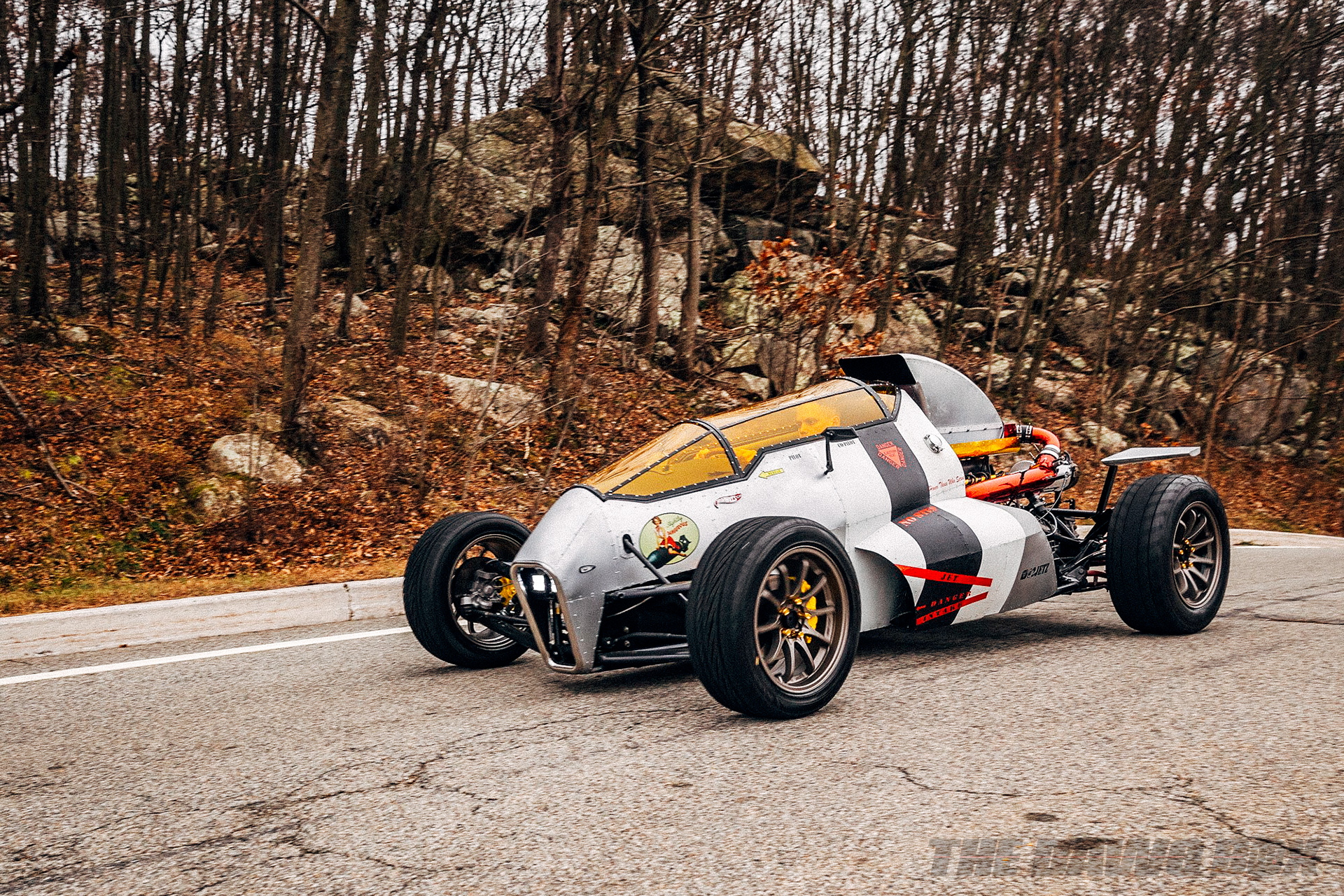 Externally, Luis' street jet fighter is decorated very much in the style of a fighter plane from its vintage-style "Slightly Dangerous" nose art, through the NO STEP sign on the side pods, to the words "Honor Those Who Serve" that say everything about Luis' reason for building this project.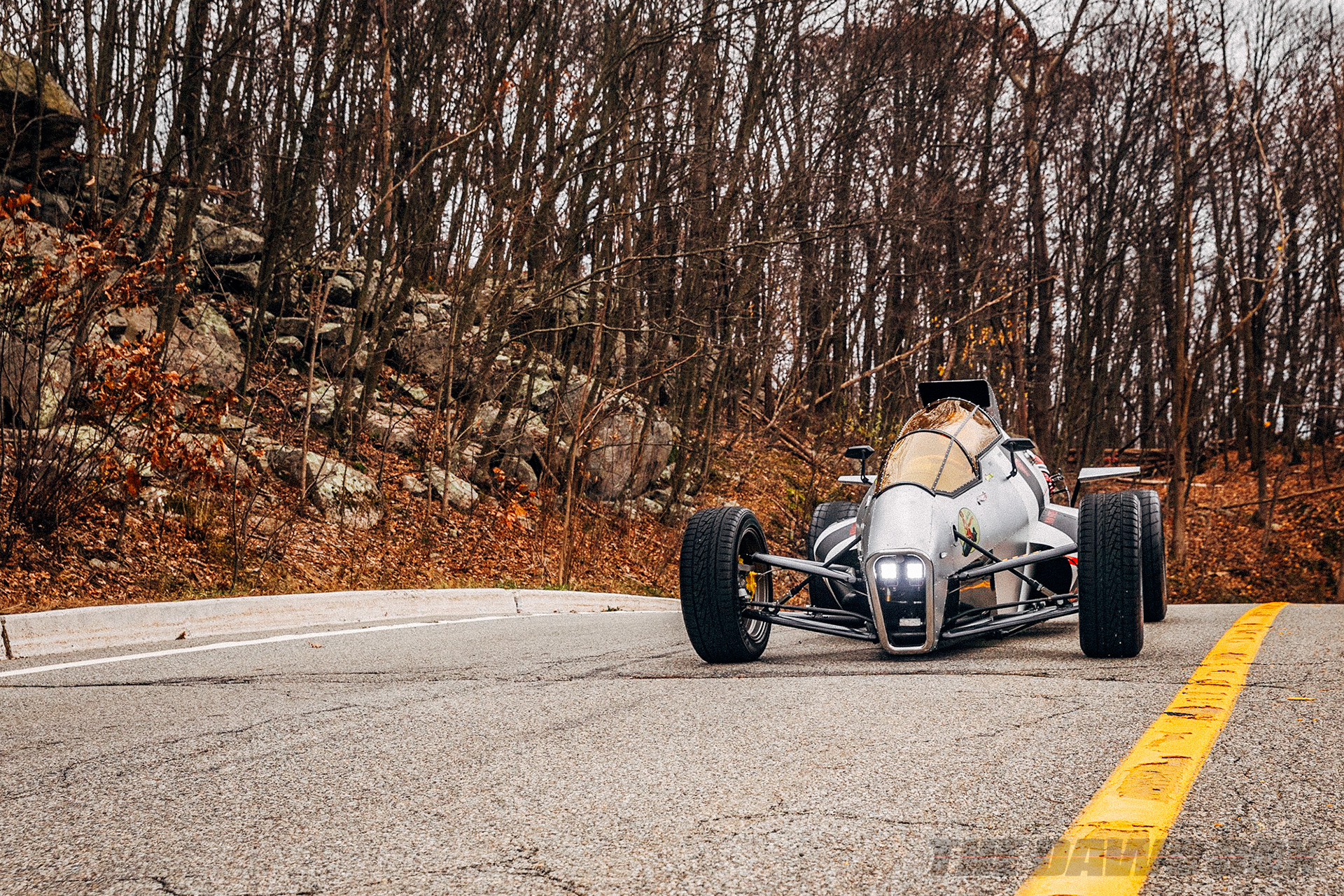 Despite being built on a budget in a tiny garage, Luis' 2JetZ will be made into a Hot Wheels that you can buy in any Walmart.