Billy F Gibbons' '58 Ford Thunderbird Mexican Blackbird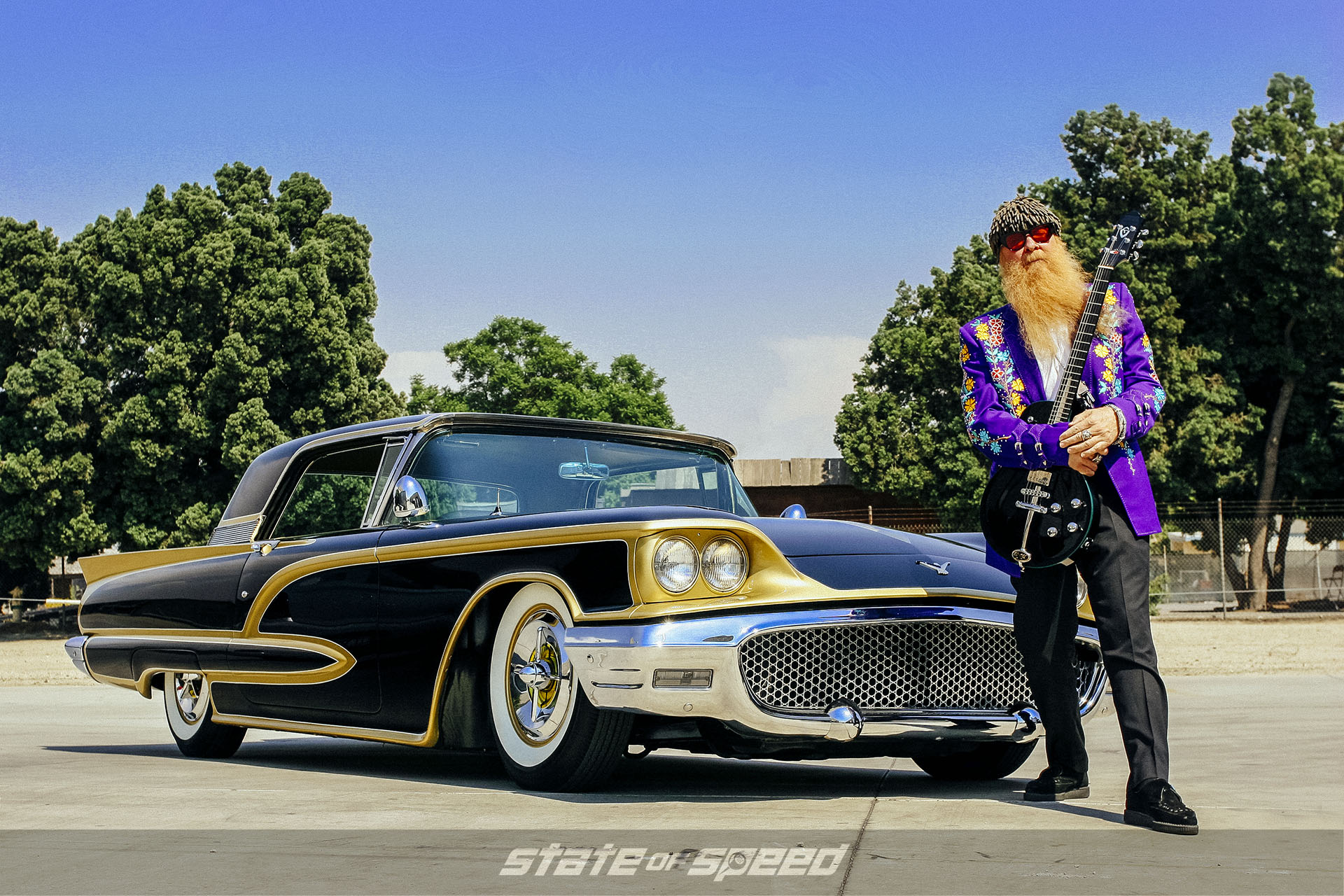 In the period immediately following World War II, there was a cultural explosion in Los Angeles as service men and women returning from the war sought escape and excitement. Many found it in the burgeoning custom car and motorcycle scene of Los Angeles. But why LA? Why not Detroit, Houston or any other city where returning soldiers settled? Well, LA had it all: Sun, sand and surf and as a consequence, a blossoming, eclectic car culture that ranged from drag racing and dune buggies to customs and low-riders. LA had it all.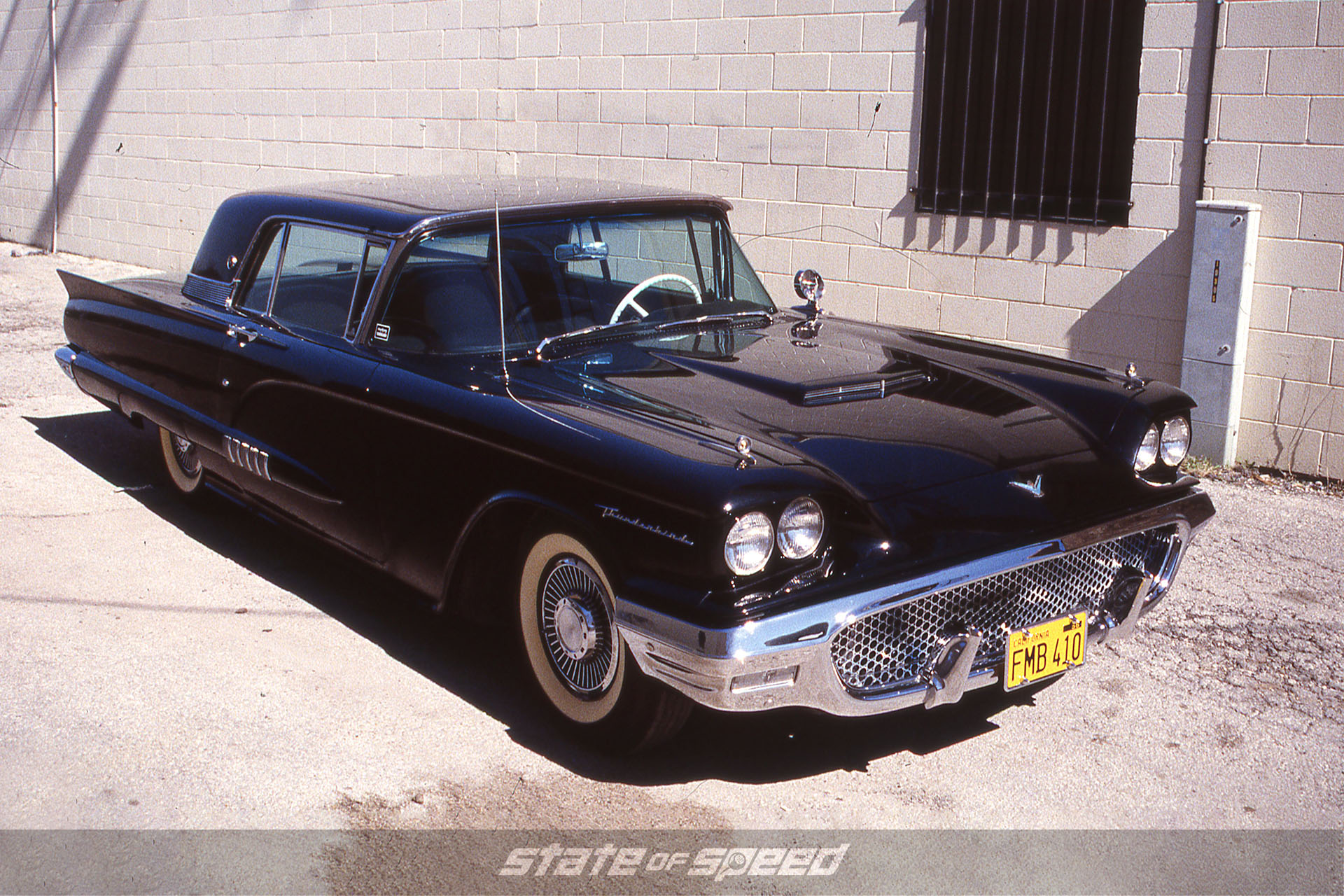 LA also had a thriving art scene and, of course, it had Hollywood. Throw all that in a Petri dish, stir vigorously and you've got the gene pool that gave birth to the likes of Kenneth 'Von Dutch' Howard, Ed 'Big Daddy' Roth and Larry Watson. None of these guys were schooled in the automotive arts but they all had a cultural impact way beyond their Made-in-Detroit palettes. Dutch, of course, originated modern pinstriping, Roth went on to create some of the most outlandish and iconic custom cars ever built and Larry Watson wielded a spray gun like no other painting some of the best custom cars ever.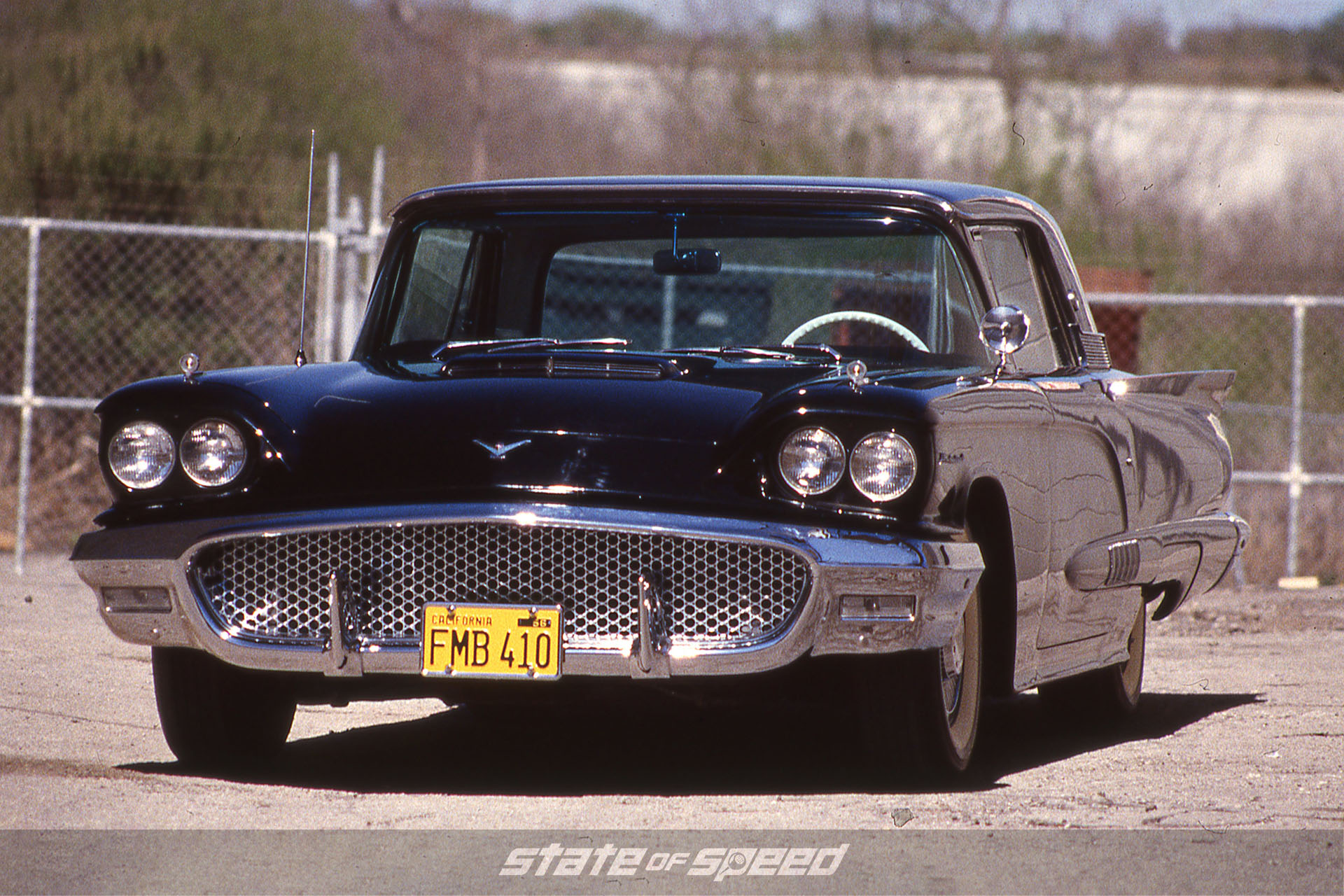 When he's not rockin' the world's stages, Billy is cruisin' low 'n' slow.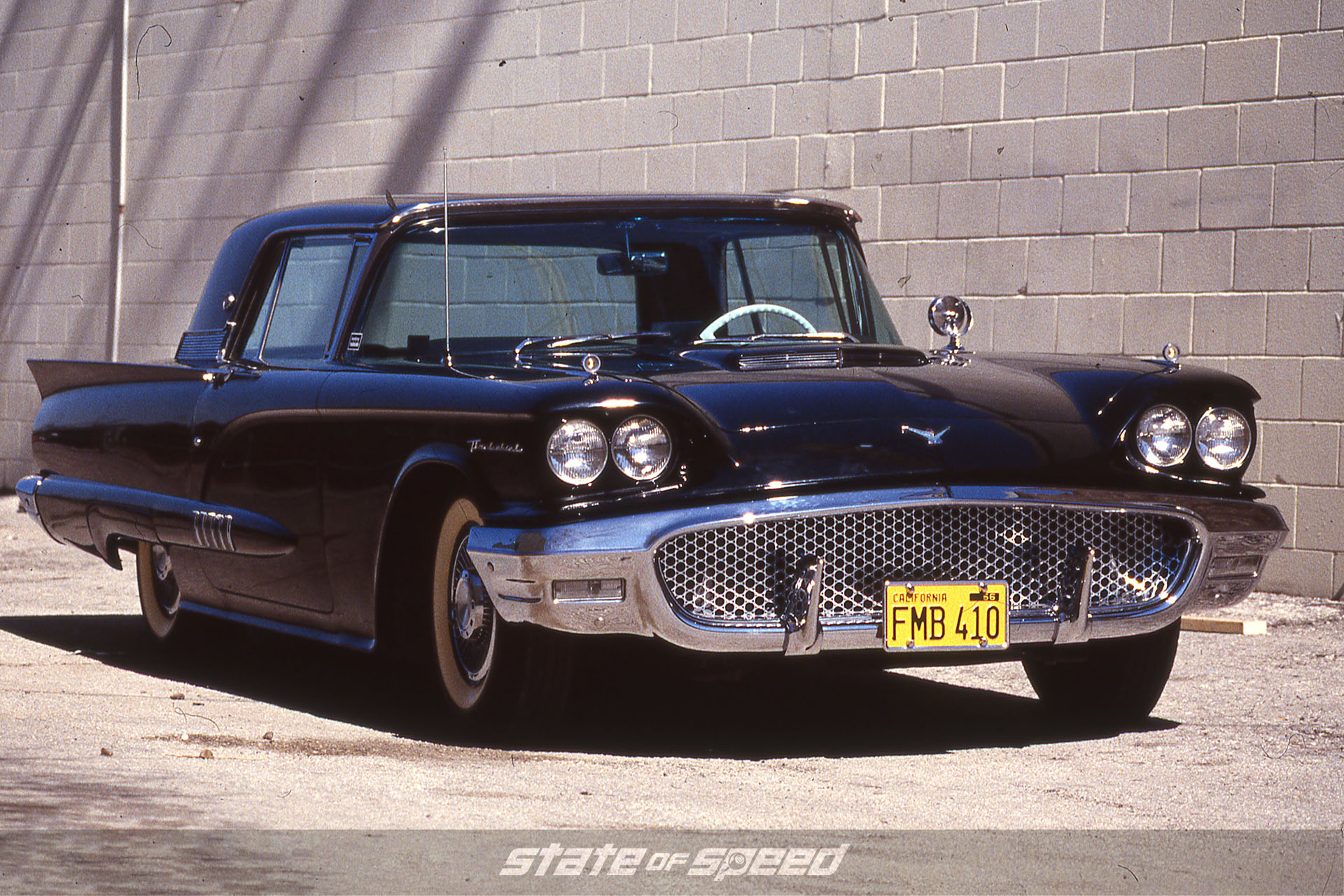 Watson's trademark was what they called back then 'panel painting' as he marked out panels on the car that were painted in contrasting Candy colors over silver, gold, copper or pearl bases. His first panel job was on his own, brand new '58 Thunderbird that he initially painted pearl before adding the burgundy candy panels.  It was an immediate hit and has been copied numerous times since not least of which by Billy F Gibbons, front man of ZZ Top.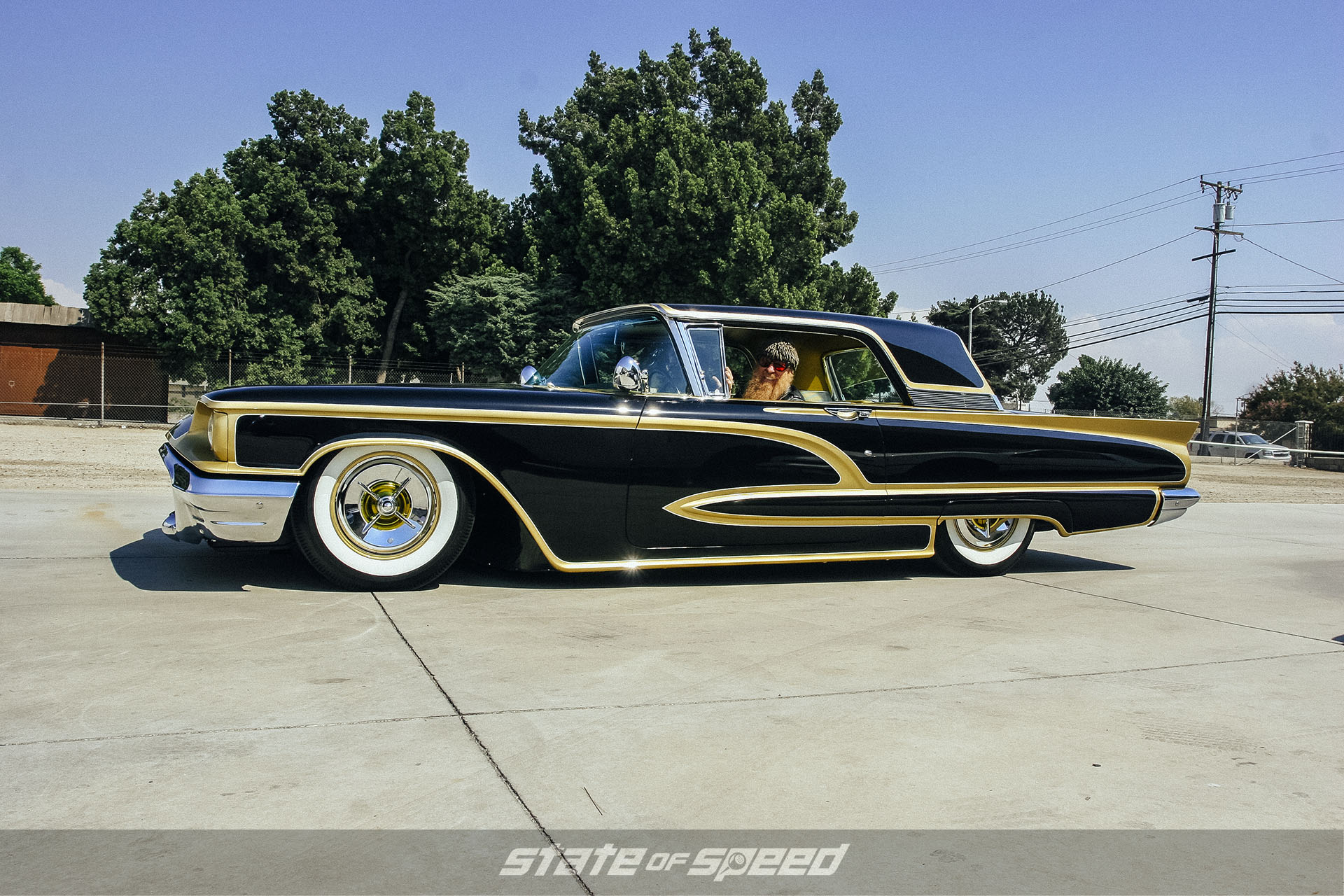 Billy had owned the 'Bird for some years and it was sitting in one of his storage facilities unused until he and the late-Pete Chapouris decided to de-mothball it and give it the Watson treatment and reference Billy's song 'Mexican Blackbird' found on the band's 1975 album Fandango.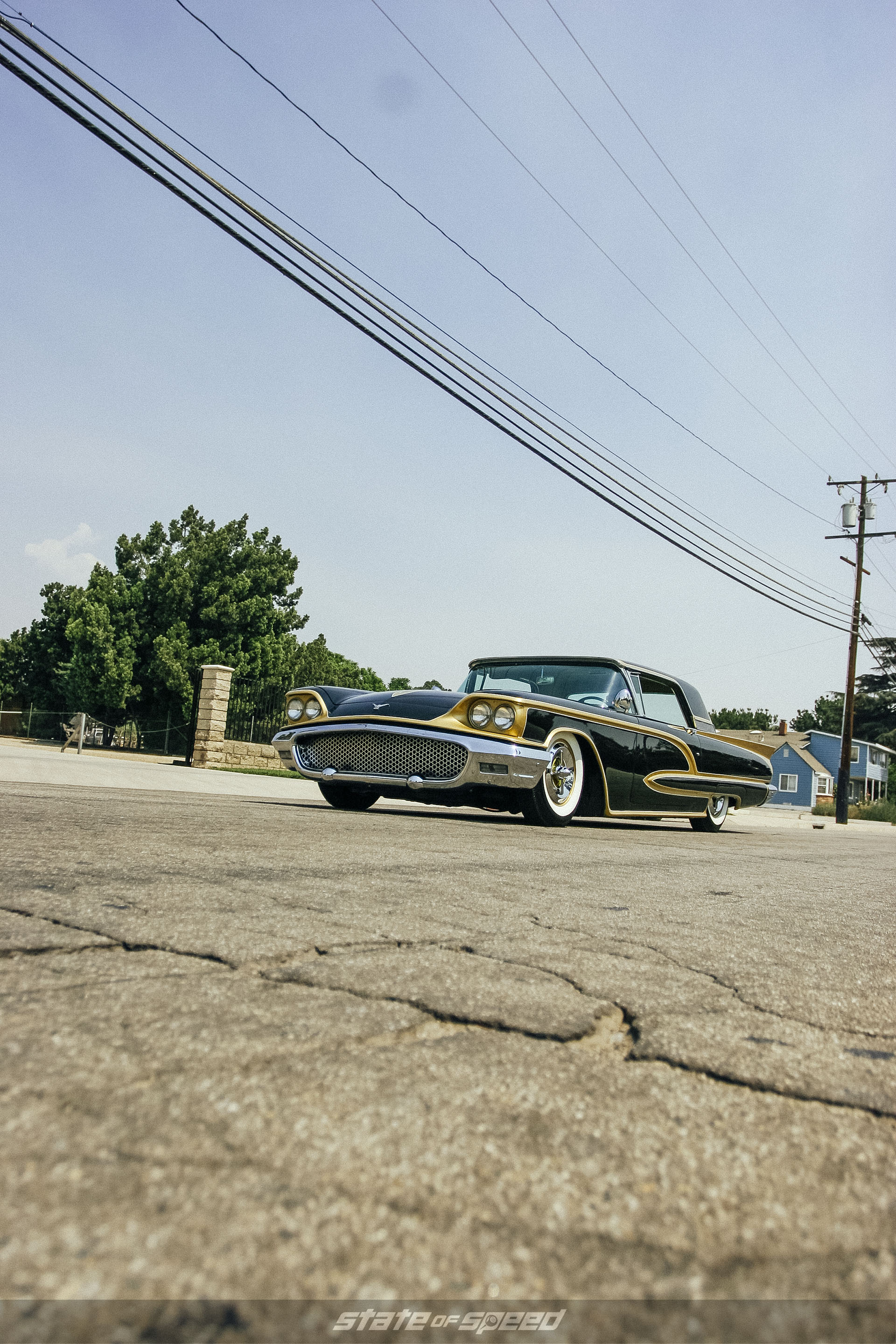 Chapouris' SO-CAL Speed Shop, Pomona, CA, began with some subtle fifties-style body mods that included replacing the front bumper overriders with bullets, 'pancaking' the hood (the removal of the factory scoop), the addition of a small peak along the hood centerline, and the removal of the five trim bars at the bottom of the doors along with a lot of other minor trim parts and doodads. Note, the door corners along with the corners of the hood were rounded in fifties' style. Under the hood is a rebuilt factory 352 cubic inch V8 with chrome accessories.
Pinstriper extraordinaire Denis Rickleffs was then called in to lay out the panels over the new coat of deep black PPG two-stage paint applied by Mick's Paint. The gold borders are actually House of Kolor Lime Gold Pearl over a white base with hand-striped accents. "Billy Gibbon's '58 Thunderbird pays homage to those classic custom cars of the fifties." Said painter Mick Jenkins.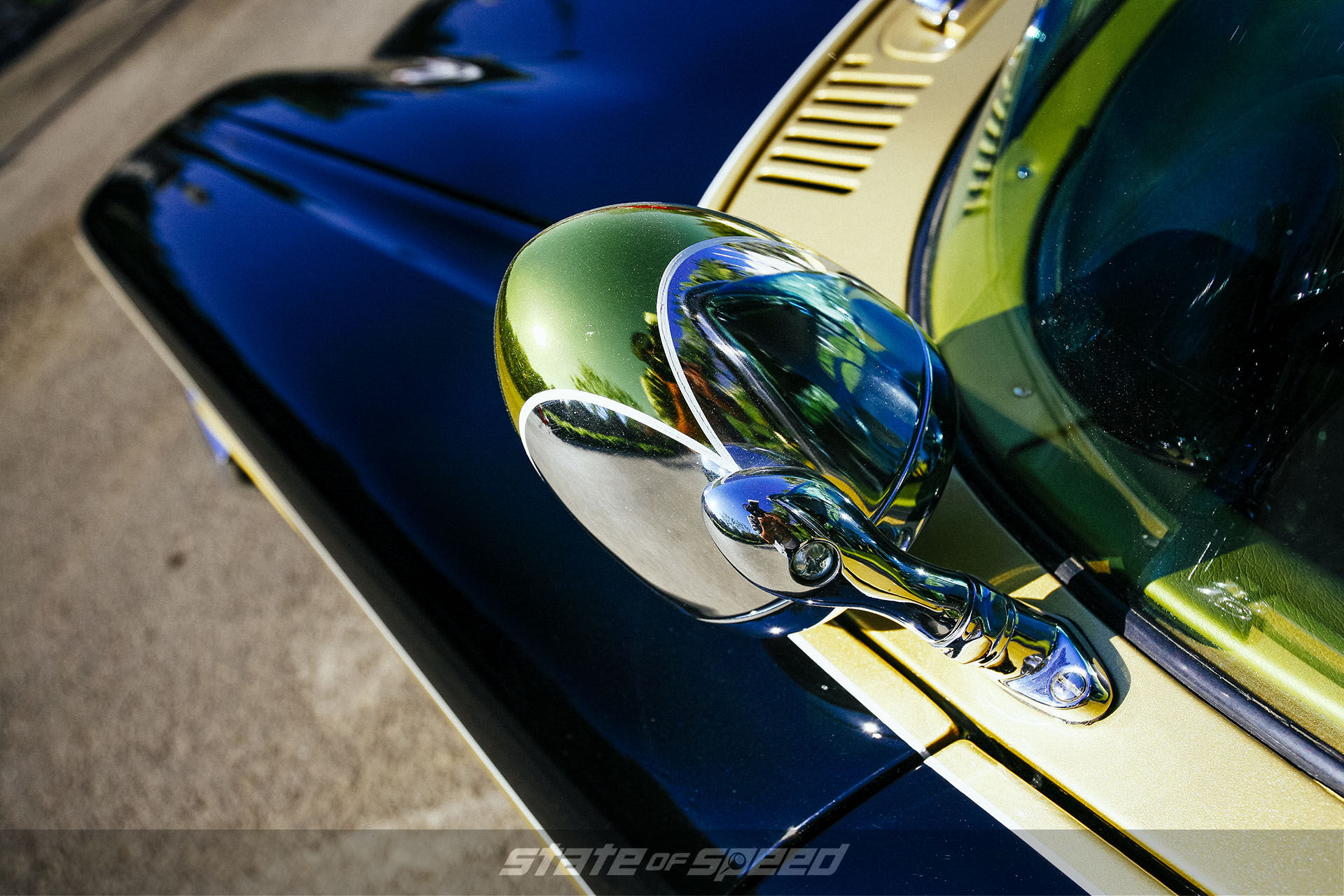 Other contemporary additions include the scalloped and striped Appleton cowl-mounted spotlights, the four-blade Dodge Lance 'flipper' hubcaps, and that chrome-plated mesh grille insert that was repeated in the rear panels.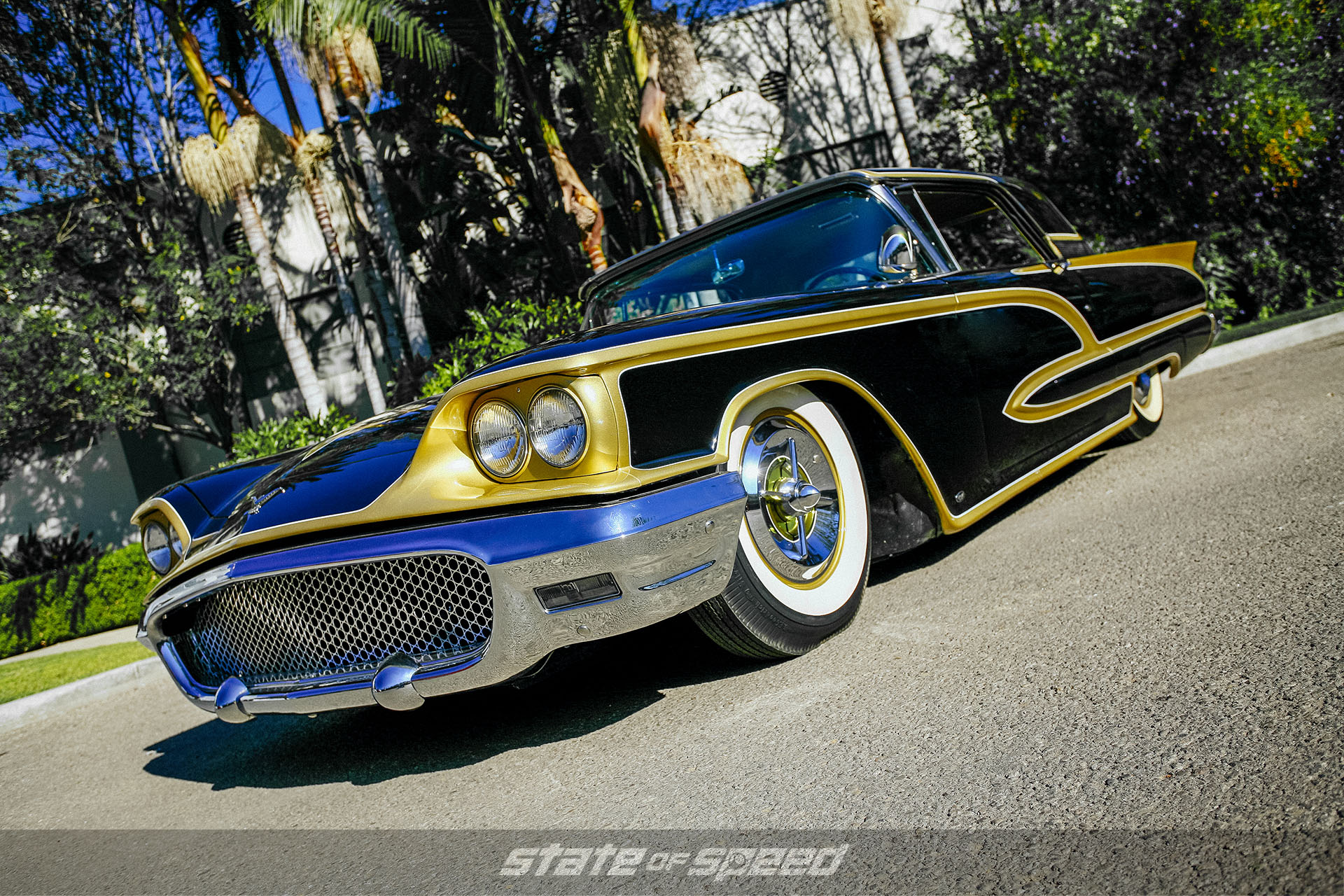 After some judicious lowering—2 inches in front and 3 inches in back using Jamco suspension components—the Blackbird was fitted with 7 x 15-inch Wheel Smith steel wheels.
After the lowering, the car was shipped out to Gabe's Custom Interiors, San Bernardino, CA, where they stitched up one stunning two-tone gold and black interior using Ultra black and gold leather to match the paint and the gold anodized dash inserts.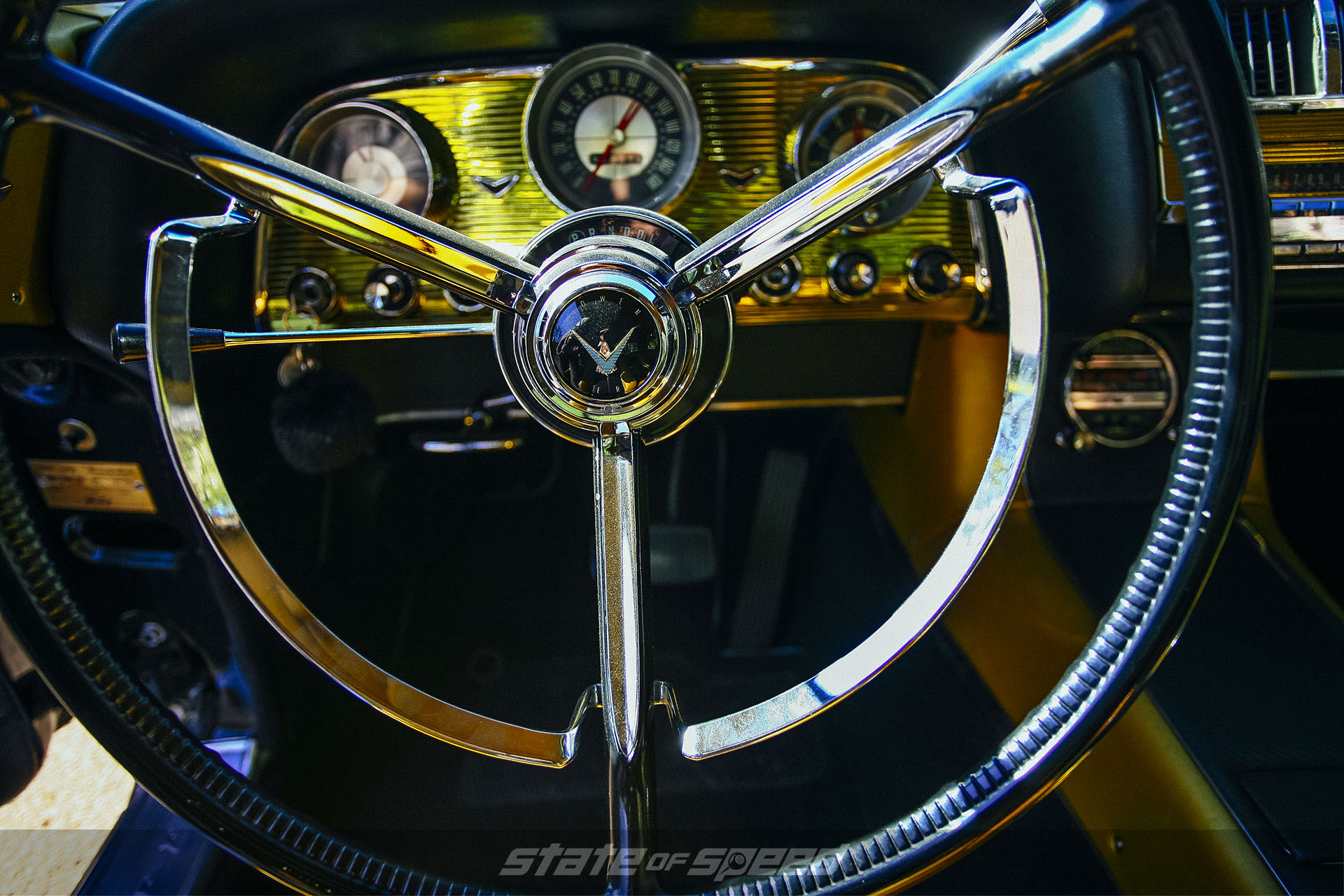 "Billy Gibbon's '58 Thunderbird pays homage to those classic customs cars of the fifties."

Mick Jenkins, Owner, Mickspaint.com
For an audio system befitting BFG, Chapouris turned to Alan 'Hic' Hickman at Audio Shoppe in Riverside, CA. Hic' retained the stock radio façade but inside the glove box installed a plug-in for Billy's iPod. Also in the glove box is the pre-amp tone and fade controls. The system then runs to two Arc Audio amps, one to drive the four Arc Audio high speakers (two 5-1/4-inchers up front and two 4-inchers out back) and the other for the twin 8-inch Arc Audio subwoofers mounted in a custom enclosure. Hic' said: "It isn't a thumper type of stereo system, but it delivers more performance-per-dollar than most systems."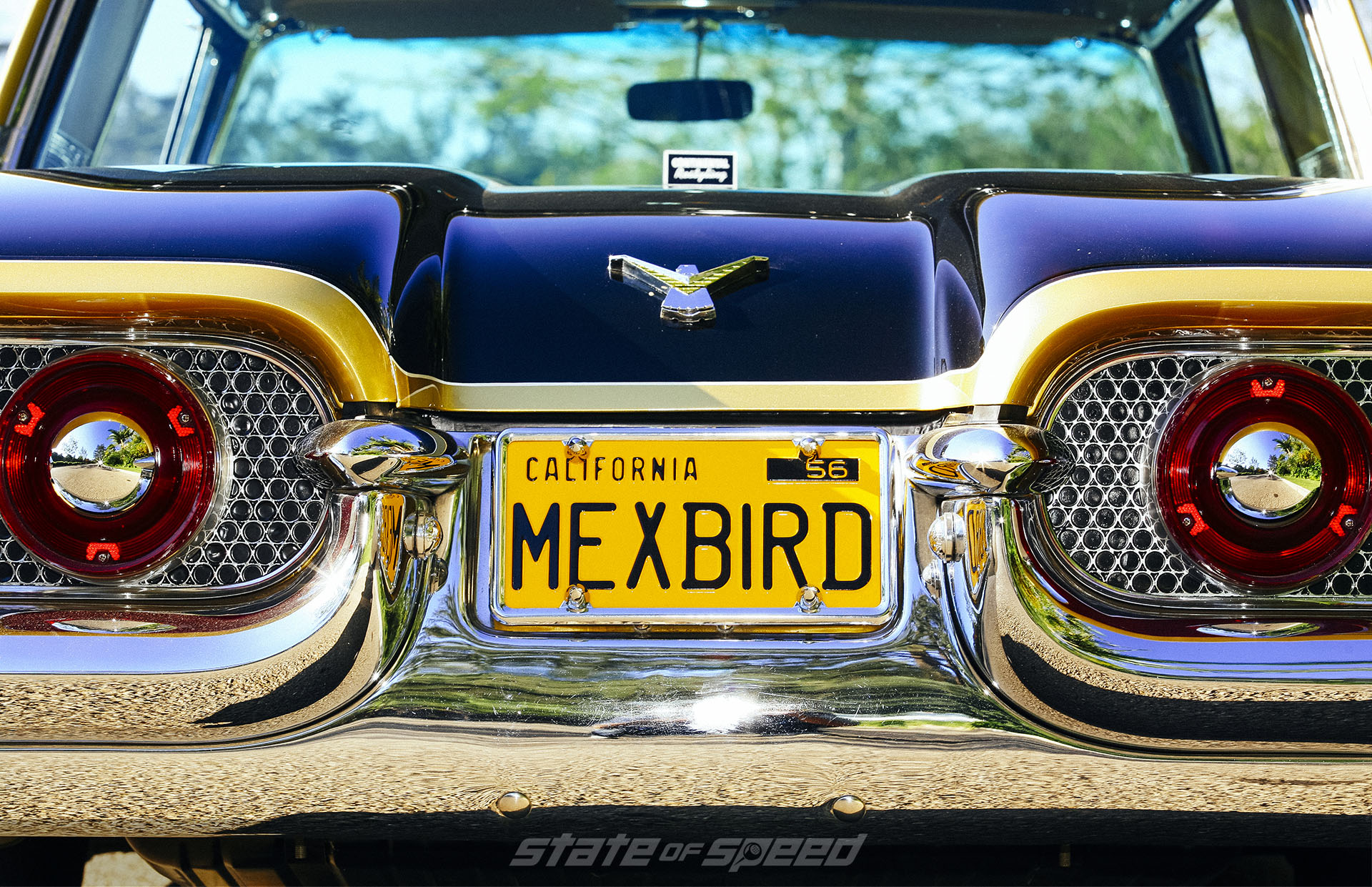 Although somewhat understated, Billy's mild custom Blackbird was quite a hit appearing in various magazines and promotions. There was even a guitar made in the car's honor by French guitar maker 'Wild Customs.' Mexican Blackbird also appeared on an episode of the TV show 'Bones' on which Billy has made several guest appearances playing a fictionalized version of himself, as the father of Michaela Conlin's character, Angela Pearly Gates Montenegro.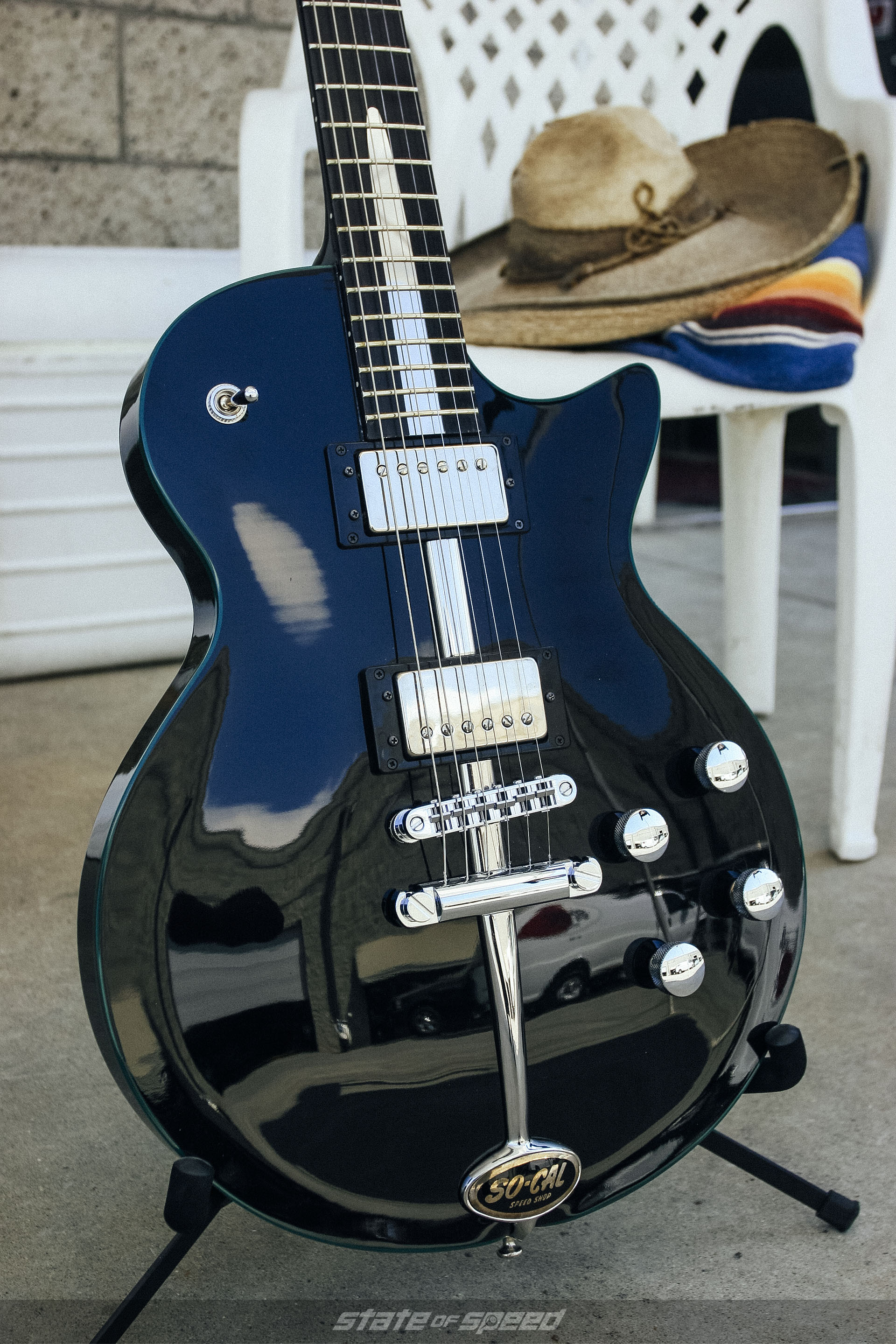 When he's not rockin' the world's stages, Billy is cruisin' low 'n' slow.