Martini Mustang
As international brands go, Martini and Mustang are two of the best known and strongest in their respective markets. The Martini & Rossi liquor company was founded in the mid-19th century, as a vermouth bottling plant in Pessione, Italy. They began sponsoring auto racing under the Martini Racing banner in 1968, and sponsored Scuderia Ferrari until 2008. The Mustang, of course, was introduced in 1964 and became an immediate hit with the public selling 418,812 units in the first year.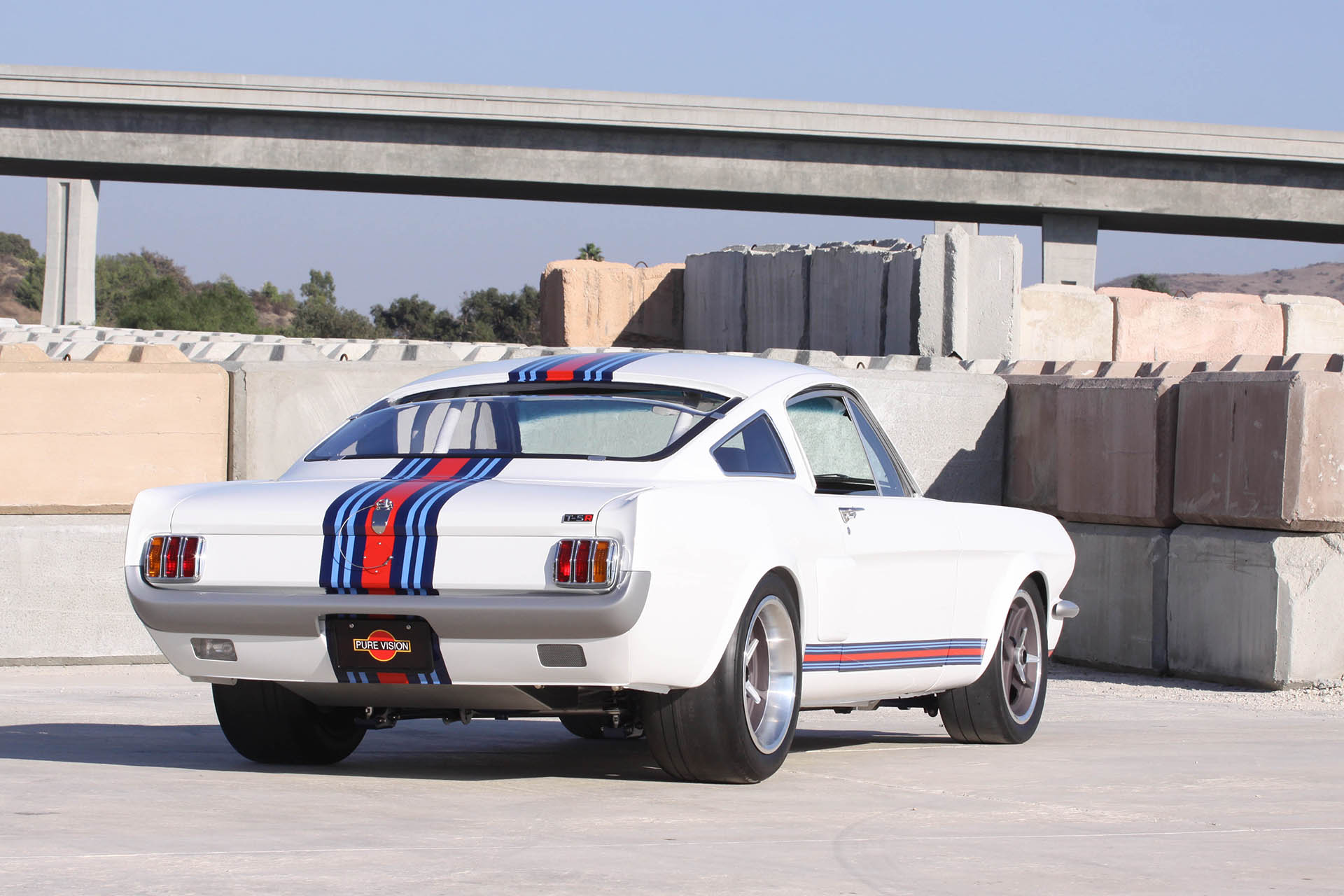 As both Martini and Mustang have extensive and successful racing provenance it seemed obvious to Steve Strope of PureVisionDesign.com to combine them and build the Martini Mustang. As seen on TV's Hand Built Hot Rods, Steve has a unique ability to build not only amazing muscle cars but also concoct a back story that qualifies their existence. In the case of the Martini Mustang Steve posed the hypothetical question; what if Ford were talking to Martini in the mid-sixties when the Mustang had just been introduced and was being raced to great success in Europe by Alan Mann Racing? Would they have developed this Martini-striped Mustang to take on the best Europe had to offer? And, had they built it would they have powered it with Ford's DOHC Indy engine? That's unlikely but Steve never lets a fact get in the way of a good story.
…

take a '66 Mustang, splash on the Martini livery, throw in the DOHC Ford Indy engine and you have the T-5R Martini Mustang.
Our story starts with a '66 Mustang chosen because of its compatibility with contemporary Shelby R (racing) parts. Steve then went in search of a suitable engine and landed at Ed Pink Racing Engines (EdPink.com), Van Nuys, California. There, general manager, Frank Honsowetz revealed that he had four 255 ci dual-overhead-cam V8s that were popular Indy car engines from 1964 to 1978. It was the same engine that powered Brit Jim Clark to win the Indy 500 in 1965.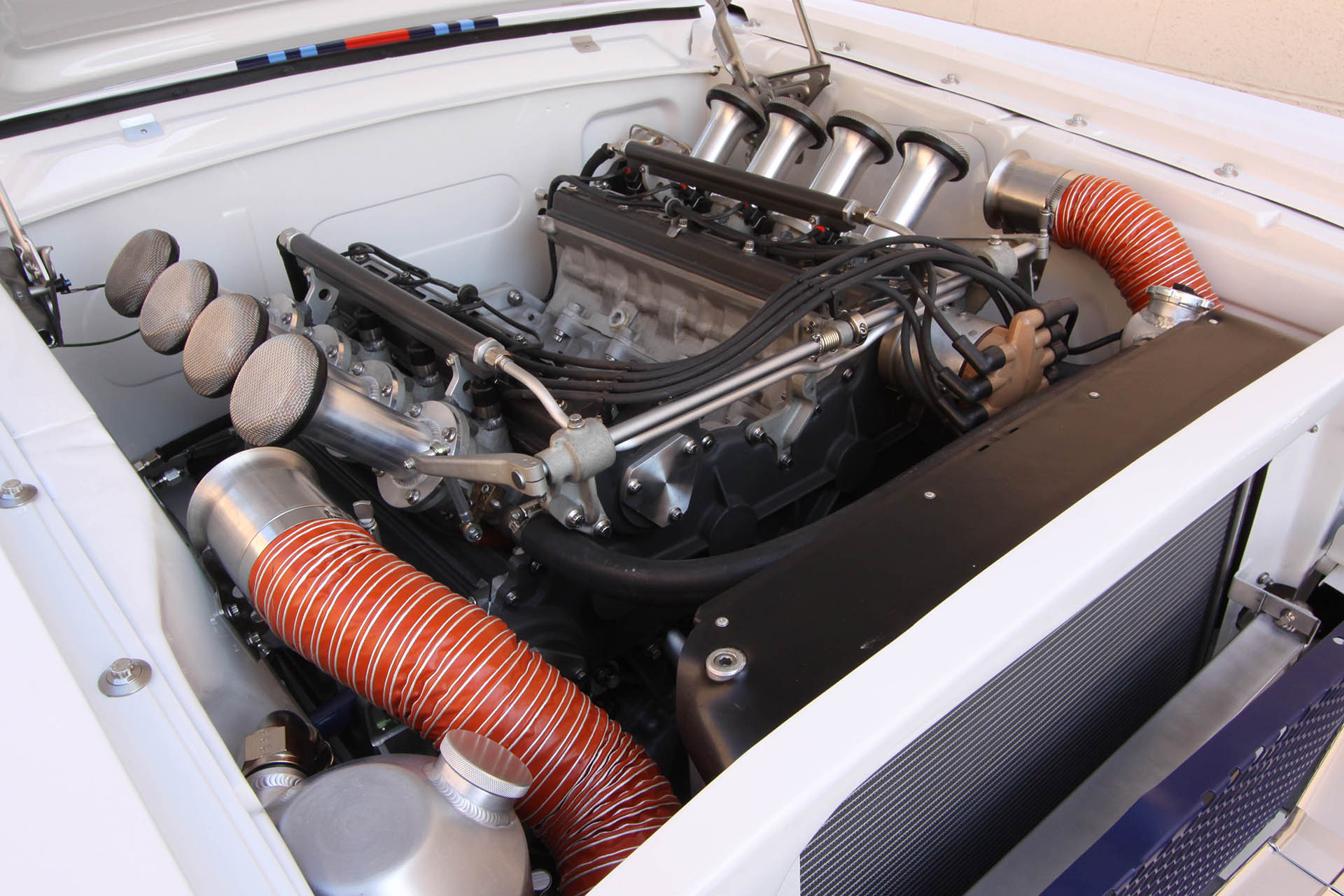 In Steve's vernacular, take a '66 Mustang, splash on the Martini livery, throw in the DOHC Ford Indy engine and you have the T-5R Martini Mustang. The one issue with the race-bred engine was that it was, well, a race-bred engine when, in this application, it needed to be a tractable street engine. Consequently, the team at Pink's began by stroking and boring to achieve a capacity of 292 ci. Billet steel rods from Lunati are topped with CP forged pistons that have a compression ratio of 10.5:1. Obviously, there are no off-the-shelf cams for this engine so they had to be specially ground to Pink's specs.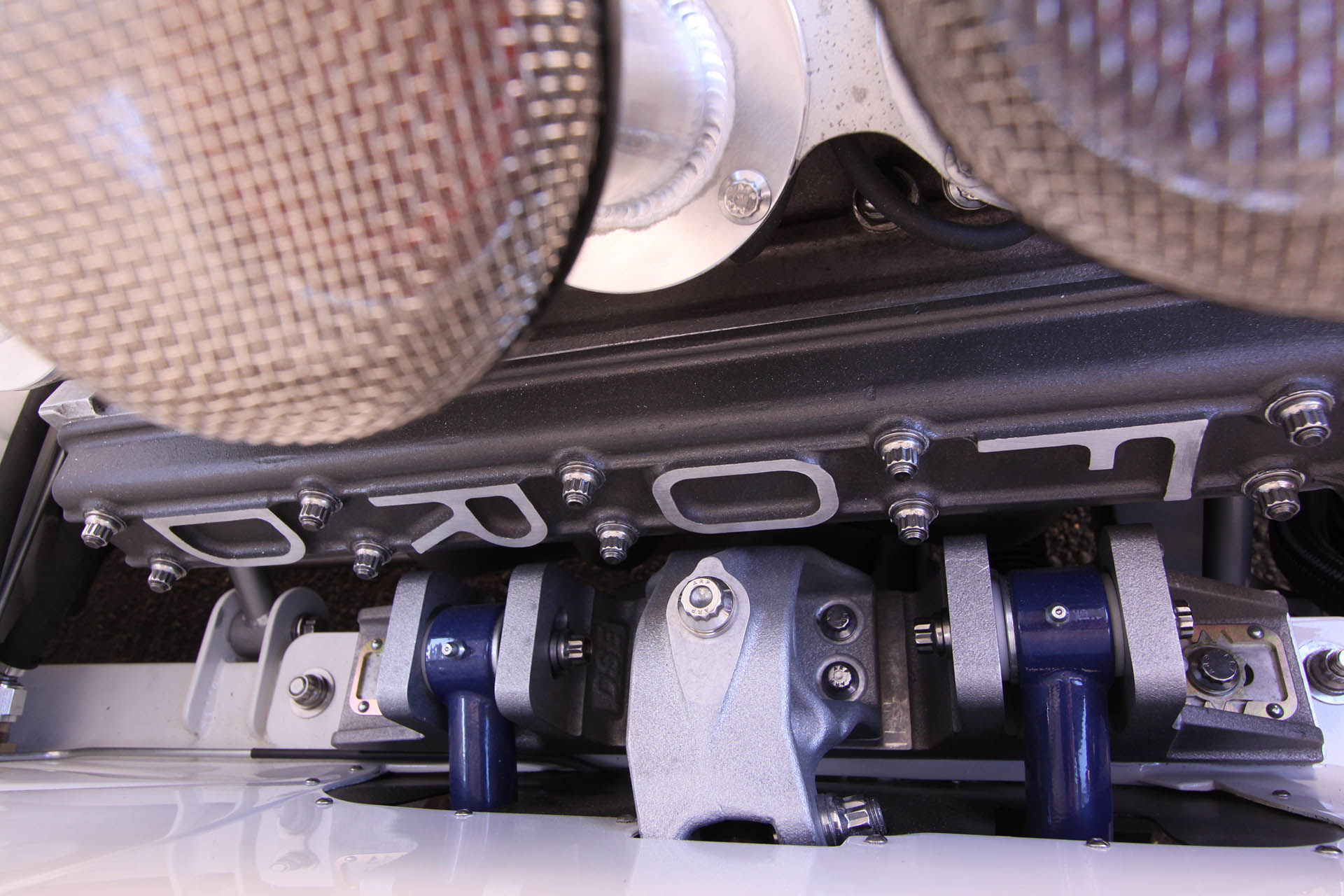 Originally, the Ford Indy engine had stack fuel injection and Steve wanted to retain that look and turned to Holley for their Dominator ECU and EFI components modified for individual runners. To help build low-rpm power, the injector stacks were made as long as possible. Peak torque of 362 ft-lb comes at 5,600 rpm and max horsepower is 426 giving the 2,900-pound pony a great power-to-weight ratio. According to Honsowetz, "We got the power where we wanted it with a combination of cam profile, increased intake runner length and diameter, and header tuning."
… Steve has a unique ability to build not only amazing muscle cars but also concoct a back story that qualifies their existence.
Two unusual aspects of this engine swap are the exhaust system and the fact that the engine in its original racing application had no on-board starter—instead, hand-held starters were used. Luckily, Steve was able to adapt a Quarter Master bell housing to the C&R Performance four-speed. Located in Mooresville, North Carolina, C&R built the 63-pound box for NASCAR Sprint Cup cars but it was banned because it was too light. "You can carry the gearbox under your arm, it's that light," Strope said, "and it shifts butter smooth."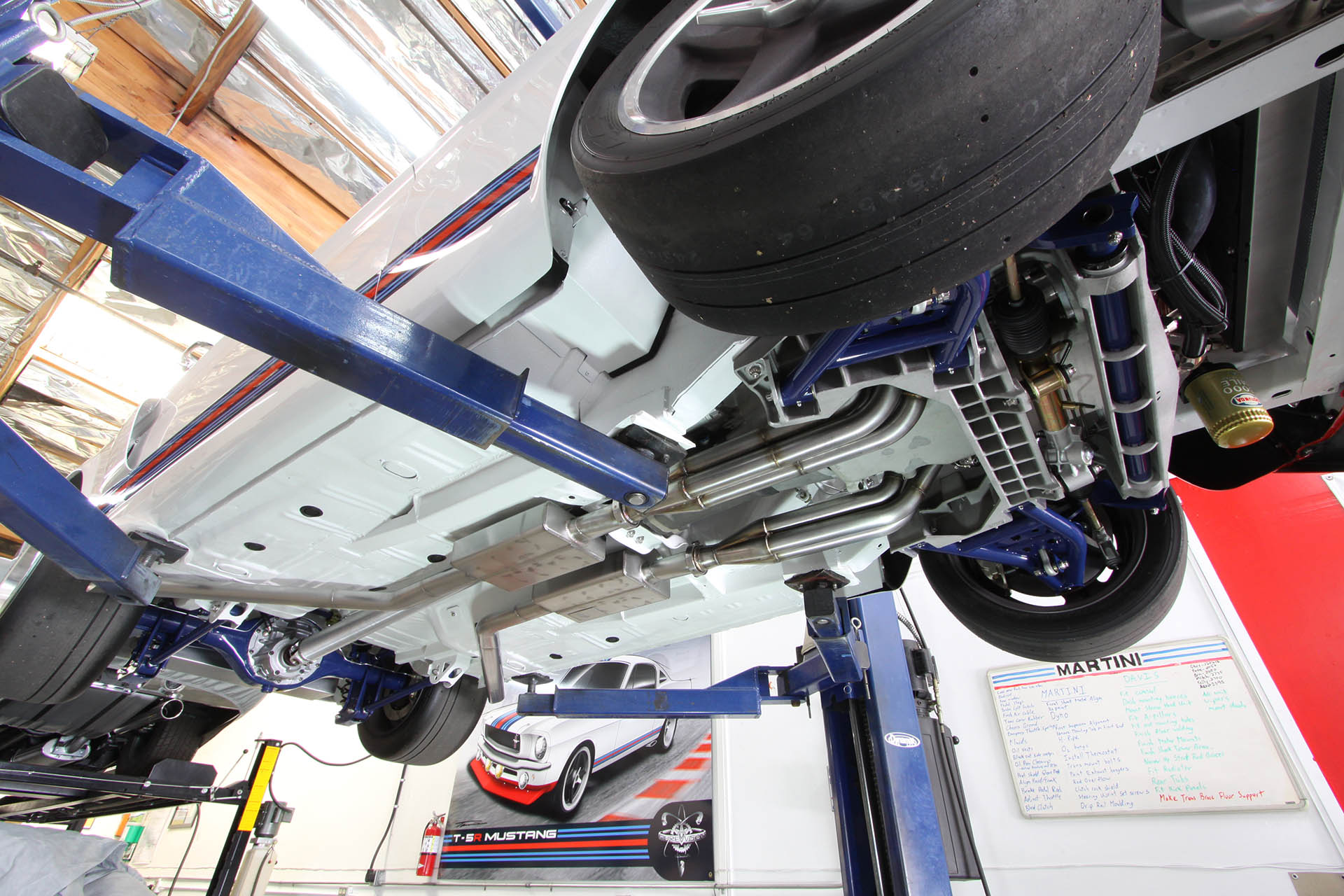 The sharp-eyed among you will notice that the engine valley where the intake would normally sit is empty. That's because Pink's flipped the heads so that the exhaust would exit in the normal position, below the inlet, and not through the windshield.
While Pink's fettled the engine, Steve's capable team in Simi Valley, CA, reworked the Mustang's chassis and suspension. Up front they installed Detroit Speed and Engineering's Corvette-inspired Mustang Aluma-Frame front clip. Mounted on a lightweight aluminum cradle, it's a direct replacement coil-over setup that even includes the spindles. It radically alters the driving dynamics of any Mustang offering up to six inches of suspension travel and the precision of rack-and-pinion steering. In the rear, there's a four-link system and the brakes are Wilwood all round.
For wheels Steve turned to EVODIndustries.com who produced a unique, one-off set of four-spoke, 17-inch pin-drive wheels that emulate those used on the '66 Lotus Ford Indy racing car. The rears are 12 inches wide, which necessitated a slight tubbing of the rear inner body. The tires are Kuhmo Escta V710s that are just about street legal.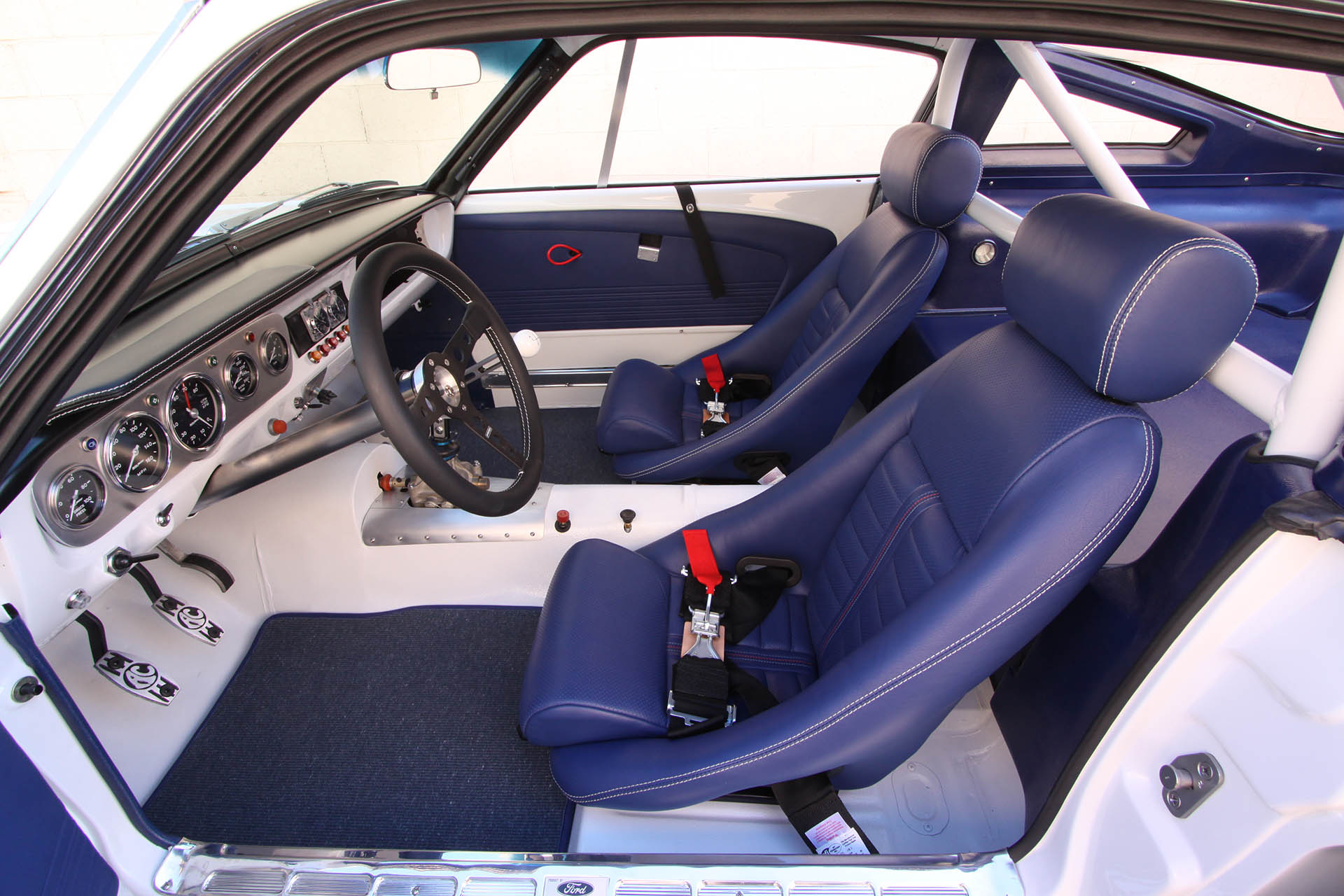 Attention to detail could be Steve's middle name and this trait is exemplified in the department of the minimalist, rally race-style interior. The period-correct, dark blue, low-back bucket seats upholstered by Eric Thorsen are superbly framed with a Shelby rollcage. The instrumentation, complete with map-reading lamp and dash timers, comprises simple, round, analog gauges reworked using AutoMeter internals by RedlineGaugeWorks.com. Their German script gives a nod to that invented European racing heritage, as does the Momo Prototipo steering wheel. Shelby-style knobs, handles, and even an R-model radio-delete plate sourced from Tony Branda add to the authenticity as do 427 AC Cobra pedals.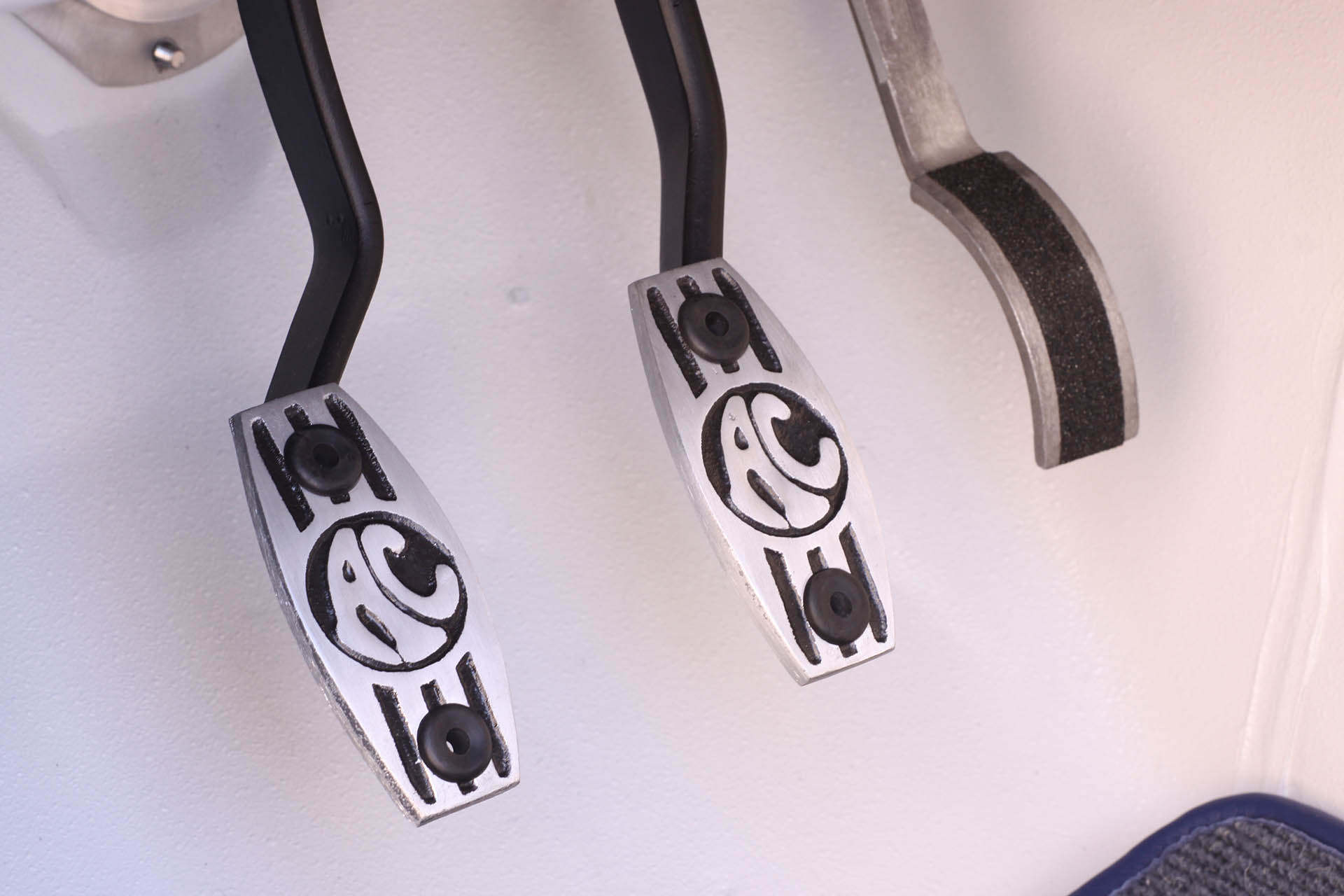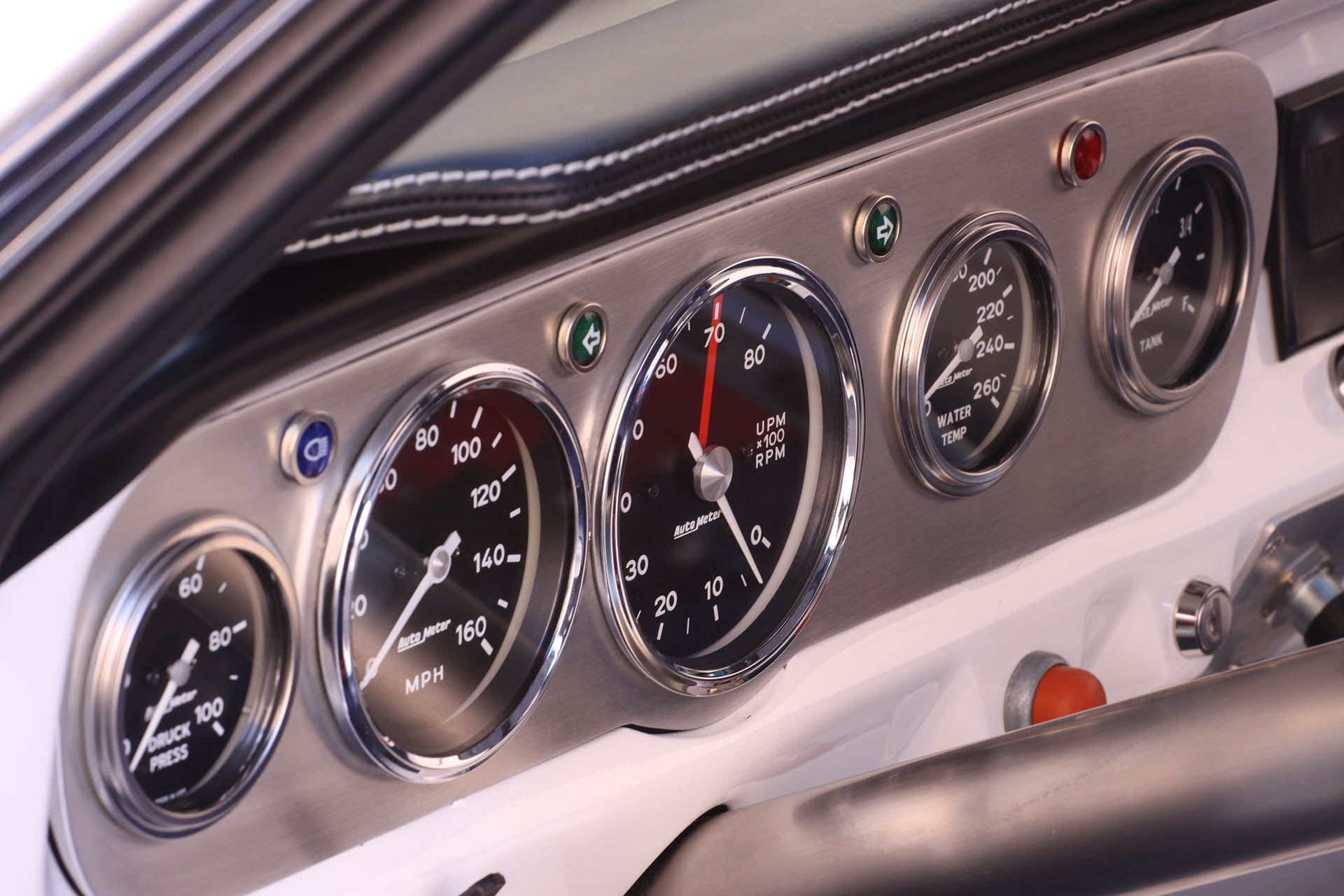 Steve's tribute to Shelby continued through the body mods that included lightweight, Maier Shelby-style fiberglass reproduction parts, including the hood, front fenders, bumpers, etc. Likewise, Shelby Plexiglas rear quarter-windows and an R-model-style Plexiglas rear window were fitted, along with "shaved" hood hinges.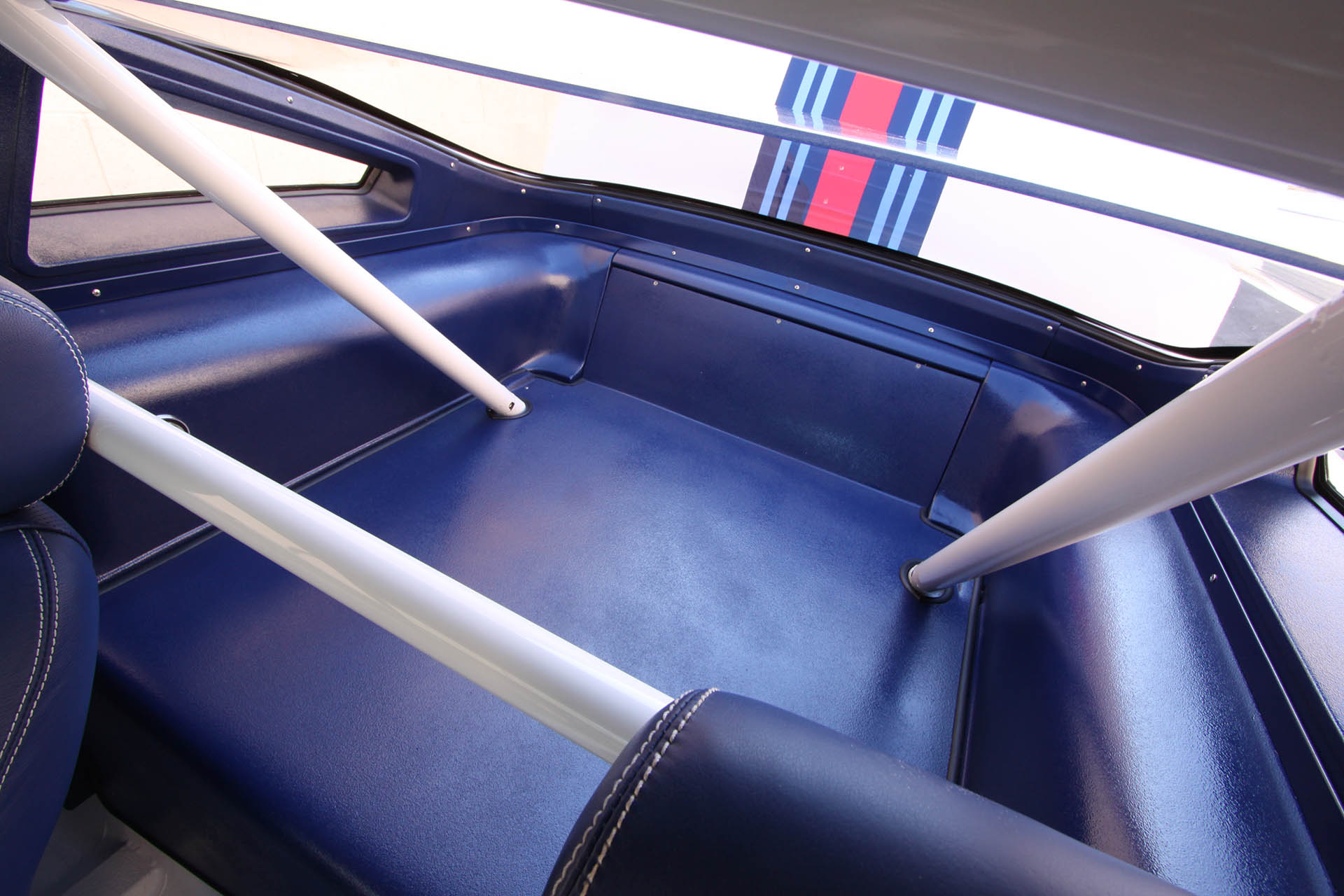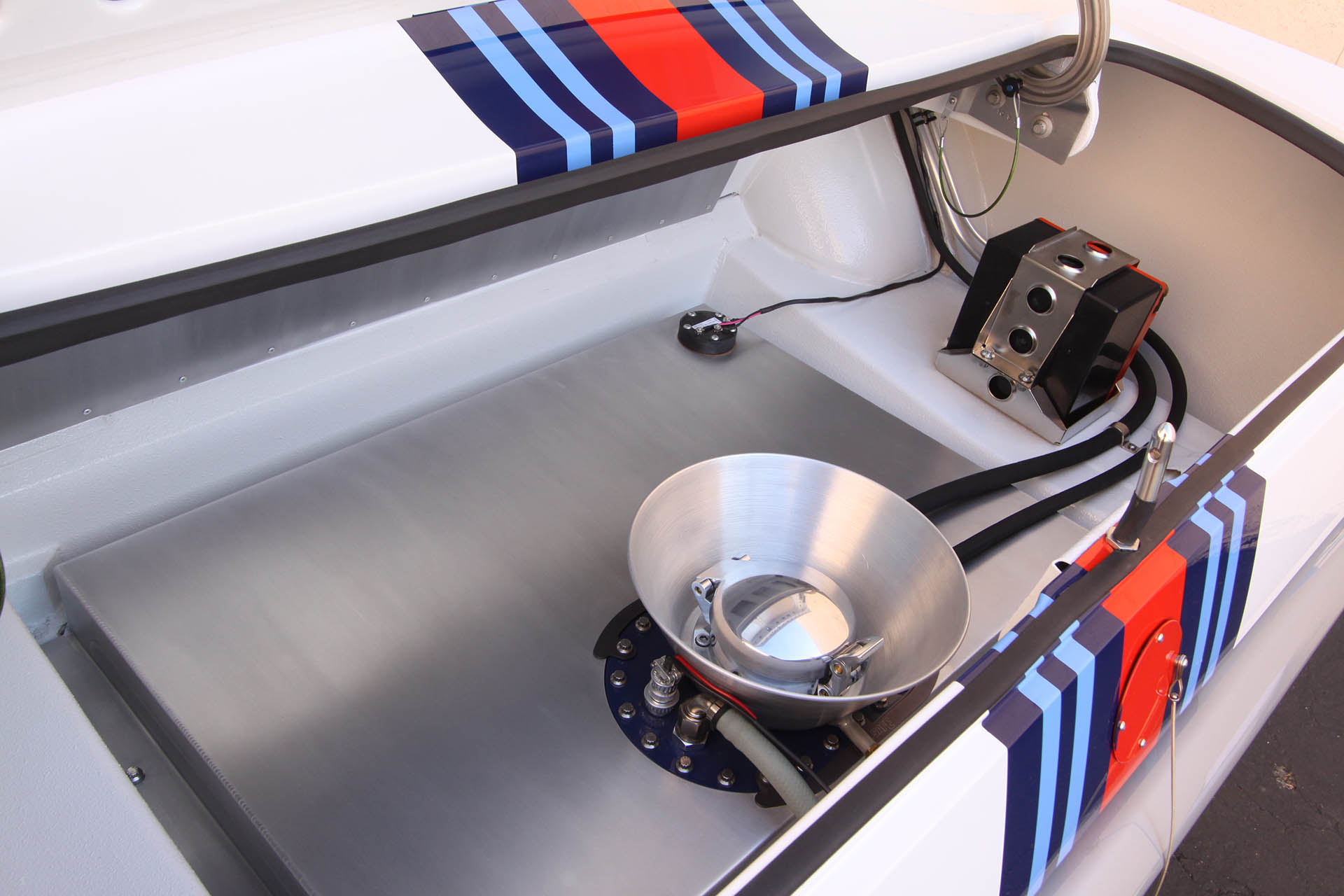 The Mustang was then shipped to Pomona, CA, where the team at MicksPaint.com applied the Martini-inspired Porsche Carrera white PPG paint and graphics. "We raised and flared the rear wheel arches and made outer wheel tubs for it." Said Mick. "We made an aluminum deck lid skin for it, made a custom front valance, and custom front and rear bumpers for a better fit. The paint, however, was basic Porsche white throughout with Martini stripes laid out by Steve."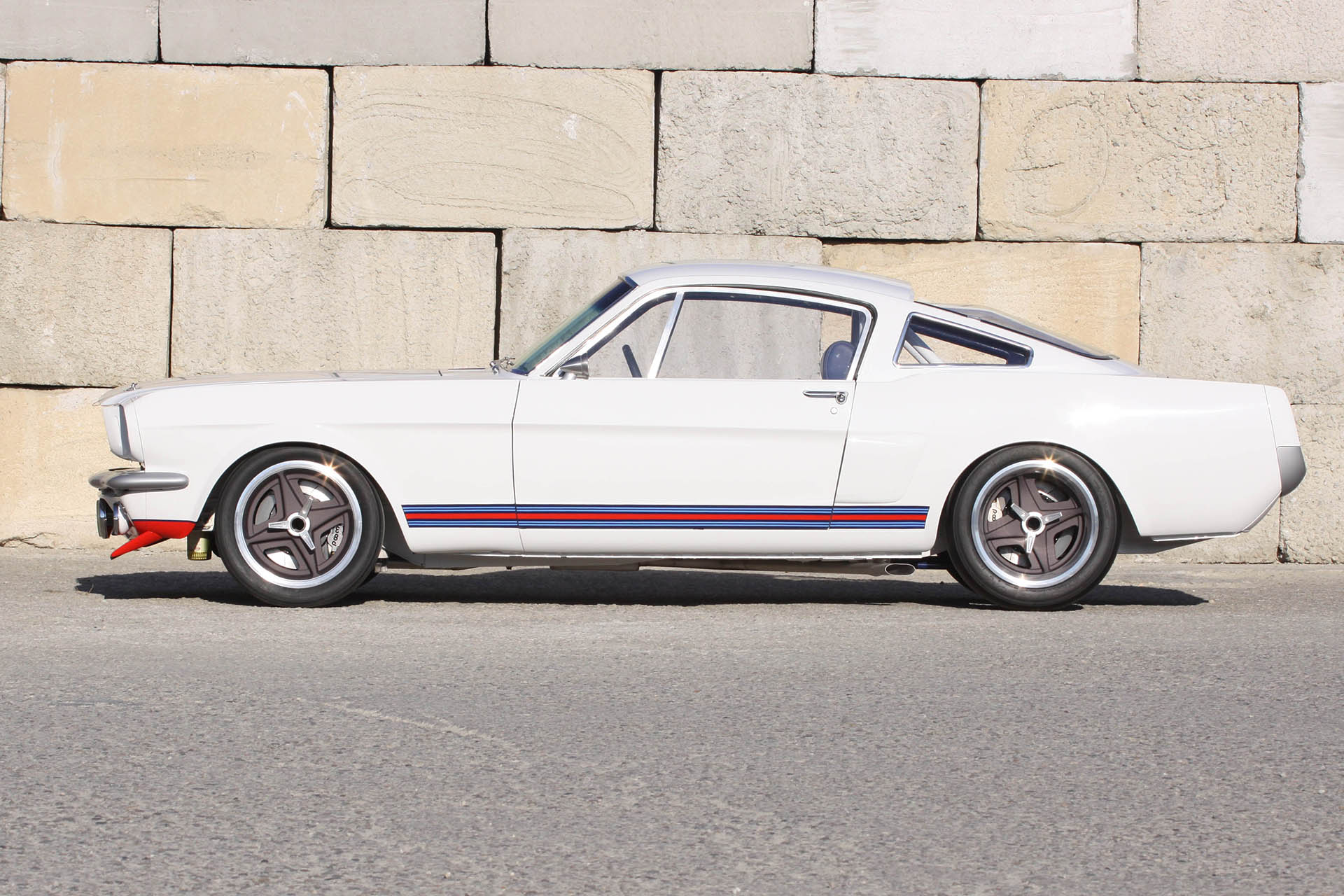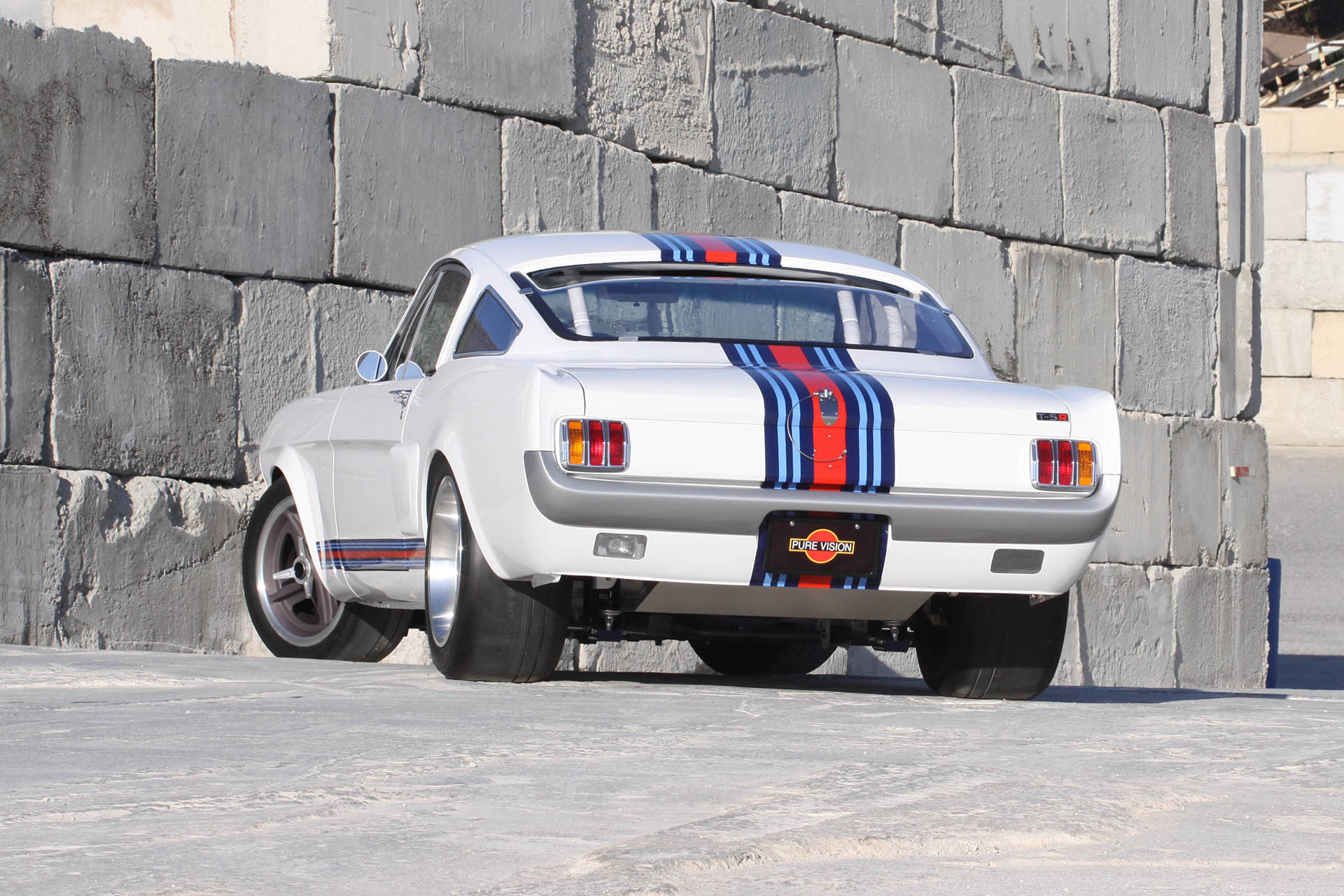 Finally, there are those custom T-5R badges likewise designed by Steve: T-5 was the designation of Mustangs that were shipped to countries such as Germany and Canada where the word Mustang name was not allowed because it was already in use on another vehicle. And, if this was a shipped car, it would be an R model, hence the T-5R designation. We said he told a good story.
The Martini Mustang went on to win numerous awards including the prestigious Ford Design Award at the SEMA Show becoming a fitting tribute to the Martini and Mustang brands.