Million Dollar
Vicious Mustang
There's something about early Mustangs that just gets the heart pounding and the blood pumping. Despite their obvious age, now almost 60 years, they never seem to go out of fashion. Like a good pair of 501s, they look better with age, they feel comfortable and to paraphrase Rod Stewart, they wear it well.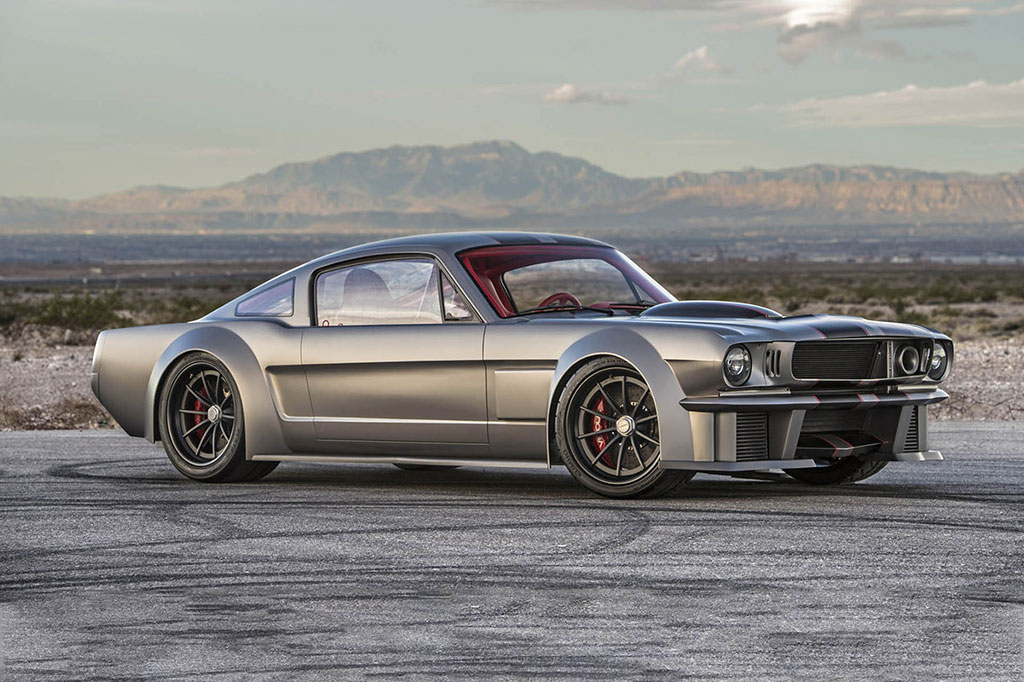 The other cool factor regarding early Mustangs is that it doesn't seem to matter what people do to them they always look good. Take, for example, the Vicious Mustang designed and built by Timeless Kustoms, Camarillo, CA, and said to cost a cool mil'. Timeless began the million dollar build with an original '65 Fastback that was stripped to its shell for a total makeover that incorporated numerous Dynacorn body panels. The base for the creation was a chassis from Art Morrison fitted with a Corvette C7 front clip and an Art Morrison multi-link independent rear suspension. Triple adjustable coil-over shocks from Ridetech are fitted to all four corners.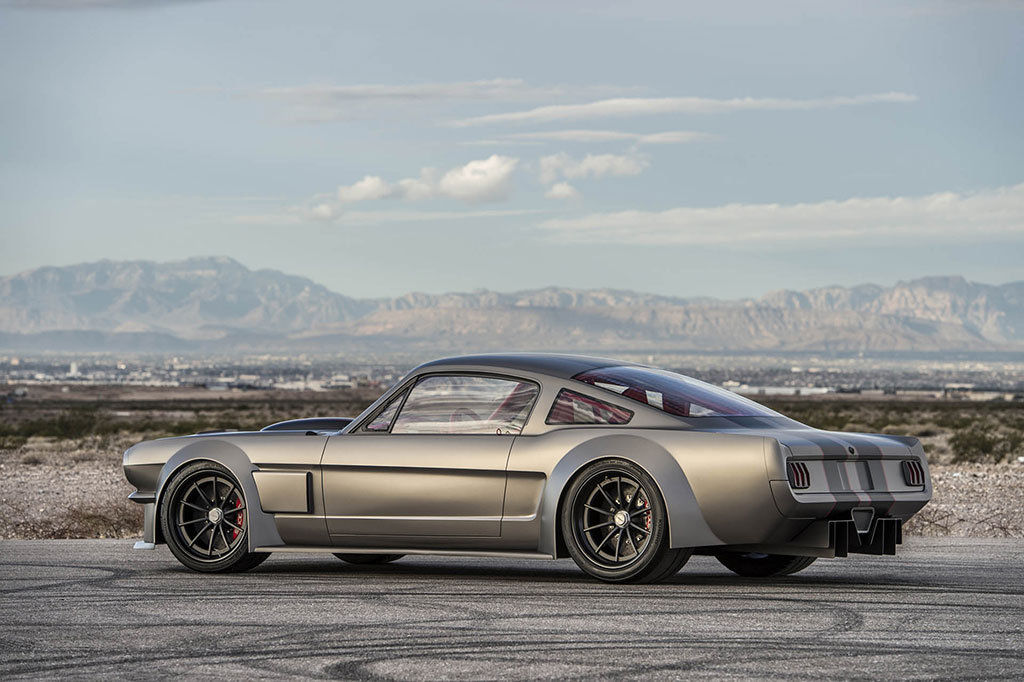 Quite often, modifiers of early Mustangs will lean toward the more traditional powertrain with a small-block Ford with twin 4bbls, quad Webers or some similar historically accurate induction. However, in the case of the Vicious Mustang the owner opted for not only a supercharger but also twin turbos for what he terms as compound forced induction.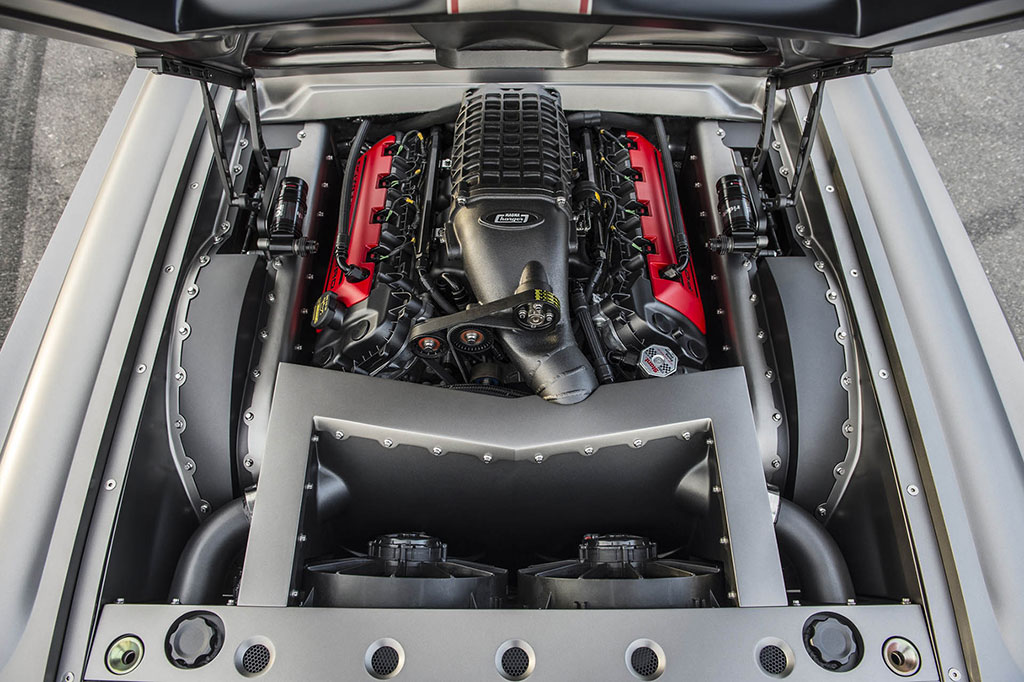 The base engine is a 5.2L Coyote 'Aluminator' from Ford Performance fitted with an Aviad four-stage dry sump system. Internally the block is fitted with Dart Big Bore 3.7-inch sleeves, Manley 2618 forged pistons and Pro-Series rods and a Comp cam and a Ford Performance Coyote Boss 302 forged crank. Meanwhile, the GT350 heads were CNC ported. And there any similarity to other modified Mustangs ends because between the heads squats a serpentine belt-driven Magnusson TVS Magna Charger for low rpm boost. Supplementing the blower for high rpm boost is a pair of exhaust-driven Precision 64/66 ball bearing turbochargers.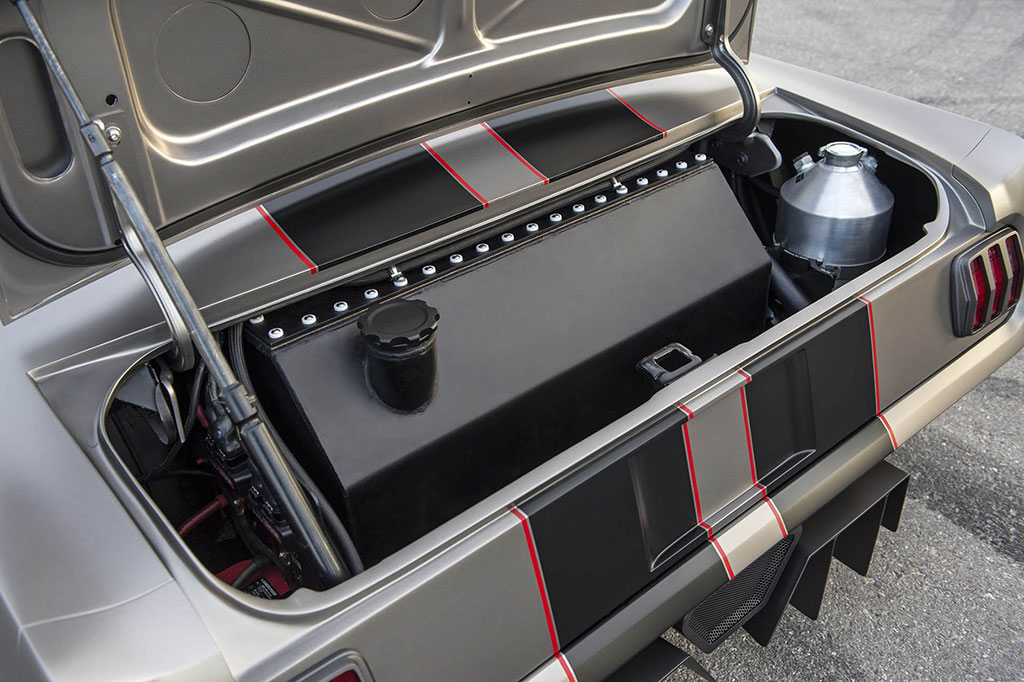 Employing a MoTeC engine management system and an Aeromotive fuel system comprising Eliminator pumps, Pro Series EFI Regulator and fuel rails with a trunk-mounted custom fuel cell, the engine produces 1,003-wheel horsepower and 784 lb-ft of torque on E85. Backing up the power plant is a Centerforce DYAD Clutch, an EMCO CG46 sequential six-speed transmission and a 9.75-inch Strange Engineering aluminum independent axle.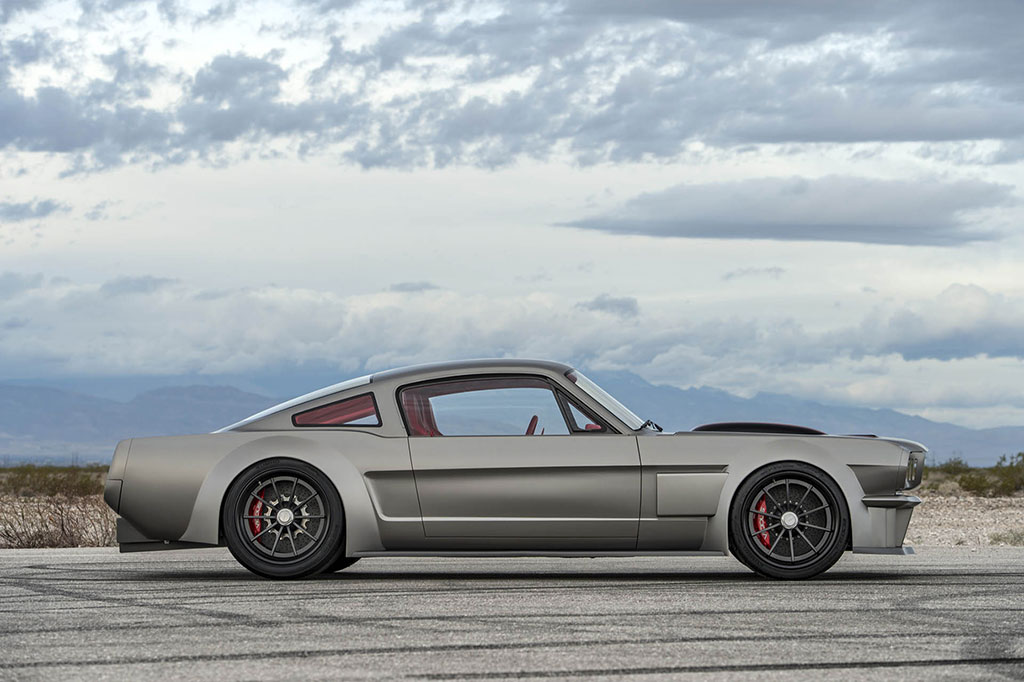 To stop this beast Vicious is fitted with 15.5-inch Brembo carbon-ceramic rotors with six-piston front calipers and four-piston rears. The wheels are Forgeline GT3C Centerlocks: 19×11 in front and 19×13 in back. The tires are 305/30ZR19 in the front and 355/30ZR19 out back.
The other cool factor regarding early Mustangs is that it doesn't seem to matter what people do to them they always look good.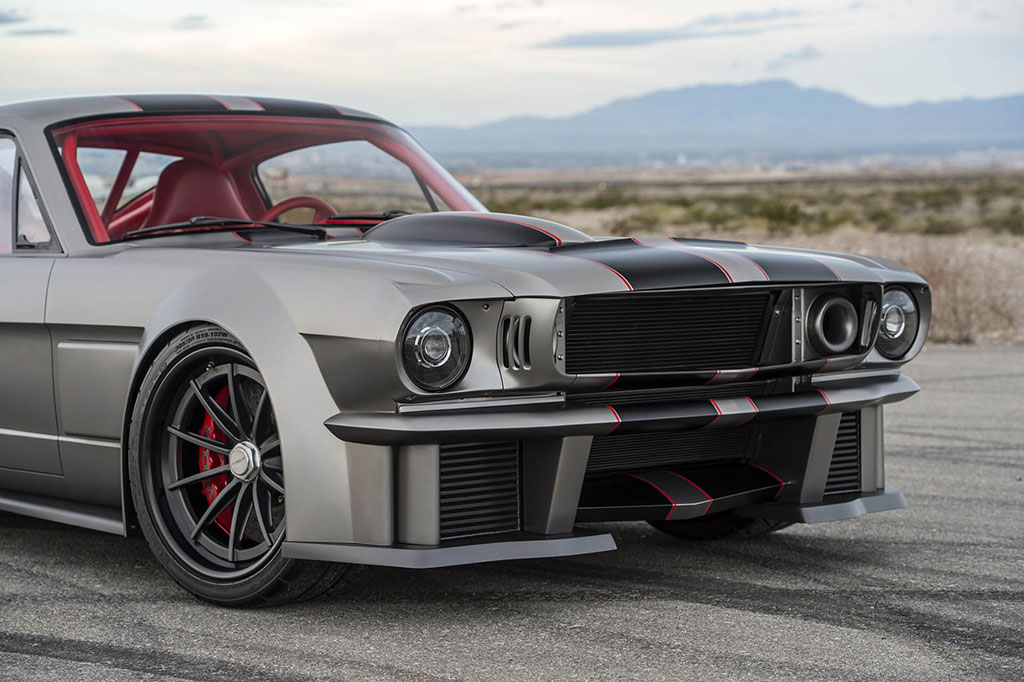 Those big tires are wrapped with some expressive hand-crafted bodywork including integrated fender flares and an aggressive deep front air dam fitted with twin coolers and a F-40-inspired rear end diffuser. Incidentally, the grille contains machined inlets for the turbos and the cool satin paint is a custom PPG mix called 'Vicious Titanium Silver'. The main body color is accented with a red-edged 'over the top' black stripe in traditional style.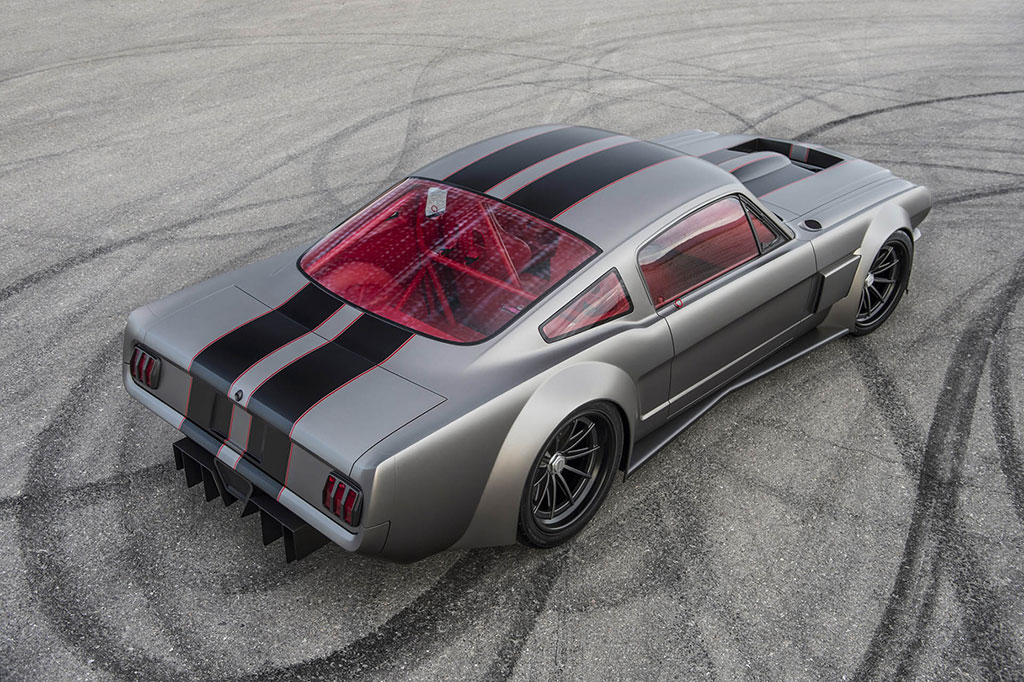 Contrasting with the subtle, semi-gloss exterior color is a wild, blood red leather interior handled by @ethorcustoms within Timeless Kustoms. It features a full tube-steel roll-cage and TK-branded Sparco Pro2000 seats fitted with DJ Safety five-point harnesses. DJ Safety also supplied the fire suppression system while the climate control was provided by Vintage Air. A MoTeC digital dash cluster sits behind the quick-release, three-spoke Sparco R325 steering wheel that is fitted with paddle controls.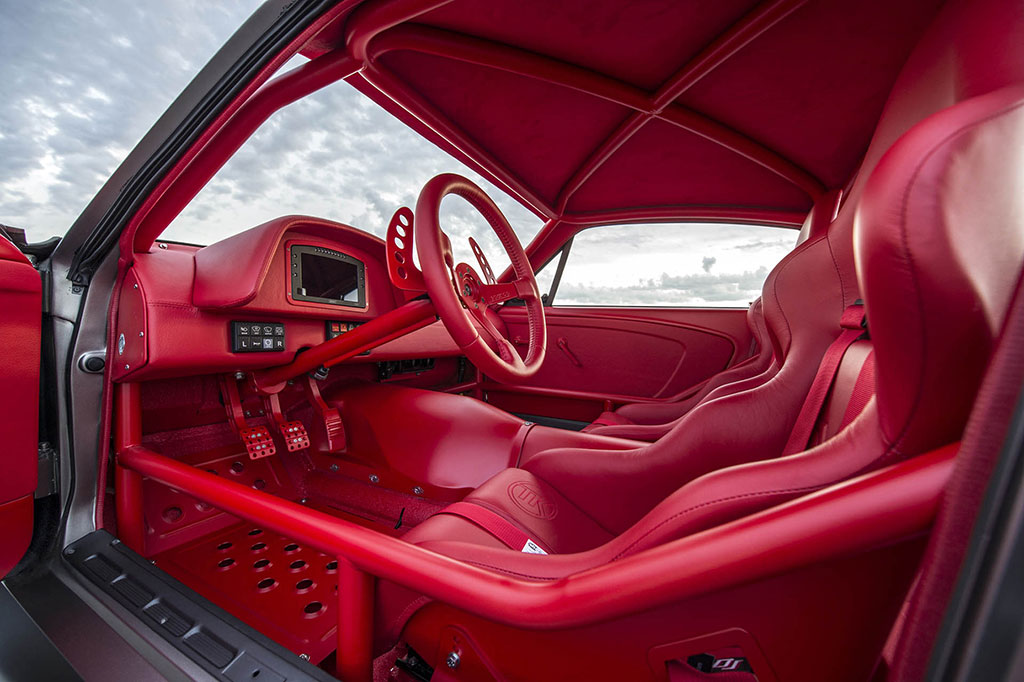 As early modified Mustangs go, Vicious has to be one of the wildest from its triple-blown engine to its blood red interior. To compliment the build and the public's enthusiasm for all things Vicious you can visit ViciousStang.com and check out the related clothing line. You can also follow them on Instagram and Facebook and watch the vids here.