Hodson Motors' Forest Service Ford F-250 Restomod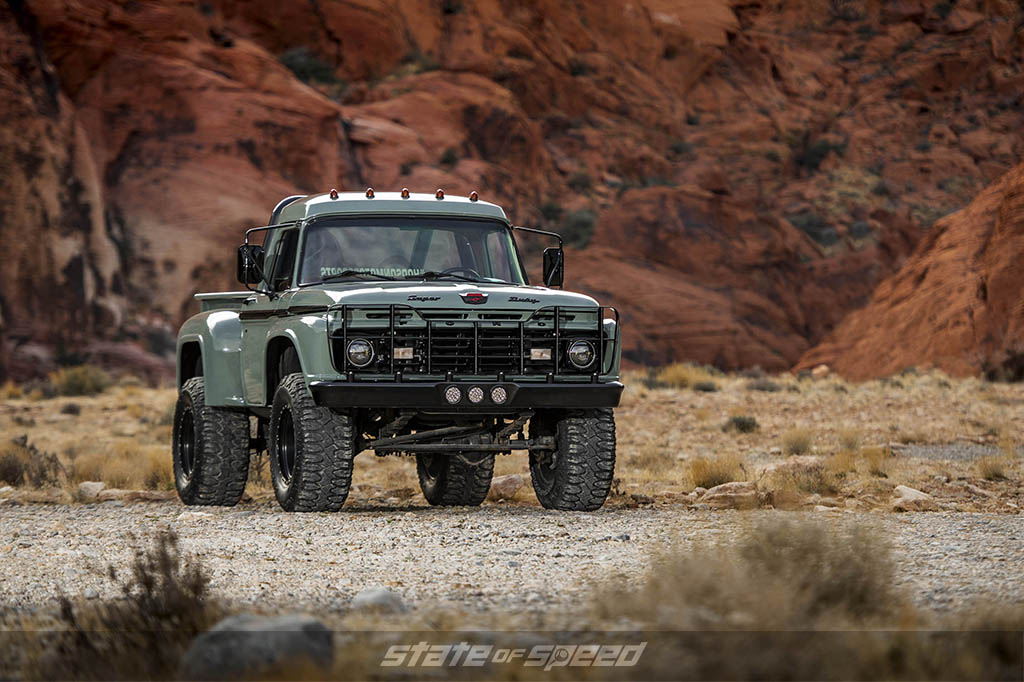 In our last feature installment starring the father and son duo at Hodson Motors, Derrick and Riley Hodson, we explored their amazing beast of a truck—the '83 Jeep J10 they affectionately refer to as the JRT10. Outfitted with a V-10 Viper engine, SRT10 interior, a full 4-inch lift and all the fixins, along with a unique visual appeal that has become the Hodson's calling card, the JRT10 is staying put in the permanent Hodson collection. However, the truck is always in high demand when fans are able to take a closer inspection.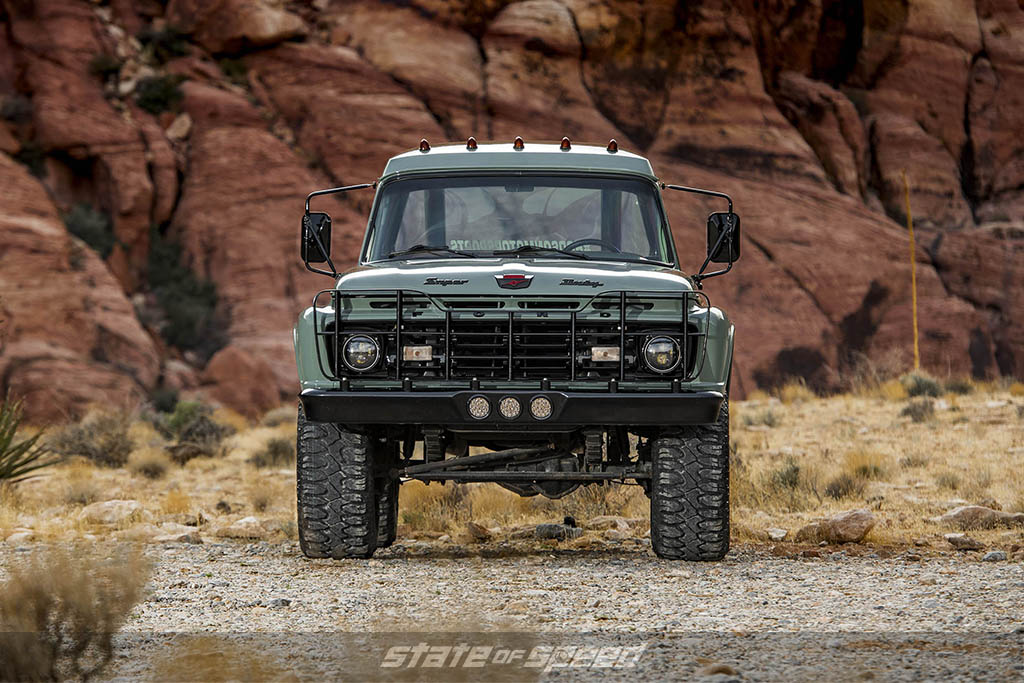 "Dad comes up with these crazy concepts for truck builds, briefs me on his vision, and sends me off to make it happen."

Riley Hodson
With so many impressive completed and in-progress projects to look at, we've decided to reserve some space on the Internet to take a well-deserved peek at a truck that means a lot to Derrick. "This 1964 Ford F250 is something particularly cool that my dad wanted to build", Riley says. Now, for those who aren't up to speed on how the Hodsons operate their shop, their method is pretty straightforward and very effective. "Dad comes up with these crazy concepts for truck builds, briefs me on his vision, and sends me off to make it happen", adds Riley. This is the truck that really kick started Derrick's truck collecting and established Riley's work flow to make said trucks come to life. 
In the case of this F250, the plan was to dig up something quite rare, which is now par for the Hodson course, and add some special parts to really make it come together, which is also a common ingredient in the family recipe. "This truck here is actually a factory F250 4×4 short bed", Riley admits. "But what really makes it unique is that it was a custom ordered short bed, as it was a brush fire truck with a water tank in the bed. These kinds of trucks were used at National Parks by the Forest Service."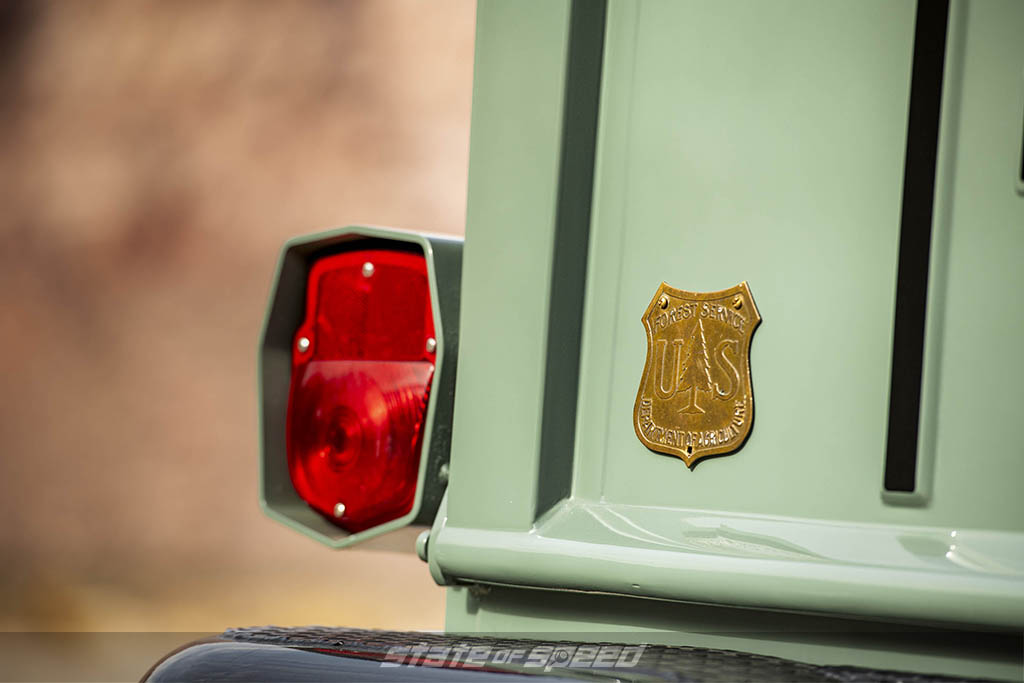 The first step in the project was to first locate one of these trucks out in the wild, which is a process Riley now has down to a science. "The hard part is not really finding these trucks, it's the actual digging them out of the far off, remote locations they are usually in, and dragging them back home to our shop in Las Vegas that poses the real challenge." While we aren't at liberty to discuss where this particular F250 was found, we can share the details about what was done to the truck to make it come out they way it did.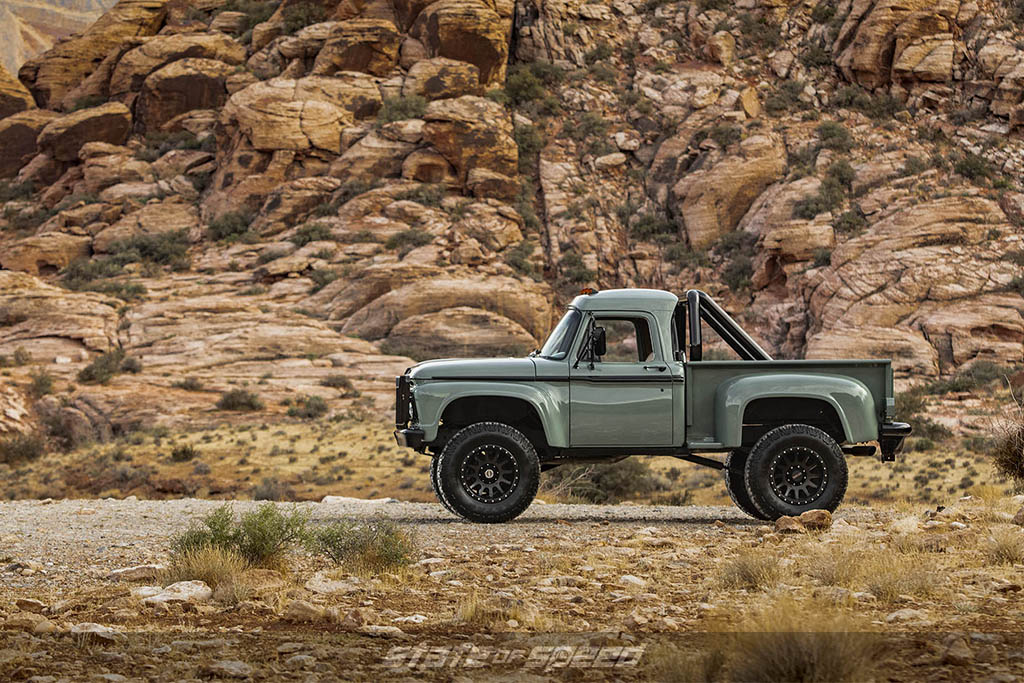 Even though the truck is a rare bird as-is, the first thing Riley and his crew at Hodson Motors did was cut it up. The rear fenders were stretched three inches wider and 6 inches longer, and F600 medium duty fenders were grafted into place up front, as was a front clip from the same truck. To give the roof another six inches of additional headroom, an F800 tall cap was worked into the equation.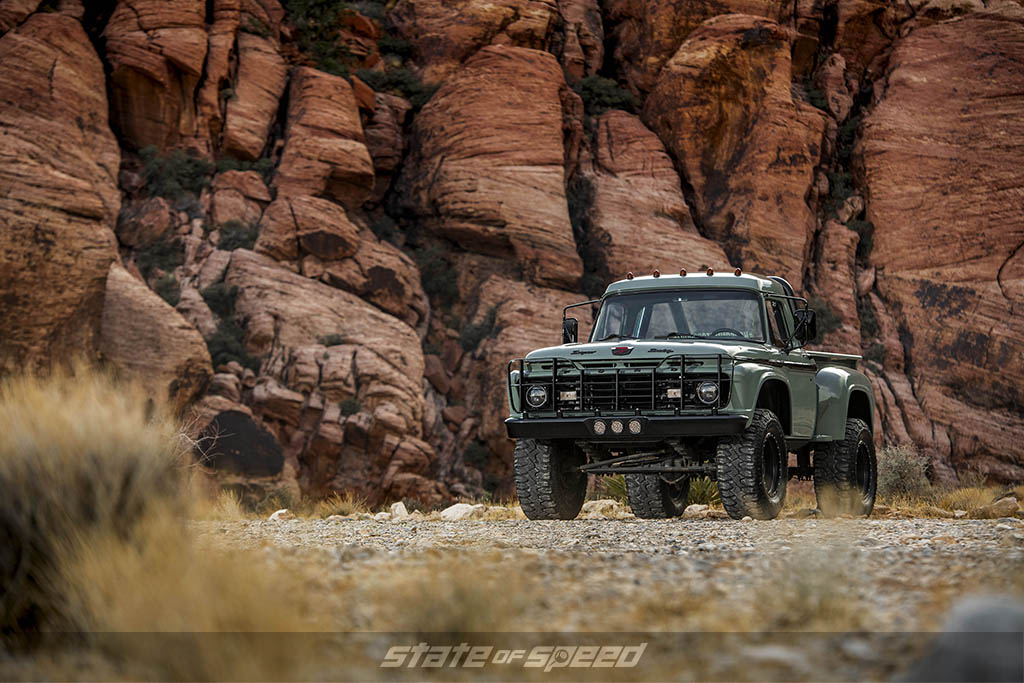 To further make the truck their own, Riley and his crew built a completely custom bed for the F250, and also installed a unibody big back window to help brighten up the inside of the cab. Now, you may be wondering where the heck these guys are able to source so many killer parts from obscure trucks. Well, let's just say the guys have been doing some healthy hoarding over the years, and know exactly where to get more.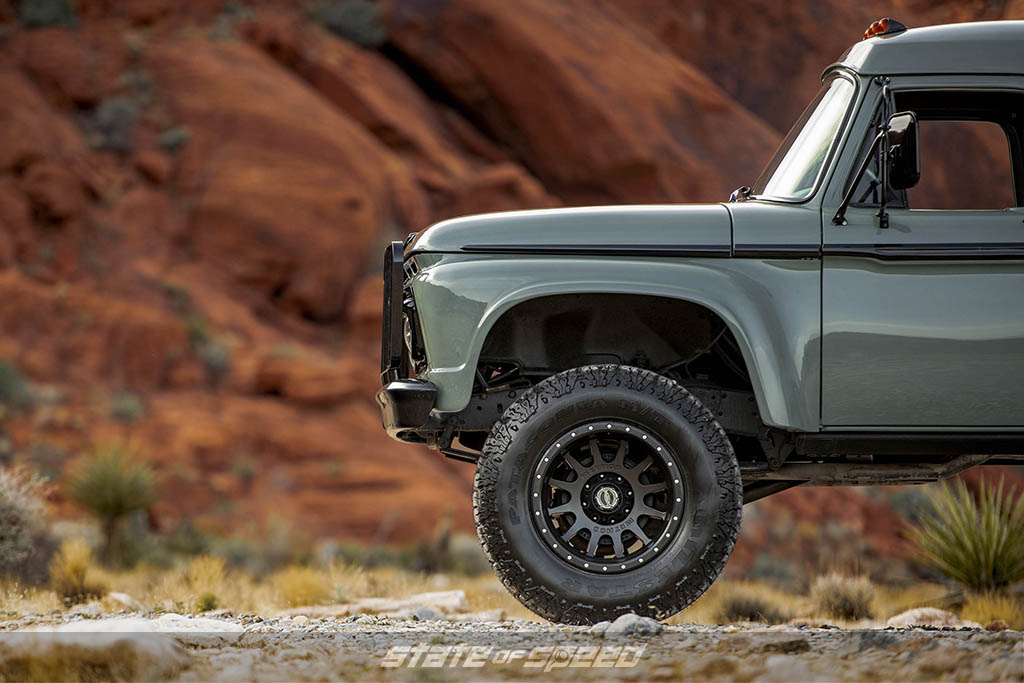 When all the metal work was done to the truck, it was sprayed with a green primer and left that way for quite some time. The guys started getting used to that green color, and ended up mixing a custom gunmetal gloss green hue to finish it off while keeping the looks of it somewhat familiar.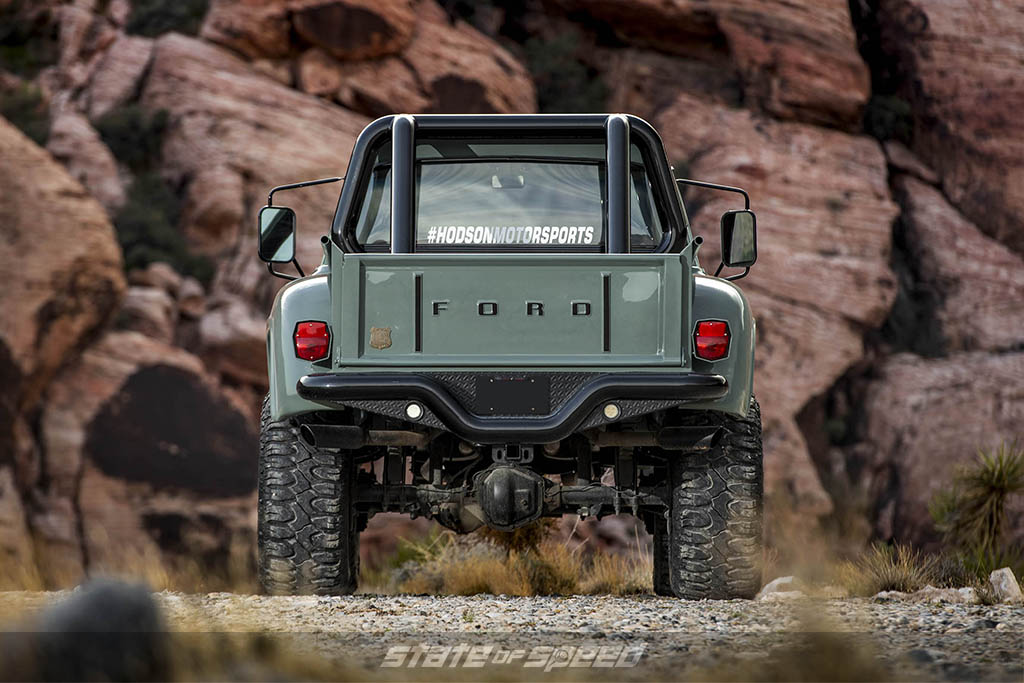 To increase the big look of the truck shell itself and give it that Hodson Motors classic touch, the suspension was lifted a full four inches all around. The original frame and axles were utilized in the overhaul, and the roll cage you see—it's made from 4-inch pipe, not hollow tube, so it's super heavy and damn near bulletproof. To capitalize on the taller ride height, a set of 20-inch Method NV wheels were selected, as was a set of 38-inch Milestar Patagonia M/T tires to ensure the truck was as capable to handle rough terrain and not just look the part. 
Powering the F250 is a Lincoln 460 big block with a few add-ons in the way of a Sniper EFI self-tuning fuel injection system, and a C6 transmission. The engine compartment is clean and tidy, and is designed so to keep function a top priority. Also designed with function in mind, is the F250's interior space, although a ton of form has also been thrown in for good measure. Freshly distressed leather was used on the bench seat, center console, and door panels for an plush vet vintage looking appearance. As with all the builds that Hodson creates, a lineup of usual creature comforts in the way of Dakota Digital gauges, full air conditioning, and power windows were included to modernize the feel of the interior.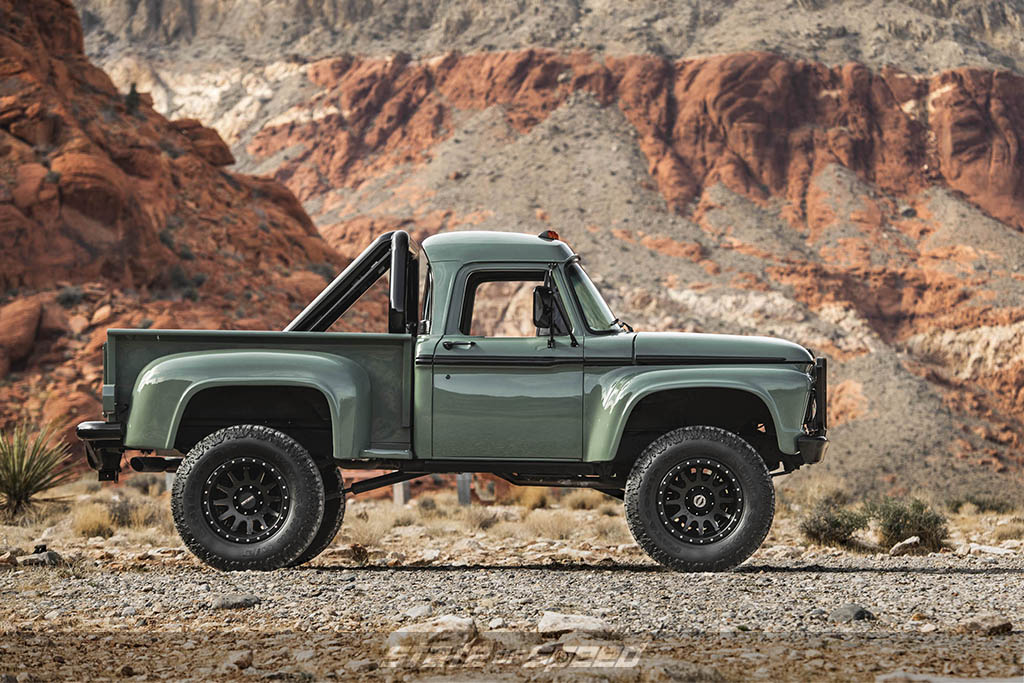 Imagine what the forest rangers back in the 60's would say about what has become of one of their old work trucks. The Hodsons work their magic time and again in order to dream up and build the type of trucks that are now directly associated with their name. If this Ford gives you any tingles (as it should), check out some of the other Hodson Motors' creations, and be sure to stay tuned to their social accounts for future projects that will be sure to push the envelope even further.