OVC Mustangs
In April 1964, after Ford sold 22,000 Mustangs the first week it was on sale, General Manager Lee Iacocca called Carroll Shelby and asked for a Mustang that could beat the Corvette in SCCA B Production road racing. The Mustang had in fact already been proven in Europe where Alan Mann Racing had prepared ten for rallying. They were successful and to prevent any competition from Mann in the U.S., Shelby got hold of a coupe and tested it at Willow Springs, California. Sensing the cars' potential in both street and race trim; Shelby ordered a batch of Wimbledon White 1965-1/2 2+2 fastbacks from Ford's San Jose, California, plant. They came less hood and less back seat to meet the SCCA's sports car requirement.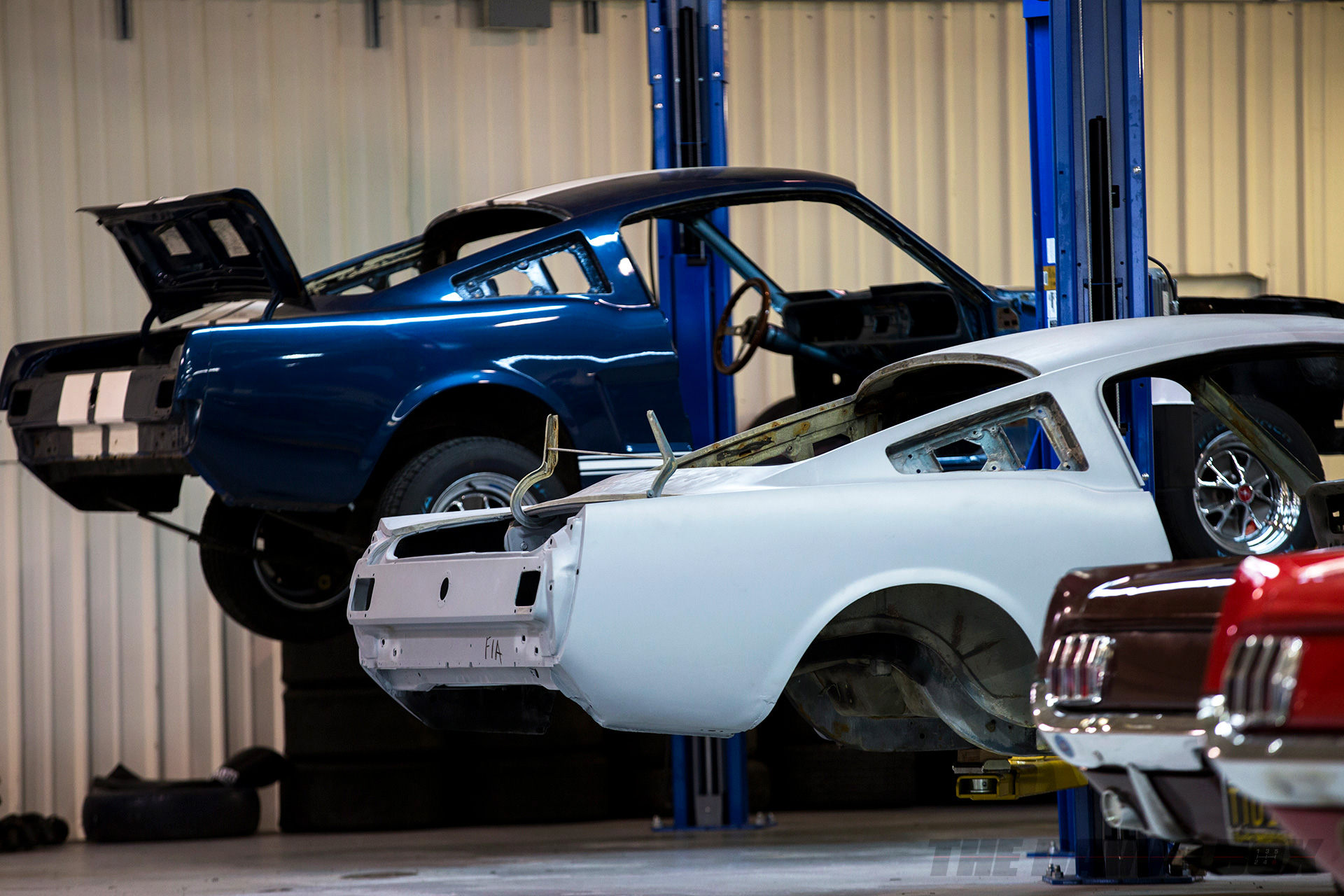 Also ordered was the high-performance, 289 "K-code" engine. Upgrading the engine of the R-is-for race model included blueprinting, balancing and high-compression pistons. External add-ons included an aluminum "high-riser" intake with a 715-cfm Holley, a 6.5-quart oil pan, Tri-Y headers and an X-pipe exhaust system that exited ahead of the rear wheels. The transmission was an aluminum Borg-Warner T-10 four-speed with a limited-slip, 9-inch Dana rear end.  The upgrades increased horsepower to 306 from the stock 271 rating.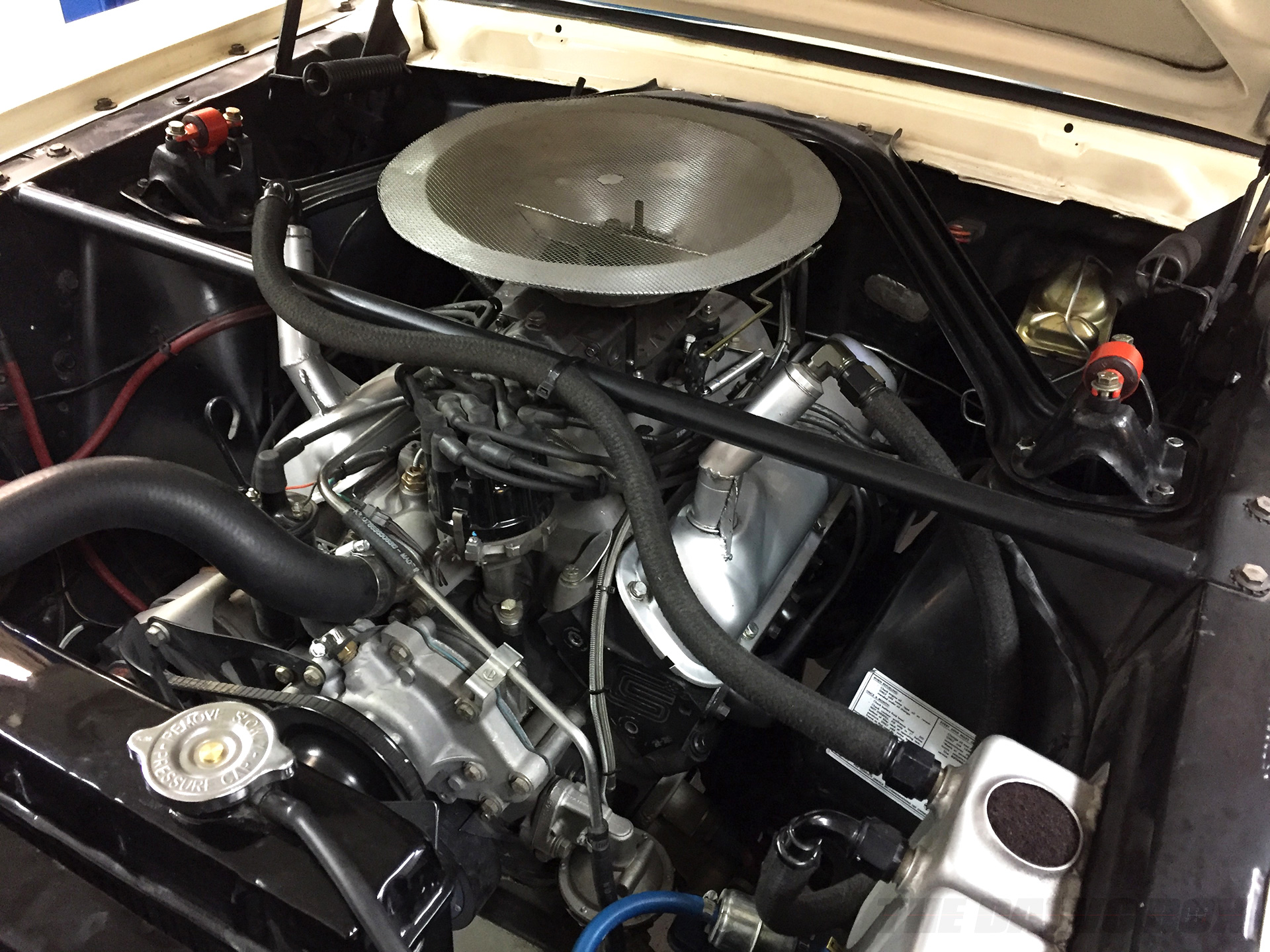 The suspension mods included 11.375-inch Kelsey-Hayes front discs and heavy-duty, 10 x 2.5-inch Ford Galaxie drums in the rear with adjustable Koni shocks all around.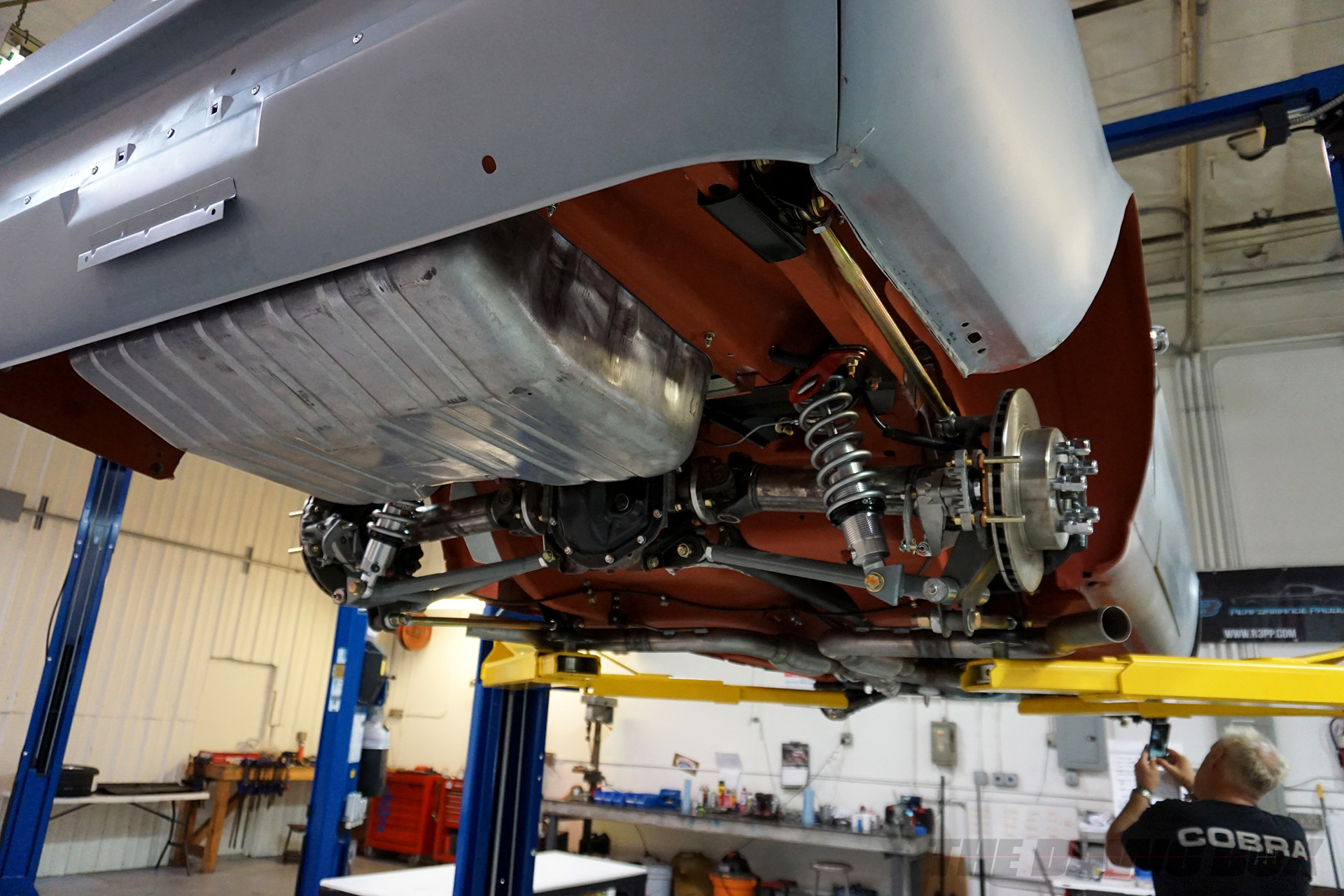 The interior was left almost stock. The back seat was deleted and the space used for the spare. The seats were stock and offered little lateral support beyond the addition of wide lap belts from Ray Brown Automotive. Tach and oil pressure gauges were added and a flatter, wood-rim, Cobra-style steering wheel replaced the stock, deep-dish factory wheel.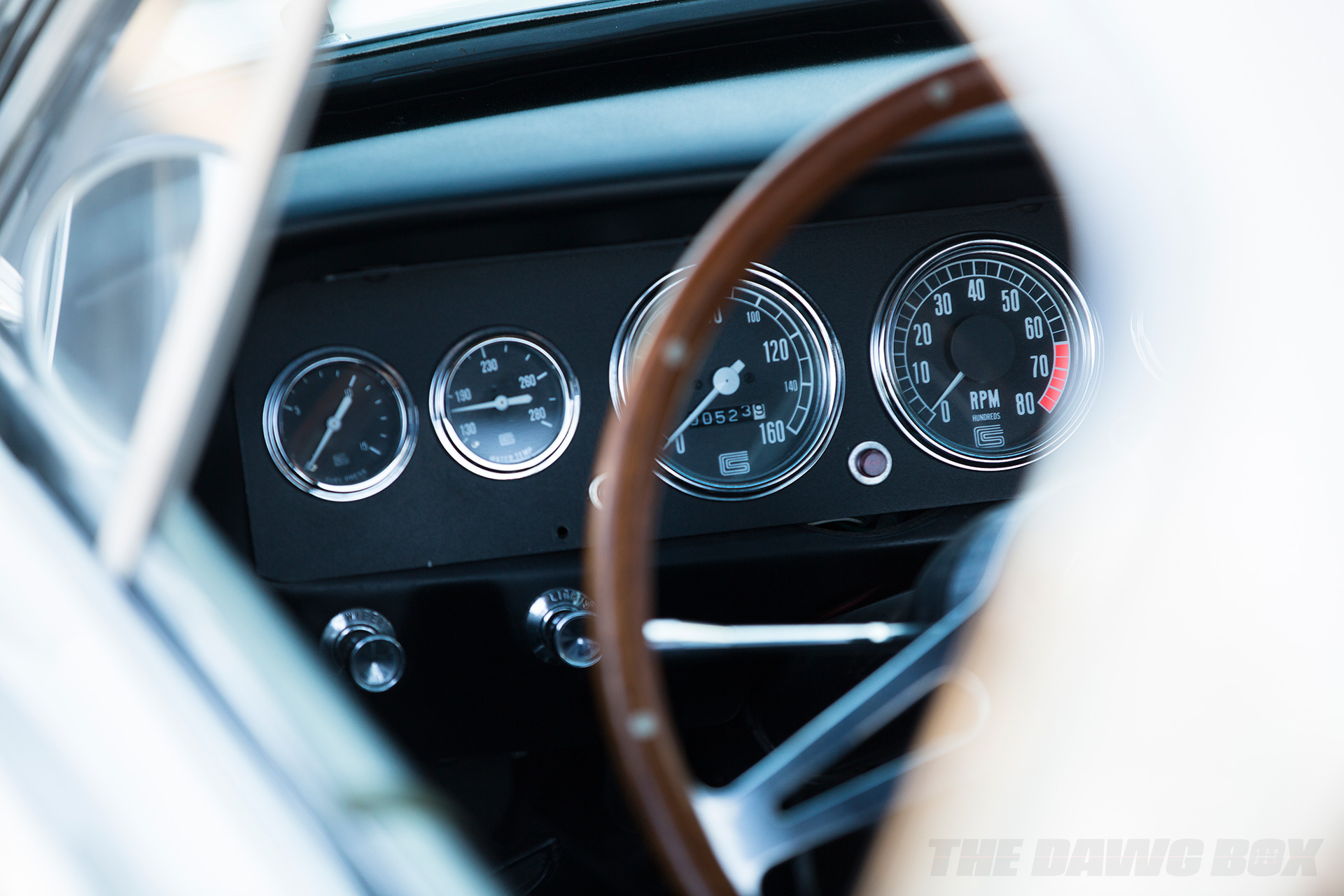 The G.T.350 listed for $4,311, plus $273 for the cast magnesium wheels, however, the R version, sold through Shelby's Venice, California, factory added almost another $2,000. Despite Shelby predicted building 200 a month, however, only 562 G.T.350s were built of which 36 were R-spec. Rumor has it #37 was destroyed but that's just a rumor so let's stick with 36 original cars. It makes sense, therefore, in Shelby tradition, to build a few continuation cars which is exactly what ex-Shelby employee Jim Marietta is doing with OVC Mustangs (OVC).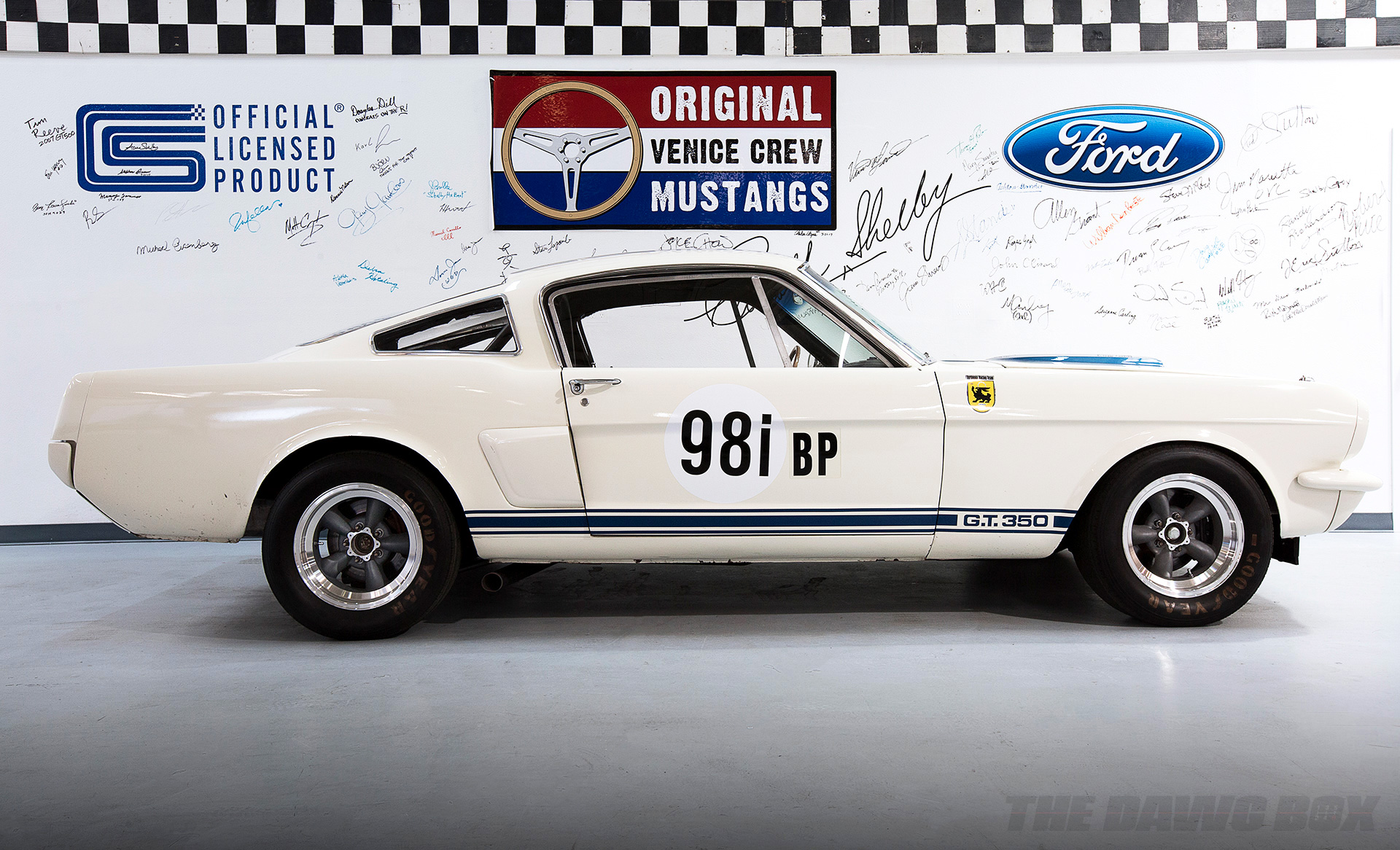 Marietta formed OVC with Ted Sutton while Peter Brock, the father of the Cobra Daytona Coupe, acted as a consultant. Marietta grew up in Cleveland, Ohio, going to the races as often as he could. One day, after seeing him hang around, Al Dowd, Shelby's race team manager asked 17-year-old Marietta if he wanted a job. "Yes." He replied and he soon received a letter from Dowd telling him to be in Los Angeles, January 2, 1965, and to bring his tools. Upon his arrival, one of Jim's tasks was to work with Brock, Sutton, Chuck Cantwell and later designer Klaus Arning on the independent rear suspension (IRS). It worked but just didn't provide enough ROI for the Mustang and it was shelved for the time being.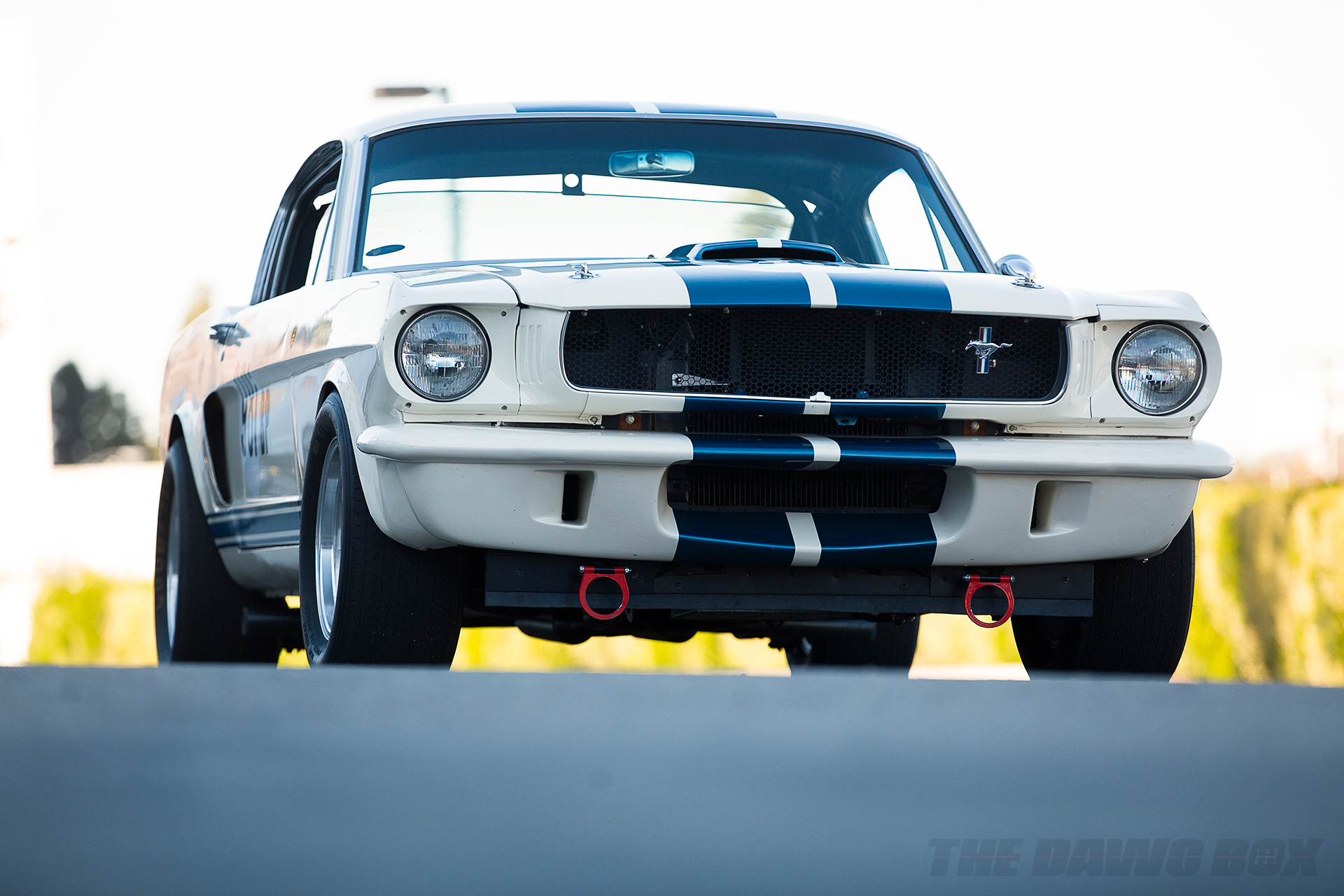 With licensing from Ford and Shelby, OVC was officially in business in September 2014. Subsequently, two prototypes were built in 101 days at Brock's in Henderson, Nevada, the shop where Brock was able to incorporate some of the design elements he originally suggested for the G.T.350R including a new front lower valance, new Plexiglas three-quarter windows, and a new Plexiglas rear window. Subtle but significant parts that should also be available separately for retrofit.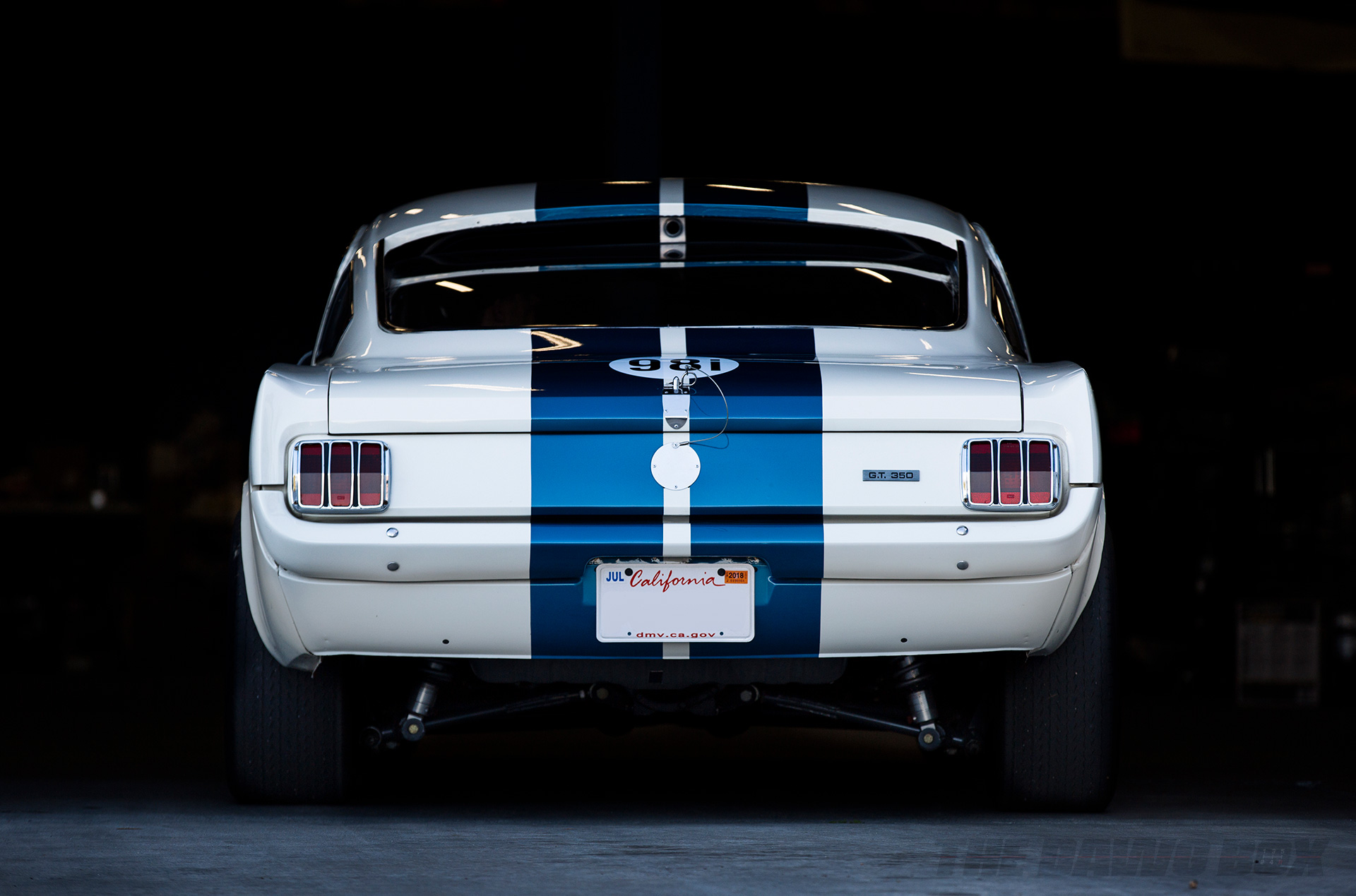 The first two prototypes were built, as will be the 36 continuation cars, using original '65 Mustang Fastbacks licensed-for-the street, however, the first pair will not be serial-numbered cars as will the 36 subsequent cars.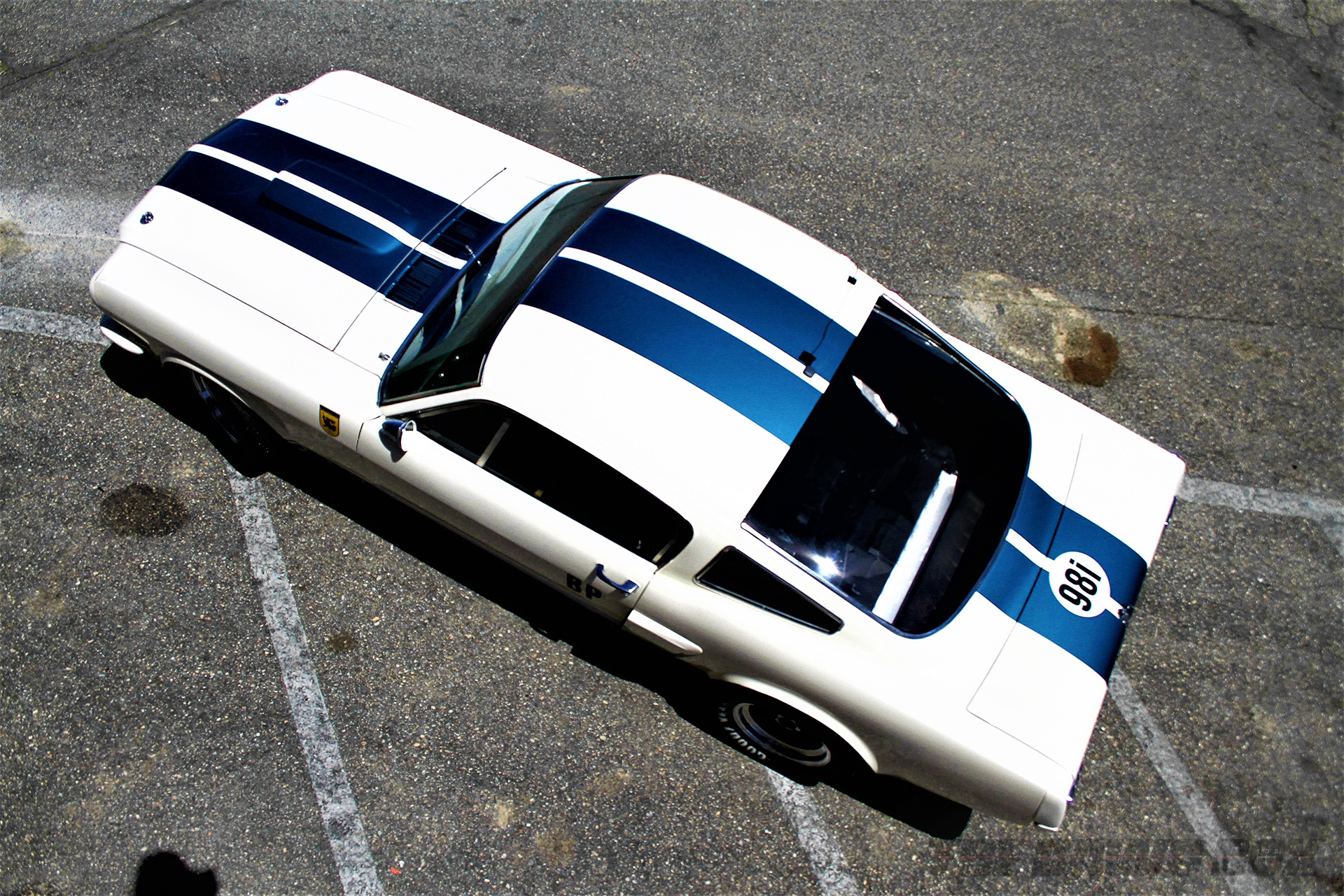 Each car is carefully selected before it is completely stripped and blasted clean prior to any necessary repairs. A new original-spec, iron-block 289 is sourced from Bill DenBeste's Carroll Shelby Engine Company, Windsor, California, however, customers can specify any spec. Each engine even has a cone-shaped air filter hand formed by Jere Kirkpatrick who worked at Shelby and drove a Cobra DragonSnake to the 1964 NHRA National Championship. Kirkpatrick also fabs the cone-shaped splash guard around the gas cap on the trunk-mounted gas tank—tasks similar to those he performed 50 years ago.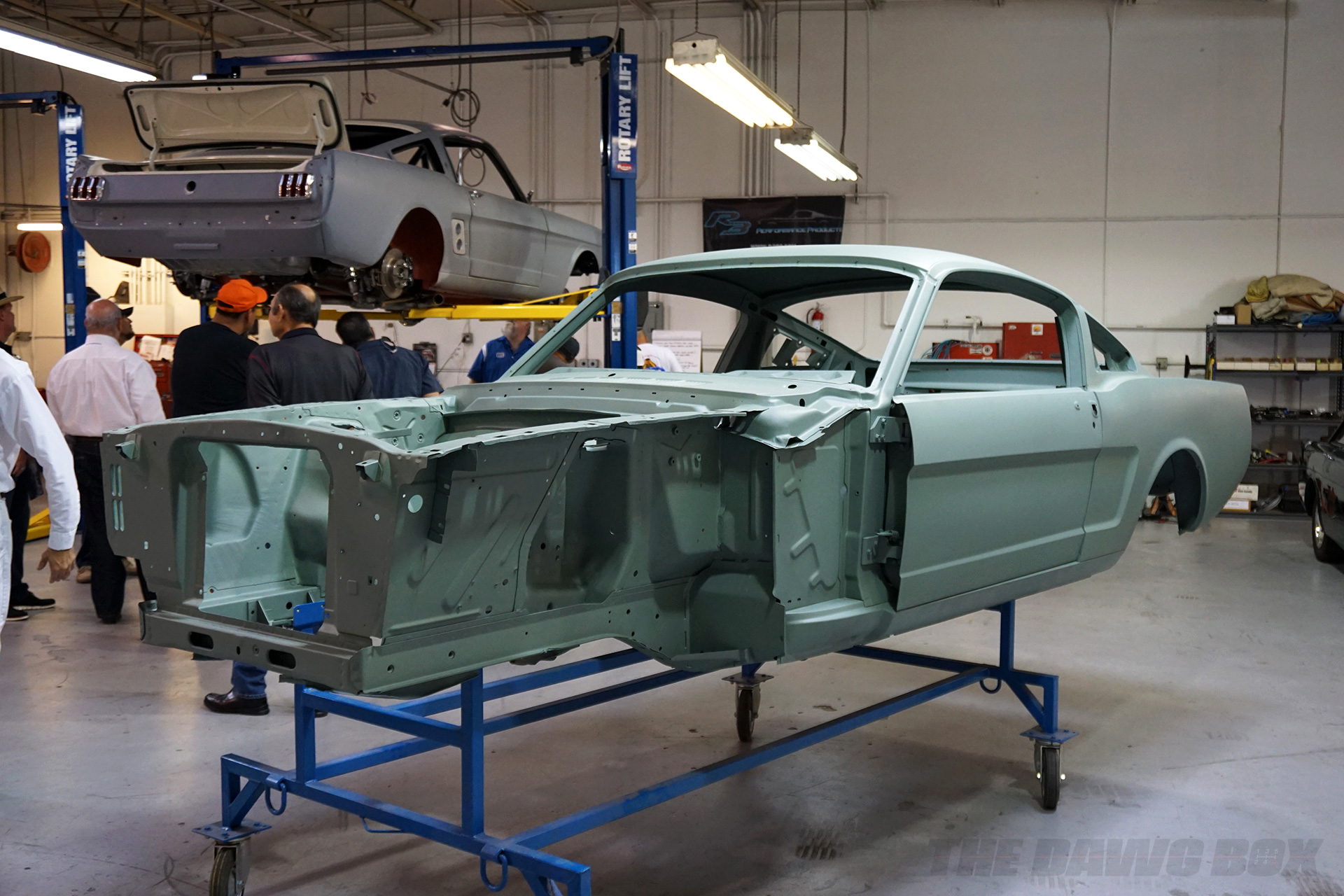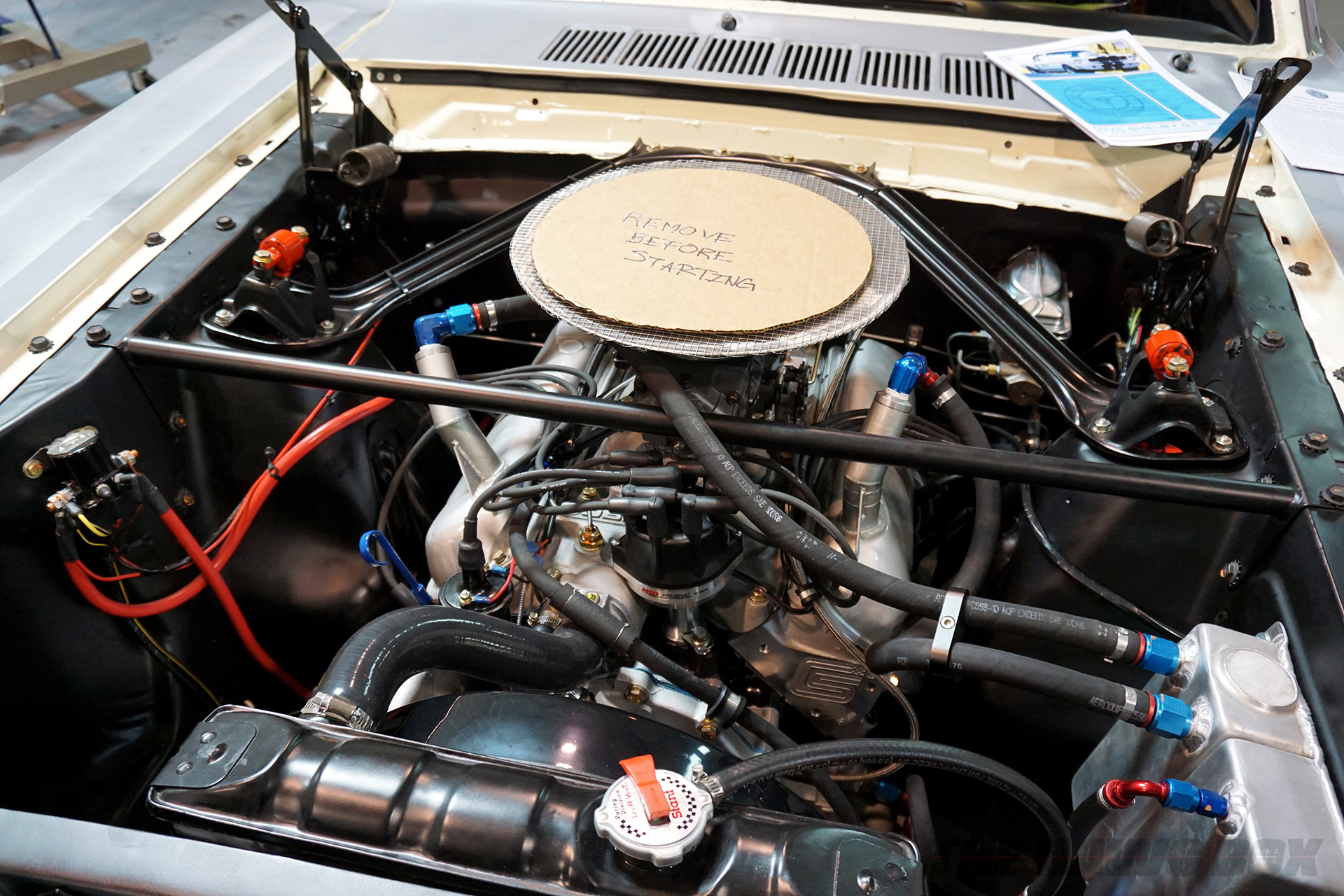 After the body shells are prepped, including the addition of original-style steel fender flares, they are painted Wimbledon White with Guardsman Blue stripes on the rocker panels and Le Mans stripes over the top of the body. Other external additions include the original-style scoops behind the doors, the new Pete Brock front valence and windows and an original-style fiberglass hood complete with a scoop.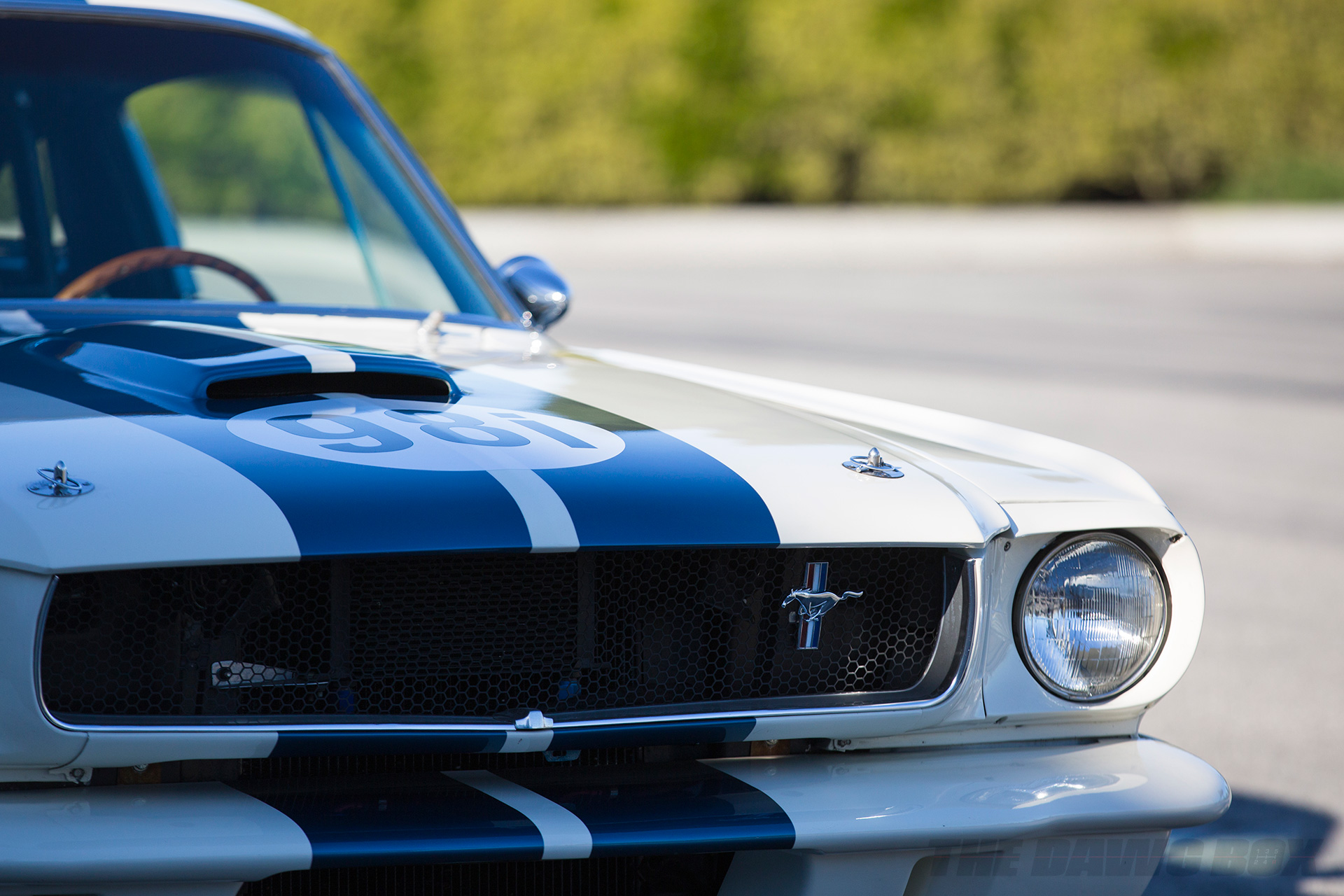 The suspension is somewhat similar to the original; however, OVC is able to offer an IRS option comprising a limited-slip Dana center section with vented discs. Up front, there's a period-correct aluminum 4-speed with the stronger cast-iron tail shaft. The wheels are 5-spoke Americans shod with Goodyear 15 x 7 race tires.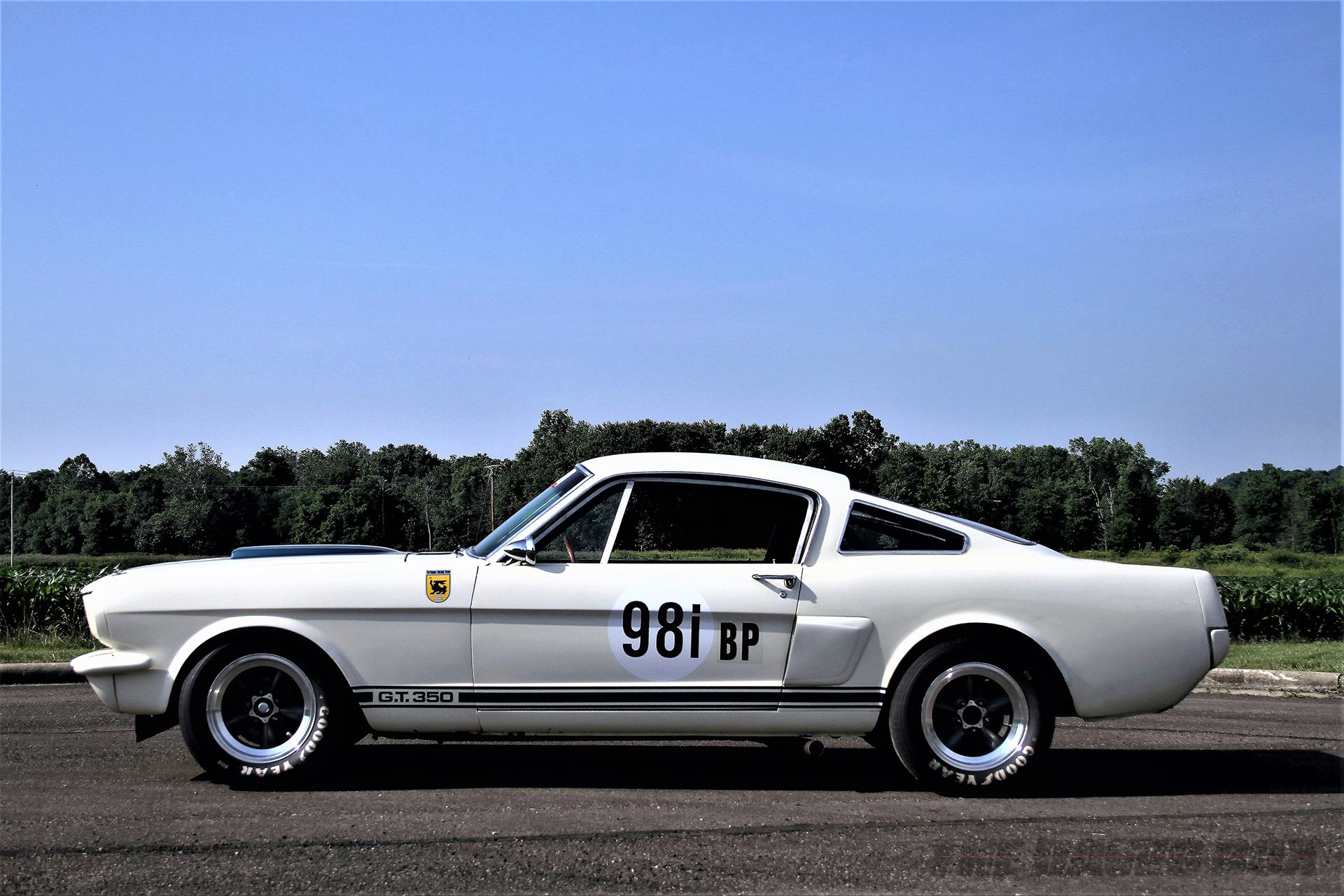 The interior is Henry Ford-black and comprises the shallow-dish, wood-rim wheel, deleted back seat, an original-style, four-point roll cage with a non-original kill switch, a driver's race seat, a stock seat for the passenger and a new instrument cluster.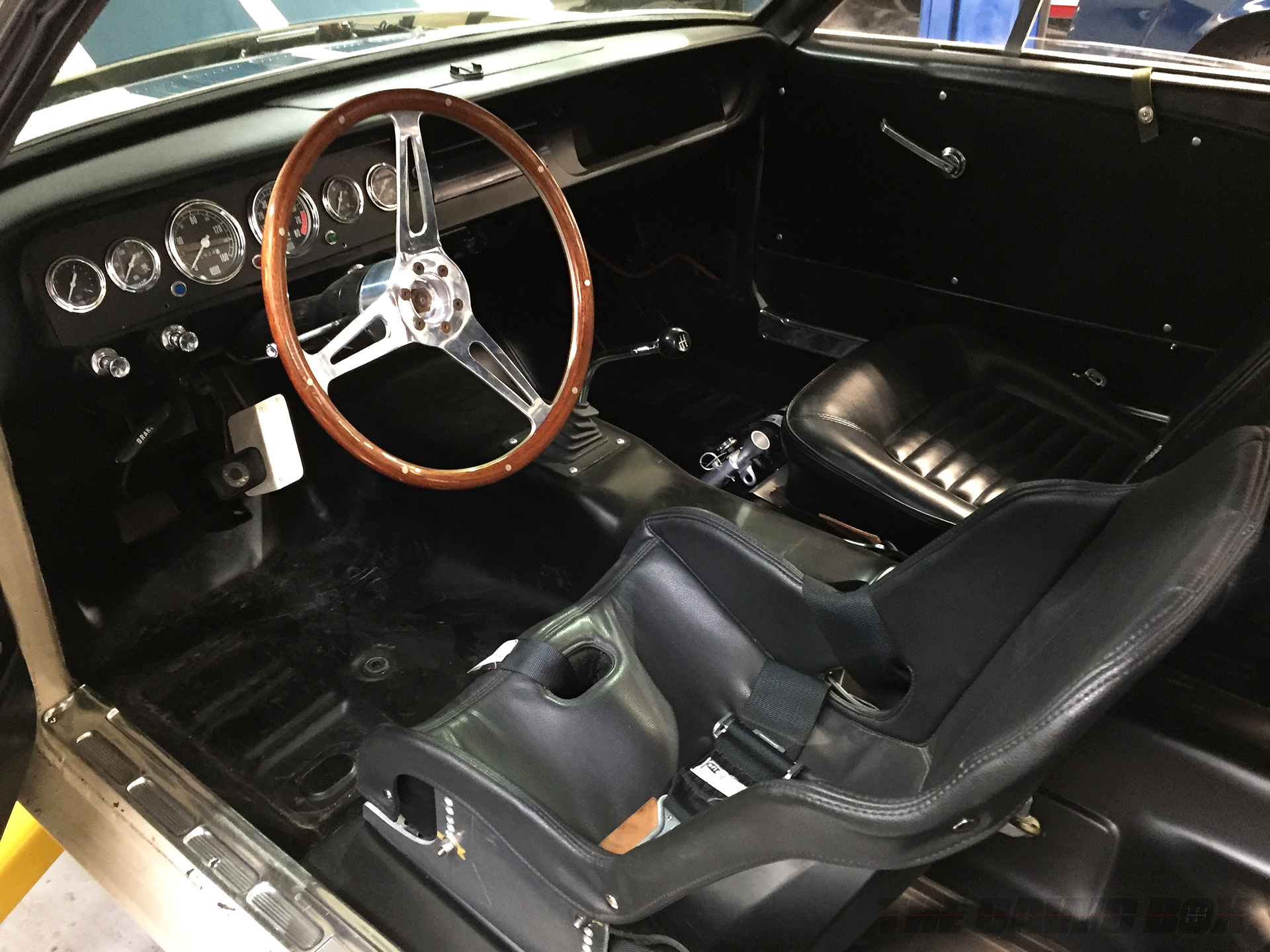 Prototype testing took place at Willow Springs Raceway on February 14, 2015; exactly 50 years since Ken Miles' first G.T.350 win at Green Valley Raceway, Texas, February 14, 1965. The test team included Vince LaViolette, Shelby American's current test driver, Rick Titus, son of Shelby Trans-Am winning driver Jerry Titus. Former Shelby American driver and Le Mans winner John Morton was also on hand to help tune the car's suspension. The first new-old G.T.350R went on to win its very first race in June 2016 at Hallett Motor Racing Circuit, Oklahoma.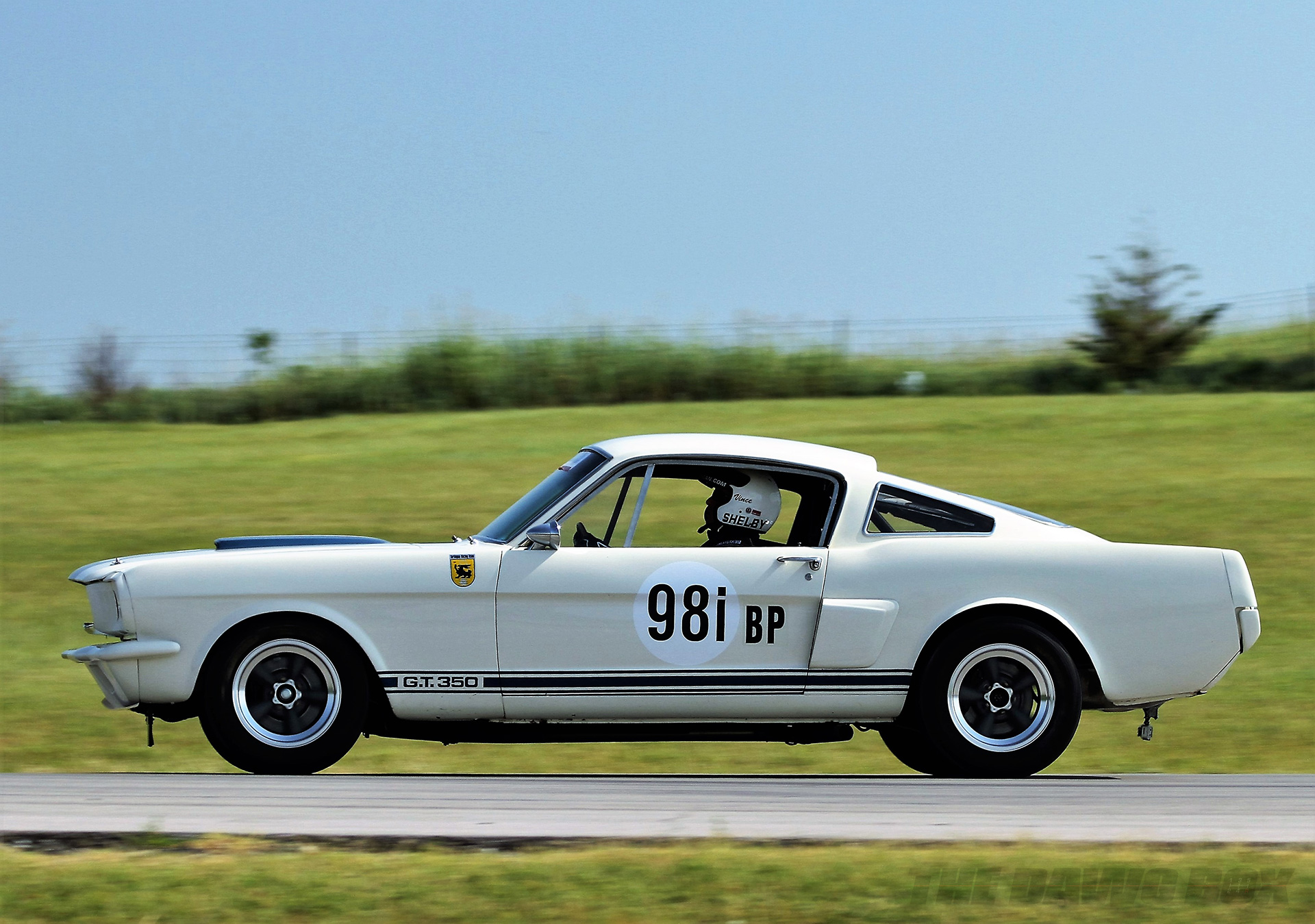 In 2017, OVC moved into the old Shelby International headquarters engine building on S. Figueroa Street in Gardena, California. It's a huge, 9,000 square-foot space dwarfing the production area but affording room to grow. While visiting I counted about ten vehicles in the process from being blasted to assembled. With original K-code Shelby street G.T.350 Mustangs fetching more than $500,000 and G.T.350R models tipping the scales at $1 million, the $250,000 price tag of the continuation cars seems reasonable.