This Toyota Tacoma Build Is Ready for Anything
Venturing far off the beaten path takes preparation. The farther you wander from civilization, the more you need to be self-sufficient. The saying goes that two is one, and one is none, but it's also easy to go overboard with parts and equipment. You can get so overloaded, you lose efficiency. Building something that has everything you need, and nothing you don't takes careful execution.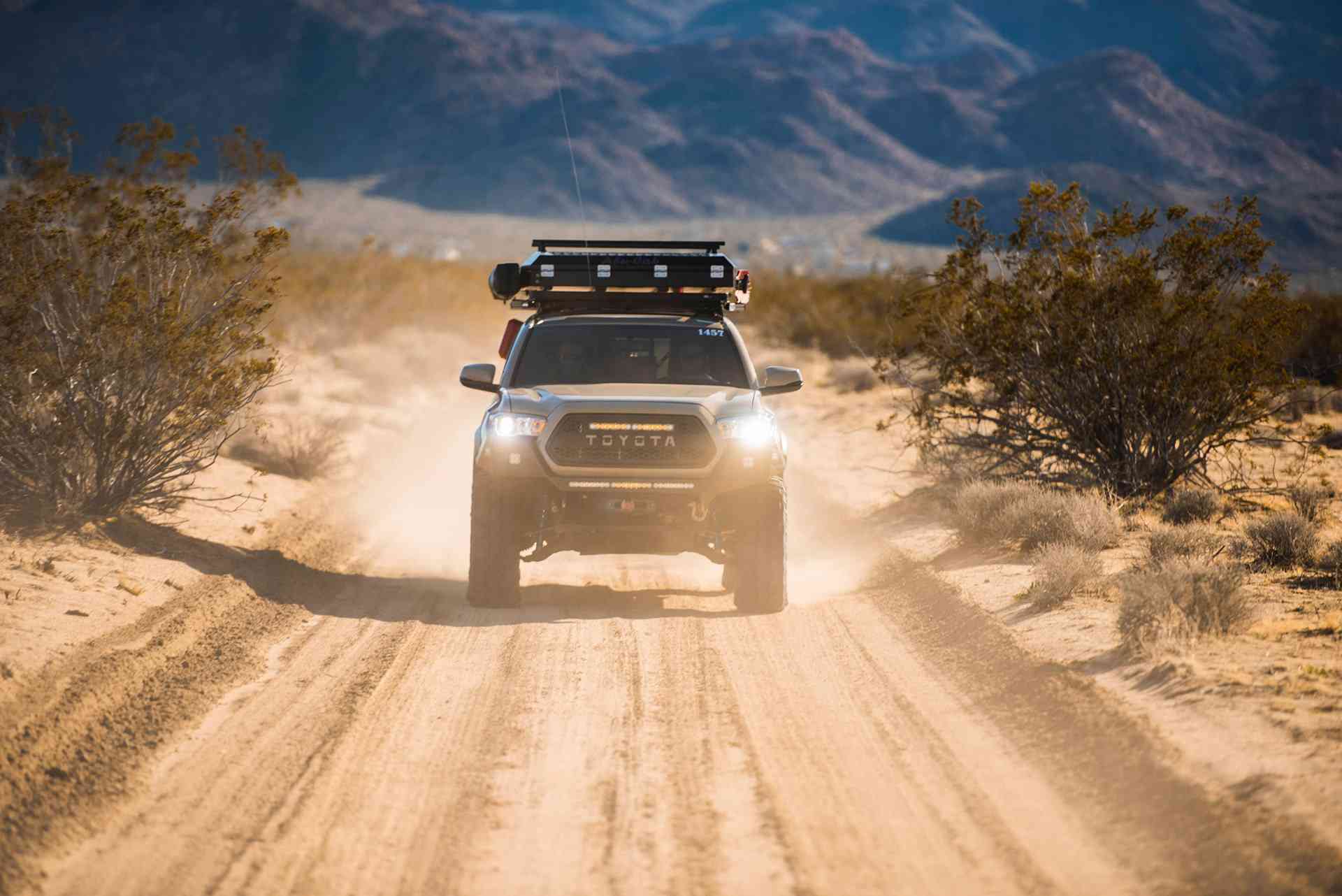 One such truck that hits the mark is Noah Voloshin's Toyota Tacoma. Amazingly it's his first build, but he learned a lot helping friends on their vehicles. When it came time for his own, he knew exactly what he wanted. Everywhere you look on this truck you see the details that make it special. The quality of the components stand out, but the way they are so cleanly integrated into the truck really sets it apart.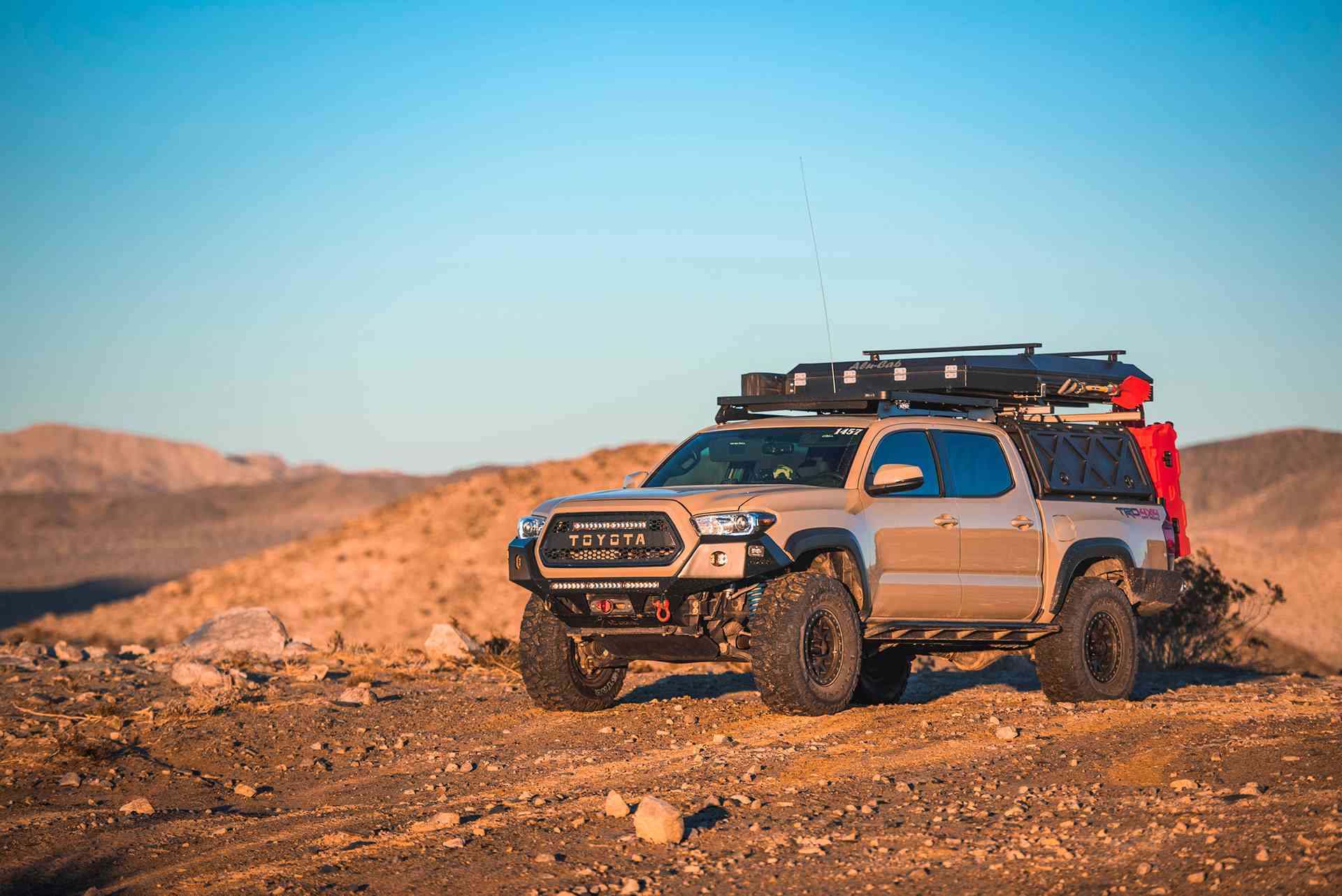 If you look closely you will also notice the scratches and patina that lets you know this Tacoma is the real deal. Those don't detract from the truck, they are like badges of honor. Souvenirs from a do or die rock climb, an overgrown goat trail, or a night spent hunkered down in the dirt during gale force winds.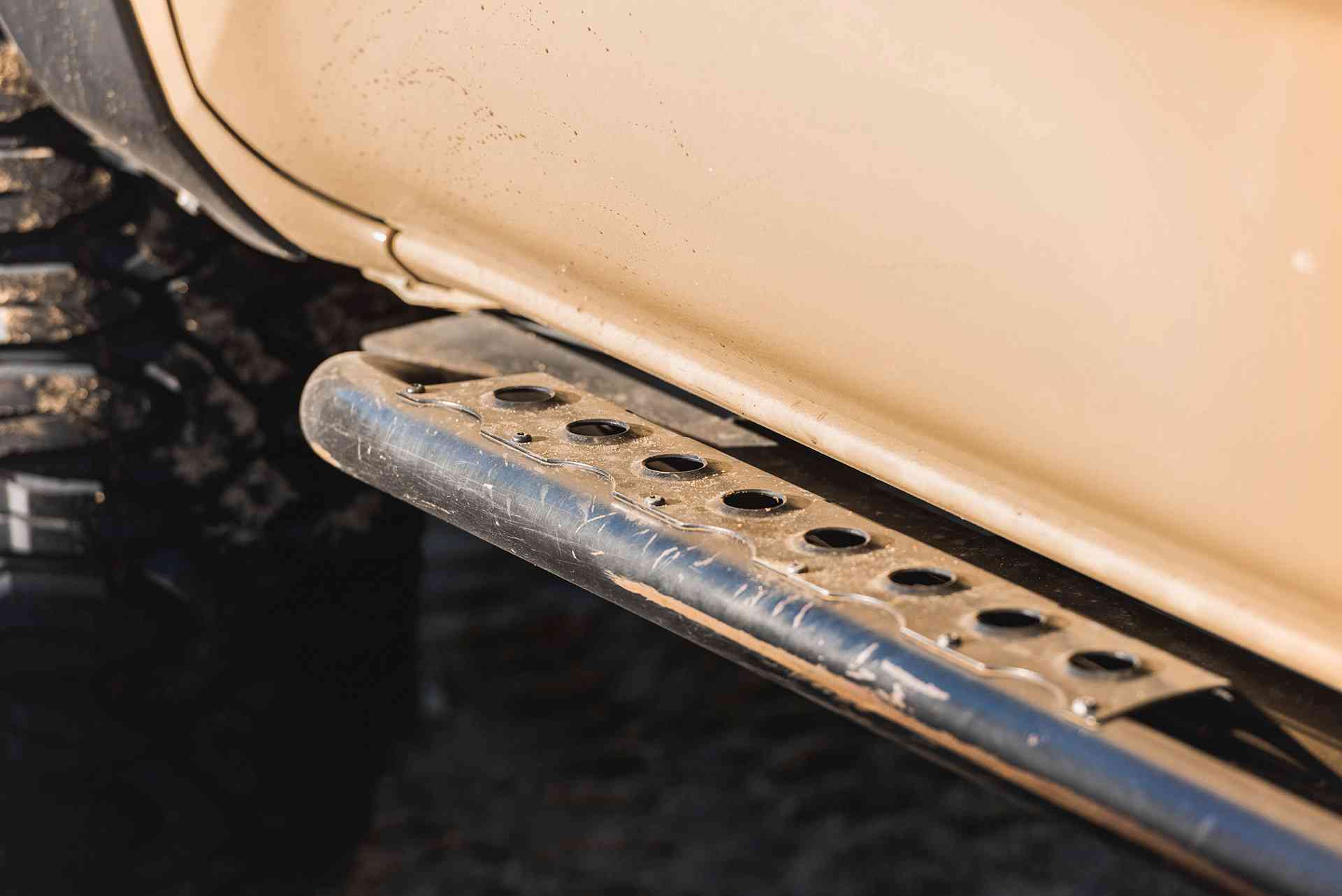 Judging by the raw aluminum exposed on the beadlock rings of Noah's Method Race Wheels, the aggressive tread design that wraps down onto the sidewalls of his Milestar Patagonia M/T tires has come in handy. Those gouges had to have come from big rocks, deep sand or course mud; all areas where the Patagonia M/T's shine. They have taken everything Mother Nature has dished out.
They have taken everything Mother Nature has dished out.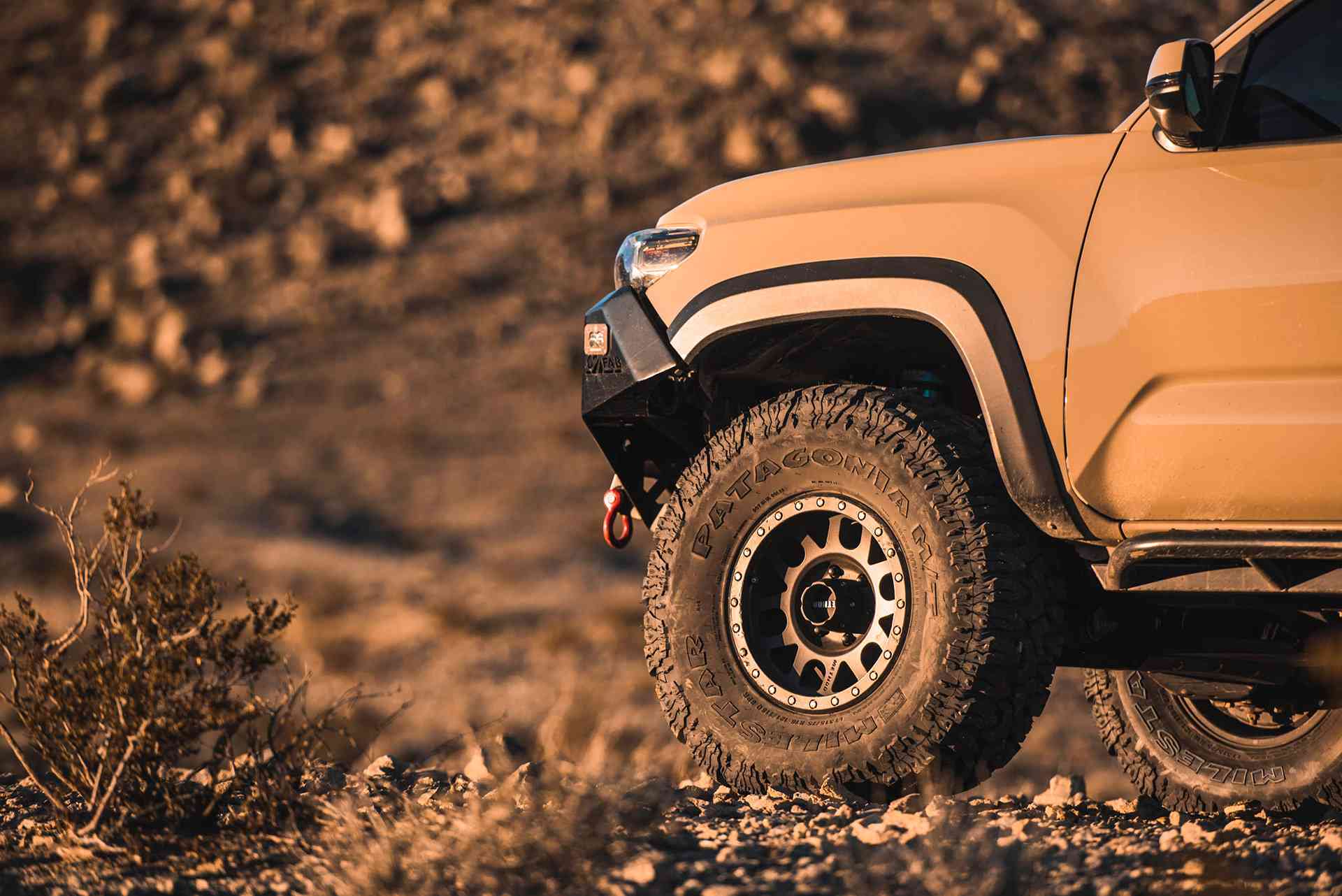 Keeping the tires planted on the Tacoma is made possible by a custom suspension based on Total Chaos upper control arms in front, and Deaver progressive leaf springs in the rear; all damped by King Shocks.
It's obvious that Noah's Tacoma isn't afraid to conquer tough terrain, so having the protection that covers both sides, front and rear is a must. Up front, a C4 Fab full plate front bumper provides protection while blending seamlessly with the DB Customz fab grill, and factory sheet metal.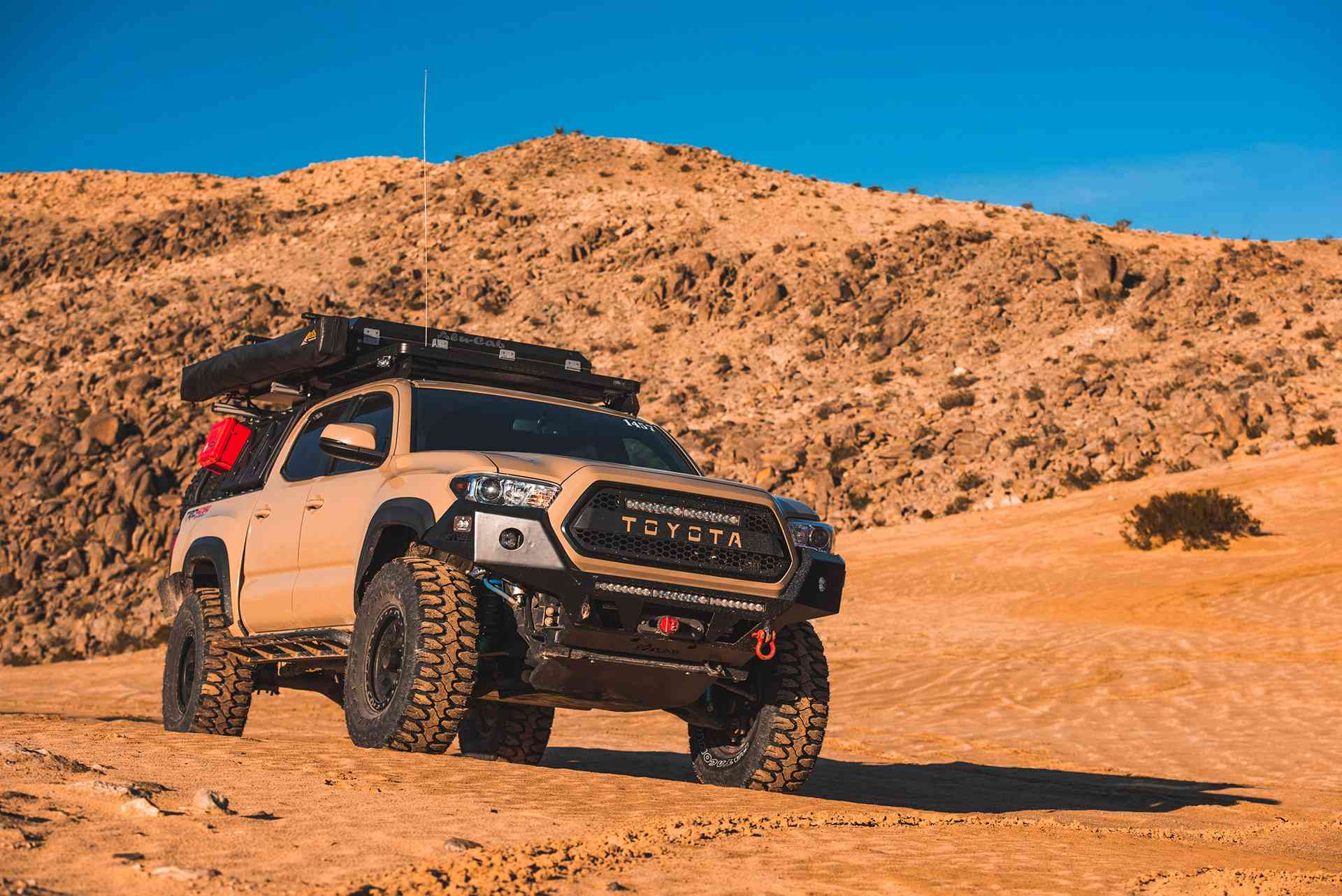 The Tacoma's bumper is loaded with essentials like recovery rings, and a Warn Zeon 12s platinum winch. It also mounts a full complement of Baja Designs LED lights. A light bar, fog lights, and ditch lights at each corner give Noah specific lighting for all conditions. His custom lighting covers the entire truck with supplemented rack, rock, reverse, and recovery lights. Along both sides of the Tacoma are C4 Fab rock sliders, and Pelfreybilt skid plates protect underneath.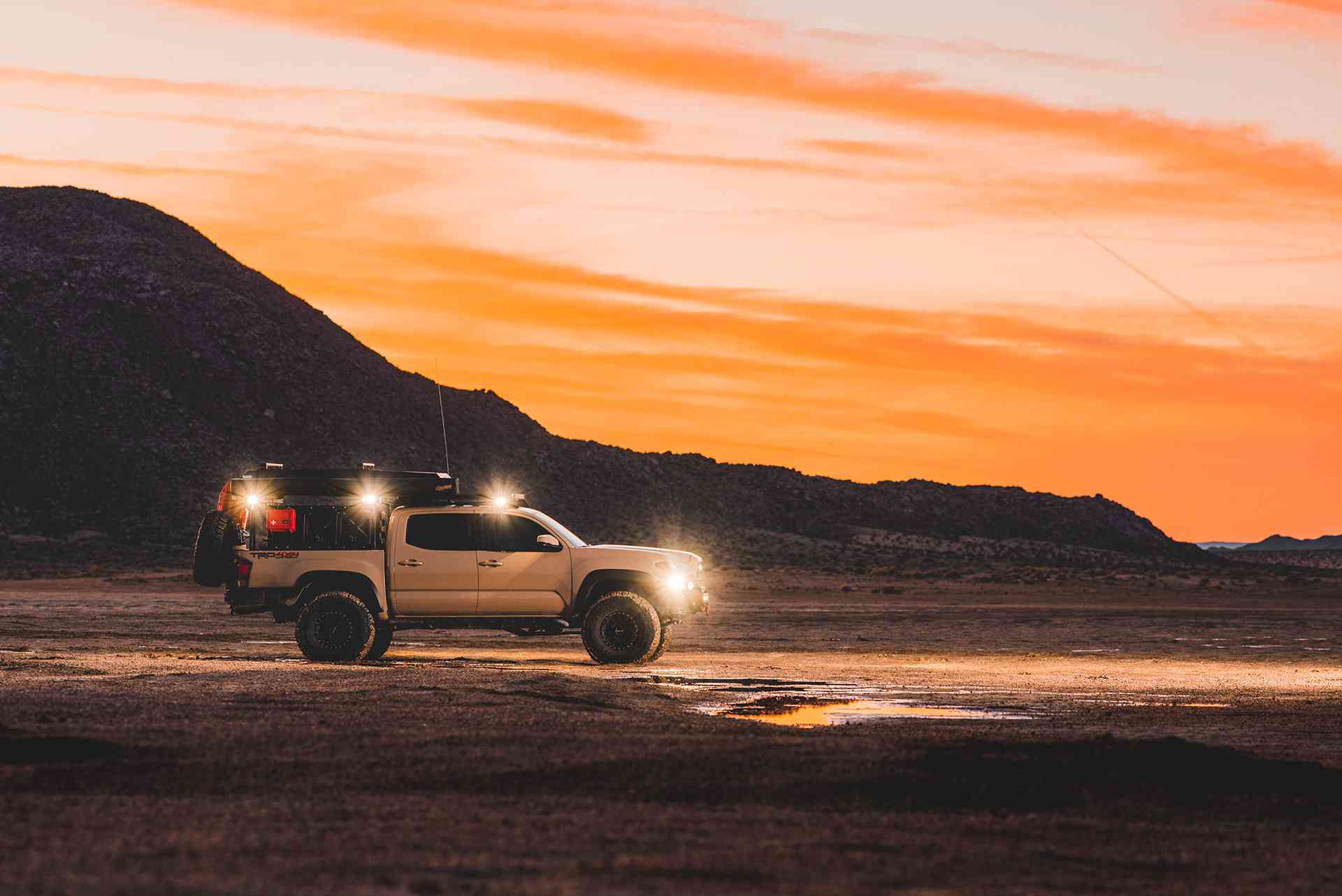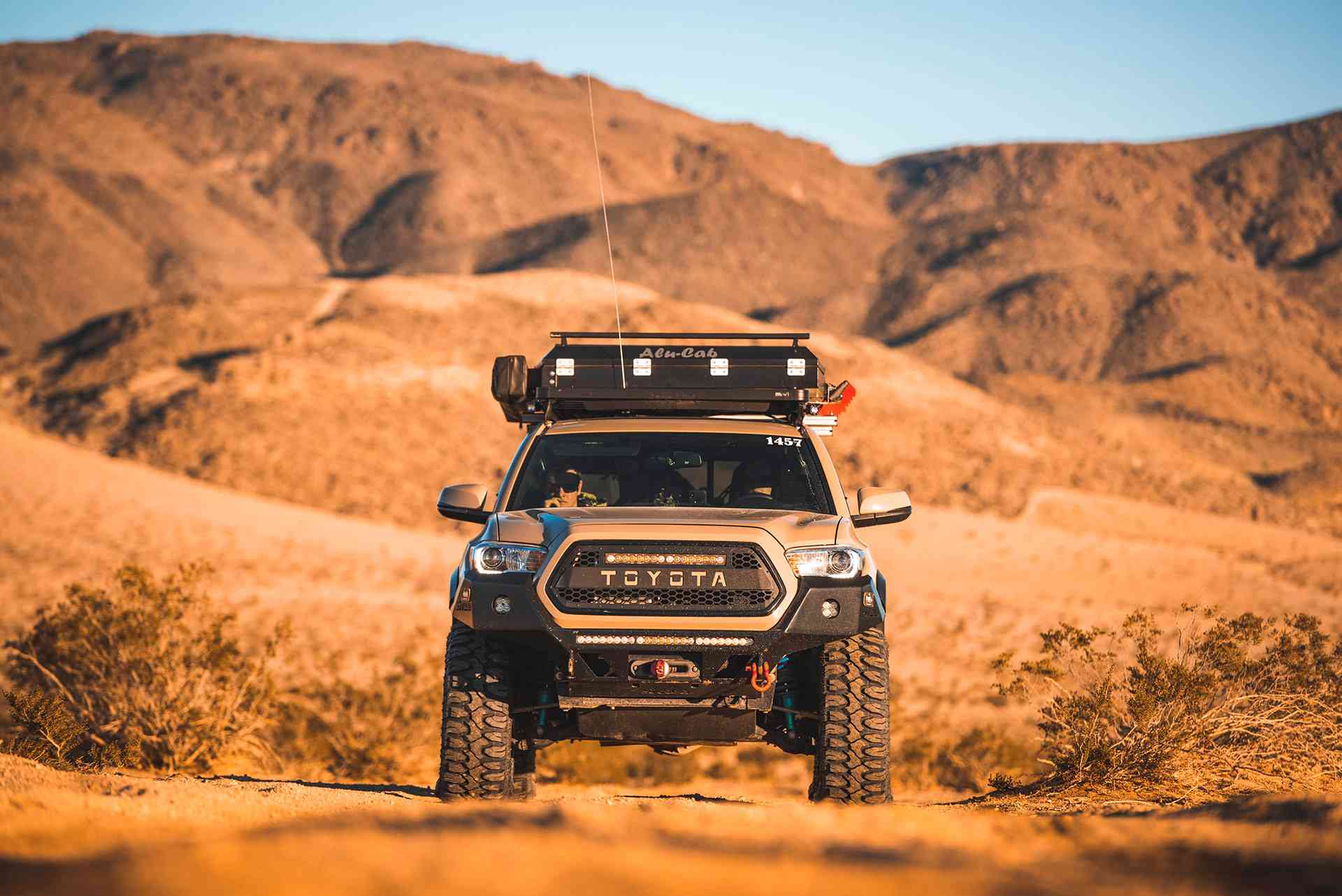 Outback is a C4 Fab high clearance rear bumper with swingout. In addition to the recovery points and LED lighting like the front, it also carries a full sized spare, 2 Rotopax fuel containers and sand ladders.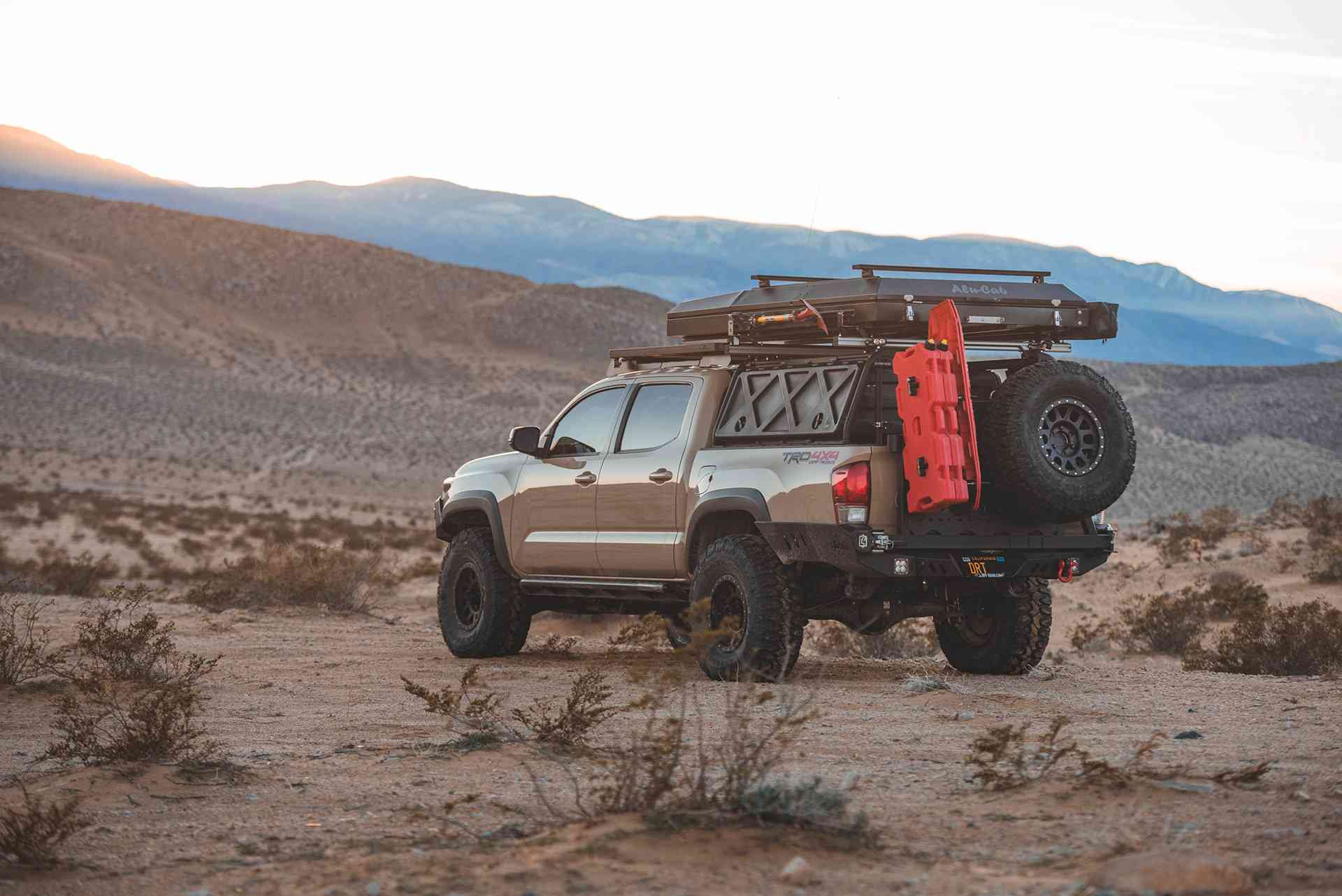 With everything to get there and back, it was time to outfit the Toyota Tacoma for gear and other essentials. An AFE intake supplies clean air to the engine. For electrical storage, dual Odyssey batteries are used. Noah also carries an ARB twin air compressor. In the cab is a Goose Gear seat delete, and National Luna fridge freezer.
…makes one want to head out to the boonies…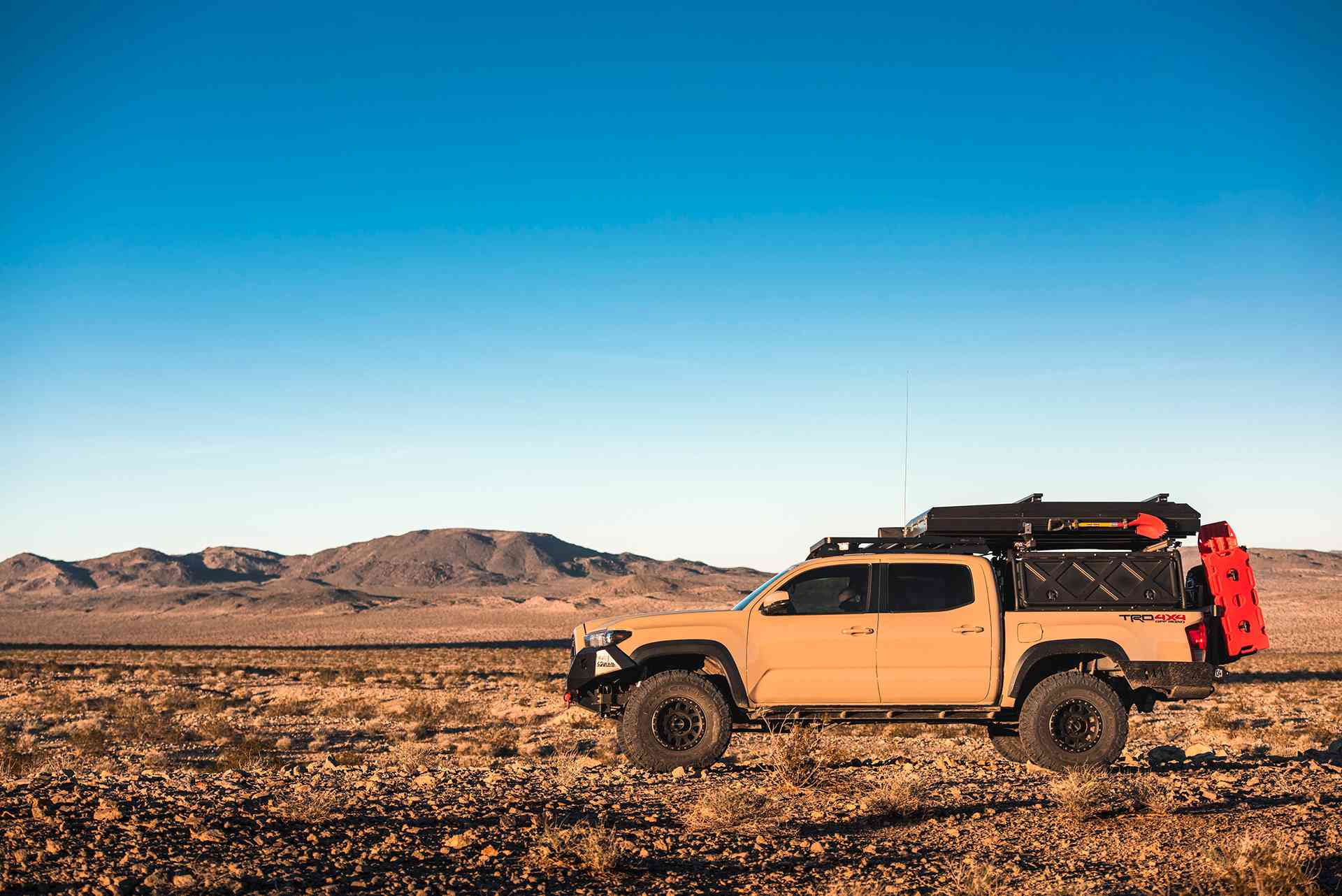 A Solo Motorsports jack mount keeps the jack secured, and Leitner Designs bed rack and storage pods stow additional gear. A Front Runner Outfitters roof rack offers even more utility and creature comforts are provided by an Alucab rooftop tent and side awning.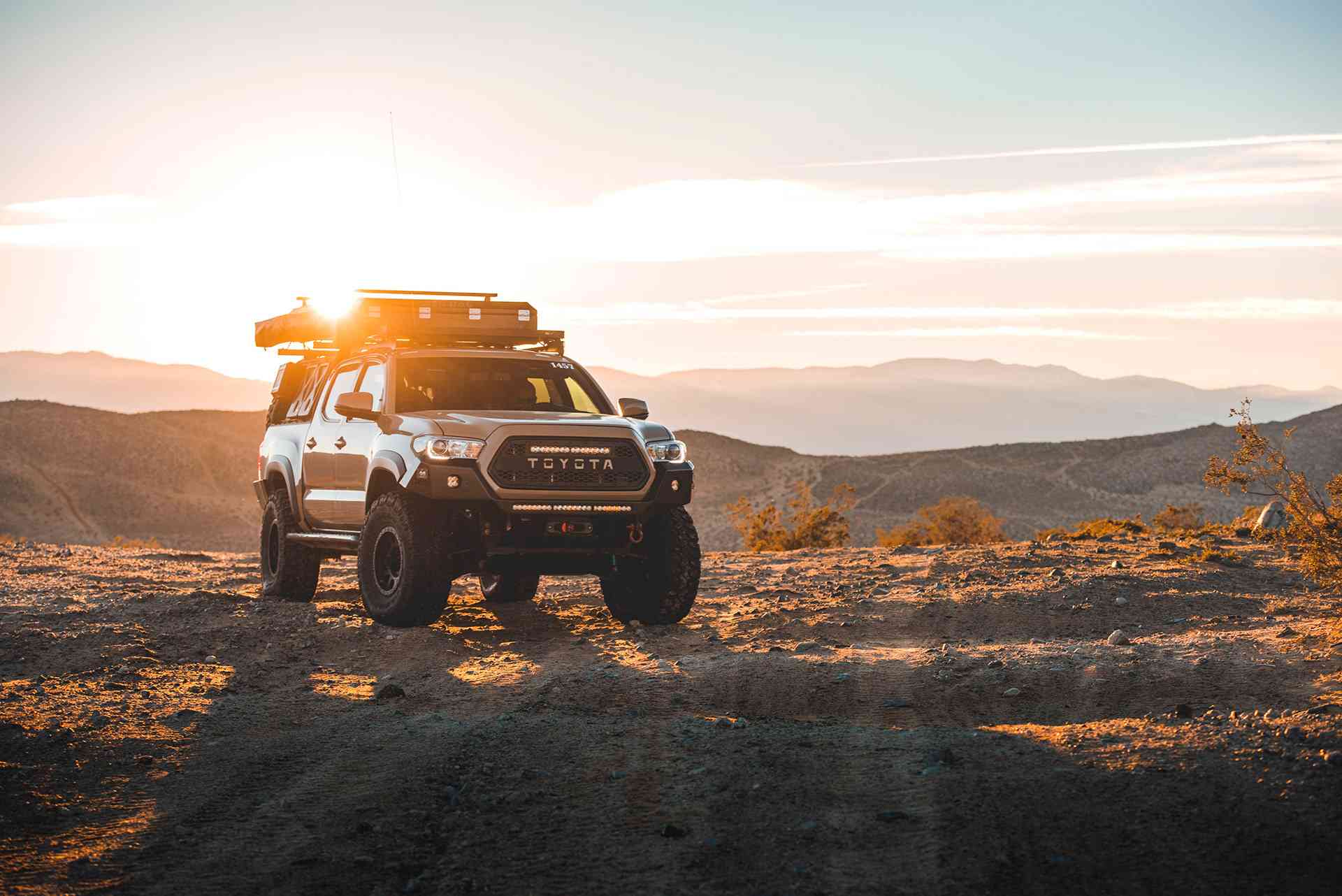 Looking at this Toyota Tacoma and learning about its capabilities makes one want to head out to the boonies without a care in the world for some rest and relaxation.