Chevy C10
The New Lil' Deuce Coupe
There are certain vehicles that at some point in the earth's rotation of the sun catch the public's attention: The '32 Ford, the '55 Chevy, the '64-1/2 Mustang, the '67-'71 Chevy C10 trucks. Wait. Chevy trucks? Yes, the '67-'71 Chevy C10 trucks are hot, in the spotlight, getting their day in the sun. Right now they're killing it.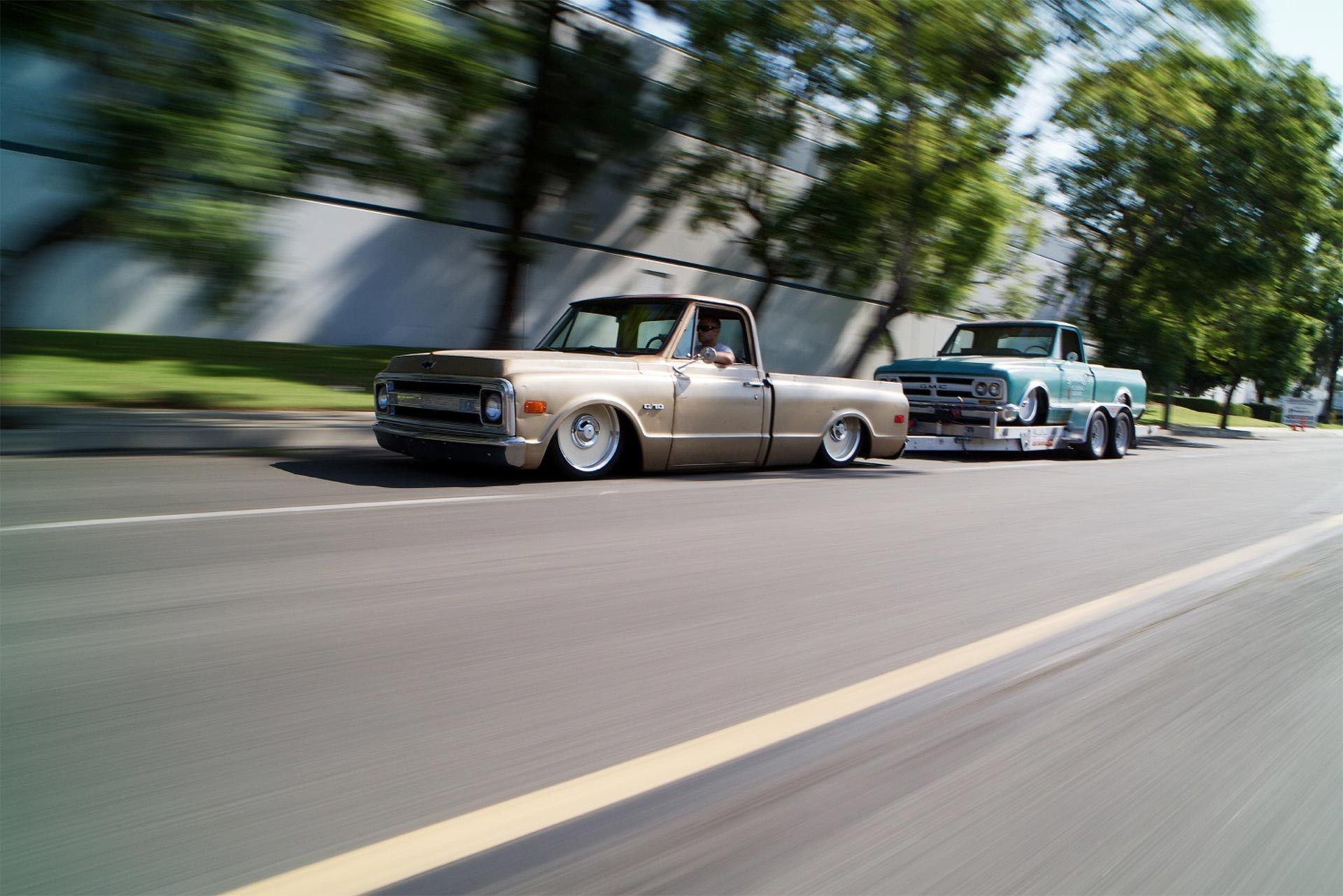 It's difficult to pinpoint exactly when, how, why and where this trend kicked off but certainly Delmo and Holley Performance Products were right there at the beginning. Canadian Del Uschenko's Delmo's Speed and Kustom in Prescott, Arizona, got his start in the hot rod business working for the likes of Troy Ladd's Hollywood Hot Rods before branching out on his own saying, "I built my own C10 in 2010 and suddenly, it took off and I'm building trucks for a string of customers."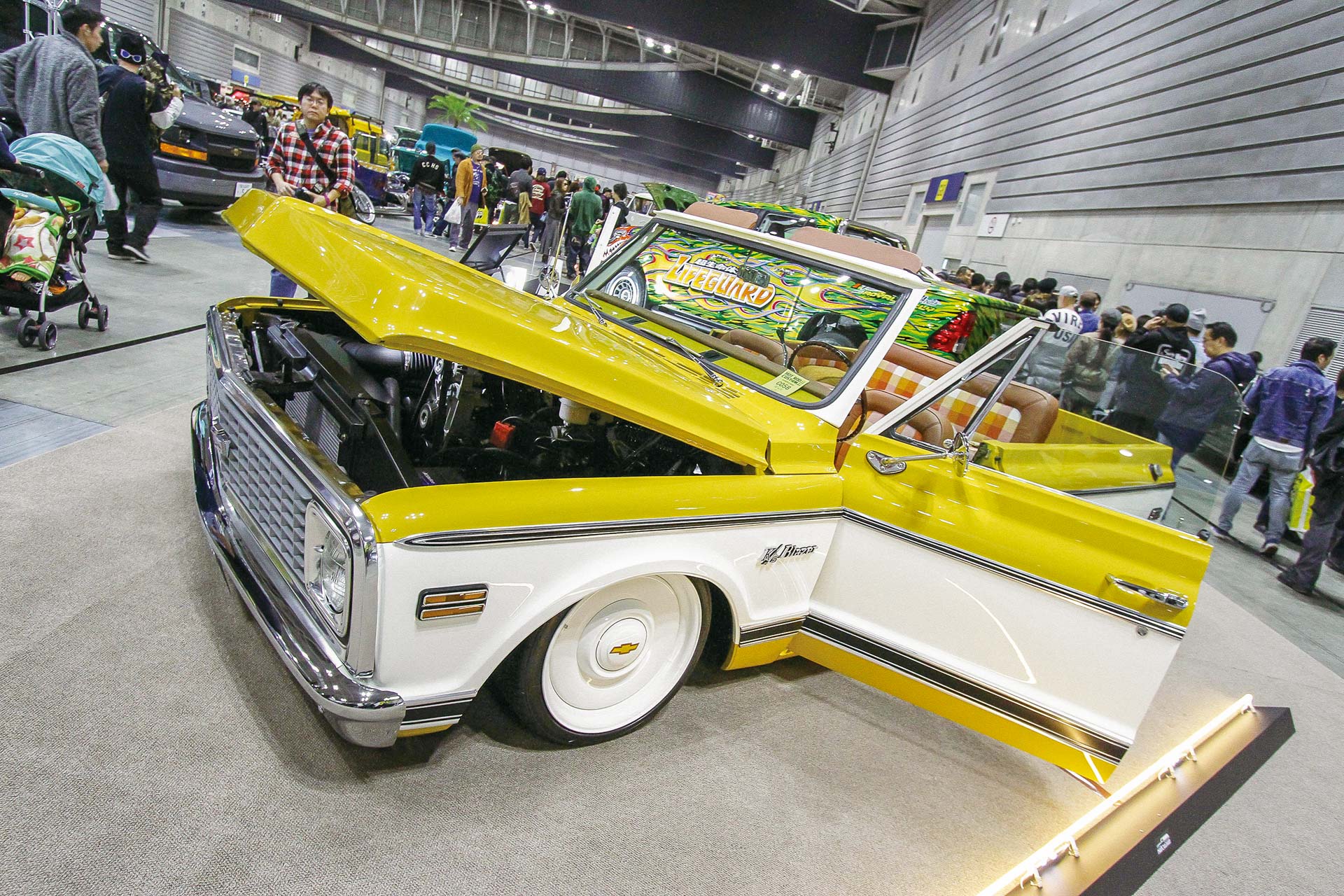 Patinated, bagged in da dirt—Delmo builds the lowest C10s—and fitted with Del's signature smooth "Delmo" wheels. "I built the first set from some old CenterLines and factory caps," said Del. "But now I use Intro Wheels while Mike Curtis Design makes most of my other parts that include coil re-locators, engine kits, and valve cover adapters." Two of Del's most popular products are his replacement billet aluminum doors handles and his new inner fender panels.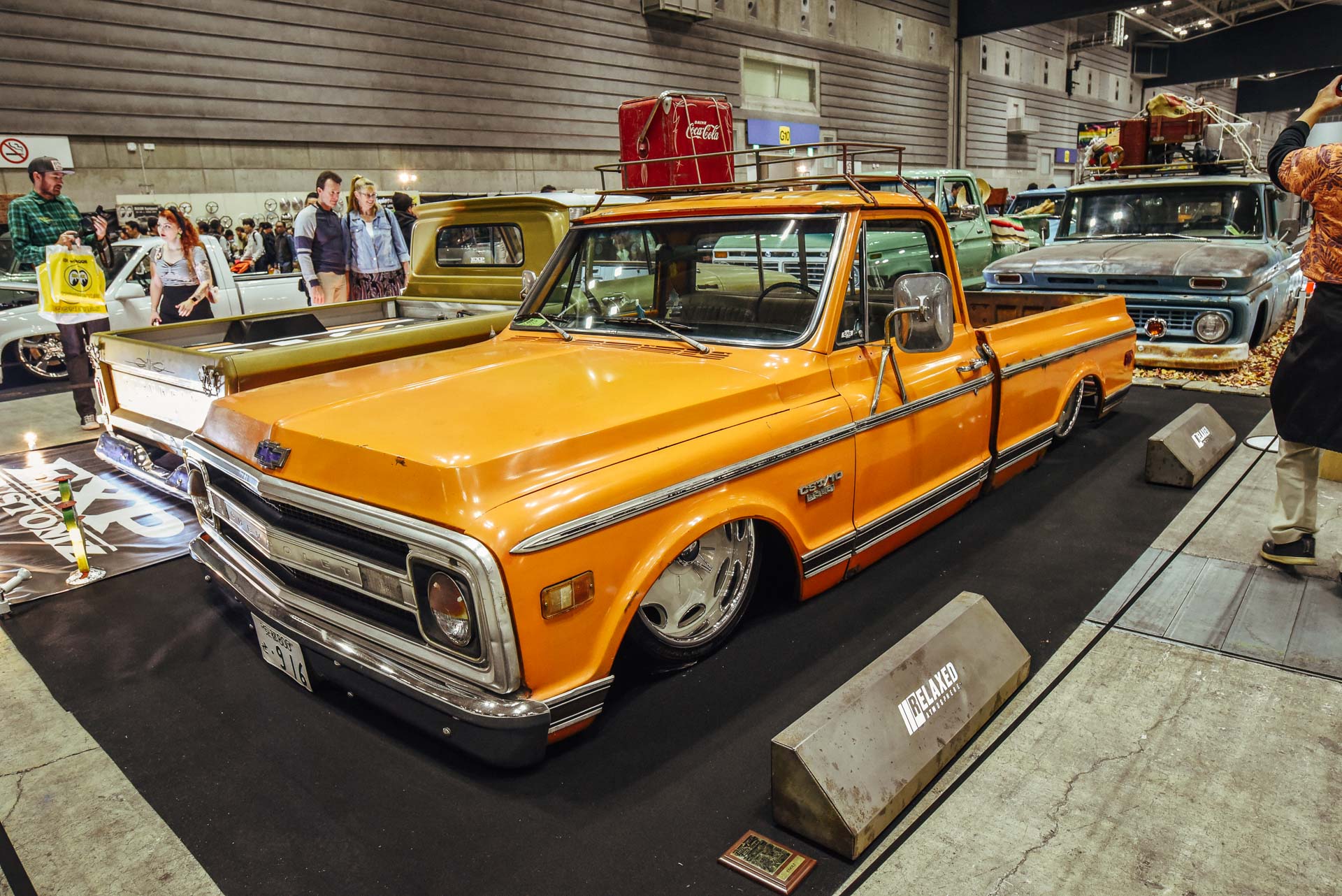 Recently, Del moved from Burbank, California to Arizona, saying, "There's a great truck scene here. I have a lot of friends and somehow it's less competitive than L.A. We help each other rather than fight each other."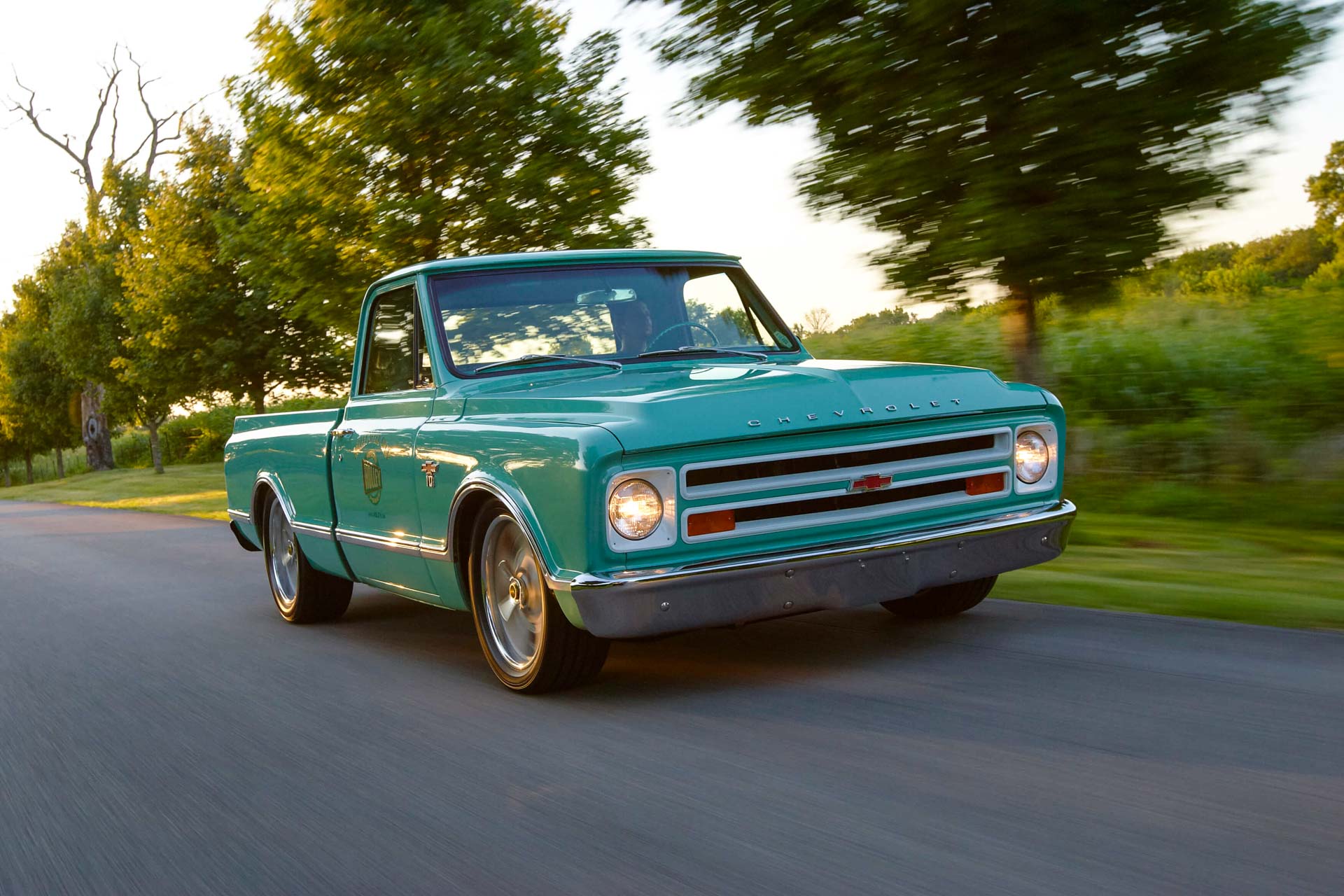 Likewise in 2010, but two thousand miles away in Bowling Green, Kentucky, Holley initiated their own '67 small-window, C10 "shop truck". According to Holley CEO Tom Tomlinson, the shop truck featured an LS3 engine and Holley's HP self-learning, EFI fuel injection.
At that time, that was one of the first aftermarket injection systems for the new aluminum LS3 engine that had been introduced on the Corvette in 2008—it was, at the time, the most powerful base Corvette engine in history. The engine featured big-block Chevy-style, coil-pack covers, and a dual-snorkel air cleaner and, of course, EFI. Tom said, "We wanted to show people that you could have modern reliability and drivability with that vintage look."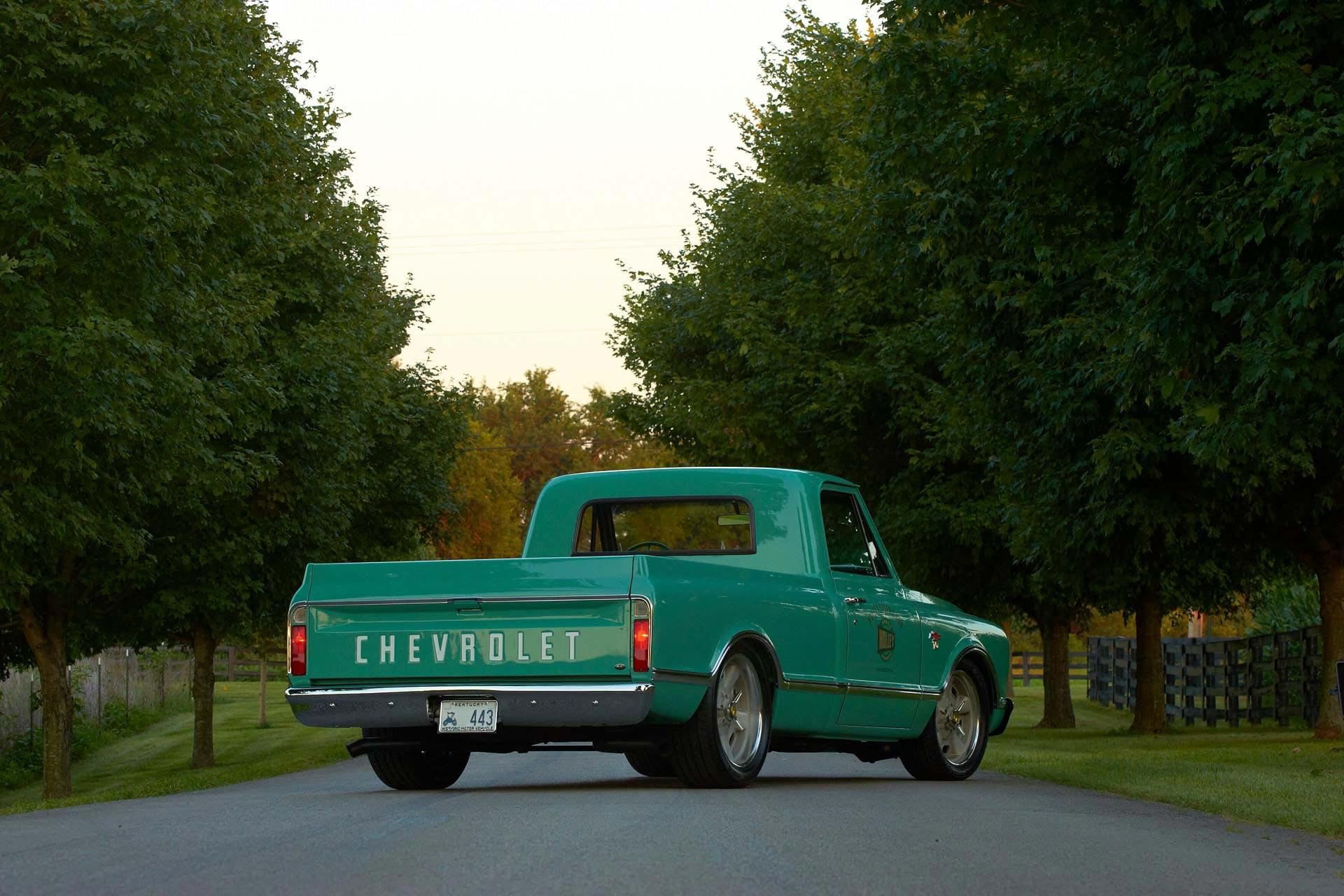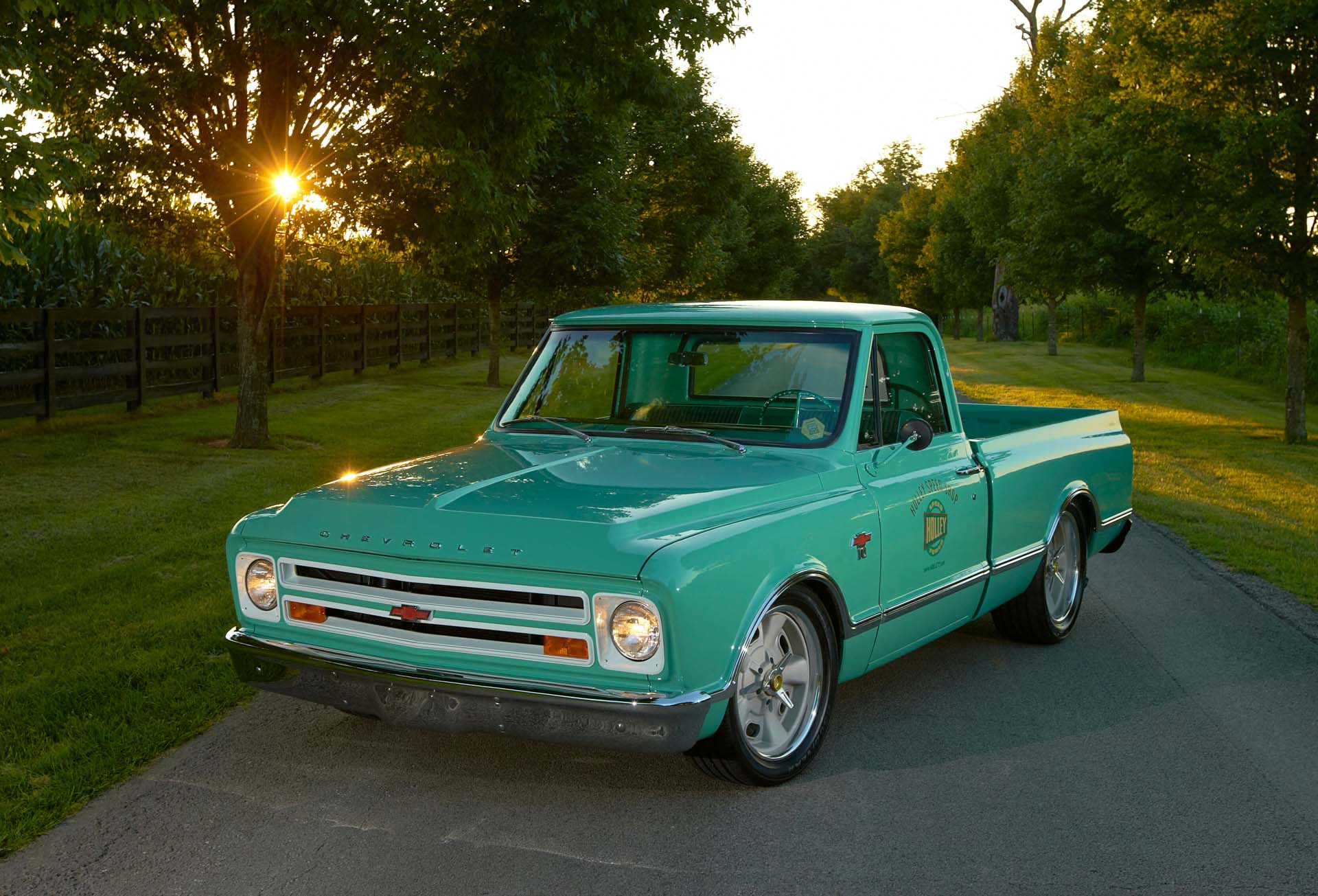 The great stance of the Holley truck was in part due to the six-pin, Halibrand-style knock-off wheels by Mike Curtis Design. To see the Holley truck in action, check out the episode of Jay Leno's Garage.
"We wanted to show people that you could have modern reliability and drivability with that vintage look."

Tom Tomlinson, Holley CEO
There's a lot of enthusiasm for GM's LS-series of hi-performance engines that, despite their ugly coil packs, can be made quite attractive albeit with a lot of makeup. Today, there are several versions including the LSA, a factory supercharged 6.2-liter, along with a host of aftermarket speed and dress-up parts.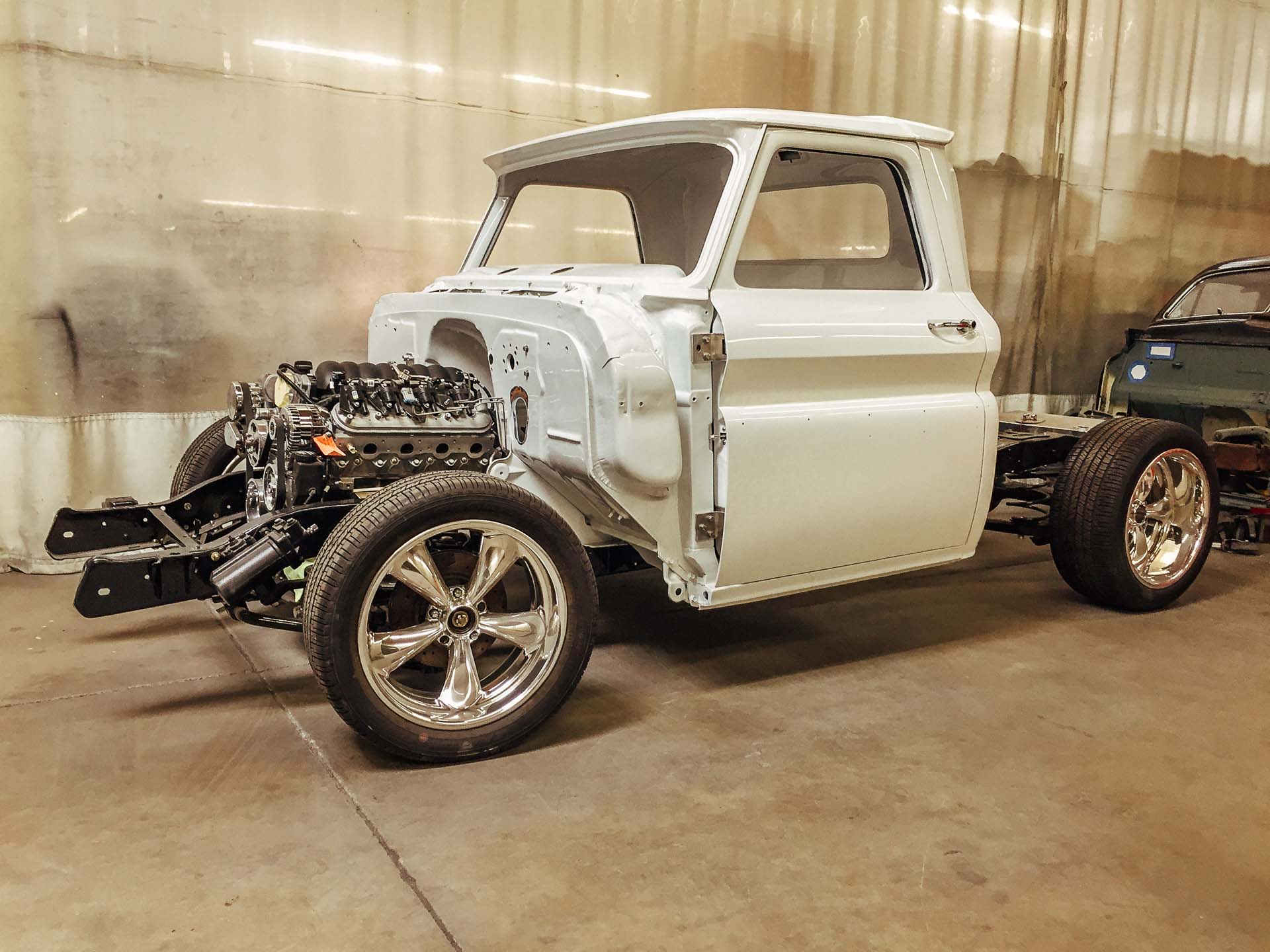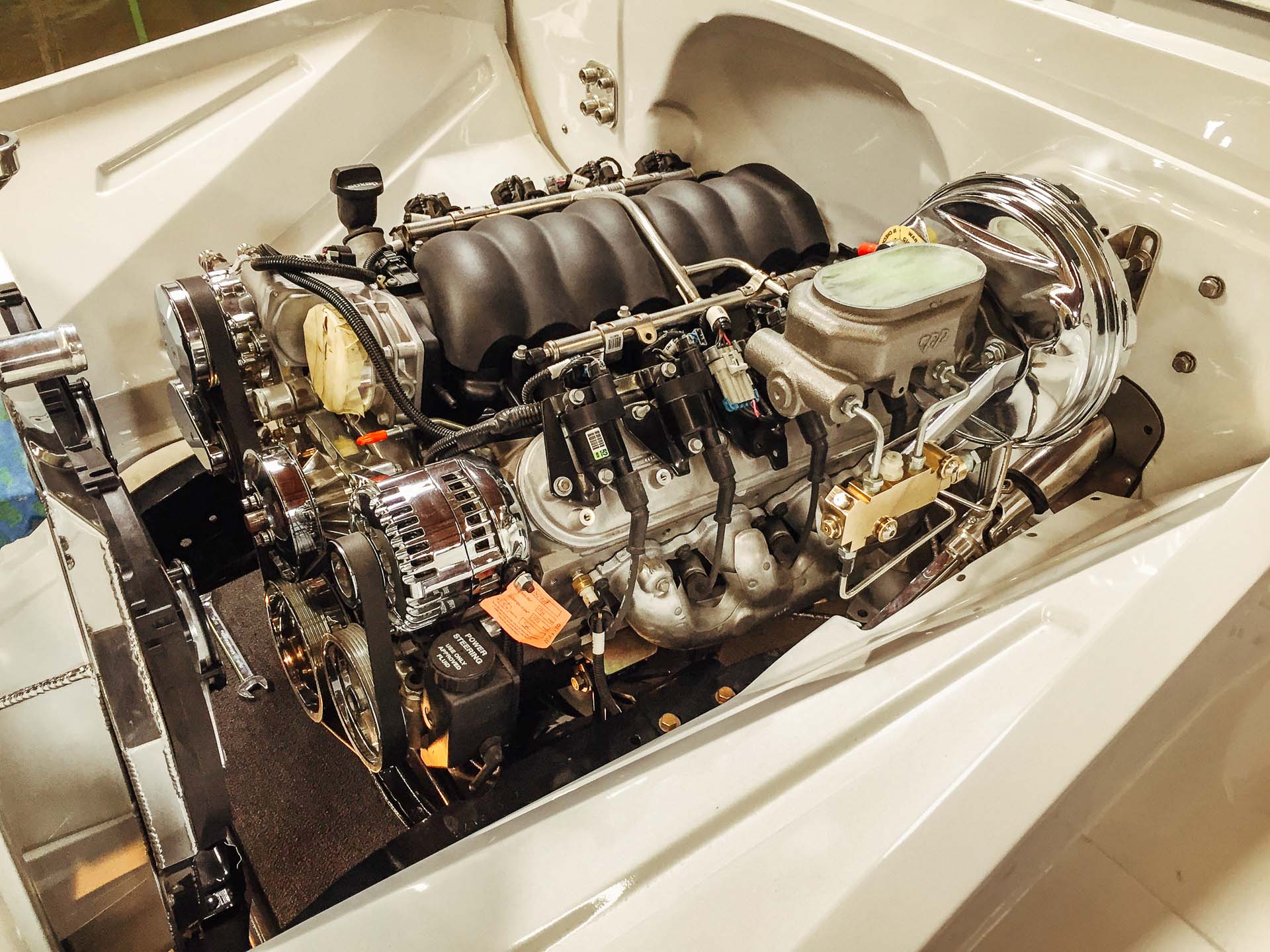 For example, we spotted Louie Atilano's white '65 at Mick's Paint in Pomona, California, where they were installing an LS3. "We didn't start the build or paint Louie's truck," said Mick, "However, we are doing final assembly which included the installation of a full tubular front suspension and brake kit from Classic Performance Products. It was a straight forward install and the LS swap is a simple one that we have performed on a lot of sixties vehicles."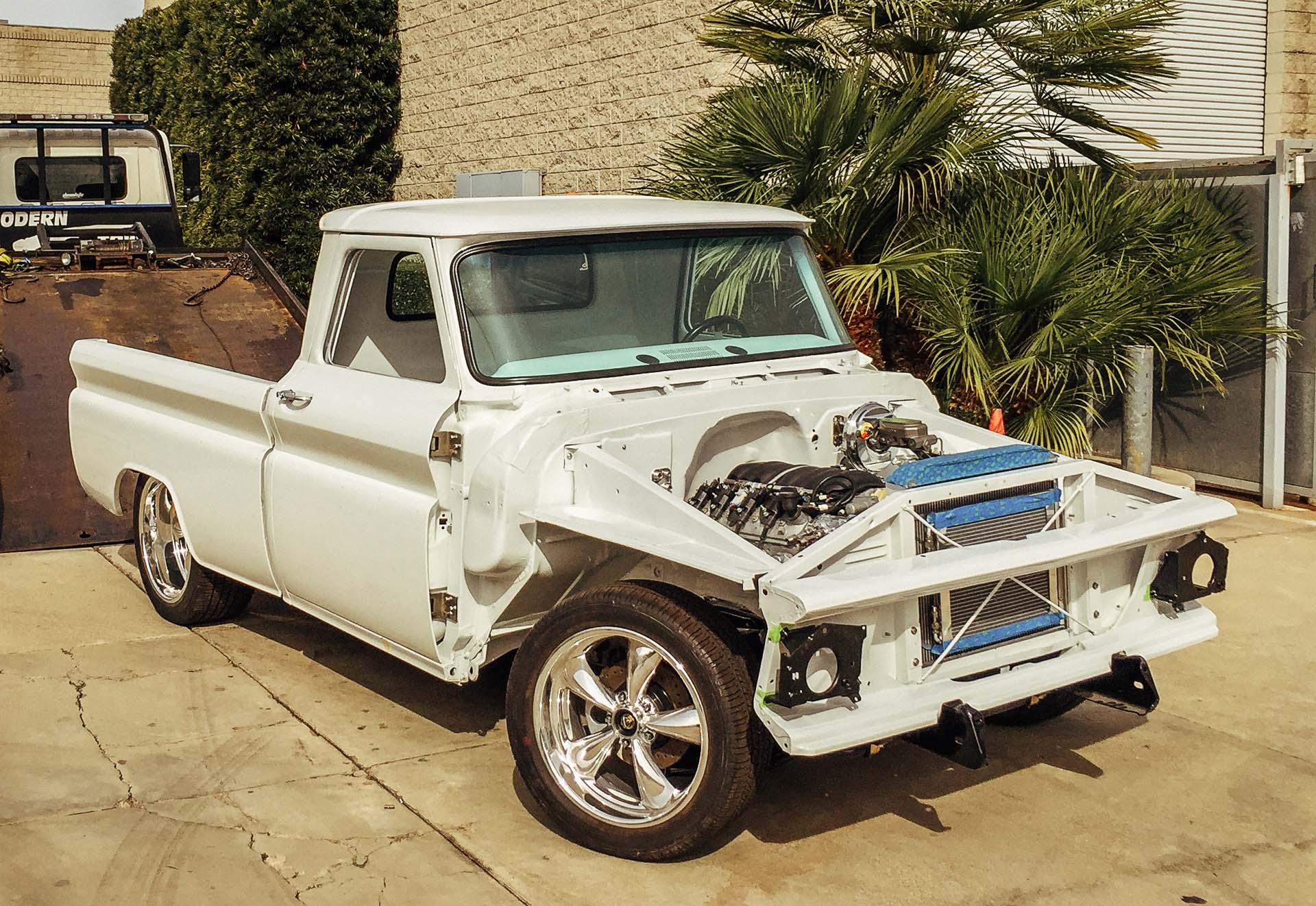 GM began production of the C/K line in 1960 with C standing for 2-wheel drive and K for 4-wheel drive; however, it's the second-generation 1967 to '71 trucks that are the most sought after. GM called them the "Action Line" when they began improving comfort levels with coils springs up front and leaf springs in the rear. They were also known as "Glamour Pickups" but that is not to say that the models either side of the '67 to '71 sweet spot are not popular, they are an increasingly so.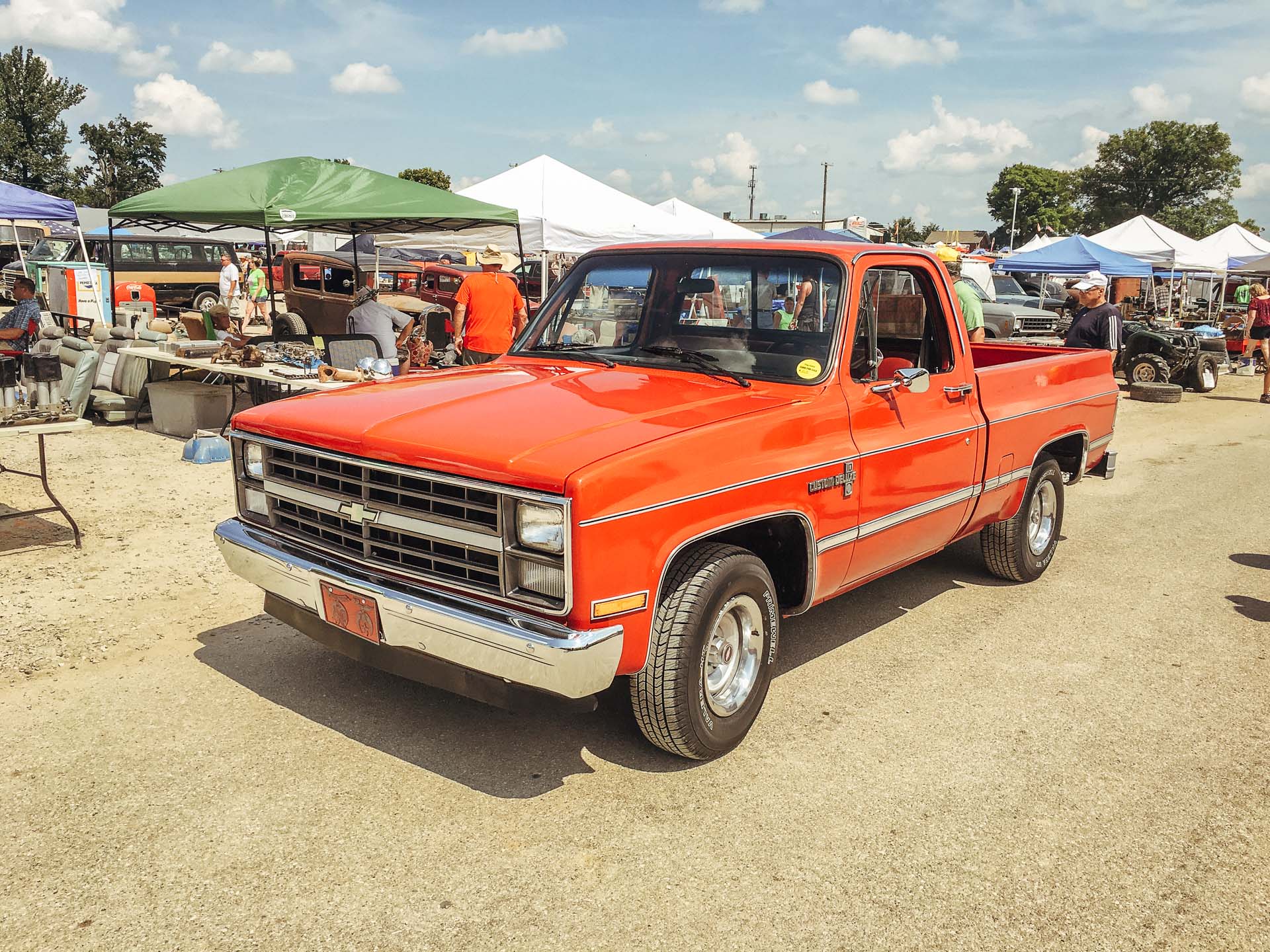 Production numbers for the '67-'71 golden years are approaching 1,500,000 total units with just under 300,000 being produced respectively in 1967 and '71, more than 400,000 in 1969 and just less than 400,000 in 1972. There is a staggering number out there to choose from but as they were built primarily as workhorses, many have suffered. That said there are replacement parts galore from companies such as Brothers Trucks, Classic Parts, LMC Truck, and many more. United Pacific, for example, has nearly 70 items for the '67 truck alone. The problem is not one of availability; the problem is one of deciding from all the available options. For example, Truck and Car Shop has separate 150-page catalogs for 1947-'59, 1960-'72 and 1973-'87 trucks.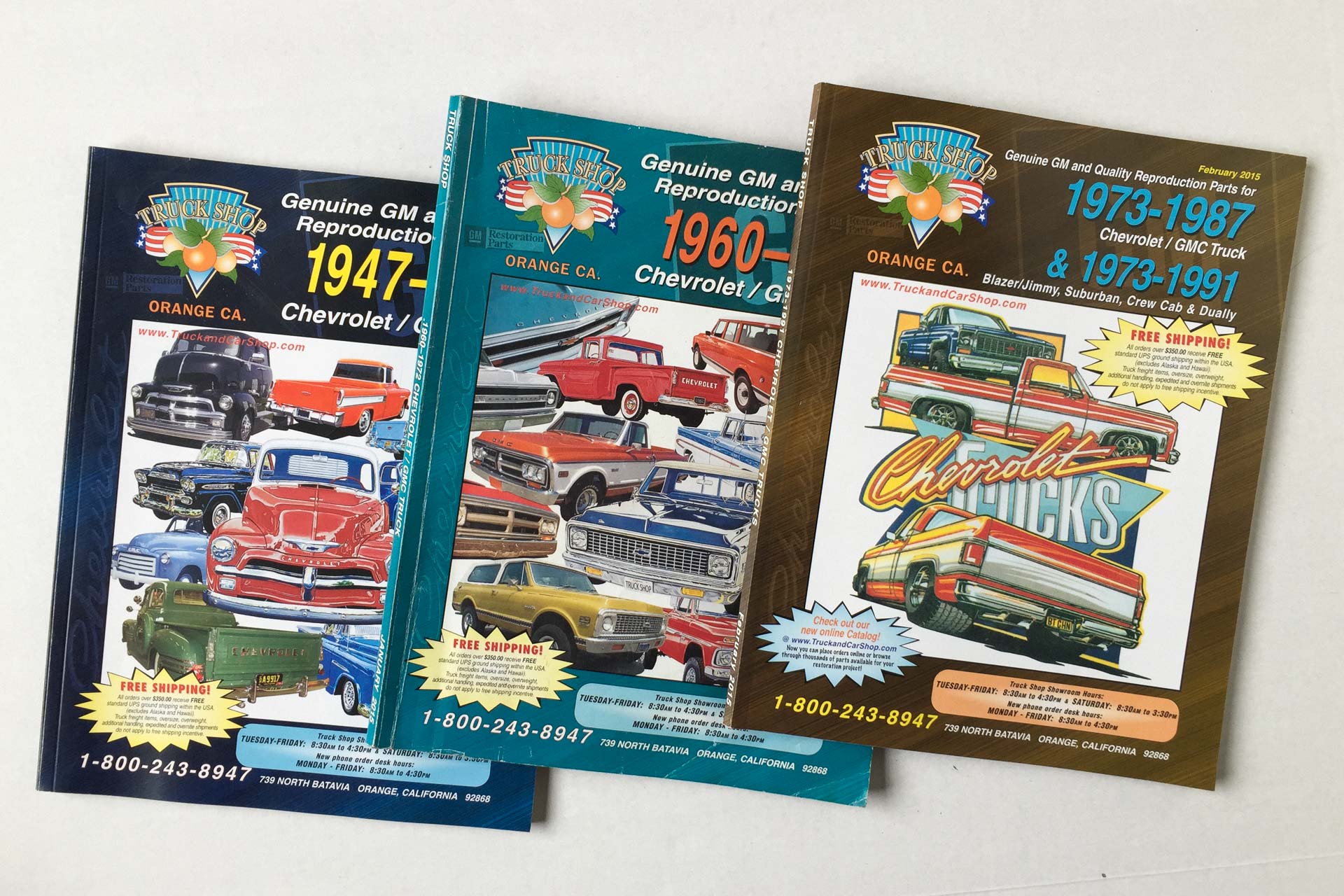 Complete frames and chassis are also available from companies such as Art Morrison, Pro Performance, Roadster Shop, Speed Tech Performance, and Scott's Hotrods 'n Customs. Kevin Tetz of Paintucation chose a chassis from Schwartz Performance for his latest project "C-Tane" that can be seen on his show "Hands on Cars" on Amazon.
"They're plentiful, not too expensive, there are plenty of parts available, and they're easy to work on."

Michael Hope
One young guy starting out in the hobby is 19-year-old Michael Hope who crews on Ron Hope's AA/Fuel Altered Rat Trap. He's also the 'fly-in' guy for Bobby Hilton's AA/Fuel Dragster and Tony Lombardi's 7.0 Pro in NDRL. His '84 short bed is his first real build and it will be used to support his grandfather's racecar. "These trucks are a great place to start. They're plentiful, not too expensive, there are plenty of parts available, and they're easy to work on," commented Michael.
Rather than a new frame, Michael decided on Ride Tech tubular A-arm front suspension and No Limit four-link in the rear with Viking coil-overs all round. "The stock frame is strong enough," said Michael. "I just wanted it lower to look more like Thom Taylor's rendering."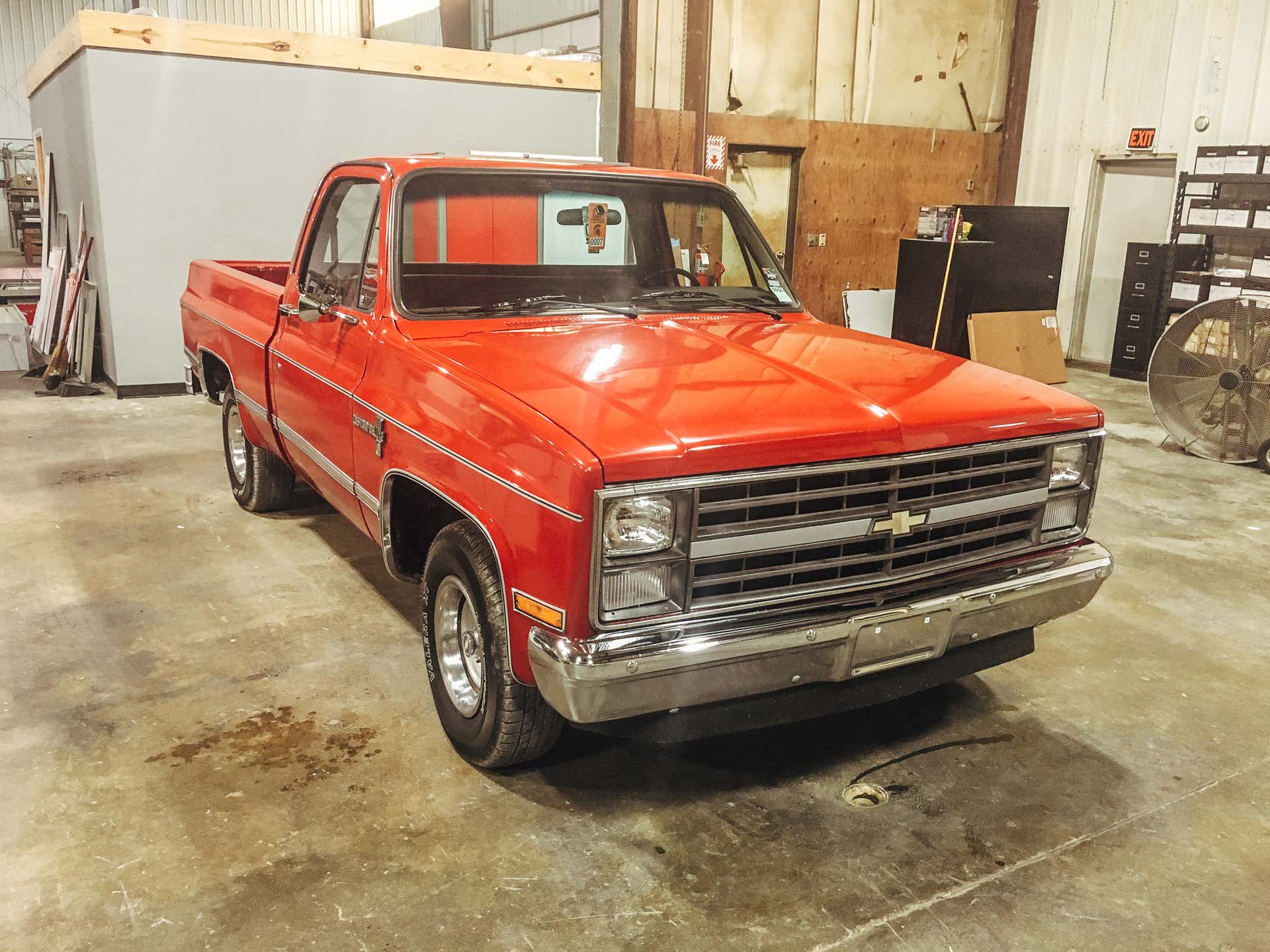 The stock power train has been replaced with a Chevrolet Performance 350 crate engine and a 700R4 trans. Still, under construction at the time of writing, Michael plans to hot-rod the motor with Holley's Sniper EFI assembly including the Sniper ignition system and long-tube headers. "Holley has done all the engineering," said Michael. "I don't need to mix and match parts."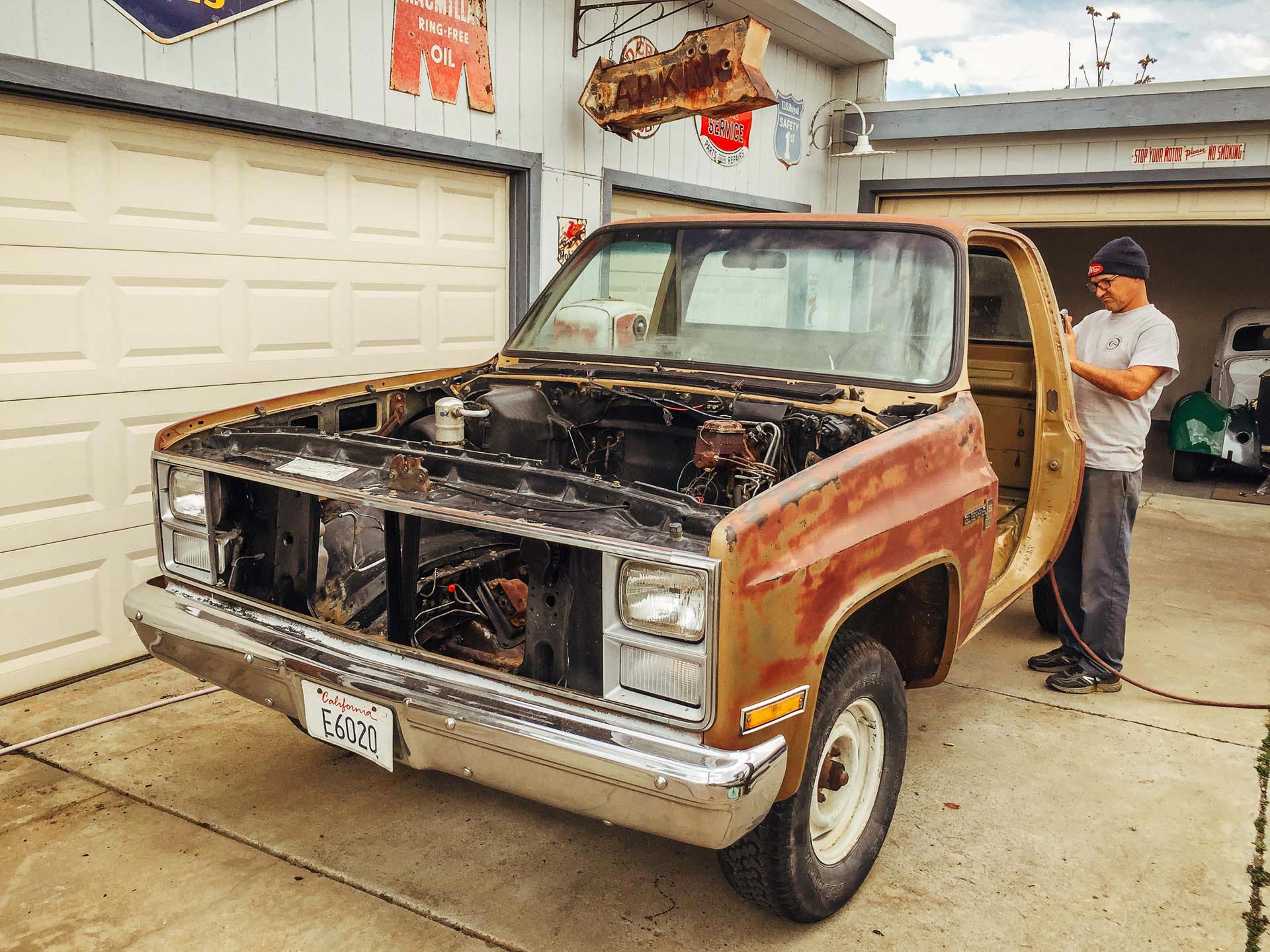 Pre '67 trucks are likewise popular and we went to check out Dave Keister's stack injected, gasser-style '65 being built at Jimmy Shine's Speed Shop. Up front, it has a drag-style straight-tube axle with power from a Crower-injected 572 ci Dart big-block with a giant Currie rear end and gold anodized American Rebel wheels.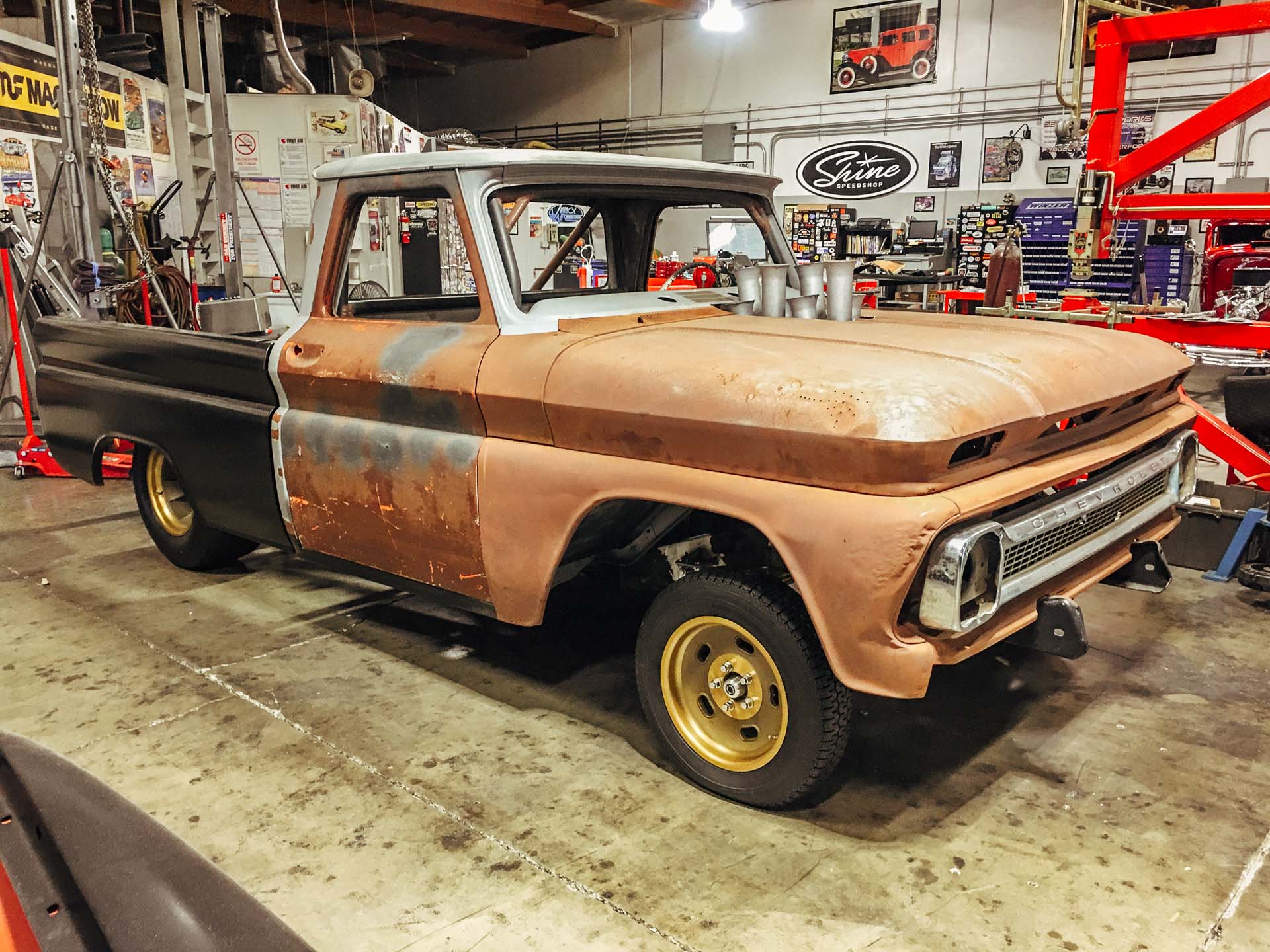 An interesting "concept" truck coming together at Steve Strope's Pure Vision Design in Simi Valley is a '67 for Bob Florine of ARP Racing Products. Steve's what-if question was, "What if Chevy was building their own shop truck and used parts from a 427 Corvette? We found all the right parts including a 427 block, L88 heads, 'Snowflake' intake and Tri-power, a date-coded Muncie 4-speed and the 'Vette independent front and rear suspension. It's even going to be painted Marina Blue by Mick's Paint."
In Huntington Beach, California, designer and "Overhaulin" TV personality Chip Foose took a similar but different "what-if" approach with his own '67 C/28. It began when he found an original Z/28 Camaro 302 engine date-coded to the day to match the '67 C10 he already owned. Chip then explored what the factory might have done had they dropped the Z/28 302 into a C10.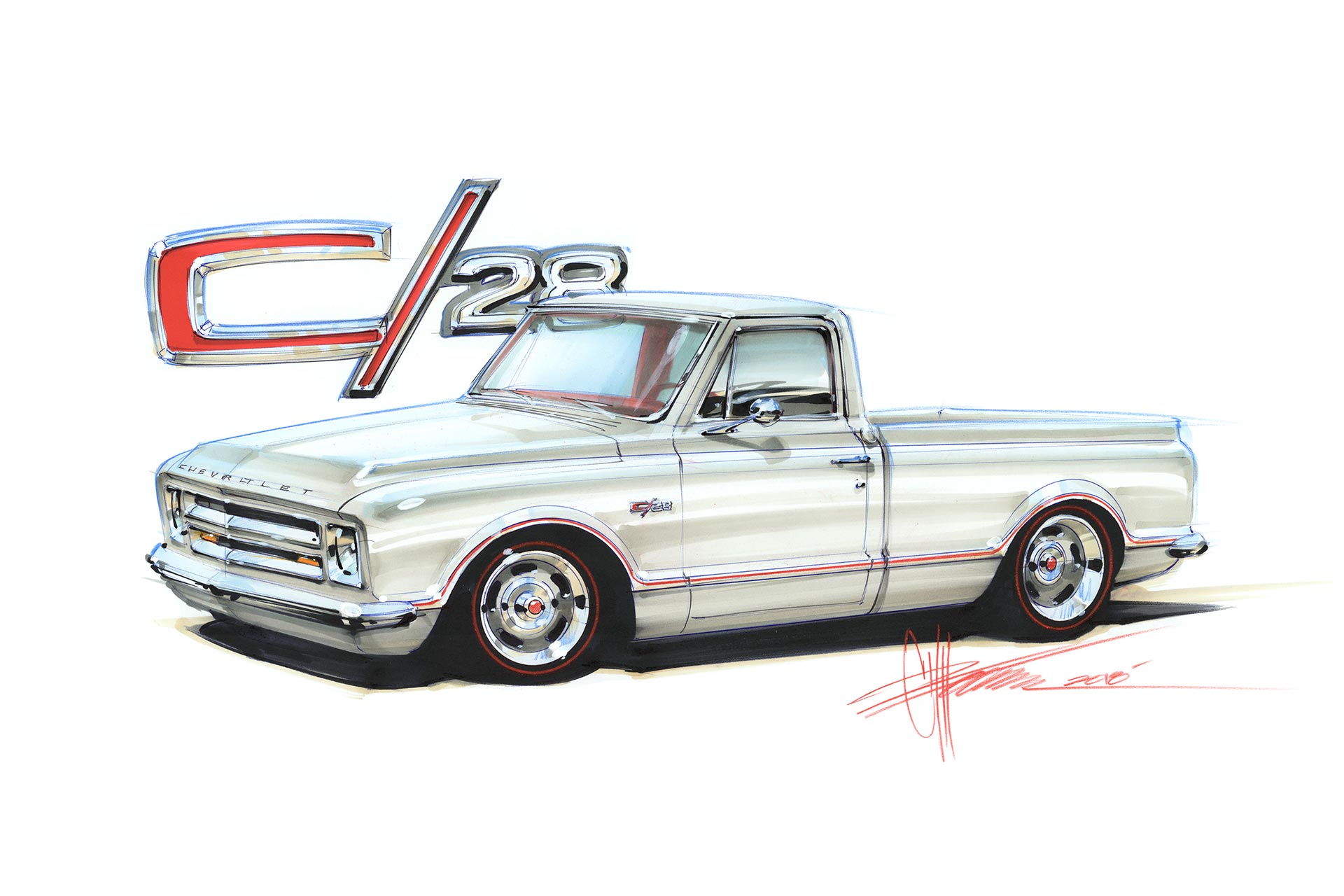 The 302 was ported, polished, and made to work in a modern environment while the stock chassis was upgraded with Hotchkis suspension and brakes and a unique set of Foose five-spokes.
You can tell, there's a lot of activity in the C10 world and prices are beginning to creep up. However, at the Kennedy Brothers in Pomona, California, there were three C10s: a '69, a '72 and an '86, all for sale. There was also a '72 Blazer that belonged to Jay Kennedy's wife. "She drove it all the time with the roof off," said Jay. "Now I have to freshen it up before the summer." 2WD Blazers, especially the '72 model, is, of course, sought after as the front-end changed dramatically for '73.
I have too many friends who have made purchases only to find that the "other" side of the truck, the side not shown in the photographs, is not up to par, sometimes not even there.
We came across numerous classic C10s both customized and stock as we drove around Pomona. As you would expect, prices are across the board according to the condition. The first thing to check before you buy is that the truck has a title. Often, these trucks have sat for many years without being registered. You need to know that it has a title before you make the purchase.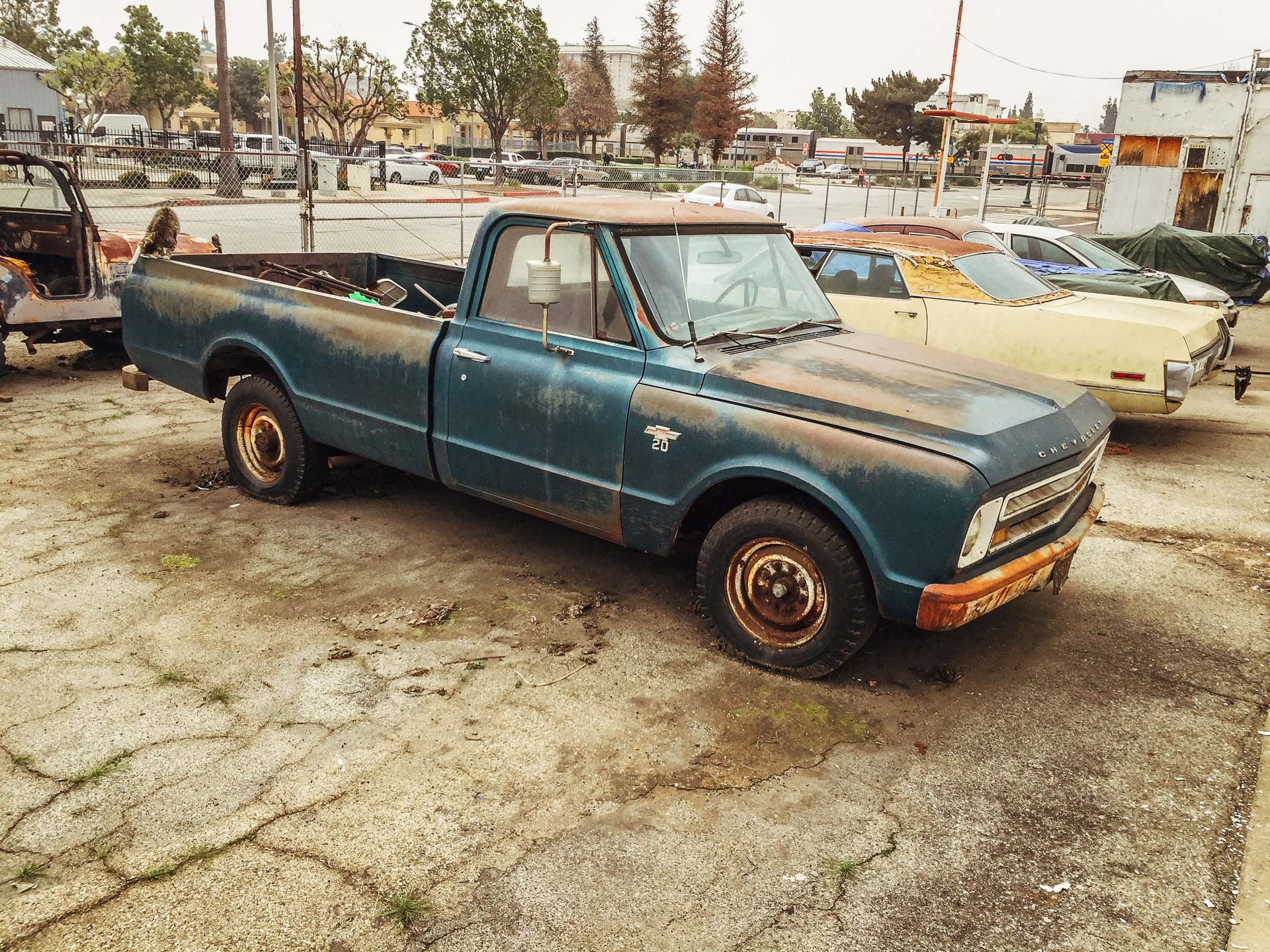 There is an I.D. plate riveted to the doorpost that states the vehicle's gross weight limit (weight of truck plus it's maximum allowed load) plus stamped digits that give the assembly plant year, size of the truck, month built, and sequential numbers as it came off the production line. These plates are necessary for positive vehicle identification and in some cases registration.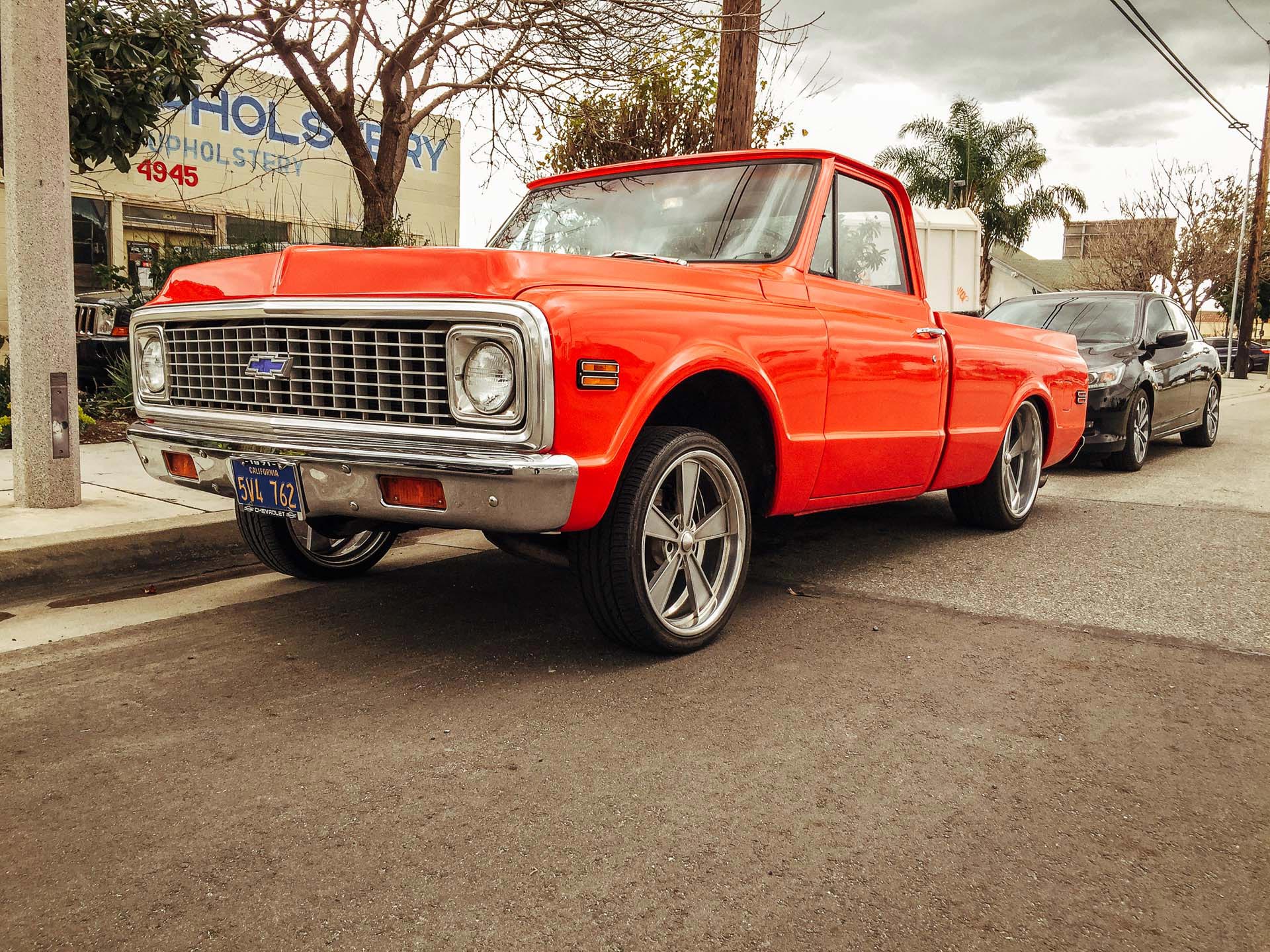 Another thing to beware of is the long bed that has been hacked into a more valuable short bed. That's not to say that it hasn't been done properly but you have to get under there and take a look. Obviously, being primarily a work truck you have to consider the condition of the bed and what it might cost in time and trouble to restore or even replace.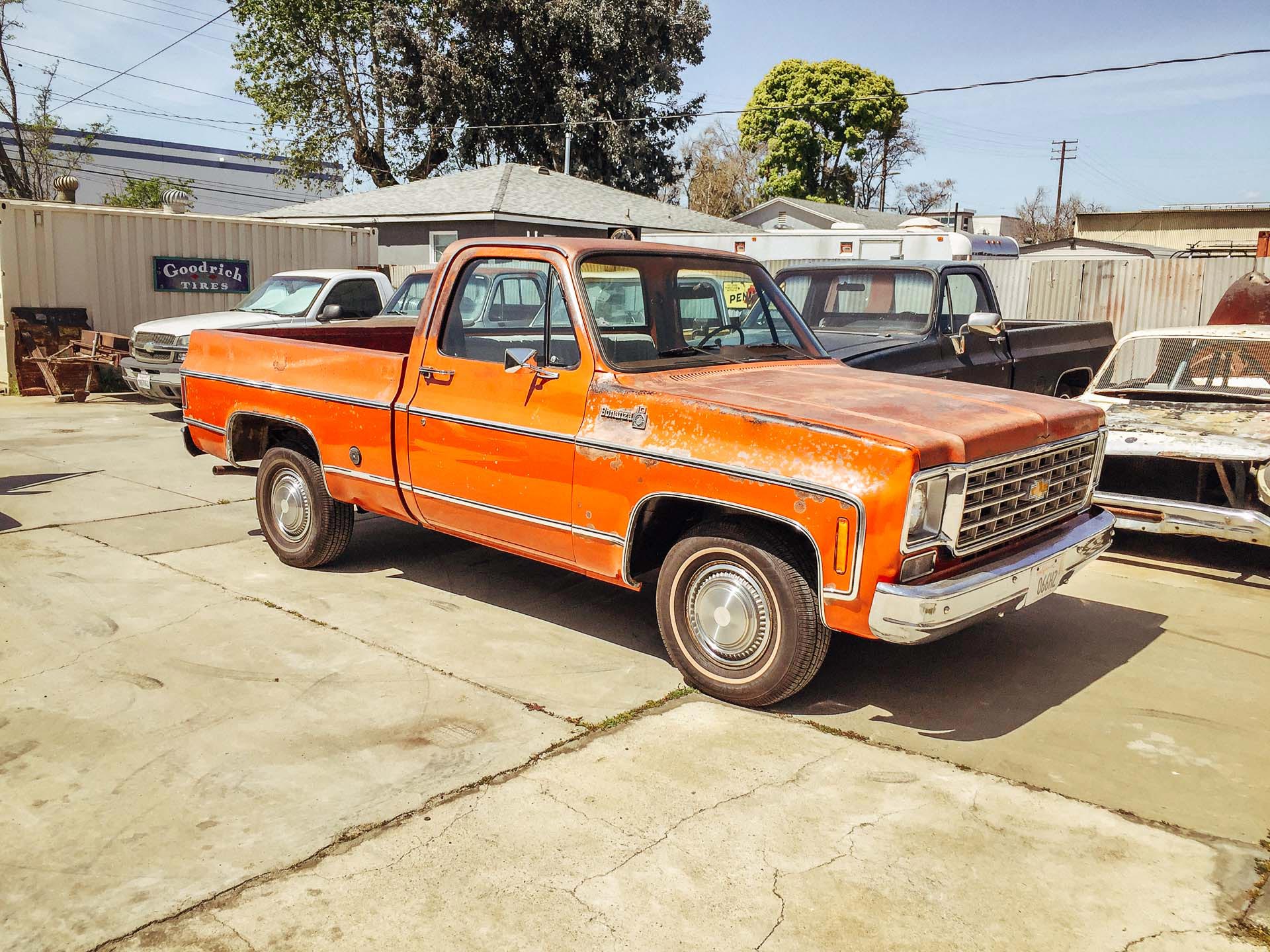 Many of these working trucks are being pulled out of the snow belt because they are usually cheaper than trucks from the dry Southwest—many of which have already been picked. Examine the truck all over and especially underneath for signs of rust or hasty repair.  Yes, it's all fixable and the panels are available, but at what cost? Also, beware of a freshly painted truck or a truck in primer as a primer can cover a multitude of sins, especially if the seller says, "Oh, we were just getting ready to paint it."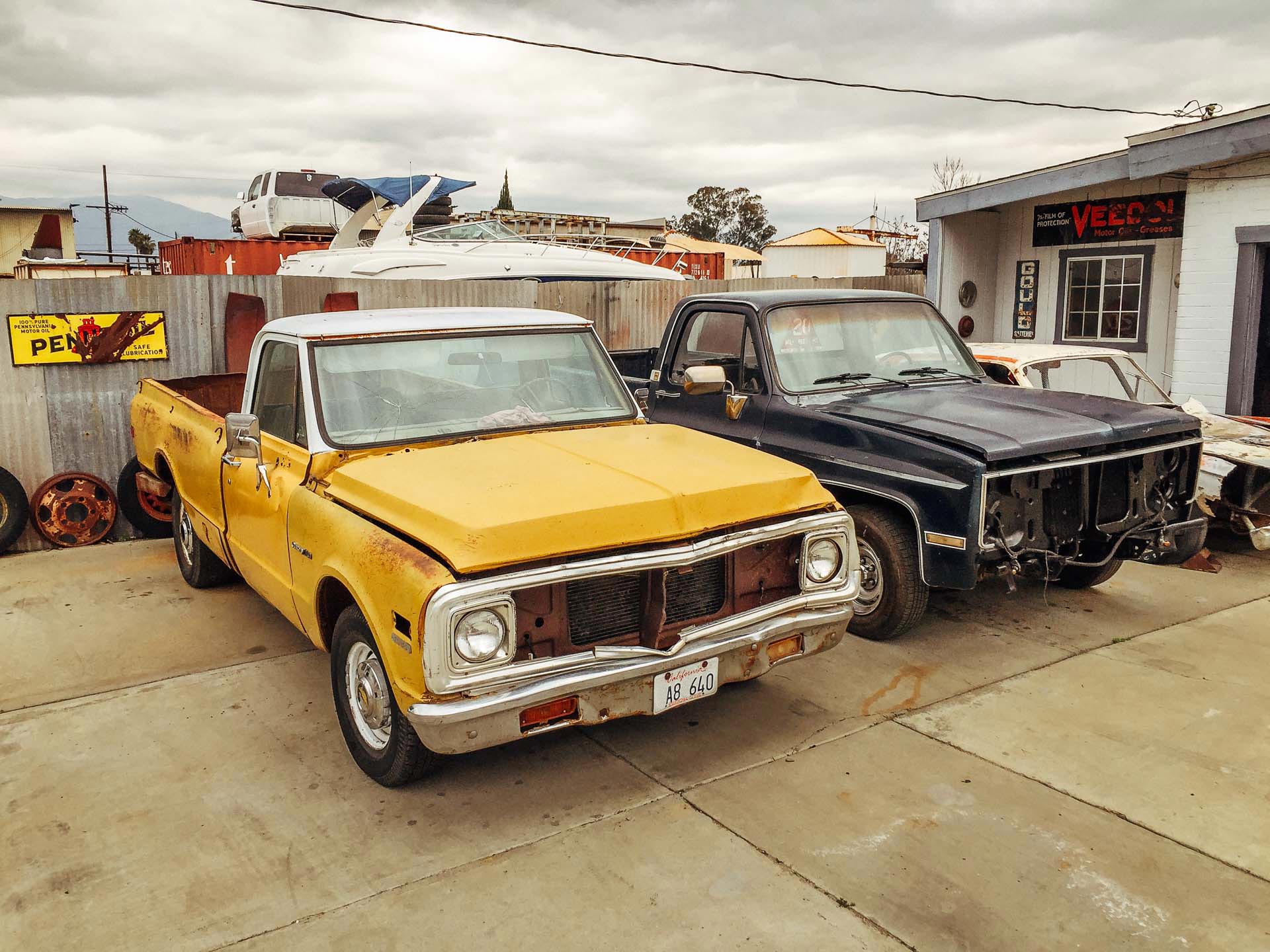 "It's better to buy a rougher truck that has original paint and even original rust," said Mick Jenkins of Mick's Paint. "At least you can see what you're buying."
My final piece of advice for a would-be C10 purchaser is to beware of buying a truck sight unseen off the internet. The internet is a great way of finding a vehicle but beware of the unscrupulous seller. Go and look at the vehicle and take a friend for an unbiased, second opinion. I have too many friends who have made purchases only to find that the "other" side of the truck, the side not shown in the photographs, is not up to par, sometimes not even there. Caveat emptor—buyer beware.