200 MPH Ford Maverick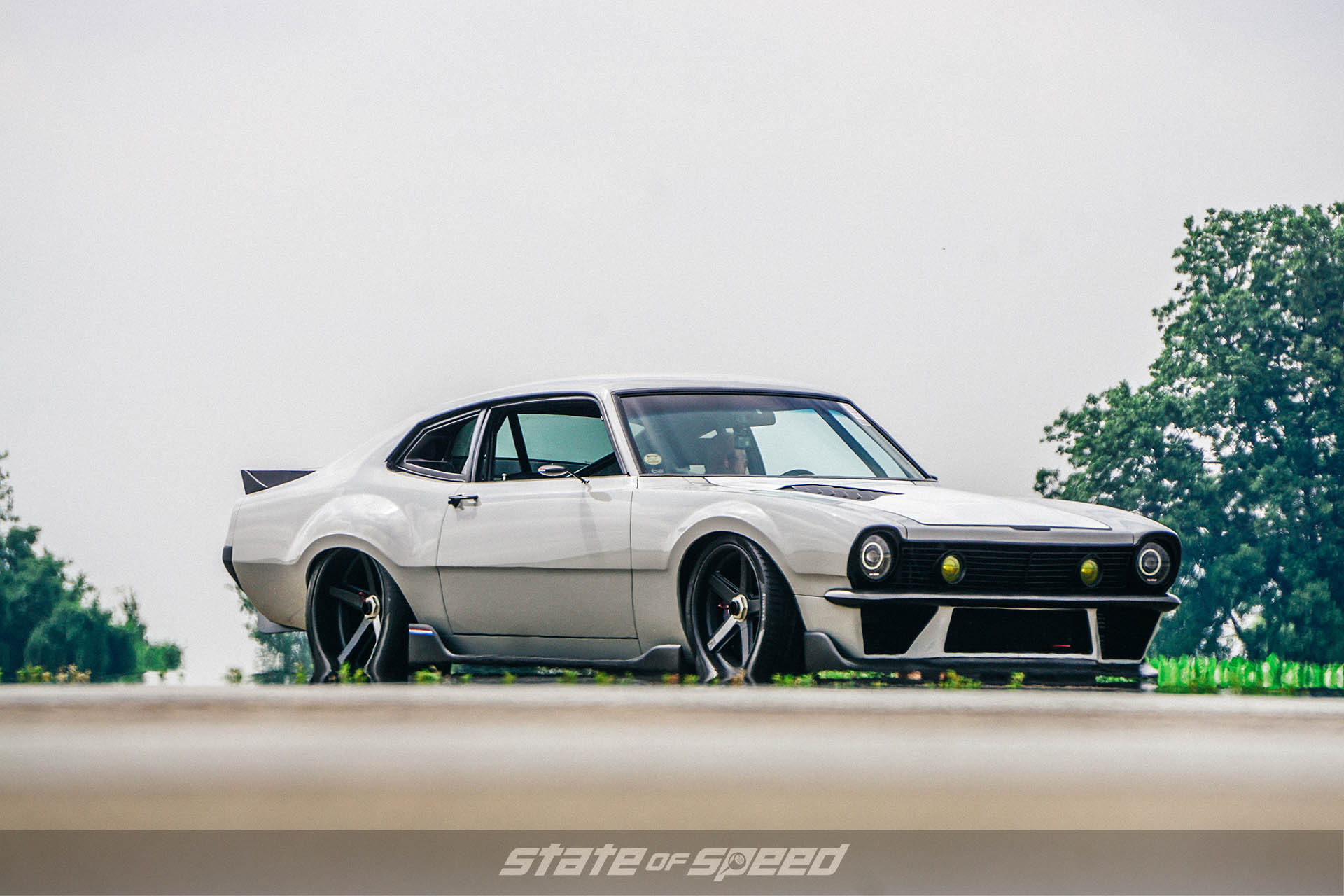 When conjuring up images of American muscle cars, the Ford Maverick doesn't immediately rocket to the retina, but when you think Pony Cars, then the Maverick is right there, if only because of its name.
…

the rear-wheel drive Maverick was able to flex its muscles—it was a contender.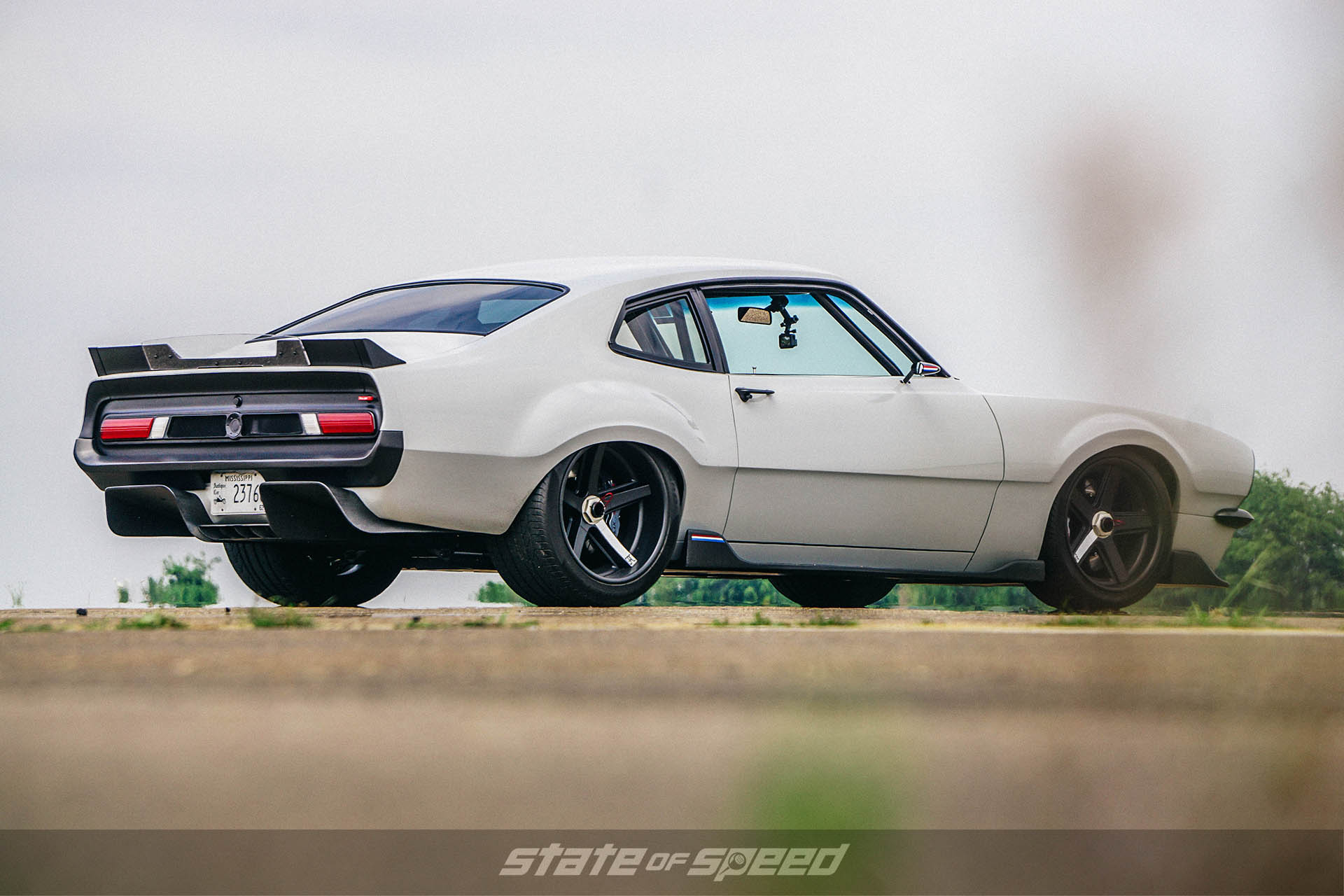 Introduced on April 17, 1969 as a 1970 model, the Maverick was based on the 1960 Falcon that was falling out of public favor due to the popularity of the Mustang, the ultimate Pony Car. The Maverick was introduced as an import fighter, but its initial powerplants were 170, 200 and 250 ci straight sixes. However, in 1971, Ford added a 210 hp 5.0L 302 V8 to the long nose fastback and suddenly, the rear-wheel drive Maverick was able to flex its muscles—it was a contender. That said, and despite sales of almost 600,000 in the first year, it was still never high up on the hot rodder's list of must dos.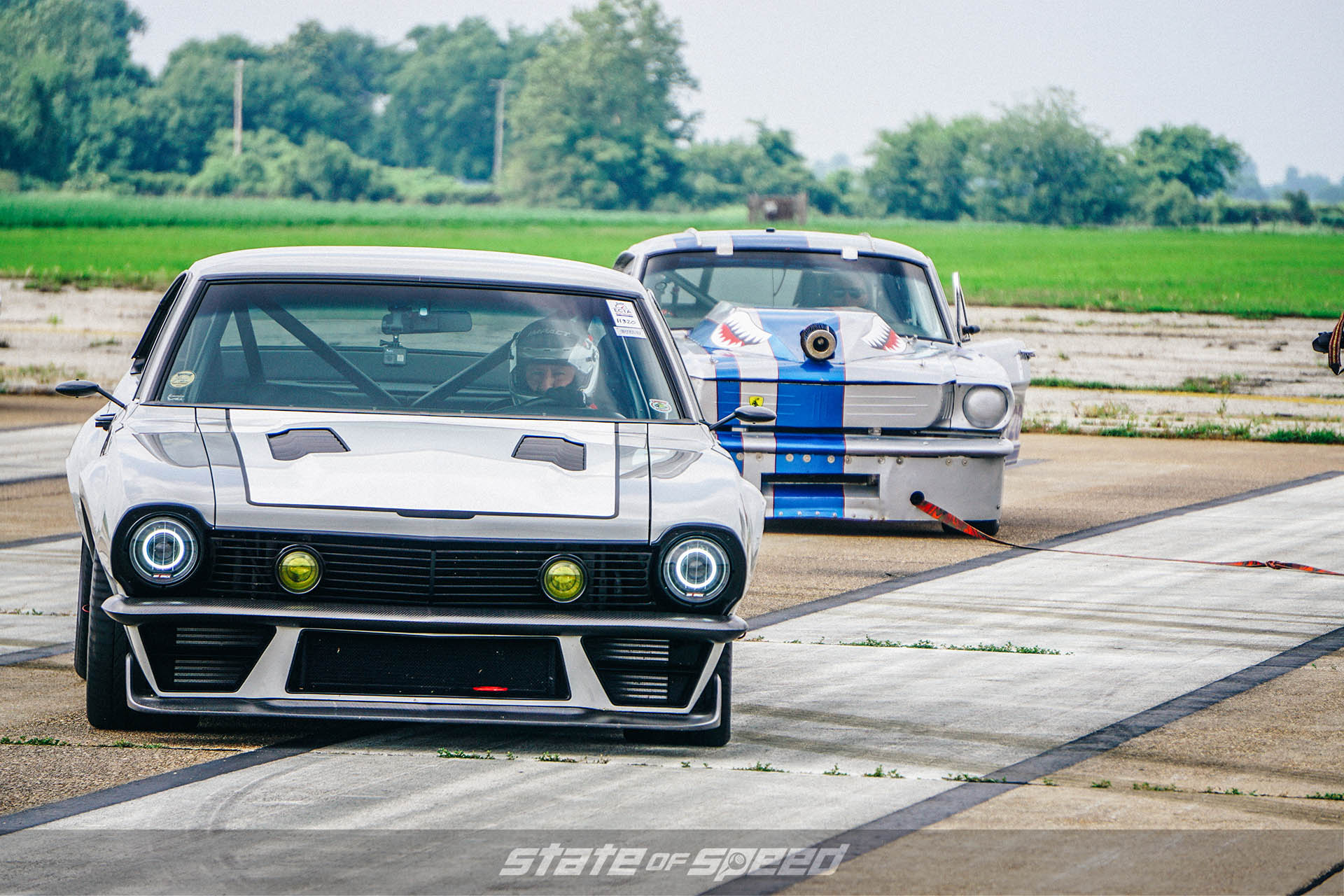 Enter the Greening Auto Company, a father and son team operating out of Cullman, Alabama. There, Jeff and son, Jesse, have built some outstanding performance cars, one of which is this 200 mph Maverick for owner Jimmy Shaw. StateofSpeed caught up with the boys at the recent East Coast Timing Association Arkansas 1-Mile Challenge at Blytheville International Airport, Blytheville, Arkansas.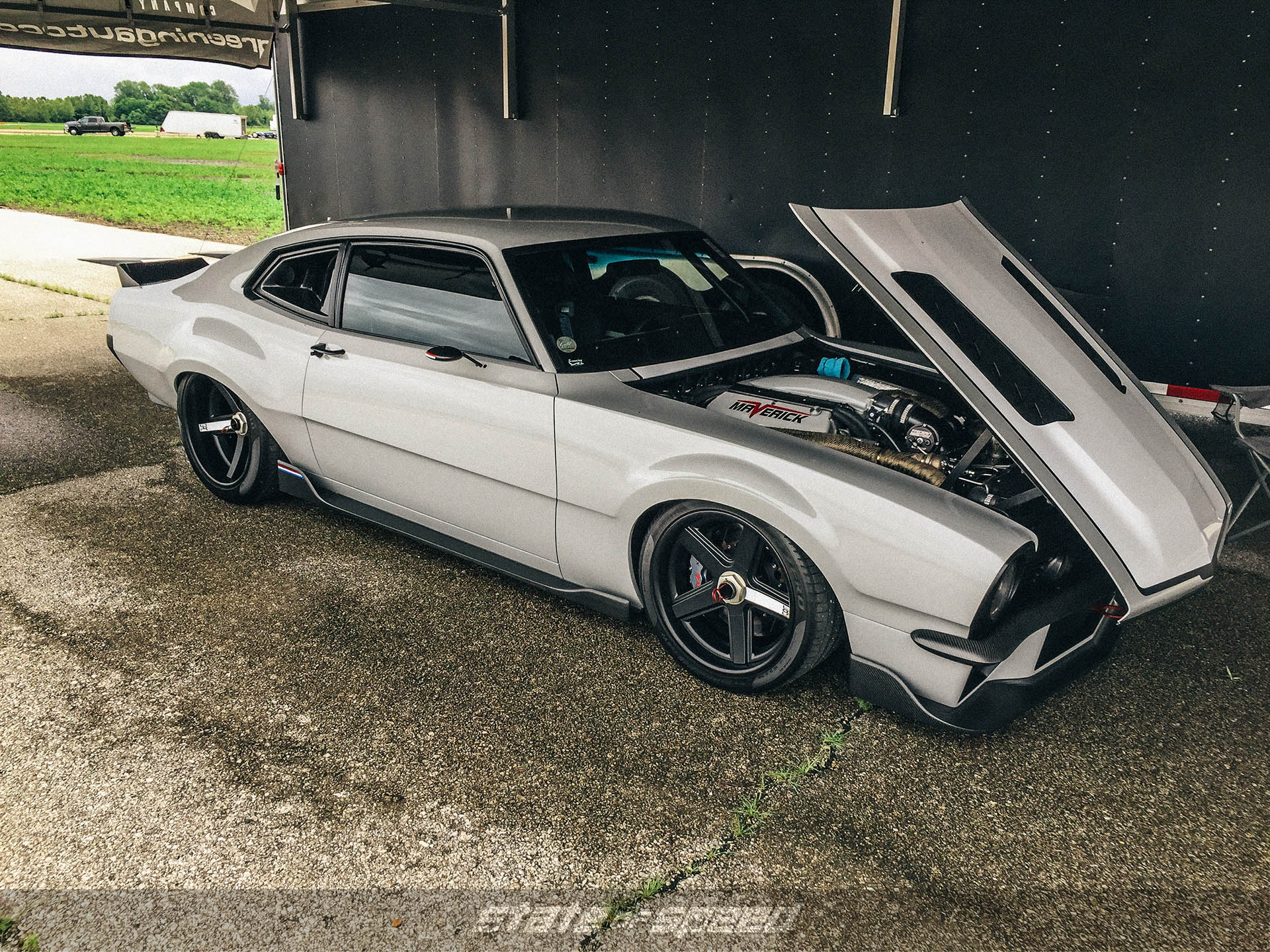 Looks aren't everything though, and it's what's under the hood that counts.
Illustrated by Eric Brockmeyer, Shaw's Maverick is a subtle combination of old meets new in that it's a very low mileage, rust free '71 body with very contemporary styling, incorporating very extensive body modifications and a custom color mixed specially by BASF/Glasurit. The car made its debut in the Baer Brakes booth at the 2018 SEMA Show where it picked up the Ford Design Award. It subsequently took top honors from Goodguys, Mothers, BASF and more, including Gran Turismo.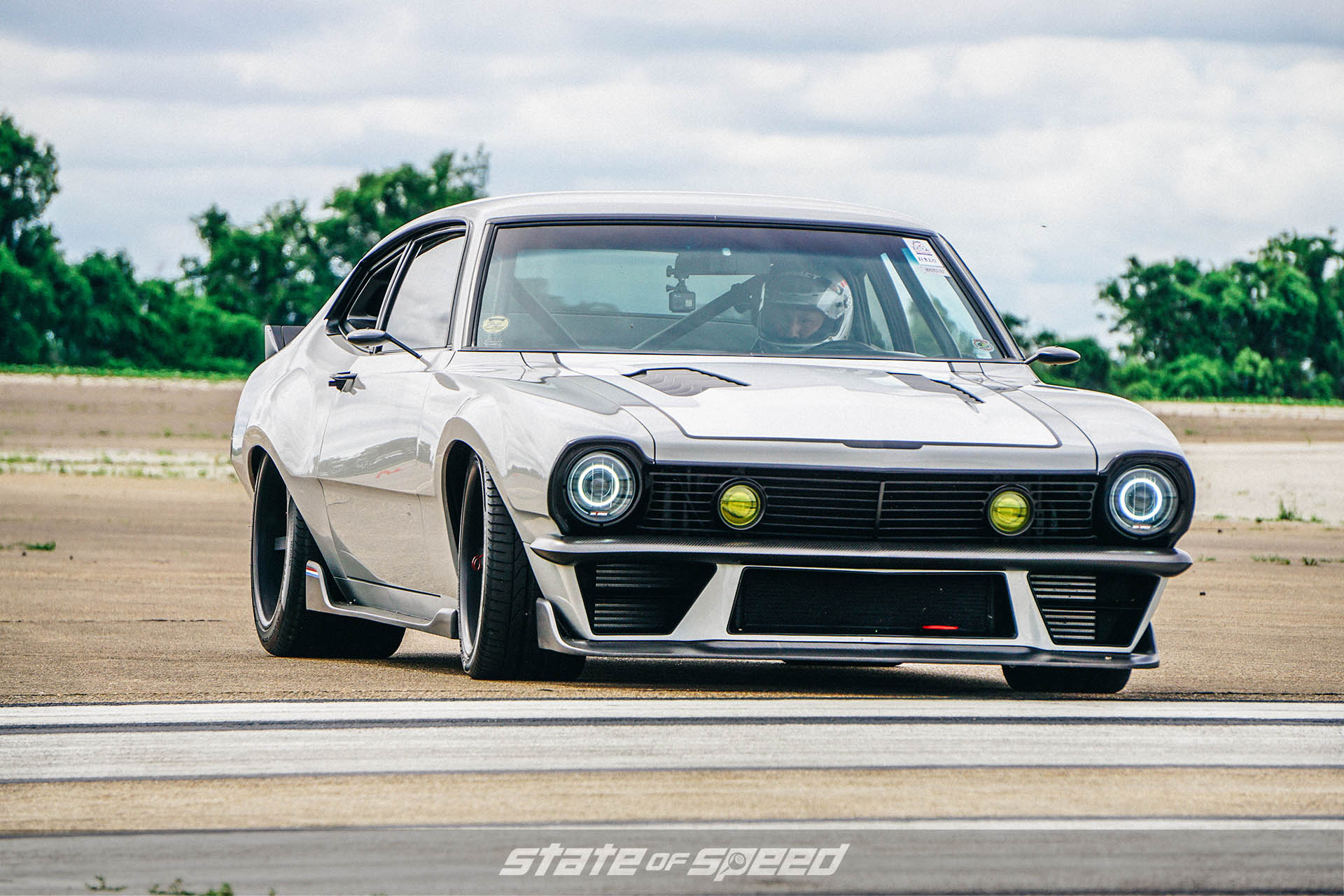 Looks aren't everything though, and it's what's under the hood that counts. In this case, it's a twin turbo, 427 ci Ford Windsor built by Bennett Racing Engines, Haleyville, Alabama. The fuel delivery is controlled by a FAST engine-management system that can operate in a docile street mode or race mode. The combination produces 1,200 hp and backing it up is a Bowler Transmissions 4L80E overdrive trans and a Currie rear axle. All of this is hung on a Roadster Shop chassis fitted with Baer brakes with XTR rotors.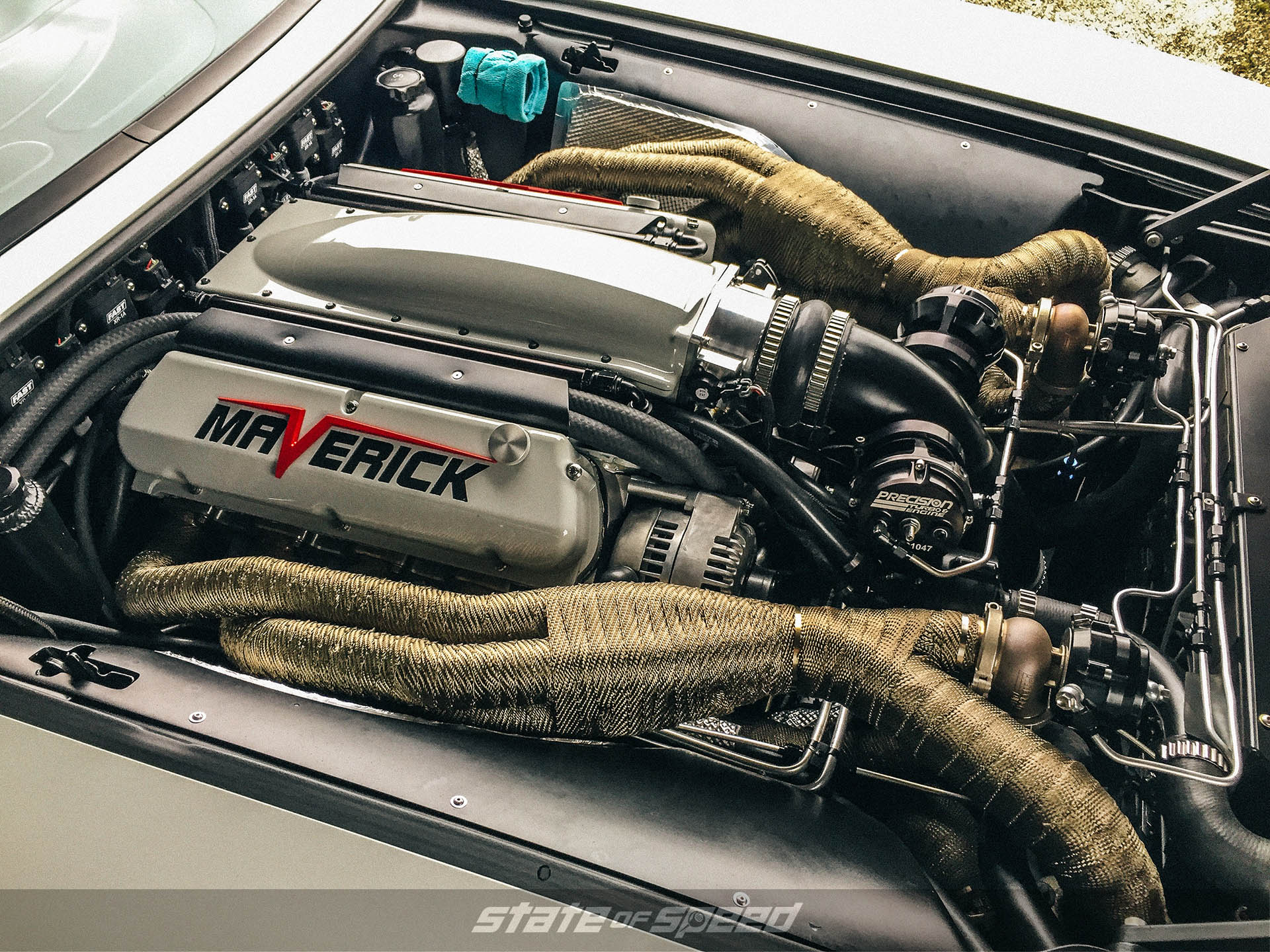 The five-spoke, pin-drive wheels were again illustrated by Eric but machined in-house at Greening. They're 18s in front and 19s in back fitted with 295/30/18 and 355/30/19 tires.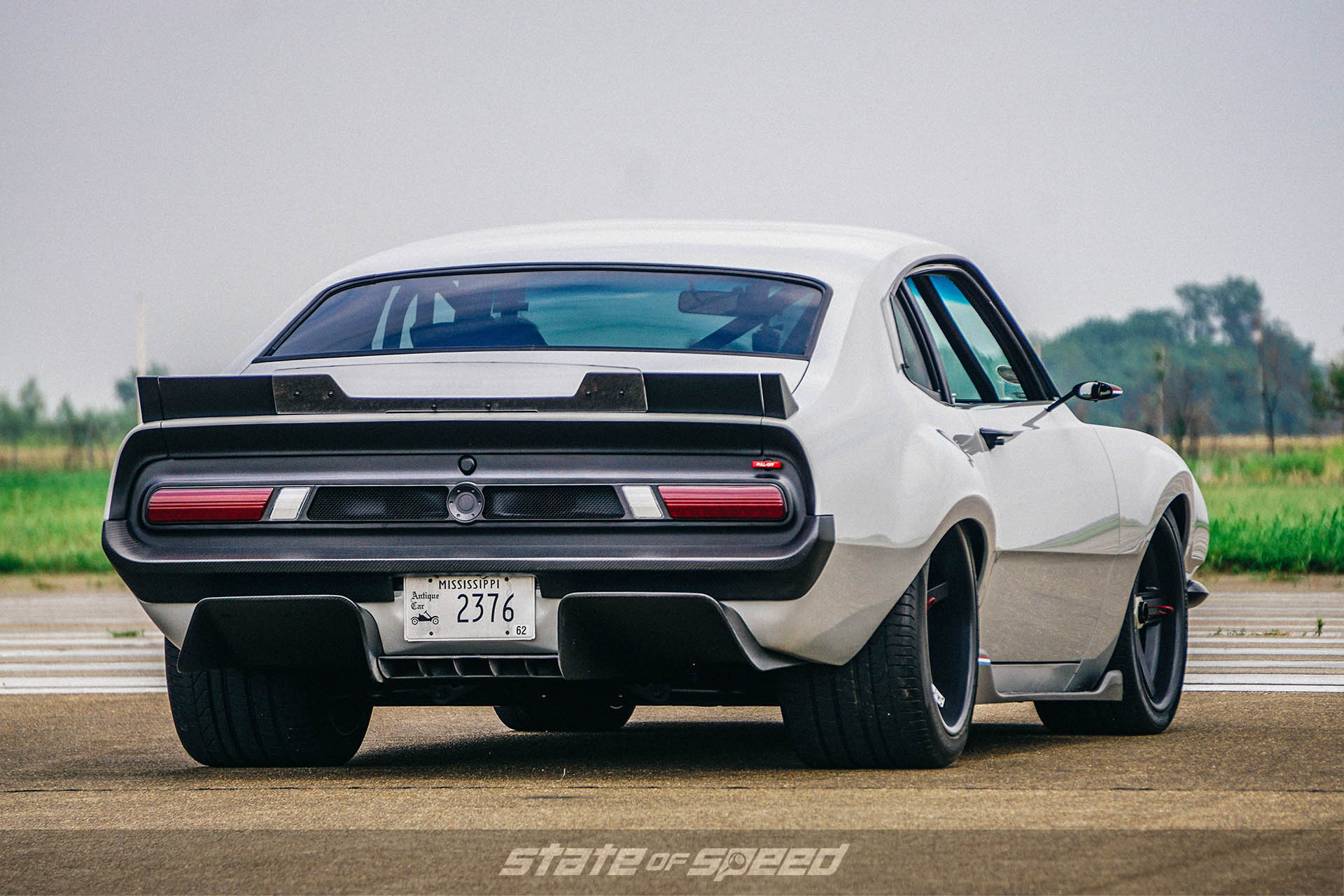 Despite its performance pedigree, this lil' Maverick has a fully equipped interior custom built by Wayne McGriff's MM HotRod Interiors, Holly Pond, AL. It features custom buckets seats upholstered in black leather with Alcantara inserts and Stroud racing. The carbon fiber dash is highlighted by a Racepak IQ3 digital display as well as a Momo steering wheel. Incidentally, cool air is provided by Vintage Air and the sound system by Kicker.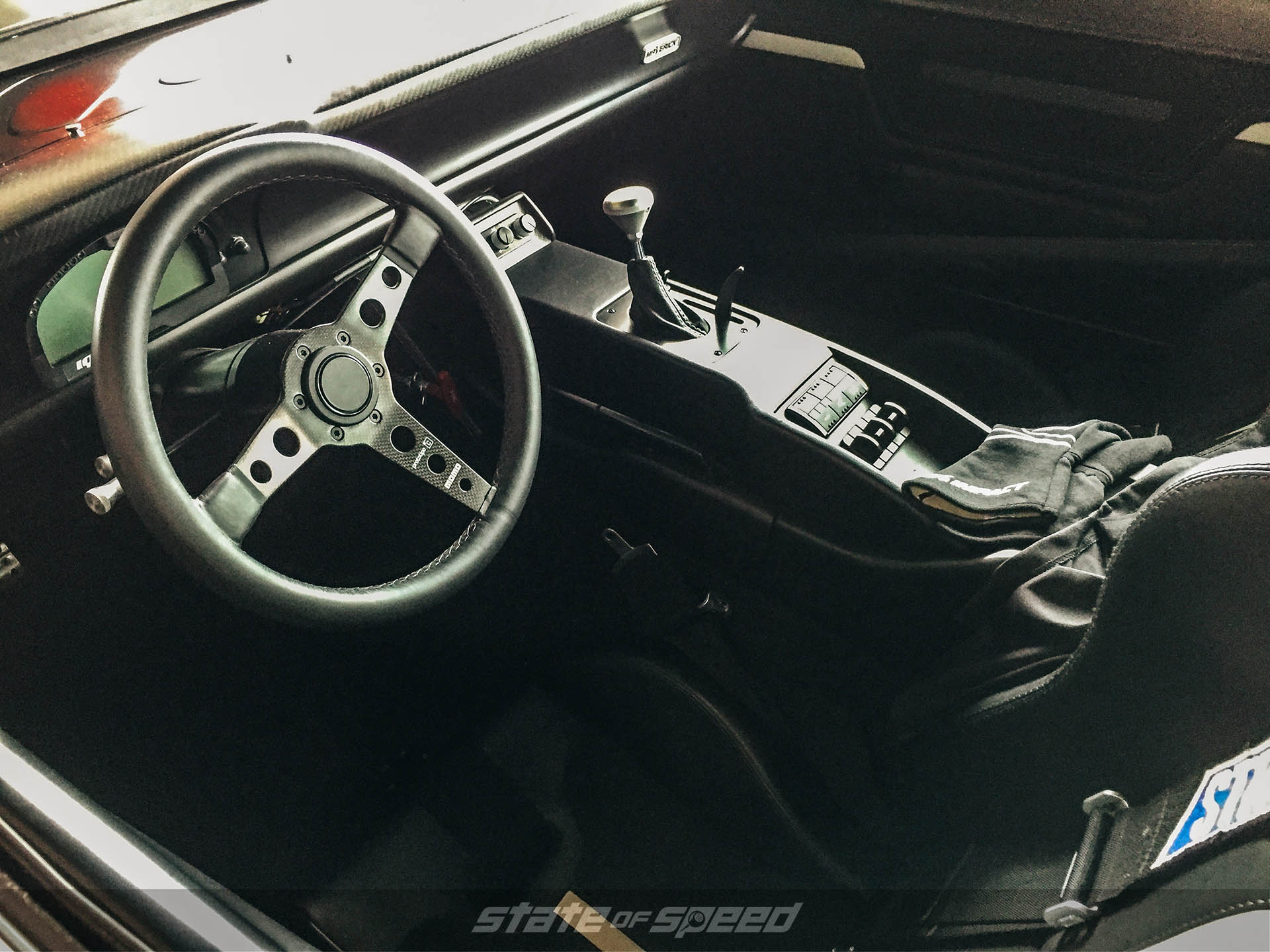 We spoke to Jesse Greening at Blytheville where they gradually crept up on that elusive 200 mph mark. "We had a really good time at the Arkansas Mile," said Jesse. "It was our first time at that event, and Jimmy was determined to hit 200. Thankfully, no issues and we just tweaked it until we hit the marker with a speed of 169.364 at the ½-mile and a stout 202.748 at the mile.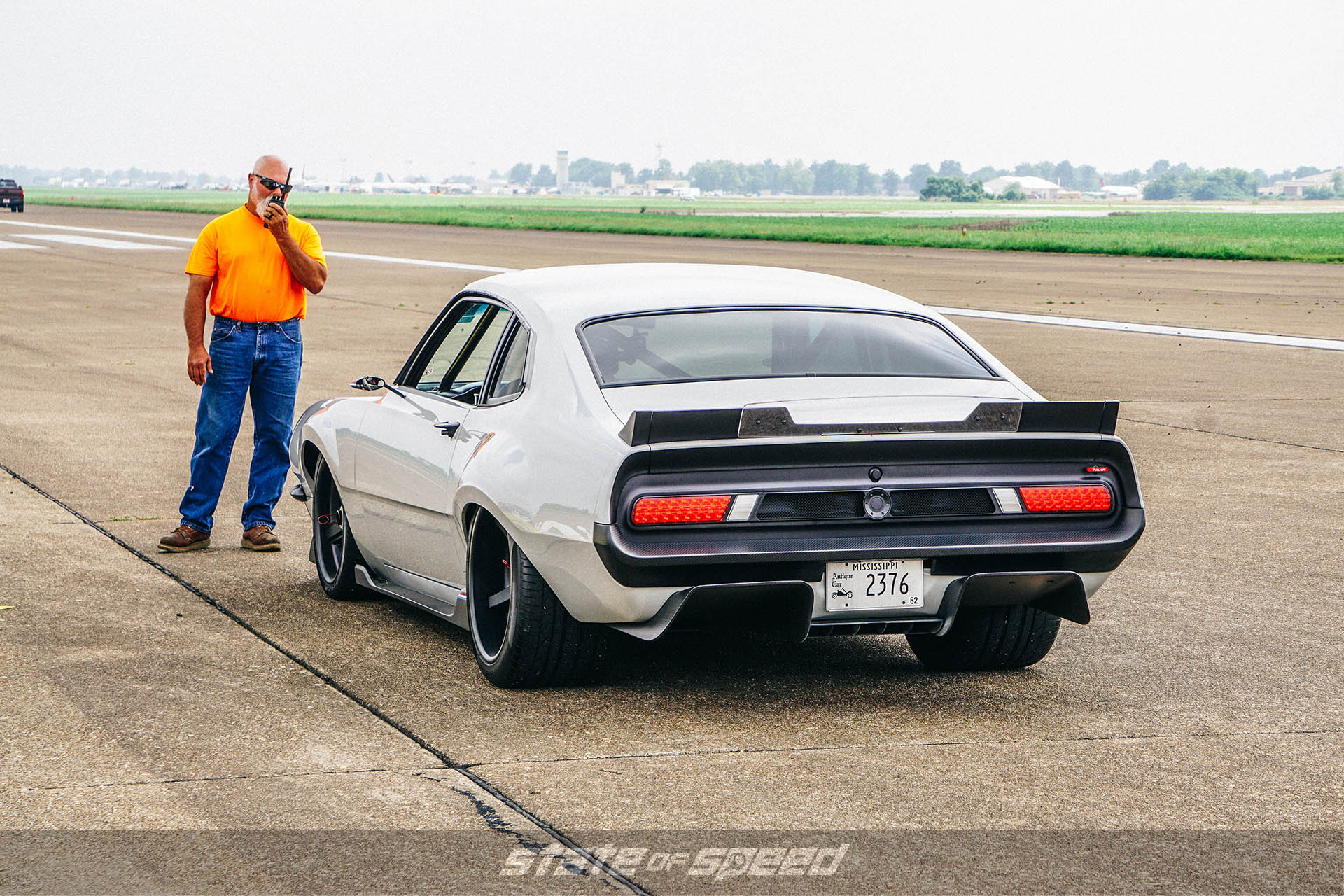 "After 200-mph run at Blytheville, the Maverick was scanned by Sony for their Gran Turismo sim racing game then it was on to Columbus, Ohio for the Goodguys' 22nd PPG Nationals where we picked up the 2019 PPG Street Machine of the Year Award.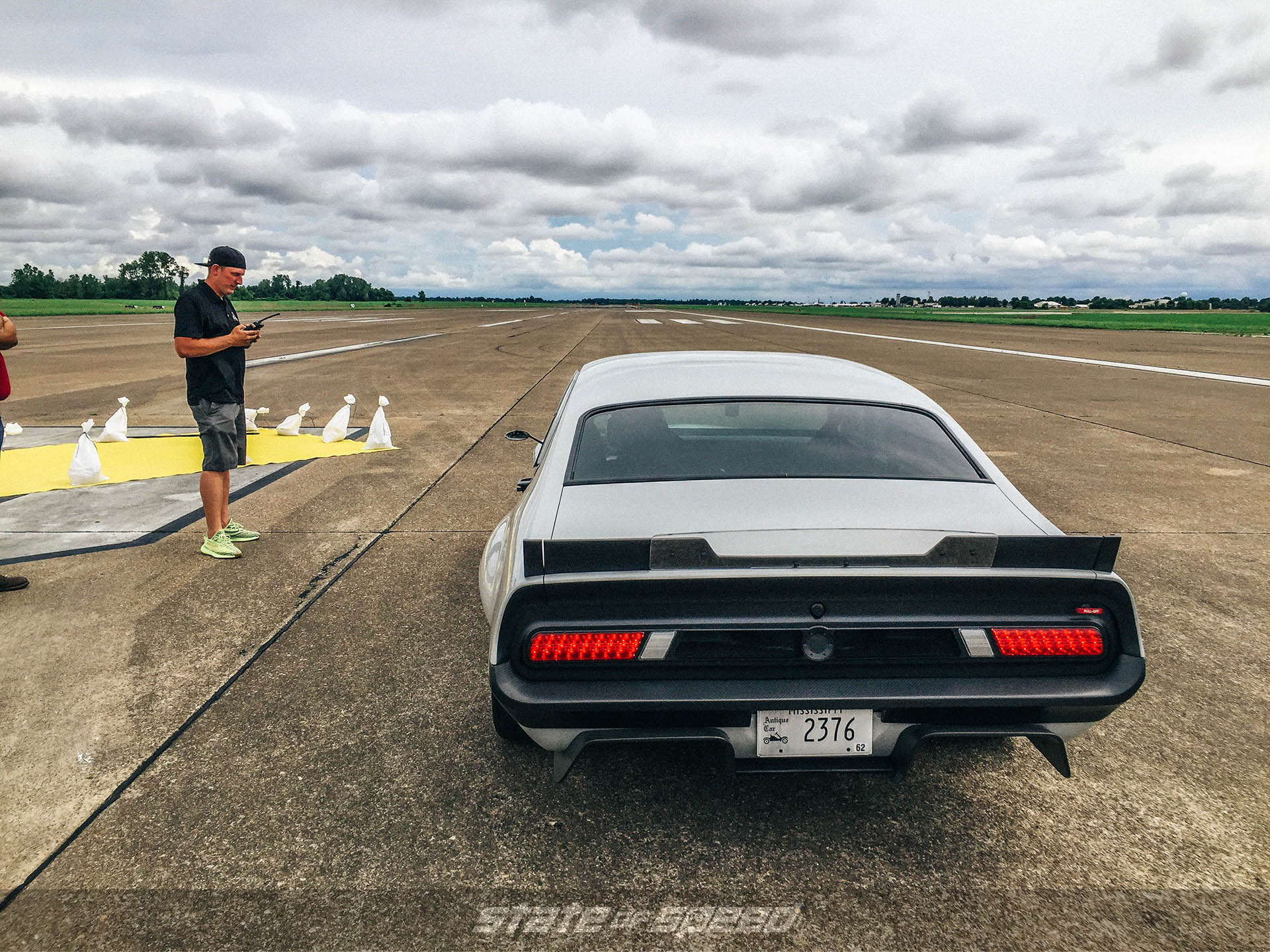 "We were invited to Saudi Arabia but winning the Street Machine of the Year Award means we will go on to the Goodguys event at Scottsdale, AZ. We're not done with racing though and we plan to be back at Blytheville in 2020 to try to bump our top speed."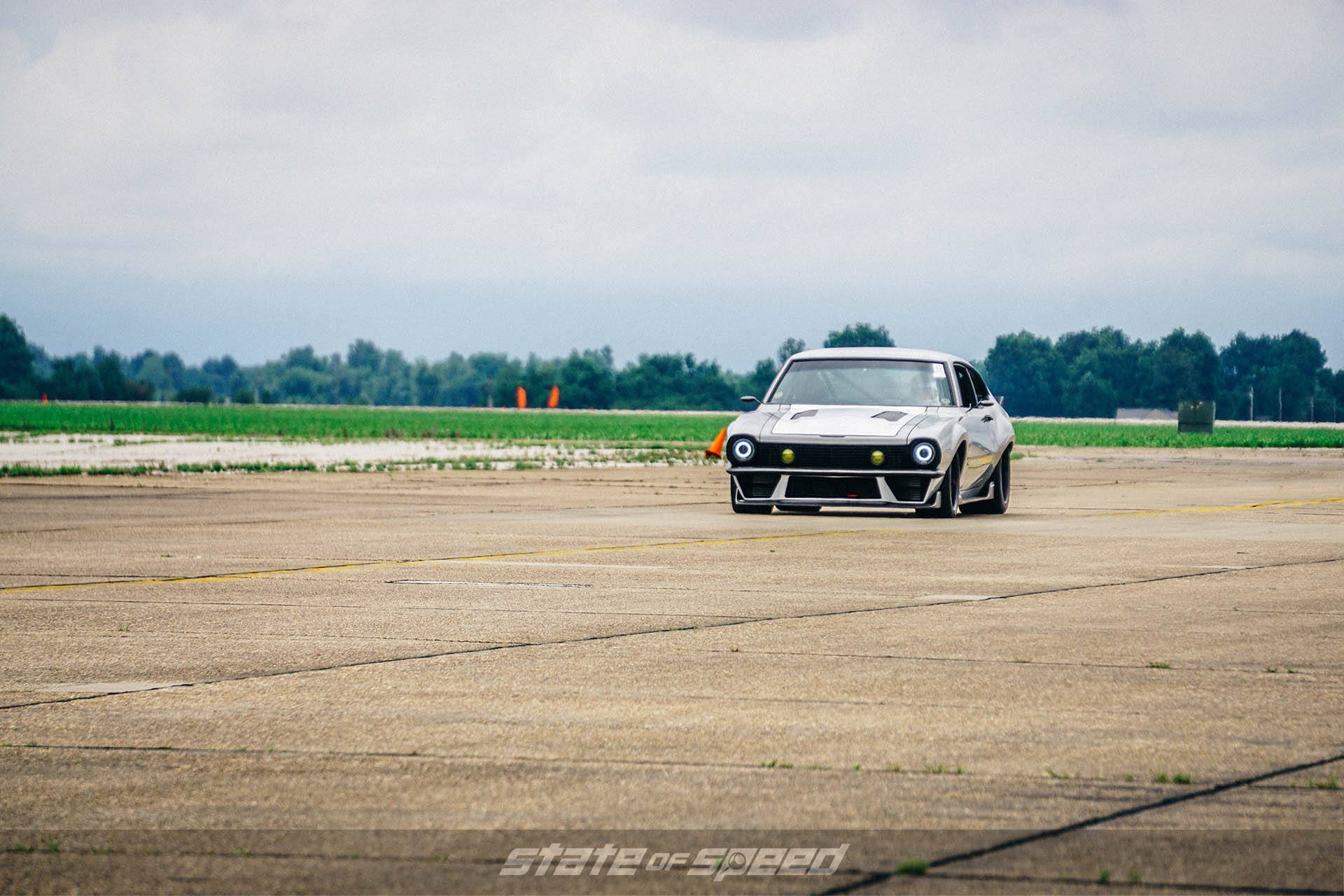 "Jimmy wanted a car that was capable of autocrossing, drag racing, road course racing and standing mile runs. Hopefully, we delivered that in spades, and more, and owe him a big thanks for allowing us to build his dream."