What Is Overlanding?
One of the fastest growing trends over the last several years has been the Overlanding craze. The off-road community has always been segregated by brand loyalty, and region. You have the Jeep crowd, who doesn't hang out with the Toyota owners, who shake their heads at the full size truck owners, who think Jeeps are impractical and silly. In places like Florida, which are mostly flat, and covered by swamps, tall trucks are all the rage. On the tight, steep trails found in the mountainous areas of the country, every inch of lift comes with a penalty due to a higher center of gravity. The dune enthusiasts are another subset of off-road, as are the prerunners. Most prerunners are 2 wheel drive, so they have to keep moving fast or risk getting stuck. That's ridiculous to the Jeep crowd who love to crawl along with their multiple transfer cases because one transfer case just isn't slow enough.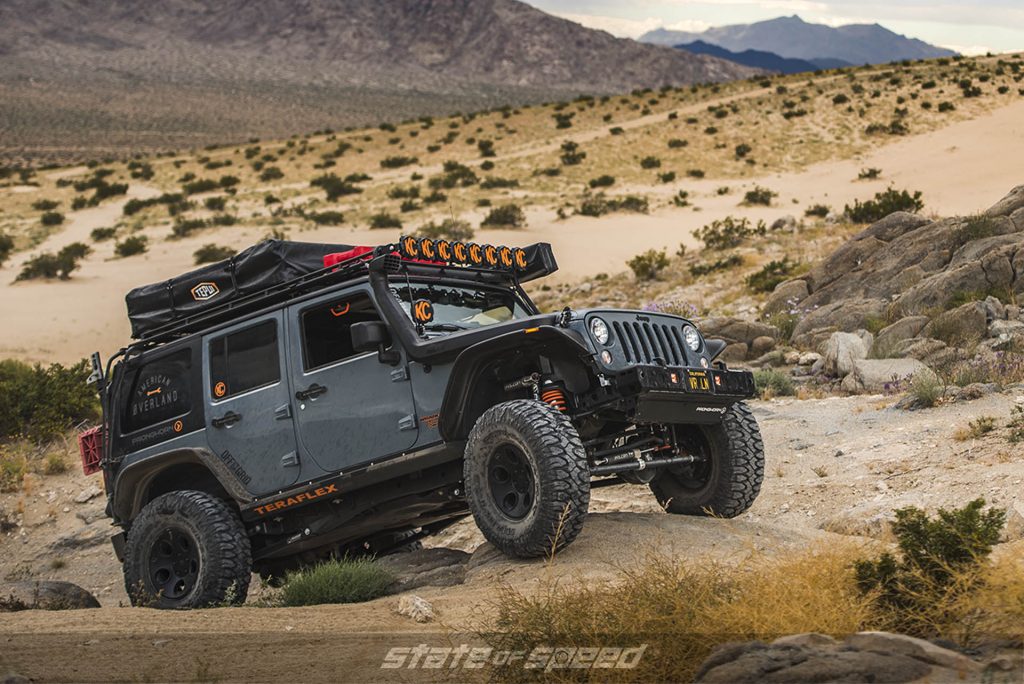 They are all separate groups who exist in their own niche. Along comes overlanding which can include all those groups. Overlanding can be done in a camper shell, or a 300,000 dollar rolling condo with satellite, a garage, and a marble backsplash in the kitchen. Overlanding is not camping in campgrounds; it's boondocking, but with the emphasis on traveling. The one thing that all overlanders share is the ability to travel off the beaten path while being self-sustained. The only difference is how comfortable you want to be.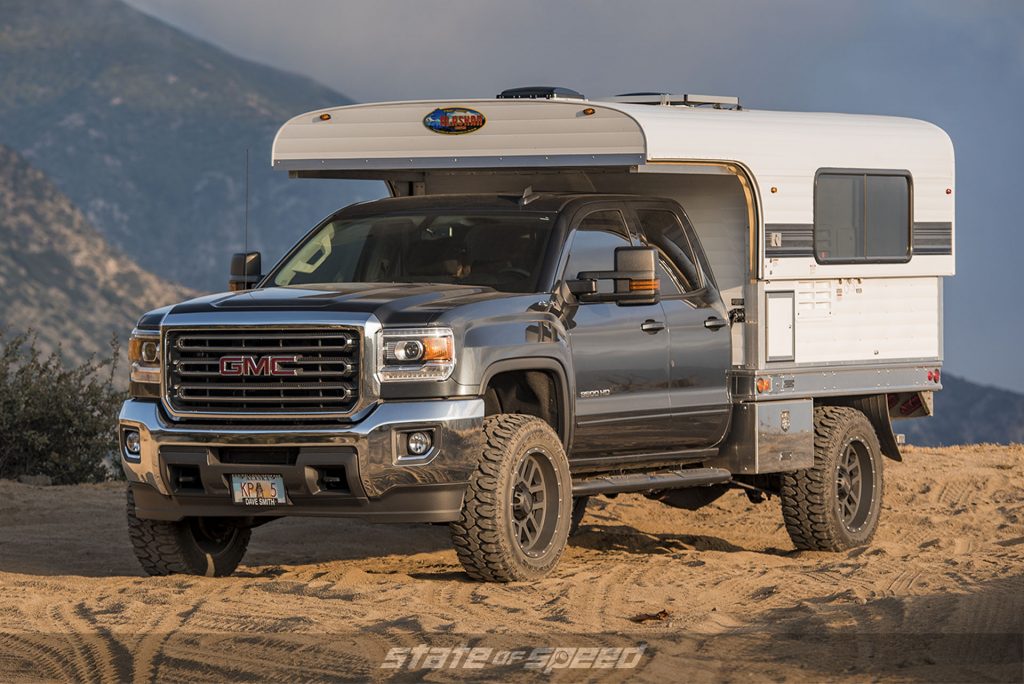 Choosing your Overlanding Vehicle
Do you want creature comforts, or off-road ability? If you are overlanding in a region that has very primitive roads, a smaller vehicle makes a lot of sense. If you go this route, you will have to travel light. Lots of thought will go into the gear you choose to bring. Will you be able to resupply on the road? If you are planning a long trip with limited access to supplies, a larger vehicle makes more sense. Eventually though, you will have the same issue with storage space, and weight capacity, regardless of the vehicle you choose. The bigger you go, the more you have to think about mobility, and fuel mileage.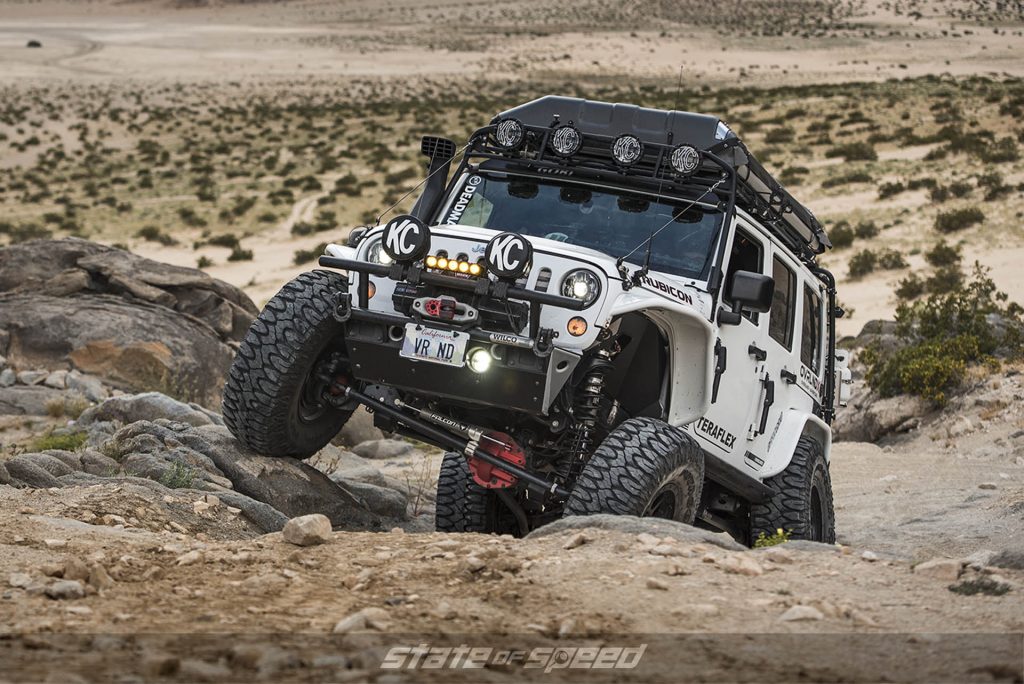 You have to consider the needs of the vehicle, as well as the inhabitants. You should have spare parts, tools, vital fluids, and the ability to perform repairs in primitive conditions. Spares are the bare minimum. Having the added insurance of compressed air, onboard welders, or a bicycle, moped or motorcycle as a backup is not uncommon. Some people would rather invest in a satellite phone than to carry spares, and learn how to fix things. Whichever plan you devise, being prepared will be the difference between a survival situation, and an inconvenience when you run into trouble.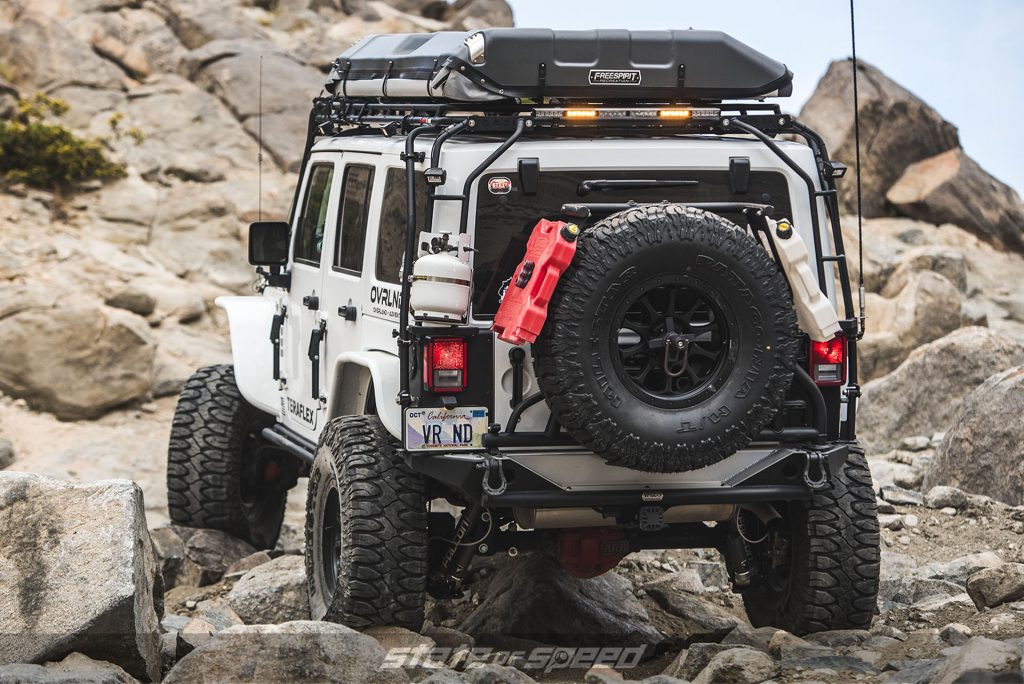 Basic Needs
Venturing into the wilderness should not be taken lightly. Your first priority should be basic human needs. You need proper clothing, shelter, food, and water in order to survive. If you are traveling in an area that has abundant water, you can get away with carrying less onboard, as long as you have a way to purify it for drinking. There are many types of filters available that run the range from straws, all the way up to multi-stage reverse osmosis systems that can be incorporated into your rig. In drier conditions, you will have to bring your own. You will need water for your body, and for your vehicle. Water is the most important thing for survival. 
Can you afford to go without cooked food for a couple days if the weather turns awful?
Food will run the spectrum depending on your cooking equipment and whether you have refrigeration. You can survive on dry goods, but having great food to eat makes any excursion much more enjoyable. Unless you have tons of power available for an induction cooktop, most cooking will be done on a camp fire, or on some type of stove with an open flame. Another option is a solar oven. Solar ovens can be broken down for transport, and use the power of the sun to cook your food so no fuel is used. All you need is direct sunlight.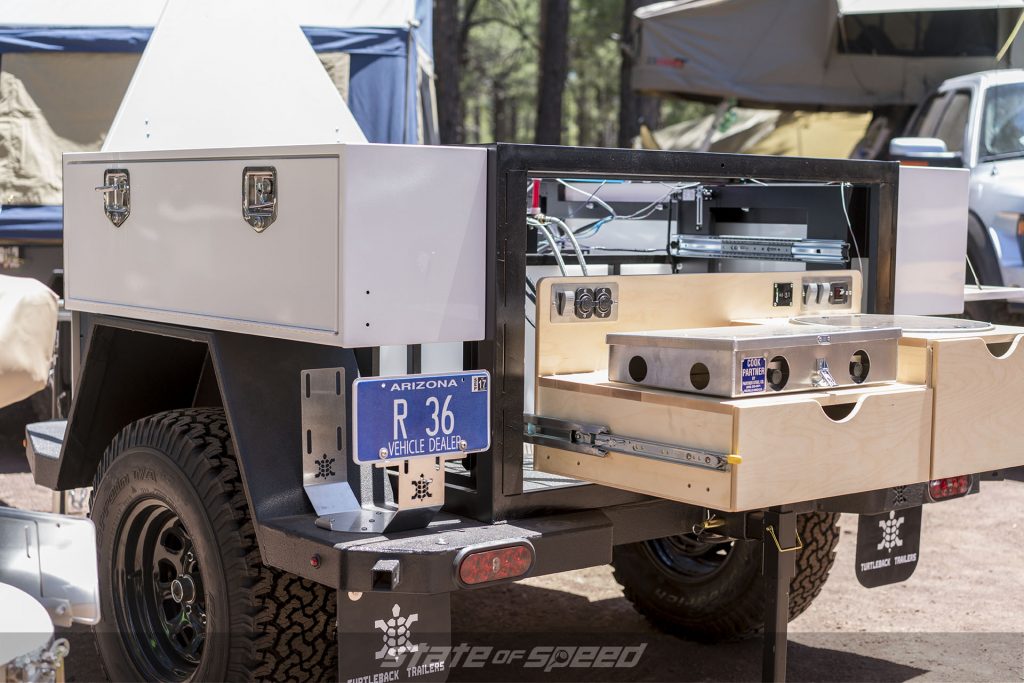 There are many 12 volt compressor refrigerators on the market that use minimal power, and will keep perishable foods cold. They can be powered with a generator, or solar power which is very popular. Ice chests are ok for a couple days, but anyone will tell you, they are terrible to deal with in the long run. Soggy food from melting ice is unappetizing to say the least, and usually ends up in the trash. Many travelers have an outdoor kitchen. This is preferable to keep the mess, and smells out of your sleeping quarters, but only in perfect weather. Can you afford to go without cooked food for a couple days if the weather turns awful? Rain or snow can be mitigated by a canopy, but if you add wind to the mix, it might make cooking outside impossible.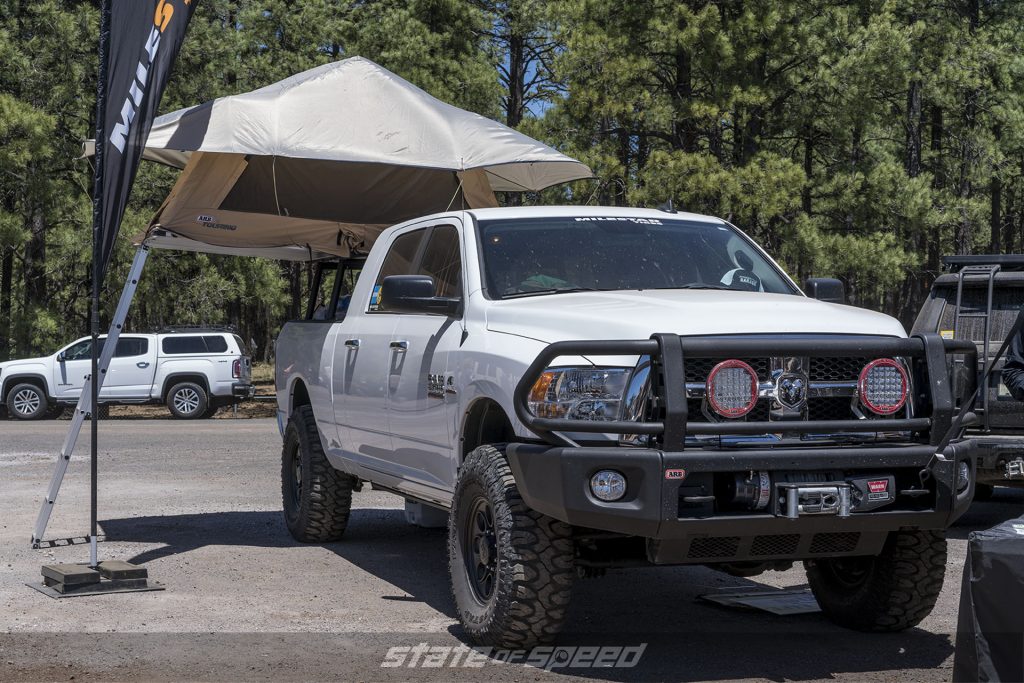 That brings us to the matter of clothing, and shelter. People die from exposure to the elements. You need to maintain your body's temperature; too hot, too cold or being wet, can have dire results. Roof top tents are very popular because they collapse for travel, and get you up off the ground, but it's still a tent. Pouring rain, or gale force winds get old really quick when you are sleeping in a tent. Having a dry, protected shelter in inclement weather is important. Having extra space to relax, change clothes, do some chores or get some work done is added luxury.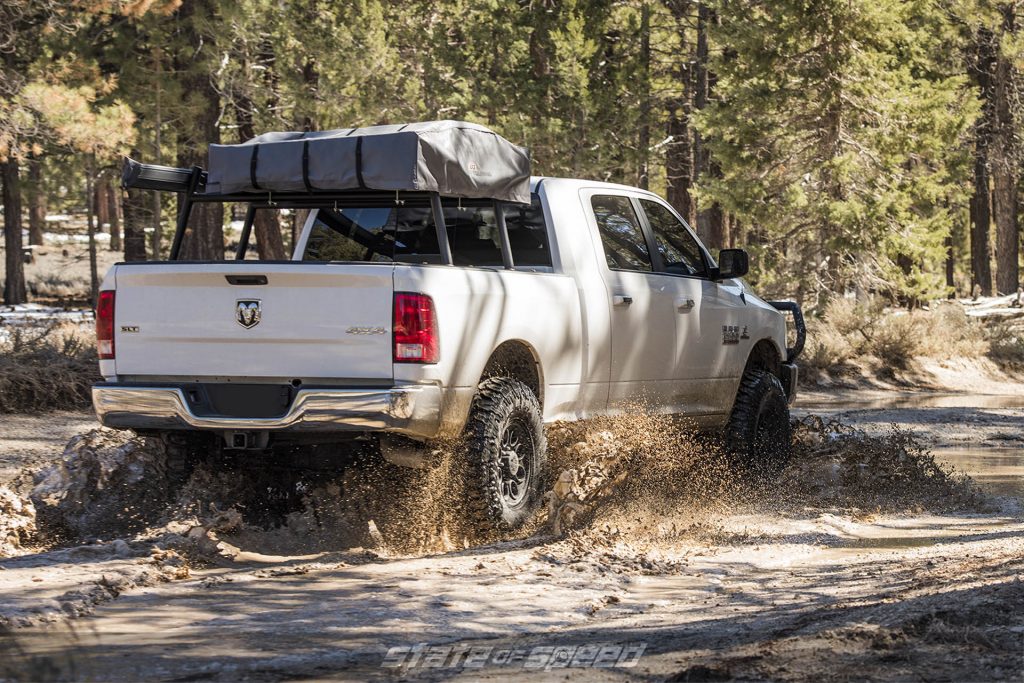 A comfortable overlanding vehicle should provide all of these essentials. It should have off-road capabilities, ample storage, power, a kitchen, and a bathroom. It should be able to pack everything in, and get it back out again without drama. There is an ongoing debate whether overlanding is just glorified camping. It does share many similarities, but I think it differs once you build in the systems and components that are necessary for long term, unassisted travel. You can throw an ice chest into the bed of your truck, and spend a few nights in the wilderness, but if you are boondocking for 3 weeks in the desert, you need a little more. Once you have a dedicated, live aboard vehicle, you have gone beyond camping, and into the overlanding zone.