A Badass Jeep JK Build for 10K? Here's Your Guide!
There are thousands, maybe even millions of different ways to build and accessorize the Jeep JK Wrangler into a great JK build. There are so many aftermarket parts available, where do you start? We decided to toss our thoughts out there with a hypothetical build using a bone stock JK and a $10,000 budget. That certainly seems like it should be enough money, though most of us build our rigs over time and not all at once.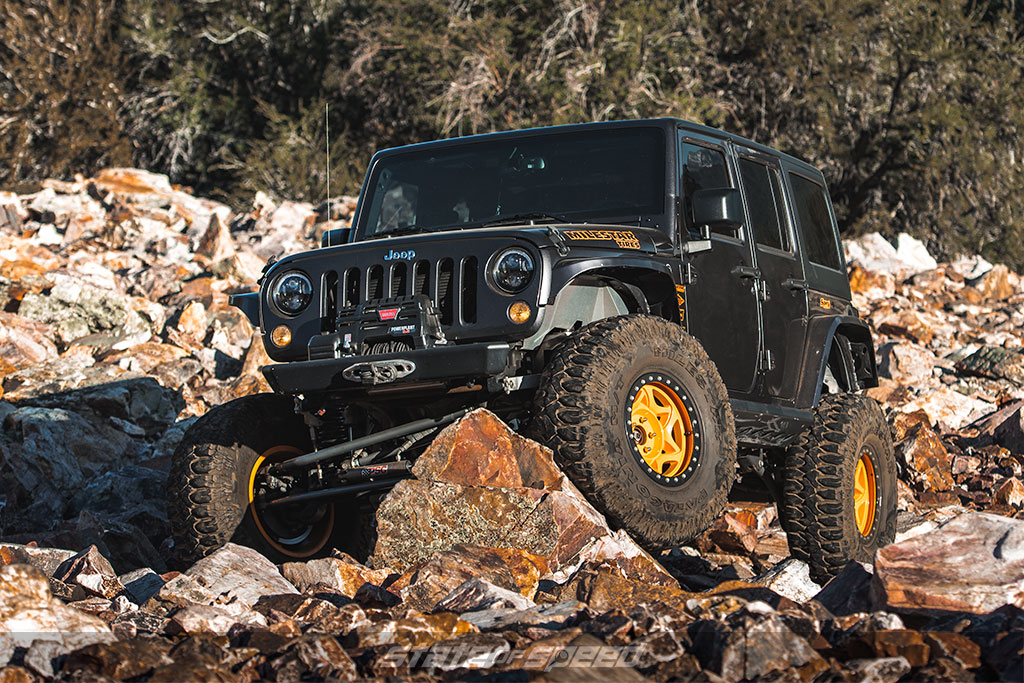 Here's we'll cover the basics and our picks for this Jeep JK build, keeping the whole budget in mind. For consistency, all prices are based on advertised retail price from Northridge4x4.com. We are not including tax or installation as both will vary based on where you are and your level of do-it-yourself ability and necessity.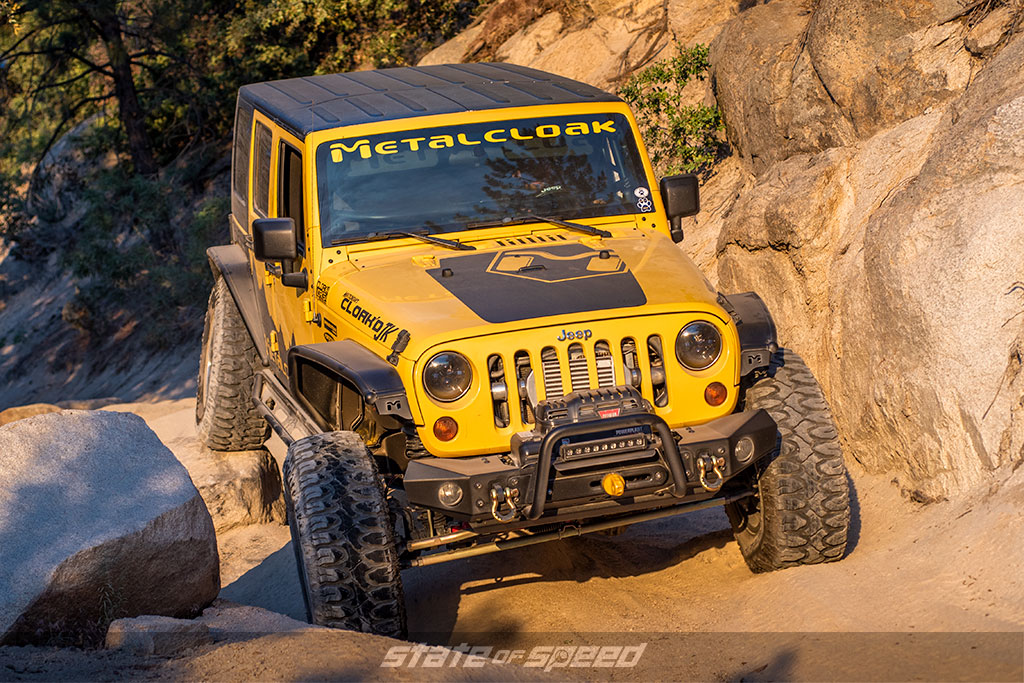 Lift It
First up, let's get the 10k-JK build elevated. JK Wranglers have large wheel wells openings from the factory. They can fit a much larger tire than previous model Jeeps without as much lift. Our goal is to get the Jeep into a good height for clearance while improving function. For this, we'd go with the Teraflex 3-inch Lift Suspension System w/ 4 Sport Flexarms & Track Bar.
The kit includes the necessary lift coils and miscellaneous brackets but also goes a step further than the basics by providing new front lower and rear upper control arms, a front adjustable track bar and a rear track bar relocation bracket. The track bar components and new Preset Sport Flexarms will keep your vehicle in proper alignment. The Flexarms also provide better articulation and more strength.
Price: $1400.96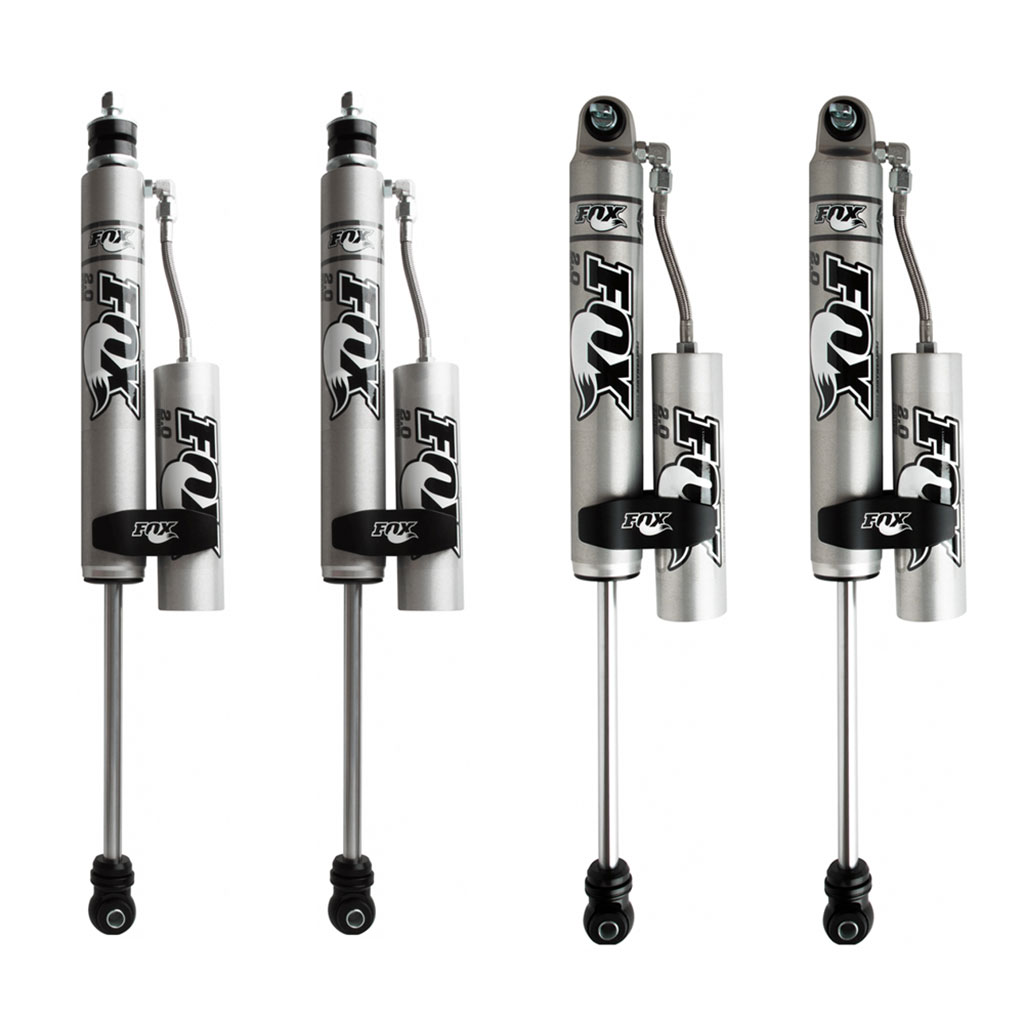 Shock It
Shocks are no place to scrimp. Having good shocks is a key factor in a long-lasting rig that doesn't beat your body up on every mile and every bump. With the immense popularity of JK Wranglers, FOX Shocks made life easy by having direct bolt-in options for different lift heights.
The FOX Performance Series 2.0 Reservoir smooth body shocks brings all of the fancy tech FOX has developed over the years into a simple to install package. Built with lots of aluminum to resist corrosion and utilizing race-proven piston and valving designs, you can't go wrong.
Price: $269.95 each – $1079.80 for 4
Flare It
Adding new high clearance fender flares is a solid Go-To when building this Jeep JK, especially when working on a specific budget. The extra clearance allows for a larger tire without as much lift by removing unnecessary OEM plastic bits and low hanging edges.
MCE Fenders produces OE width flare with 2-inches of extra tire clearance. With only a set of these flares, a JK Wrangler can run a 35-inch tire on stock suspension. Their single wall construction is so durable, MCE offers a "No Fine Print" Lifetime Warranty. Kit includes DOT approved LED side marker lights and retains the OE inner fender liner.
Price: $399.99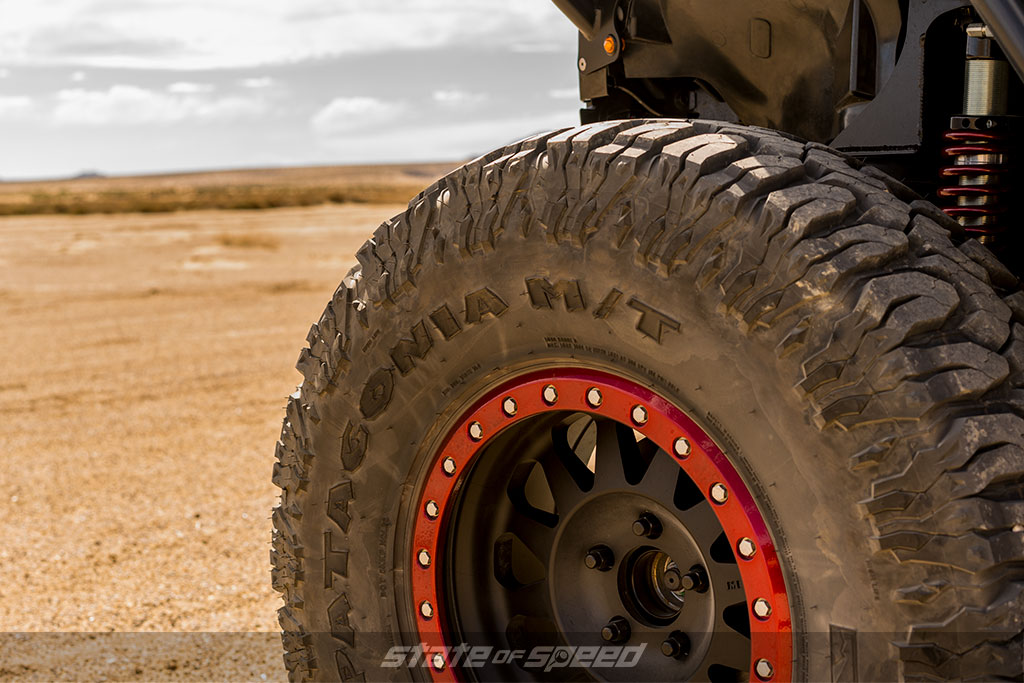 Wheel and Tire It
With the JK build higher, we can now stuff some new sneakers on it. The 3-inch lift technically is meant for a 35-inch tall tire but because we have chosen high clearance flares for our build, we can step up to 37s.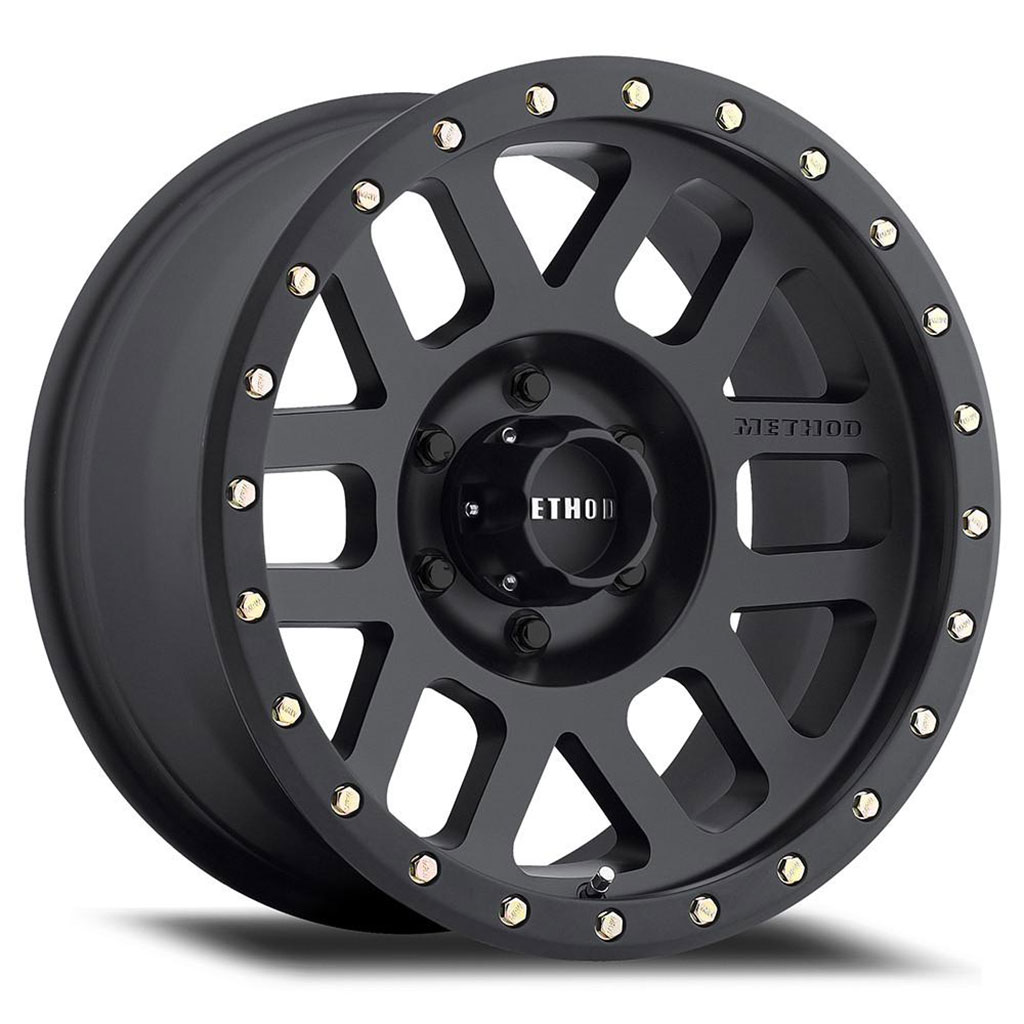 Method Race Wheels produce a strong and reliable wheel for years of off-road use. There is a wide range of styles available, though there is a smooth blend of classic and modern with the Street Series 309 in Matte Black.
Built from A356 aluminum and T6 heat treated, the 17×8.5 309 has a 2500+lb load rating and also features the Street-Loc V.1 lip with undercut that simulates a true beadlock wheel.
Price: $257.13 each – $1,285.65 for 5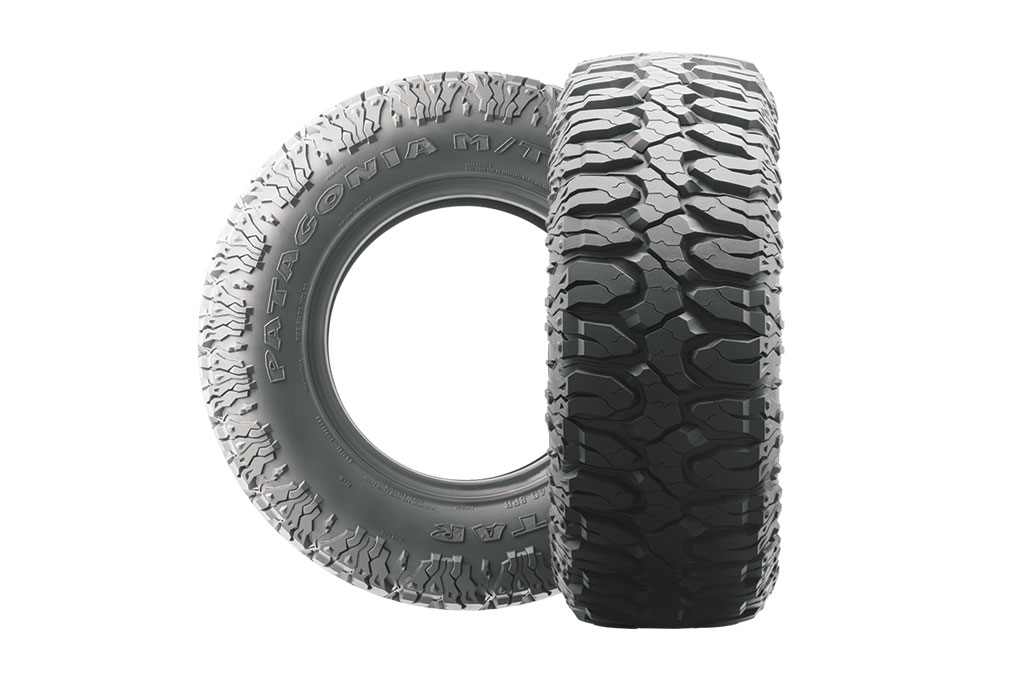 Tires just might be one of the most important choices you make during your build. A reliable Jeep JK build needs reliable tires. The Milestar Patagonia M/T 37X12.50R17 provides superior traction in harsh terrains while giving you excellent road manners.
The solid mud terrain tire has aggressive edges for a great bit, high-void tread design for self-cleaning and uses a 3-ply sidewall for additional protection against damage.
Price: $373.50 each – $1867.50 for 5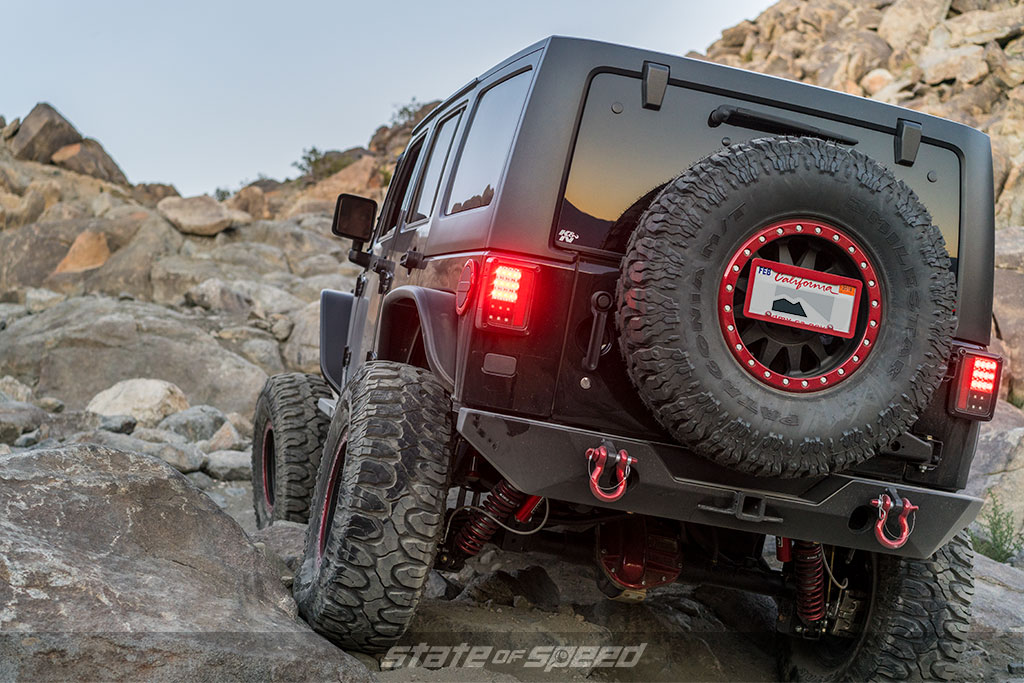 Spare It
Anything can happen, even with careful driving and strong tires. It is always a good idea to bring along a matching height spare tire. We've included the costs of the spare wheel and tire above but now you need a place to mount it. The stock JK tailgate, though stronger than it's predecessors, isn't up to the task of supporting the weight of a larger wheel and tire combo. Not to mention the clearance issues.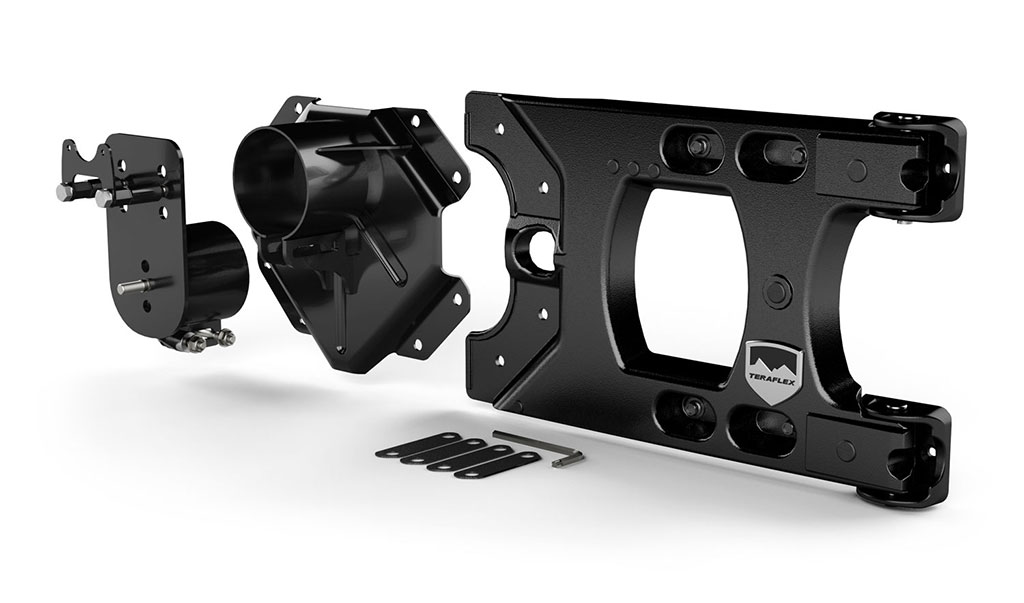 Installing a Teraflex Alpha HD Hinged Spare Tire Carrier & Alpha HD Adjustable Spare Tire Mounting Kit solves the issue. The Hinged Spare Tire Carrier replaces the OE tailgate hinges and reinforces the sheetmetal of the tailgate, making it robust enough to easily support a 37-inch tire.
Combines with the HD Adjustable Spare Tire Mounting Kit, the system can accommodate many different wheel backspaces and tire widths.
Price: $700.98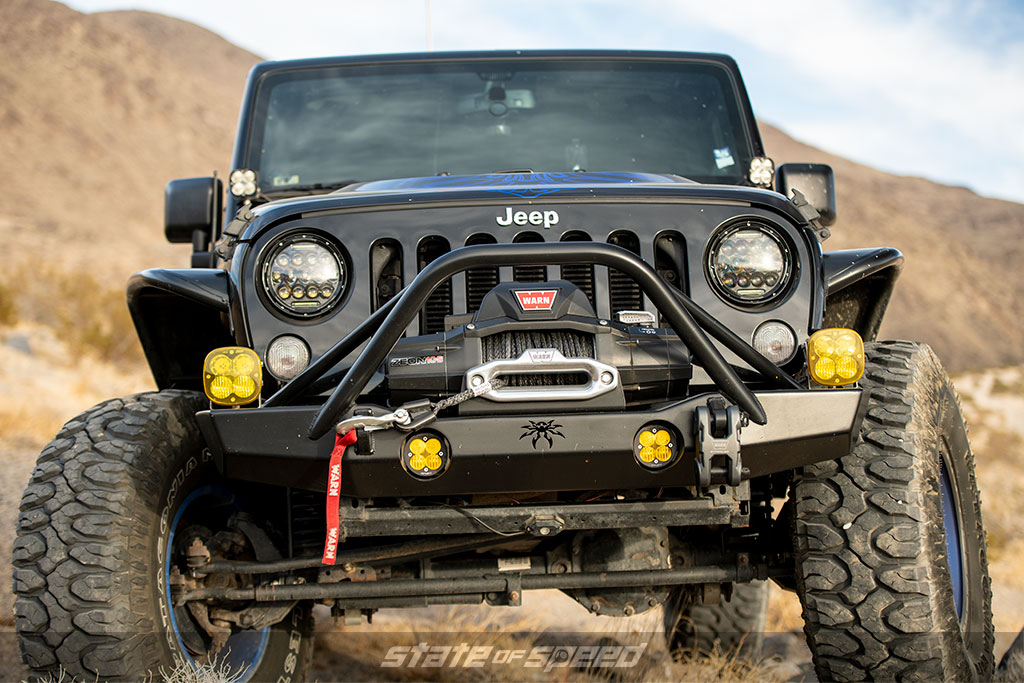 Protect It
We've covered the height, flex and traction, now on to protecting the Jeep JK build when out in the dirt. There are a staggering number of bumpers available on the market for the JK. Many of them are good solid pieces and have varying different benefits.
Bumpers
Body Armor 4×4 has been building quality bumpers for years. Using 3/16-inch and ¼-inch thick steel plate, their Mid-Stubby Front Bumper accommodates a winch like the Warn VR EVO 10-S with synthetic rope and has multiple light tabs for future use. A winch is just good off-roading practice and Warn is the winch leader when it comes to build quality and innovation. Body Armor 4×4's Rear Bumper Base provides a solid shackle attachment point, clears the OE-hitch and looks much better than the factory bumper.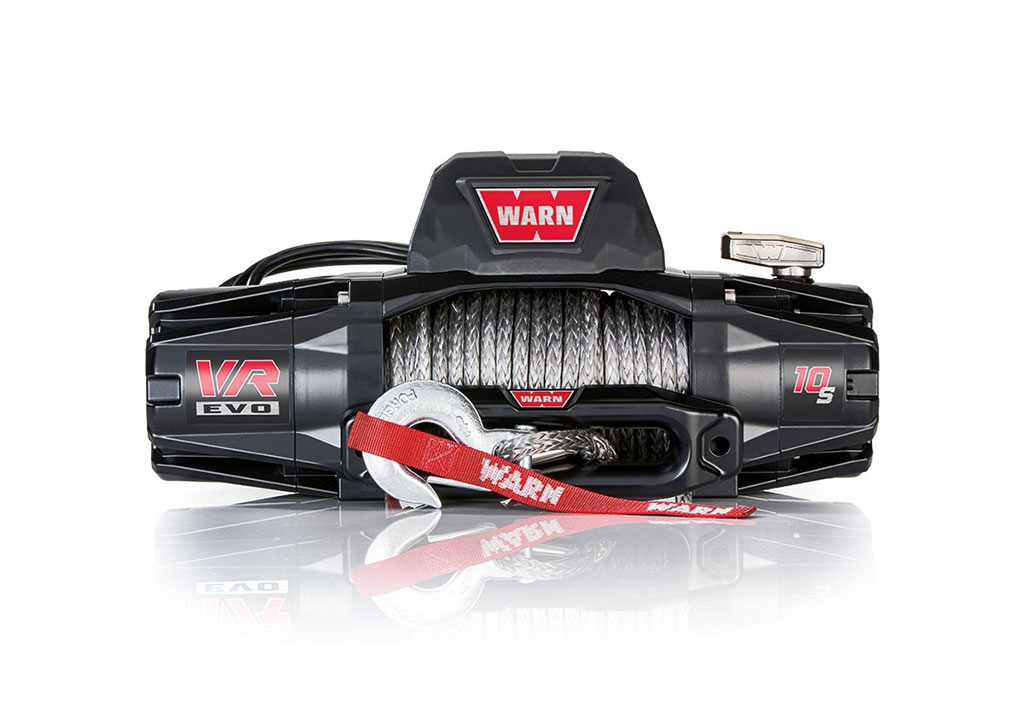 Front Price: $441.99
Rear Price: $331.99
Skid Plates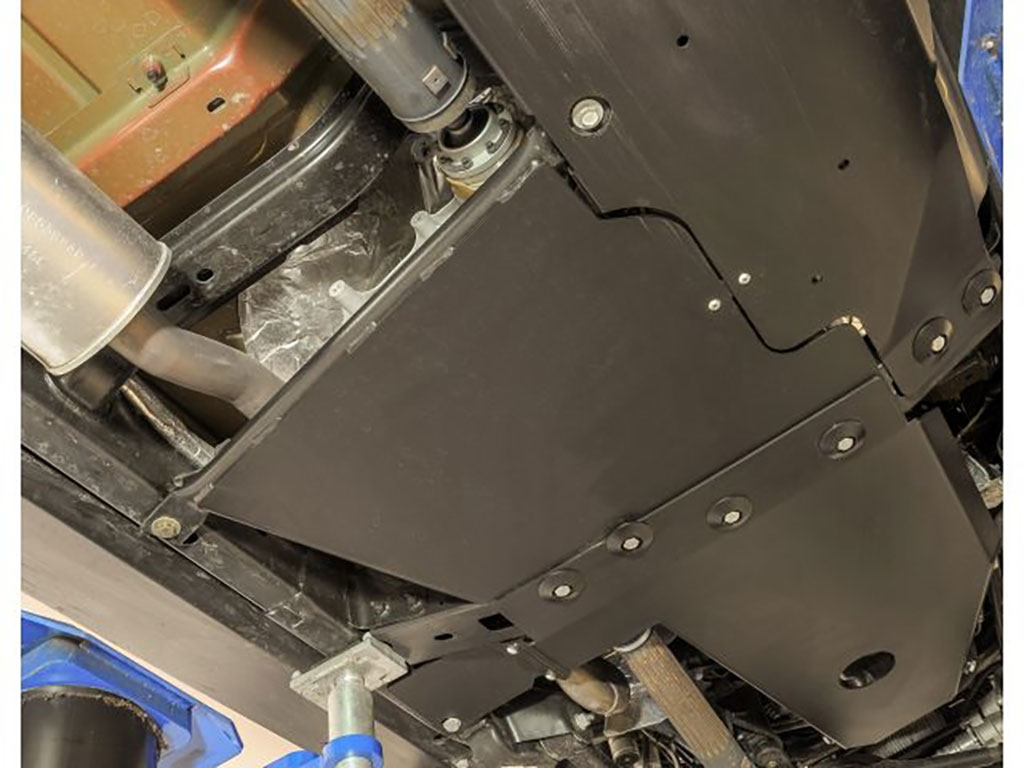 This JK build is a big beast of a Jeep, especially on 37s but there are still plenty of obstacles that may want to give the underbelly a few love taps. For that, there skid plates from Rock Hard 4×4 for the Transfer Case and Fuel Tank. Both are made from 3/16-inch thick steel and are 100 percent bolt on.
Transfer Case Skid Plate Price: $259.95
Fuel Tank Skid Plate Price: $409.95
Rock Rails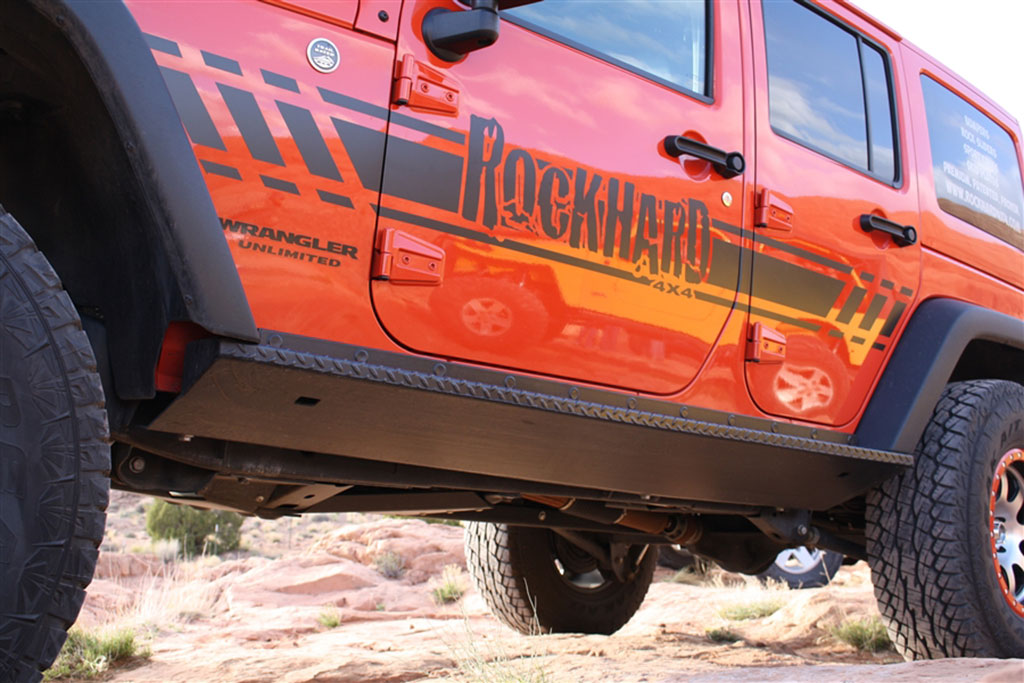 When protecting your Jeep JK build from the perils of off-road trails, make sure to pay attention to the rocker panels. The JK Unlimited is long and has a large gap between the tires that likes to get munched by rocks. Bolting on a set of Rock Hard 4×4 Patriot Series "Boat Side" Rock Sliders will eliminate the concern.
The strongest rock slider Rock Hard 4×4 makes is built from durable 3/16-inch steel and has a flat surface designed to glide off obstacles. The boat sides include openings for Hi-Lift Jack use and has an optional diamond tread pattern top for better traction when used as a step.
Price: $899.95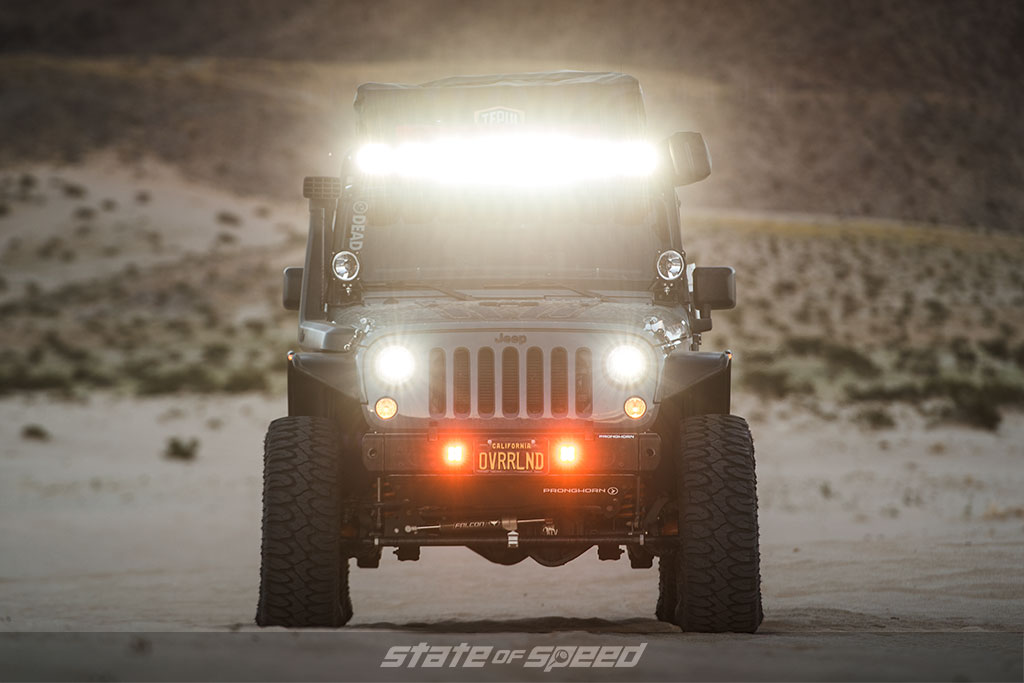 Light It Up
The last bit we'll squeeze into our $10k-JK is lighting. When travelling and camping, you are bound to be out at night and having sufficient lighting is far safer than not. Genesis Off-Road produces a Double Dually Light Bracket for the hinge area of the A-pillar that accepts two lights per side. Rigid Industries recently released the 4-inch 360-Series LED Diffused Fog Lights that are perfect for lighting up the trail, road or camp.
Bracket Price: $69.00
Lights Price: $349.99 a pair – $699.98 total
Tally It
| | | | | |
| --- | --- | --- | --- | --- |
| Lift | Teraflex 3.0" Outback Suspension System | $1,400.96 | 1 | $1,400.96 |
| Shocks | Fox 2.0 Performance Series Remote Reservoir – Front | $269.95 | 2 | $539.90 |
| | Fox 2.0 Performance Series Remote Reservoir – Rear | $269.95 | 2 | $539.90 |
| Wheels | 17×8.5 Method 309 Grid Series | $257.13 | 5 | $1,285.65 |
| Tires | 37X12.50R17LT Milestar Patagonia M/T | $373.50 | 5 | $1,867.50 |
| Fender Flares | MCE Fenders Front and Rear OE Width Gen II | $399.99 | 1 | $399.99 |
| Front Bumper | Body Armor  Front Bumper Mid-Stubby JK-19532 | $441.99 | 1 | $441.99 |
| Winch | Warn VR EVO 10-S Winch with synthetic line | $744.99 | 1 | $744.99 |
| Rear Bumper | Body Armor 4×4 Rear Bumper – JK-2961 | $331.99 | 1 | $331.99 |
| Tire Carrier | Teraflex HD Hinged Tire Carrier w/ Adj Tire Mount | $700.98 | 1 | $700.98 |
| Rock Sliders | Rock Hard 4×4 Patriot Series Tread Plate Rocker Sliders RH-6006-T | $899.95 | 1 | $899.95 |
| Skid Plates | Rock Hard 4×4 Steel Transfer Case Skid Plate | $259.95 | 1 | $259.95 |
| | Rock Hard 4×4 Steel Gas Tank Skid Plate | $409.95 | 1 | $409.95 |
| Lights Bracket | Double Dually Light Brackets – A-pillar mounted | $69.00 | 1 | $69.00 |
| Lights | Rigid Industries 360 Series 4in LED Lights (pair) | $349.99 | 2 | $699.98 |
| | | | | $10,592.68 |
The tally comes out to $10,592.68. It really adds up that fast. There are far more accessories and upgrades that can be done that what is shared here, not to mention all the different options for what we have covered. Now go build your Jeep JK, make it how you want it!