Milestar XPDN1: A Mojave Overland Adventure
XPDN is a series of overland expedition events hosted by Milestar Tires and designed to challenge even the most capable of rigs. For those who may question what exactly overlanding is, it's one of the fastest growing trends over the last several years, and involves traveling off the beaten path while being self-sustained. Overlanding is not camping in campgrounds, but boondocking, with the emphasis on traveling.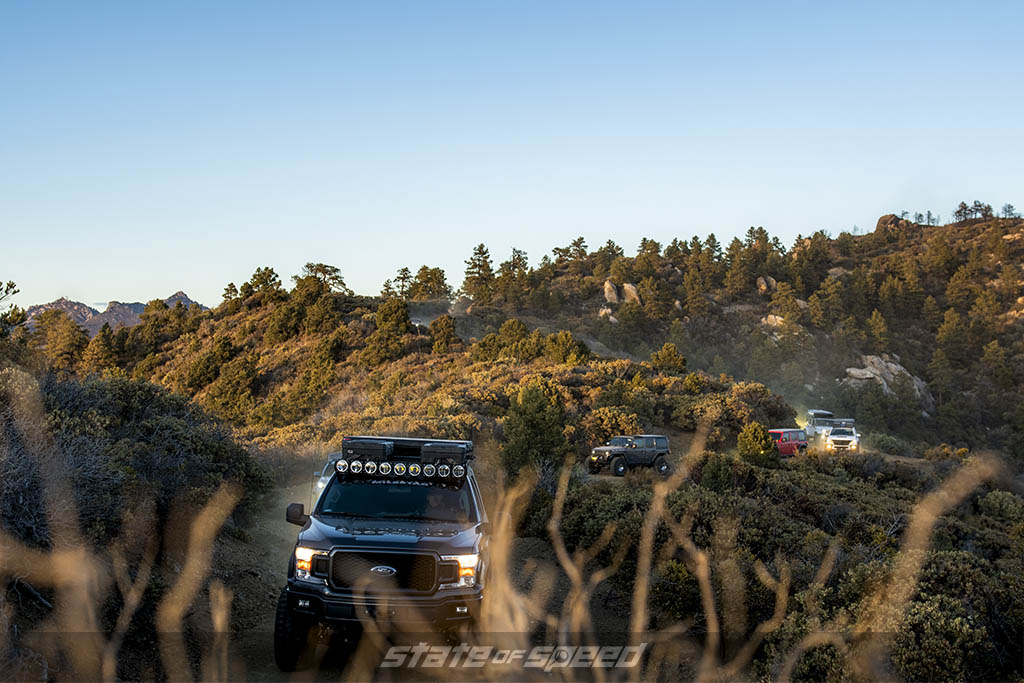 When it came to the planning process for Milestar XPDN1, it was no easy process, and packing in as many sites as possible, and attaining any necessary permits can prove to be difficult, but by the end of the journey, you realize that every last detail was worth it. Taking on a trip like this can also be difficult without support, and there were incredible sponsors that took part, including All-Pro Off-Road, Motive Gear, Off the Grid Surplus, Pro Eagle, Trails Magazine, and Tembo Tusk.
For the inaugural Milestar XPDN1, the Milestar Team set out to conquer the Mojave Desert in the Northwest of Arizona, with planned stops at the Petroglyphs in Searchlight, a ghost town in Oatman, and an abandoned mine at the base of the Hualapai mountains. When setting out for a journey such as XPDN1, it is incredibly important to be prepared for whatever obstacles you may encounter, and always pack accordingly. With temperature dips into the 20s, participants learned just how important the planning and prepping stages are. With the route planned, the permits attained, and the participants selected, it was only a matter of time before the expedition began.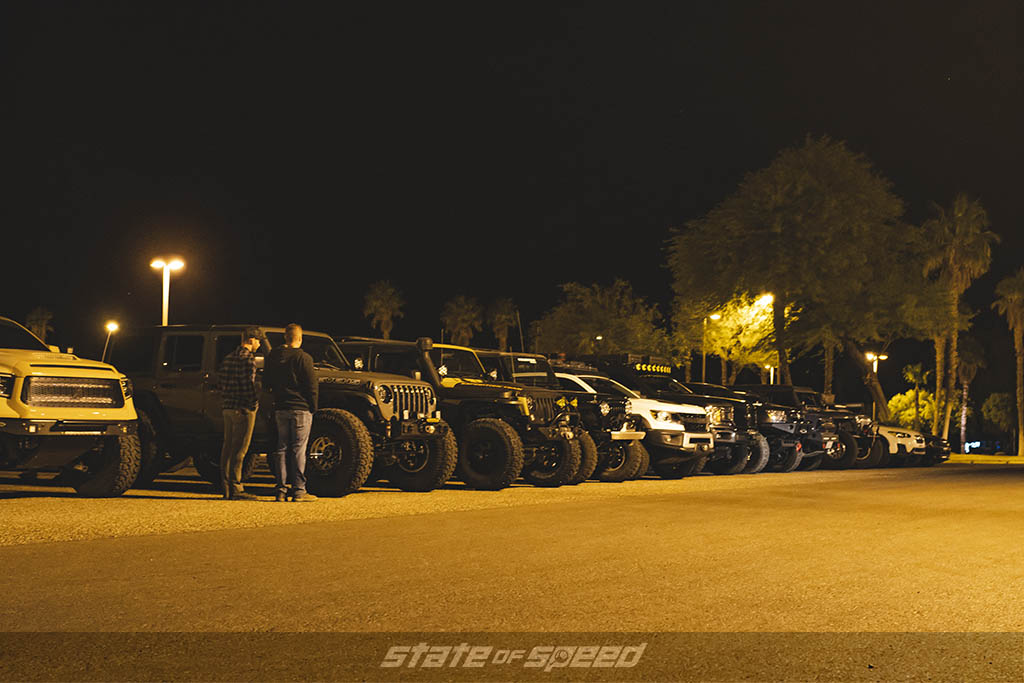 Come Thursday night, participants and sponsors rolled into a hotel parking lot in Laughlin, Nevada, some familiar faces, and others new bodies looking to join the Milestar family. The rigs were all lined up, most looking freshly washed and waxed, geared to the gills with all of the essentials, and more. Everyone was ready to set off the next morning on what would be the maiden voyage of all XPDN's. After everyone's arrival, a driver's meeting was held to go over important details for the following day; the pure excitement was evident on every face, and everyone knew the next couple of days would be some for the books. 
Day 1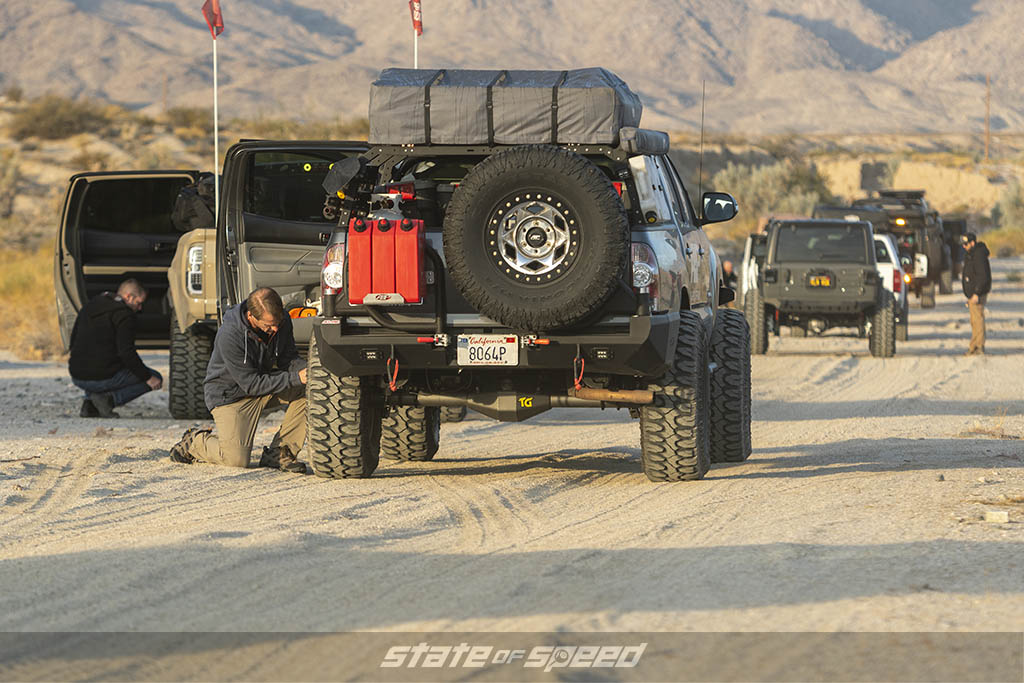 Friday morning came quick, and by sunrise everyone was already in their rigs, gassed up and exhilarated for the day ahead. One by one, the rigs headed out of the parking lot and onto the road. The first stop was an exciting one, a stop to air out. Over thirty vehicles were lined up along a dirt road, the sound of air being let out of the tires audible from every direction.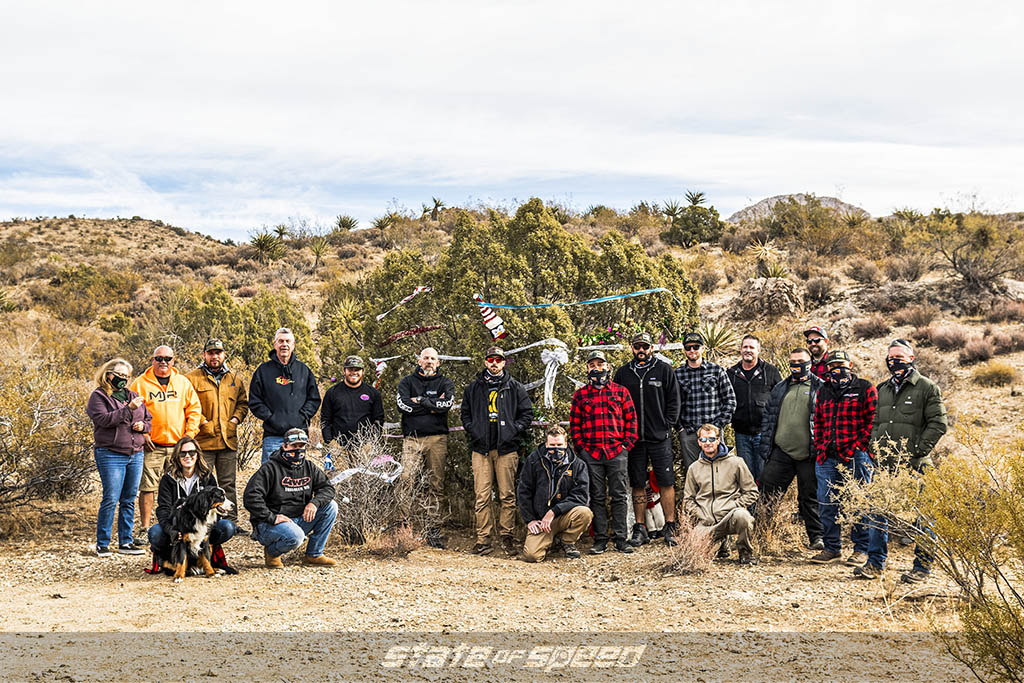 Once each rig was at its desirable psi, we loaded up and set out on the adventure. The first trail was fairly mild, mostly a dirt road with everyone sticking relatively close together to get a feel for what the days ahead could consist of. Along the way, we noticed small trees on the side of the road decorated with Christmas ornaments. Not too long after, an entire area was littered with these trees, so it was only right to get out and shoot a group photo. After a short break and stretch, it was on to the first official stop, the Grapevine Canyon Petroglyphs in Searchlight, AZ.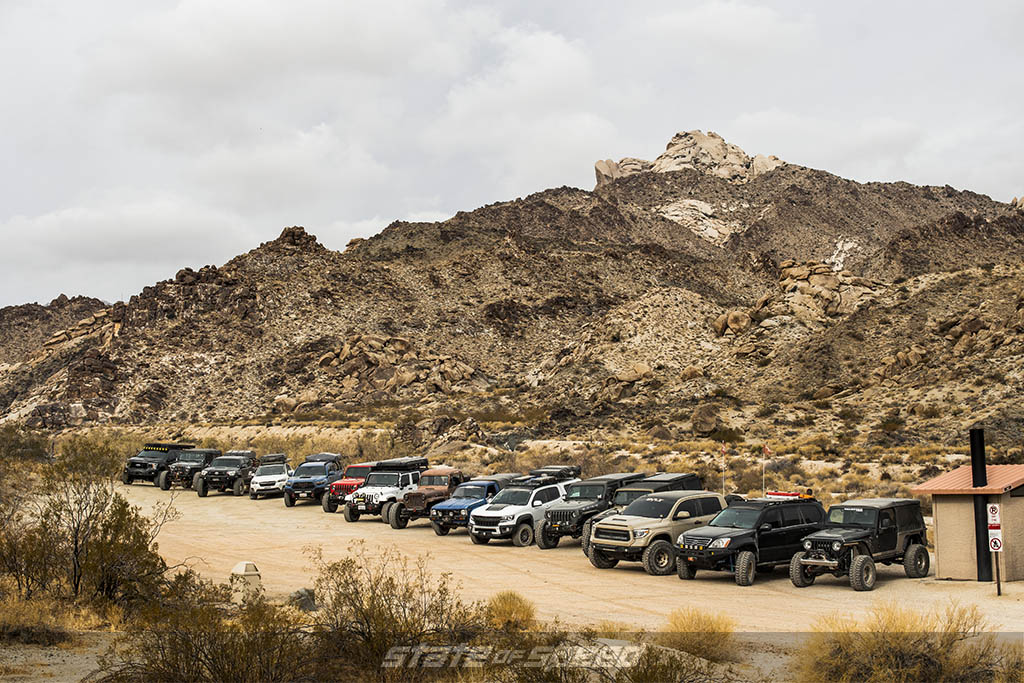 Pulling in one after another, the rigs were lined up and the participants set out on a short hike to check out the petroglyphs etched on to the large boulders, which was evidence of the prehistoric Indians who lived in the area. The petroglyphs are said to depict Creation Mythology, telling stories of powerful gods who shaped the world and fought off evil spirits.
After an hour or so of taking in the incredible sites, it was back to the trails. A brief stop at one of the lakes along the Colorado River was followed by an exciting waypoint, a stop for lunch. Lunch was to be had at a location surrounded by large mine shafts, some you can see from a distance, and others you didn't notice until you almost drove into them! Once everyone was fed and reenergized, the trek continued.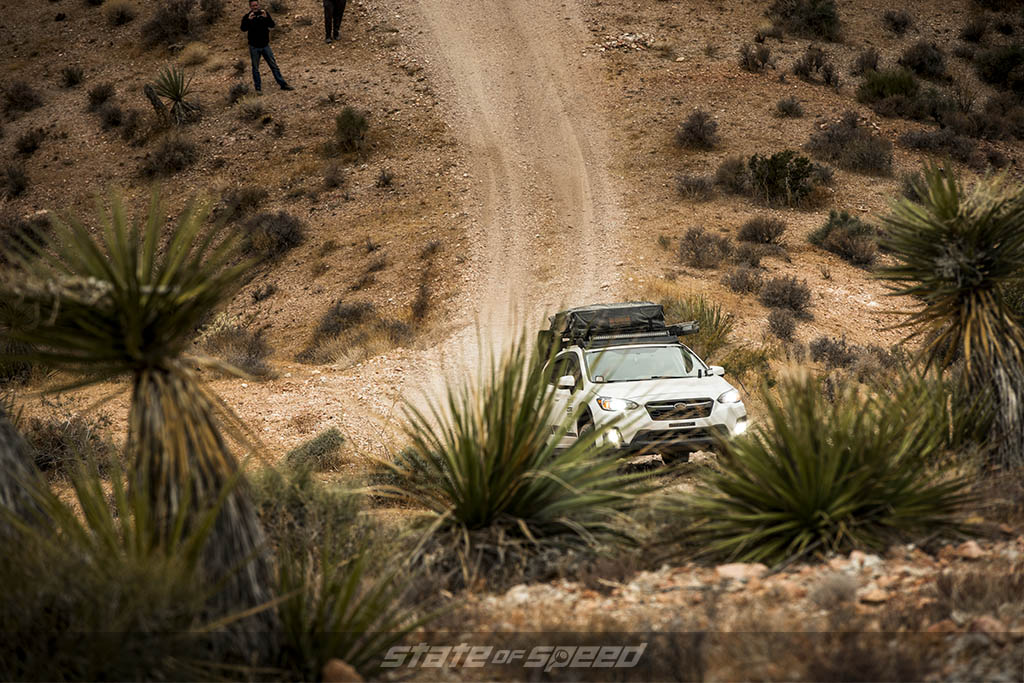 Remember how it was emphasized that you should come prepared for any situation? Well this was extremely important in the case of a Subaru Crosstrek that gave its all to keep up with the pack. An incredible hill climb that challenged even the most rugged rigs on the excursion proved a little too difficult for the Subaru, and along the way up, a large boulder had a bit of fun with a lower control arm. This is something expected from a grueling trail, though, and a few guys got together to get the Subaru back up and running. However, this was in no way a setback. As excited as some of the participants were to get their hands dirty working on a car, the rest of the group got to sit and enjoy an extraordinary sunset. Once this was resolved, the leader radioed the tail gunner to make sure the group was back together, and we set forth through the night, weaving our way through an incredible, yet tight, wash to get to the campsite.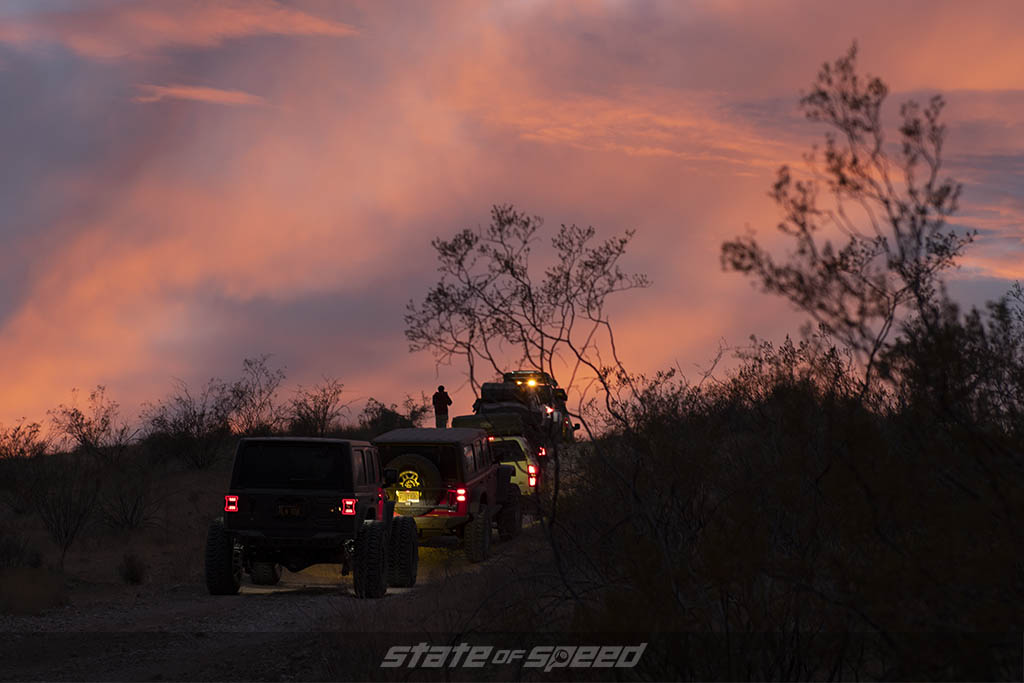 It's surprising how tired and hungry you can get from wheeling through the Mojave Desert during the Milestar XPDN1, so it was a joyous site to pull off to camp and have Tembo Tusk there, preparing a delicious taco dinner for everyone to feast on. Each rig rolled into camp and picked out a plot of land to set up camp. Tents were immediately popped up on roofs, while some were planted on the ground. The sound of the crackling fire was instantaneous, drawing everyone in for a night of telling stories of the day, and expectations for the next. Soon camp got quiet, and everyone was fast asleep.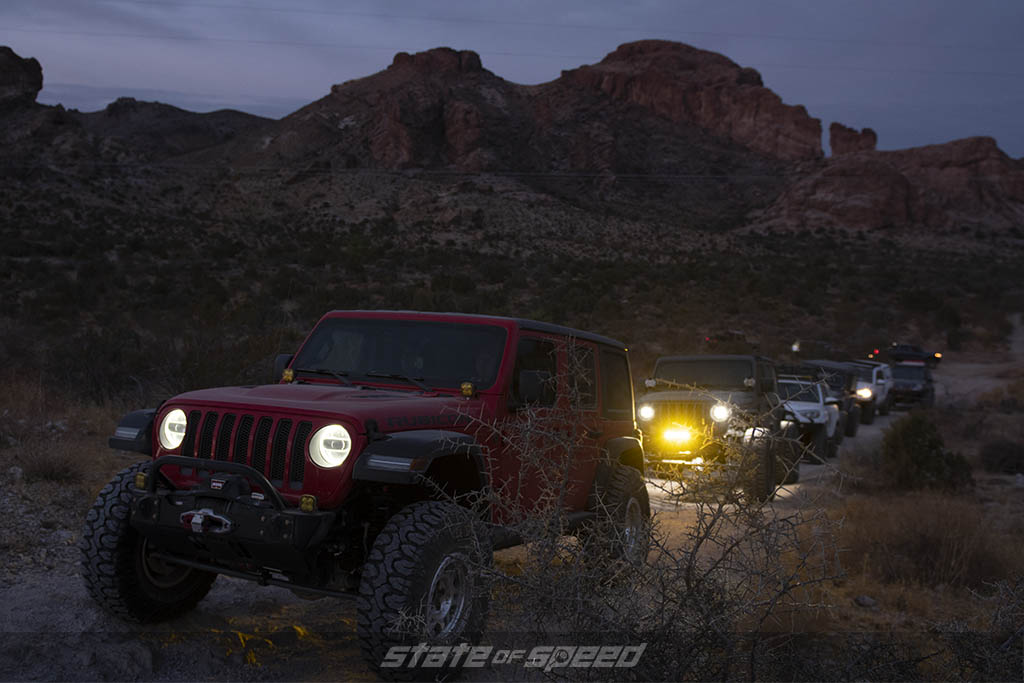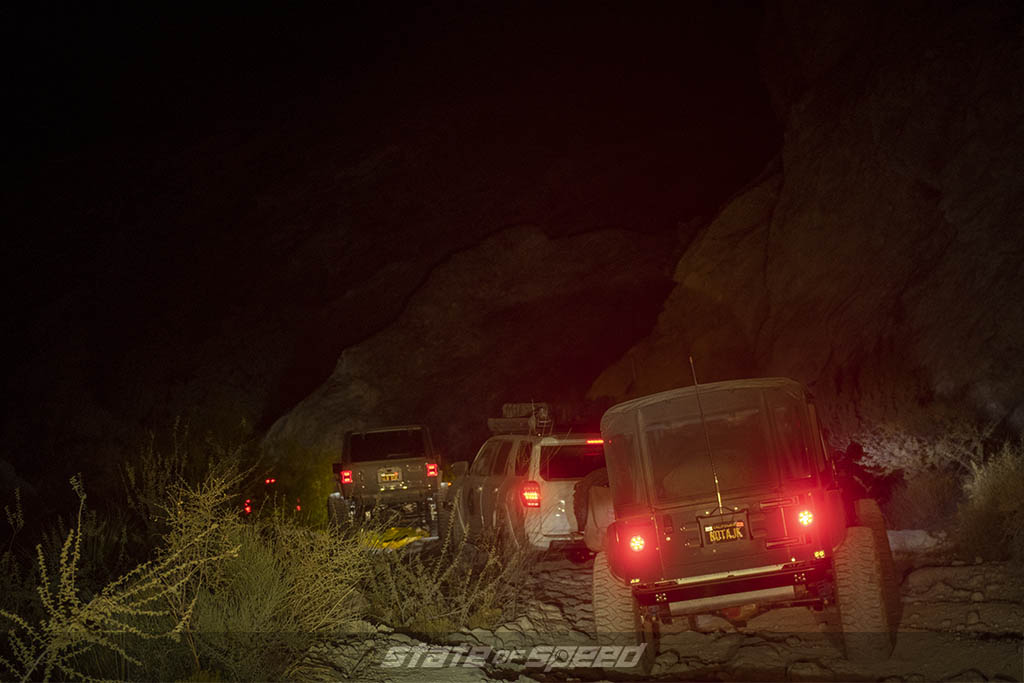 Day 2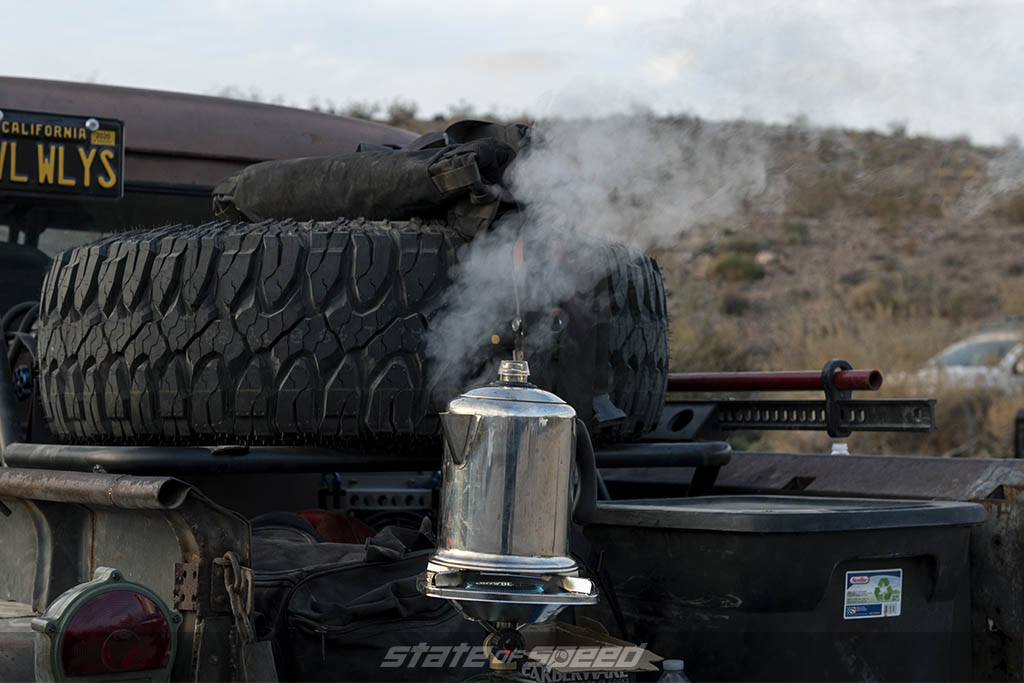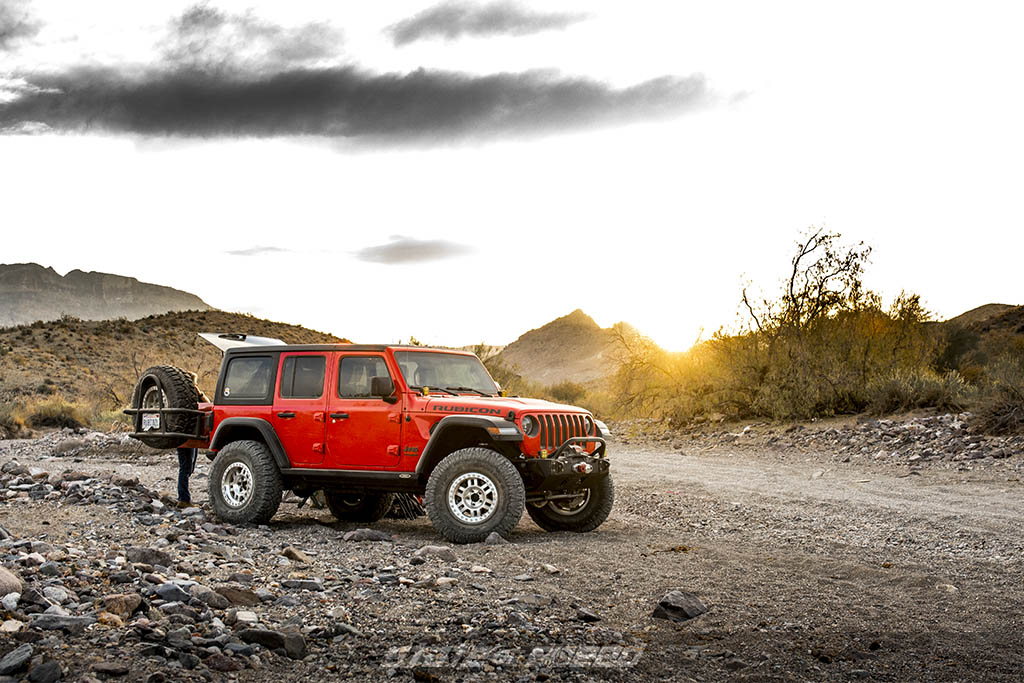 Saturday morning had arrived, and a beautiful sunrise greeted everyone. The smell of breakfast and coffee overwhelmed the campground. After cramming down our meals, tents were collapsed and rigs loaded back up. It was time to hop back on the trails and head out to some amazing sites.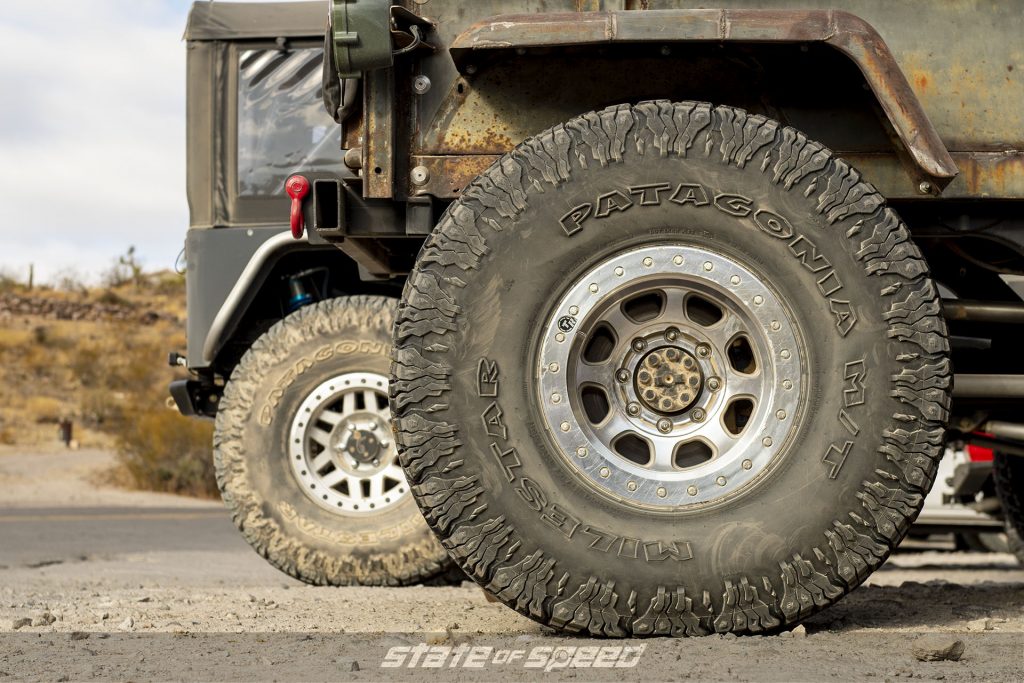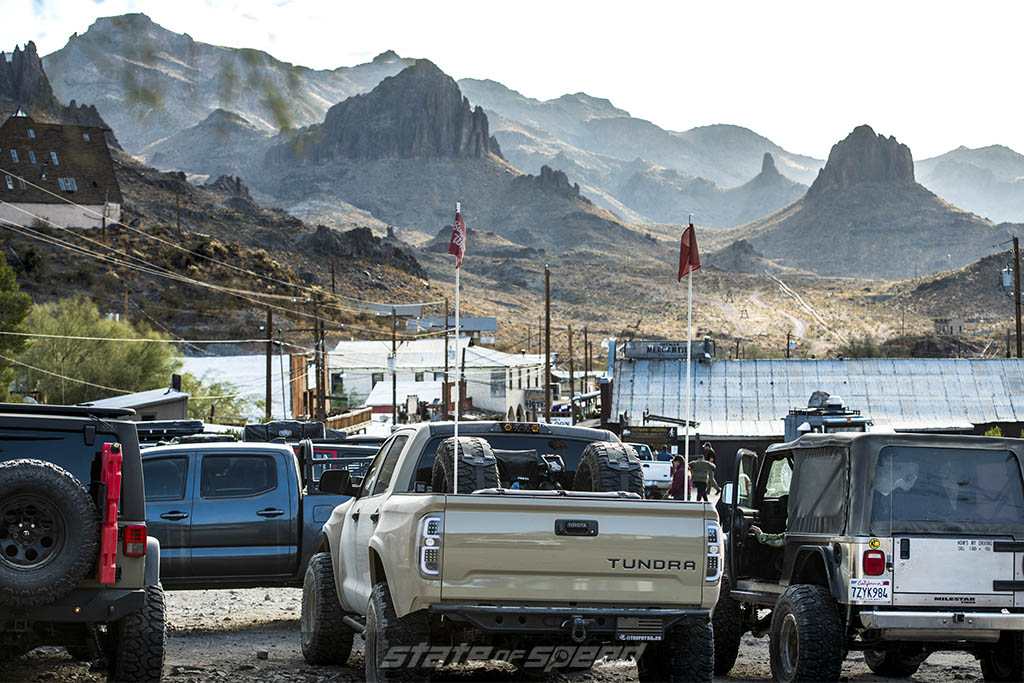 The first stop of the day was Oatman, AZ, a town once thriving with gold mines. Today, Oatman is a wild west ghost town filled with several attractions and the overwhelming smell of fresh cinnamon rolls. The stop at Oatman consisted of axe throwing, delicious treats, and the overall support of a small town. Burros that surrounded the city, walking freely and greeting you upon arrival.
With no lost limbs from axe throwing, it was time to load back up and head to the next destination. A quick pitstop to get gas and snacks was the only real stop before hitting some of the most rugged and beautiful trails of the whole trip.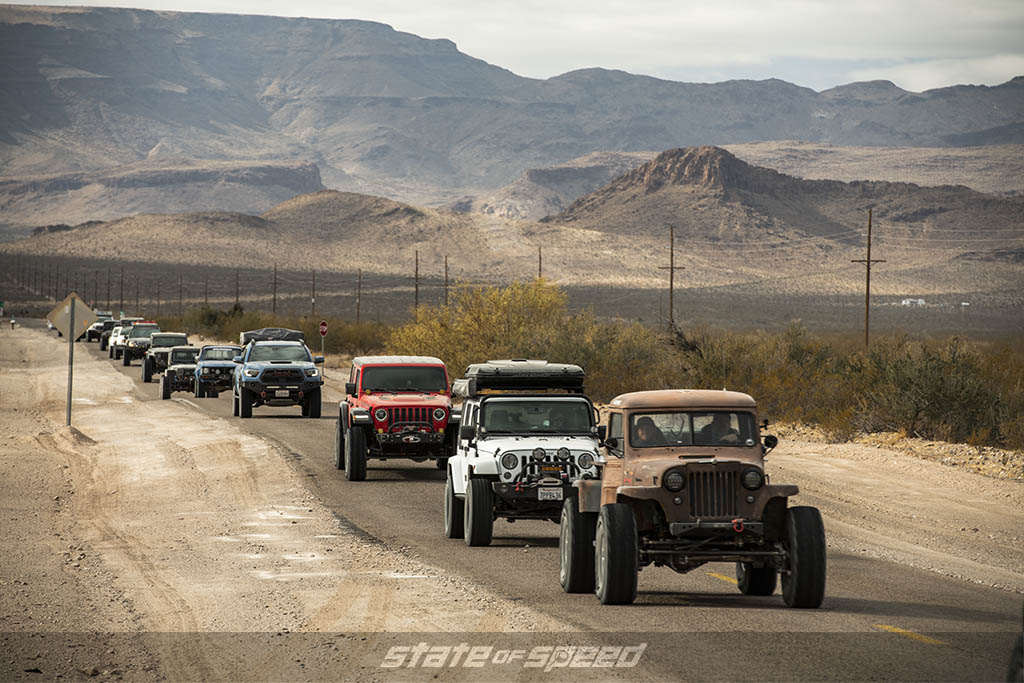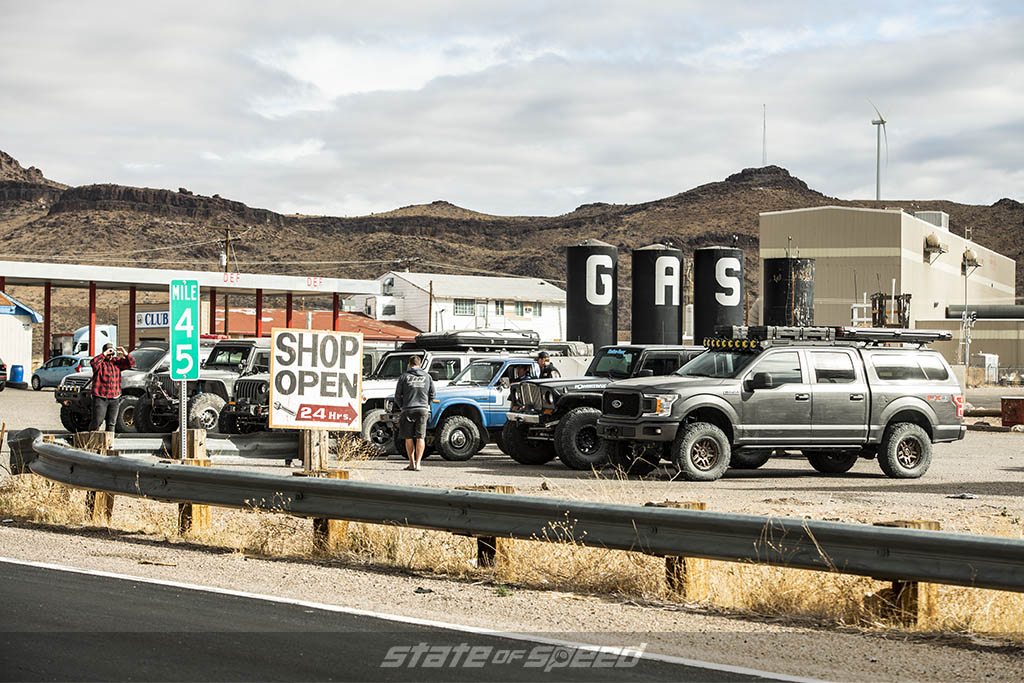 When you've got a large group of purpose built rigs tearing through some trails, it's going to take some incredible obstacles to slow them down. This was an overlanding trip, and these highly capable rigs come prepared with every possible tool you could dream of, so a few downed trees across a tight trail was a breeze to clear and keep the group headed in the right direction. Without a doubt, this was an extraordinary trail, despite the minor setbacks.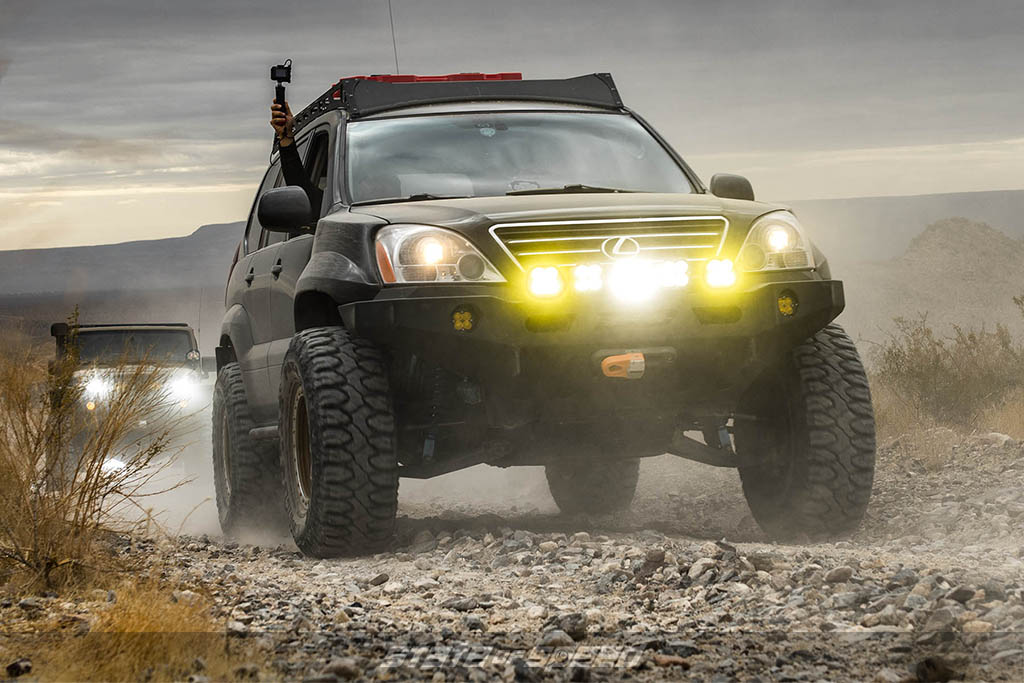 Beautiful greenery surrounded us on each side, the Hualapai mountains visible in the distance. Skies were blue and we were trudging through day 2 of the Milestar XPDN1.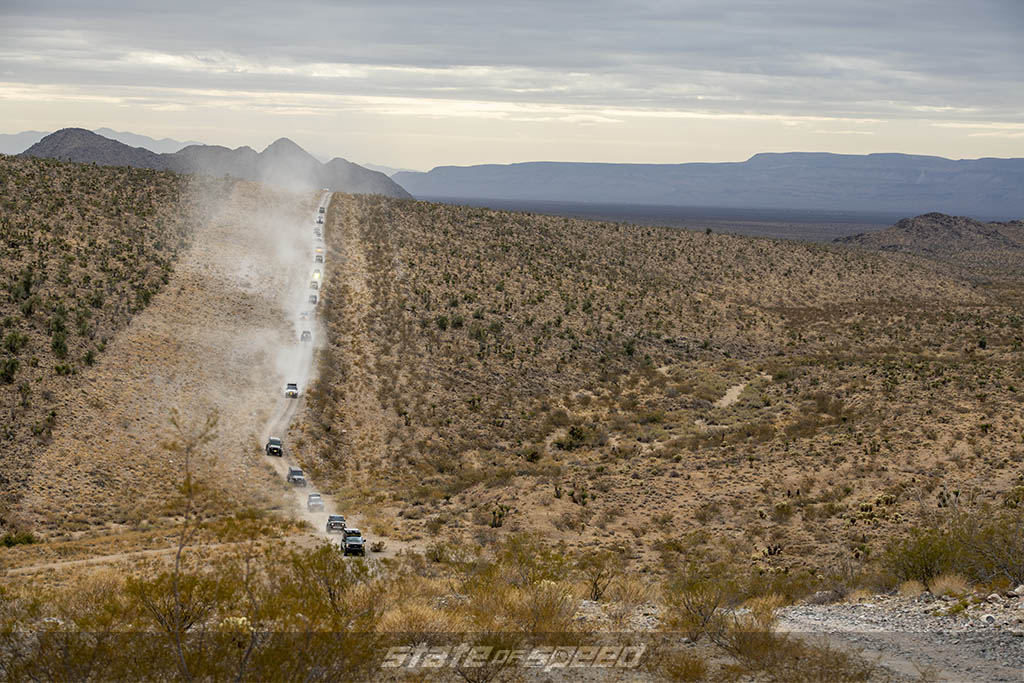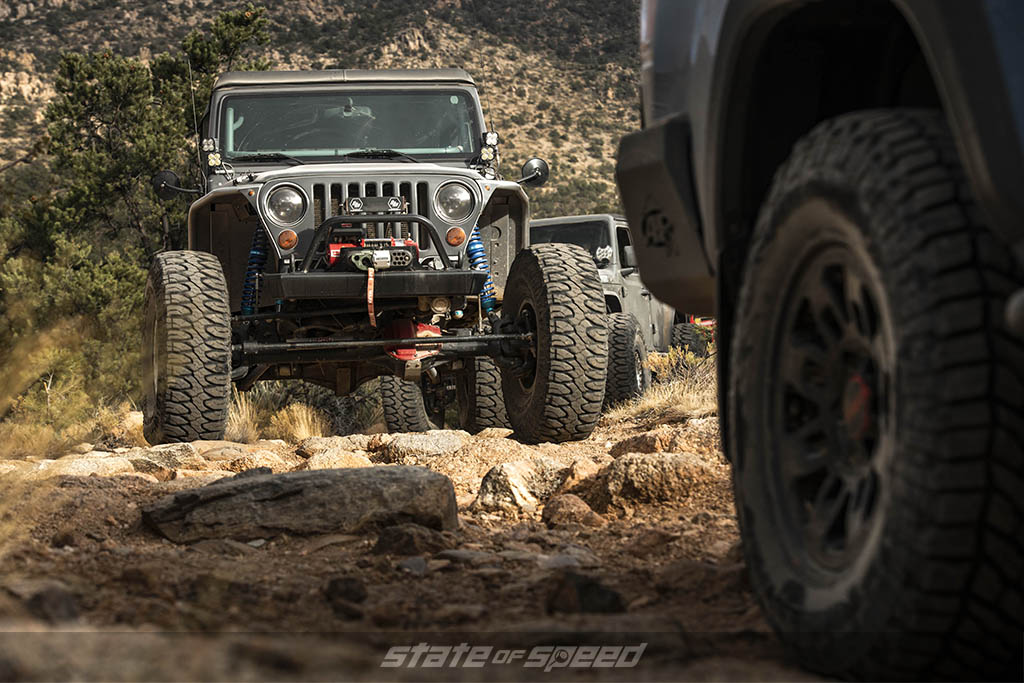 The day flew by as the group was in awe of the amazing terrain that had been covered, but no one was ready for what was in store for us next. A short trip on a paved road took the group a couple of thousand feet up, high enough that the temperature change was starting to become very noticeable. We split off the road to a trailhead that was very different from the trails we had seen earlier in the day, with bushes and miles of views whichever direction you looked. This was now a mountainous trail, weaving through trees with switchbacks leading you to believe that we were heading somewhere relatively high up. This was exactly the scenario, and twenty or so minutes later, the group was stopped at one of the peaks of the Hualapai mountain ranges.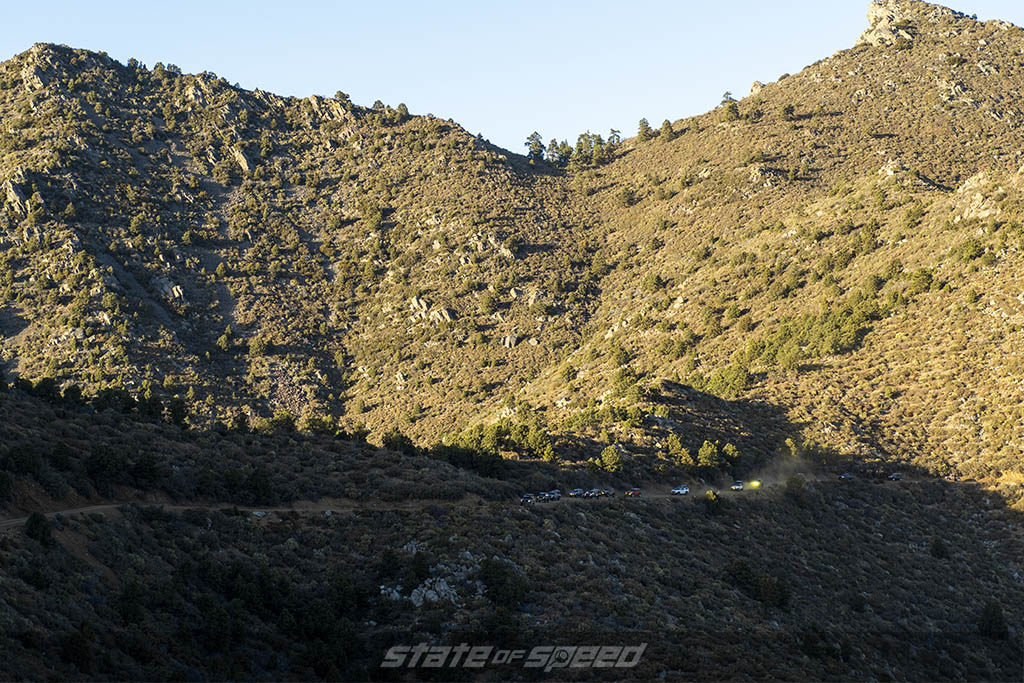 A dirt road hugged the side of the mountain, with an imaginary guard rail protecting you from a steep cliff. It was pure beauty, dirt stained rigs lined up along the Hualapai mountain pass, views as far as the eyes could see. Every second was a photo opportunity, people hopping out to take pictures of other peoples rigs, admiring the sights, talking about how great this trip was. And then out of nowhere, it was almost as if a strong force was trying to get us off the mountain, strong winds blowing from every direction. Not just any ordinary winds either, these were extraordinarily cold, so you know once everyone was back inside their rigs, there was no getting out until camp.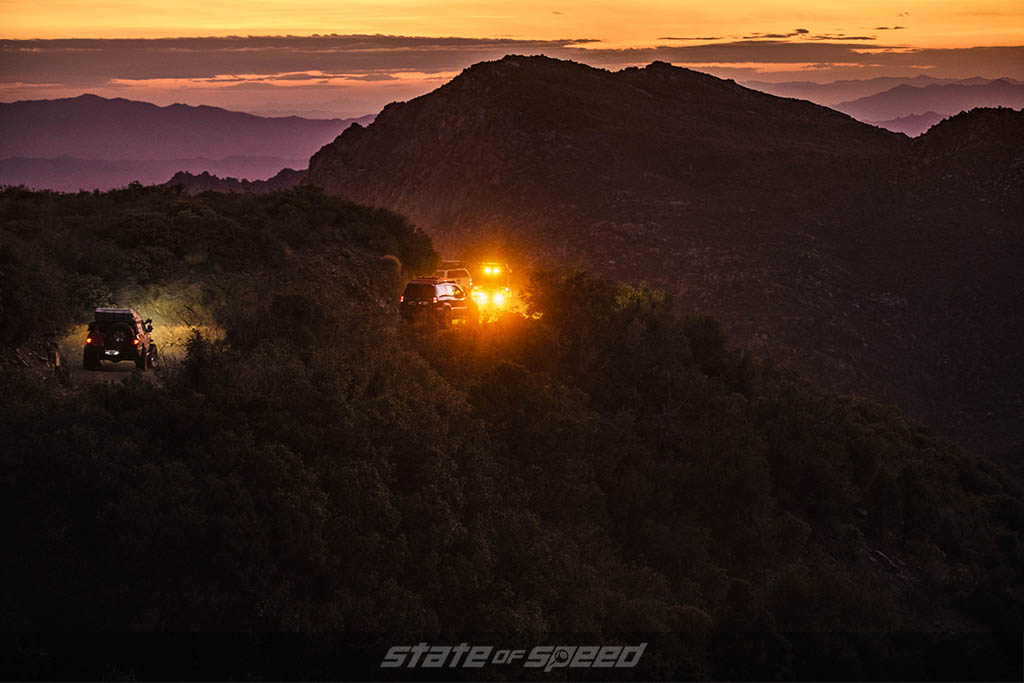 As strong and cold as those winds got, it was all worth it for what came next. We thought the sunset the day before was incredible, but the one we saw on the decline from the Hualapai mountains was almost unreal. Thousands of feet up in the mountains gave us all a phenomenal view of the sunset, brilliantly red and orange, almost apocalyptic. The rest of the trek down was lit by red and orange gradient hues, coming to a stop at the Boriana Mine, our campsite for the night. The Boriana Mine was incredibly active between 1915 and 1919, leading Arizona's tungsten production. This was a time when tungsten rose to $125 per ton and was highly sought to support World War 1 efforts.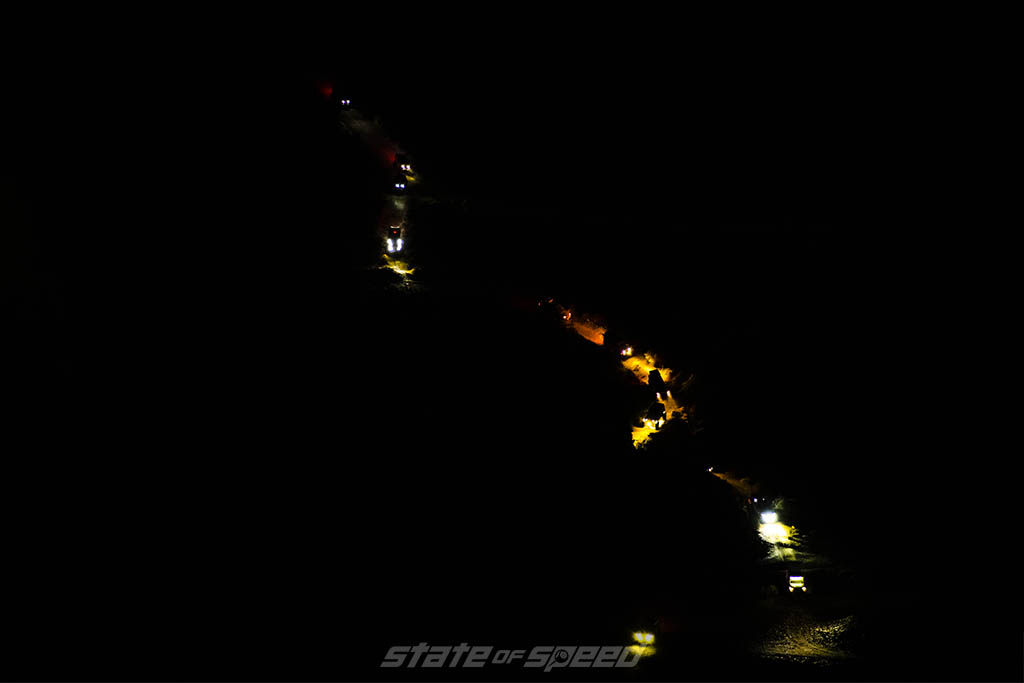 We pulled into the site one by one, light bars illuminating the land that was once a thriving mine. Tembo Tusk was again there before the rest, cooking up a scrumptious bbq dinner with a fire pit already up and running. If you ever find yourself setting up camp at an abandoned mining site, I highly recommend equipping your rig with several thousands of lumens. Between mine shafts, ponds, and rusty equipment on the side of the road, there are several ways you could turn your exciting trip into a not-so-great time. Once again, everyone set up camp, filled their bellies, enjoyed some conversation by the fire, and hit the hay.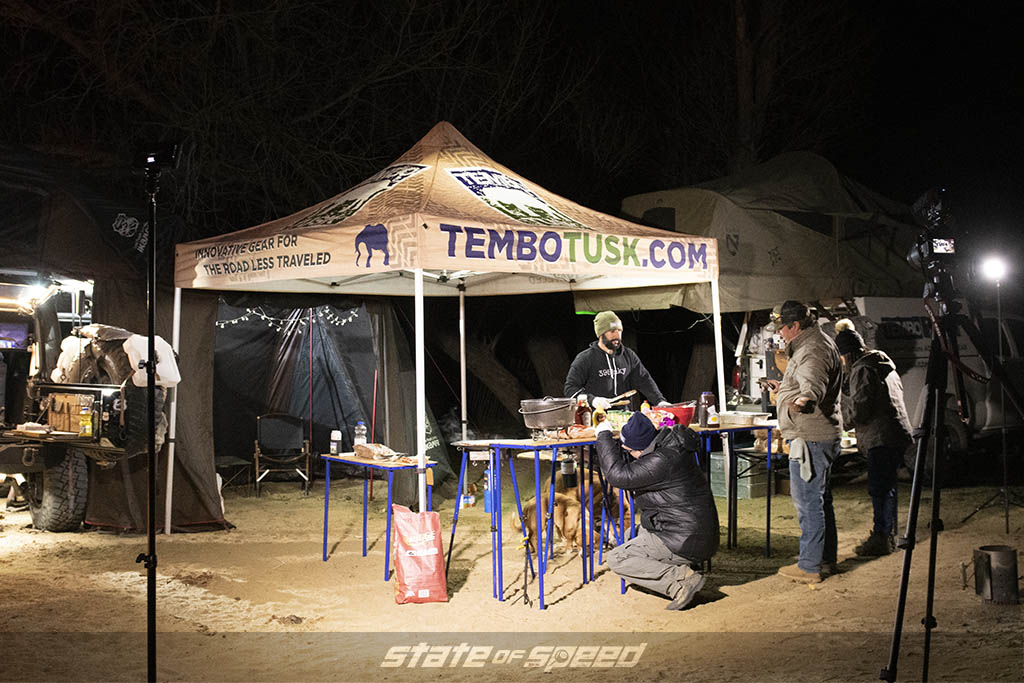 Come morning, the pond described earlier had frozen over, a sign that temperatures were still in the freezing range. Tents were taken down, and people gathered to say goodbyes and mention just how great the trip had been. Hundreds of miles and thousands of feet in elevation changes later, Milestar XPDN1 was coming to an end. Being its maiden voyage, it was obvious that the trip was even better than what people expected. Overlanding is always a great adventure no matter where you are, but when a trip is fully planned out with amazing trails, breathtaking views, and exceptional waypoints, it's hard to pack up and head home. Milestar XPDN1 may have been over, but it was time to start looking forward to what comes next — XPDN2!