Who's The Boss: Ford Raptor vs RAM TRX
Now, there have been A LOT of comparisons between these two behemoths of the factory off-road truck world, and the results are pretty much unanimous. But we aren't really here to determine a winner or loser, because let's be honest here, neither the Raptor nor the TRX deserves to be called a loser—not in the slightest. There is, however, a more divisive line that has been drawn in the dirt as to which of these two impressive trucks hits the hardest—for now. 
Right out the gate, it's no secret that the 2021 RAM 1500 TRX currently packs a heavier punch. The supercharged, intercooled 16-valve 6.2L V-8 cranks out a bruising 702HP with 650 lb-ft of torque, which just happens to be the true definition of Hellcat power right there! Now, as impressive as those numbers are by themselves, just think that the TRX completely mashes the Raptor's 450HP offering by a difference of 252HP! That's big. On paper alone, RAM clearly takes the first arm wrestling match, but we're quite interested to see how Ford retaliates with the next Raptor rollout. Whatever they do come back with has to be some kind of big artillery in hope to keep up at the very least.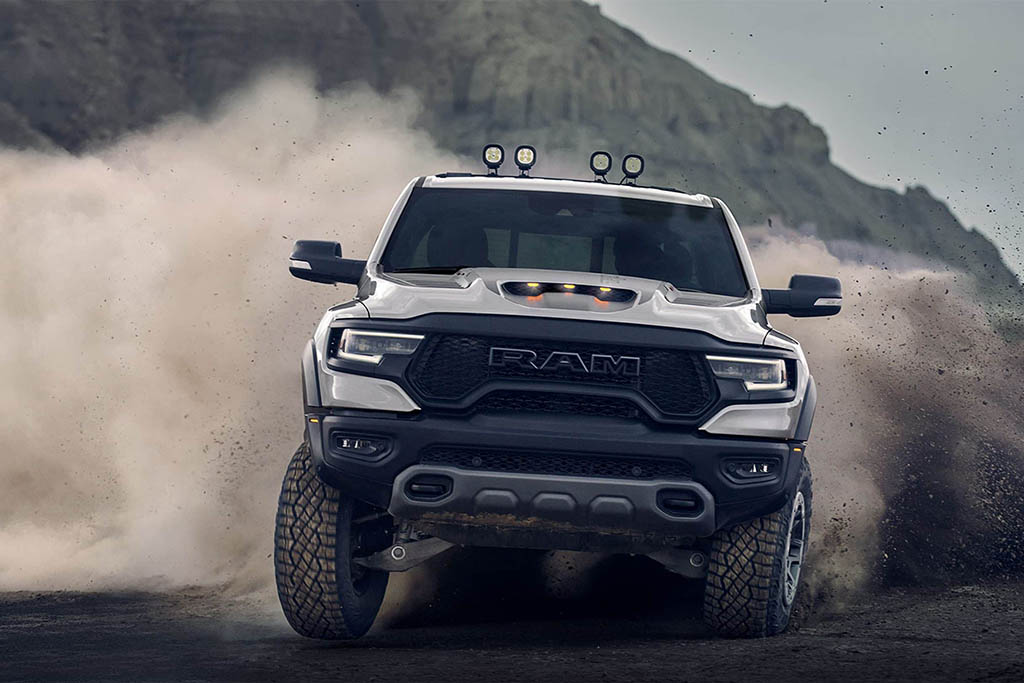 When it comes to the exterior of both trucks when they're side by side, there's clearly a larger one of the two. The TRX stands more than two inches taller than the Raptor and measures almost two inches wider. The beefier façade just isn't skin deep, as the RAM truck tips the scales at 6,866 pounds—nearly 900 pounds heavier than the Raptor. That extra size and weight doesn't exactly equate to a slower moving pickup, as the TRX can reach the 60mph mark quite quicker than the Raptor. Again, while RAM is leading the race at the moment in the performance category, we'll see what Ford cooks up in the future to combat this onslaught.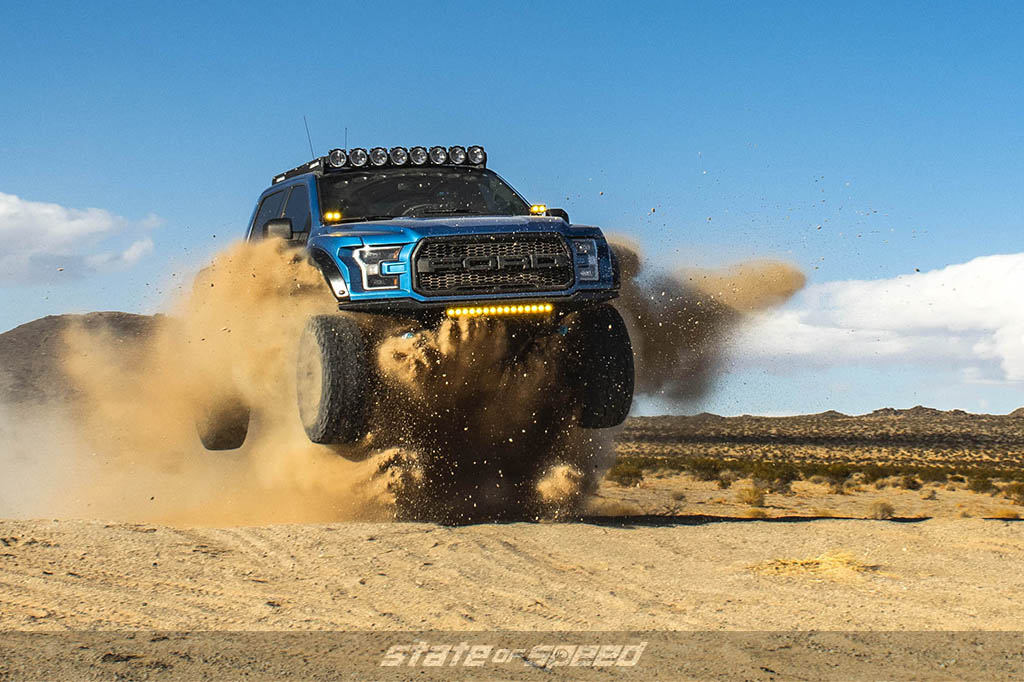 As far as suspension and handling is concerned, both the TRX and Raptor offer more-than-competent suspension systems comprised of well-qualified suspension components, but the RAM has proven to edge out Ford, and that is mostly in part to the inclusion of a coil spring system paired with Bilstein adaptive dampers. The Raptor still employs leaf springs, which may change at some point (maybe not), but so, as there are some necessary tweaks to be made in order for the former off-road champ to hopefully re-enter the contest with increased maneuverability. While there is definitely nothing "wrong" with the Raptor's existing suspension setup, as it would outperform a great deal of would-be performance trucks out there looking to contend, it's just that RAM really has raised the bar that much higher in this category, especially for its weight class.
Creature comforts are important, and the TRX does capitalize on being built upon America's favorite pickup—the Ram 1500 platform. The truck is only available in a crew-cab option, which may be an issue for those who specifically desire another cab configuration, but there are plenty of add-on luxury packages on both trucks to make just about anybody happy. At a quick glance, the TRX does feature a more updated and refined interior space, with a much larger infotainment screen than Ford's. That much alone scores some very important points with consumers. 
Another limitation that is attached to the TRX is the lack of any 2WD mode to be found. While the Raptor does feature one, all that is available on the RAM are 4WD Low, 4WD High and 4WD Auto settings. Take that for what you will. This may not land in deal breaker territory (or maybe it does) but it definitely is something to keep in mind.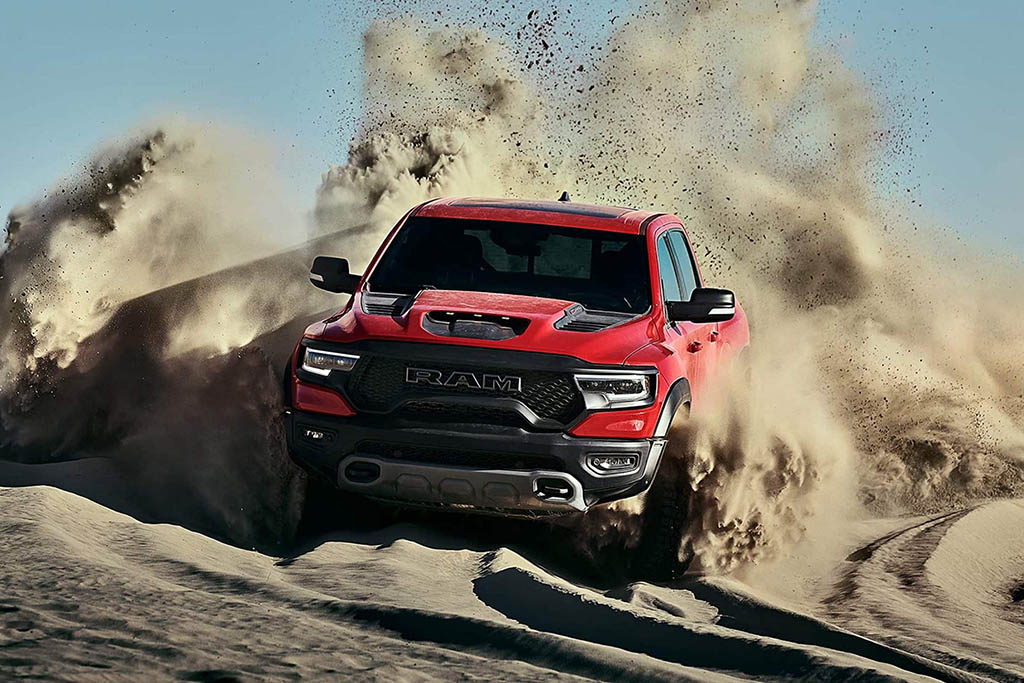 Another thing to take into consideration when comparing these two heavyweights is the price associated with them. The starting price point for the TRX is $71,790—definitely on the higher end of the spectrum as compared to the Raptor's "meager" $55,150 tag for extended cab models. Now, these are just the base prices, so if you plan on spending extra on some upgrades (which most buyers do) plan on throwing another $8-10k at these trucks. Bargain hunters may balk at the TRX price tag, but did you expect a Hellcat engine, crew cab model, or anything else about this obvious premium truck to run "cheap"? No? Didn't think so. 
At the end of the day, it's important to remember that it's a new day in the off-road truck industry. The baked-in greatness that has come standard in the Raptor for the last decade has afforded it a rightful place at the top of the heap—but its throne has most definitely come under heavy fire. While attempting to stray from that whole winner vs. loser thing, it's safe to say that RAM is the current leader in this heated battle royale. We do expect Ford to come back swinging, as they absolutely must to respectfully defend the Raptor's honor.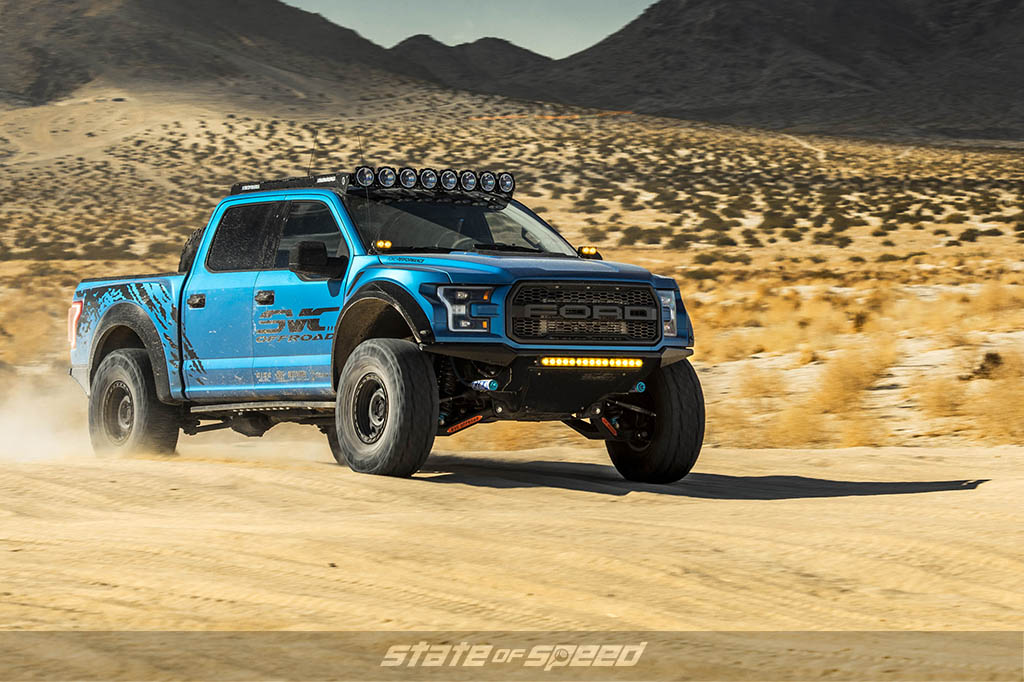 While there is much room for the Raptor to show improvement in the future, there is equally as much space for the TRX to grow as well. Bruising egos wasn't seemingly the intention with the release of RAM's high-performance rig (or maybe it was) but this is the off-road rivalry all truck enthusiasts have wanted to see for the better part of 10 years. RAM surely wasn't interested in being a contender here, that's for sure, as their sights were set directly at the Raptor's crown. 
We do expect that the entire pickup-loving world will be anxiously awaiting Ford's response to this wallop of an upset. This fireworks show has just begun, folks—stay tuned.