A V8 Resurrection: The Hennessey VelociRaptor V8 Bronco
November 03, 2020 – Unless you've been living under a rock, you've probably heard that Ford is bringing back the Bronco. You probably also know that Ford is releasing a ton of different packages for it, but one thing lacking in the entire lineup is the use of a V8.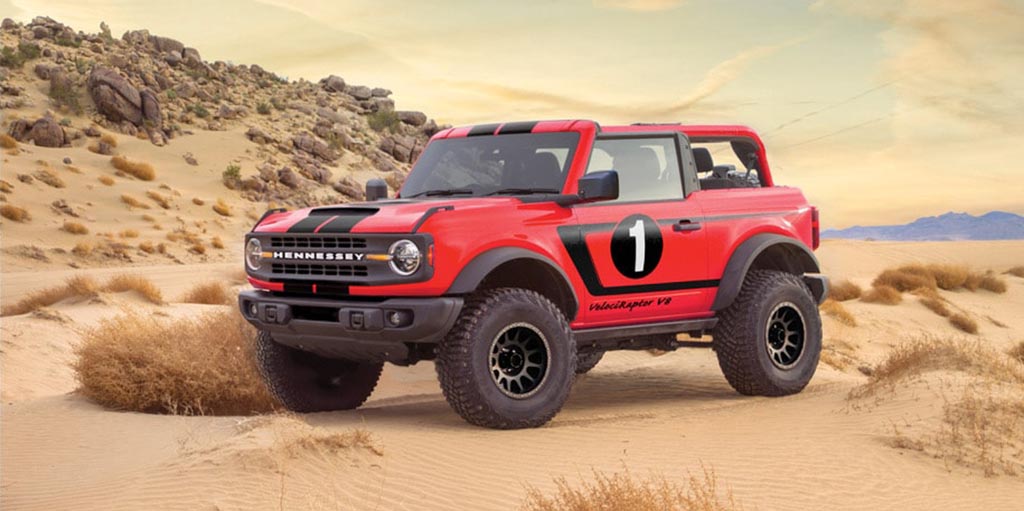 Enter Hennessey Performance, a company that's been making fast cars go faster since 1991. They figured if Ford wasn't going to put out a V8 Bronco, they'd take on the responsibility. This wouldn't be just any Bronco, this would be a VelociRaptor, and that 5.0 liter V8 would be accompanied by a 3.0 liter Supercharger system.
The Hennessey VelociRaptor V8 Bronco and its supercharged 5.0 liter V8 will put out an impressive 750 hp, and of course be mated to a 10-speed automatic transmission. This improved power and performance have Hennessey estimating 0-60 times of just 4.5 seconds, an incredible number for a rig originally built to handle the harshest of off-road terrain.
The Bronco won't just receive an engine upgrade, but also a plethora of interior and exterior upgrades as well. Included will be a custom hood with scoop, larger wheels and tires, upgraded suspension system, custom Hennessey leather interior, VelociRaptor V8 racing livery graphics, upgraded stainless steel exhaust, and more.
If you're ready to get your hands on 1 of only 24 Hennessey VelociRaptor V8 Broncos, you'd better hurry, and you'll also want to have $225,000 plus vehicle shipping costs ready to purchase it.