Relic Run 2021: Rally at the Reservoir
The Challenge
Every good trip starts out with a list. You know, that check list that you got all the camping gear, food, recovery gear and maybe even some spare parts to ward off the broken ones. (It's common knowledge that if you bring spare parts you won't need them, right?). How much you bring depends on where you are going and what you are driving. For this trip the list of things will be mostly comprised of vintage parts, vintage camping gear and even a couple of vintage guys who grew up before cell phones and GPS.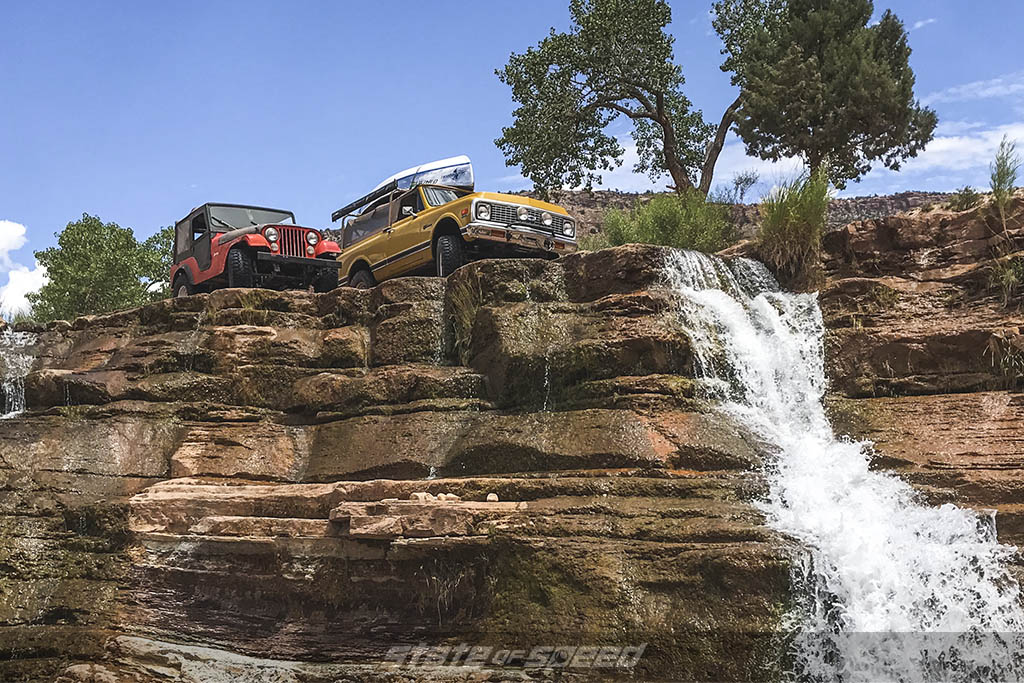 Where would one take all this vintage stuff? Relic Run 2021 hosted by Expedition Utah. Relic Run is a get together of vintage 4×4's from all makes and models. The run itself is designed to celebrate the mechanized great outdoors. This means break out those gas Coleman lanterns, look up those camping recipes for the Dutch oven, and grab those aluminum lawn chairs from grandma's attic.  The official outfit of Relic Run depends on the year of your vehicle. Cut off shorts, 70's rock band t-shirts and Chuck Taylors fit in well in pretty much any decade. Each year the event switches from a base camping trip to a multi-day journey styled as a car camping Safari of yesteryear.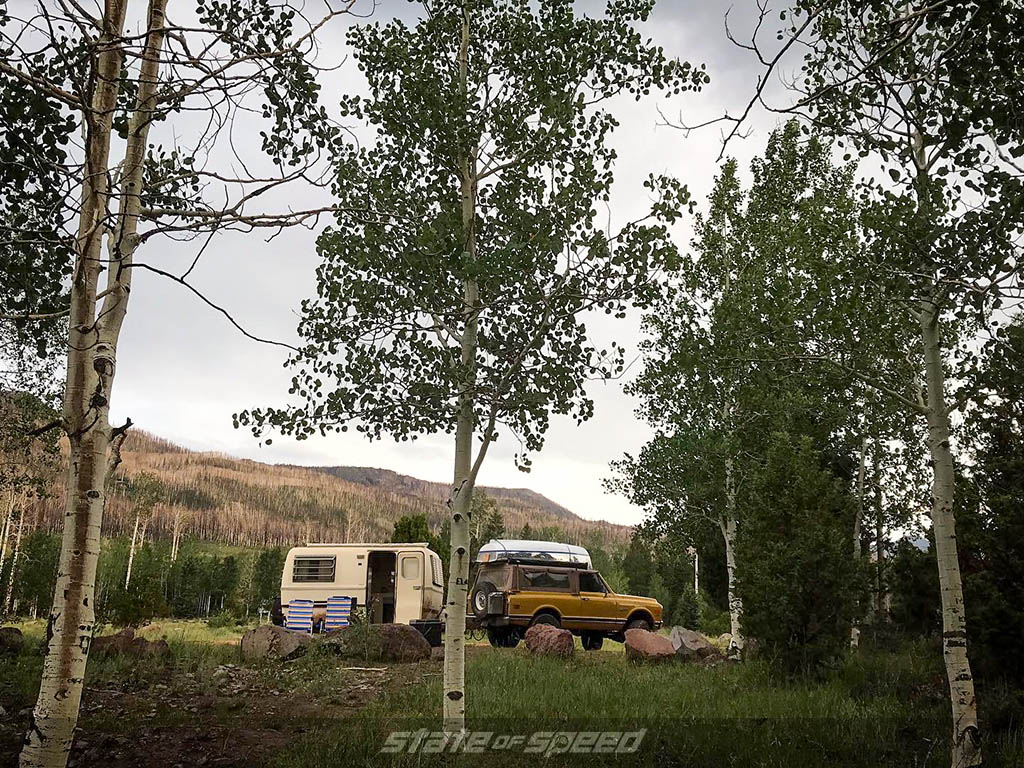 People migrate from all over the US to take part in Relic Run, but not just anyone can attend. You need to qualify first. How do you qualify? You need a period correct 4×4 vehicle and matching camping gear that predates 1989. The Vehicles really are the stars of the show. The more period correct, the bigger the challenge. Anyone can get in a New Jeep JL and drive across country, but it takes skill and tenacity to get in a vintage 4×4 and experience the great outdoors the way your grand parents did. By reliving these adventures, we pay homage to a generation that was so tough, they just thought it was normal life.
Getting There
This year's relic Run was hosted on the banks of Wyoming's flaming gorge. This is where the true adventure begins. Our vintage 4×4 started life in 1972. The K5 Blazer was Chevrolets answer to the Ford Bronco. Based on the ½ ton chevy pickup, the K5 Blazer shared all the same running gear and cargo capacity as the same year Chevy truck. This made a great platform to haul camping gear, fishing gear, and even tow a trailer. Since this year was a base station Relic Run, we chose to Glamp in a 1975 trillium 4500. This trailer is built like a boat. The fiberglass outer shell and fiberglass interior is incredibly light and strong creating a great overlanding trailer before the term was ever coined.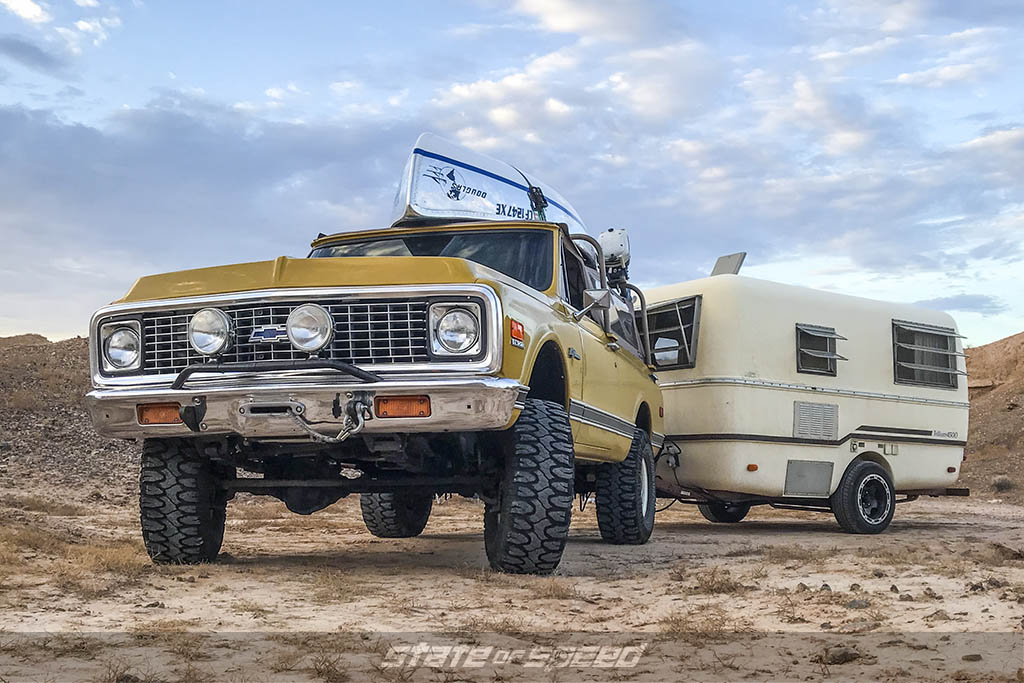 Getting to the gorge in a 1972 K5 blazer towing a vintage fiberglass travel trailer nearly 1000 miles before the event even starts was the true challenge. With weeks of prep checked off the list, The K5 was finally ready for its first task. Pick up its co-driver "Red" Phil Griffis from San Diego airport. Red is no stranger to Relic Run and old cars. He helped acquire the K5 years ago and has ticked off many miles behind the wheel. No sooner than we loaded his gear Red was handed a paper map as relic navigation and we set off to follow the old routes the best we could towards Salt Lake City.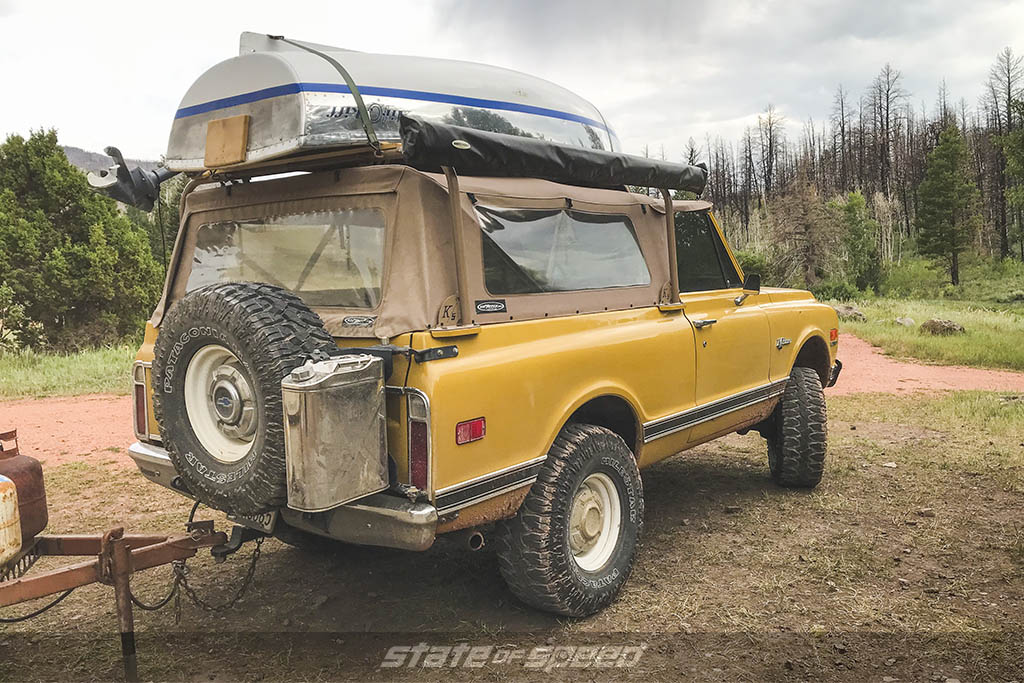 This would include Route 66 and passing though forgotten ghost towns the freeways bypassed long ago. The old routes cleverly avoid steep hills with names like Cajon pass and Baker grade saving wear and tear on a nearly 50yo rig. Normally we would drive at night to avoid the deserts blistering heat, but our confidence was high in our K5, so we passed through the high desert during the hottest time of the day. The AC was blowing cold, but the interior was still 90 degrees. Turns outs, that was pretty generous since the outside air temp was 110 degrees with 70% humidity.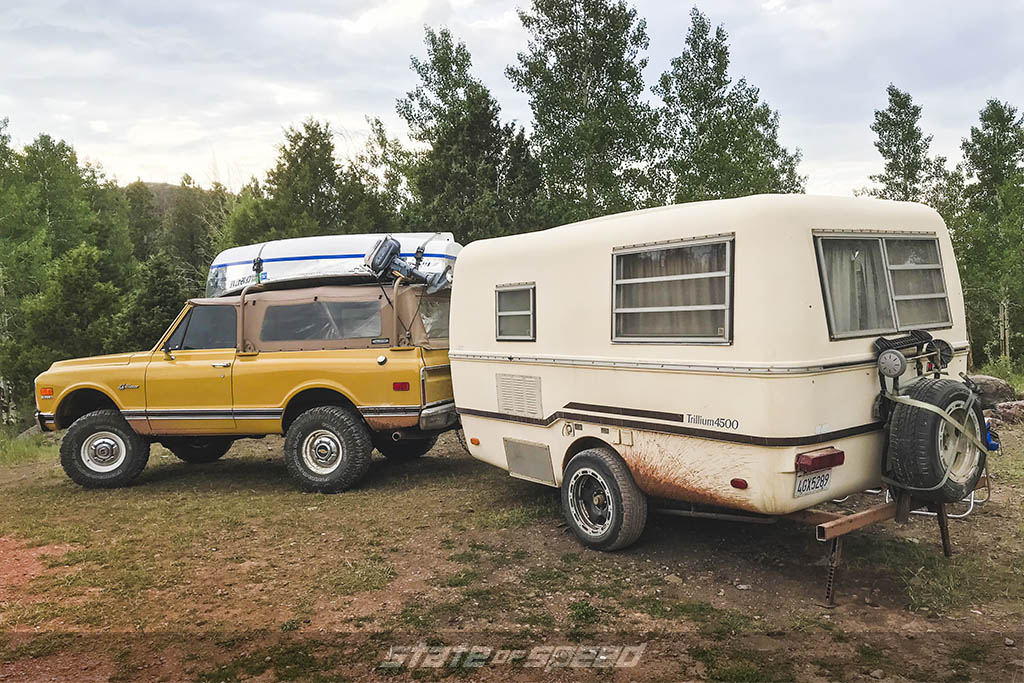 Verne Simons & the CJ5
Still west of the Colorado river, we got a cryptic text at 11am saying (it's ready). Our friend Verne Simons had decided to disassemble two CJ5s to create one really period correct original Jeep. He was able to tear the body off the frame and rewire the whole vehicle between 2 Saturdays.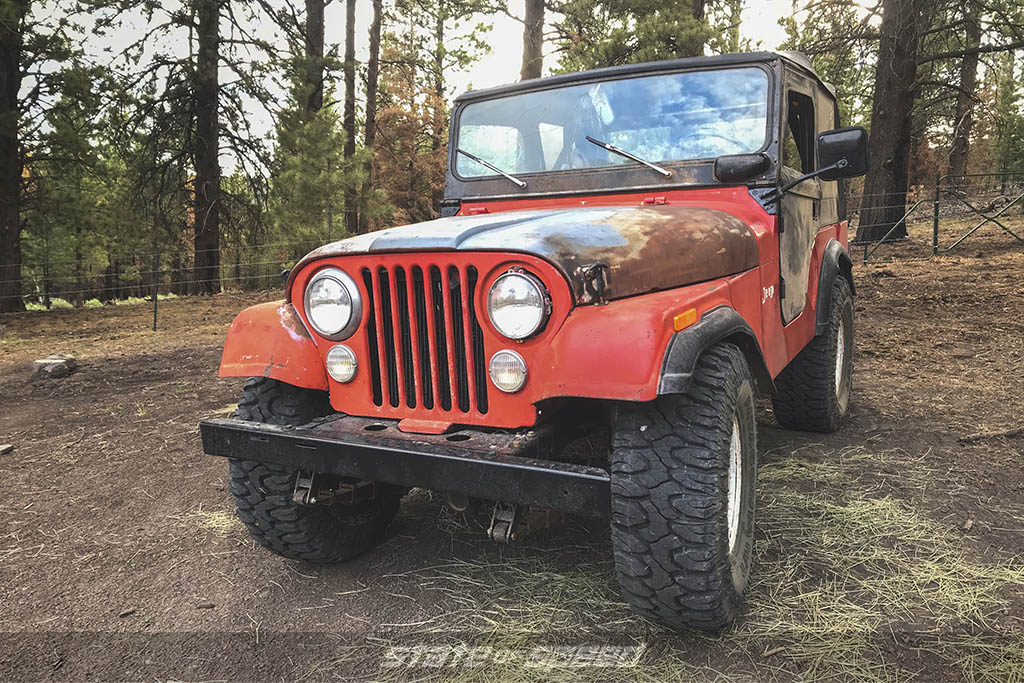 Verne is not only our resident Jeep expert; he's also been writing 4×4 content articles in multiple magazines for two decades. No sooner did Verne notify us the CJ5 was ready, he quickly loaded up his gear and headed out. Verne's home base is near Phoenix. High noon in a Jeep CJ would be the ultimate test of determination, hydration, and salt retention as he set out to meet us along our journey.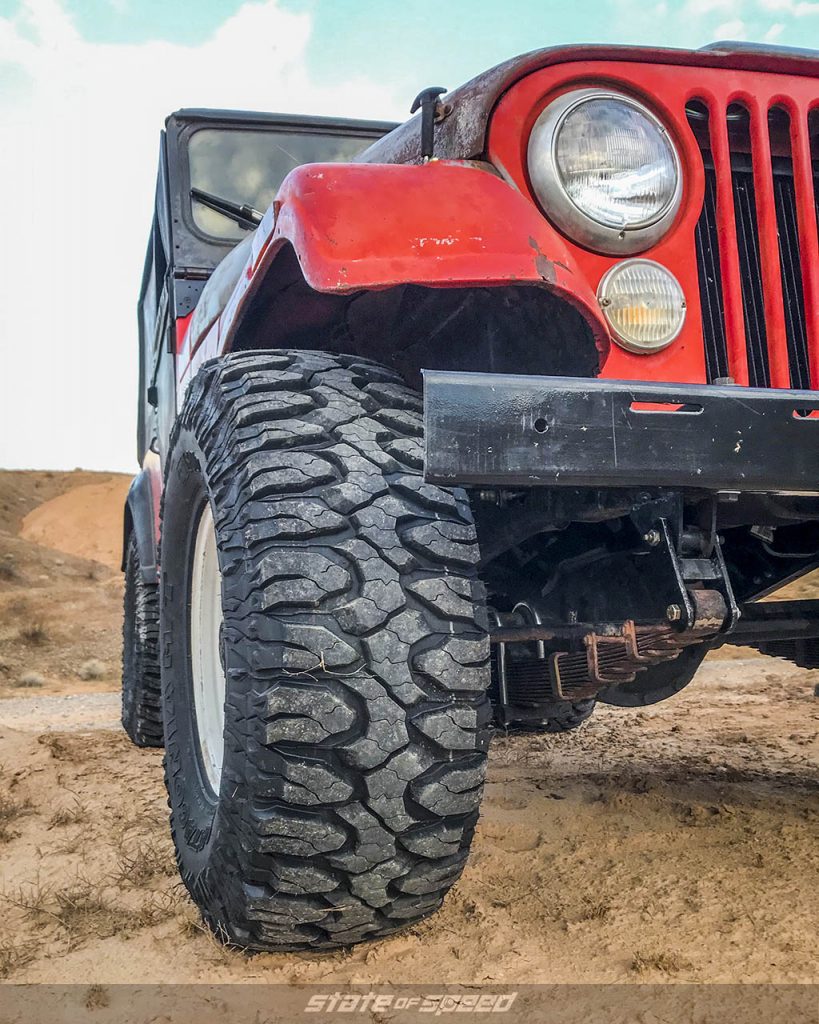 As the sun started setting the heat remained constant. Cryptic communication continued as we figured our paths would collide on the back side of Vegas about 9pm. Driving the CJ-5 loaded with 10 days of camping and two dogs, he'd actually done it. From a literal pile of parts on the previous Saturday, Verne created a functioning vehicle and put 250 miles across the hottest desert for its first test. Verne arrived a bit dingy from the heat and worried about the additional 700 miles to go. As a team, Red, Verne and Myself went over the Jeep to make sure all systems were functioning correctly and reassured Verne the vehicles and crew were up to the challenge. Once the dogs were fed and watered, the vehicles got one last examination, and we were in search of tonight's camp. Just north of Lake Mead we pulled off in some mud hills at about 11pm. It was still hot, and the humidity reminded us of Atlanta with not so much as a breeze. This made sleep in short supply.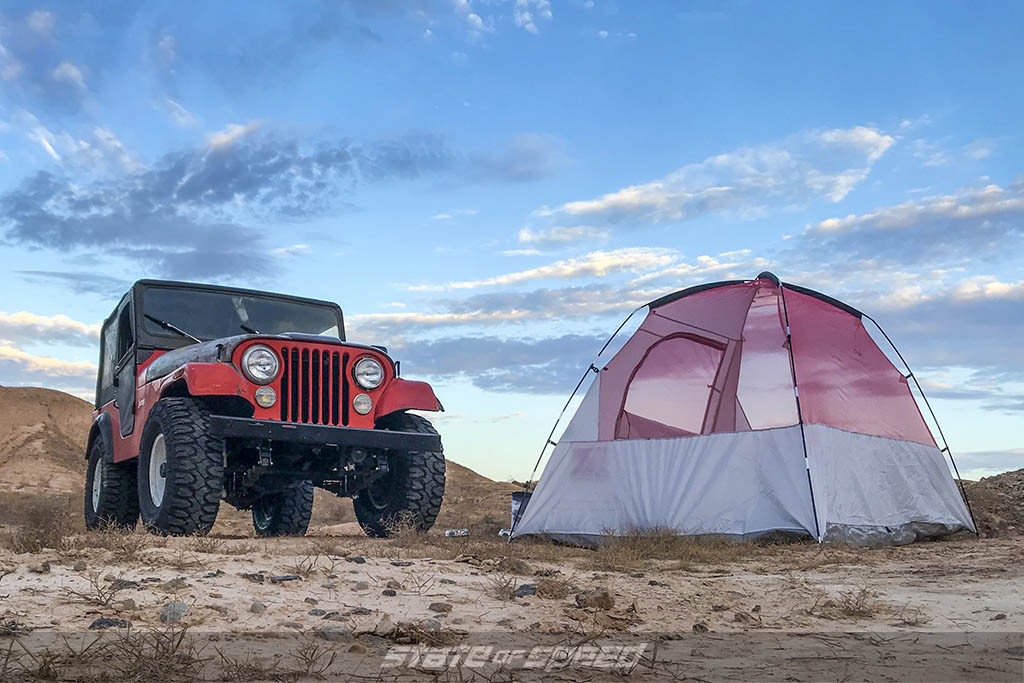 Breakdown Day
Some of us slept better than others, but it was time to get up, take some morning pictures, check over the vehicles again and hit the road. We still had 500 miles to go. It was hot and a true oasis sounded like a smart stop on our road day. It's important to mention that we left days early to the event in anticipation of Murphy's Law. "What can go wrong, Will go wrong" We live by a code, "you can't be mad about the situation you put yourself in". So, when things go wrong it's just part of the adventure. We were in search of a place called Toquerville Falls. All navigation showed it as 3.5 miles off the highway. Turns out it was a decent 4×4 trail with steep grades, sharp ledges, and dusty desert roads. So, we dropped the trillium at the trailhead, aired down the Milestar Patagonia M/T's and switched to low range.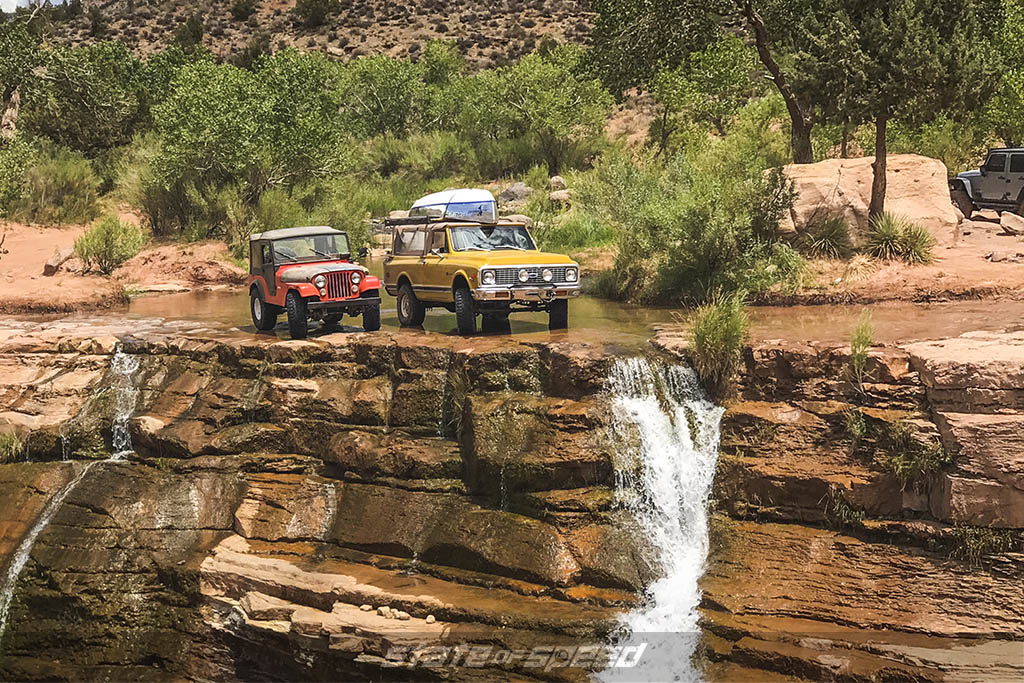 The k5 Trans was not liking the additional heat and stress of low range and without that high-speed air through the radiator, the engine was cooking under the hood. The Carb on the CJ5 was flooding over and wanted more speed also to keep from stalling out. We arrived at the falls greeted by other off-road enthusiasts smiling and splashing in the pools below. The falls were a welcome relief to the relentless heat. We visited the falls just long enough to get recharged. With soaking wet clothes, this made the trail ride to the blacktop palatable.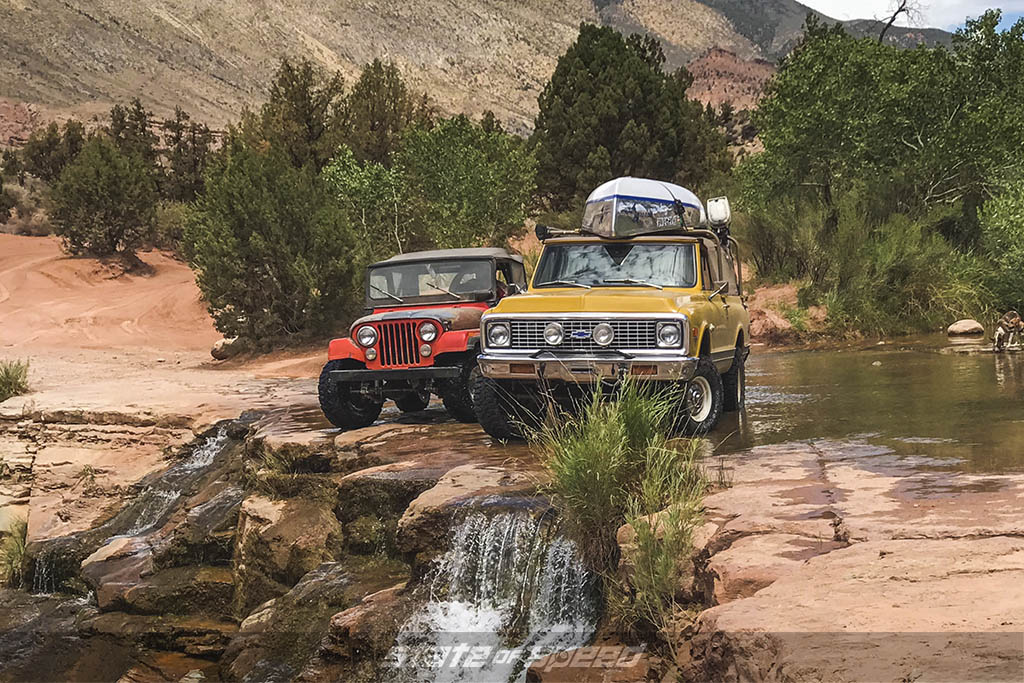 A quick stop to air up the tires started a chain of events you just couldn't make up. While the K5 was running at a high idle to keep the ARB compressor putting out 6cfm, the alternator started to smell funny. Little did we know that the electronics in the K5 were about to get a shock to the system. Mind you no electronics like heat, the alternator poured smoke out from under the hood and the ignition cut out. We disabled the alternator and tried to move on, but the ignition started shooting ducks (backfiring and sputtering). Our next move was to install the spare ignition parts and move on. So, we changed out the cap, rotor, and ignition module. The K5 was running again.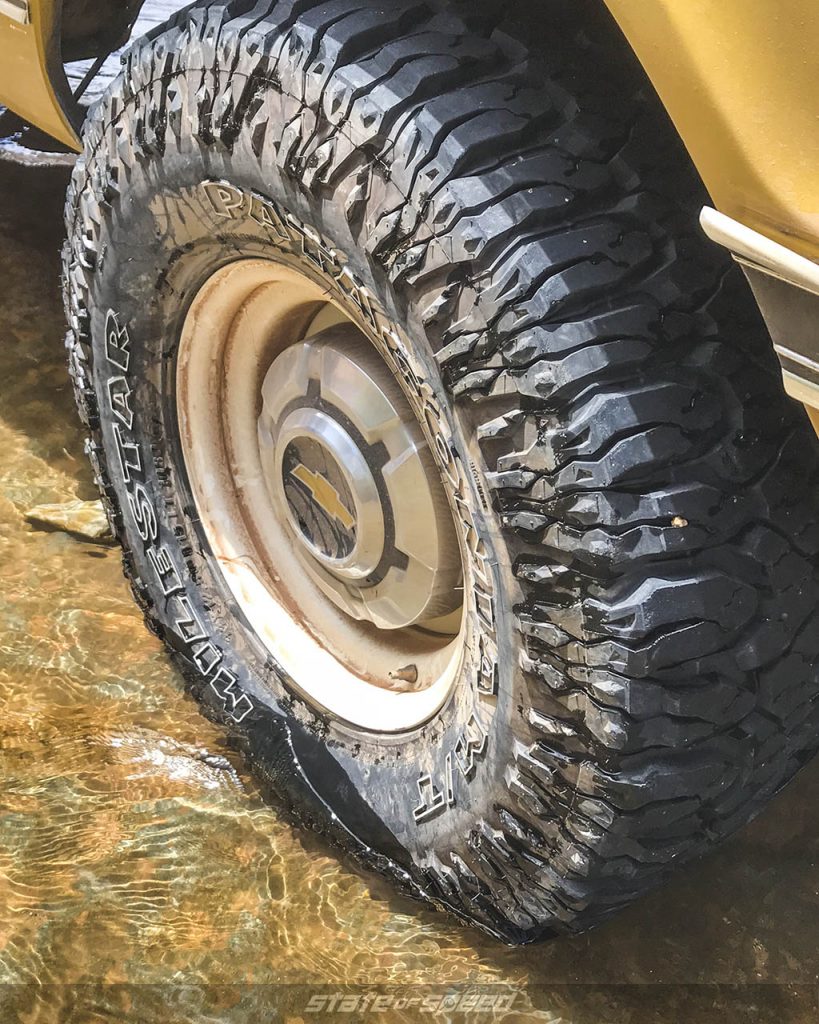 On the freeway we went or so we thought as it started shooting ducks again. The next exit was coming up fast, so we pulled off and found a safe place to work. No sooner did we pull off, Verne called on the radio, (he'd picked up a drivetrain vibration). Verne crawled under his rig and we crawled back into the engine compartment for a second ignition module and a coil this time. Verne's repair turned out to be simple. Remove the offending rear driveshaft and turn his Jeep CJ5 into a front wheel drive.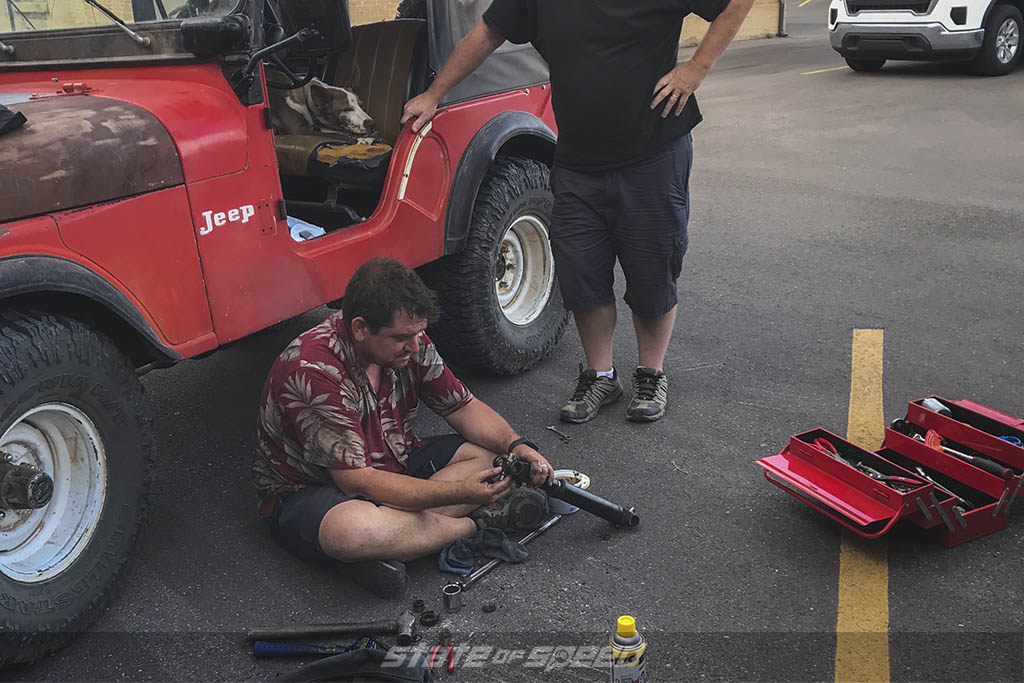 The CJ5's rear drive shaft had a bad U joint. This was compounded by a marginal yoke and we suspected the rear shaft was too long. Back on the road again, the K5 was still running without an alternator and Verne needed U joints so our next stop was Napa auto parts. The Auto parts parking lot soon became a repair station as Vern built a driveshaft and the K5 got a new alternator. This was all par for the course. Smiling and joking about the repairs is all part of the adventure. Hungry and tired, we found some great food in cedar city and jumped on the highway again. One mile from our next exit the CJ5 started to sputter. The chatter on the radio diagnosed that we may have forgotten to get fuel.  Dodging through traffic cones Verne coasted right up besides the K5 and we dumped the K5's spare fuel in the CJ5. The old 304 v8 fired right back up and we were running smoothly again. Camp was right around the corner in a high elevation forest, and this would be the best night's sleep so far.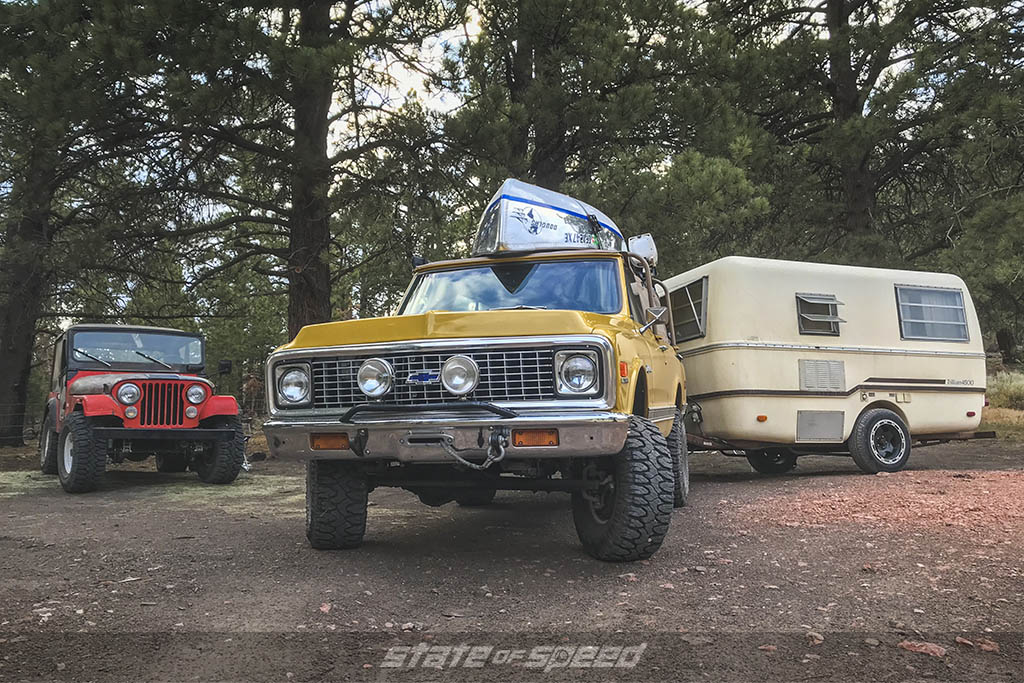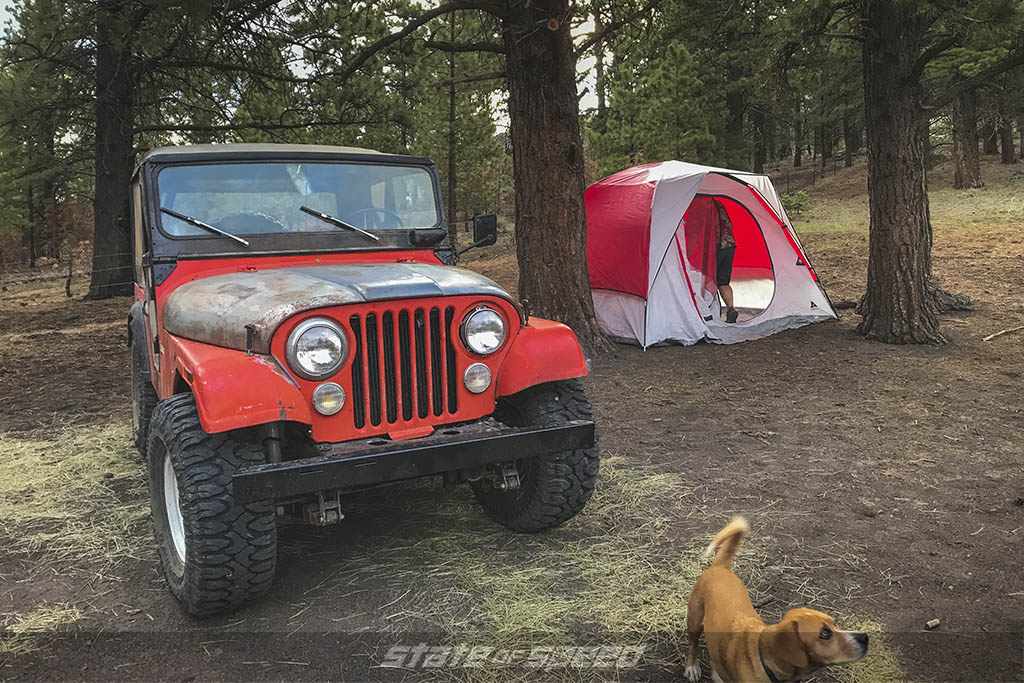 Flaming Gorge
The next day both vehicles ran perfectly covering a mix of dirt and asphalt about 400 miles to arrive at the eastern shore of the flaming gorge reservoir. This would be the base station for Relic Run 2021. Our arrival timing was perfect as the sun set over the water.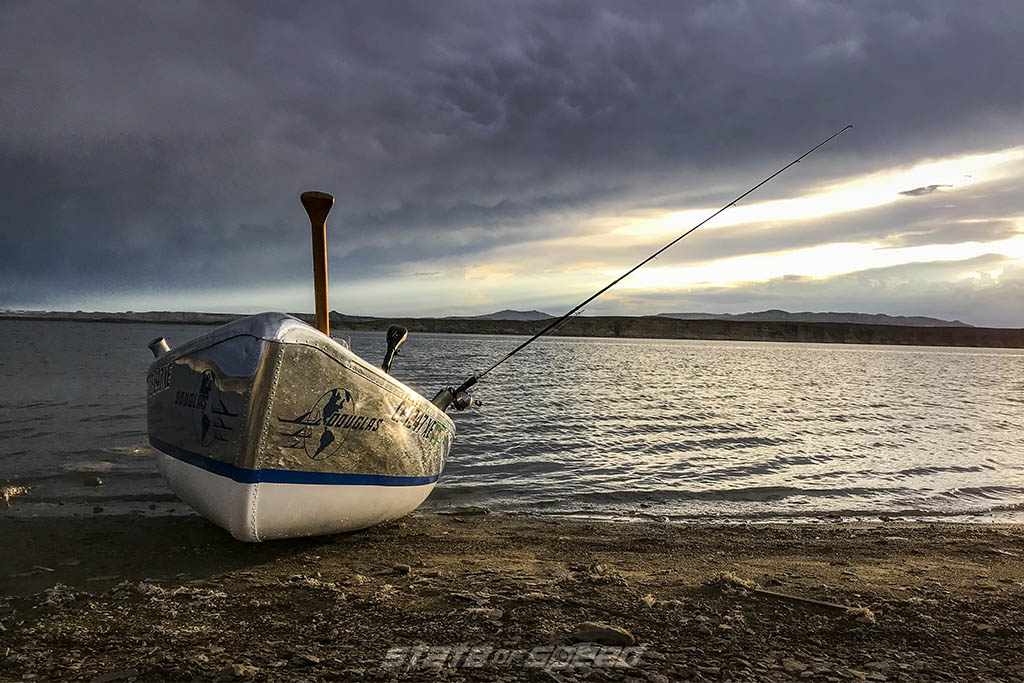 We pulled into camp just as the last light slipped away so we could get our sleeping situations arranged. The 1973 CJ5 and the 1972 K5 made the 950-mile trek across deserts, up into forests, and ate up asphalt in true vintage style.  As the morning light brightened with daybreak, we realized how cool our Relic Run campsite really was.
Several miles of abandon shoreline connected to crystal clear water, we were finally able to scrub off the sweat and dust from our travels. The water was refreshing and reminded us of why we love adventures. 
Relic Run 2021
Thursday afternoon was the official start of relic run. Vintage 4×4's from the tri state area started rolling in filled with vintage camping gear like gasoline stoves, flannel sleeping bags, canvas tents and cast-iron pans for making recipes long since forgotten. The first night was a meet and greet where everyone shared hors d'oeuvres. (Clever snacks your grandparents probably made for parties and mixers). Story swapping went on for hours until Mother Nature sent us all to bed with a stiff breeze and light rain. The next morning campers were up early chatting about tents that blew down or water on their vintage cot and cotton sleeping bags. 10am came around and it was time for a trail ride. 8 of the most eclectic vehicles showed up from a right-hand drive Toyota BJ71 to a Dodge power wagon.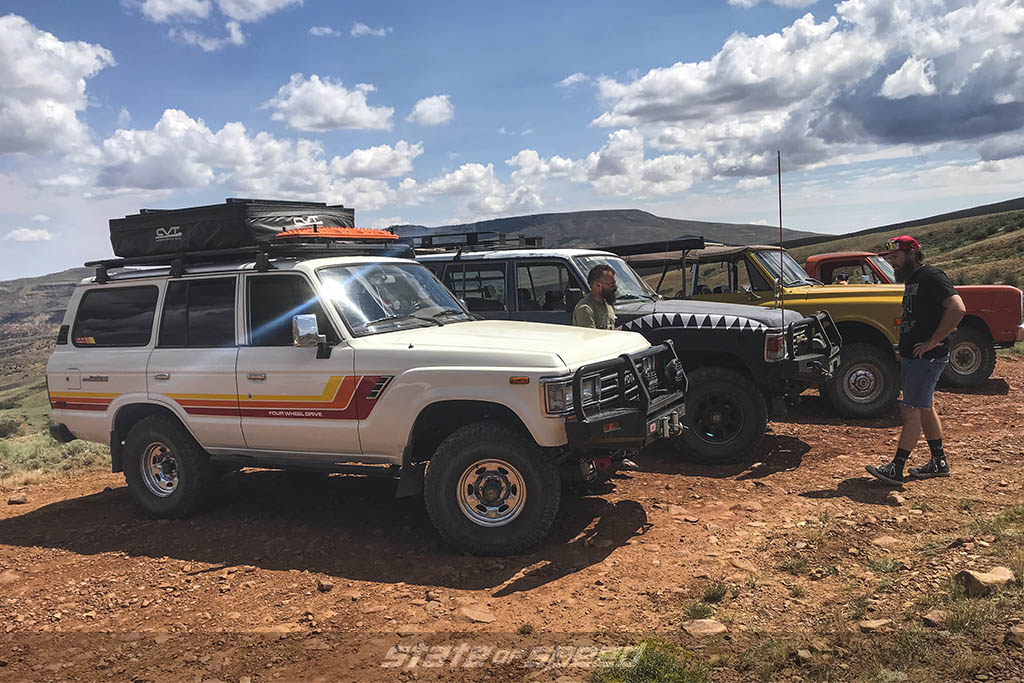 These people loved all things 4WD, but that didn't stop the brand loyalty rivalry. Toyotas outnumbered Jeeps making them feel superior, and Fords stayed at camp proving Chevrolet was the true workhorse that weekend. The destination of the trail ride was 3 corners monument. This is where Wyoming, Utah, and Colorado meet. A 60-mile round trip consisting of smooth graded dirt roads, broken asphalt, and forest 2 tire tracks didn't disappoint as the scenery ever evolved.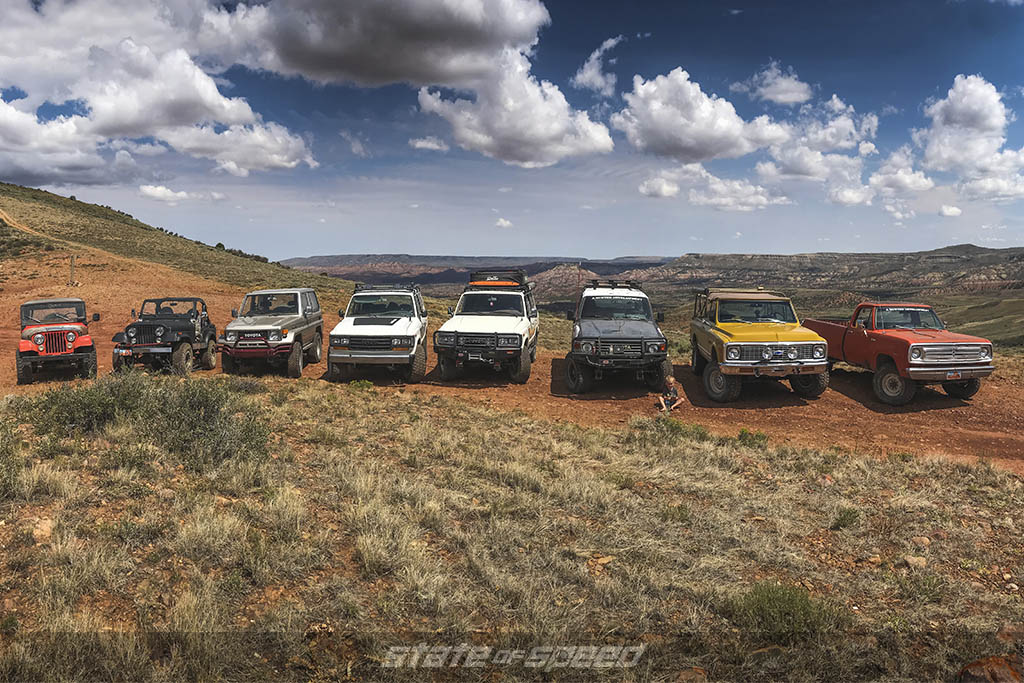 Along the way we saw cattle, pronghorn, grouse and even a moose. Back to camp just in time for one last swim, The Relic Runners needed to get to work building vintage meals for the evening's potluck dinner. Casseroles, meatballs, pasta salads, along with upside down cakes and baked goods left everyone full and satisfied.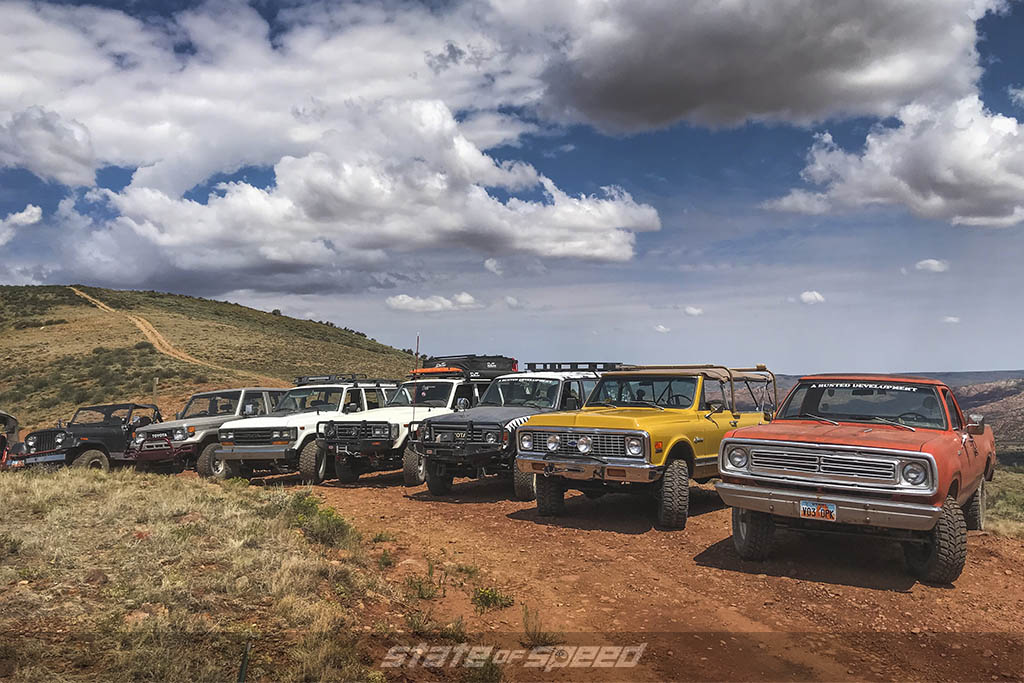 A Day Off
Saturday was a day with little to do but soak up water and sun. We fished the bay in our vintage boats as others sat in aluminum lawn chairs in the water. This was also a great day to look over the aging 4×4's and do any last-minute maintenance for Sunday's trip home. Verne added an additional power port to charge his phone, the CJ and the K5 both took a quart of oil and seemed to be on the same schedule of drinking habits. The highlight Saturday had to be the taco assembly line sponsored by Expedition Utah. Bob Dubois "The Mayor of Relic Run" had picked up 50 lbs. of marinated meat and we aligned camp stoves, BBQ's and scottles to feed the entire group several times over. The food was excellent, but the company was even better.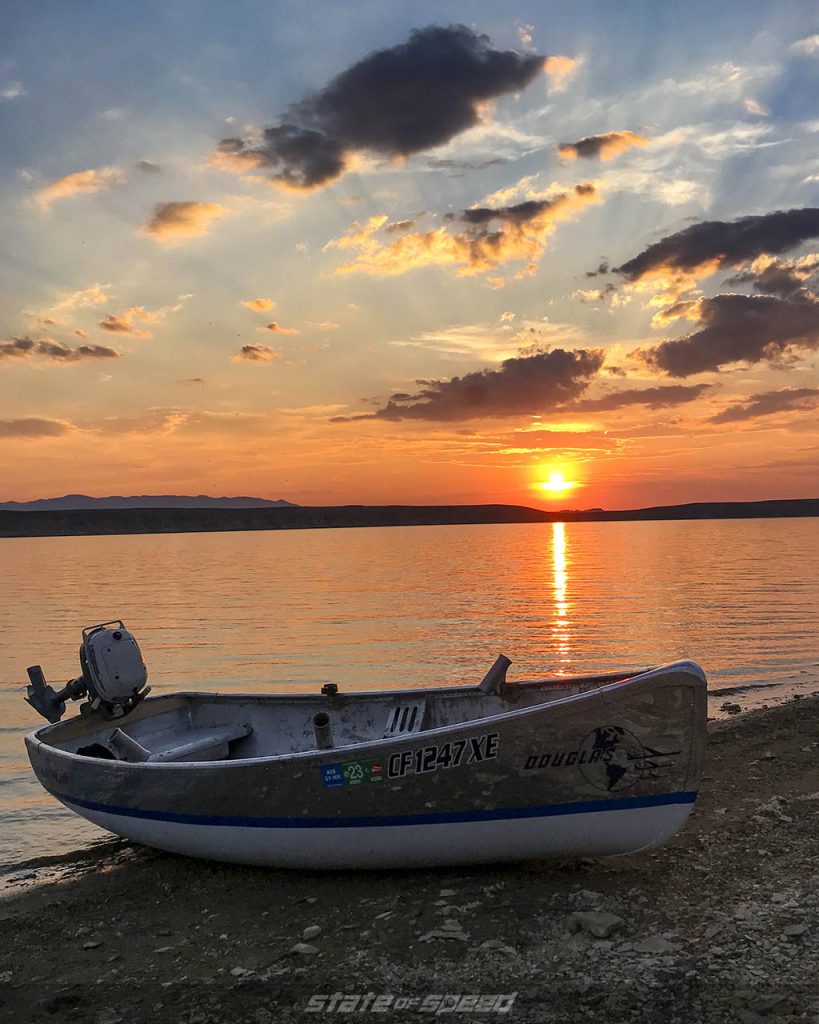 It was fun to watch the Relic Runners get competitive as others steered clear of the classic Red Ryder (in fear of shooting their eye out we suppose).
It was time for the annual BB gun contest. Pop cans were hung in the trees with fishing line creating a ''tin can alley''. Each can was awarded points and the points tallied for your team. The most points to a single shooter got vintage prizes collected at yard sales and storage auctions. The team that won got bragging rights for a full year. It was fun to watch the Relic Runners get competitive as others steered clear of the classic Red Ryder (in fear of shooting their eye out we suppose). The sun was setting as the winners of the BB gun shoot were awarded their prizes. The snack tables still had brownies and pineapple upside down cake on it, so people split their time around the dessert table and enjoying the water. Relic Runners continued to swap stories and favorite destinations well into the morning. 
Goodbye
Sunday morning had people stirring early taking down tents and folding up gear. As people gathered around the last coffee pot, heartfelt goodbyes were said, and info was exchanged for new friends. Rigs slowly made their way to the highway until camp was silent again leaving behind only tire tracks and footprints.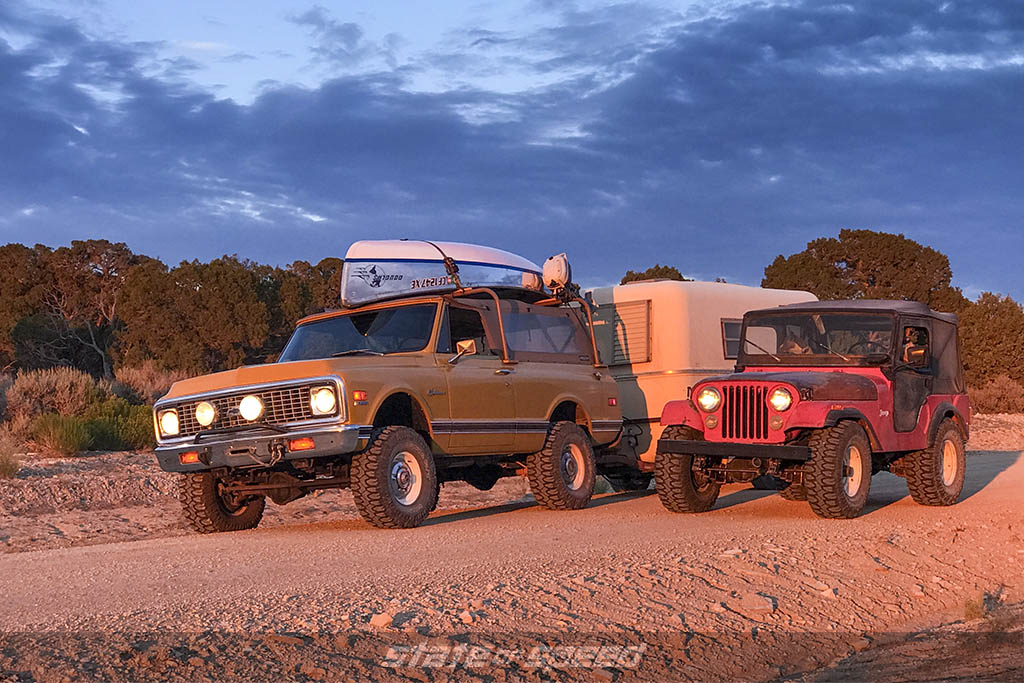 The CJ5 and the K5 would leave camp together but split up about 250 miles into Utah. This was the moment vacation felt like it was finally ending. Each Relic Runner takes home a different experience. For some it's the love of old 4×4's, others its to embrace a time forgotten before data plans and streaming networks. For me, it's the challenge resurrecting a vehicle to its original glory and showing the world its capabilities are still valid in this modern society. So, if you think you have what takes to build a vintage 4×4, love vintage camping gear, then it sounds like you might just be a Relic Runner.
About Ryan Kennelly:
Ryan Kennelly leads a team designers creating aftermarket off road products during the day. After work he builds vintage 4×4's specifically for off road adventures. To follow along in real time, checkout @dirtstar2002 on Instagram.