2022 King of the Hammers
Taking on the Toughest Off-Road Race on the Planet
What started as a "beer bet" between friends on a dry lakebed in Johnson Valley nearly 15 years ago has grown to one of the biggest weeks of off-road racing in the world: the Ultra 4 King of the Hammers (KOH). The people are just as spectacular to watch as the vehicles. KOH is a week-long party—imagine Burning Man with the excitement of off-road racing.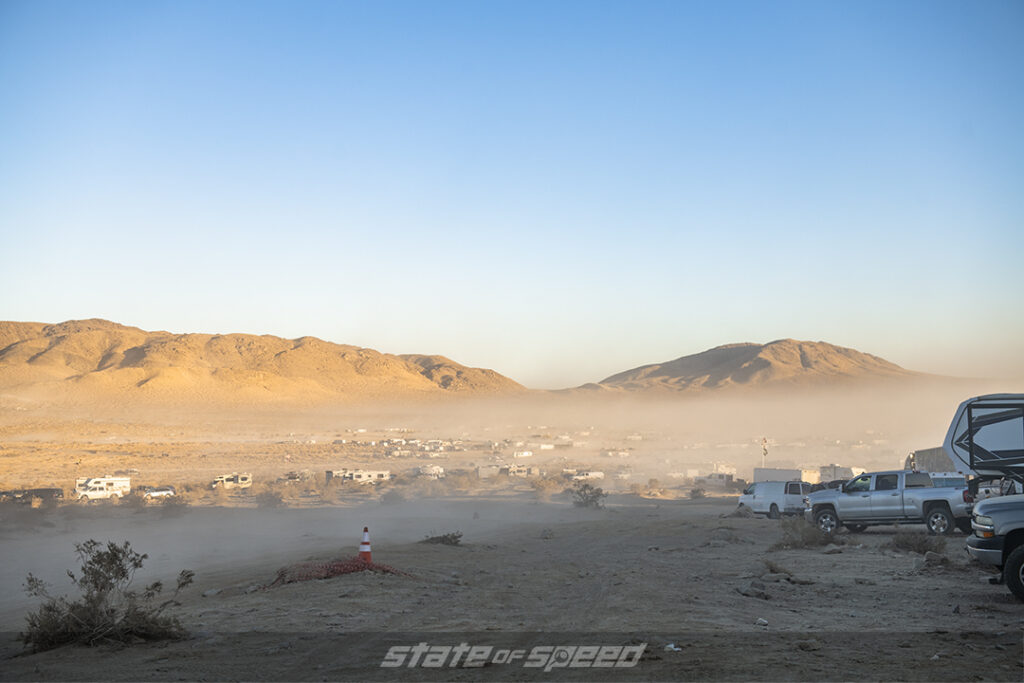 The initial premise was simple, blend rock crawling with high-speed desert racing. KOH requires race vehicles that can handle both terrains. The racecourse seems impossible to those unfamiliar with the race, pitting man and machine against a course filled with rocks the size of a city buses and drop-offs over 10 feet tall.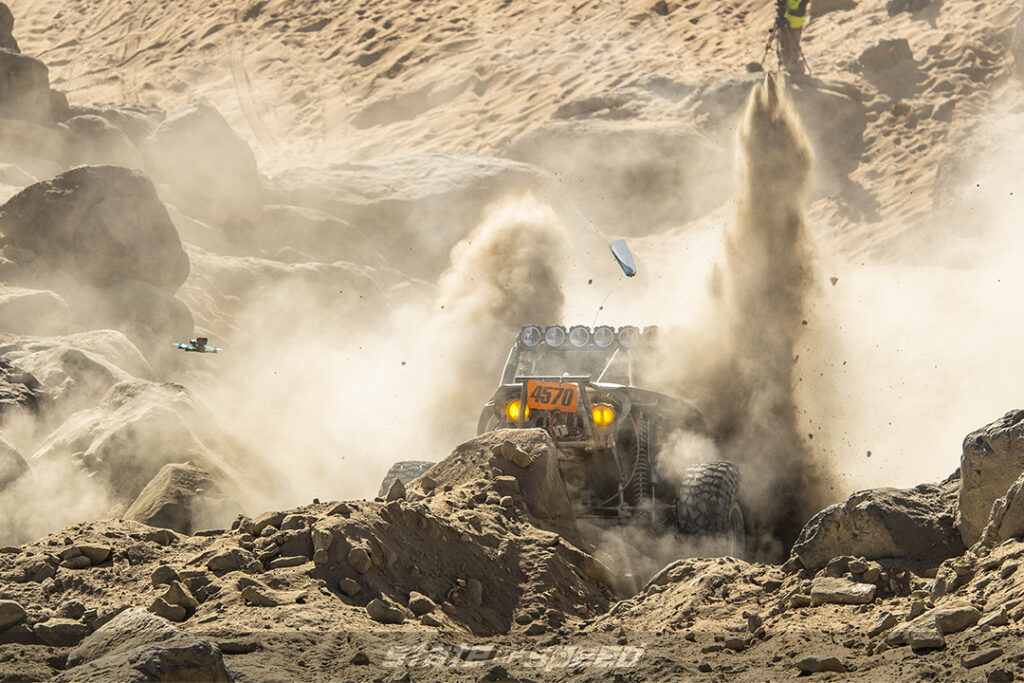 Weeks before, HammerKing Productions employees and volunteers descend on Means Dry Lakebed to build Hammertown, a 56-acre, high-tech camp. It's the center of King of the Hammers, and so involved even the Navy and Marine Corps lend a hand. It houses thousands of spectators, participants, racers, crew, and those there for the 10-day party.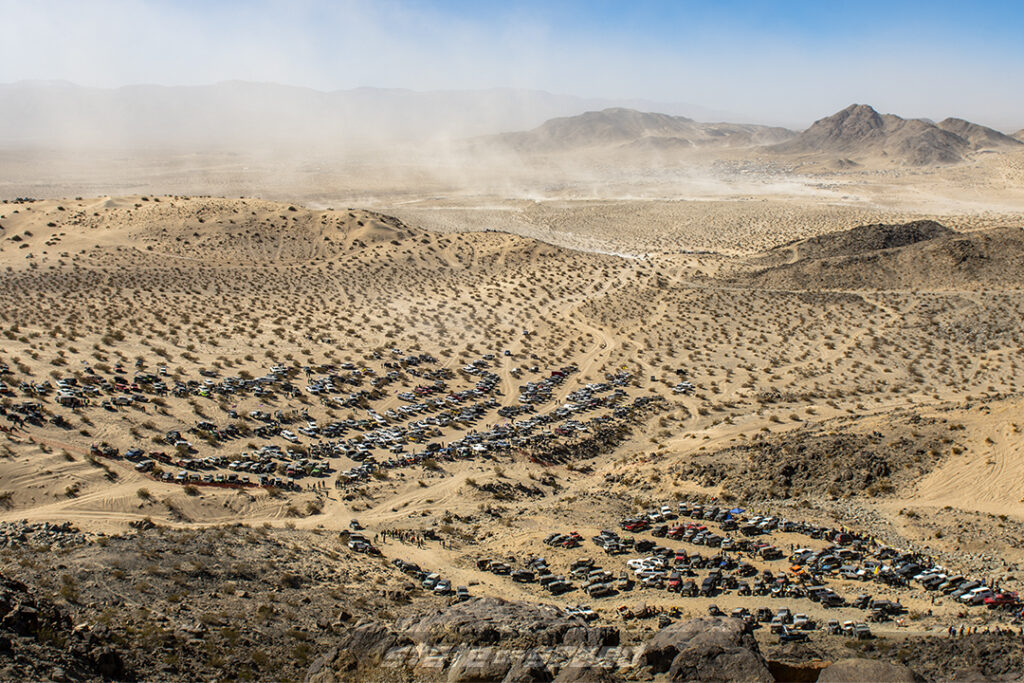 Image the sensory overload of an event like SEMA, but where vehicles are actually put to the test in the desert. It's hard to take it all in, but luckily, you have ten days to do it. Hammertown features pit crew challenges, qualifying races, pre-runs, vendors, driver meet and greets, and various other events. Plus, there's food throughout the town and music every night.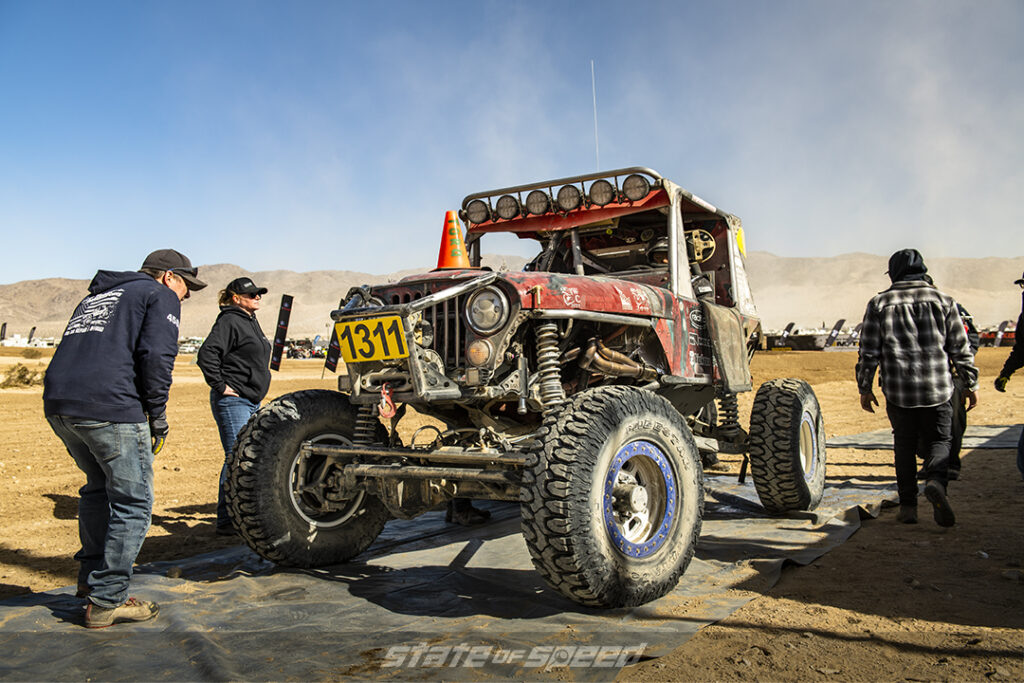 Hammertown is like going to a car show and enjoying the cars in the parking lot; participants and their vehicles are just as fun to watch as the races. You need an off-road capable vehicle to see various sections of the racecourses, and KOH brings out the best and most interesting off-road rigs around. From jacked-up Mercedes to Econoline vans straight out of a 1980s summer camp and every genre of Jeep. 
The KOH community makes it a world-known event. With crazy rigs and dedicated enthusiasts partying for a week straight. The off-road community is a tight-knit group looking for fun with dirt-filled grins, hats made of beer cans, and bound fires that last all night. 
…KOH brings out the best and most interesting off-road rigs around…
The lakebed is in the center of Johnson Valley, which is known for having some of the most challenging terrain on the west coast, with large boulders, steep drop-offs, and narrow trail sections. King of the Hammer's name comes from the notorious "hammer" trails. Many of the nearly 500 registered racers don't make it back to the finish line. Johnson Valley trails have also claimed many lives over the years. It puts drivers and crew through various off-road racing disciplines from steep rocky mountains, rolling hills, open sections, and a large dry lake bed, with elevations ranging from 4,600 to 2,300 feet. Modern-day Ultra4 cars require indestructible components and produce over 900 horsepower.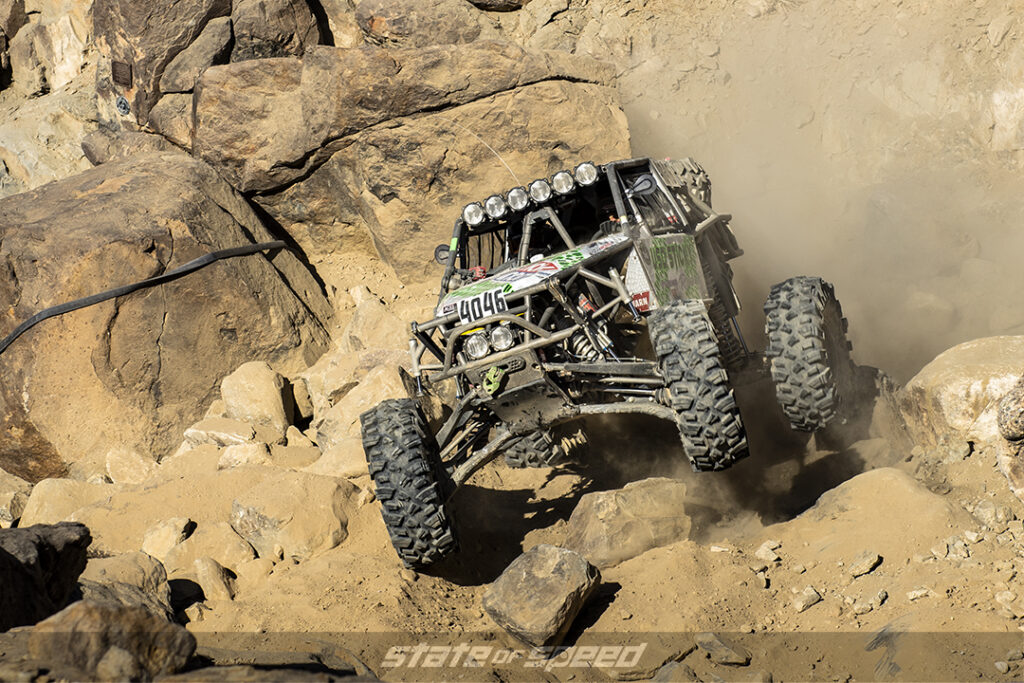 The start/finish line is in Hammertown, allowing spectators to get up close to the action, starting with a closed-circuit style dirt course section. This section of track allows for door-to-door action in qualifying and a unique start/finish to off-road racing.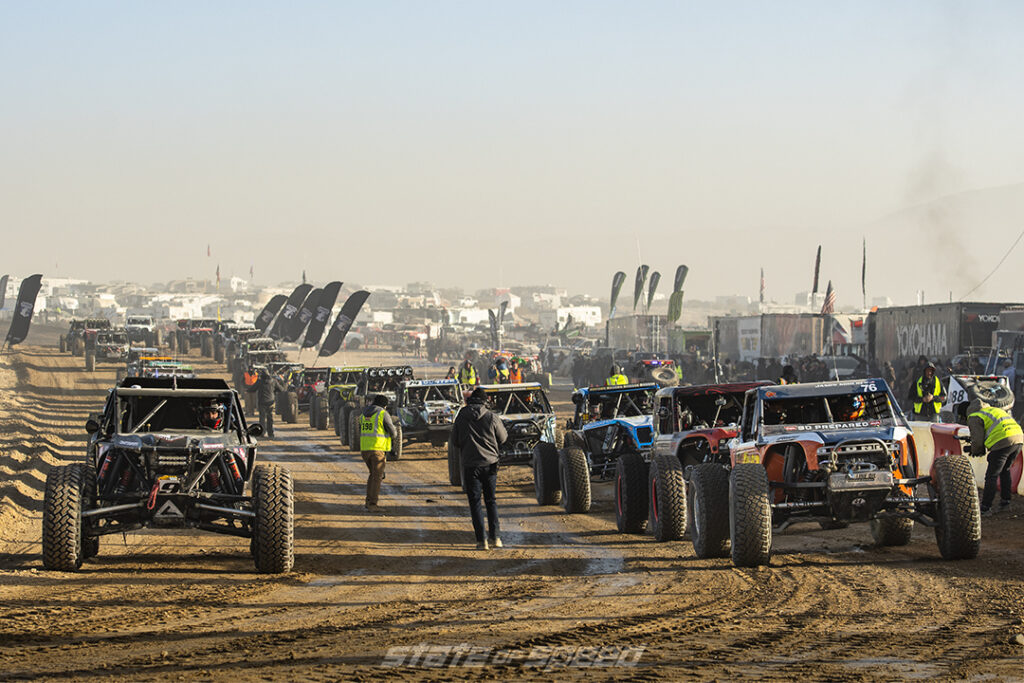 Across the Means Dry Lakebed, is the high-speed section with divots, obstacles, and hard-to-see terrain. Far from a smooth lakebed like Bonneville, this terrain requires faith in your equipment and nerves of steel to keep full throttle.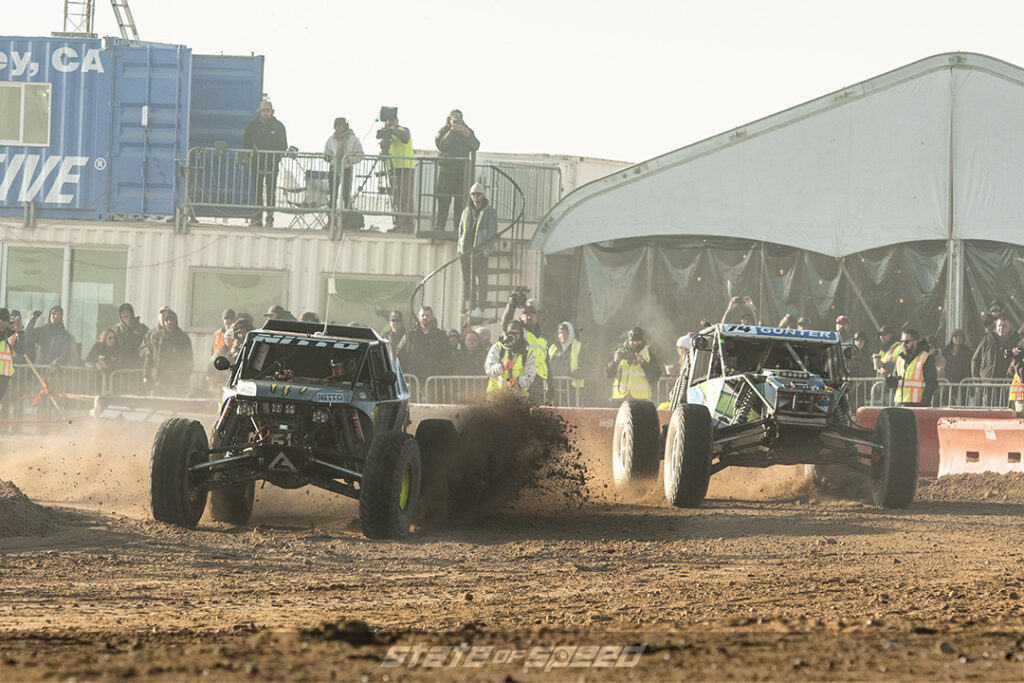 After the Dry Lakebed, the land immediately transitions into technical rock trails with boulders of sizes ranging from a few feet tall to those bigger than the vehicles themselves. Racers go from triple-digit speeds immediately into narrow paths up mountain terrain. From loose sand into jagged rocks, these areas require patience, tough tires, and an impenetrable undercarriage. Don't be surprised to see multiple rollovers throughout the event.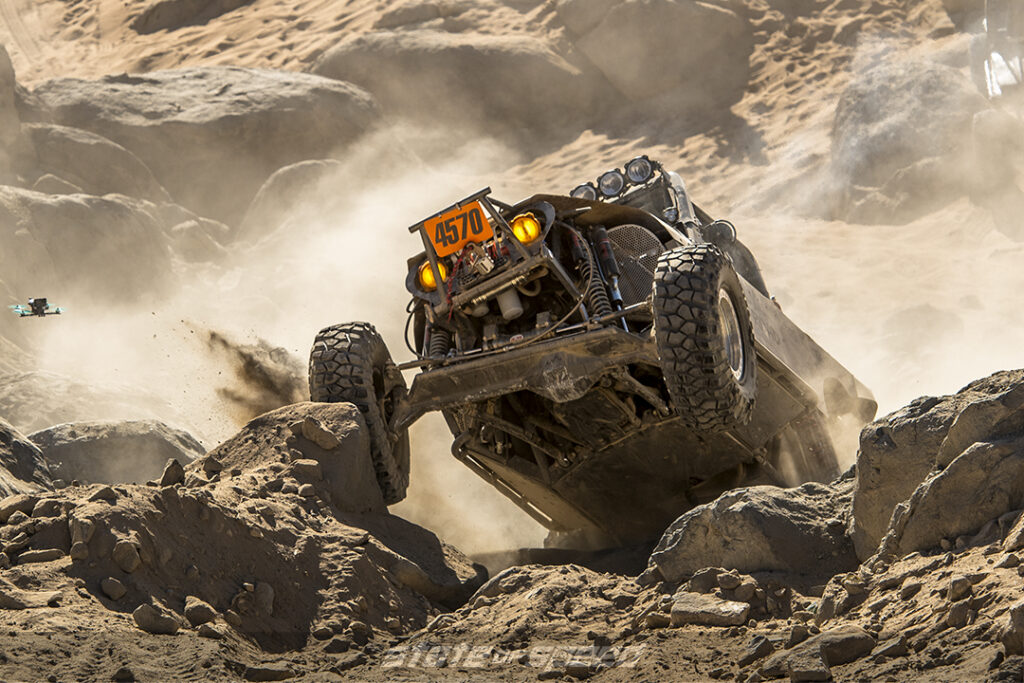 What started as a single-day race in the Southern California desert in 2007 has grown to a 10-day event in 2022 with multiple classes, including Trophy Truck, UTVs, and Ultra4 cars. They compete on different days leading up to the Race of Kings' main event.
This year's Hammer's week featured four primary races. First, the Toyo Tires Desert Challenge, a classic style lapped desert race. Second, is the Can-Am UTV Hammer Championship, where UTVs race the same course as the big 4400 cars. Third, is the 4-Wheel Parts Every Man Challenge, which features four separate classes 4600 – Stock, 4500 – Modified Class, 4800 – Legends class, and the EV Class. For the 2022 event, every class was packed with competitors, all attempting to tame the racecourse and bring home the coveted King of the Hammers trophy.
…What started as a single-day race in the Southern California desert in 2007 has grown to a 10-day event in 2022 with multiple classes…
The Desert Challenge featured two days of non-stop action, with the limited class racing on day one. Chase Warren in his Class 10 car held off Mitch Guthire Jr. in his Polaris RZR Pro R for the win. Brady Wisdom took the third spot on the podium in his Class 10 car. Day two featured the Unlimited Race with the Trophy Trucks (T1), and the 6100 trucks (T2) laid down the power in the desert. Qualifying for this race featured a prologue included in the overall time to determine a winner. Last year's winner Bryce Menzies, one of the favorites to win, had drivetrain troubles that pulled him out of the race after one lap. Kyle Jergensen held off the charge from Luke McMillin, who had a throttle cable issue that cost him precious minutes and left him in third place behind Christopher Polvoorde.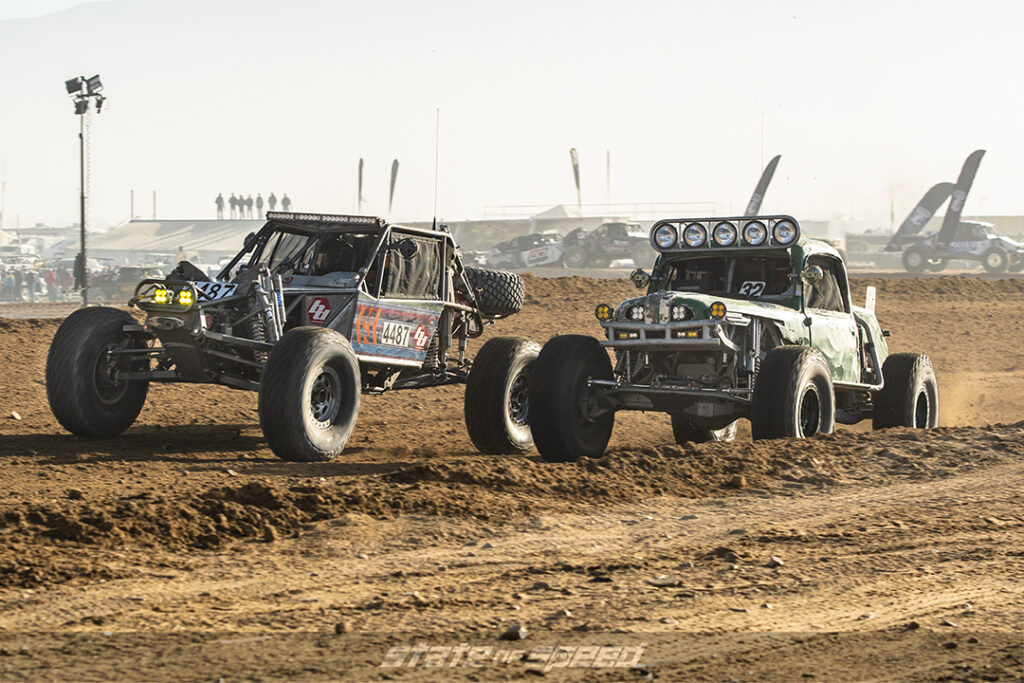 With the desert racing out of the way, it was time to go to the rocks. First up was the UTVs maneuvering through the rocks, flying through the desert, and running door-to-door on obstacles. Kyle Chaney held off Hunter Miller for the win, and Paul Wolff battled his way through for a third-place finish.
One of the most fantastic races to watch is the Every Man Challenge, where you can race everything from a vintage 4400 car to a stock Suzuki Samurai taking on the course. This years' race had an extra level of excitement as the Ford Performance team was on hand with new Bronco race vehicles. They swept the stock 4600 class with Vaughn Gittin Jr., Brad Lovell, and Bailey Cole, finishing 1-2-3 for Ford.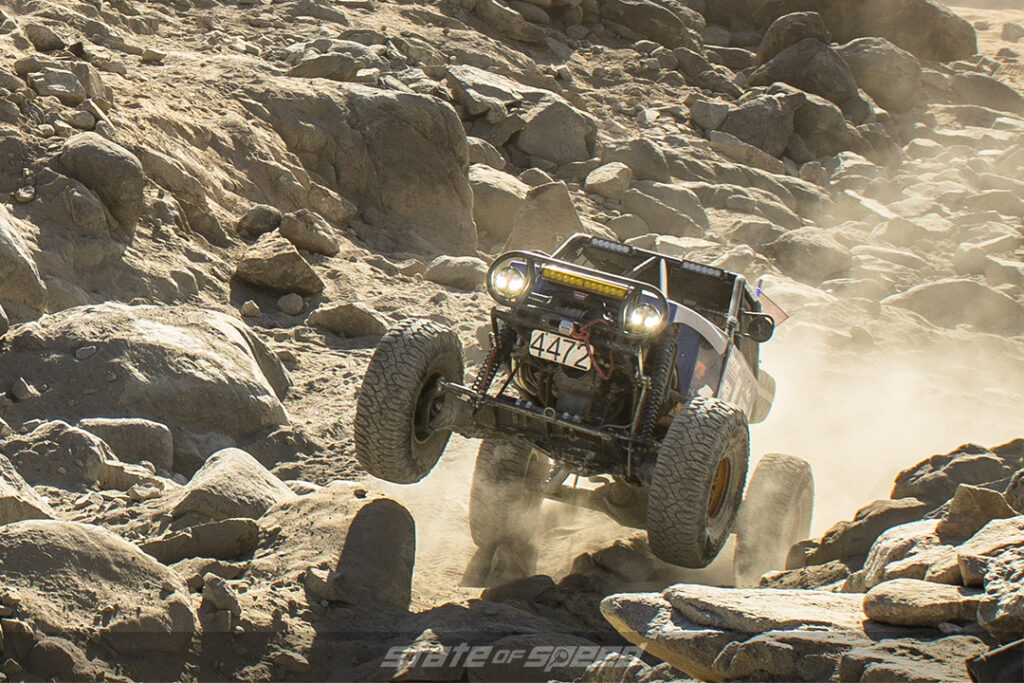 Dan Fresh was your overall winner and 4800 Legends class winner with a speedy time beating Toby Stacy by over 30 minutes, with Chayse Caprara taking the third spot just minutes behind Stacy. In the Modified 4500 Class, John Mathews held off a strong charge from Joe Gatlin to win, with Kenneth Goodall earning the third podium spot.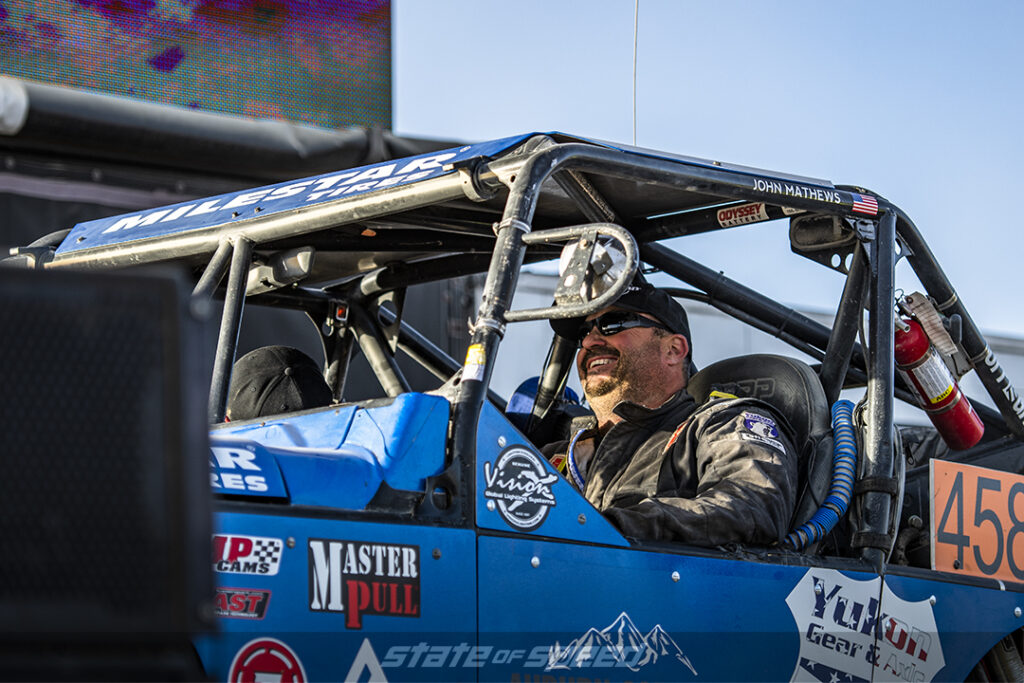 Only one race was left to crown the 2022 King, The Race of Kings. With over 100 entrants this year, the field was stacked with plenty of cars and drivers gunning for the top spot. However, the race came down to two guys, three-time king Jason Scherer and longtime competitor and top challenger Raul Gomez. These two battled all day with Jason out front most of the day before a costly flop had him winching early on the third lap.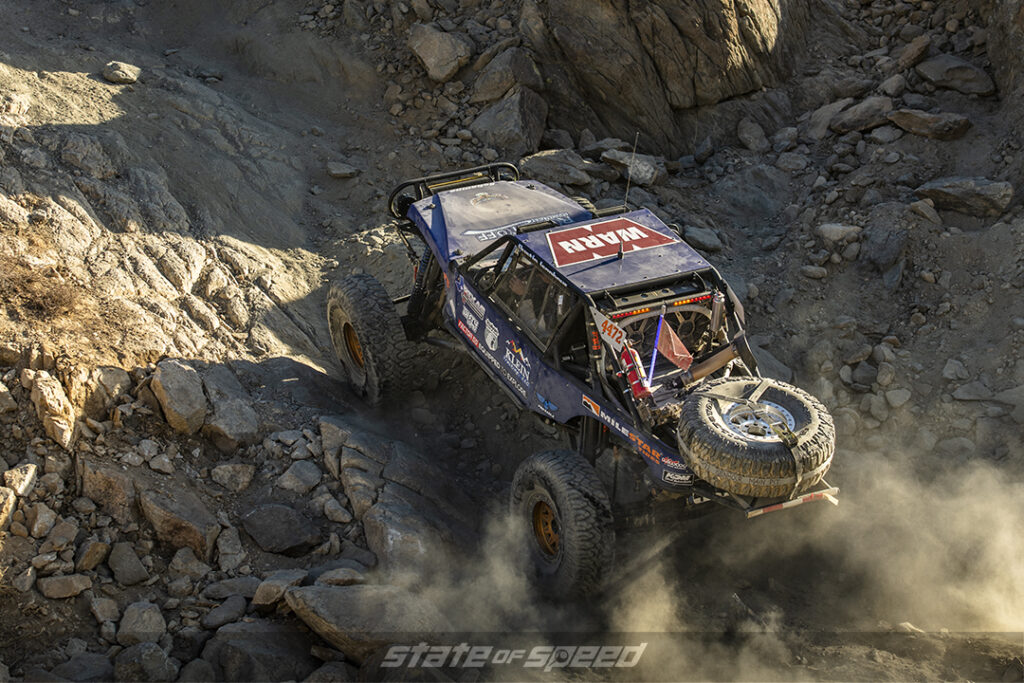 With Gomez out to a solid lead, a high-center had him winching while Scherer could make up time. Another late-game flat tire made it impossible to catch up to Gomez, who earned first win in Johnson Valley and the first solo competitor to take the title. Finishing in the third spot was Josh Blyler, who battled his way through the field after qualifying 20th for an impressive finish.
 The King has been crowned for this year, and that means guys like Scherer, Levi Shirley, Erick Miller, Shannon Campbell will be looking to take back the crown next year as the target is now squarely on Gomez's back.
The Basics 
King of Hammers began as a private event, created by rock-crawler champion Dave Cole and desert racer Jeff Knoll.

 
King of Hammers is typically held on the first week of February. While technically the King of Hammers race is a one-day race, there's a week of events leading up to that final day.

 
King of the Hammers is held on the Means Dry Lakebed, as a part of the Johnson Valley OHV. California has state-run areas known as OHV areas (Off-Highway Vehicles), where off-road vehicles can be used.

 
Johnson Valley is known as the Home of the Hammers, having several intense trails such as the Jackhammer and Sledgehammer trails.

 
The center of King of Hammers is Hammertown, where teams, sponsors, and participants turn the desert into a temporary city of racing. Admission includes access to Hammertown and gets fans close to the start/finish line.

 
Different areas of the racecourse are easily accessible with a stock off-road vehicle.

 
Past winners and those who participated in the first event are invited to return at every race thereafter.