Brian Jacobson's Jeep Wrangler JLU Monster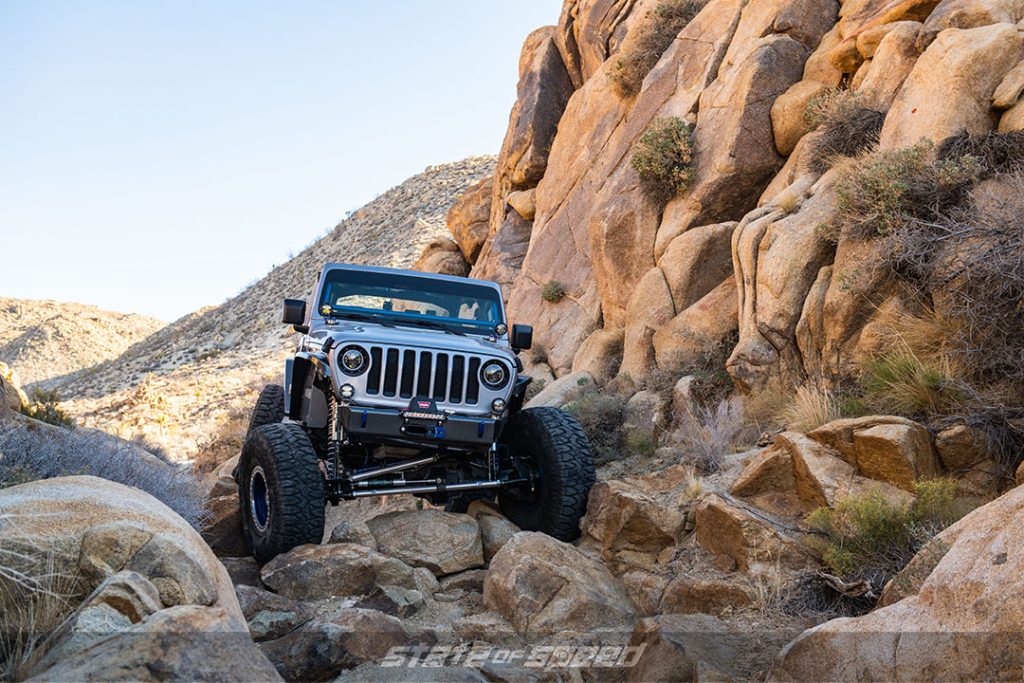 Guess who's back? Back again. It's Brian Jacobson and this time he's created a JLU Monster.
You may recall the recent State of Speed feature of Brian Jacobson's 1969 Chevy K5 Blazer. If not, then spoiler alert, Brian sold the K5 shortly after it was completed. He had his reasons, of course, and when asked it was more than just the ridiculous amount of money he was offered. "I had a bit of an epiphany on a trip to Parker, Arizona." Said Jacobson. He continued, "On this trip my family struggled getting in and out of the Blazer. It wasn't easy dealing with the roll cage, strapping into the harnesses, etc. Then they rode in a friend's new Jeep JLU…" The rest is history. Jacobson immediately started building out his next project in his mind, and after selling the K5 he told himself, 'It feels so empty without a Jeep.'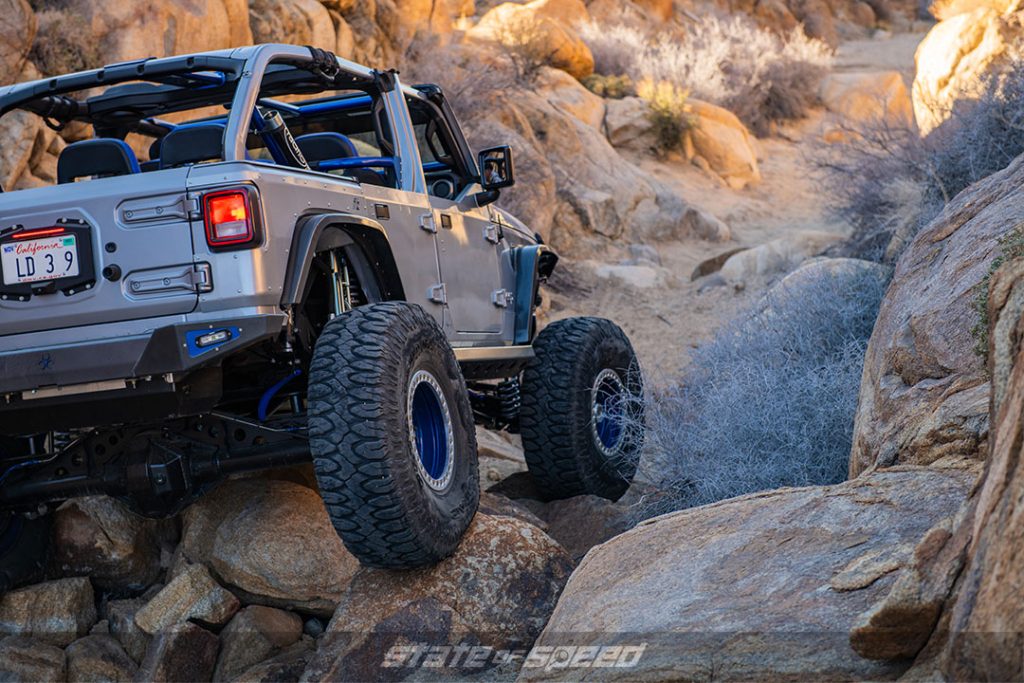 Jacobson isn't a stranger to Jeeps. In fact, prior to the Blazer he built out an impressive Jeep Wrangler TJ Unlimited, AKA Jeep LJ. The irony here is that the LJ was intended to be his daughter's vehicle to drive to school. After a few years he planned to inherit the LJ from her and eventually start to build it out. But as things often do, the LJ build got started early, and went a bit overboard for a teenager's daily driver. Before long it wasn't Brian's daughter's Jeep any longer, but his own.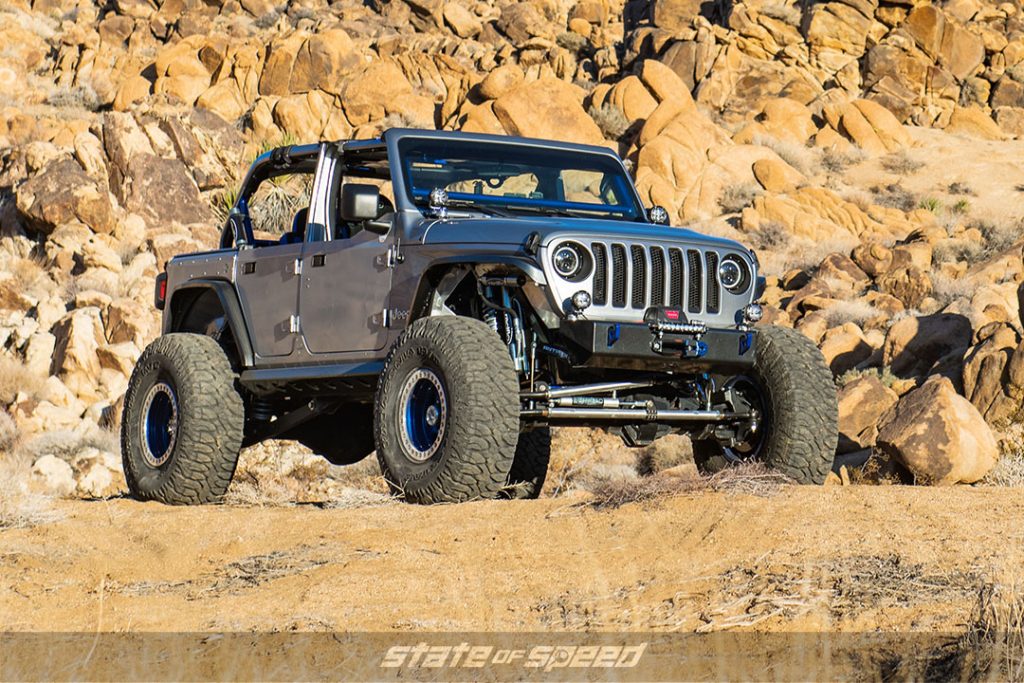 …

For sure! The family is comfortable. I'm happy, and I'm planning to keep it

.

..
Brian sold the K5 in March of 2021 and he didn't' wait long or spend much time debating what his next vehicle would be. Literally, the day after the Blazer was sold, he began a search for a Jeep Wrangler JLU. After scouring private party ads, and dealer inventories, Brian found the Jeep that would become the basis for his next project. Most Jeep enthusiasts might seek out a Jeep Wrangler Rubicon, the ultimate factory-built off-roader. However, Brian already had his Jeep build planned out in advance and his plans far exceeded everything a factory Rubicon is built with/for. So why spend the extra money on a top-of-the-line Wrangler? 
At the end of the day, Brian ended up with a base model Jeep Wrangler Unlimited Sport. "I knew I was going to cut it up, and I immediately started ordering parts," said Jacobson. In April of 2021 Jacobson dropped the freshly acquired JLU off with his friends at Rock Bottom Offroad to get the build started. "I was going to keep it fairly simple at first, with bolt on suspension, etc." said Jacobson. He added, "But the guys at Rock Bottom Offroad called me up and said, 'Guess what we're doing?". Essentially his JLU build was Hijacked and the folks at Rock Bottom Offroad took this build to eleven.
The shop immediately began to dig into the JLU, stripping it down, and getting it ready to conquer everything from the Hammers to the Rubicon trail. One of the most important components in any crawler build is the axles, and for this reason Brian and crew went with a set of Fusion 4×4 Elite Kingpin 60/Elite 80 – 40 spline axles. Suspending those beefy axles is a custom rear trailing arms, and three-link front suspension built by Rock Bottom Offroad.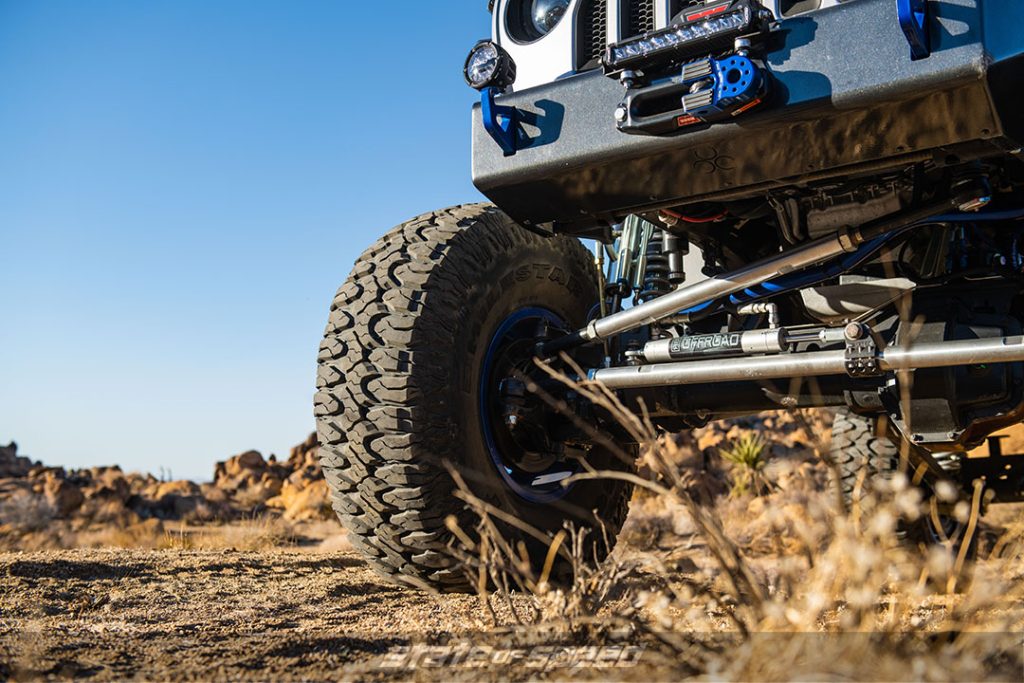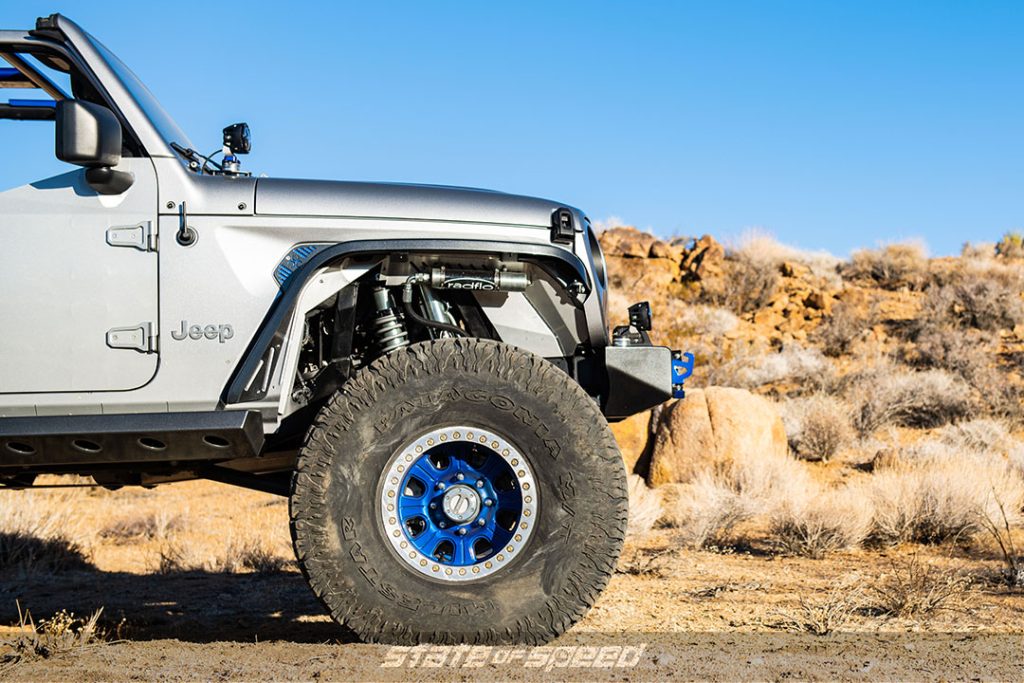 Providing the damping at all four corners are Radflo 2.5 coilovers and bypasses. Steering left and right is handled by 2-½ ton Fusion steering aided by Red Neck Ram hydro assist from the folks at West Texas Off-Road. "The cool thing about West Texas Off-road is you turn your wheels left and right, take measurements, and send your measurements over to them. They build the hydro assist to your specs, not the other way around," said Jacobson. They also took the heavy-duty steering box that Jacobson purchased and, in addition to porting the box, modified it to meet the flow requirements of a hydro-assist system.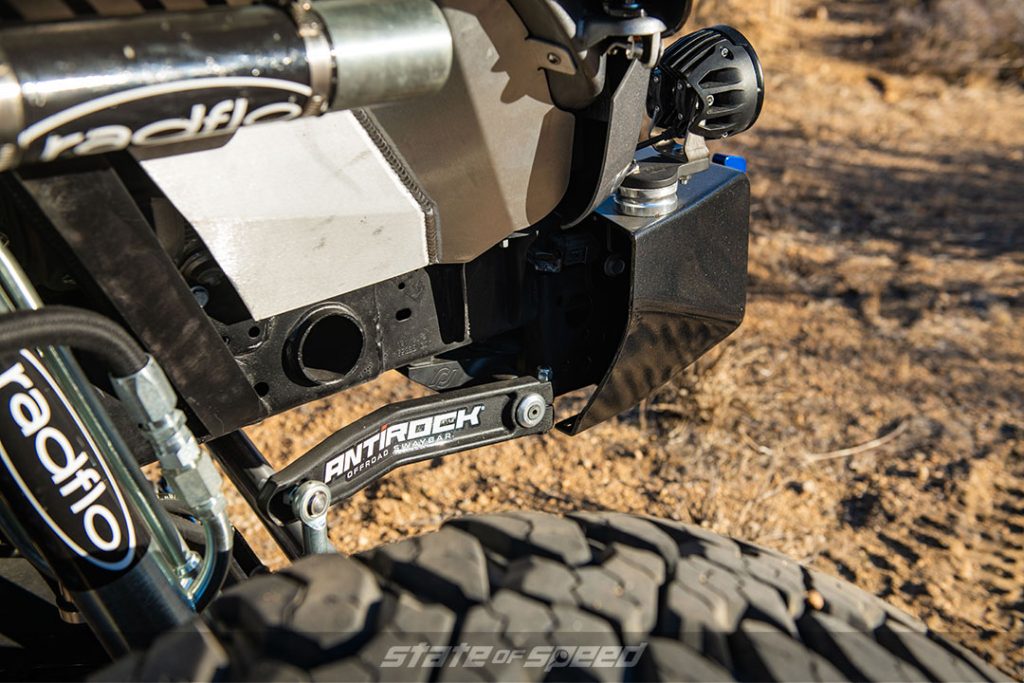 Even with a quick walk 'round the outside of Jacobson's Jeep, it's obvious that these axles and custom suspension weren't bolted on for looks. They were selected to maximize travel and the suspension is complemented by custom wheel tubs at all four corners. Even with a set of 40" Milestar Patagonia M/Ts, Brian's Jeep managed a Metalcloak Corner Travel Index (CTI) of 1050. For those unfamiliar with a CTI score, a custom trailer is used to measure a vehicle's maximum axle/wheel articulation, commonly referred to as flex, at all four corners of the vehicle. To give perspective, Metalcloak has performed a CTI test on a stock JLU Rubicon and achieved a CTI of 636 with the front swaybar disconnected.
…

It feels so empty without a Jeep

.

..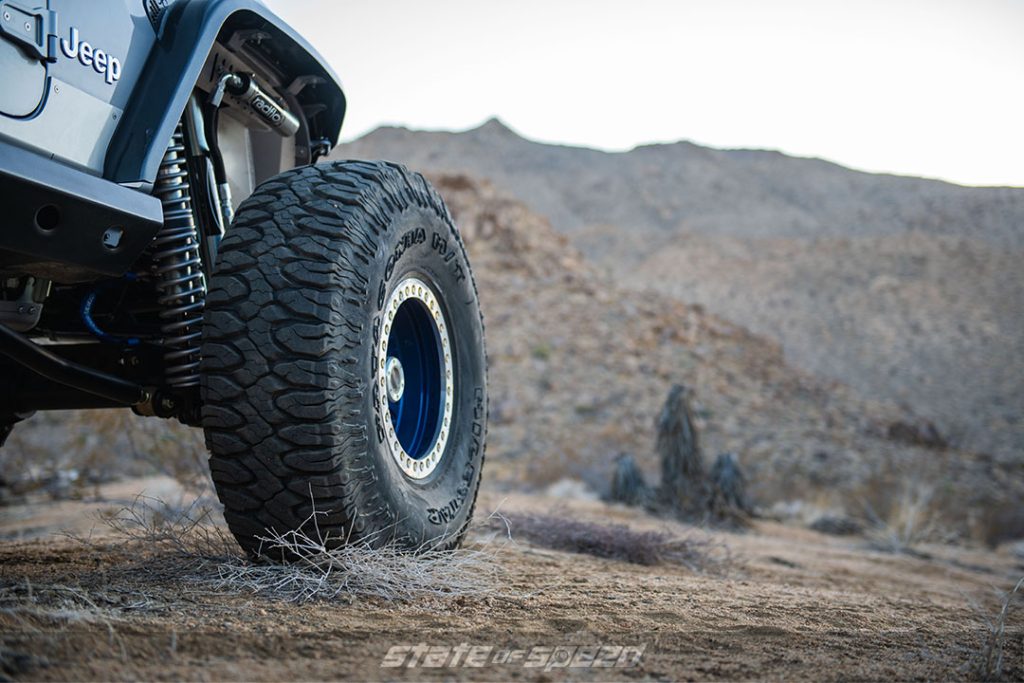 Now this might spark a little controversy, but Jacobson said, "with 5.38:1 gears, and this 8-speed transmission, the JLU Sport's stock transfer case is perfect. In fact, many people say the Rubicon's 4:1 transfer case is just too low." To raise a few more eyebrows, Jacobson's JLU is powered by a 2.0-liter 4-cylinder turbo! Jacobson told us, "I know someone who has their turbo JL tuned to 400 horsepower." He continued, "I've got a S&B air intake, and Magnaflow exhaust on mine and it turns those 40" tires without issue." He did say that he plans to increase performance with a tune in the future once the 42" Milestar Patagonia M/Ts have been released.

Besides axles, any other factory parts are not up to the task of dealing with this kind of articulation, turning tires far beyond the stock 31" diameter units, and not to mention bringing it all to a standstill. As such, those weak points needed to be replaced with aftermarket units. Adam's Driveshafts, 1350 rear and 1310 front, ensure the power coming out of the transfer case makes it to the differentials. Additionally, Brian's JLU is sporting the big brake kit that comes with Fusion 4×4 axles to slow down the custom candy blue powdercoated Raceline Monster beadlocks wrapped in tires taller than most young kids.
Although Brian's Jeep is incredibly capable, it was also built to be comfortable and functional both on and off-road. PRP seats and harness were utilized for comfort and safety. Also, seeing how the roll cage in his K5 became an inconvenience, Brian opted for a Rock Hard 4×4 bolt-in roll cage to compliment the JLU's factory roll cage. "The factory cage is pretty thin," said Jacobson. "But it's made of hardened steel, and the Rock Hard 4×4 cage helps improve what came from the factory." The stock JLU's top is sufficient but a bit cumbersome when outfitted with a hardtop. So, for increased style, and ease of going topless, Jacobson added a Bestop Fastback softtop.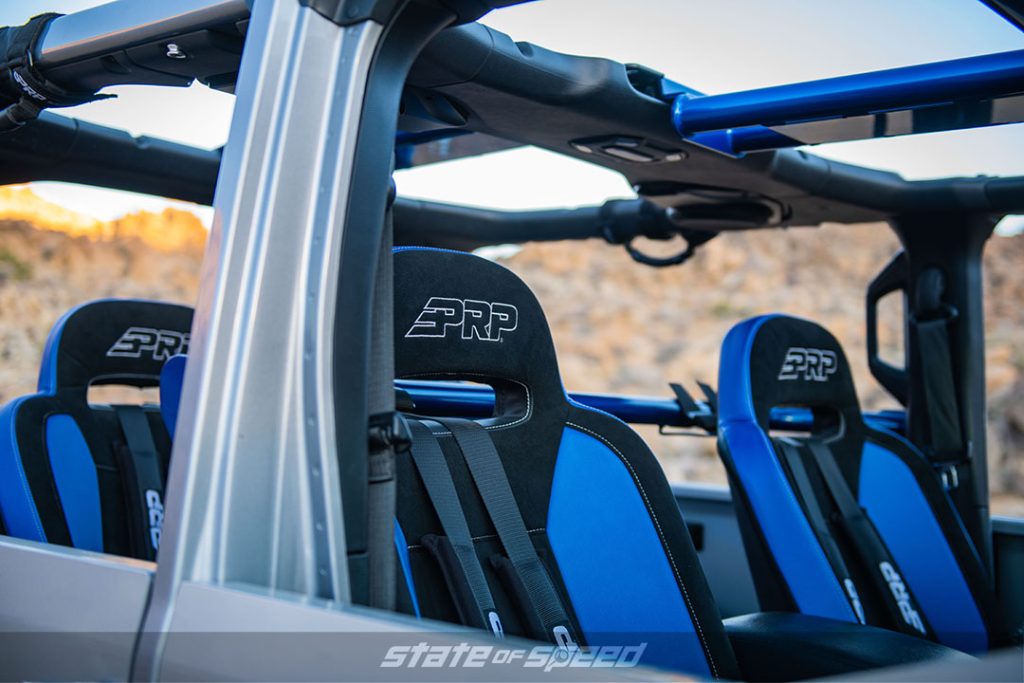 To make sure passengers, and passersby, can hear the Jeep coming, Brian added an Audison car audio system powered by a Stinger Electronics head unit. With seeing, and being seen, in mind, factory lighting was swapped for Oracle Lighting products with off-road lighting being handled by units from Rigid Industries. To look good, while being functional, Nemesis Industries fenders, inner fenders, sliders, and bumpers were used. A Warn Industries winch provides tugging power (most likely to recover others), while Artec Industries skid plates modified by Rock Bottom Offroad protect the underside from catastrophe.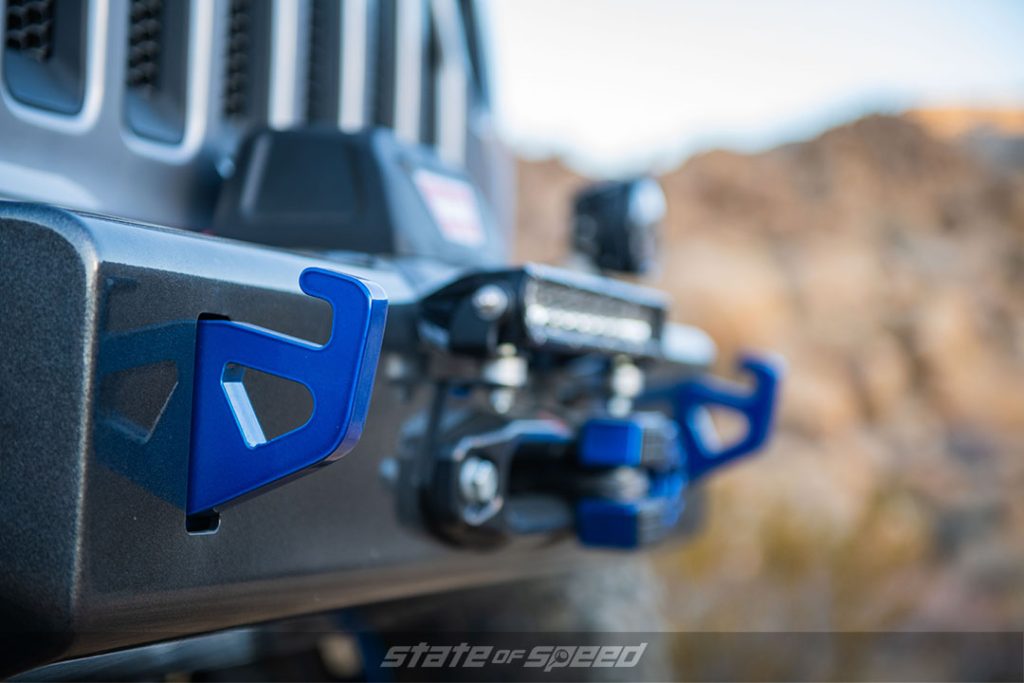 So, with all this work done to the Jeep JLU, State of Speed felt obligated to ask Brian if he accomplished his goal of having a capable off-roader, while keeping his family comfortable? To which Jacobson replied, "Absolutely! While they were all sad to see the K5 go. They're happier now." Which of course required us to ask Brian if he was happy with the build? "For sure! The family is comfortable. I'm happy, and I'm planning to keep it." Only time will tell if Brian really does stick with the JLU. Sometimes building a vehicle is as much, or more, fun than using it. So, if that's the case, State of Speed is excited to see what's next for Jacobson!