This 1969 Chevy K5 Blazer Proves That if You Can't Find It, Build It
Let's do a little time traveling, the year is 2018 and after selling a highly sought-after Jeep Wrangler TJ Unlimited (more commonly called the LJ) Brian Jacobson is on the lookout for his next project. His criteria are that he wanted to get back to playing in the desert and his next build needed to be old and fast. So, after digging out an old high school algebra book Brian began to crunch numbers and came to the conclusion that Old + Fast = K5.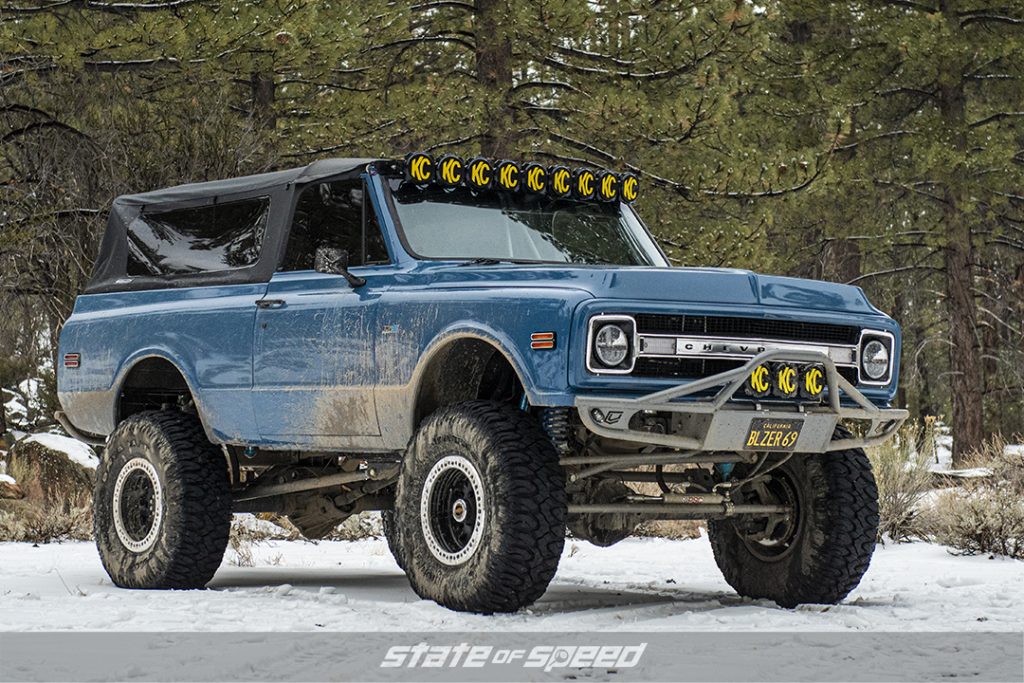 Again, let's fire up the DeLoreon's Flux Capacitor and travel back to the late 1960's. Jeep's CJ had carved out a new market segment, International Harvester had released the Scout in 1961 and Ford came out swinging with the Bronco by 1965. At this point General Motors had not only been late to the Pony Car craze, but now they were several years behind in the emerging SUV market.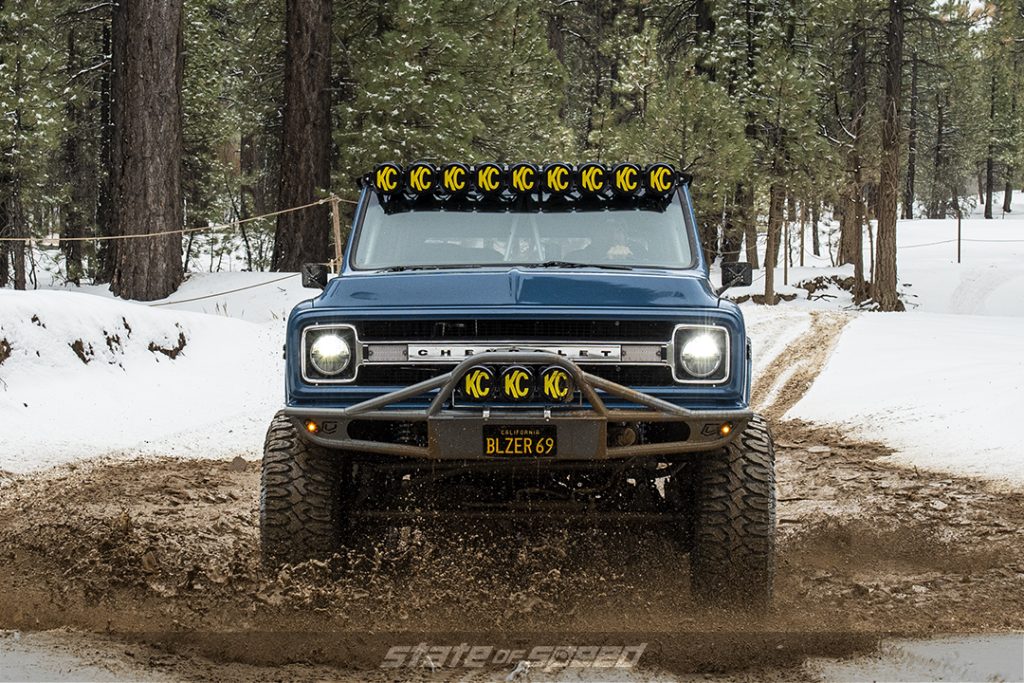 But GM took a different approach than its competition from Detroit. Instead of producing an all-new smallish competitor to Jeep's CJ, some bean counters determined it would be a lot cheaper and easier to shorten an existing K-Series pickup platform. In doing so GM created a full-size SUV to which the other auto makers would soon follow. So, in 1969 (often mistakenly called the Summer of Love), Chevrolet released the full-size K5 Blazer.
…Instead of producing an all-new smallish competitor to Jeep's CJ, some bean counters determined it would be a lot cheaper and easier to shorten an existing K-Series pickup platform…
Speeding forward at 88 MPH, we once again find ourselves in 2018. Brian Jacobson is having a hard time finding the right K5 Blazer for his project. Even before today's high inflation, the cost of a clean K5 had skyrocketed and since Brian knew he was going to beat on this truck, he decided he would pick up something rough and build it out his way. As is often the case, this K5 project quickly snowballed into a one-of-a-kind build worthy of being on display at car shows.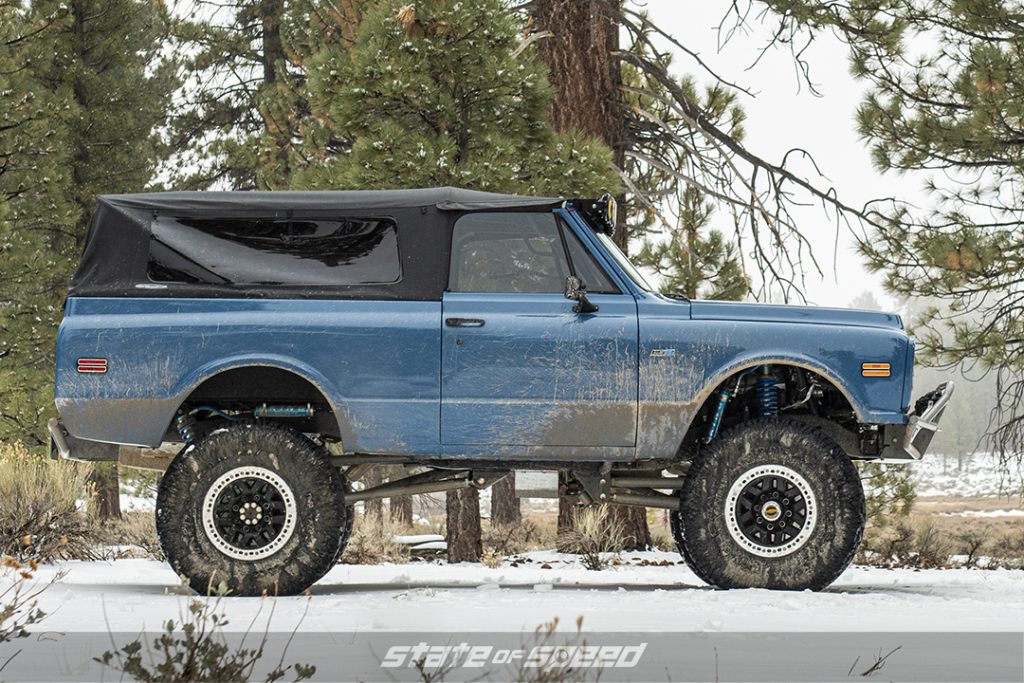 Upon tearing into his newly acquired K5, Brian said he became of the mindset, that "If I'm going to do it, I'm going to do it right." After that, the truck quickly became torn down. Everything got sandblasted, and with a nearly 50-year-old off-road vehicle, rust and abuse had taken its toll on the body panels. "We replaced every panel but the hood and tailgate," said Jacobson. He continued, "It was a horrible rust bucket. We even welded in new rockers and a cowl."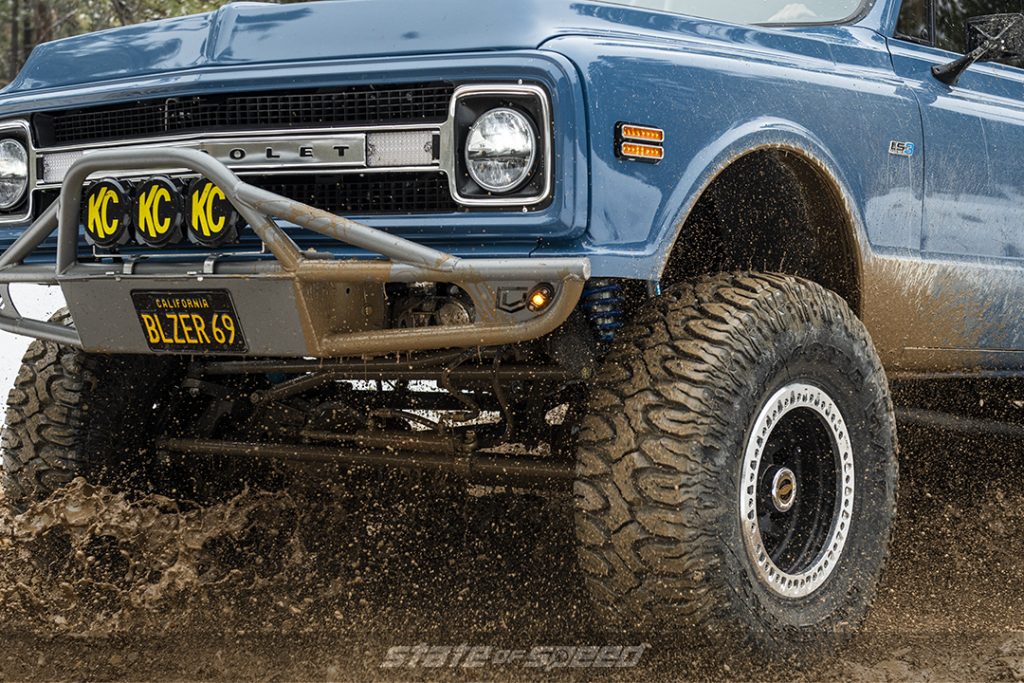 Brian did a lot of the work himself but gives credit to his good friends from Rock Bottom Off-Road in Riverside, California for the build. While Brian is a contractor, running heavy equipment, he helps Rock Bottom Off-Road with sales and publicity. "They're good friends of mine. Plus, they had previously built my LJ," said Jacobson. So, the K5 was transported to Rock Bottom for the build, and 1.21 gigawatts…err eighteen months later, the truck was finished.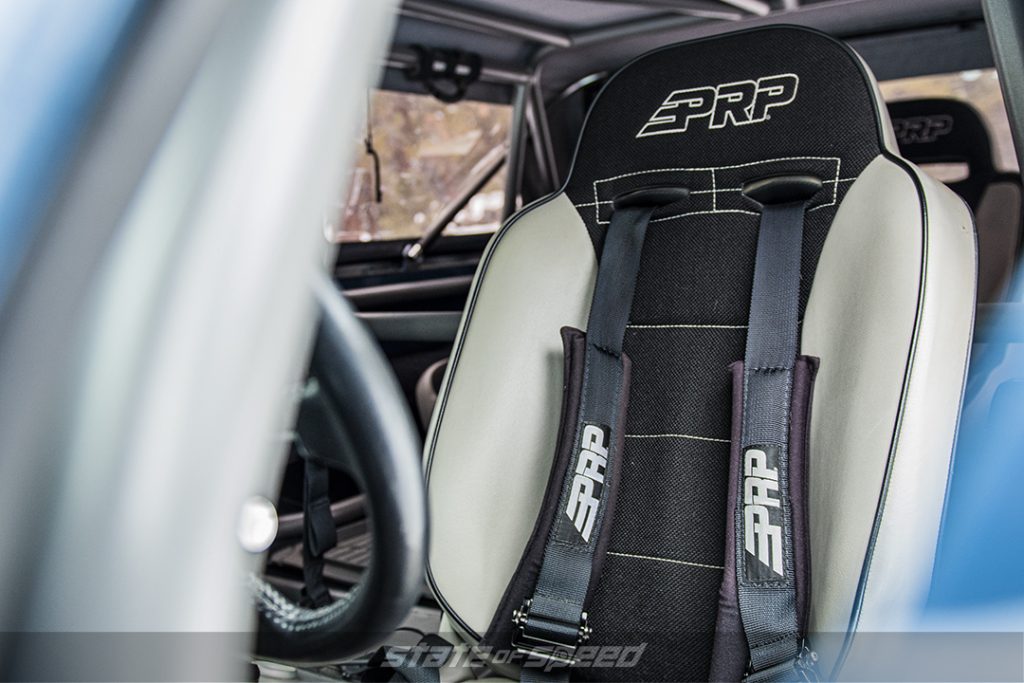 And that's brings us Back to the Future. When it was all said and done, the original desert beater concept was thrown out the window and the end result was a build worthy of the most elite car shows. "Yes, I took it to any show around," said Jacobson, "but I also mobbed it through the desert, including KOH. I built it to use it." Which is no understatement when you start to look at this truck's build sheet.
…

but I also mobbed it through the desert, including KOH. I built it to use it.

..
At the heart of it all is a LS3 Crate engine rated at 500HP. The LS3 is connected to a 4L80E automatic transmission, and a NP205 Twin Stick transfer case. From there the driveline connects to a kingpin Dana 60 front end, out of an '84 Chevy truck, and a 14-bolt rear end out of a '04 Suburban. Inside the axle housings are ARB air lockers and 5.13:1 ring & pinion gears. Both the front and rear axles already had disc brakes from their donor vehicles, but Jacobson took it a few steps further with Powerstop Brakes 6-piston calipers at all four corners combined with a Wilwood master cylinder & hydro boost power assist. Steering is handled by PSC hydro assist with ram assist to make steering those 38" Milestar Patagonia M/Ts easy when aired down super low thanks to KMC Machete beadlock wheels.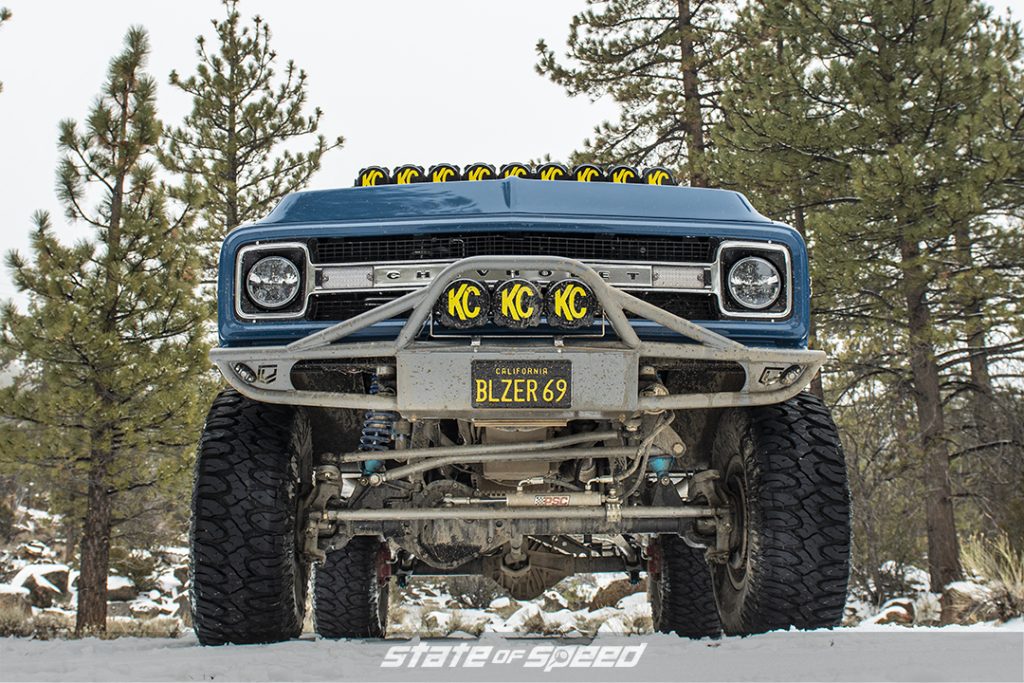 Yeah, it's true the truck makes a lot of horsepower thanks to the tuning provided by CBM motorsports, and even has the braking power to slow it down. But is it fast when the going gets rough? You better believe it! Jacobson ditched the original front/rear leaf spring suspension in favor of a much more responsive Off-Road Designs 4-link setup with damping provided by King coilover shocks. To add rigidity to the frame, while also increasing safety, Jacobson had the roll cage tied to the frame. Also, with safety in mind, Jacobson went with PRP highback seats and safety harnesses.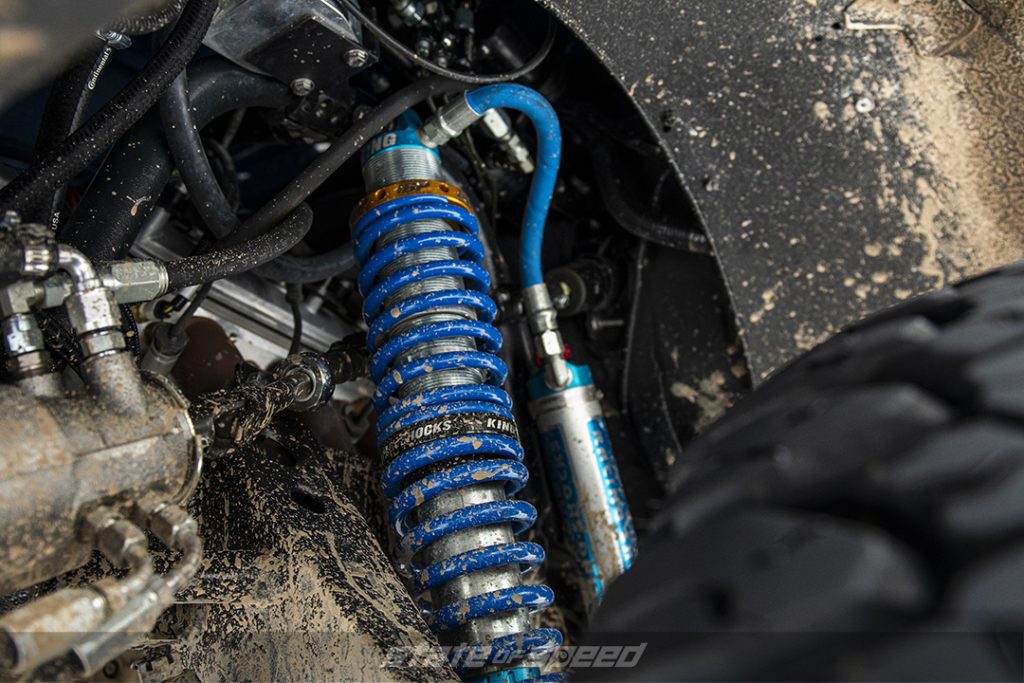 What makes this truck show worthy? Everything else about it of course! This truck is just as much form as it is function. As a favor, this build brought two old school body guys out of retirement and was then treated to a what would approximately be a $20,000 paint job in Toyota's TRD Pro Calvary Blue. Bumpers are functional, yet highly aesthetic units originally from Chassis Unlimited Bumpers. Though Jacobson said, "Those bumpers were discontinued, but Rock Bottom Off-road is making them now. Same with the cage and center console."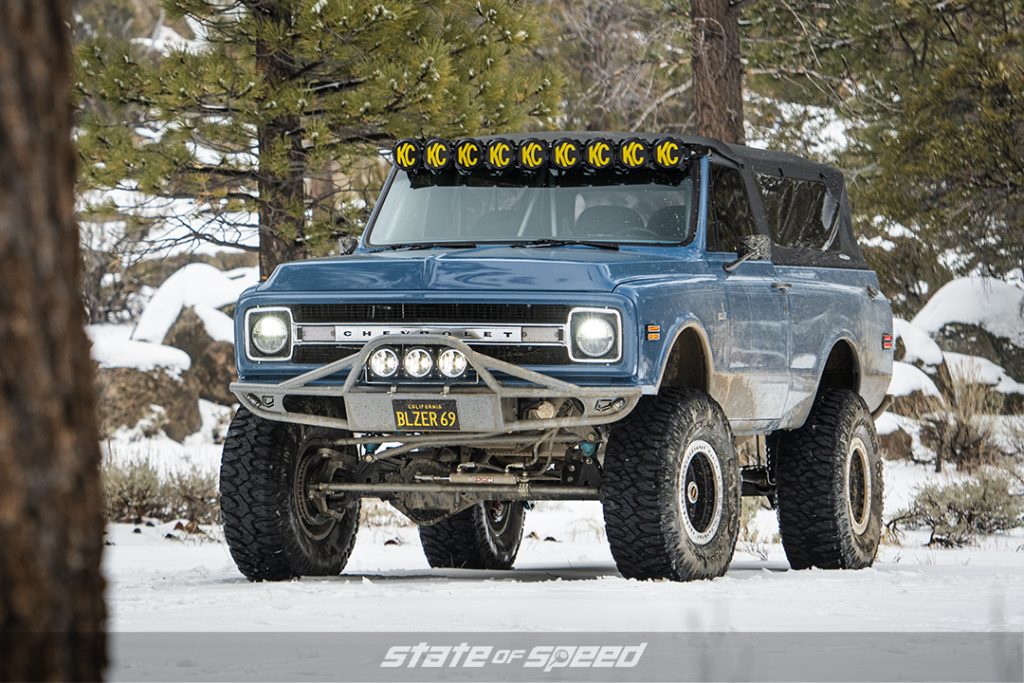 In addition to the PRP seats inside, the interior got a full custom treatment from a local Riverside, CA interior shop called Barajas Upholstery. Atop the N8Z Fab console is a classic B&M shifter along with NP205 twin sticks allowing for all kinds of weird combinations like front only two low/high, rear only low range and of course the more usual 4 high/low combinations. Covering the gorgeous interior is a Softopper softtop replacing the original hardtop unit. And for those Southern California days when it's too hot to go topless, Jacobson had a Vintage Air A/C unit added.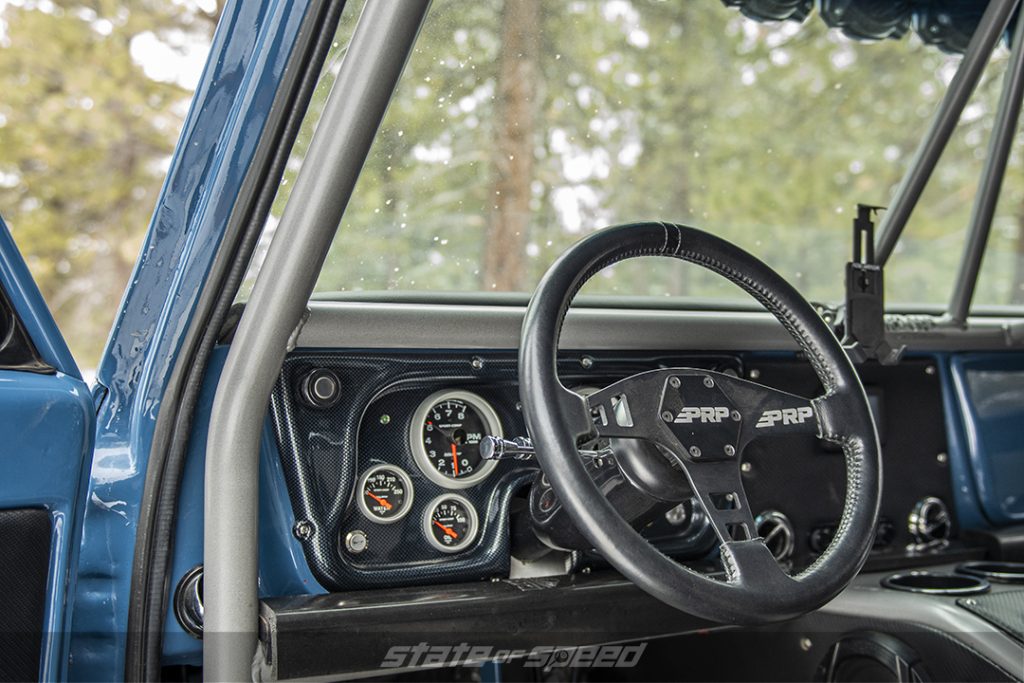 Often erroneously overlooked in a vehicle this age is the electrical system. Sure, copper wire remains copper wire. But the wire's insulation becomes hard and brittle over time. Even the smallest vibrations can reveal weaknesses in the wiring harness in the way of electrical shorts. With that in mind, Brian made sure his K5 got a full Painless Performance wiring harness combined with new LED lighting. Replacing those worn out, and potentially inaccurate gauges, are all-new units from Autometer. Adorning the K5 are massive KC lights putting out all the needed lumens for nighttime romps through the desert which are controlled by a 4×4 sPod unit for simplicity and added functionality.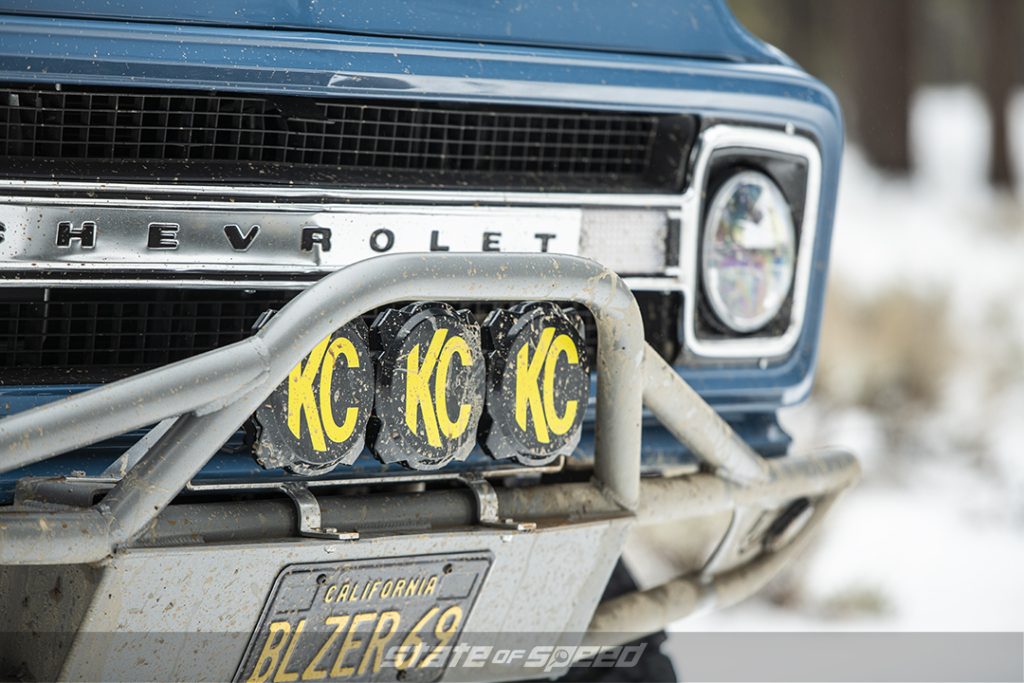 At the end of the interview State of Speed candidly asked Brian if he was happy with the build. Jacobson responded, "To be transparent. I've sold the K5." As the old saying goes, everything is for sale if the price is right. "I had someone offer me an absurd amount of money, and couldn't say no," said Jacobson. When asked if he regretted selling it, he said "Yes, I miss it. But I don't regret selling it. I'm enjoying my new JL build even more." This JLU build he speaks of is a 2020 Wrangler Unlimited Sport that the guys at Rock Bottom Off-Road gave the full treatment, and State of Speed will cover in an upcoming article. So stay tuned!