Crawlin' With the Jeep Wrangler TJ
Jason Zamora's 2000 Jeep Wrangler TJ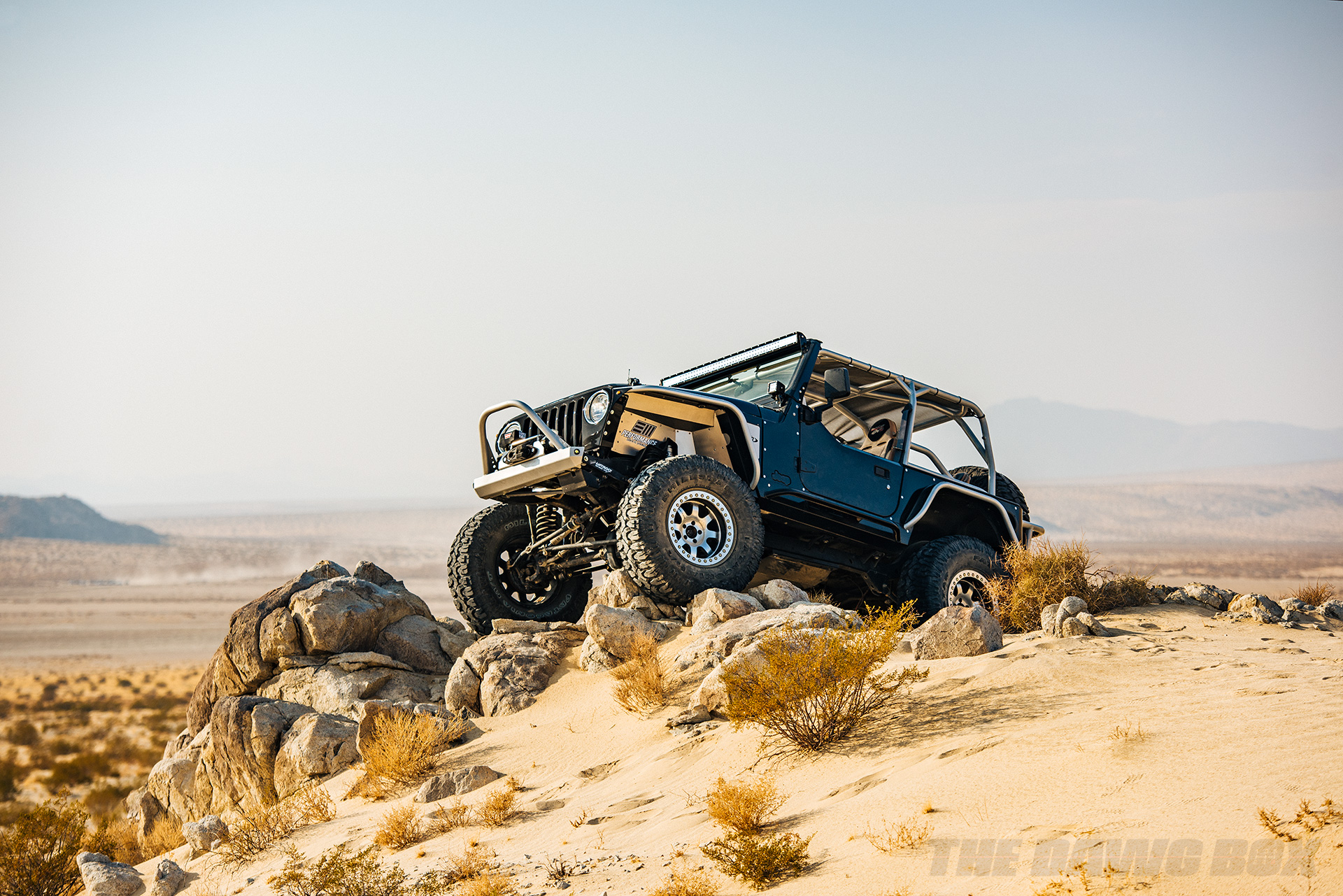 When it comes to rock crawling, it's not power that should be your focus as you build. Unless you're racing in Ultra4, your rig should be reliable, able to articulate, have very low crawl gearing, and have very strong axles. Power means nothing if you can't get over a boulder without breaking or crashing it. That's why Jason Zamora's 2000 Jeep Wrangler TJ doesn't have a ridiculous LS or Hemi swap – you don't need it while crawling.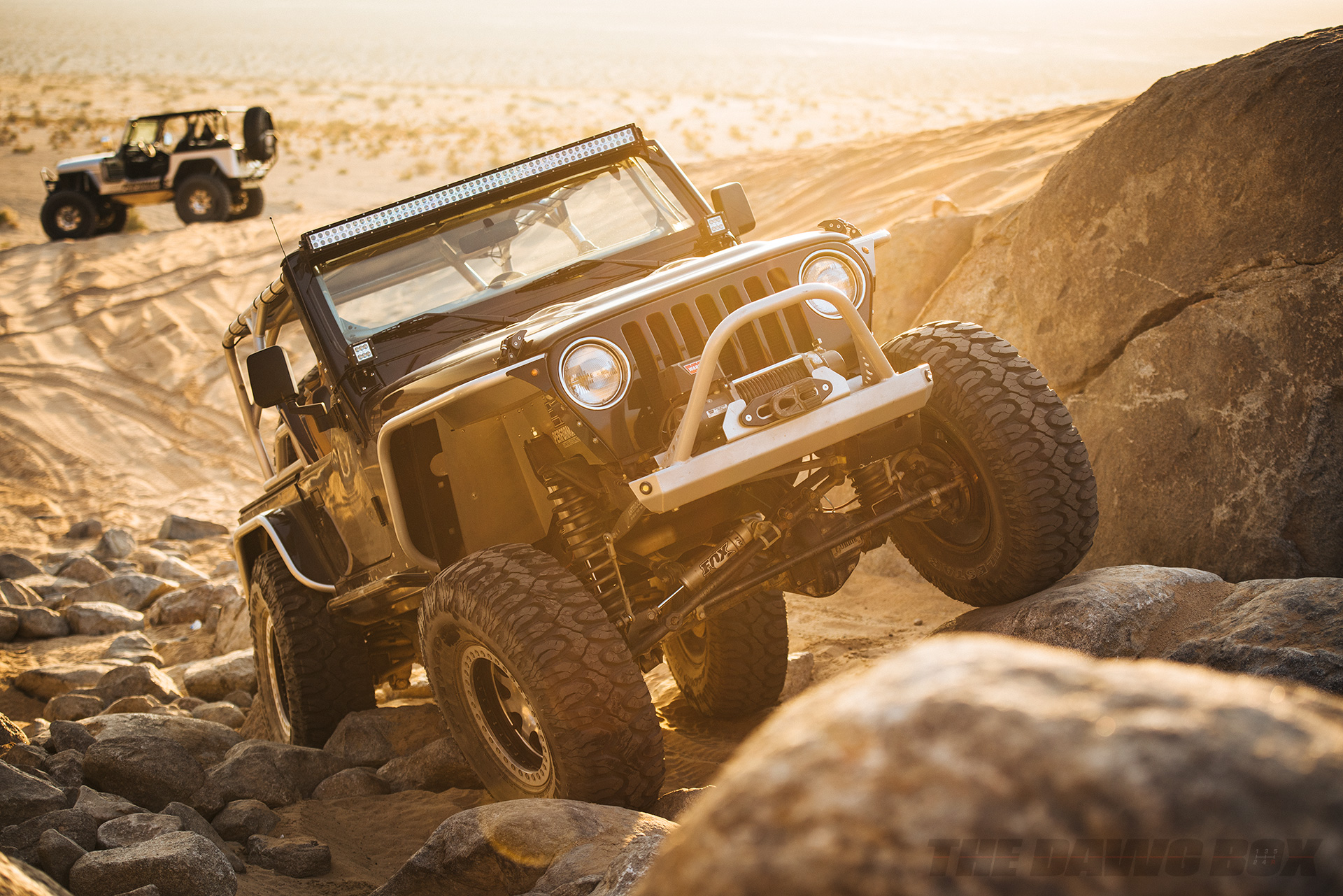 The Jeep Wrangler TJ was built by Engelhart and Moat (EM) Performance in Santa Fe Springs, CA, of which Jamie Moat talked to us about the build. "We wanted to build a fully capable Jeep with the best bolt-on part in the industry," he said when we asked him about the build. The full build time was only four months, but the quality you see in not just the parts, but the finished product looks like a TJ that was built over several years. The mirror finish black paint job was done by One Off Rides Garage in Corona, CA and just doesn't look like a paint job a crawler would have. That probably speaks more about the driving style of Zamora, though.
The engine is bone stock inside 4.0-liter AMC engine, an engine that is regarded as one of the best Chrysler engines ever built to power most any 4WD. Back then, it made 190-horsepower and 235-lb/ft of torque. Zamora's probably makes about that or just better with the addition of a header and K&N intake system. The only other addition is the 100-amp alternator to drive the GGLighting 50-inch LED light bar and two-inch Pillar Pods, KC HiLites Rock Lights, Warn winch, stereo system with satellite radio, and ARB Compressor that sends air to the ARB Air Lockers.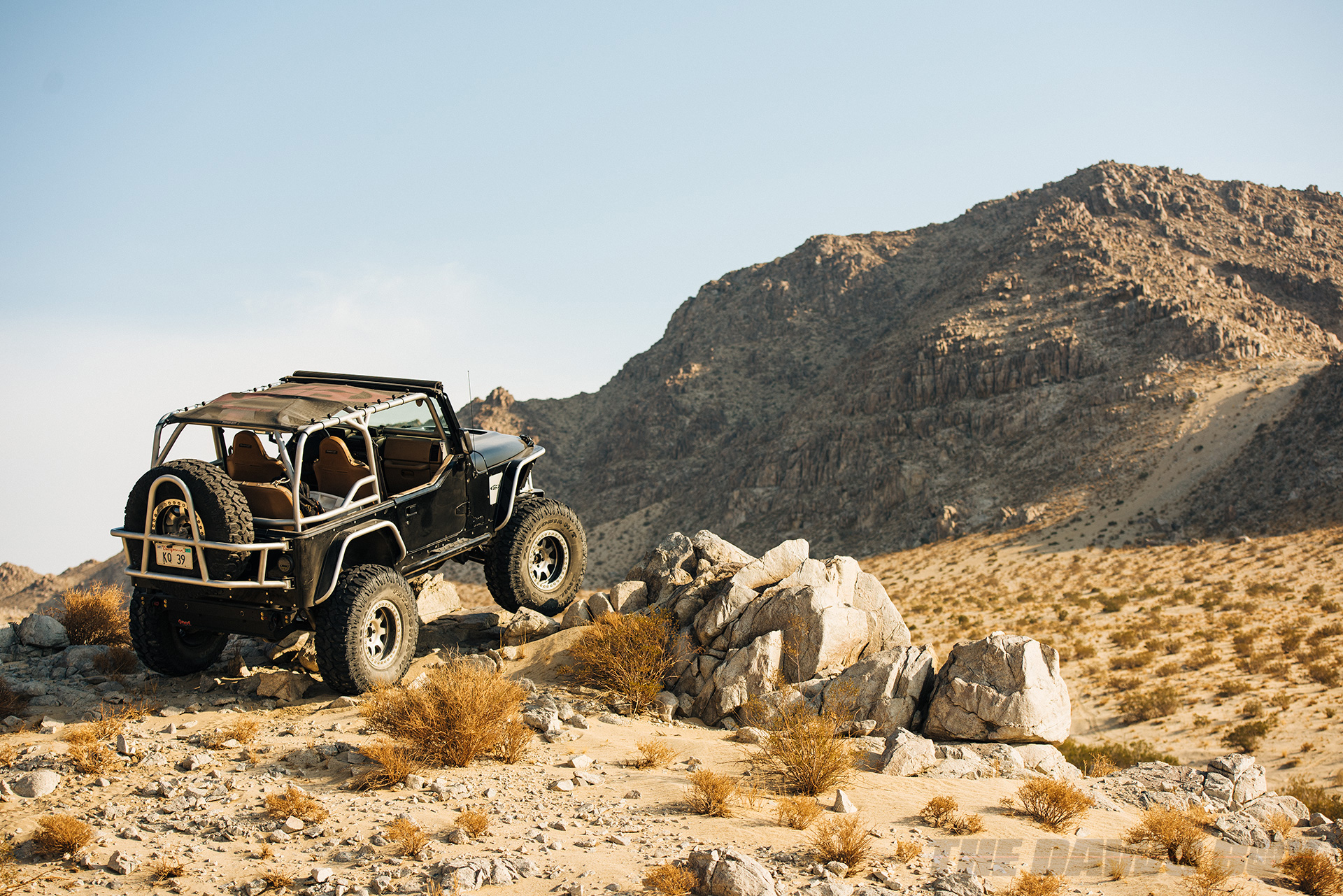 The lift comes from a combination of a body lift with a front and rear Currie Enterprises Four-inch TJ Johnny Joint Suspension System. It features four-inch lift springs in combination with their adjustable upper and lower short arms that use Currie Johnny Joints, a rebuildable rod end joint that is stiffer than the rubber joints of the OEM control arms but not as teeth rattling as traditional rod ends. This also comes with adjustable front track bar, a rear trac bar relocation bracket, new polyurethane bump stops, and their Antirock adjustable front sway bar.
EM Performance also installed a set of Fox 2.0-inch diameter Performance Shocks. These are a set of monotube shocks that have an internal floating piston to separate nitrogen charged air from the oil. This eliminates oil aeration from pressure changes at the shock piston, which can happen from the oil boiling in the lower pressure areas of the piston's travel. They feature better valving for off-road driving and on-road handling than the original OEM shocks.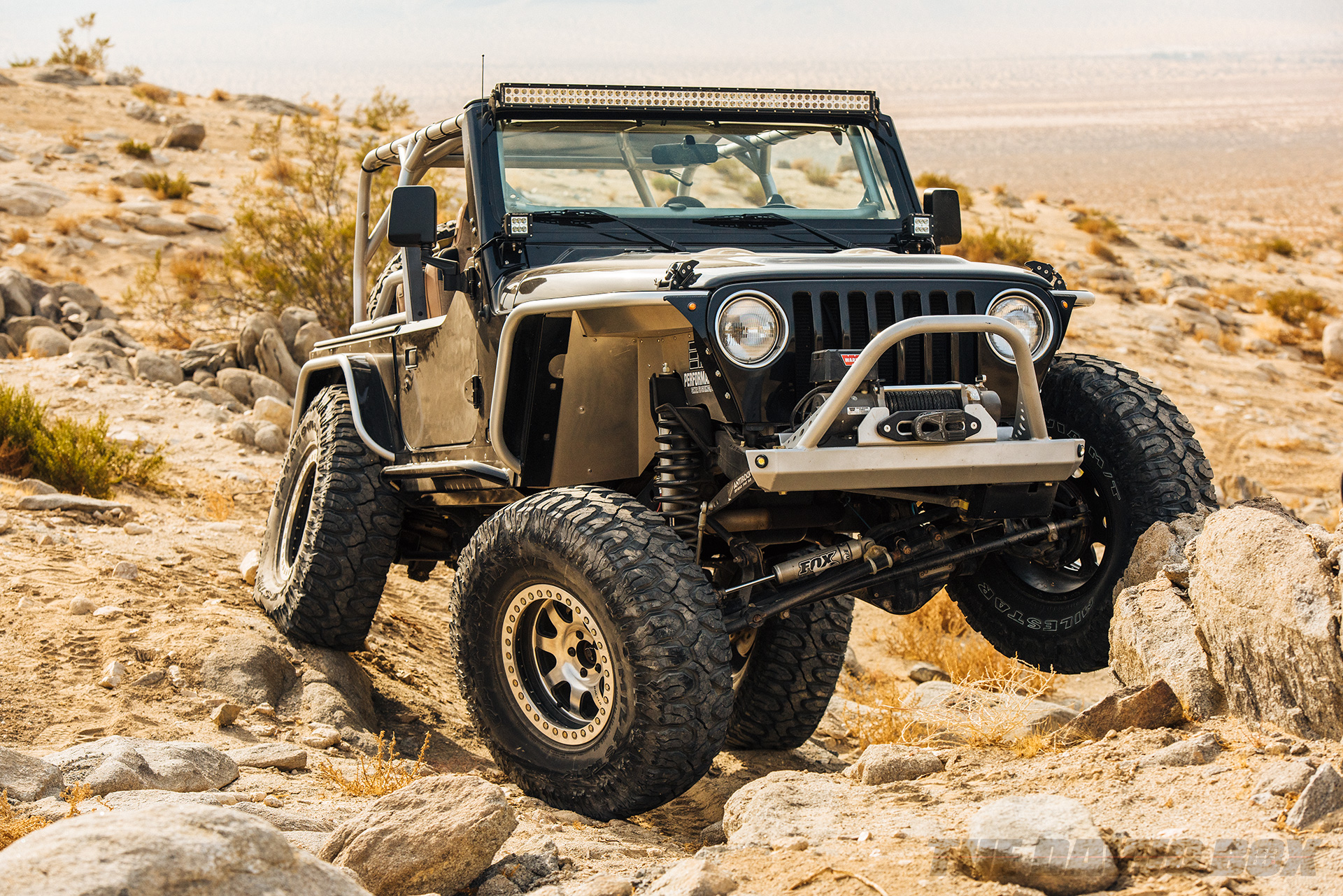 That suspension connects to a pair of Dana 44 housings front and rear. Both also have ARB Air Lockers attached to 4.88:1 gears that spin the chromoly axle shafts. Those shafts are attached to Raceline Avenger Beadlock wheels in 17×9 with a 4.5-inch backspace (-13 offset, for you Euro and JDM wheel types). The beadlocks clamp down on a set of sticky Milestar Patagonia M/T tires in 37×12.50R17 all around. These tires have proven themselves at Ultra4 at places like the King of the Hammers and even racing at the Mint 400. Stopping this Wrangler TJ is an upgraded big brake kit while steering is handled by a Currie Currectlync Steering System with a Fox Steering Stabilizer damper on the tie-rod. The steering box is protected by a steel skid plate as, without it, it would be vulnerable to rock impacts.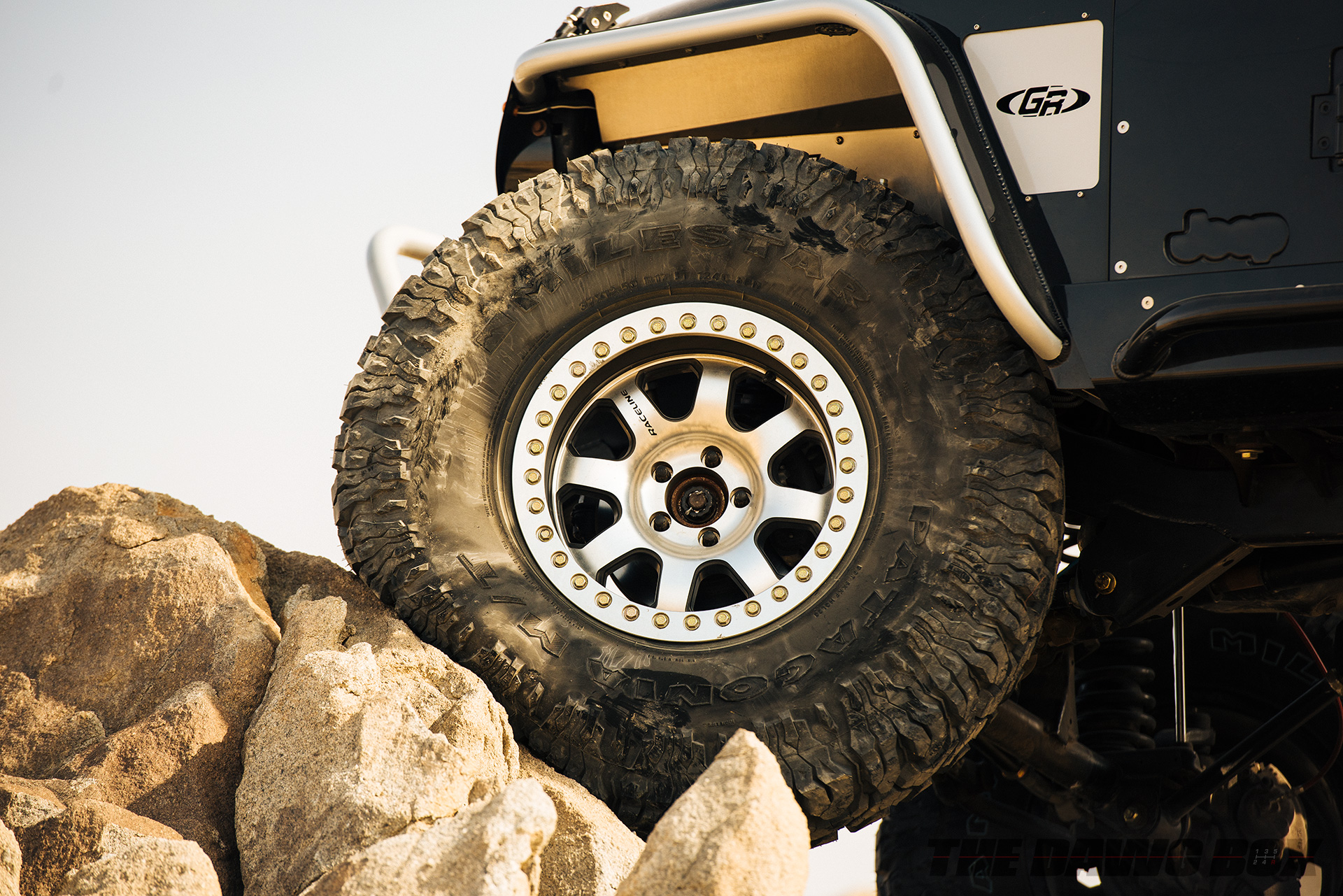 With larger tires and increased suspension travel, you need to make room by modifying the body. For EM Performance and Jason, it was a call to GenRight Off-Road. For maximum front approach clearance, the stock bumper was replaced by a GenRight Stubby front bumper. Rear departure is increased by their Rock Crawler bumper and the GenRight tire carrier keeps the spare from contacting the ground in high-angle crawls. If needed, the rocker panels are protected by their Rock Sliders while the transfer case gets protection from their Belly Up Steel Skid Plate.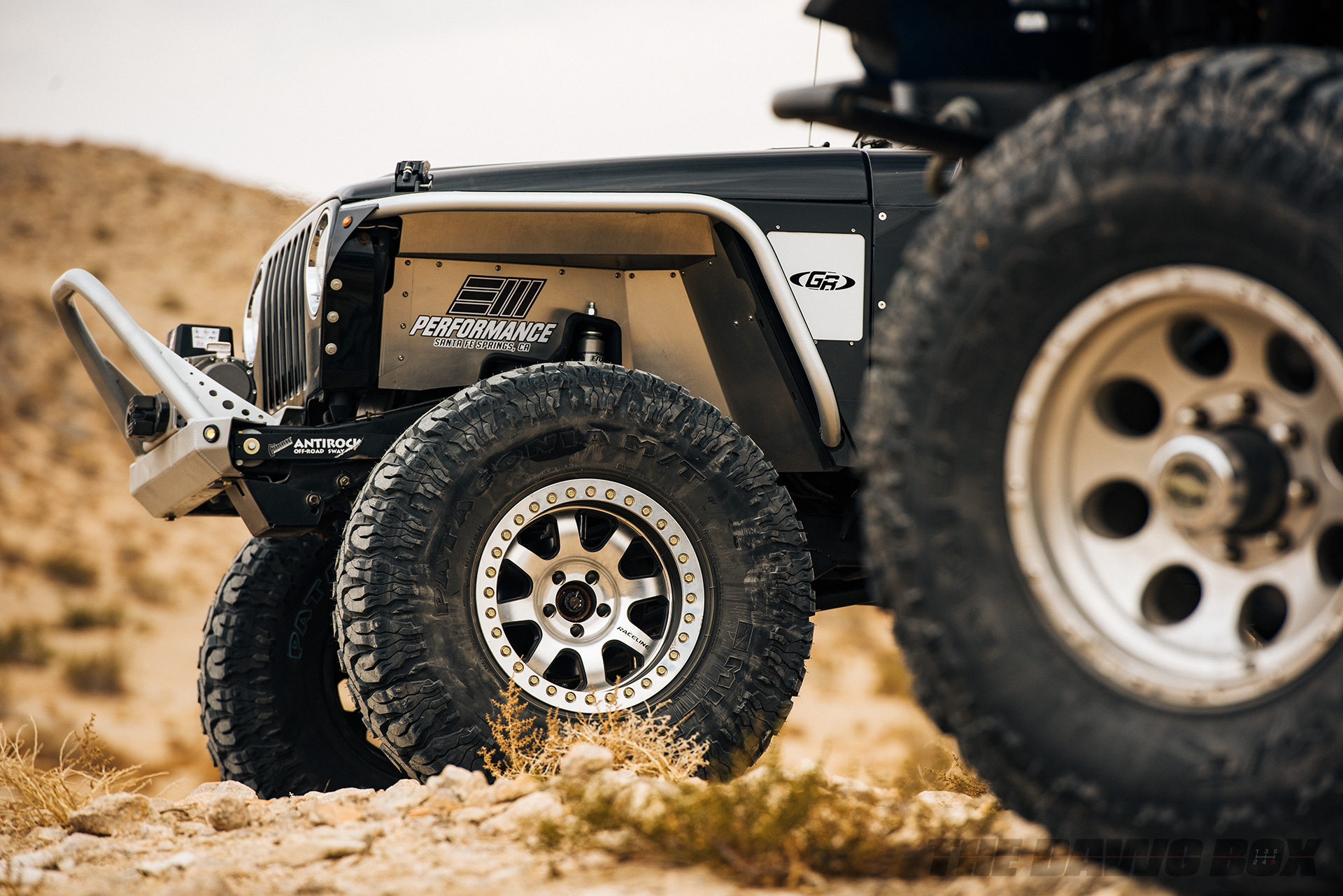 The fenders are no longer stock and tube versions from GenRight replace them as they open the fender areas for the bigger Patagonia M/Ts. However, to cover the inside of the front fenders, GenRight inner fender panels replace the TJ parts and helps keep air flowing through the radiator. Otherwise, the air would just flow around the radiator because that would be the easiest path. It also allowed the tube fenders to work without cutting the stock Wrangler TJ fenders.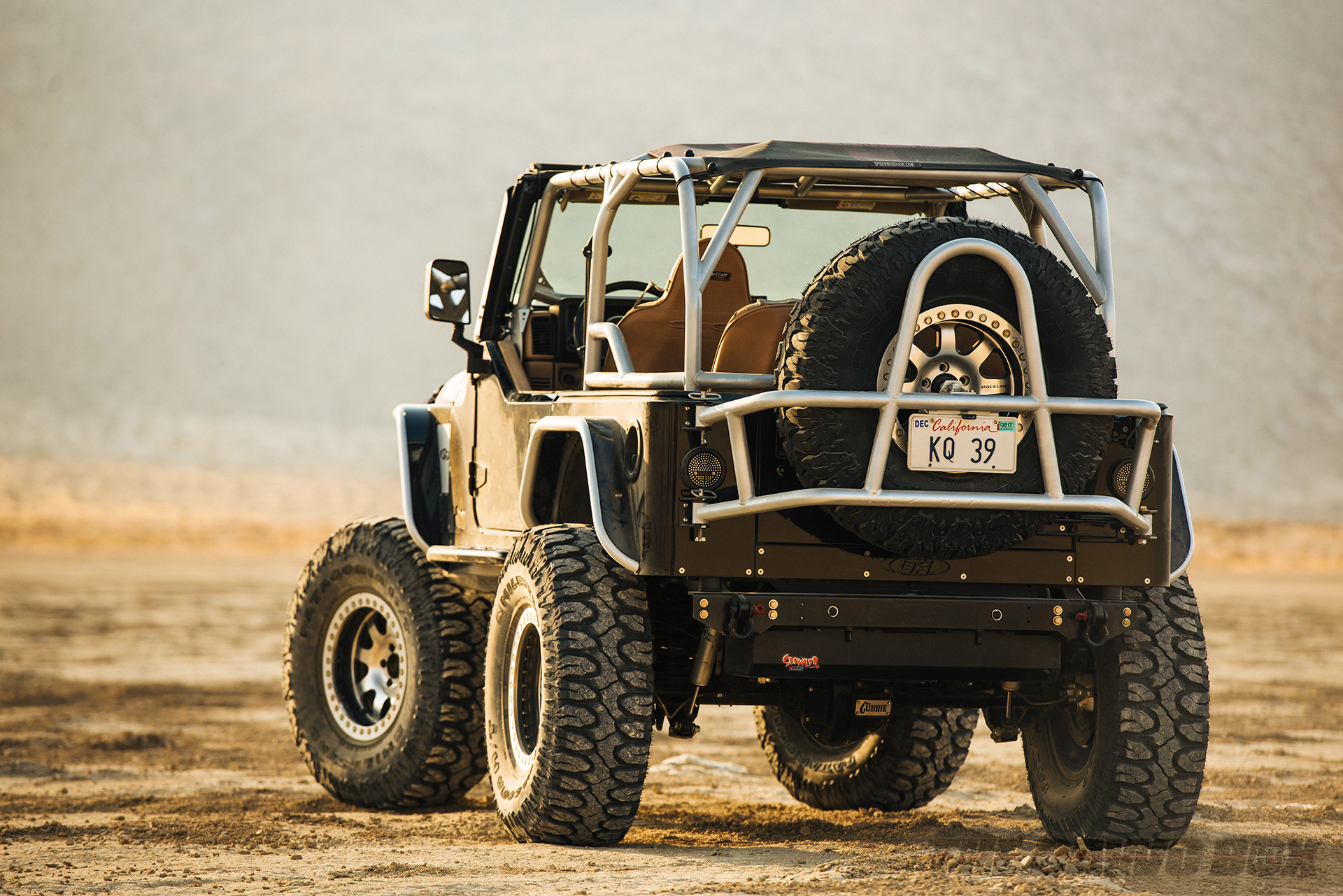 While the passengers sit in the comfort of Mastercraft Suspension Race Bucket Seats up front and a suspension rear bench seat in the rear, they are fully protected by a GenRight Full Roll Cage. It bolts in place of the TJ cage but features far more protection by adding triangulation to the roll hoops and additional side impact strength at the A-pillar bars with a crossbar that fits over the stock TJ dashboard. They can drive without a cover or use the Spiderweb Shade made for the cage.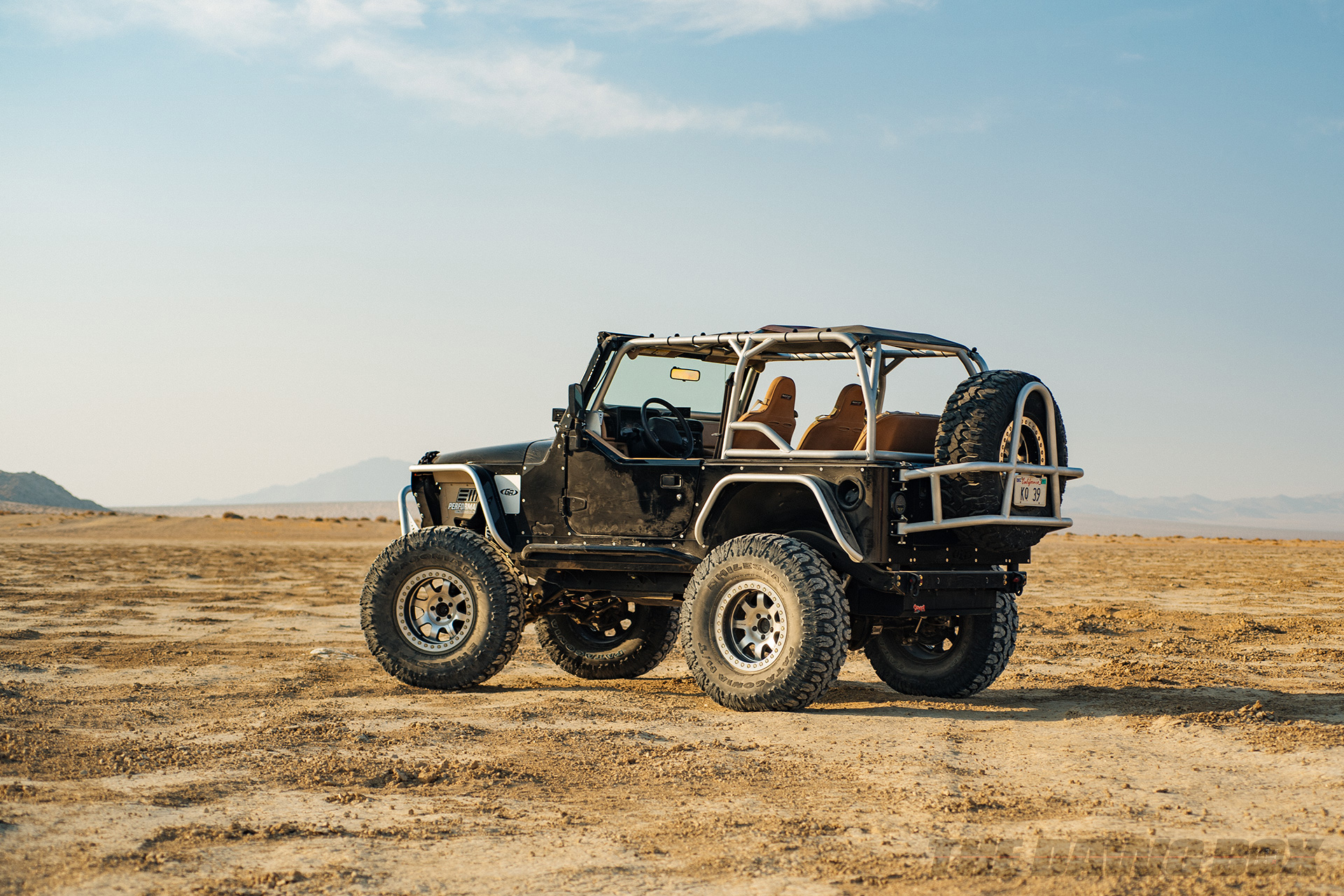 So, as you can see, power isn't the factor that limits a vehicle's crawling ability. Both the 2.5-liter and the 4.0-liter powered TJs can be made into respectable crawlers. That is if you put your money into the parts that matter like the tires, suspension, axles, and protection. Jason Zamora's EM Performance built TJ is plenty proof of that concept.