Mendy Fry: Queen of the Drags
At the recent California Hot Rod Reunion presented by the Automobile Club of Southern California, Mendy "Nitro Kitty" Fry, once tagged Drag Princess, was finally crowned Top Fuel Champion — the first 'Queen' of drag racing.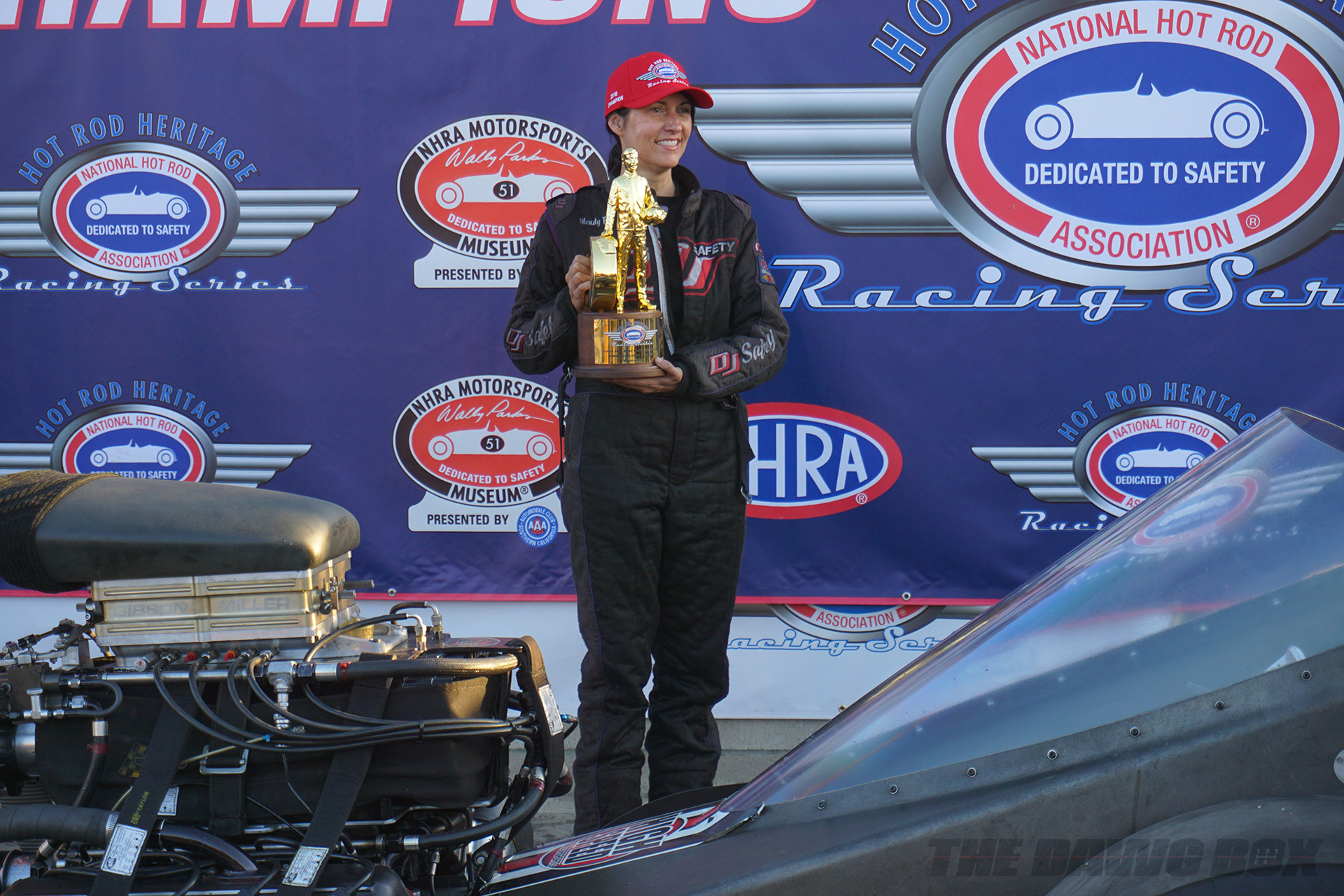 I first saw Mendy race at Sears Point (now Sonoma Raceway) in 1989 driving a bright red, injected '27 T roadster that she had built with her father Ron. It didn't matter that she was a 19-year-old female, she raced hard and was admired for that. In fact, while she was driving the Super Street T in the NDRA/Street Rodder Magazine Series, she was also racing an NHRA Top Alcohol dragster. The summer before, at age 18, she became the world's quickest Top Alcohol driver while racing at Fremont, California.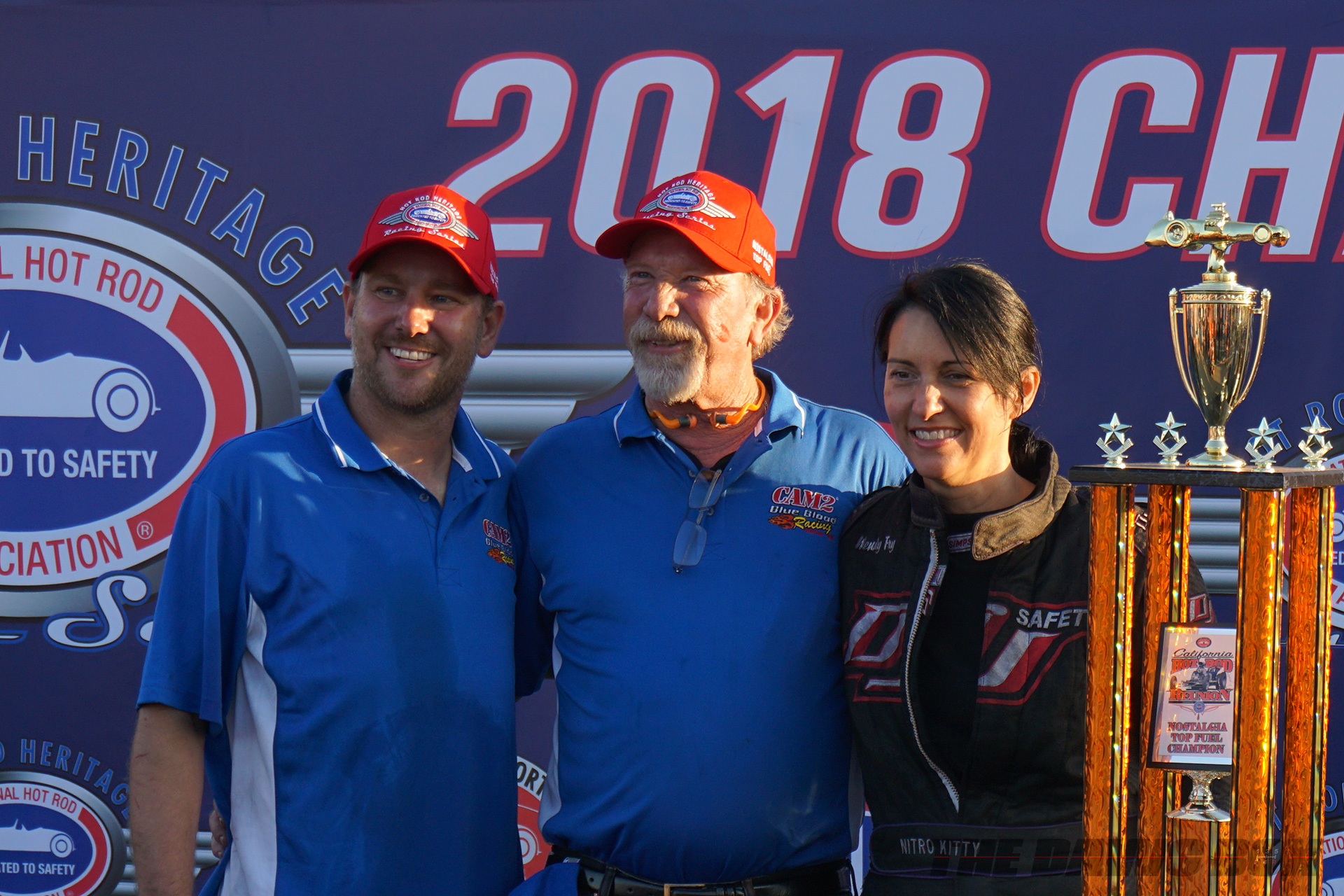 But let's back up a little to the staging lanes. How did she get there? To say that Ron pushed her would be an understatement. At age 4 she was driving quarter-midget sprint cars saying, "I was my father's only boy. He was an engine and chassis builder and wanted a son. Instead, he got me so he cut his losses and took me racing. I started racing quarter-midgets before I was in kindergarten. My family didn't vacation, we raced." Realizing even at such an early age that she preferred straight line racing to roundy round, she retired from the ovals at age five.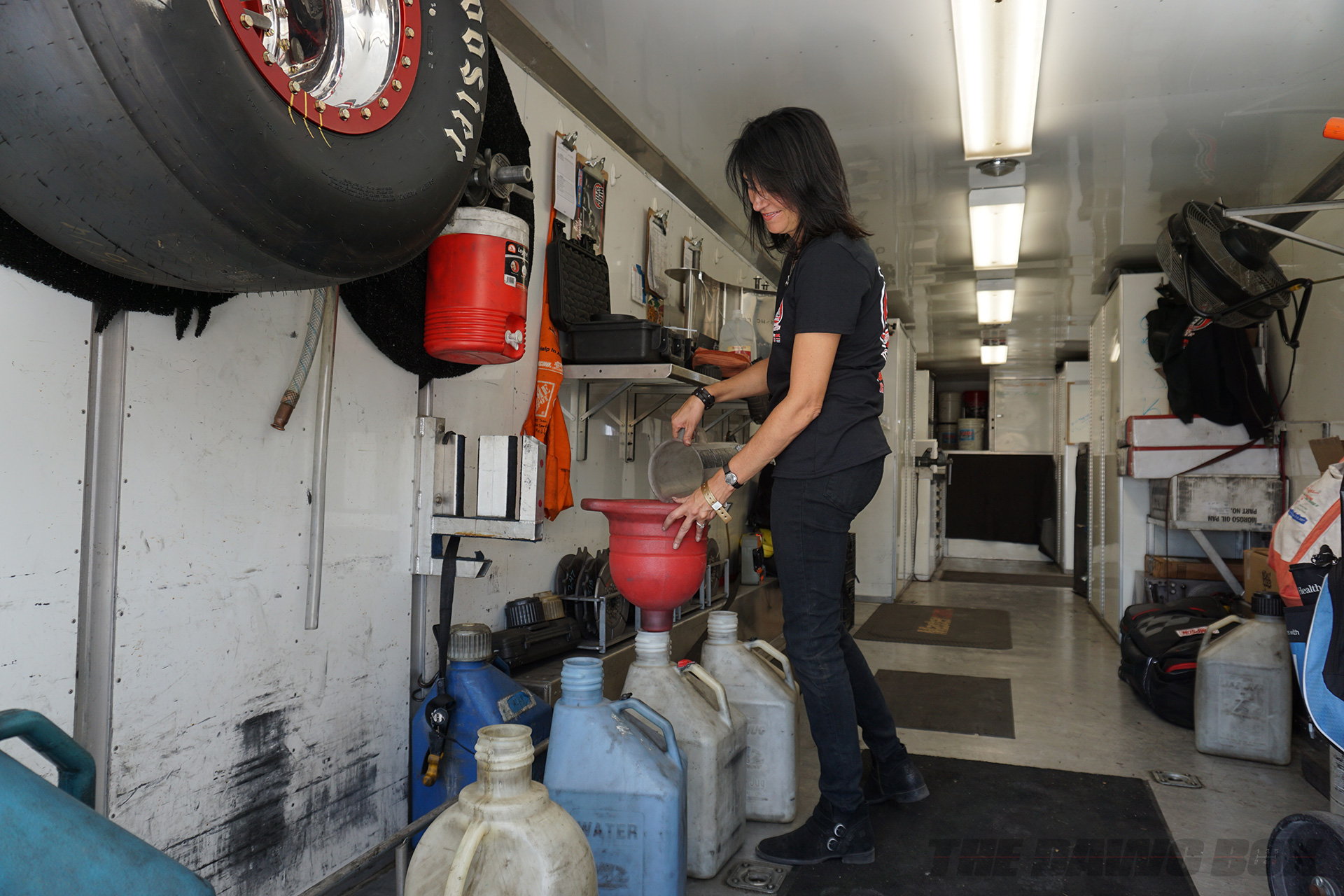 When she wasn't at school, Mendy worked at Fry Racing at Sears Point, answering the phone, paying bills, chasing money and learning to build racecar bodies saying, "I guess it was a different life than most girls had but it was all I knew." Ron was one of those rare talents who could do it all from designing the car to building the engine to coaching the driver but he was an exacting taskmaster.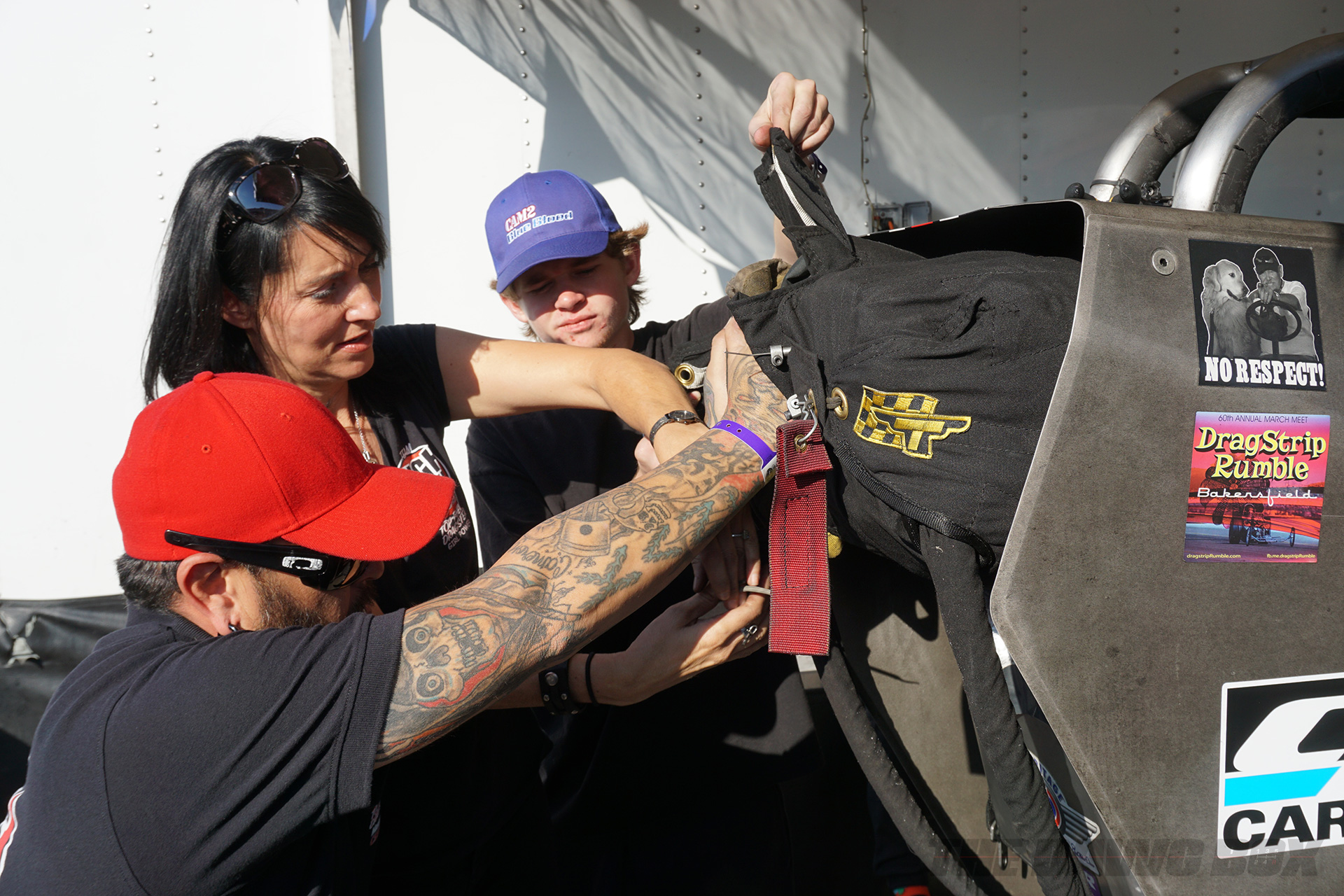 In 1985, Judy and Tom Boswell were looking for somebody to build a fast street rod. At the time, guys like Steve Castelli, Cole Cutler, 'Fat Jack' Robinson and Jerry Moreland were vying for the unofficial title 'The World's Fastest Street Rod.' Ron's response was a lightweight, full-fendered '27 T roadster powered by an injected Rat. Initially, Mendy was the test driver while Jeff Gillette was slated to race the car, however, at age 16, Mendy was soon in the hot seat while Ron ran the car. Eventually, the brashness of youth beat out the ol' guys and Mendy and Ron won all but two of the races they entered.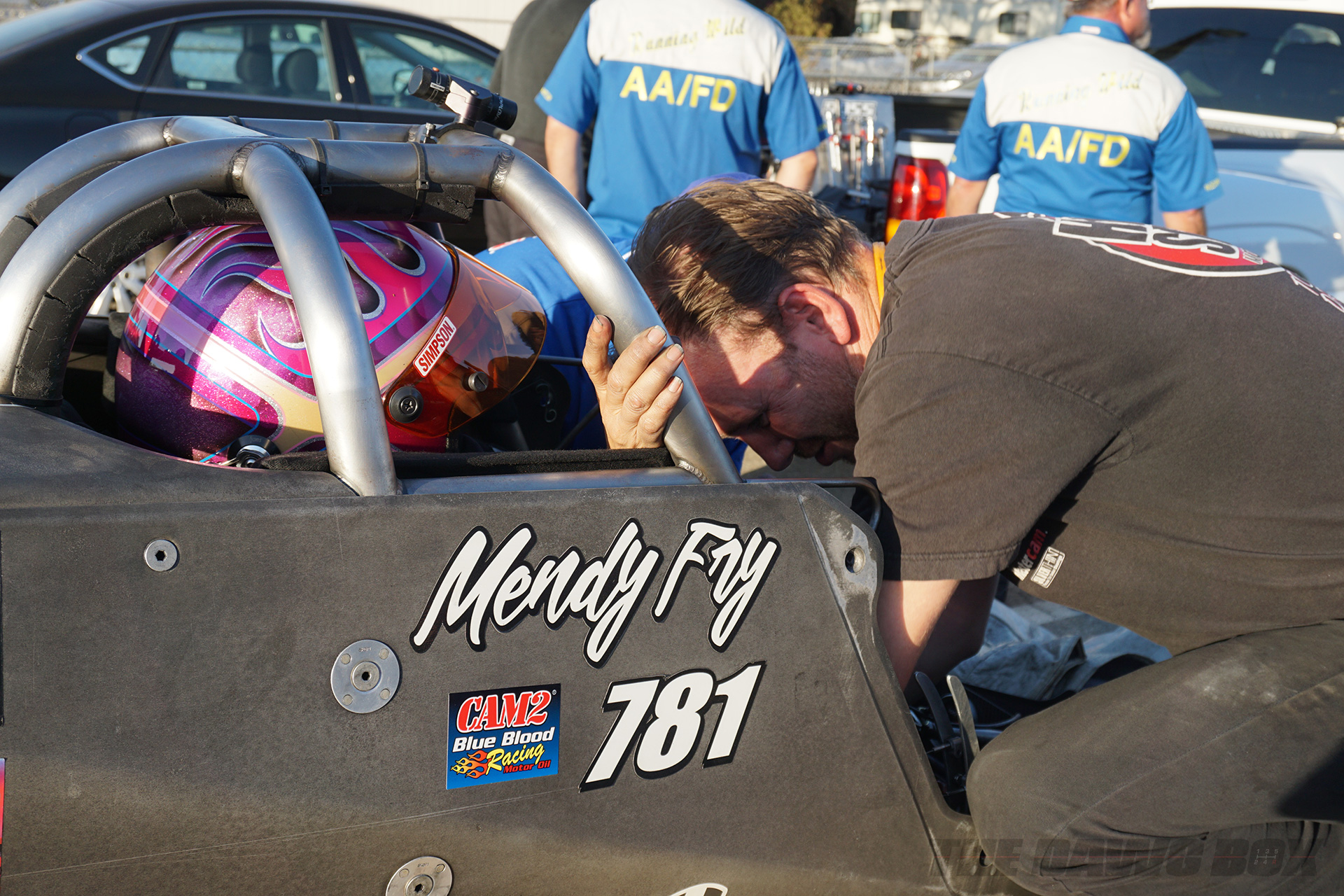 Mendy got married in 1989 but the following year would be memorable. It began well when father and daughter traveled to Indianapolis for the Goodguys Hot Rod Nationals where Mendy won the event. Unfortunately, the year ended badly when the dynamic duo suffered a major setback after they installed a new 8-71 blown alky big-block with a Crower pedal clutch and a Lenco in the T. In their quest for speed she admits they made a lot of bad decisions. It was time for a change.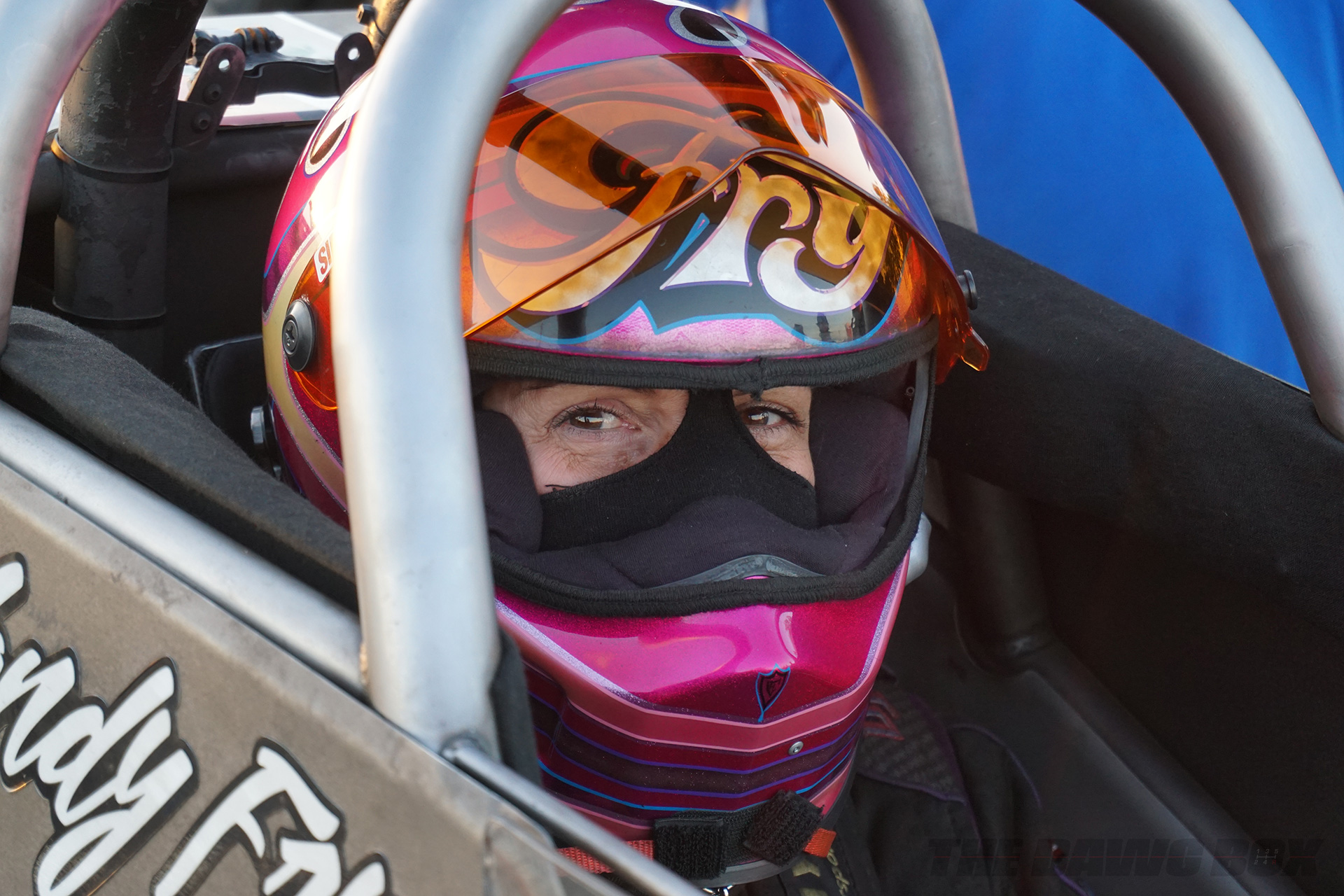 Suddenly, father Ron died all-too-soon in 1995 at age 51 and Mendy's racing career with him. She hung her race suit in the closet, graduated as a CPA and stayed away from the strip for almost a decade. Finding it difficult to ignore what was so ingrained she revisited the strip in 2000, the same year she became the president of the San Diego Chapter of the American Women's Society of CPAs. She was surprised at what she saw, how nostalgia drag racing had progressed and indeed, that people remembered and missed her.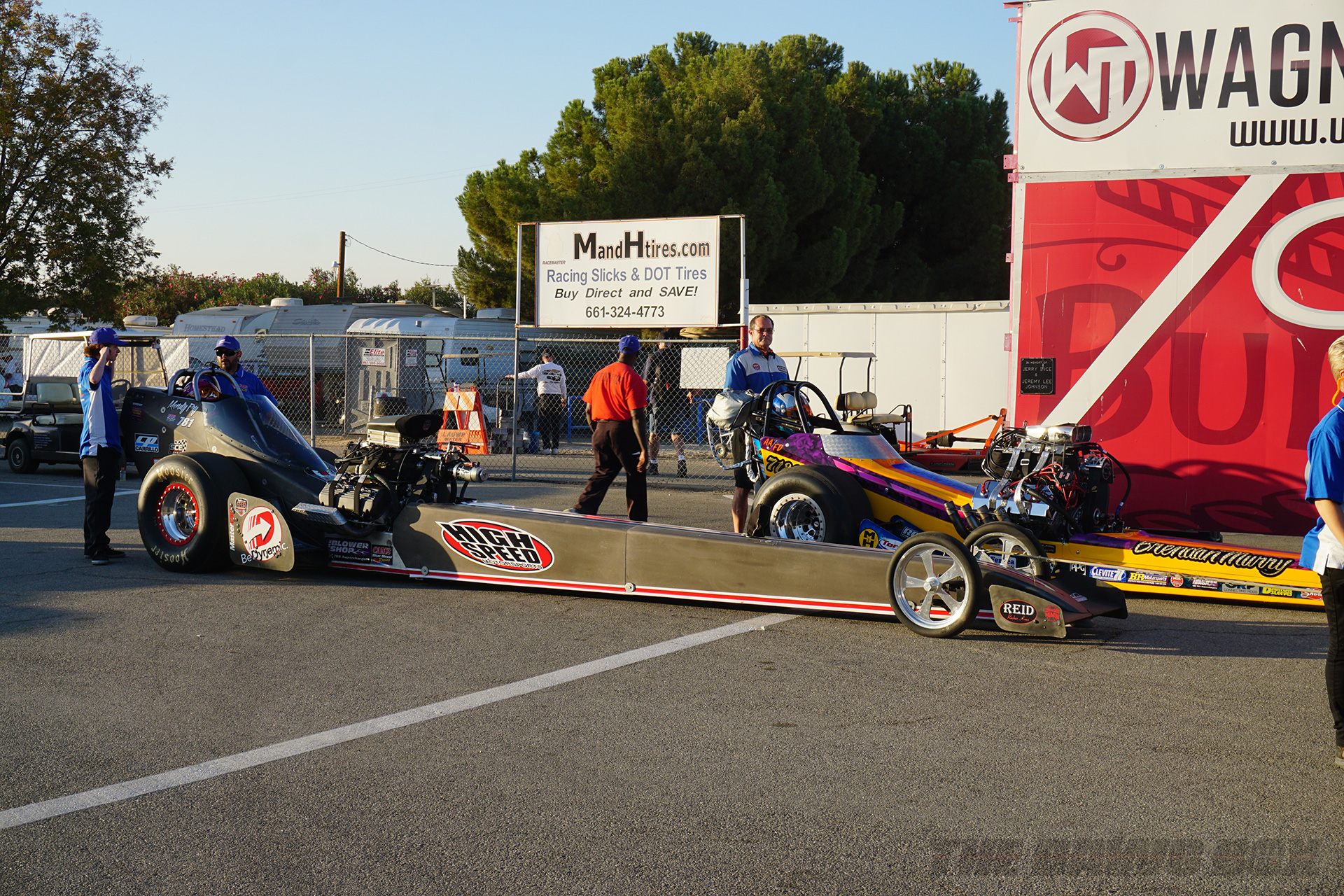 Later that year, she got back behind the wheel of a Junior Fuel Dragster thanks to Ron "Big Yohns" Johnson. She raced Jr. Fuel for two years but yearned and lobbied hard for a Top Fuel ride. It finally came in 2004 when Frank "Rootbeer" Hedge and Tom Shelar of HighSpeedMotorsports.com (HSM) gave Mendy her first Top Fuel ride. A two-car team, she was racing alongside Sean Bellemeur but an engine explosion caused her to comment, "There was a flash of fire that singed my eyebrows and there was all of this hot, burning oil in my face, and I couldn't see snot. Imagine roller-skating down a hill in San Francisco and suddenly someone puts a paper bag over your head. The lights go out, and I am reaching for the brake and the parachute and just have to trust that the car is still going straight, that the end of the track isn't too close, that the other car didn't come into my lane. And then I had to unpucker my ass from the seat when I tried to get out of the car." It was a ride in the hot seat to hell; nevertheless, she became the first woman to run a 5-second E.T. at 5.87 with a top speed of 251 mph.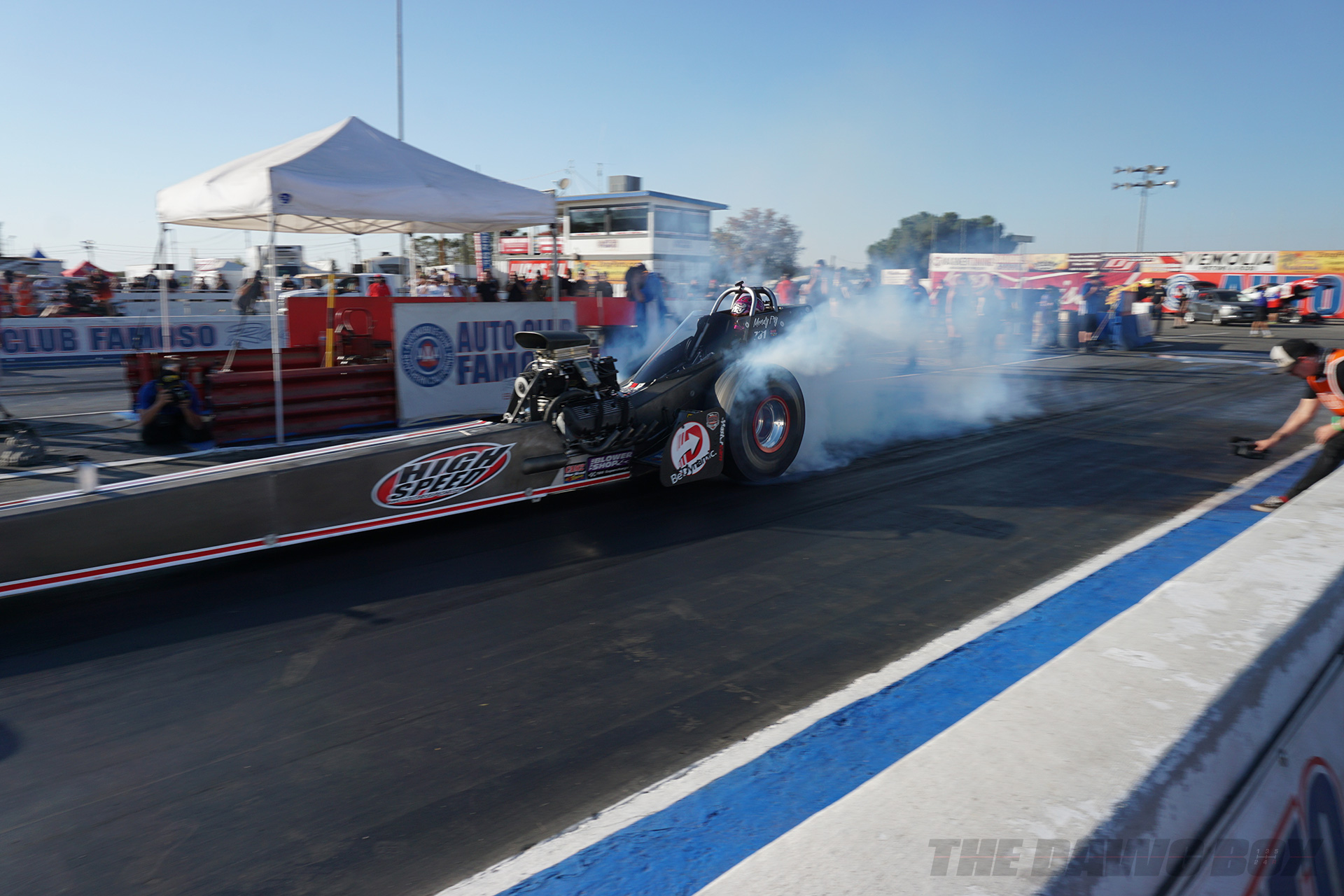 The deal with HSM ended at the end of 2005 but not before gonzo journalist Cole Coonce interviewed her for the LA Weekly in a story titled Drag Princess. It's obvious that the boy was smitten—it's not every day you meet a tall, slim, attractive female Top Fuel driver. During the next decade, Mendy went on to drive four different Top Fuel dragsters and three nostalgia Funny Cars.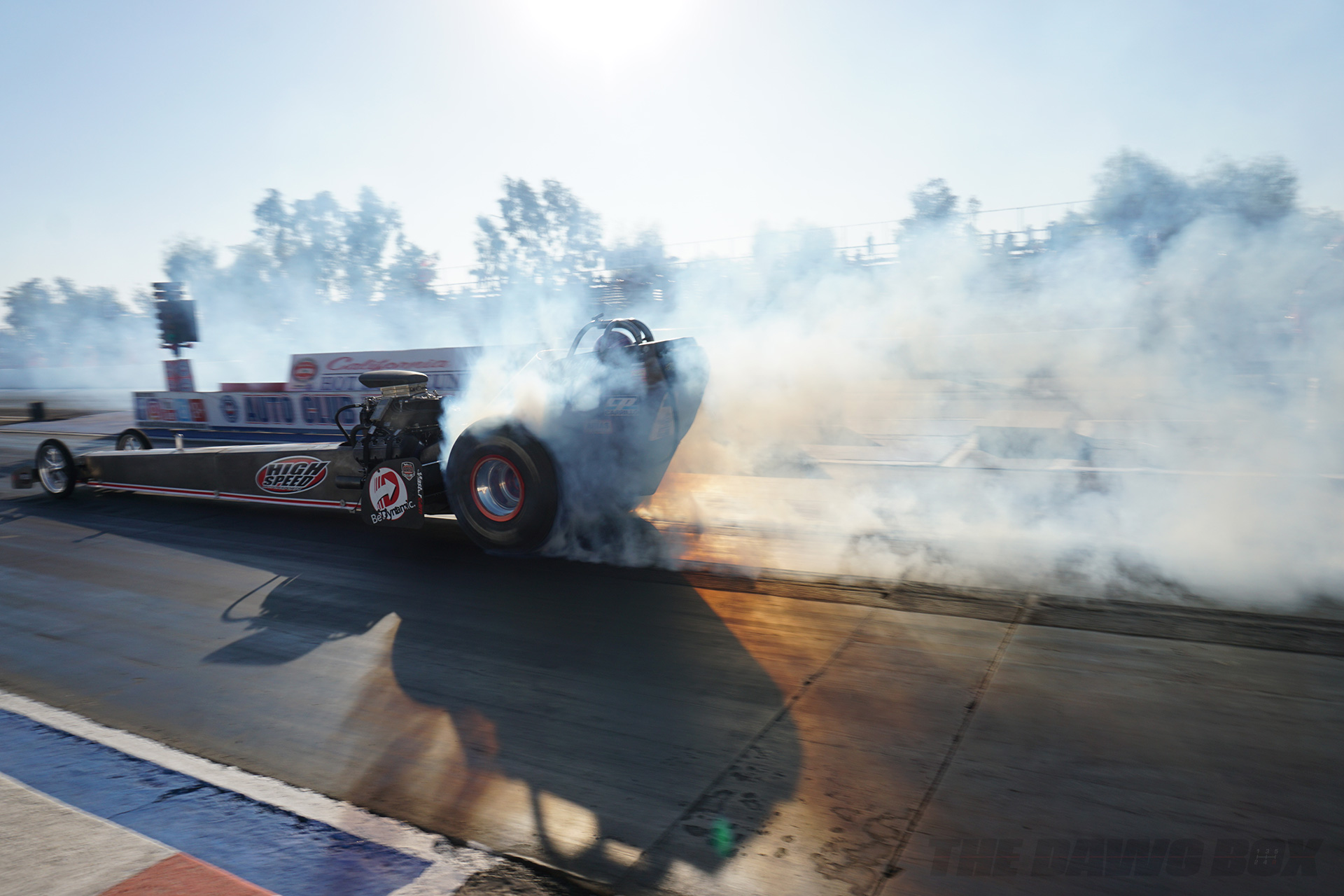 In 2016, she was invited back to HSM and it's been a race to the finish ever since with major wins at the California Hot Rod Reunion, March Meet, Nightfire Nationals and the Nitro Nationals. Oh, and by the way, having got divorced, she also found time to marry that smitten reporter Coonce.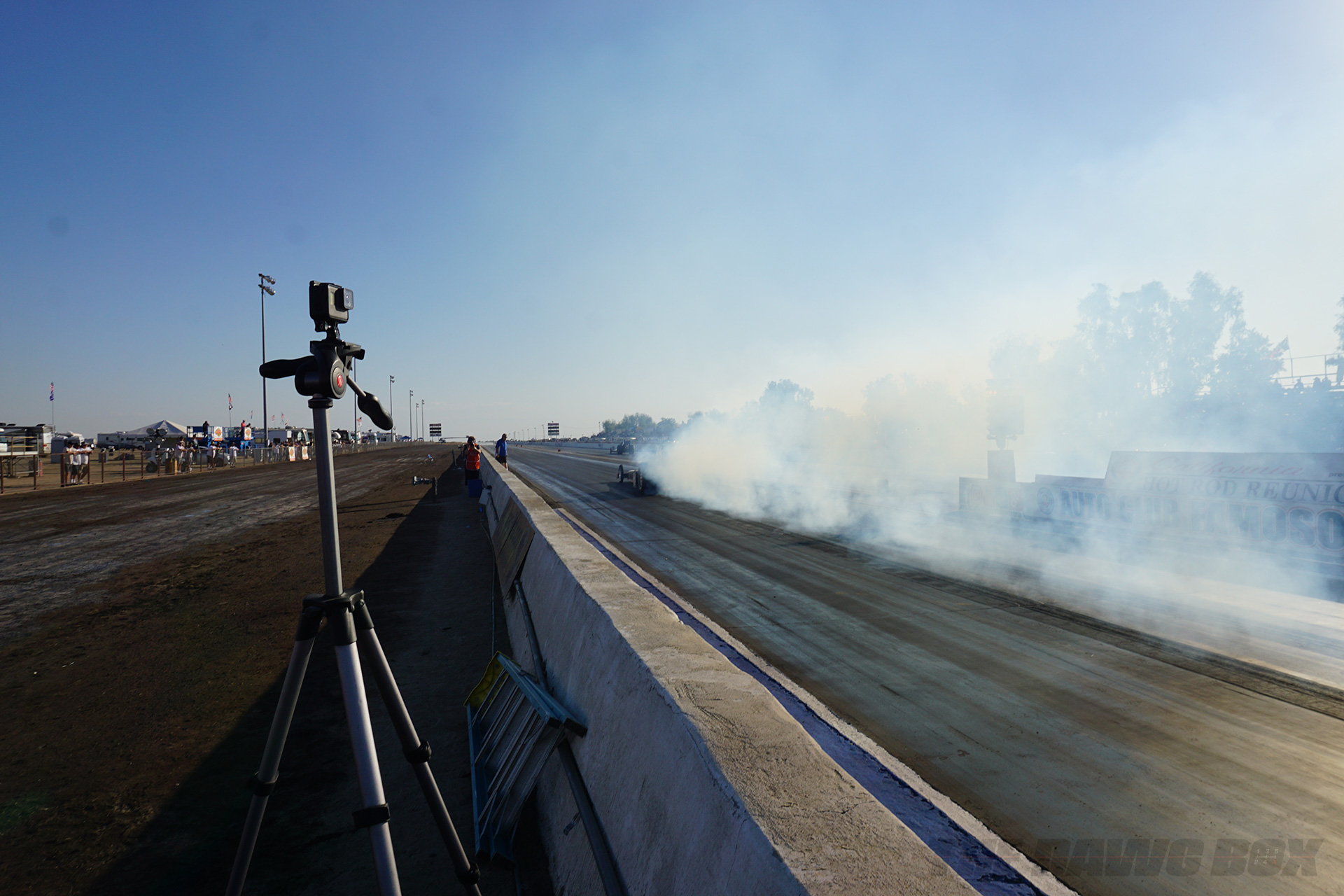 This year, 2018, has proven to be Mendy's year and the planets aligned at the March Meet where she was runner-up and again at Bowling Green where she won the Holley National Hot Rod Reunion. She went on to win the Nightfire Nationals at Boise, ID. Consequently, a rainout at Tulsa mathematically gave her the Championship but there's nothing quite like winning as, well, winning. Hence, all fingers and toes were crossed for a win at Bakersfield Reunion.  She set the pace as top qualifier and set low E.T. for the meet at 5.55. In the final, she took out Rick McGee with a blistering 5.61 pass at 259.36 mph. Suddenly, the Princess was crowned Queen.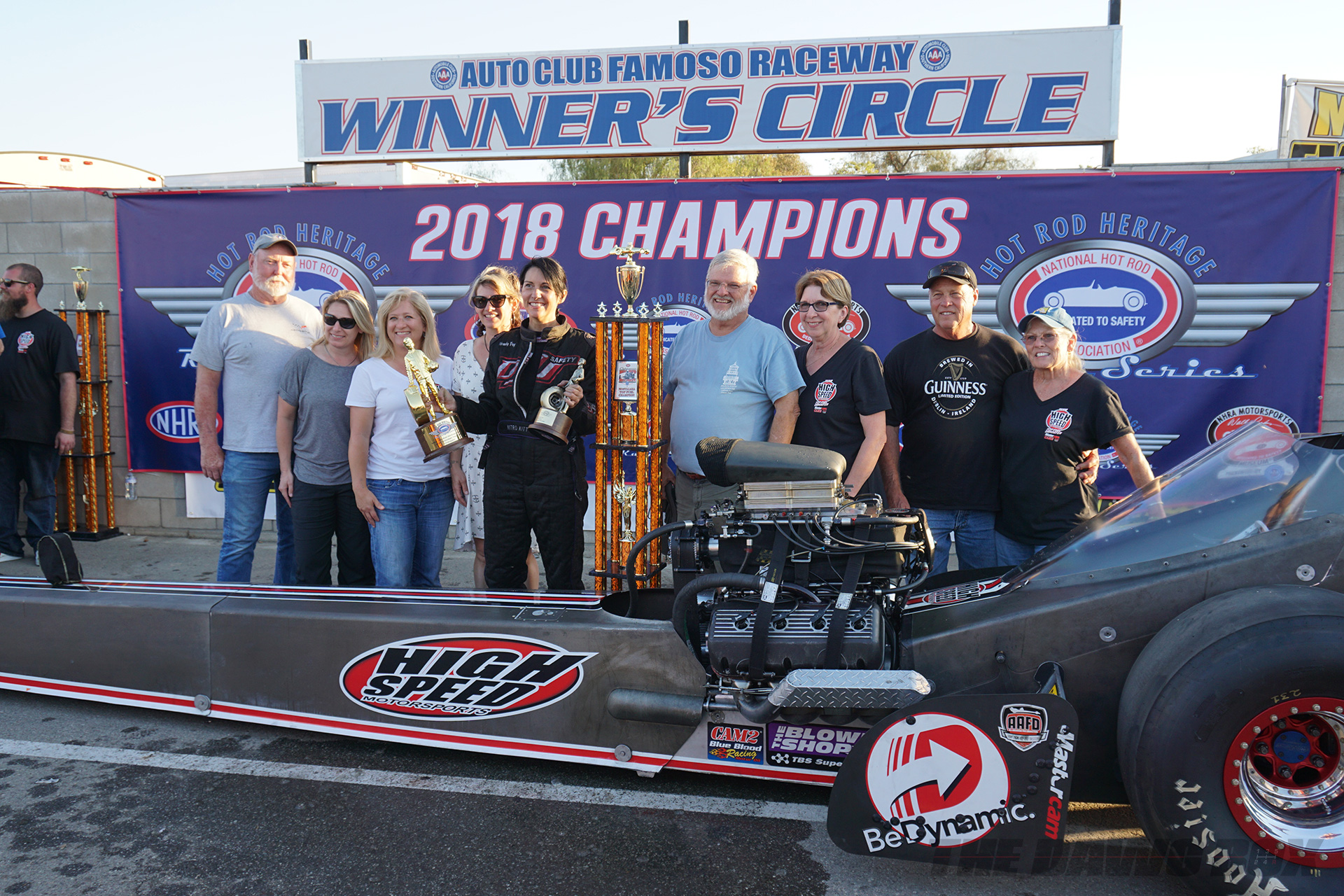 You can't do it alone though and Mendy would like to thank Tom and Rick Shelar for giving her the seat, Walt and Maria Stevens for their continued support, the High Speed Motorsports team and their families and not least their sponsors: Cam2 Blue Blood Racing Oil, The Blower Shop, A&A Precision Machining, Donovan, SCE Gaskets and Webster Cylinder Heads for their support.