World Fuel Altered Challenge
If you trace the history of that unique American motorsport drag racing back to its roots in 1949 at Goleta Airport, now Santa Barbara International Airport, you can see that most of the racecars were really hot rods, street-driven roadsters and coupes modified for racing. As the racing evolved so did the cars becoming more and more venue and class specific. Some evolved into rails, what we now call dragsters that were little more than the frame rails with an engine, a driver and four wheels. Others still resembled their production roots but grew more cartoon like with short wheelbases, giant raised engines for weight transfer, huge tires for grip and somewhere back there a driver hangin' on life.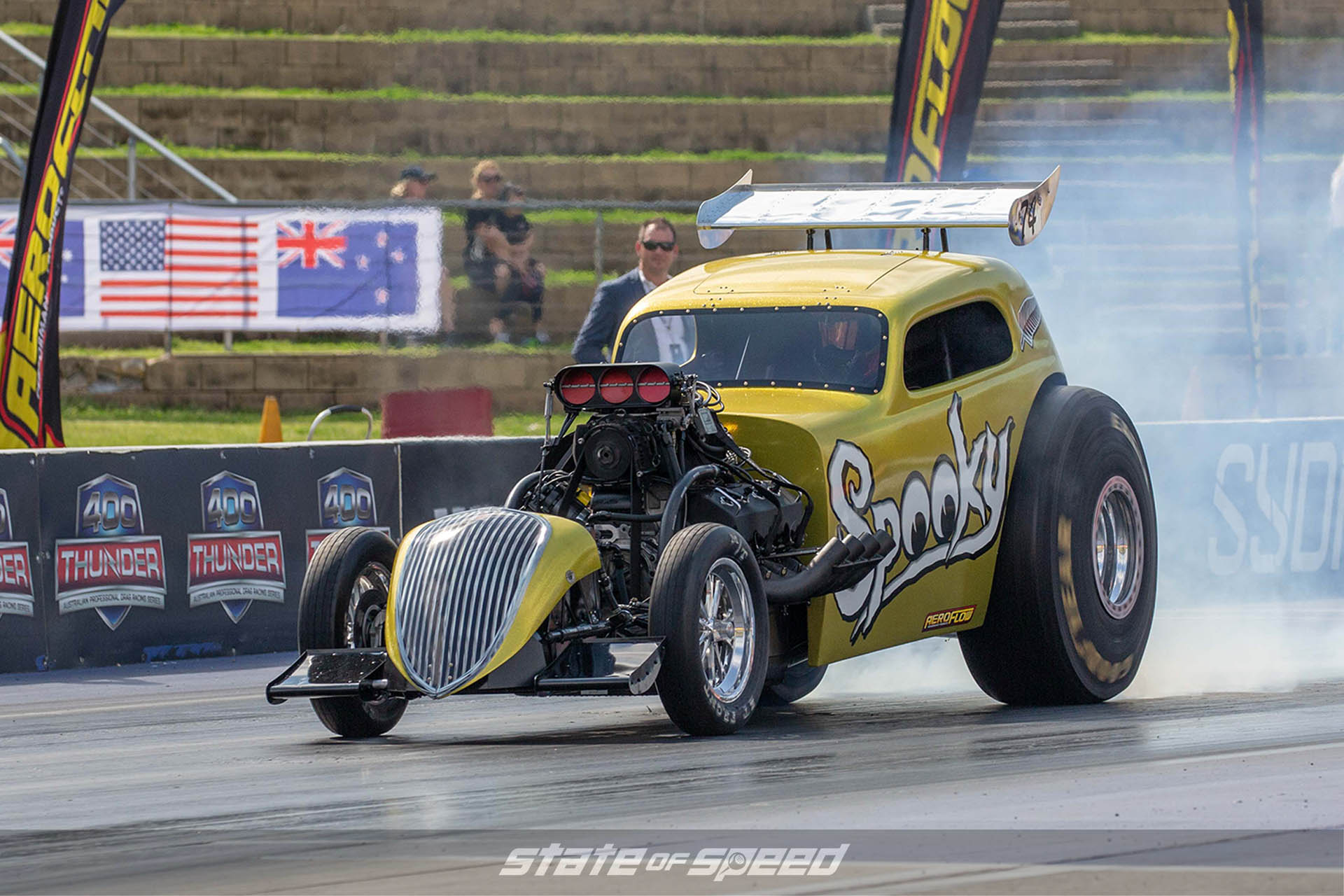 These hot wheels on steroids were called Altereds, because they were altered from stock and the top of the class was the AA/Fuel Altereds as they ran the biggest engines on nitro methane. Their short wheelbase—minimum 92 inches—and their high center of gravity made them insanely unpredictable and hugely exciting to watch, as you never knew which way they would go as the leapt off the start line.  According to Lou Hart in his book Drag Racing Fuel Altereds they were "Pure entertainment" and the crowds loved then.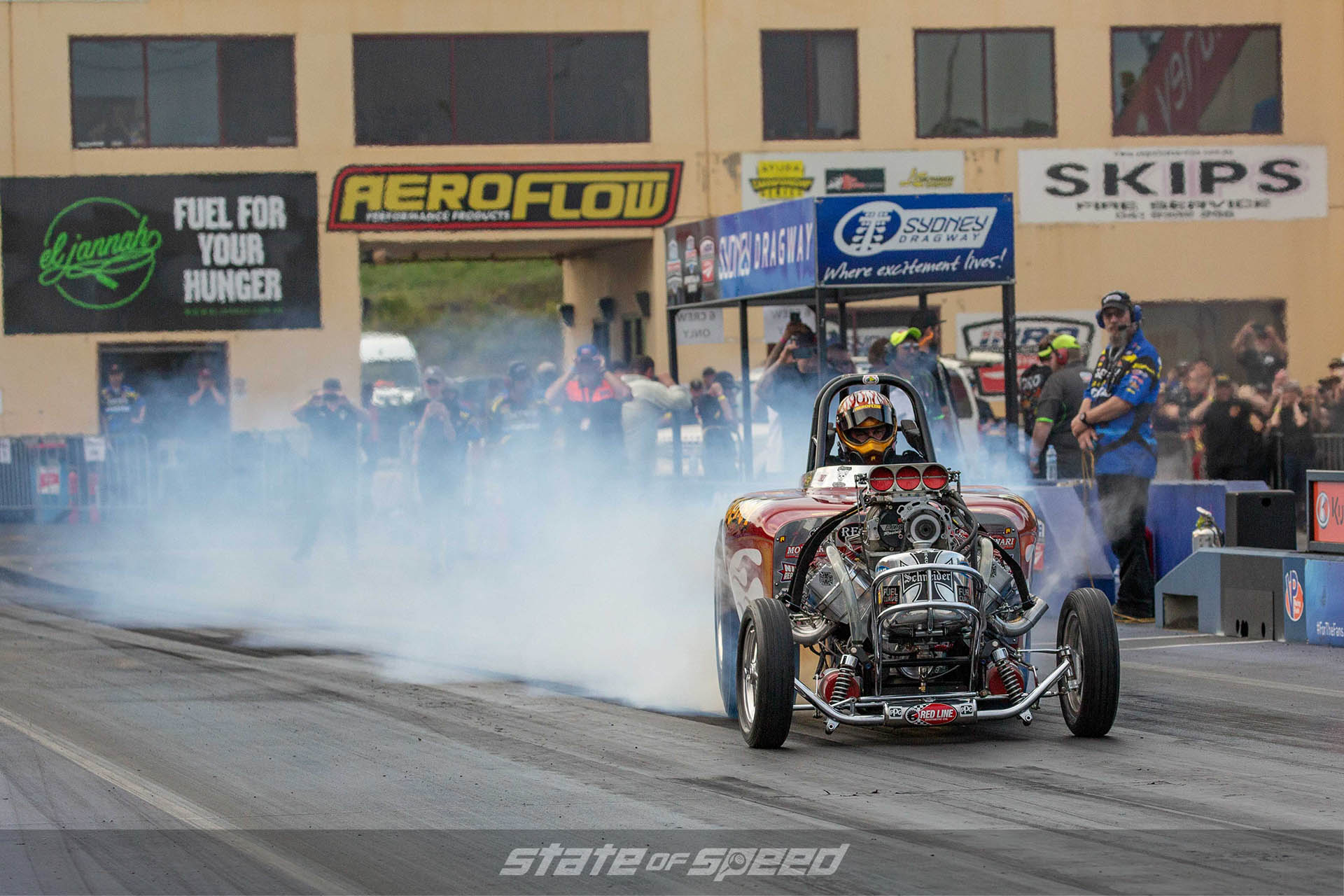 They heyday came at the end of the 'Swingin' Sixties' when a bunch of them including Pure Heaven, Rat Trap and the famed Winged Express went on a nationwide tour. They killed it but in 1973, at the height of their popularity, the NHRA's new ruling bounced the Fuel Altered class from national events forcing many racers to become 'Outlaws'.
Their short wheelbase—minimum 92 inches—and their high center of gravity made them insanely unpredictable

…
Fuel Altereds kinda disappeared from the scene until the advent of nostalgia drag racing in the late eighties. Soon, guys like Ron Hope were resurrecting historic Altereds such as Rat Trap while other like Randy Bradford and 'Mousie' Marcellus were dusting off cars such as Bradford's Fiat and the by now infamous 'Winged Express'. Hope is actually a driving force behind the resurgence and has been touring the world with Rat Trap racing across the US and in Canada, Europe and New Zealand and most recently in Australia in the inaugural Aeroflow World Fuel Altered Challenge presented by Gulf Western Oil (WFAC).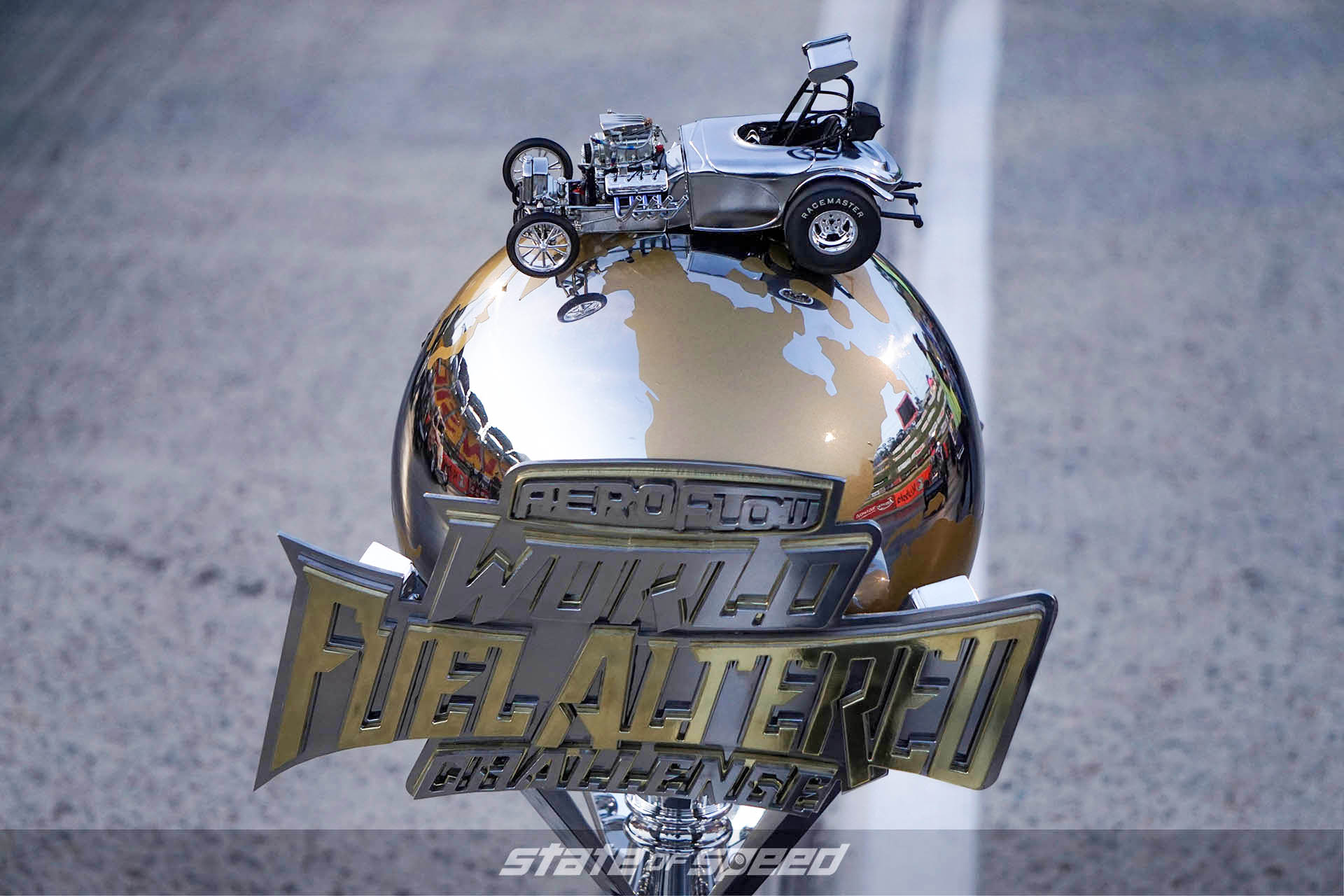 The idea of the Challenge came about when Hope was talking to 'Kiwi' Morice McMillin who happens to be the head honcho at Australia's Aeroflow Nitro Hot Rods & Funny Cars. Over the course of three weeks they thrashed out a plan to host the event at Sydney Dragway, Australia and bring in teams from New Zealand and the US to do battle with the local Aussies.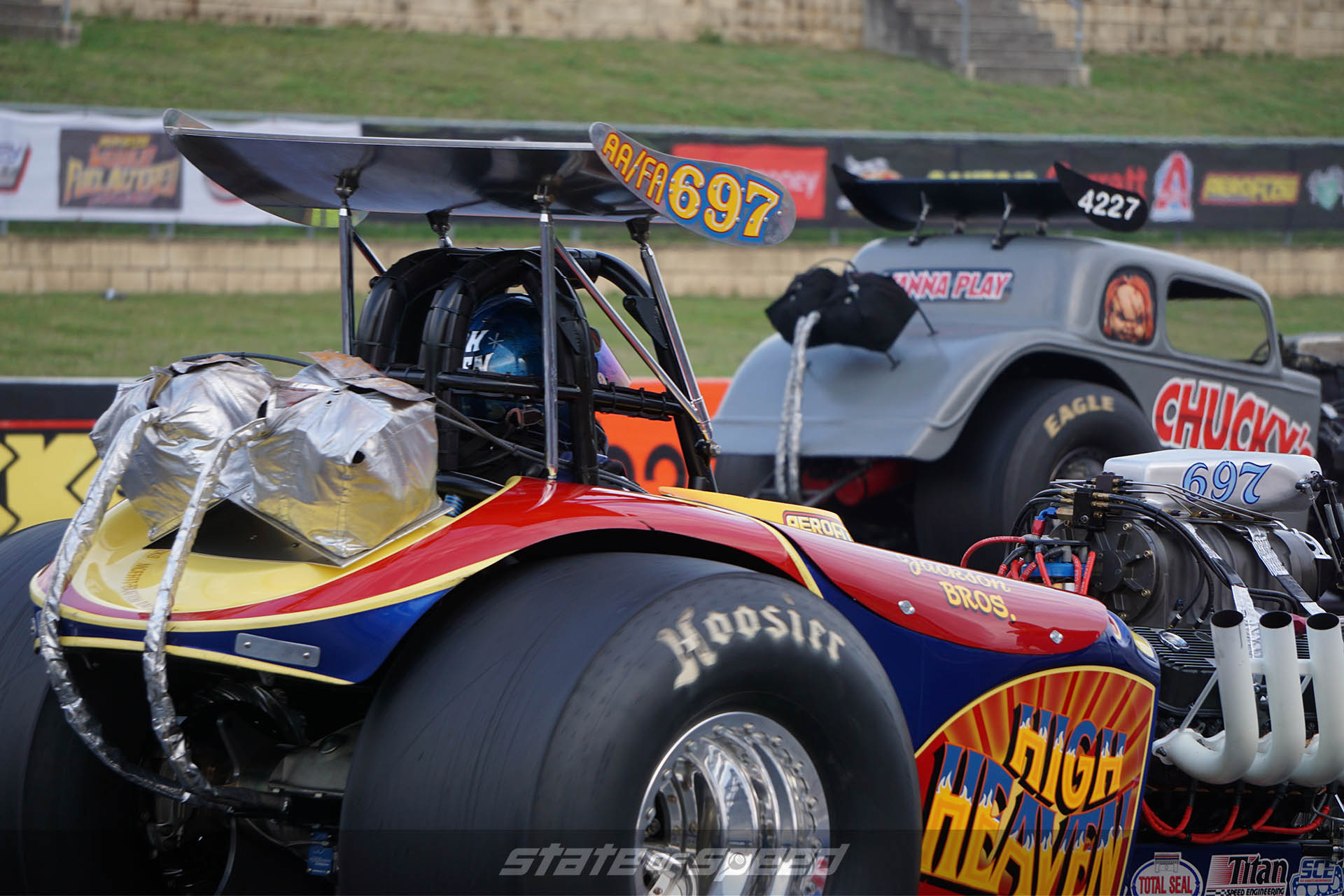 The American team comprised of Randy Bradford's Fiat, Ron Hope's Rat Trap, Rich Guasco's Pure Hell driven by Ron's son Brian and Hughie Callen's High Heaven driven by Shawn Callen. The Australian contingent comprised Agro driven by Paul Messineo, Berzerk driven by Justin Walsh, Chucky's Toy driven by Rick Gauci and Pyscho driven by Shane Olive. The two New Zealanders were Nightmare driven by Dave Gould and Spooky driven by Morice McMillin.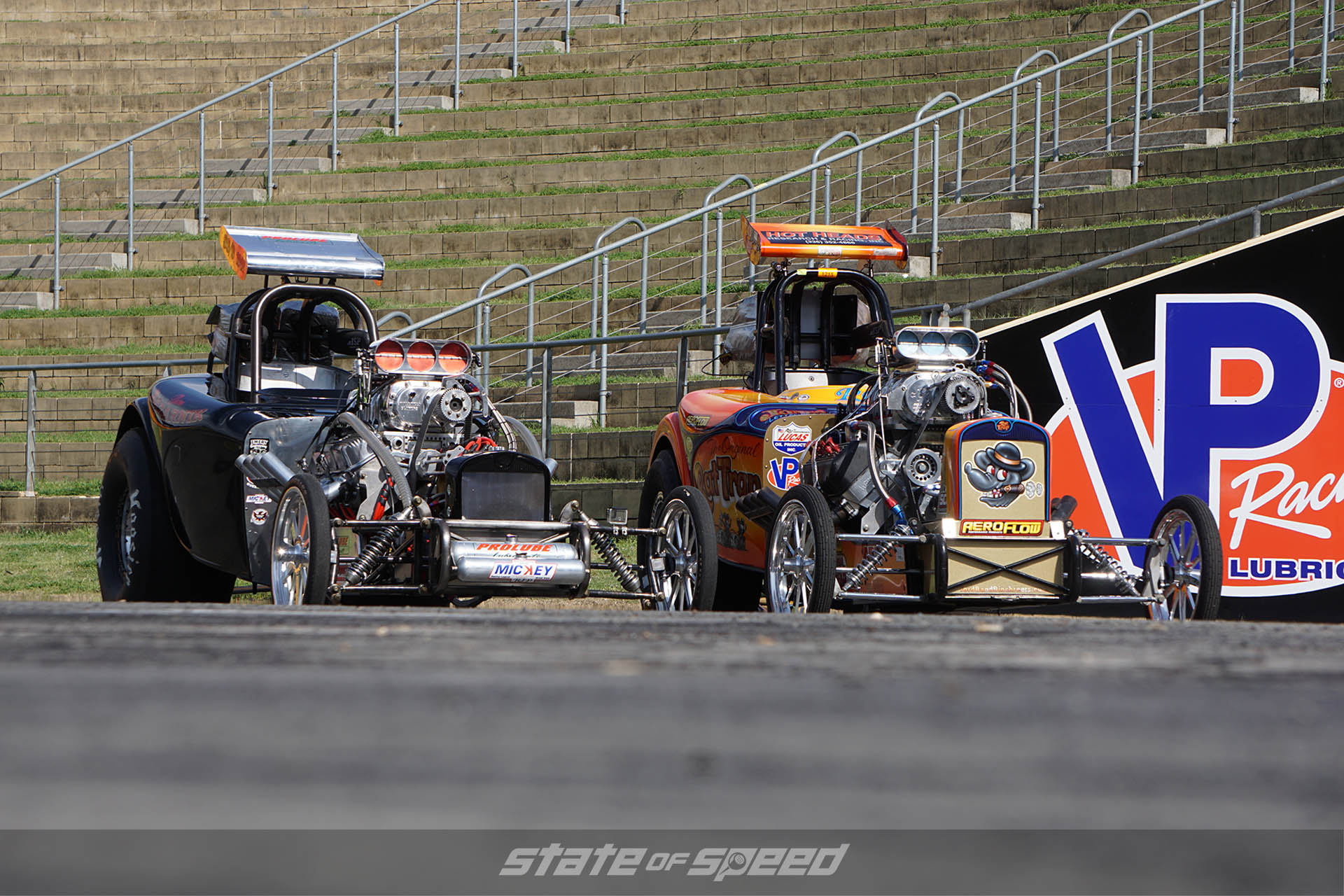 For the Americans Australia was an awful long way to travel for a one-day race. For Hope's Rat Trap it was more than 9,000 miles from their home just south of Nashville, TN. Nevertheless, the four cars were trucked to Los Angeles and shipped in containers to Sydney. The Aussie customs released them only the Thursday before the Saturday race and to make matters more stressful the weather forecast was rain.
Thankfully, as Saturday dawned the skies cleared and the cars were paired for a Chicago-style event whereby there would be three rounds with the two fastest cars going to the final. Despite the Aussie cars being mostly shortened Funny Cars fitted with Altered-style bodies the ten cars were fairly well matched and all we're running in the low- to mid-6s at in the 230 mph range. The US's Randy Bradford, a tough competitor at the best of times, ran a 6.07 and a 6.19 that put him in the final against Aussie Rick Gauci driving Chucky's Toy.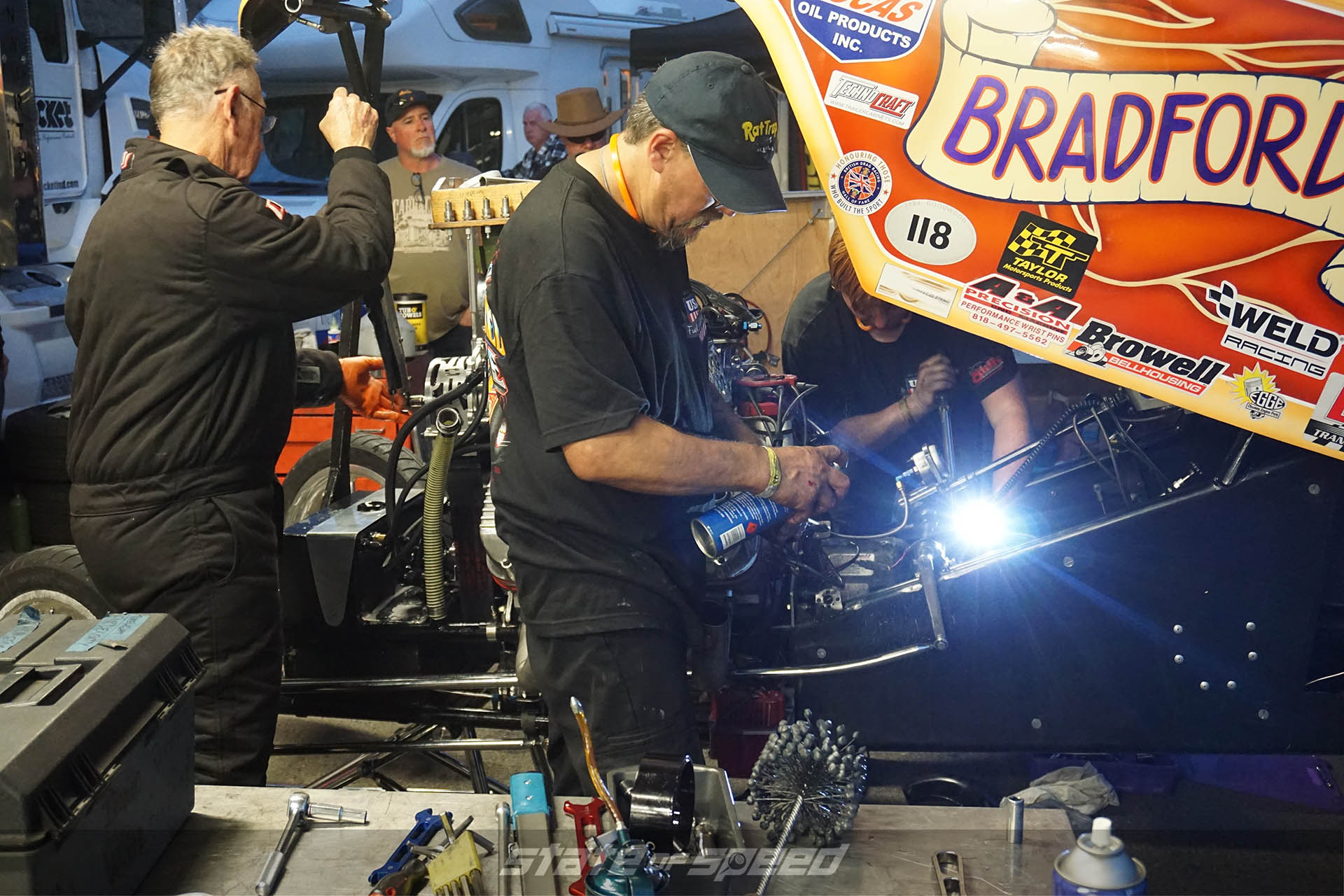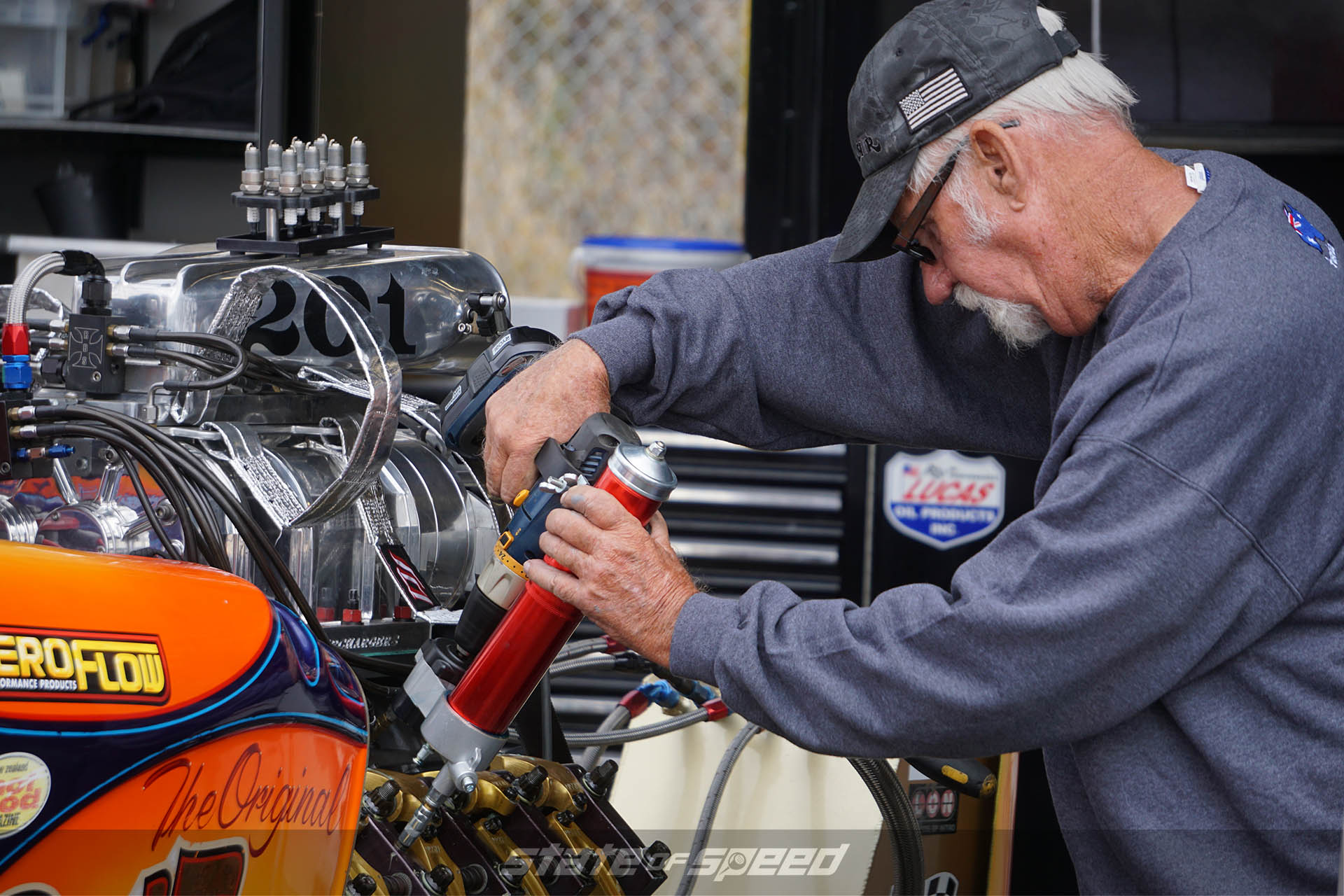 Unfortunately, it was not to be. While the teams were all thrashing to perform repairs after a tough second round a few spots of rain turned into a downpour and the race was called. There was huge disappointment in the pits. Everybody had worked so hard to pull this event together and here they were with no result, however, co-organizer Ron Hope declared, "This has been a fantastic experience. We made a lot of new friends and saw some great racing but there's unfinished business. To paraphrase The Terminator, 'We'll be back'."