Hot Rod Wagon:  Classically Modified 1955 Chevy Nomad
It's a dream of many hot rod enthusiasts: to have a wicked looking Nomad Wagon. It is the staple of rare but "cool" to modify vehicles and Brian Hill of Hill's Rod and Custom used his expertise to create this beautiful utility rodder out of his own 1955 model.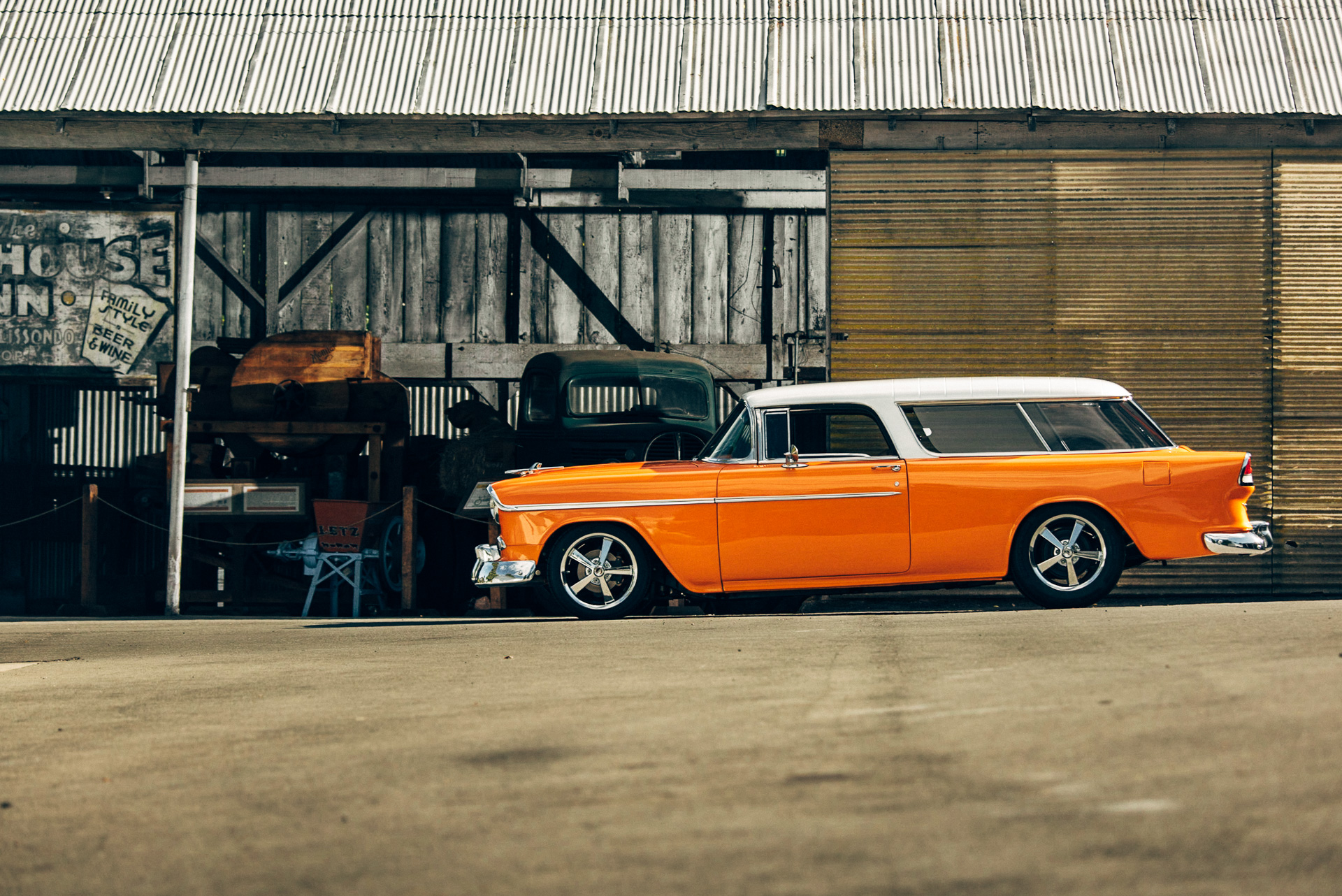 If there was one show and actor that helped cement the Nomad for modern hot rodders it was Tim Allen and his show, Home Improvement. That car is even listed as the 19th of the top 50 TV cars by Rod Authority back in 2016. It was owned by Allen and the 1956 Nomad was tied to the main character, Tim Taylor, but canonically the car was the daily driver of his on-screen wife, Jill.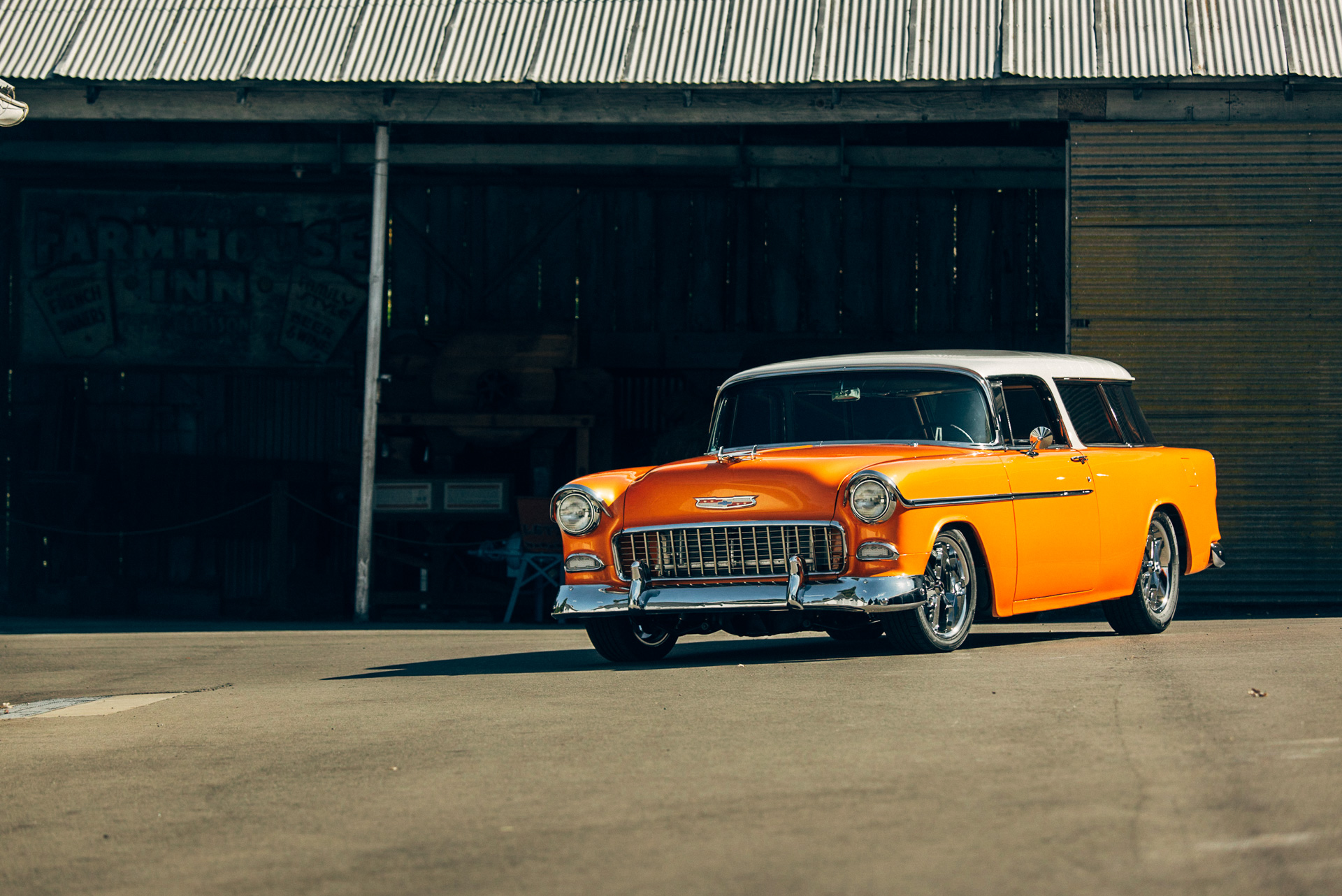 However, it would be the episode titled "Don't Tell Momma" that would cause every Nomad and Bel Air enthusiasts' hearts to collectively sink when the car was "crushed" on accident. Fortunately, the stunt car was a four-door Bel Air with a wagon roof added, rear doors welded and smoothed enough for the shot, and crushed on-screen while the real 1956 Nomad wasn't harmed.
…it's not a proper looking Nomad if the top isn't its signature pristine white…
He even pulled the car on set to show it was still around to the live audience for that show's taping. It would eventually be sold for Ebay's "Auction for America" on October 4th, 2001 to benefit victims of the September 11th attacks just a few weeks earlier.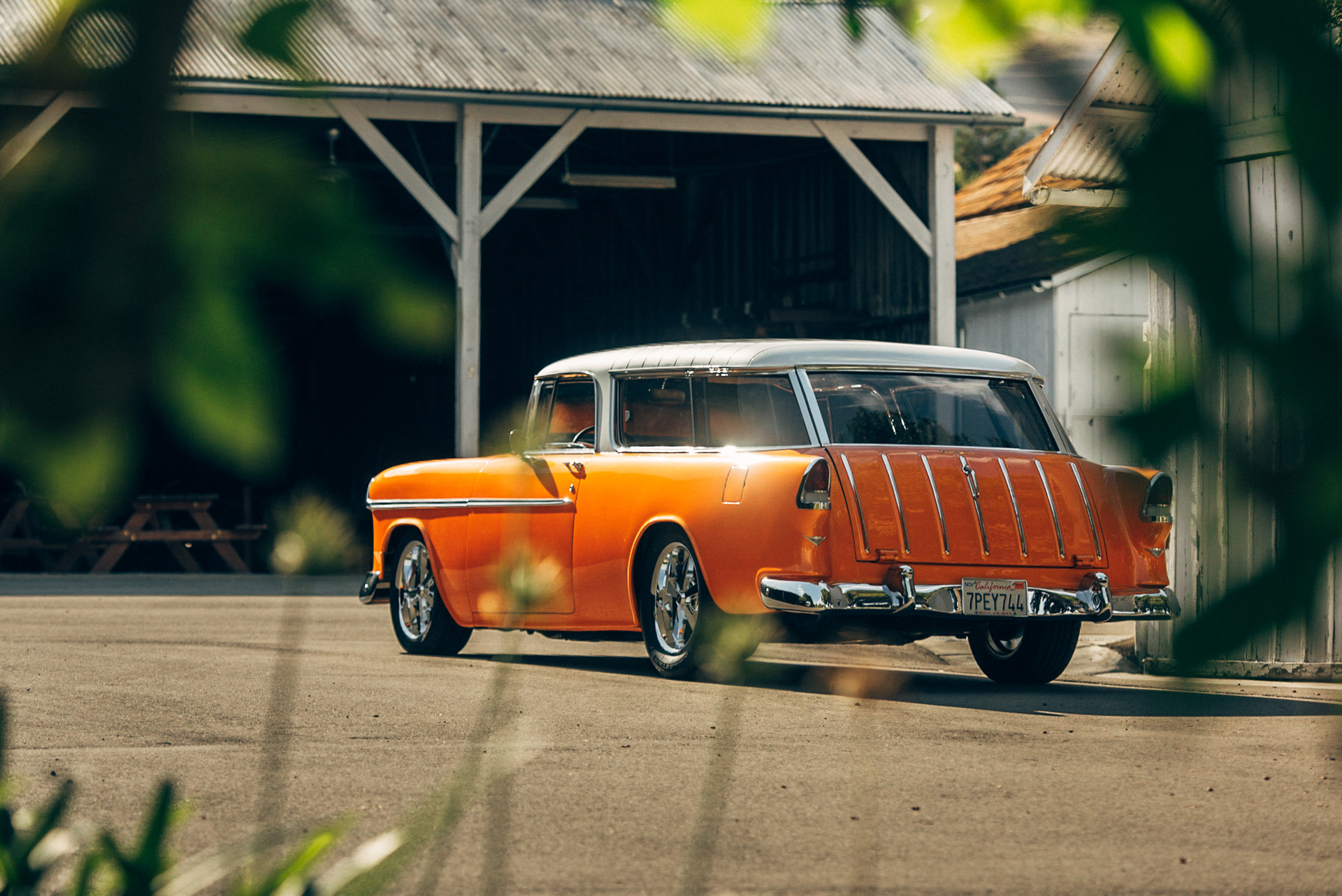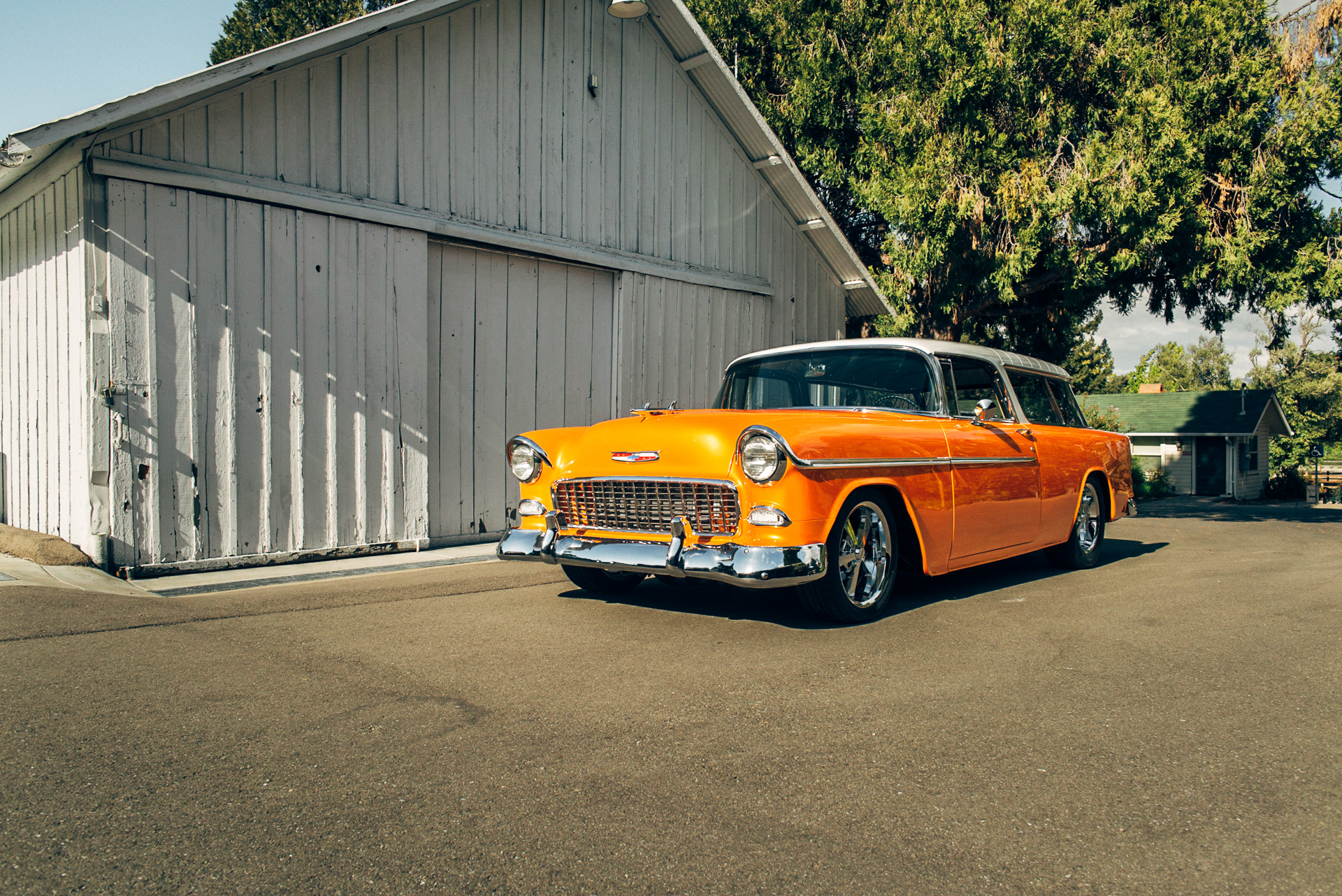 Fortunately for Hill's Rod and Custom in Pleasant Hill, CA, this 1955 model wasn't crushed or destroyed but was still put through a full, frame-off restoration before it was modified. Brian Hill pulled every piece and part off to strip, bang, straighten and finally repaint his in the Lamborghini Orange Pearl. However, it's not a proper looking Nomad if the top isn't its signature pristine white for that classic two-tone look.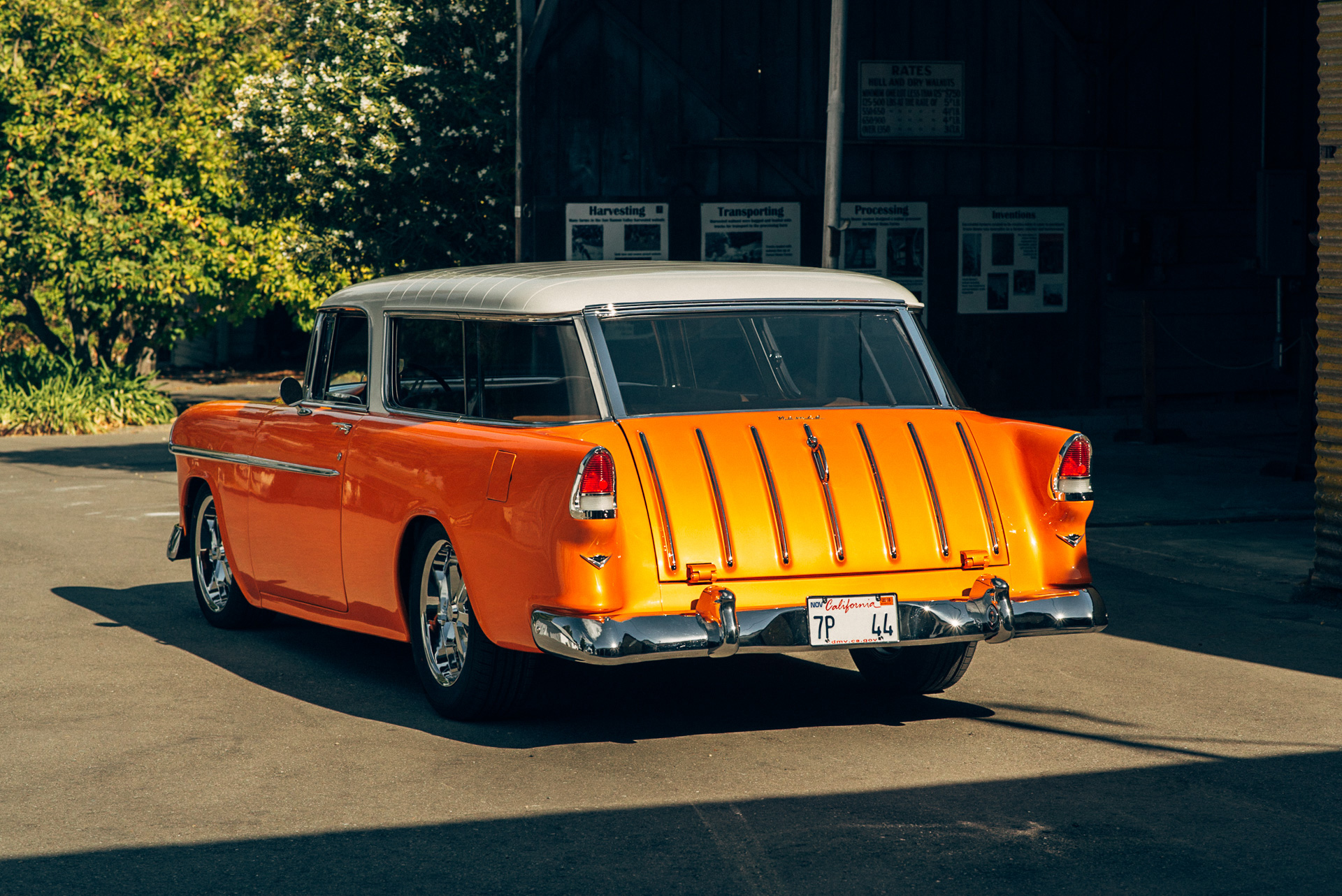 All the glass was then replaced with new reproduction versions with modern weather-stripping for a noise-free ride. This was done to make sure the Vintage Air heating and air-conditioning system didn't leak the cool interior air to the Bay Area's hot atmosphere.
…a 1955 Nomad that's worthy of television stardom.
That's even as this Nomad makes its own atmosphere when it arrives. The interior is a fully-custom leather that carefully compliments that Lambo orange and chrome touches throughout. New, but classic gauges complete the classic looks of the Tri-Five dashboard.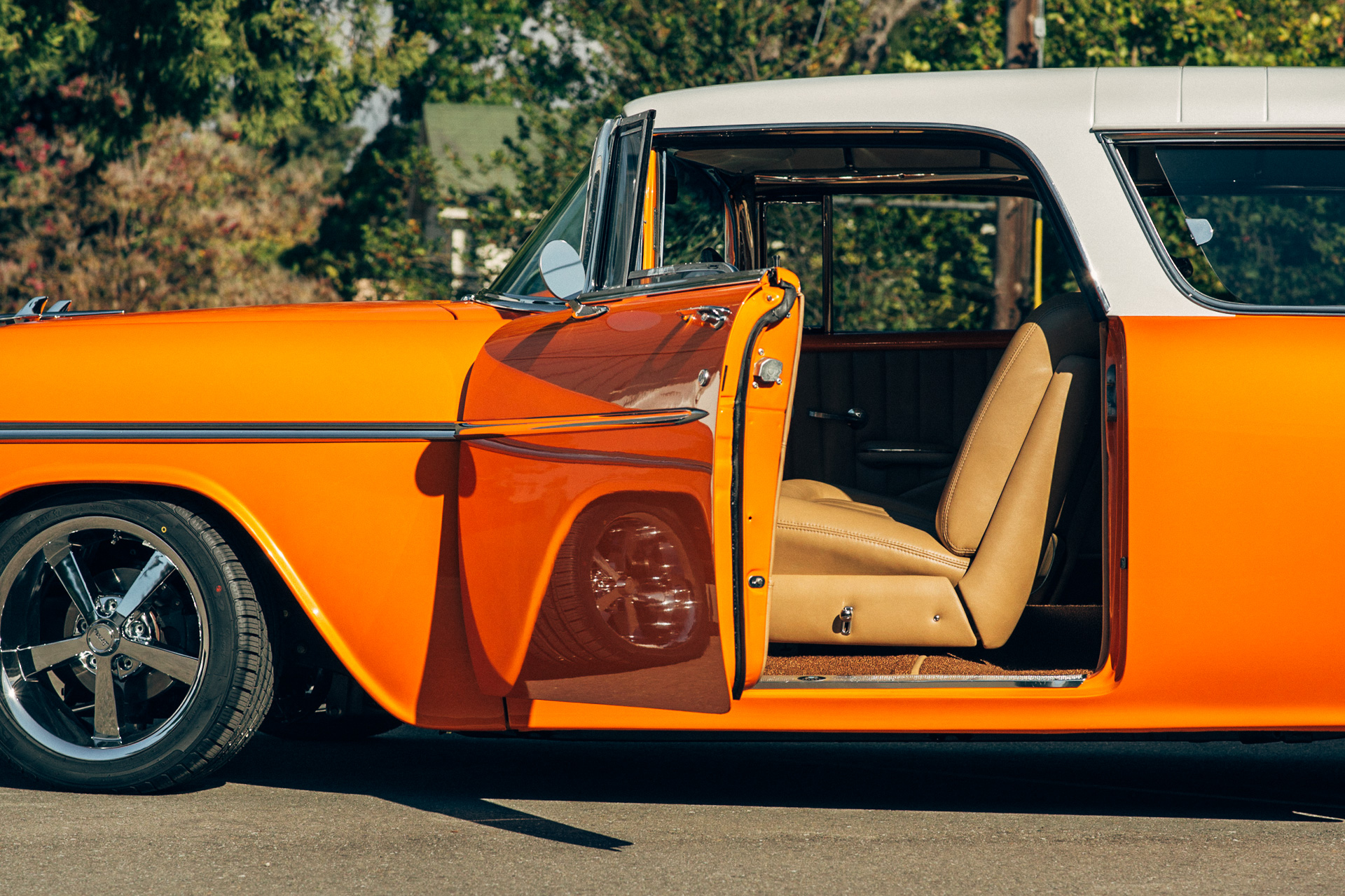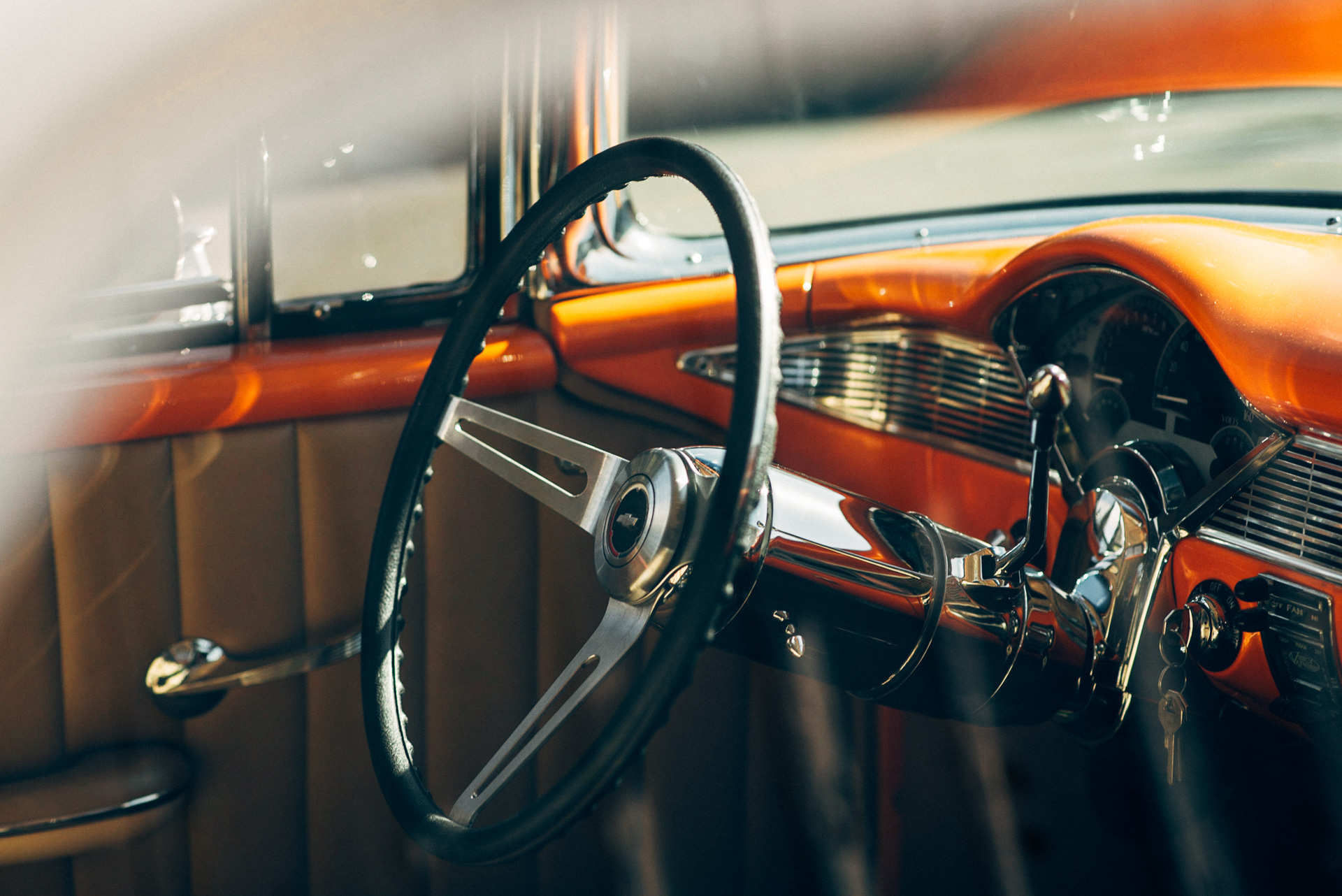 Those new gauges are designed to work with the TurnKey Engine Supply LS1 crate engine, a 5.7-liter displacement that makes 410-horsepower and 420-torque to the crank with its 10.25:1 compression. Inside, the rotating assembly is lead by a set of Mahle forged pistons and squeeze fuel and air into cathedral port GM heads.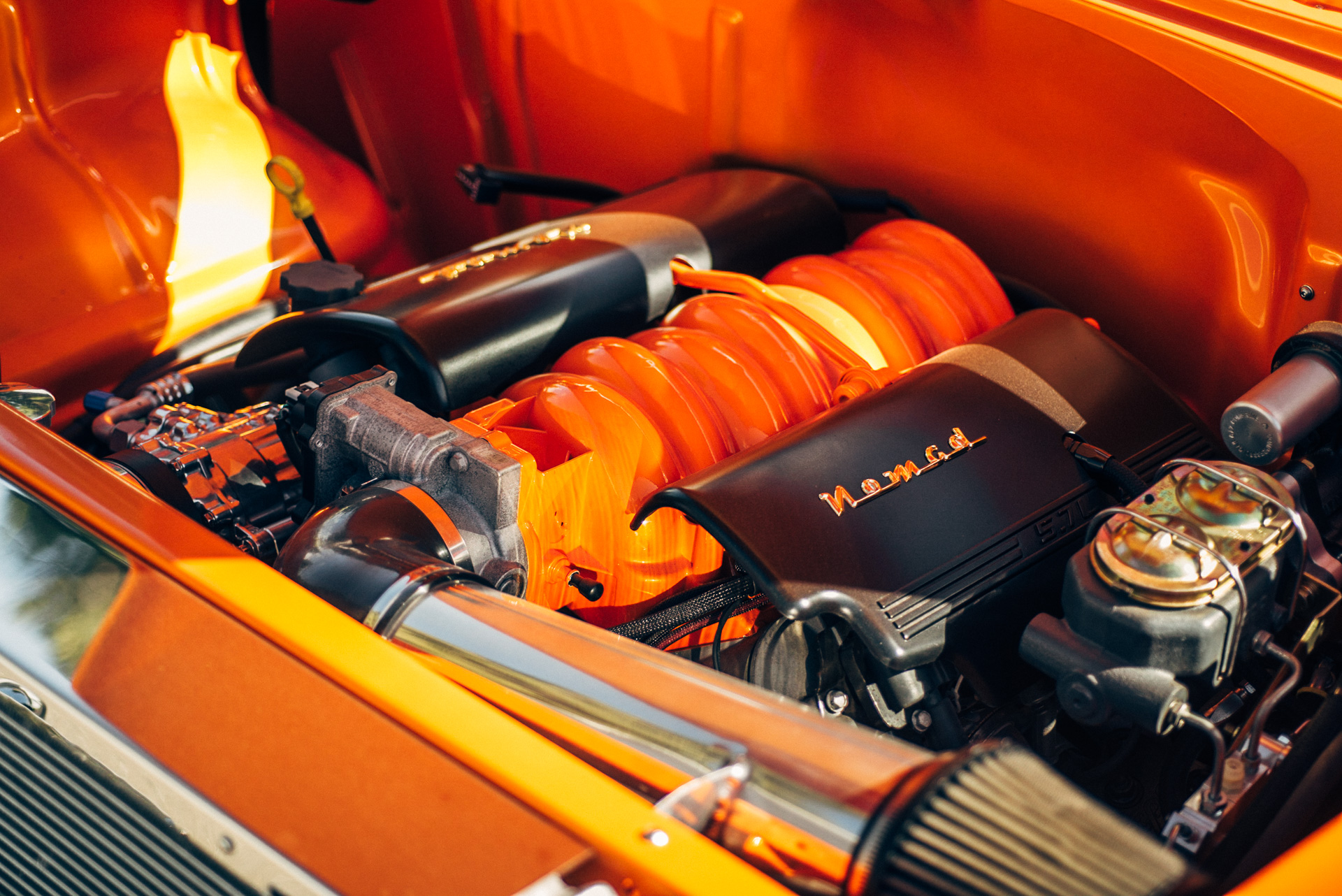 It's designed to be installed and ran as it included everything, even the throttle pedal for the LS1 electronic throttle body but its ECM is calibrated with a TurnKey tune so it doesn't need a GM PATS key. The only change was the addition of "Nomad" script emblems on the engine covers and painting the intake to match the Lambo orange of the body. Its power is then sent to a GM 6L80E six-speed automatic transmission.
We certainly wouldn't mind being caught in it.
To control sway and pitch as Brian drives his Nomad, a modern set of coilovers were installed up front but the rear retains its leaf spring design. It's not a race car and you'll be able to haul more utilitarian loads thanks to the leafs if you desire or need it.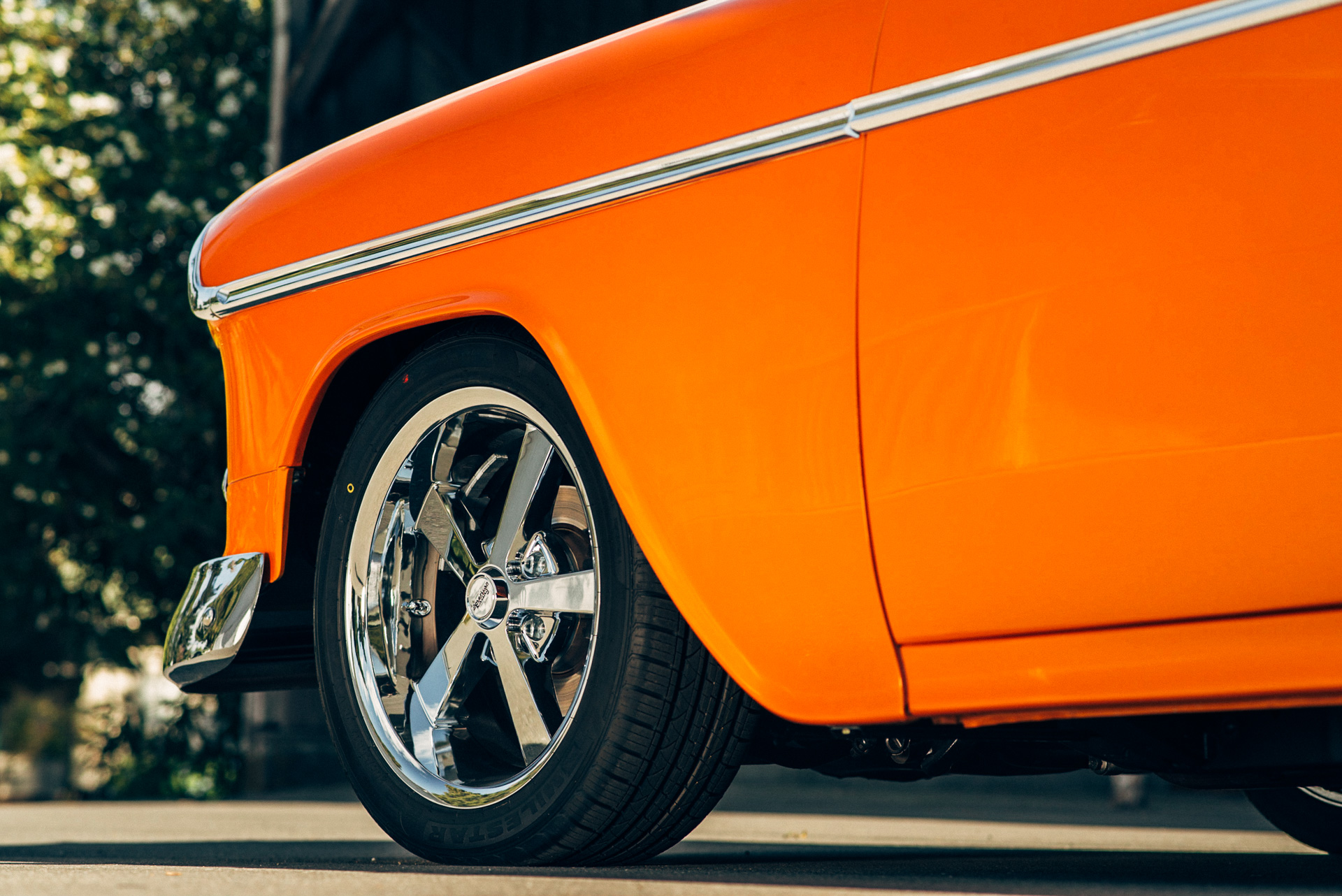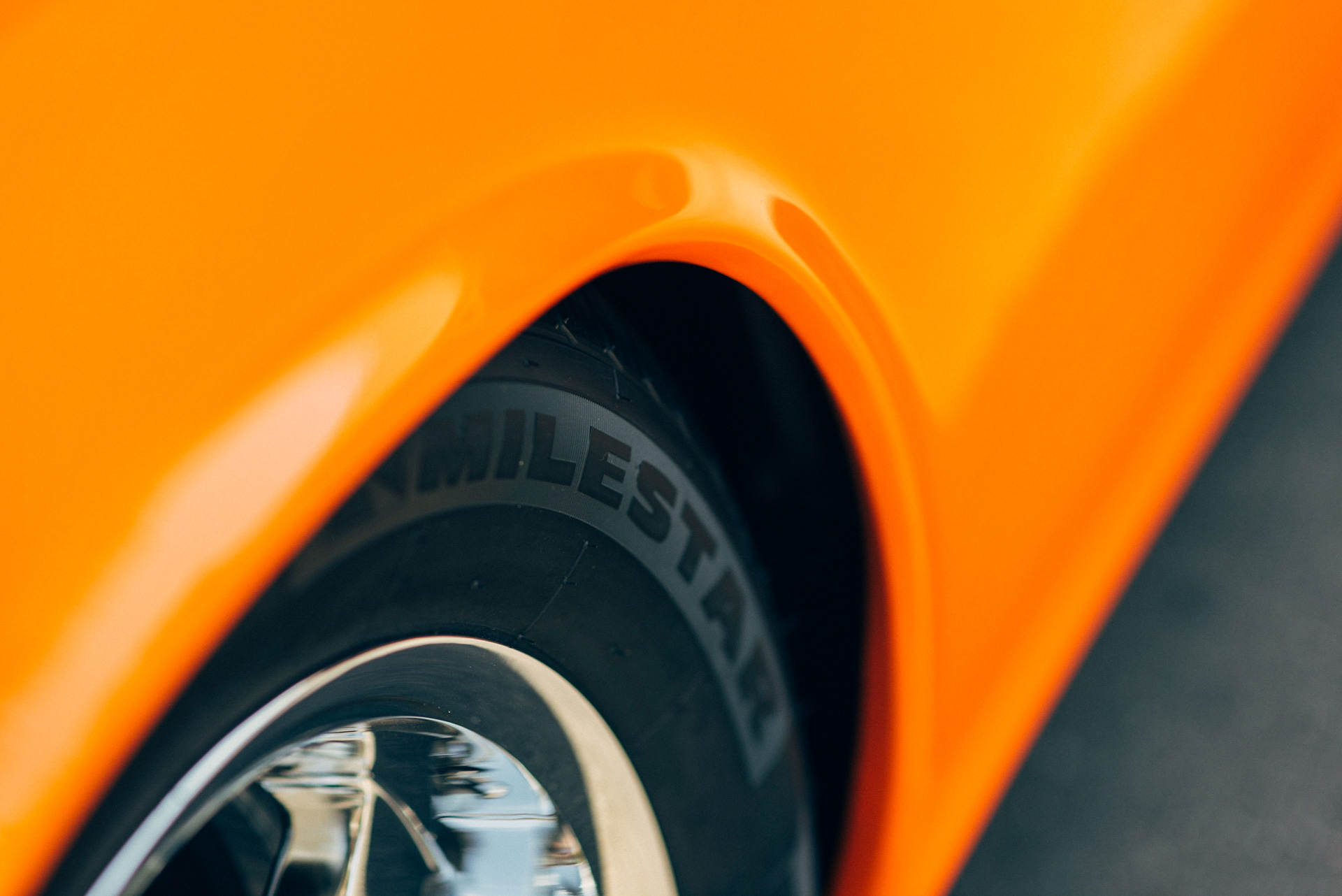 It's fitted with a set of 17-inch American Racing VN508 Super Nova 5 in a mirror chrome finish and wrapped in Milestar MS932 Sport tires in 205/50R17 front and 225/60R17 rear.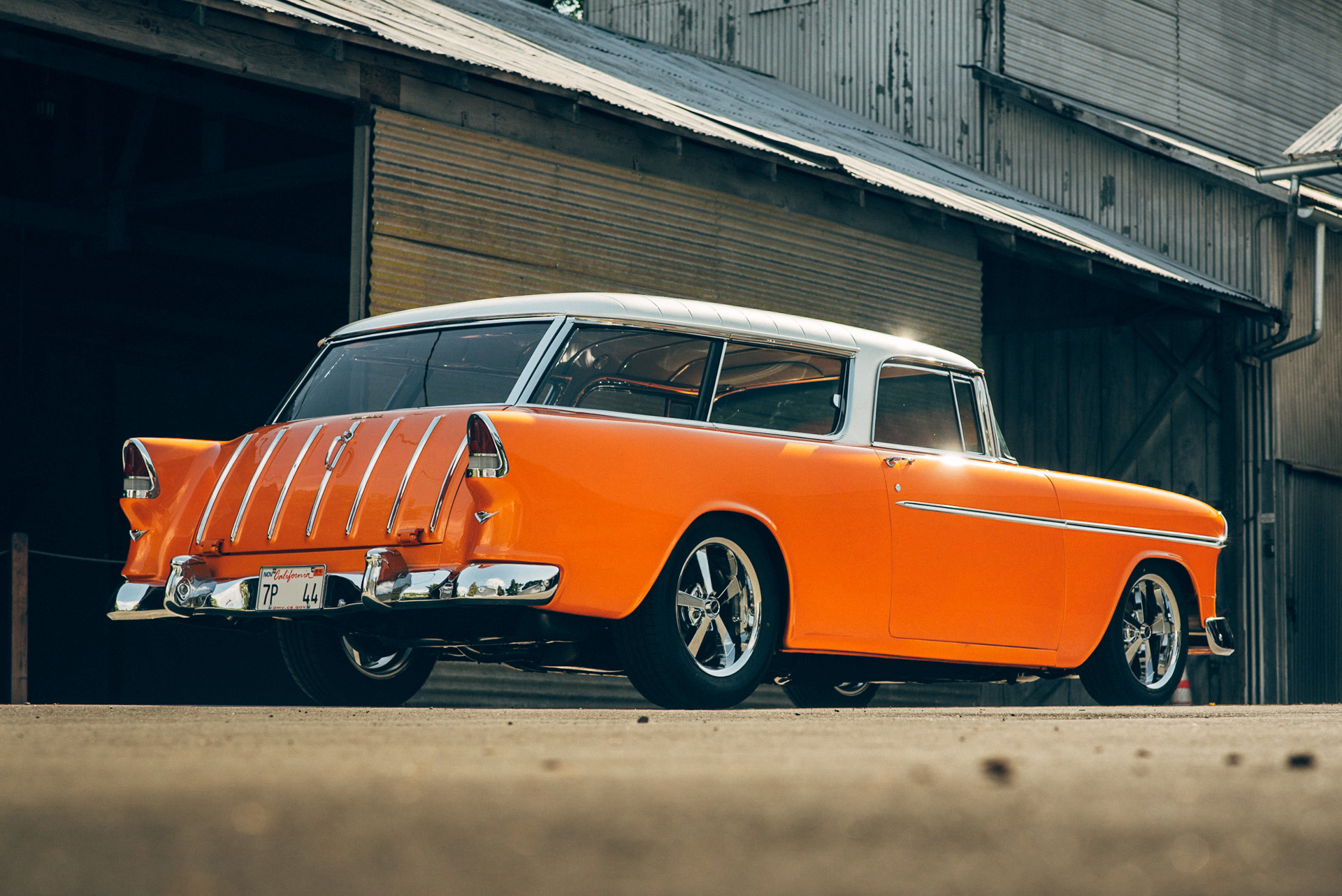 Brian Hill and Hill's Rod and Custom have certainly designed a 1955 Nomad that's worthy of television stardom. Thankfully, it doesn't come with the usual headaches fame brings but instead gives its driver the comforts of modern cars with the looks of a great classic Tri-Five. We certainly wouldn't mind being caught in it.