M

c

L

a

r

e

n

 

F1

 D

e

s

i

g

n

e

r

 P

e

t

e

r

 S

t

e

v

e

n

s

 T

a

k

e

s

 H

i

s

 

T

 B

l

a

c

k
What do you think the F1 designer of the amazing 240-mph McLaren F1 drives? It would surprise you to know that he mostly drives a Model A Ford and at weekends races his 1925 Ford Model T.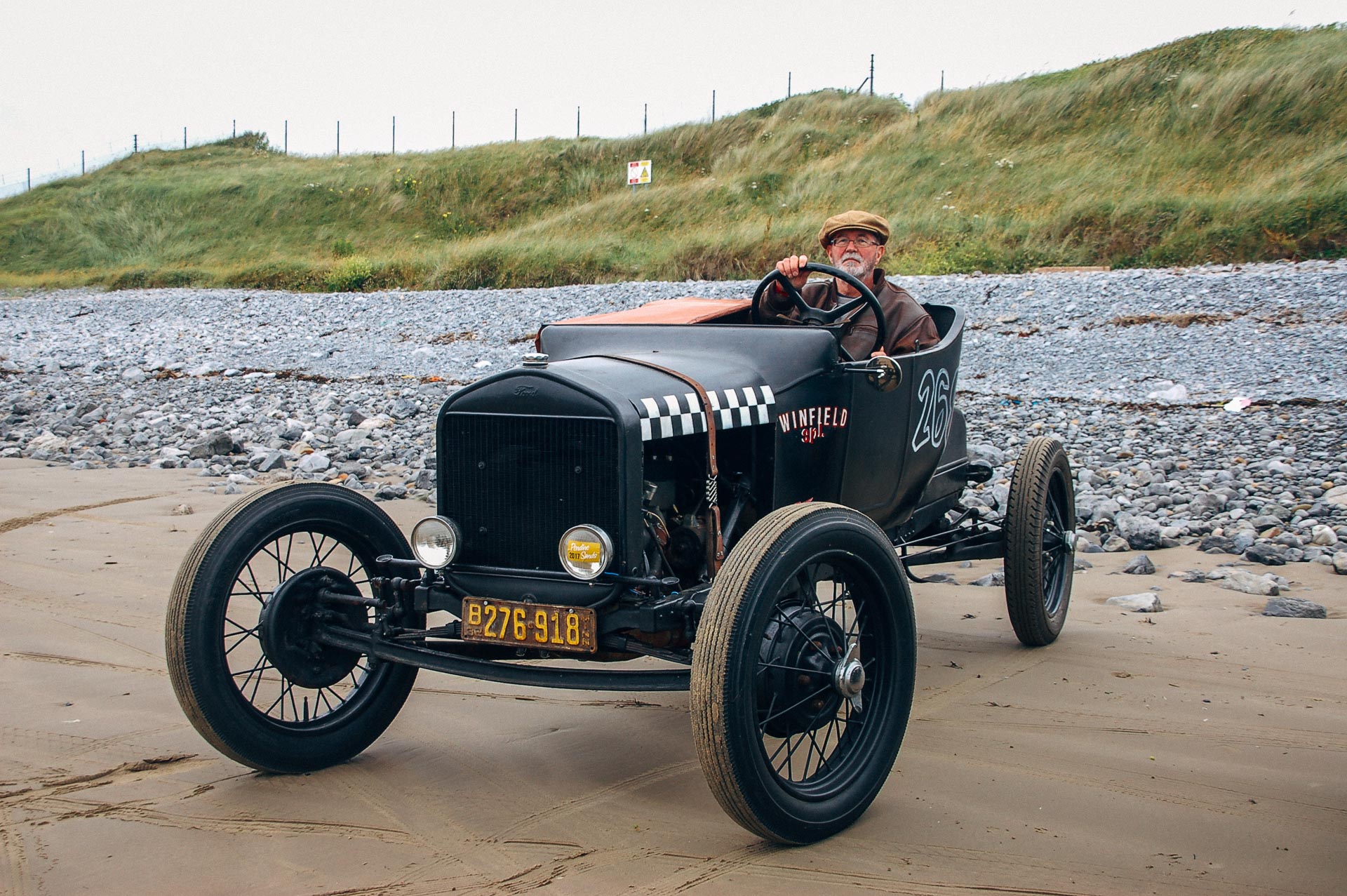 Supercar designer Peter Stevens grew up in England in his grandparent's house with his uncle Denis "Jenks" Jenkinson who was a British motor racing journalist and most renowned as co-pilot of Sir Stirling Moss in the infamous Mille Miglia race in Italy. Pete's father was an accomplished painter and Peter attended London's prestigious Royal College of Art (RCA) where later he would become a professor in charge of the school's acclaimed automotive design program.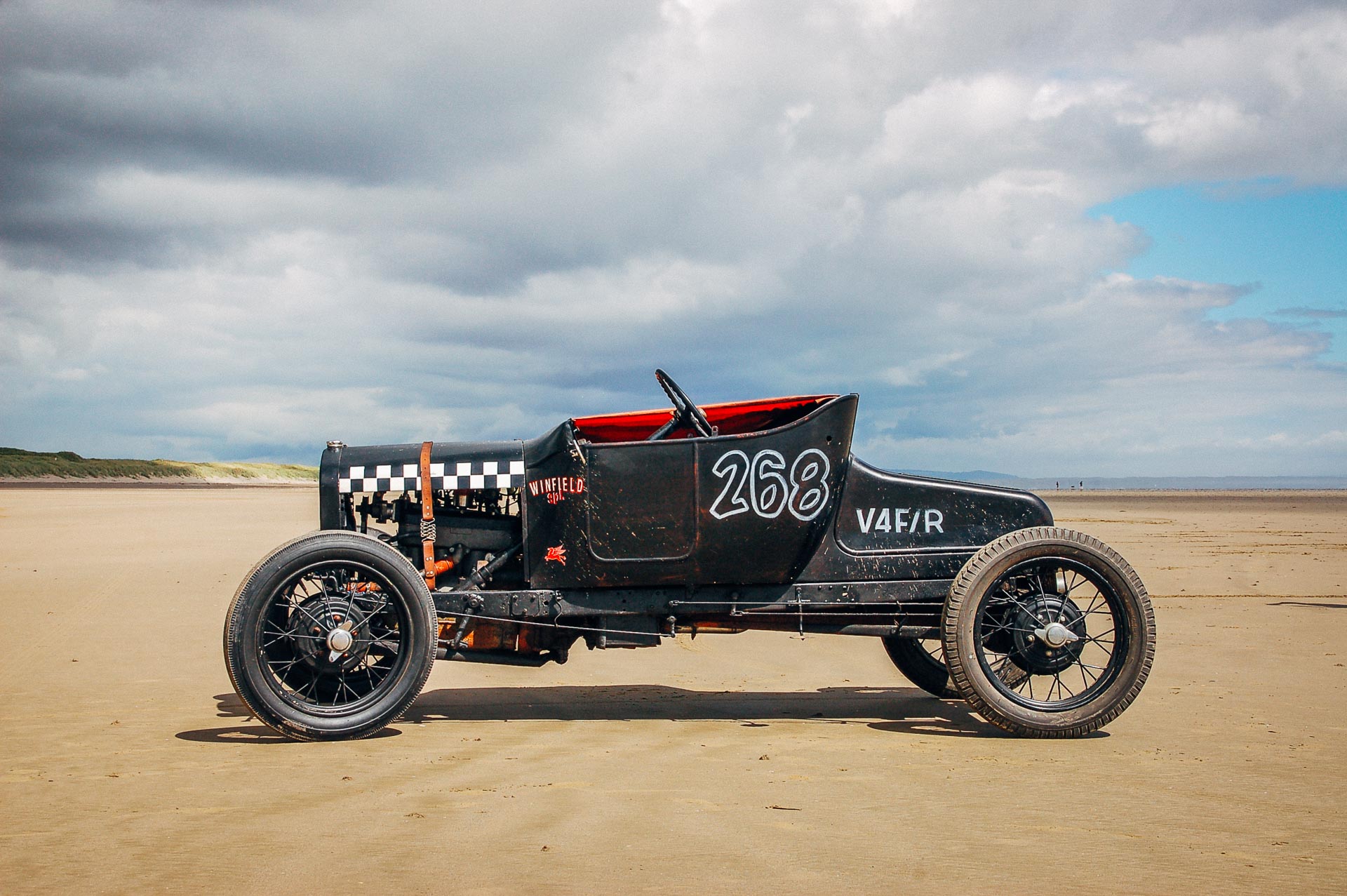 Peter couldn't help but become a gearhead and he loves it all, from off-roading to the local English pub, down the River Deben in his Jeep, to Le Mans, to land speed racing at Bonneville. After college, Peter established his own design consultancy and worked for Renault on the Alpine, Tom Walkinshaw Racing (TWR), and even did work for the Brabham Formula One team.
In 1985, he became Chief F1 Designer at Lotus Cars where he worked on the Excel, the Esprit, the Elan and for outside companies such as Isuzu, Cadillac, Triumph, and Chrysler. However, in 1989, he worked with TWR on the design and development of the Jaguar XJR15 that remains one of his favorite designs and endures as a very collectible supercar. Only 53 were built and they command prices approaching $400,000.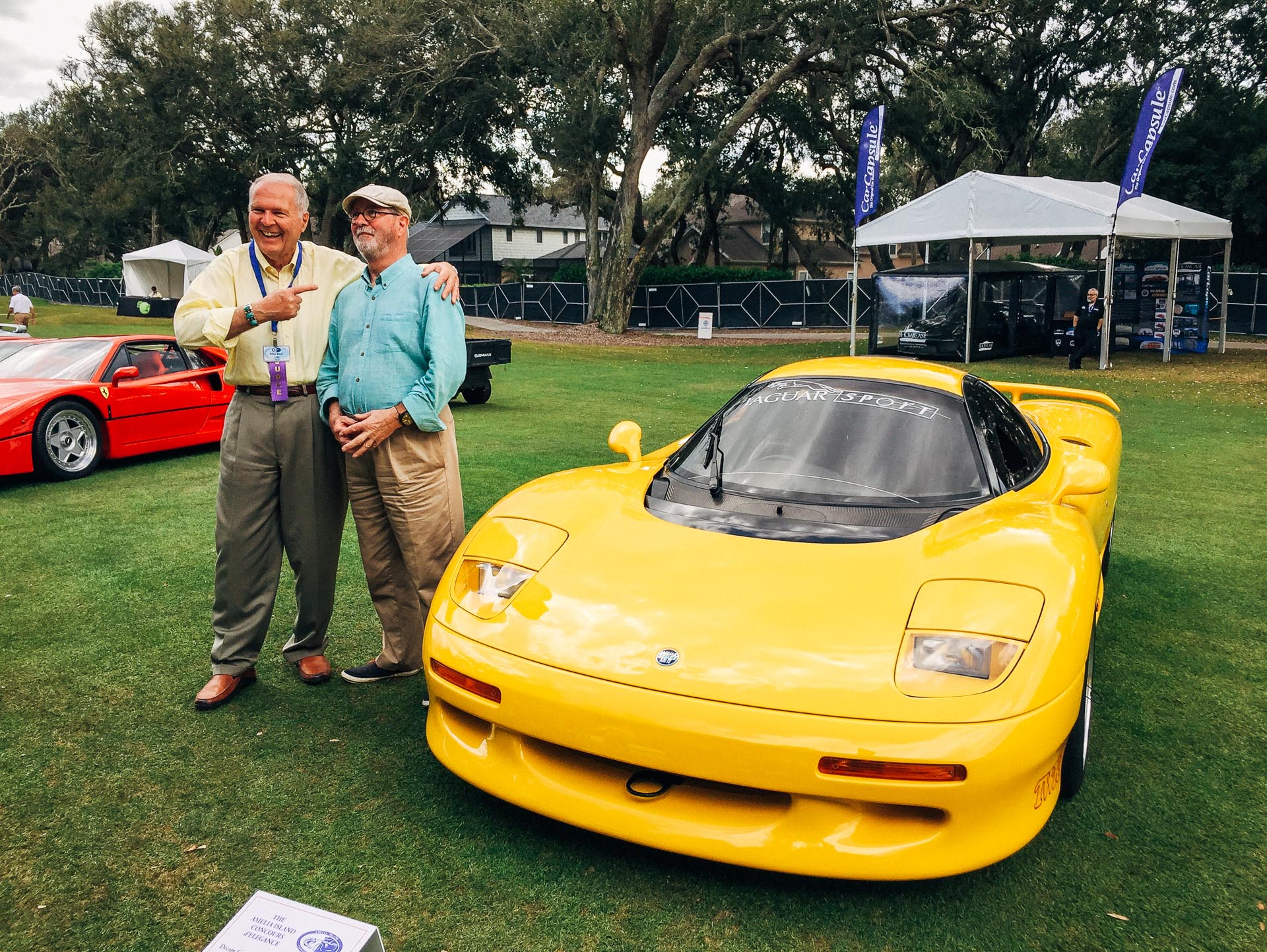 Ron Dennis of McLaren saw Peter's potential and hired him to design the then-new Mclaren F1. Design credit usually goes to Gordon Murray but while he was the engineer Peter actually did the design work.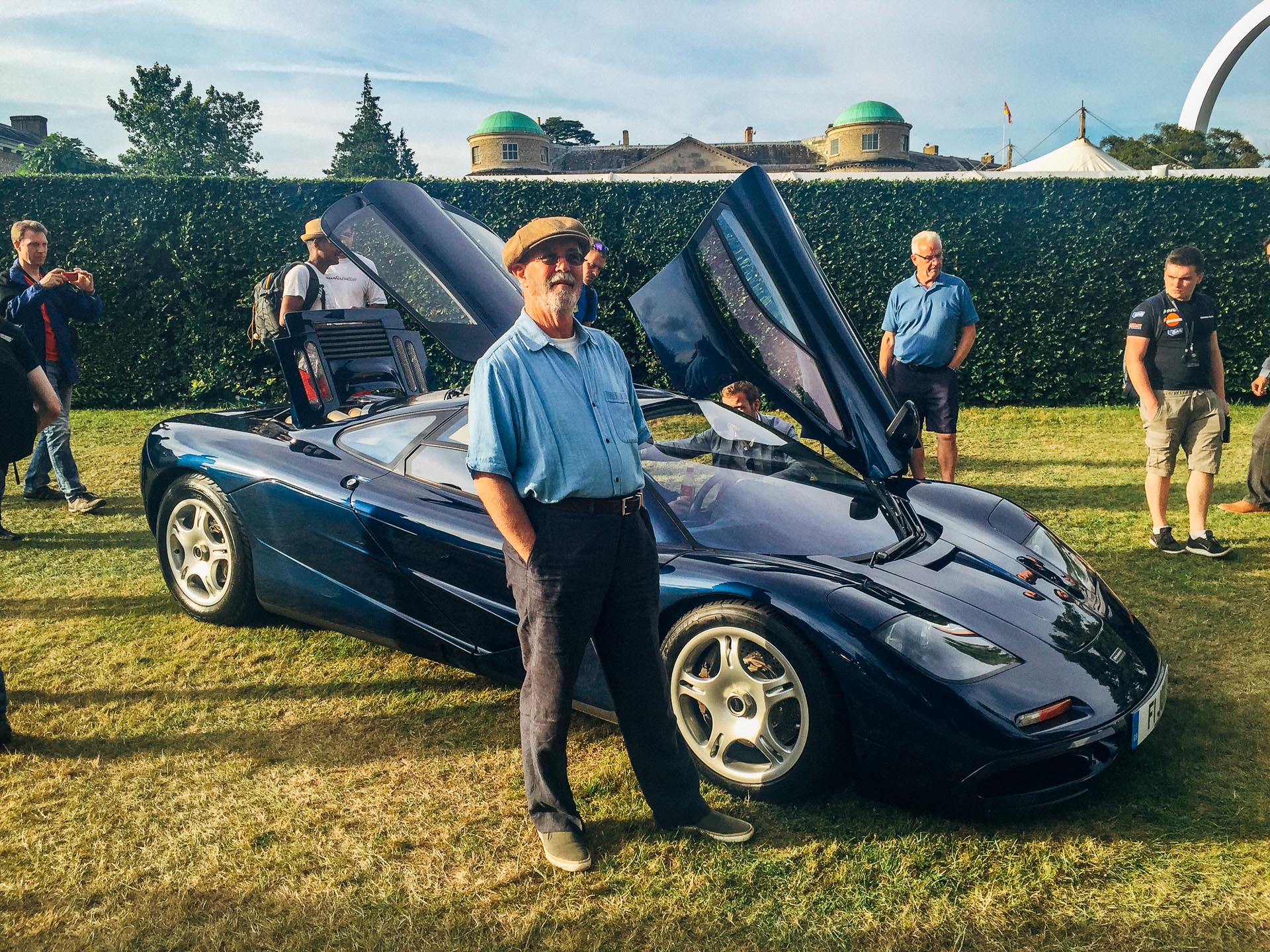 When the F1 project was complete Peter worked for numerous clients including Audi, Lamborghini, Benetton F1, BMW Motorsport, Hyundai, IPN Indonesia, McLaren Cars, Nardi SpA, OZ Wheels, Prodrive, Panoz, Reynard, Rolls Royce, Subaru, TAG Electronics, Toyota Team Europe, Virgin Atlantic, and TATA motors. His impressive body of work resulted in numerous awards including the U.K.'s Autocar magazine Designer of the Year.
"The right pedal is the brake, the center pedal is reverse, and the left pedal is low, neutral, and high. The throttle is on the column—got that?"

Peter Stevens
In the year 2000, Peter became the Director of Product Design for MG Rover and worked on the MG TF, the MG Z-Cars, the MG SV and the Bonneville MG ZT wagon. It was on that project that we were able to finally work together as I worked at So-Cal Speed Shop in Pomona, California, where the racecar was built.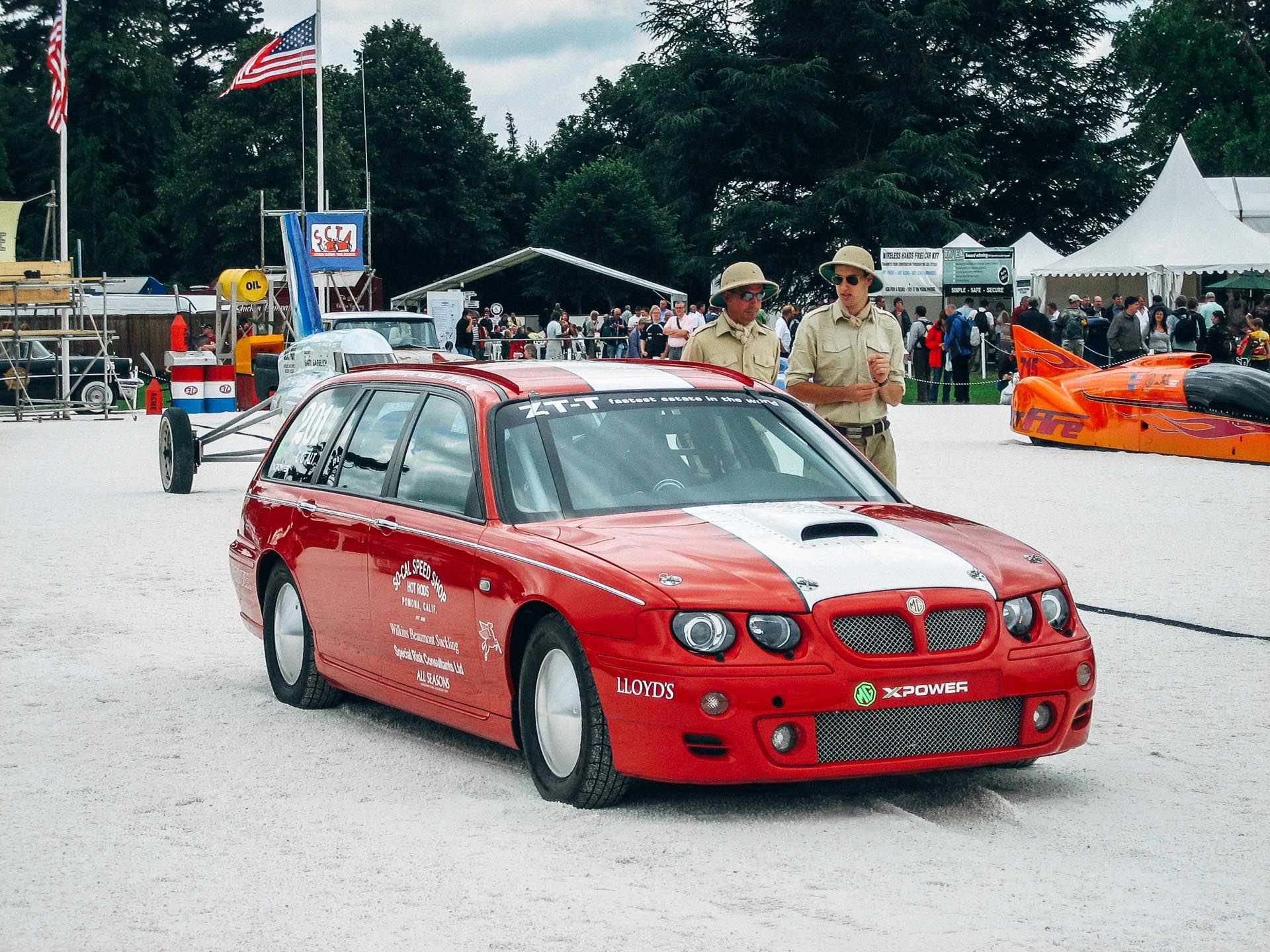 But why a wagon for Bonneville, you may ask? Well, deep down Peter is a hot rodder as were members of the MG board and at the time MG was developing a line of V8-powered vehicles powered by Ford-Roush engines. The aerodynamic wagon seemed a natural, especially when powered by a 700-hp Roush NASCAR engine. The wagon eventually exceeded more than 230-mph but sadly MG Rover collapsed in 2005 and the project was shuttered.
Peter, meanwhile, continues to design for a wide range of clients and works on a lot of eco-friendly, mass-transit projects as well as some alternative-fueled supercars. He also judges Concours events around the world, lectures and gives his time to numerous educational projects including the prestigious REVS Institute in Florida.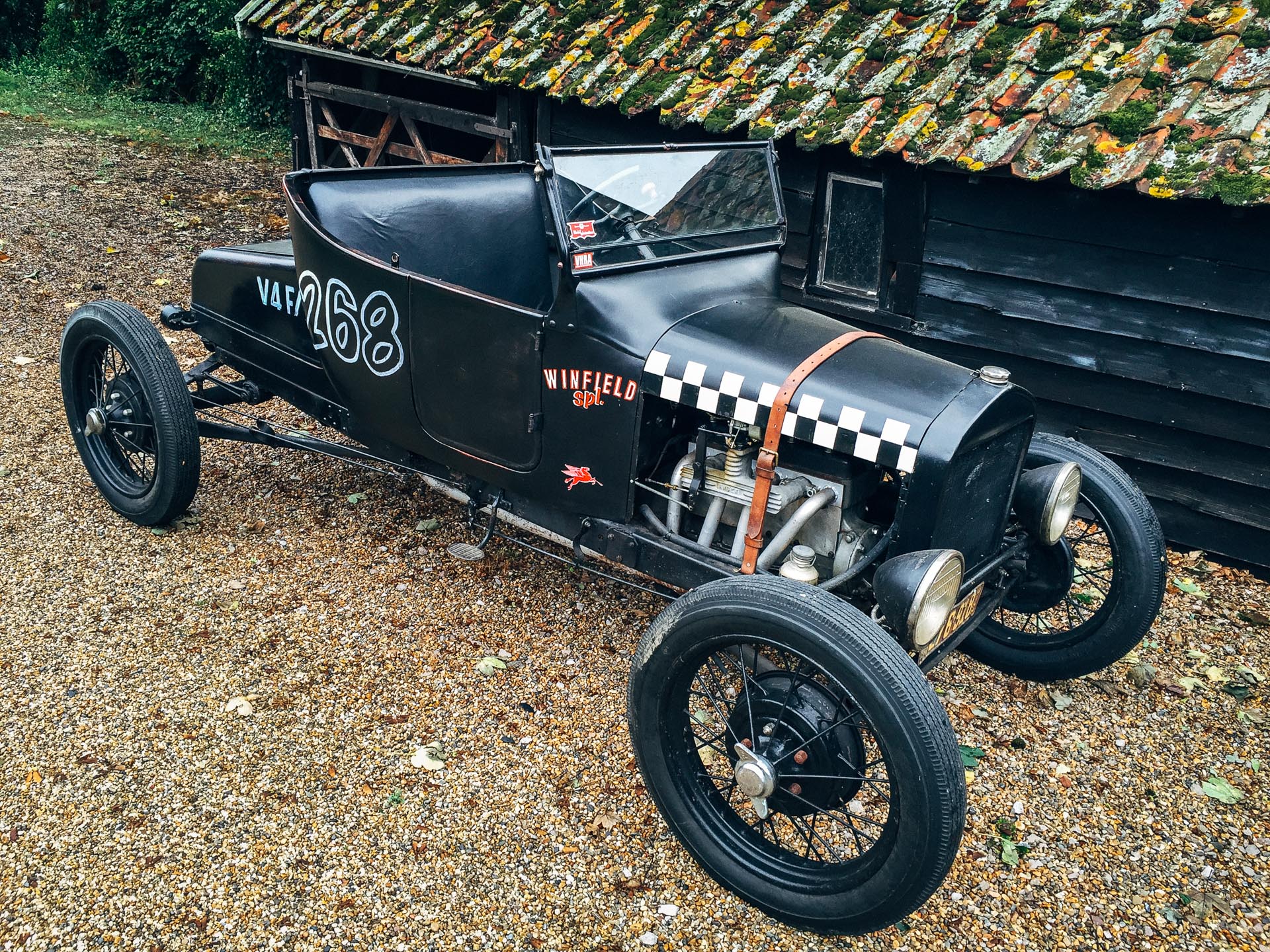 However, his first love remains hot rods and Ford Model Ts in particular. Over the years, he has owned several T speedsters but his current ride is a barely shiny, Henry Ford "Any color as long as it's black," 1925 turtle-deck roadster. It's called a turtle deck because of that add-on trunk bolted to the back of the roadster body.
…his current ride is a barely shiny, Henry Ford "Any color as long as it's black," 1925 turtle-deck roadster.
Peter purchased the T from the U.S. sight unseen on eBay and works and on it himself at home in his studio or his barn in Suffolk, England, about 100 miles northeast of London. The chassis is a narrowed frame from a later, 1929 Ford Model A right down to the lowered buggy spring suspension and rod-actuated brakes.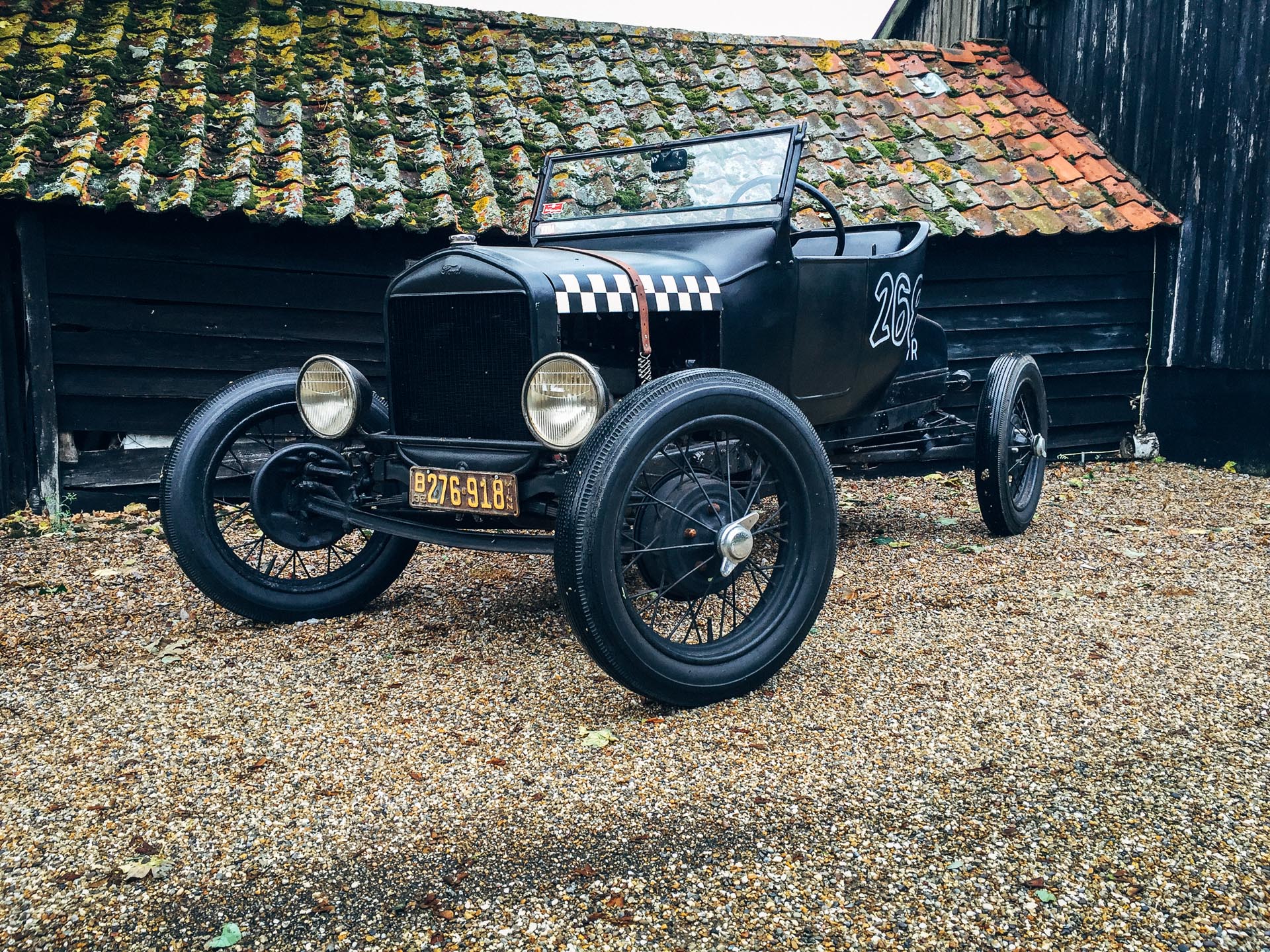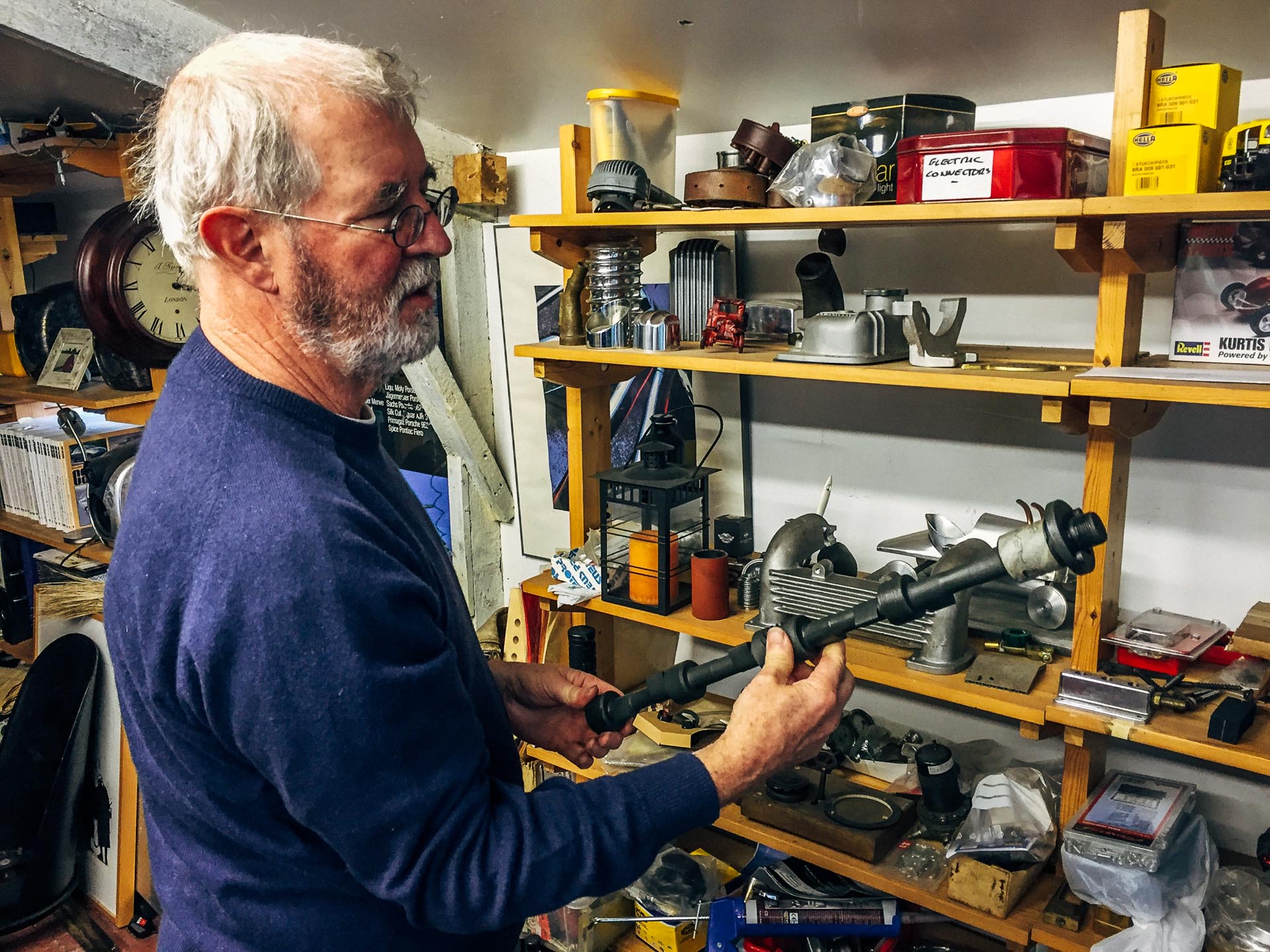 Thankfully, it does not have the quirky Ford T pedal arrangement. "The right pedal is the brake," said Peter. "The center pedal is reverse, and the left pedal is low, neutral, and high. The throttle is on the column—got that?"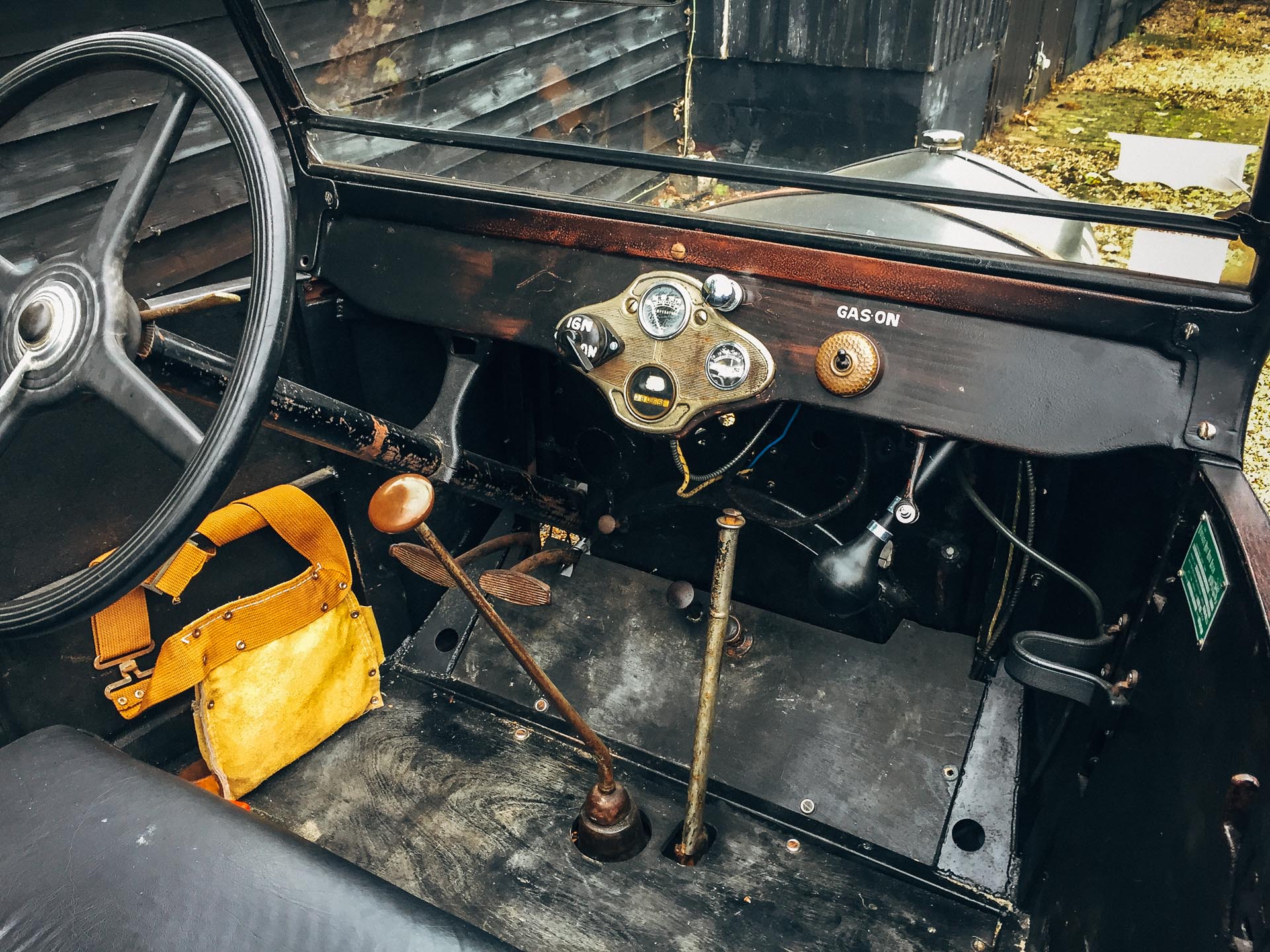 Power for the black beast comes from a mildly hopped-up Model B four-cylinder engine fitted with a Winfield cylinder head, an Ansen intake, a Mallory distributor and a Stromberg 97 carb that is made just up the road in Waldringfield, Suffolk. Over the summer, Peter's plan is to install a hi-lift cam from H&H Antique in La Crescenta, California.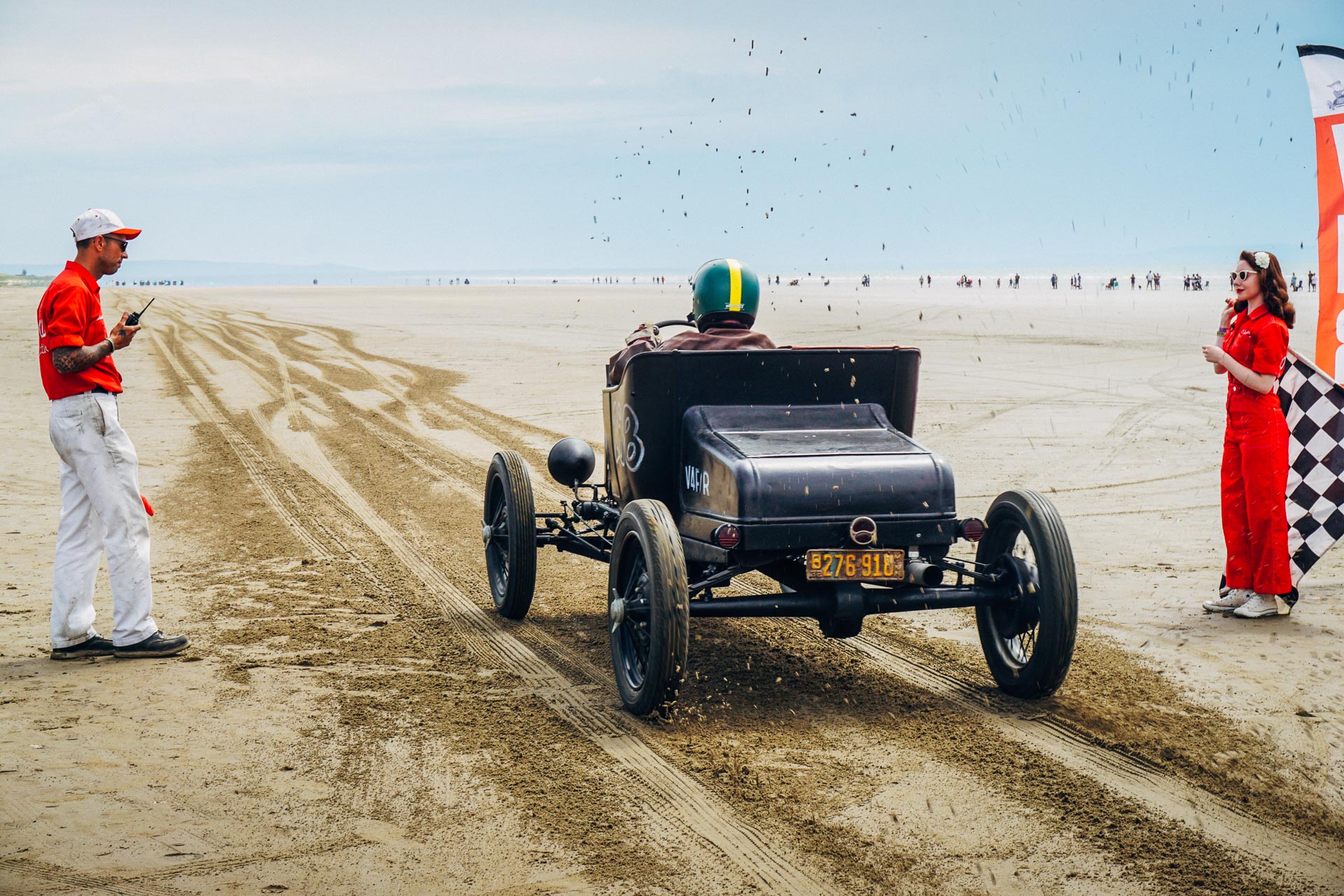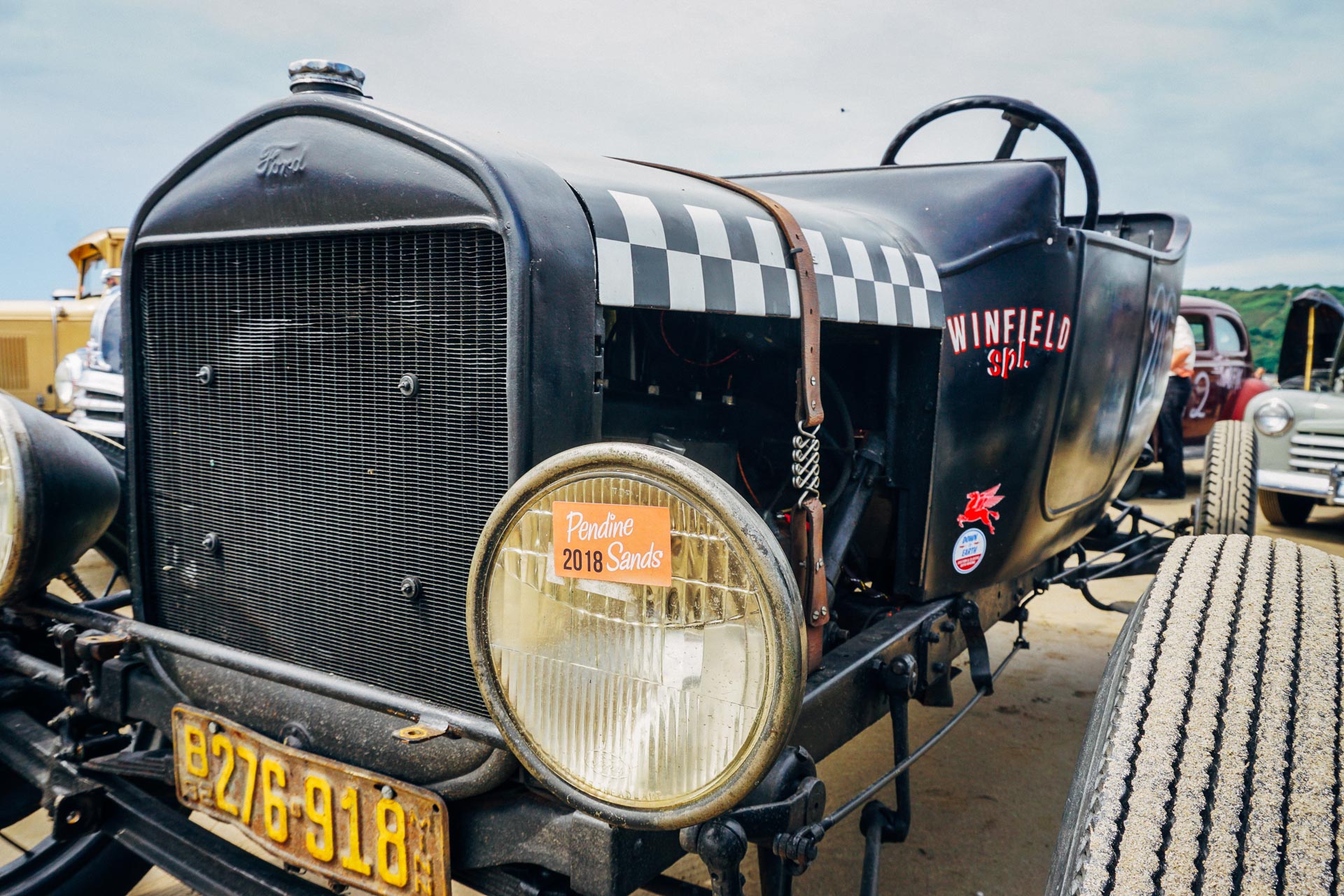 Peter is well experienced at driving these funky old cars. He not only drives them on the street but also races in such events as the Pendine Sands Hot Rod Races in Wales where we caught up with him, at the Rømø Motor Festival in Denmark, and at other European venues. It's a far cry from the McLaren F1 but to Peter, "They're all hot rods to me."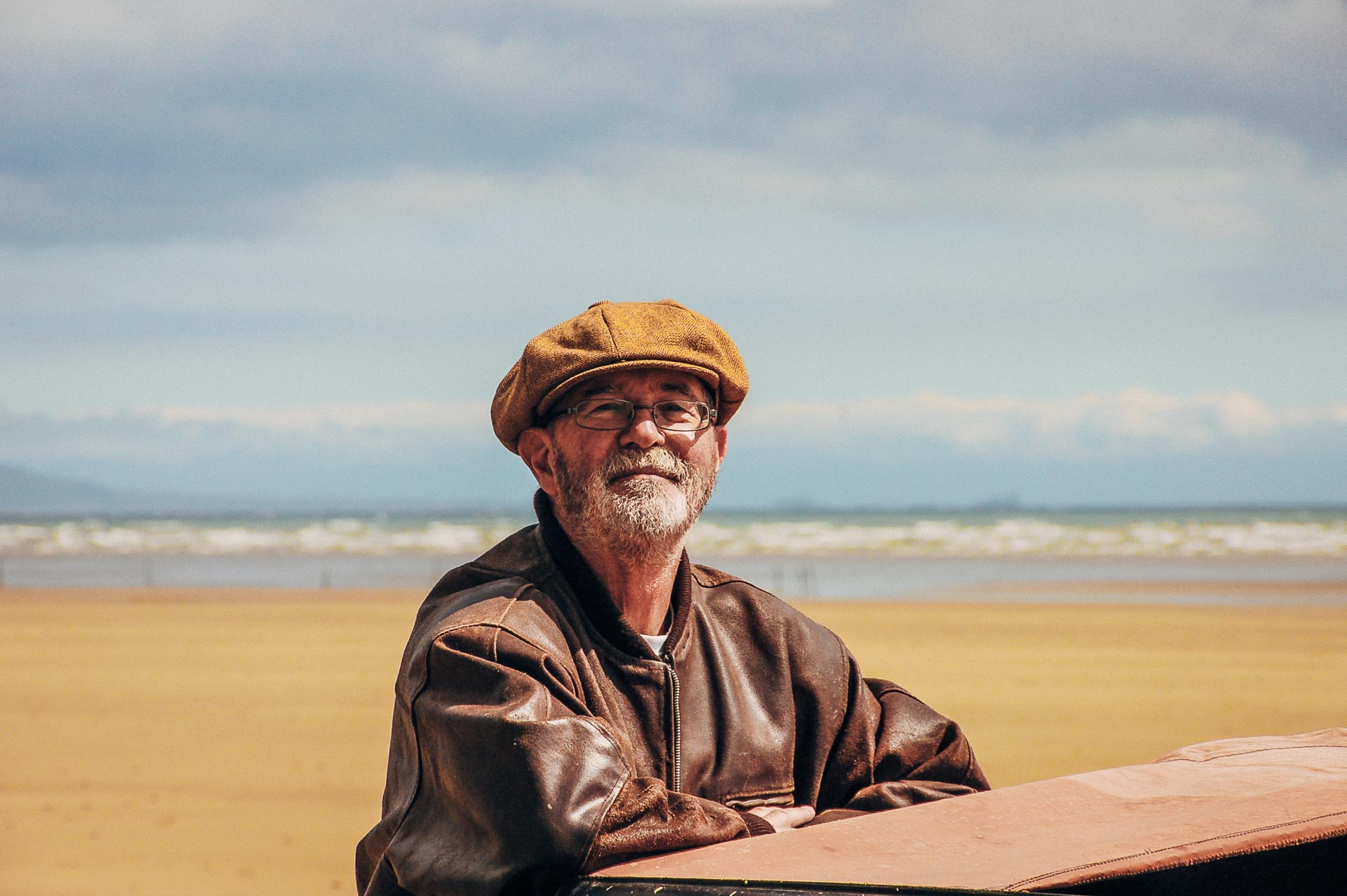 For more information about Peter visit his website or follow him on Facebook.