Balanced Attack: The Nissan 370Z That Was Meant to Be Driven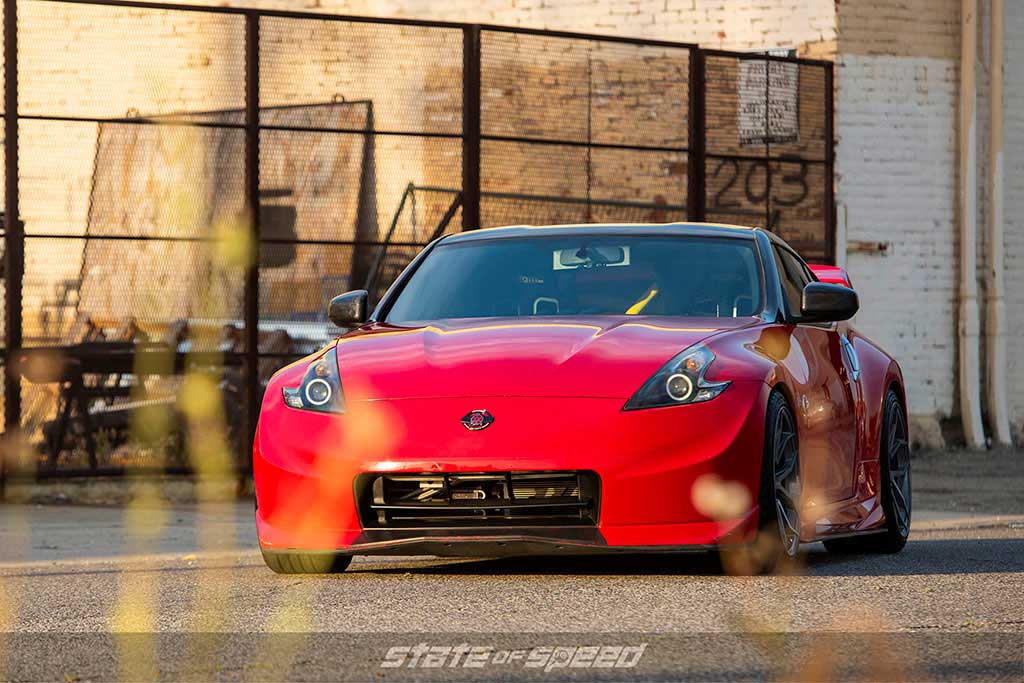 When the Nissan 370Z was introduced back in '08, it had all the makings of an absolute dream machine. The 370Z 2-door sports car with its sleek, low slung design was a vast improvement from its predecessor, the 350Z. The all-new variant, redesigned from the ground-up featured an all-aluminum body structure with increased rigidity, lightweight components, improved suspension, and a 3.7-liter VQ37 VHR V-6 engine to boot that held its own against formidable foes that cost double, the value of the Z. Even today, this sixth-generation model holds a special place in the hearts and minds of gear-heads worldwide as it continues to impress with its visual allure and capable performance both on and off the track.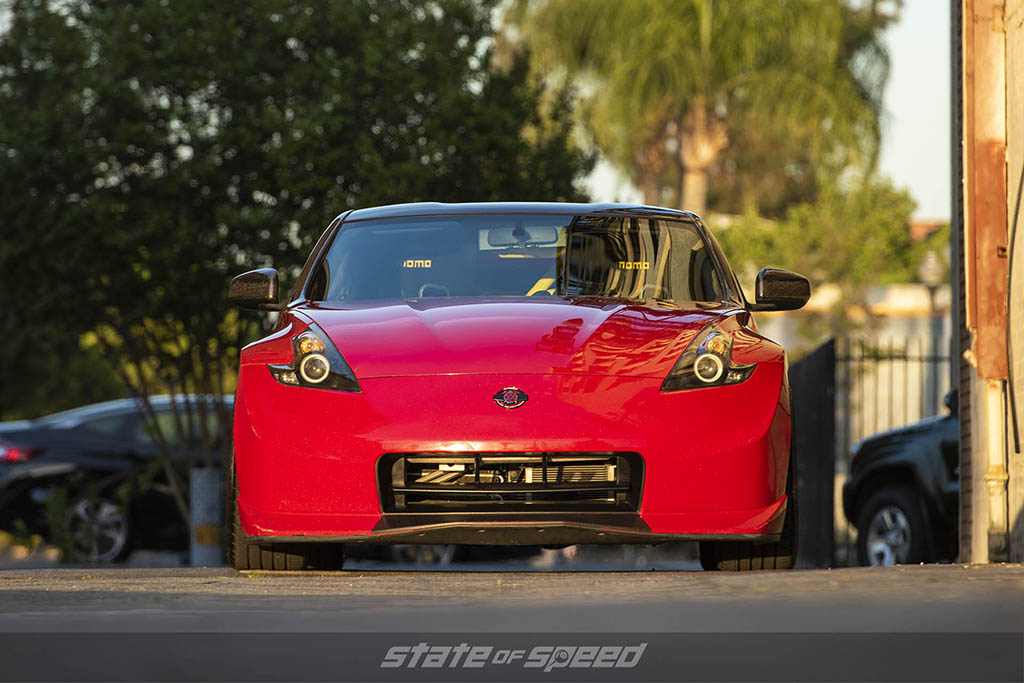 It wasn't long before he decided his weapon of choice was a '16 Magma Red 370Z.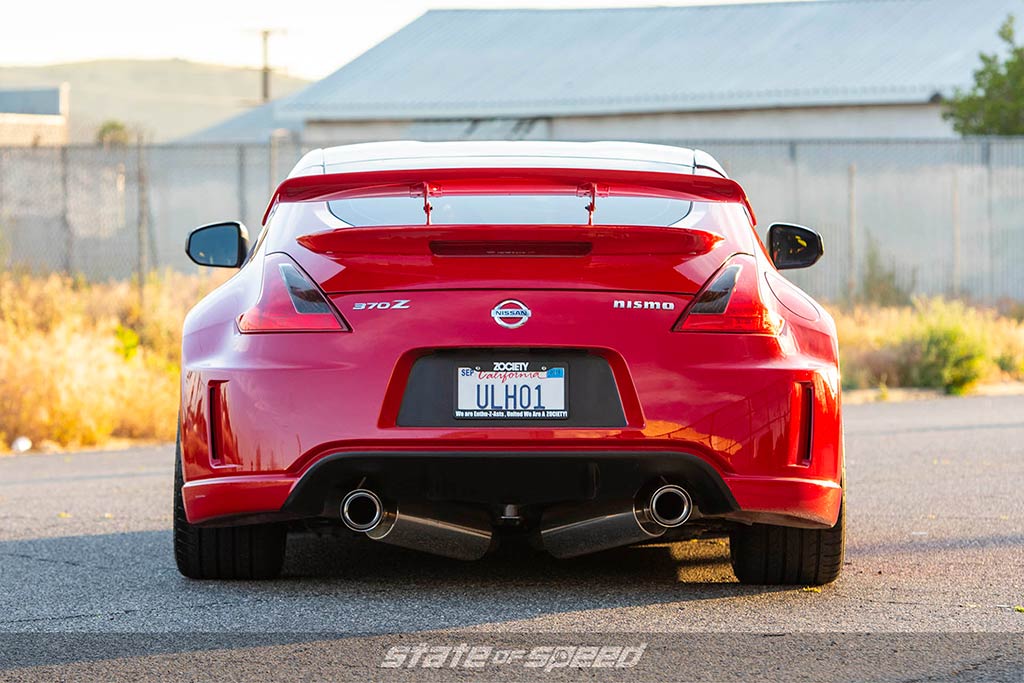 Three years ago, when it came time to purchase a new car, Joe Velazquez wasn't looking for your typical commuter vehicle. "The kids moved out of the house and it was time to upgrade into a more sporty ride that I could enjoy on a daily basis", mentioned Velazquez. It wasn't long before he decided his weapon of choice was a '16 Magma Red 370Z.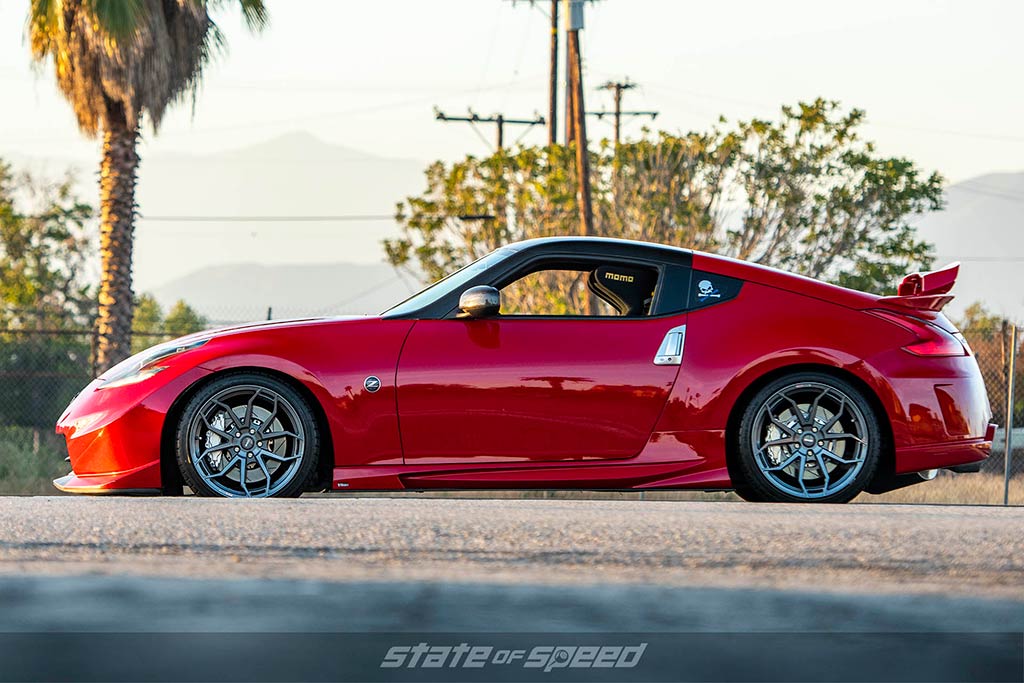 By the time he drove the car off the dealer lot, Velazquez had already formulated a plan to begin modifying his 370Z and execute it tastefully. The first order of business was focusing on improving vehicle horsepower performance. A Motordyne M370 upper manifold replaced the factory unit and was coupled to a Nismo R-tune cold air intake to improve airflow. A set of Motordyne long tube headers vacated spent exhaust gases through a Fast Intentions 2.5-inch exhaust system. A Mishimoto 19-row oil cooler, power steering cooler, and radiator were all used to improve cooling capabilities. An UpRev software module was installed to maximize fuel and ignition timing. The ECU performance tuning was reworked by @saul_nismo_knights.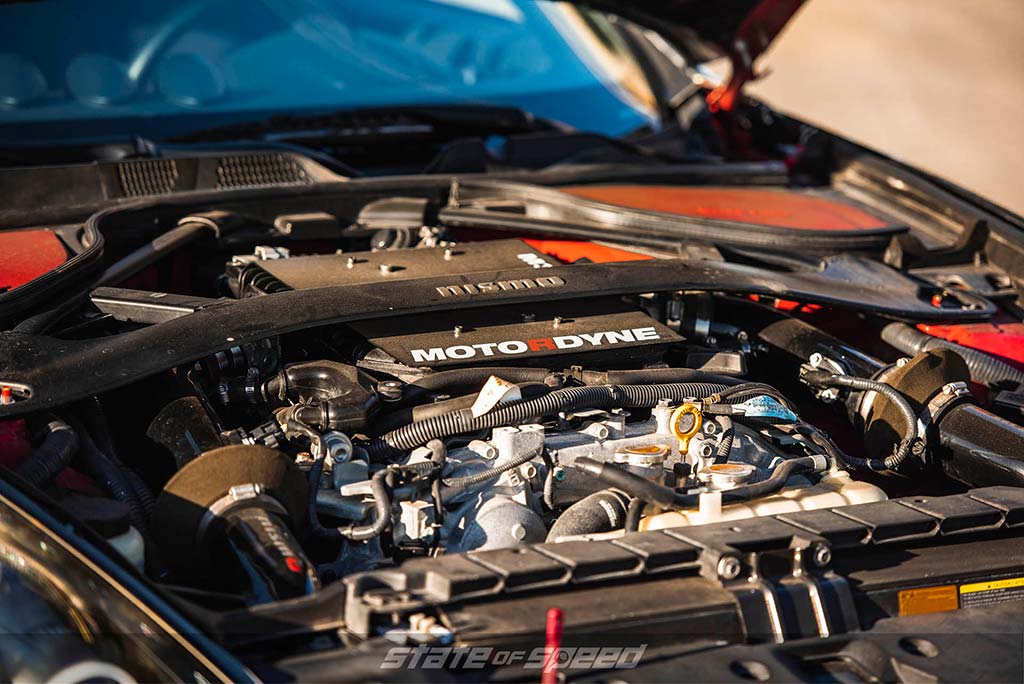 In order to efficiently transfer the vehicle newfound horsepower onto the tarmac, Velazquez opted to install an Action Clutch stage 3 clutch and lightweight Chromoly flywheel. With all the improvements made to the 370Z from the factory, there is an inherent flaw. The internal concentric module inside the clutch slave cylinder made of plastic degrades over time. He decided to convert to an external module using a ZSpeed CMAK V2 clutch slave cylinder delete kit. The final piece of the puzzle was implementing a heavy-duty RJM Tilton HD clutch pedal system that's designed to work with the factory remote reservoir, and OEM type or aftermarket clutch slave cylinder.
With the engine complete, Velazquez turned his attention to the handling of the car. Stopping power is now handled by R1 Concepts 6-piston front brake calipers and 4-piston rear calipers that assist with cutting rotating weight and are larger in size than OEM to help improve braking. Tein springs and a Hotchkis front sway bar was installed and mated up to Momo RF-5C wheels in 19×9.5 +15mm offset upfront wrapped in Milestar MS932 XP+ 255/35-zr19 tires and 19×11 +23mm offset wheels towards the rears with 295/30-ZR19 rubbers.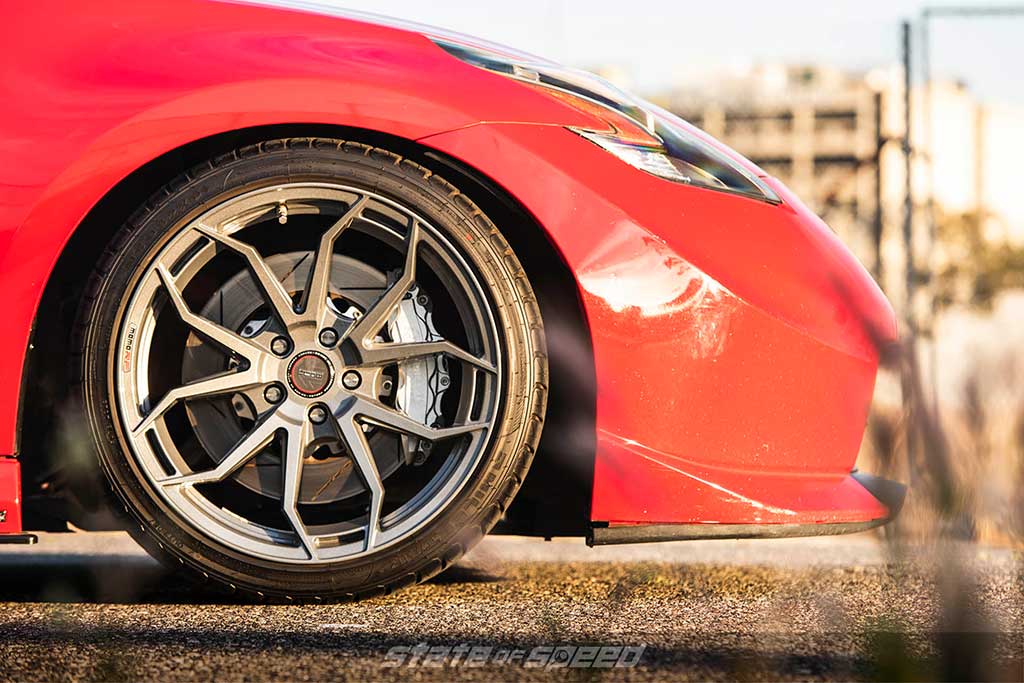 Velazquez admits one of his guilty pleasures includes stretching the Z's legs around the twisty roads of Azusa Canyon for some spirited driving. According to him, the upgraded suspensions modifications made a "night and day" difference. "Out the box, I felt the Z exhibited excessive body roll and the initial cornering didn't feel right. Concept 3 located in Santa Fe Springs is my one-stop-shop that not only helped dial in my suspension but also installed a slew of SPLParts including front and rear camber and pro end links, bump steer front outer tie rod ends, eccentric lockout kit, and titanium rear traction arms. The Milestar MS932 XP+ tires offer fantastic grip and overall performance that helped further increase the handling capabilities of the Z." The chassis and suspension were completed with a Z-Speed aluminum under shroud and Street Faction rear bash bar w/jack point.
Subtlety wasn't the goal.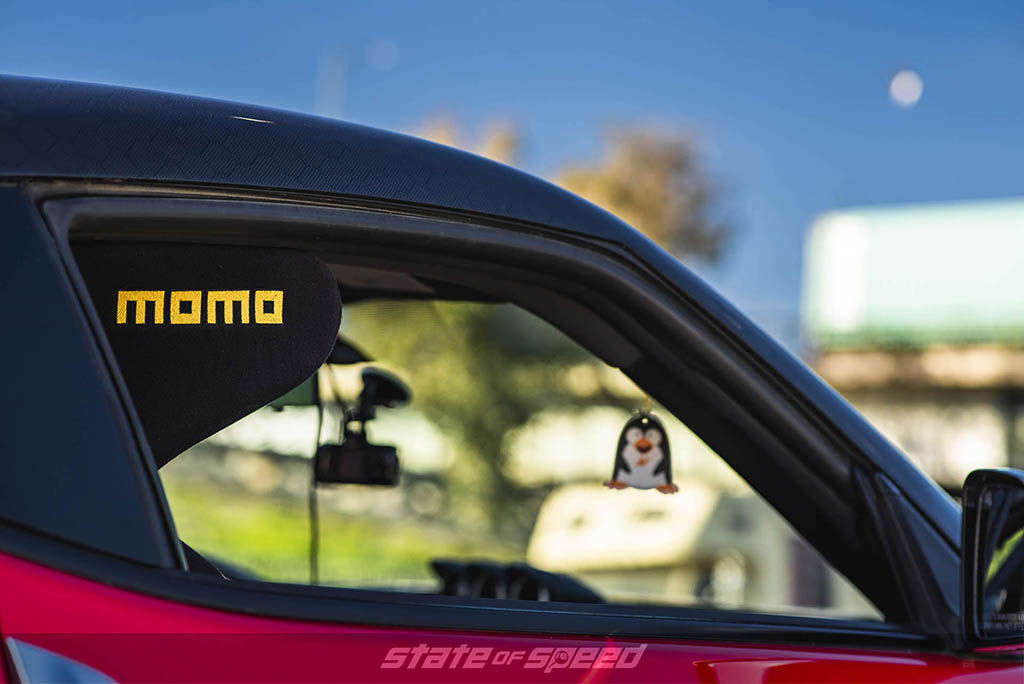 When it came time to modify the exterior of the vehicle, Velazquez wasn't looking the replicate your typical cookie-cutter build. "I wanted to create a 370Z that people haven't seen before at shows or driven on the streets. Fly1 Motorsports located in Ontario CA, helped transform my 370Z from a stock to a show quality build using their honeycomb carbon fiber parts.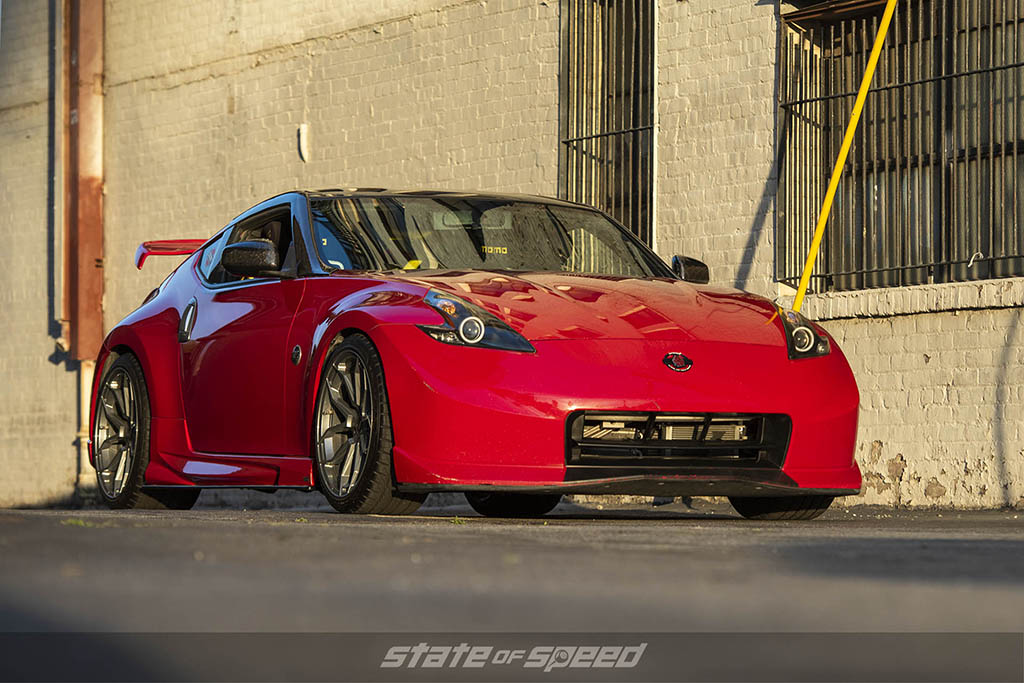 Subtlety wasn't the goal. The exterior consists of a mishmash of various products. Slick Carbon based in South Gate CA provided a set of CF side mirrors, CF roof, CF A-pillars, and CF 2015+ Nismo-style rear wing. A closer look reveals a Fly1 Motorsports honeycomb carbon fiber hood, front fenders, vortex generator, and splitters. The exterior was completed using a Zakustech honeycomb carbon fiber louver to recreate a sleek retro-inspired design while maintaining an aggressive appearance. A pair of EL Stig RGBW LED demon eyes and EL Stig RGBW halos were retrofitted into the original headlights to set the car off-in-style.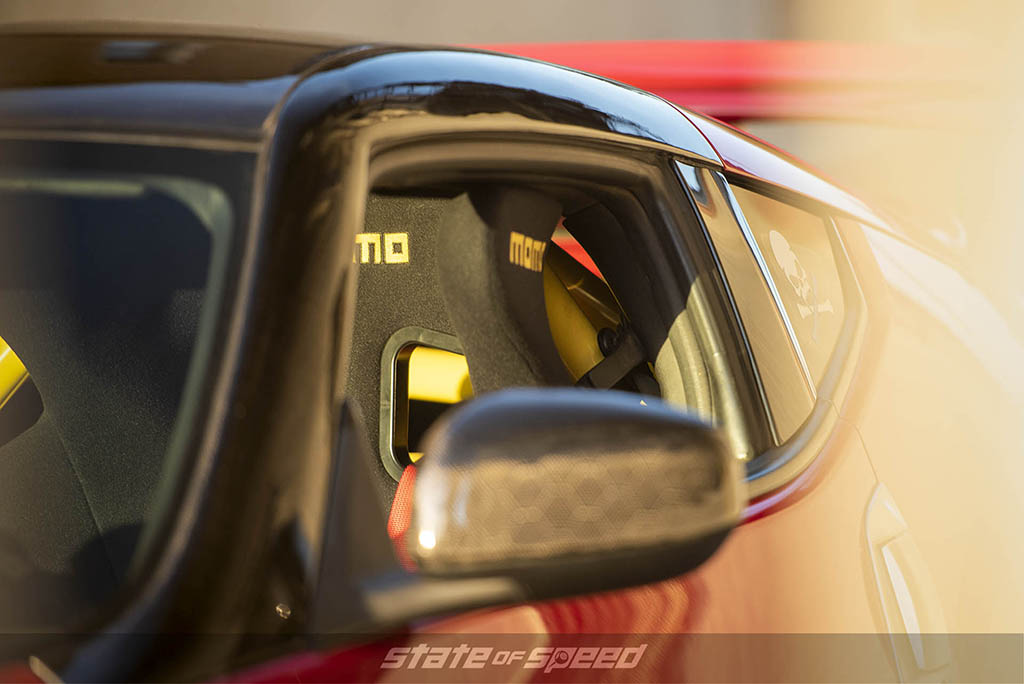 With everything taken care of but the interior, Velazquez wanted to keep modifications to a minimum. After adding Street Faction door cards, a Momo MOD30 steering wheel was affixed to a Works Bell short boss, Rapfix quick release and Rapfix flipper. A pair of Momo Daytona Bucket seats were mounted to Buddy Club brackets and rails and Cusco 5-point harnesses were secured to a Next Level Performance roll bar. " The Momo seats keep me firmly planted but comfortable when driving on any road including twisting through the canyons. It didn't feel like I was sloshing around allows me to drive with more confidence.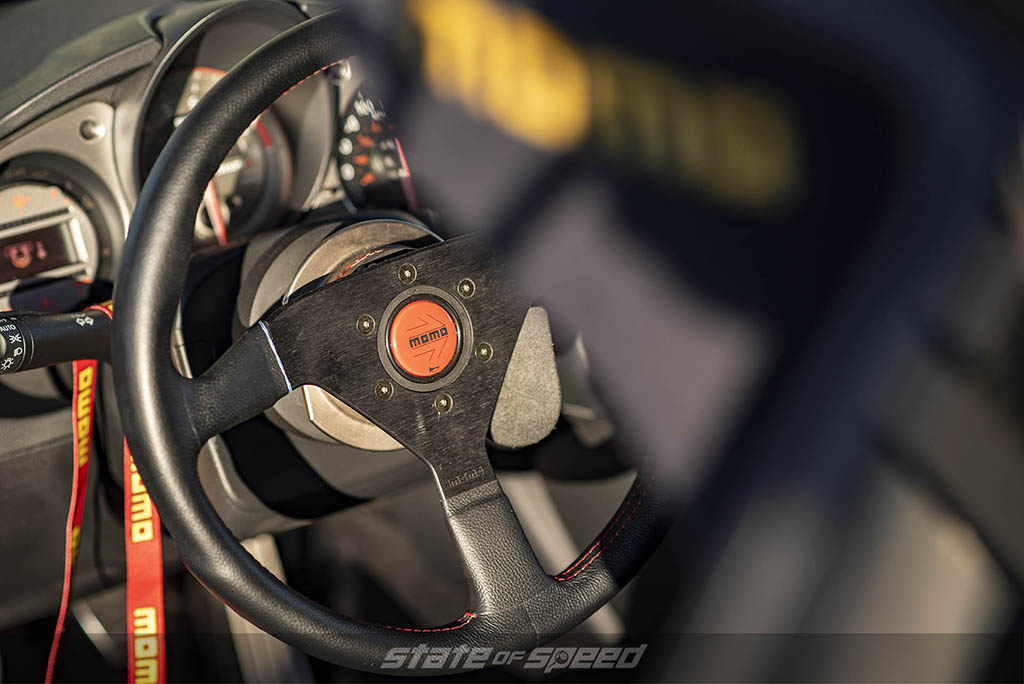 Currently, the vehicle is undergoing a facial transplant using a combination of Varis Kamikaze widebody parts combined with Nismo bumpers. Velazquez's 370Z was built to be the perfect example of a "driver's Z" that was tastefully modified and that's exactly what it is. Everything works, everything looks in place, and it continually turns heads anywhere it goes.