Hennessey's Supercharged Mammoth 1000 RAM TRX Makes Over 1000HP
Jan 20, 2020 – Hennessey Performance Engineering (HPE) is known widely for taking performance vehicles and taking them to the next level, as seen in the Velociraptor Bronco. So once they got a hold of the new 2021 RAM TRX, they went to town and came up with the limited-edition Hennessy Mammoth 1000 TRX.
This high performance pickup comes from the factory with a supercharged 6.2L V8 rated at 702BHP and 650lb-ft of torque, which is quite impressive, but obviously not impressive enough for the mad scientists at Hennessey. In a direct quote from John Hennessey himself, "The RAM 1500 TRX is exciting in stock configuration, but I'm seeking extraordinary,". And extraordinary is what they made. With the addition of an upgraded supercharger, headers, and high-flow exhaust to name a few, the RAM TRX is boosted to over 1000hp(hence the Mammoth 1000 name if it wasn't obvious enough) and 650lb-ft of torque. Along with the beefed up powertrain, you get a 2.5″ lift kit, custom front bumper with a built in light bar, Hennessey wheels, 35″ off-road tires, and a suspension level; all part of the MAMMOTH OFF-ROAD STAGE 1 package.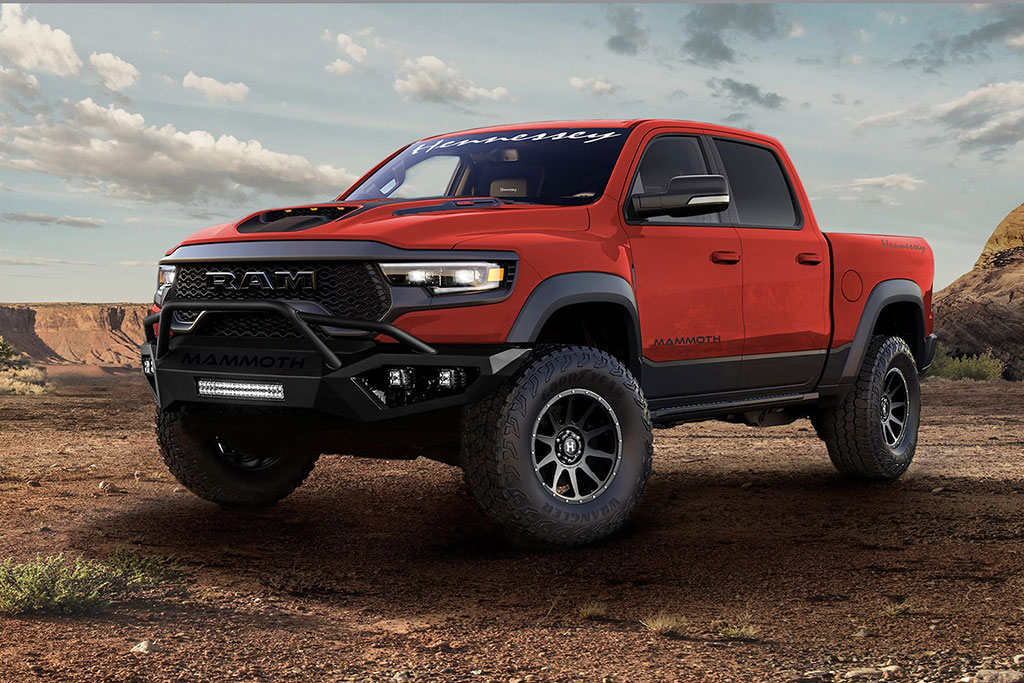 If you want to get your hands on one of these: good luck. There will only be 200 of the Mammoth 1000s made, each carrying its own serialized badge, and comes with a price tag of $135,350. RAM TRX included. But without a doubt, the Hennessey Mammoth 1000 RAM TRX is sure to be a beast off the road.