Cadillac CT4-V and CT5-V Blackwings Bring Big Power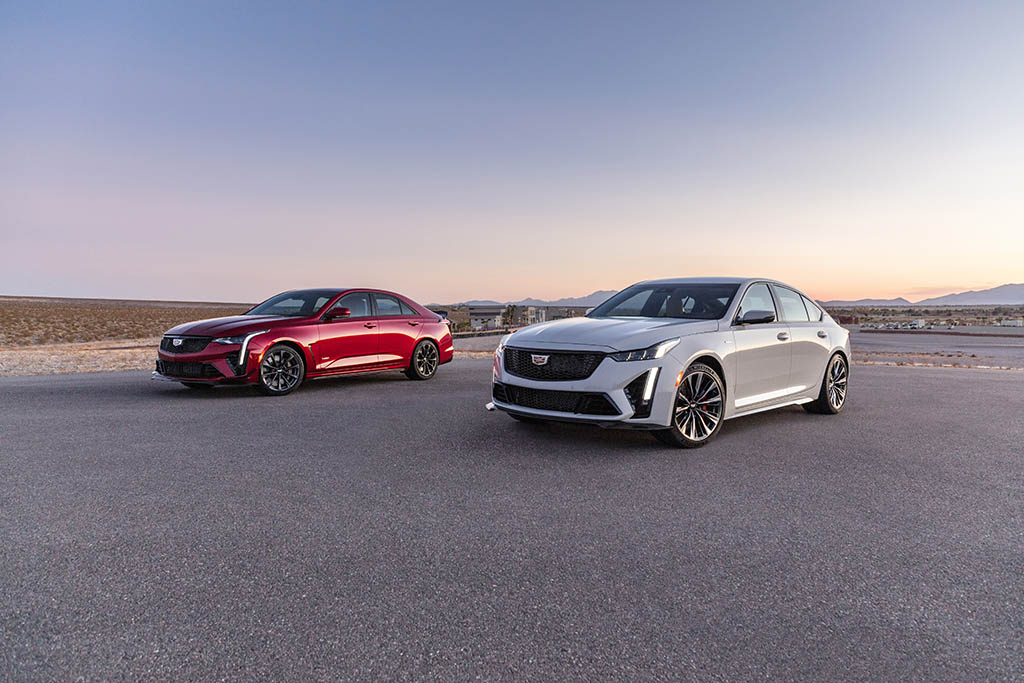 Jan. 18 – The Cadillac V-Series just gained two more impressive, high-performance vehicles, known as the CT4-V and CT5-V Blackwings. Born from a vision of achieving an artful balance of form and function, these two new Cadillac sedans are ready to prove their track-capable performance, while showing off the glorious V-Series motorsports-inspired styling.
Engine and Performance
The CT4-V will come standard with a twin-turbocharged 3.6-liter V6, producing 472 horsepower. The CT5-V, in V-Series fashion, will come with a supercharged 6.2-liter V8 that pumps out a whopping 668 horsepower, jetting the car to 60 in 3.8 seconds with a top speed of 200 mph. This monstrous powerplant makes the CT5-V Blackwing the most powerful production Cadillac to have ever been manufactured.
Interior
Both the Cadillac CT4-V and CT5-V Blackwing interiors will be sportier and more functional than ever before, available with high-performance seats and steering wheels, along with sueded microfiber headliners and Opus leather trim. The CT4-V and CT5-V will also come with a standard AKG premium audio system, with 14 and 15 speakers respectively.
Aerodynamics
If there is one thing Cadillac focused their efforts on for the Blackwing, it's the aerodynamics of each. Cadillac put both through extensive aerodynamic development and testing to reach their desired final product. A new primary mesh grille design improves airflow and is able to direct that airflow to the main radiators, cooler, and airflow ducts. A front splitter reduces lift help keep the car planted and an improved rear spoiler balances the effect of the front splitter to maintain rear-wheel traction. They also developed an underwing that consists of underbody panels designed with-airflow channeling to support the cars' aero-efficiency.