A DeLorean Turbo Widebody for the Future
Not Another Back to the Future DeLorean
When fresh automotive news or SEMA builds debut there are many outlets jockeying for position and trying to leapfrog competitor's publishing dates. But the planets can align when scheduling, connections and a unique angle all work together to capture a feature not seen elsewhere. This time around when the silver twin-turbo DeLorean debuted at SEMA and filled everyone's feed, we kinda sat back and went: "yeah I know that car, the owner and it's 15 minutes away," with smugness. And with that we reached out to builder Tim Moceri of Salvage to Savage garage, who all of a sudden became internet famous in the first few days of November this year.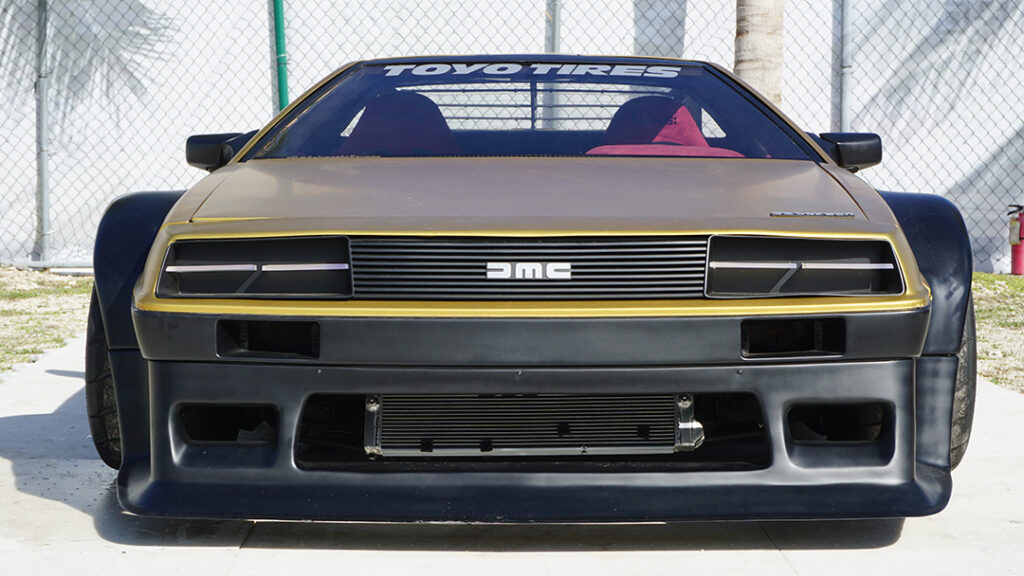 Tim is a friend for a number of years and we've actually collaborated on a build before. Tim crafted an incredible widebody Lexus project that was about to take the internet and SEMA by storm but a number of different factors meant it was mostly a learning experience. The DeLorean has been Tim's time to flex. He had the hot Gen X platform, a real budget, and the right team at Salvage to Savage garage and well, Tim describes it as "redemption that has solidified future SEMA Shows" for him and we couldn't hit the 'LIKE' button more on that statement.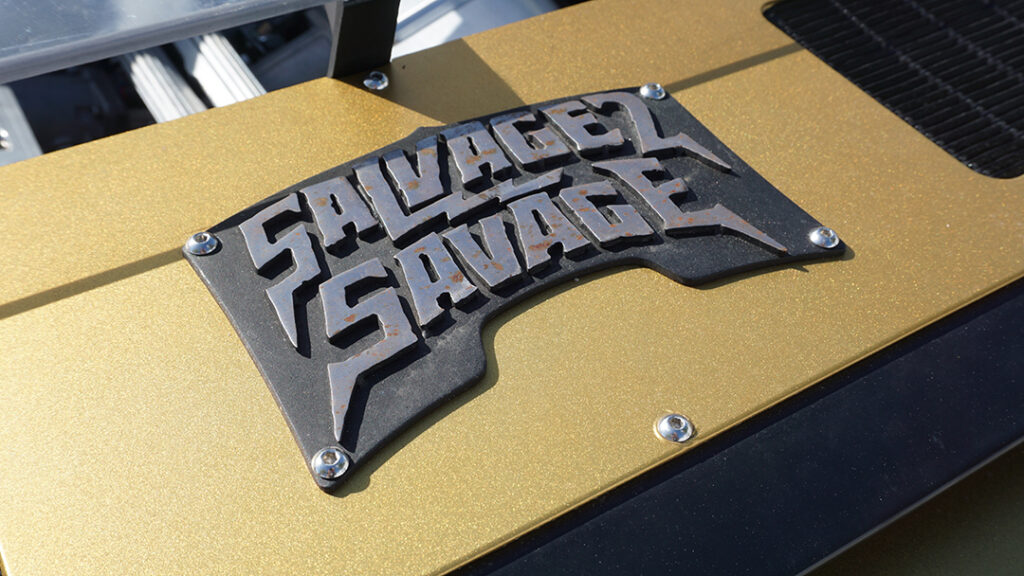 SEMA 2021 might have been a different show thanks to our old buddy COVID but there was an "it car" from the show and that was this DeLorean. The silhouette of the DeLorean has been made iconic by Hollywood and desired by many 80s kids but if you have ever read a real review, it was hot garbage. An anemic motor, questionable build quality and an assembly line so far in trouble it needed JohnDeLorean to sell cocaine to support it, spelled disaster for the DeLorean… well until now.
If you are wondering about your level of color-blindness, yes the DeLorean is now gold. Wrapped in a sexy satin gold by Von Wraps of Boca Raton, FL, the new look was to set it apart from the SEMA splash. There is also a potential buyer that has an all gold fleet, so draw your own conclusions.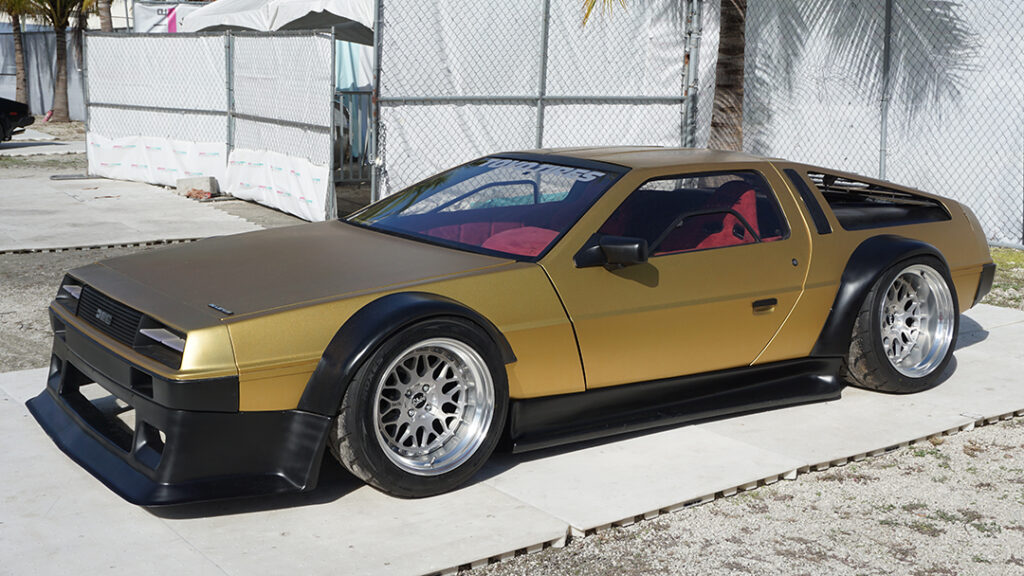 Conceptualized by the Instagram legend known as The Kyza (Khyzyl Saleem), who put together renderings for this project and is himself stunned at the integrity of the actual build. "Everyone is freaking out how the entire build down to the headlights and taillights emulates Kyza's drawing," says Tim "We took what Kyza couldn't cut and weld together and made it without compromise or changes. It wasn't supposed to look like anything but the rendering we thought."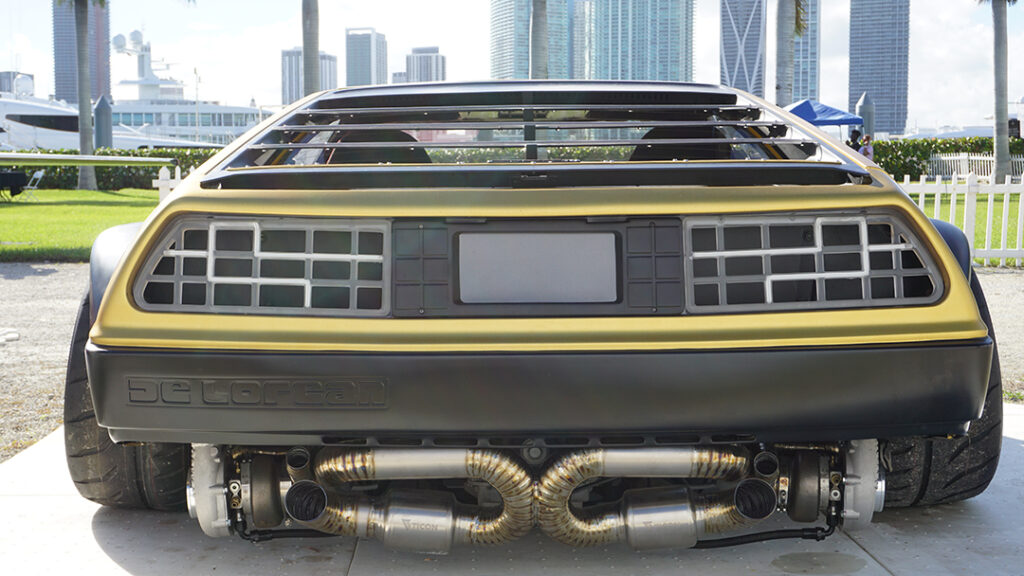 The donor DeLorean DMC-12, was found painted in red and had been in a major accident, so there was no destruction of a perfect collectible car here (not that they sell for much anyway). The stainless steel shell was heavily modified with a widebody flare, which has a carbon fiber composite update in development. A number of bezels and panels along with front fascia were crafted in satin black to work with the SEMA Silver and now the Miami Gold.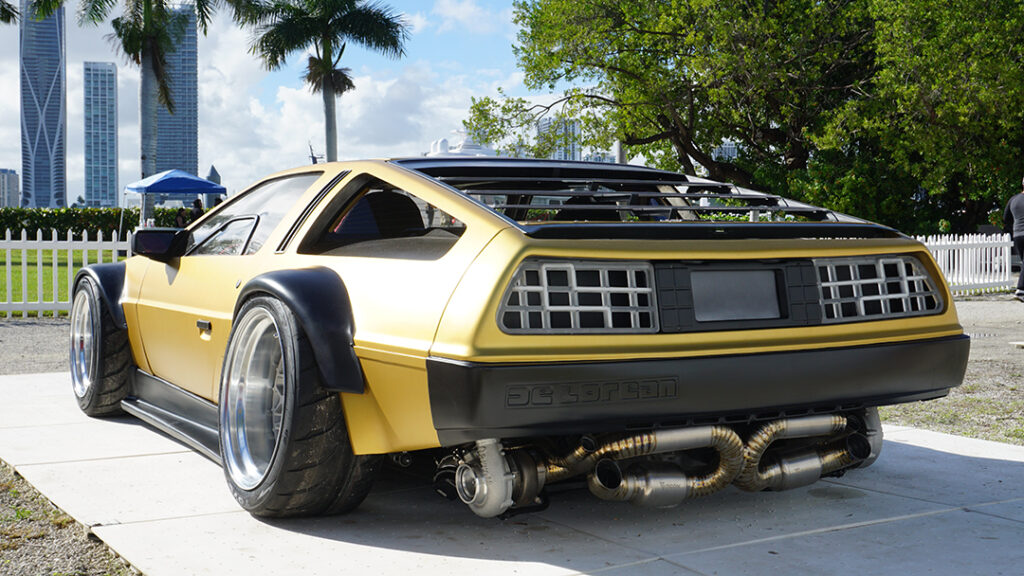 The wheels have also made an impact for the build and came from new sponsor Sköl Wheels of California. The custom size and offset Sköl SK17 3-Piece Modular Series were finished in brushed satin face with a polished lip. The aggressive stance of the DeLorean is thanks to Air Lift suspension mated to KW Suspension Variant 3 coilovers made possible by the magic Moceri worked to mount them as there are no part numbers fitting a DMC-12.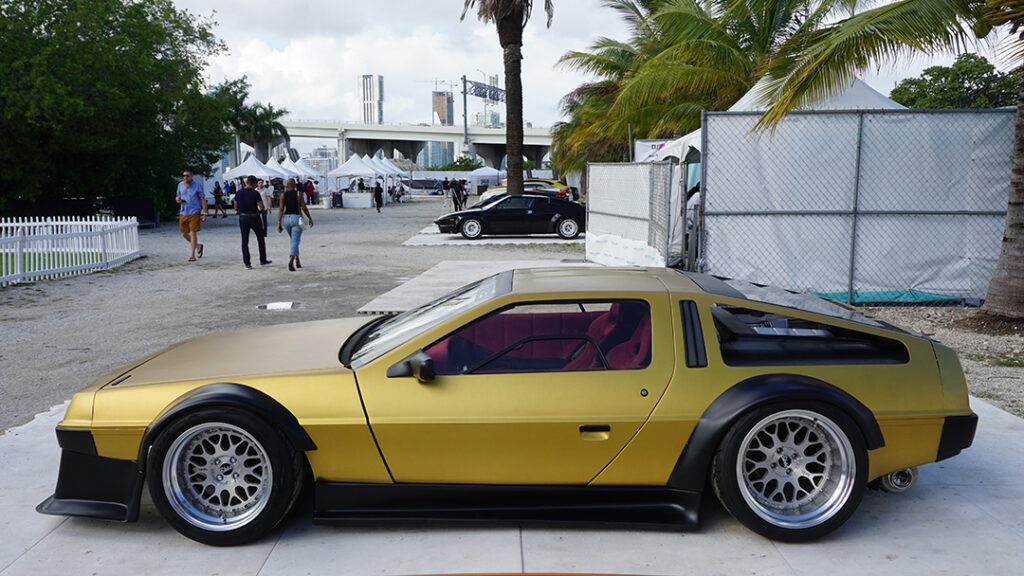 Tim is a horsepower addict, this is a guy that built a quad turbo LS truck and for the DeLorean he went with good ol' GM know-how, the 5.2L LS V8. Not just any LS but a built motor fitted with a pair of Garrett G-Series turbos (unfiltered of course) and modulated by TurboSmart HyperGate 45 wastegates. The plumbing is all TiTek titanium with Vibrant Performance hardware and mastercrafted by Tim to tuck up under the rear bumper in a unique blend of show and go. The whole engine package is orchestrated by a Haltech ECU to make it all play nice together. The twin turbo LS mill is fitted to a Porsche 996 6-speed transaxle to drive power to those fat rear tires.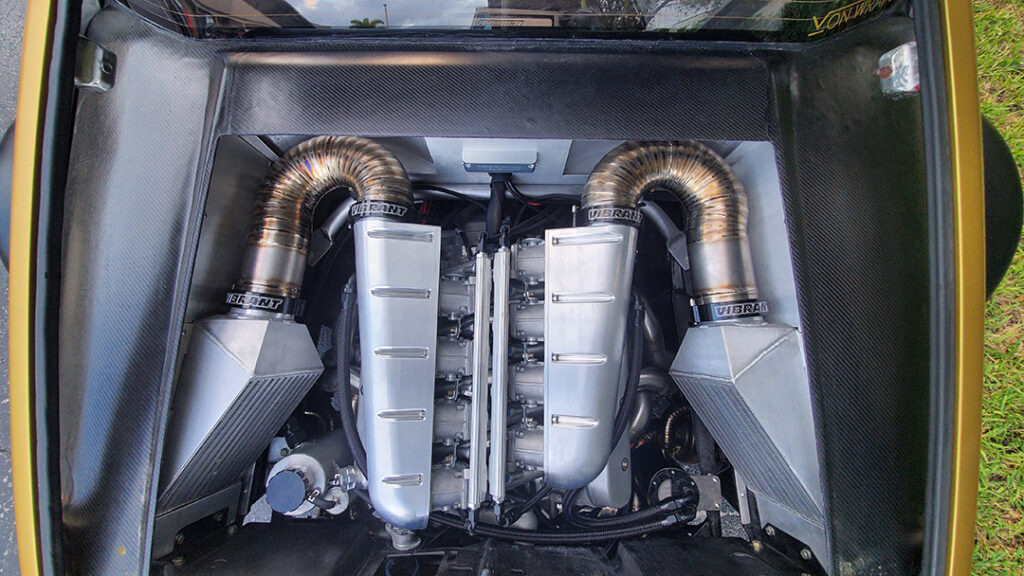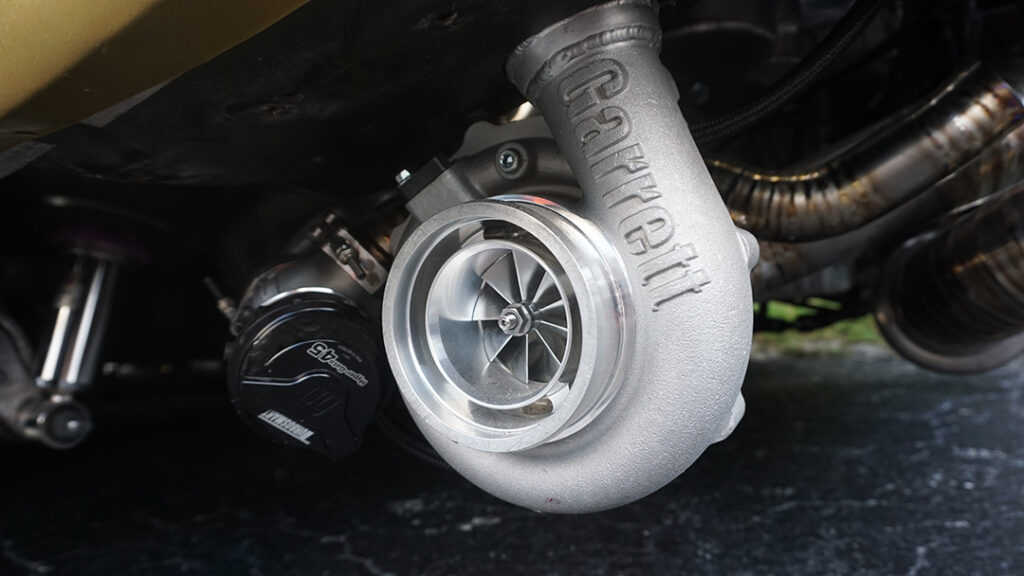 After the triumphant return from SEMA, Tim didn't sleep on his accomplishments but got to work with Salvage to Savage on the next steps. Tim is back at the workbench on perfecting the running and driving dynamics of the DeLorean and producing parts in carbon fiber because he says along with this potential buyer, there may be a market. "Thankfully, I have another DMC-12 at the shop if we have to start producing more of these."
We couldn't agree more Tim, if we had unlimited car money too we would hop on the list because as fans of all things 80s, there isn't a better DeLorean tribute out there.