Dirt, Mud, Sand & Beyond: Demello OffRoad's Solid Axle Swap 2005 Toyota Tacoma
In the world of custom trucks, there's basically no limit on what can be done. This goes for throwing parts, hours of labor and/or cold hard cash into a project. As a grand example of just what we mean, we reached out to Jason Demello of Demello Offroad in Riverside, CA to get a closer look at his very special 2005 Toyota Tacoma 4×4 double cab that he affectionately calls "Big Red".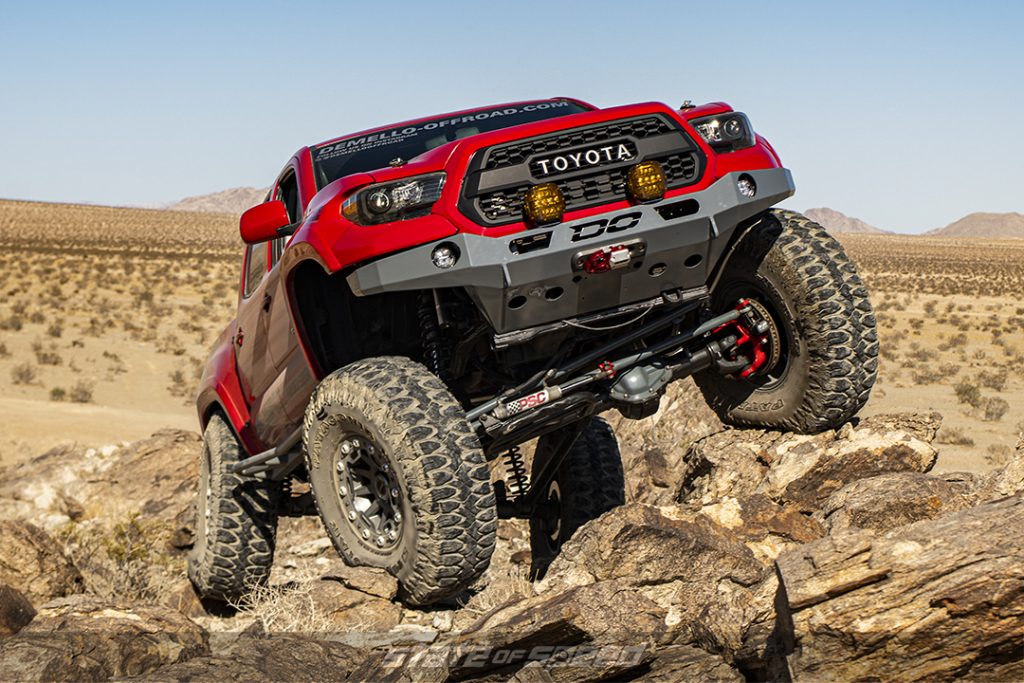 Yes, this truck is quite big—and red BUT this truck is so much more than that. We had an opportunity to spend some time in the dirt with Jason to see what his Tacoma was all about because at first sight, it's apparent that it's not like the rest. "Long story short, we wanted to be the first to do a solid axle swap (SAS) on a new Tacoma back in 2005, so a 'friend at the time' bought a new truck and dropped it off at the shop", Jason says. "We started cutting off the front suspension while it still had paper plates on. It was brought back to us in 2011 to add a rear 3-link, and we ended up acquiring the truck outright in 2020 with plans to give it a complete facelift, which it so badly needed."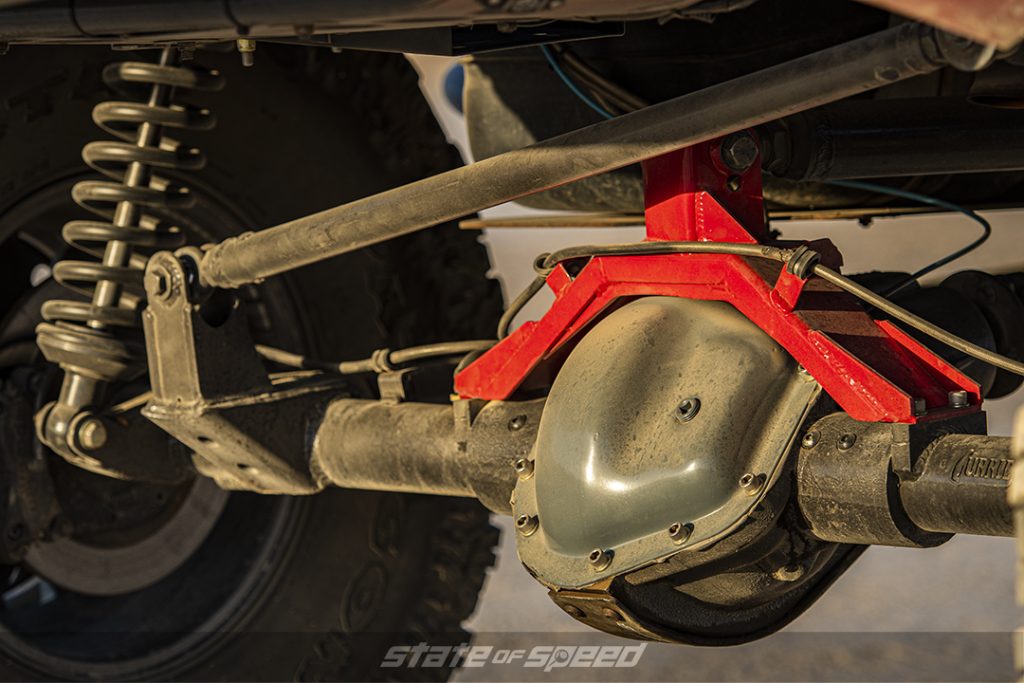 Now, for those who are familiar with Demello Offroad as a company, you'll know they specialize in the Toyota Tacoma platform, as well as 4-Runner, Tundra and FJ Cruiser and Lexus GX models. Jason started the business in his garage and continues to deliver bulletproof armor options as well as full off-road builds for enthusiasts and trucks of all levels from extremely capable overland machines to mall crawlers—and he does so without judgment, even in the latter direction. He just loves working on these types of vehicles, which is why he's been at it for so long.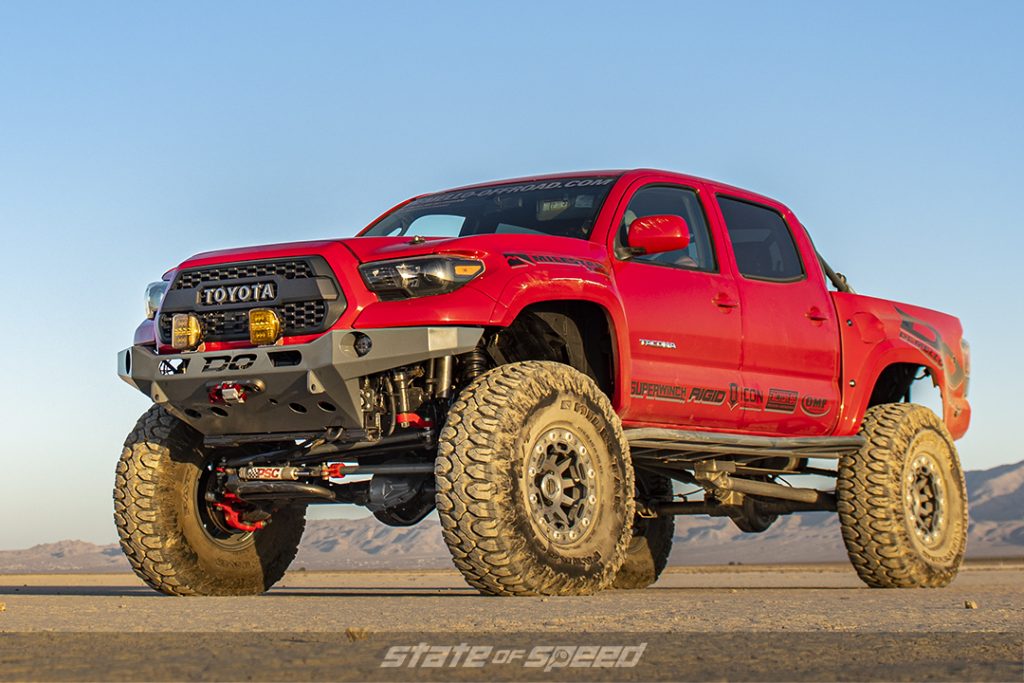 …He just loves working on these types of vehicles, which is why he's been at it for so long

.

..
"The most frequent question I get asked from trucks owners is how much a truck like our SAS Tacoma would cost", Jason admits. "There really isn't a correct answer for that. What I do is counter their question by asking how much money they are willing to spend, and how capable they are of doing some of the work on their own. This Toyota is pretty extreme and it's definitely not for everyone."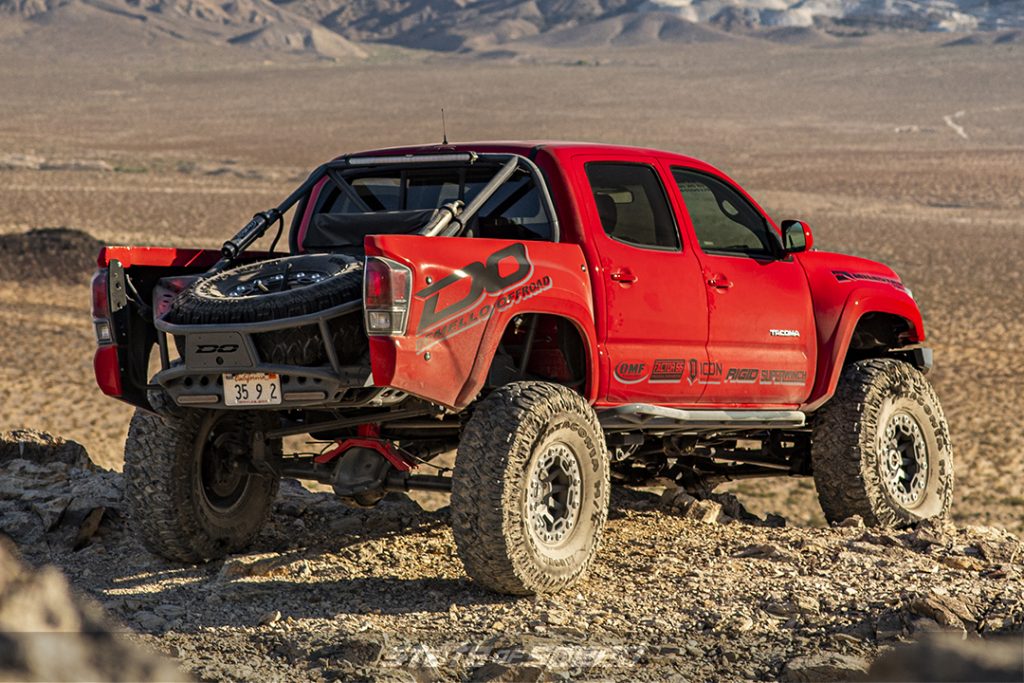 Now, Jason will be the first guy to talk you out of wasting your hard earned money at his shop. "You don't need a truck this crazy to go off-road", he admits. "Hell, most 4×4 Toyota trucks and SUVs are more than capable of taking you places you never thought possible!" Now with that information in mind, do remember that even though ditching a Tacoma's comfortable IFS suspension for a front solid axle swap isn't exactly everybody's cup of tea, Jason and other likeminded folks who are addicted to scaling wicked rocky terrain, gaining crazy front wheel articulation is of utmost importance. "The best advice I can give anyone is to build what you can and enjoy it!"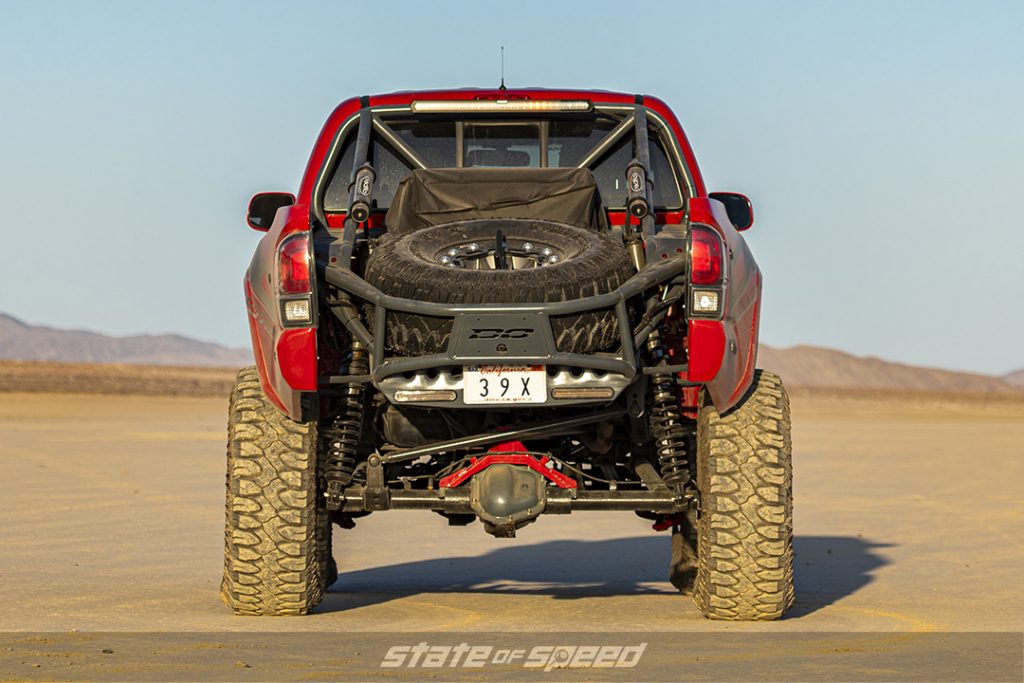 What Jason truly enjoys is climbing rocks. That is clear to see with the Tacoma's custom front and rear 3-link systems with ARB lockers, solid axle front and rear Currie RockJock 60 setups and a fully customized frame front to back, as well as the Marlin Crawler box, which just happens to be Jason's favorite part of the build. "It really is cheating. The Marlin Crawler makes rock crawling so much easier and is a definite must-have."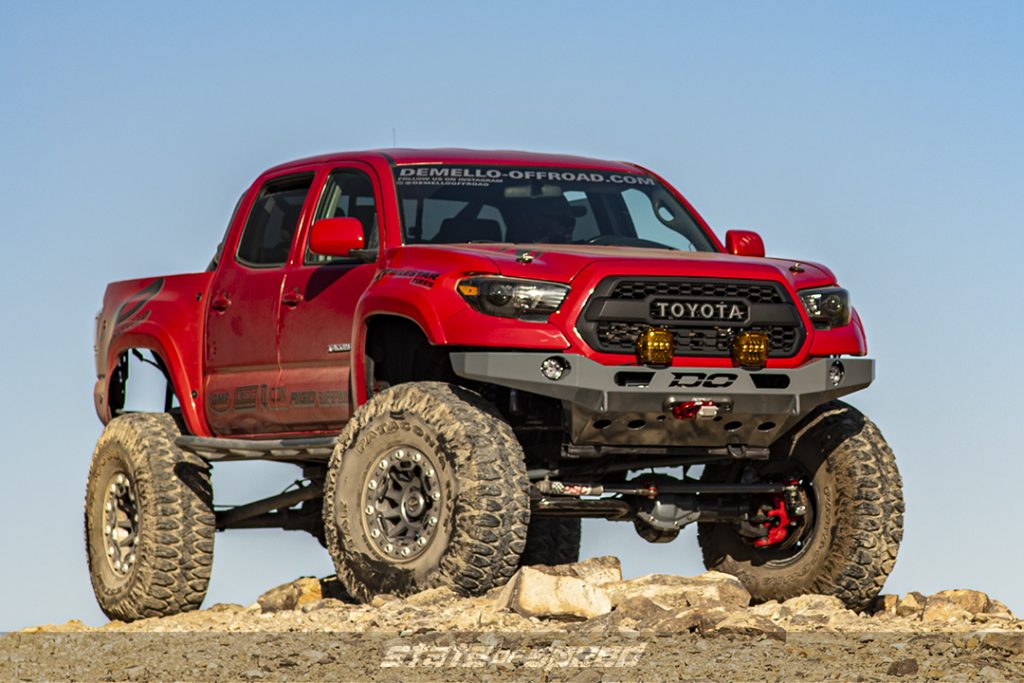 This Tacoma obviously screams that it can go anywhere it damn well pleases with ease, and to assist in that are the Patagonia M/T tires from Milestar. These rugged hunks of rubber are designed to conquer rocks, mud and dirt without missing a step. The more treacherous the terrain, the harder these tires work, which is a huge component in the Tacoma's ability to provide pure off-road bliss.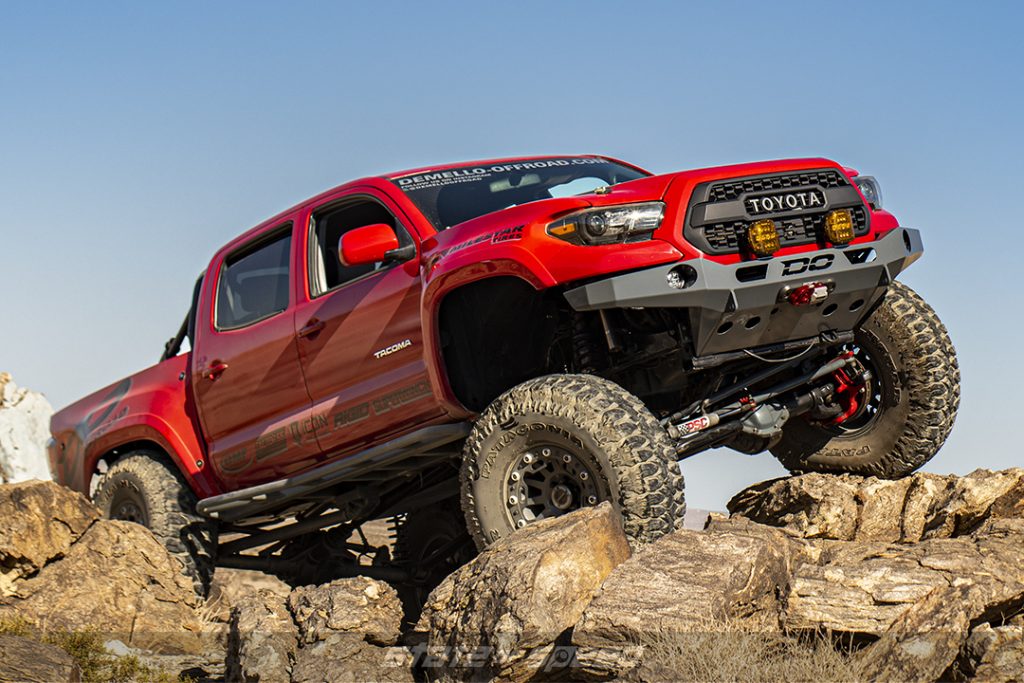 …This Tacoma obviously screams that it can go anywhere it damn well pleases with ease, and to assist in that are the Patagonia M/T tires from Milestar

.

..
Now, when Jason took ownership of this truck, he planned on making it look like a completely different truck than before. The Tacoma was originally silver in color, but the fresh Toyota Radiant Red paint looks so much better on it. So do all the 2022 Tacoma panels from McNeil Racing. Of course, Jason made sure to showcase Demello Offroad's own products with the new front bumper, sliders and roll cage that was finally finished up years after it was started years ago in the shop. "Our lead fabricator worked his magic on that cage I began back in the day, and together, I think what we accomplished with truck since we've owned it has created a whole new attitude that it was begging for", Jason says of the job well done.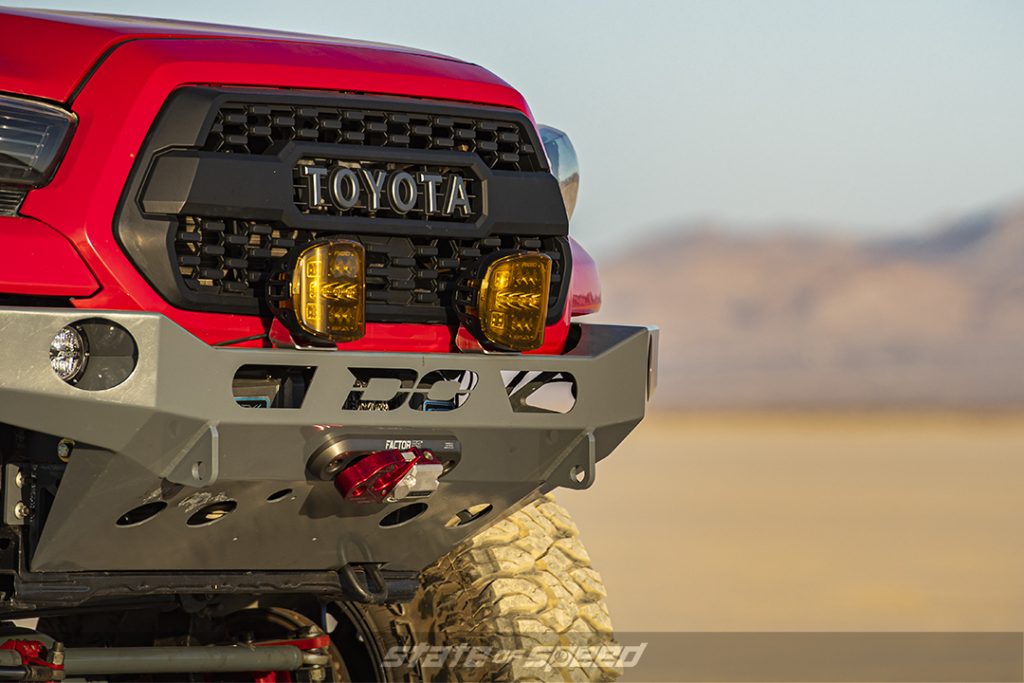 As extreme and over-the-top as this Tacoma may be, it's the exact truck Jason needed it to be to both as a visual representation that potential customers can see what's possible through Demello Offroad, as well as an adventure rig that he can whip around on his free time and at expo events. Speaking of events, Jason has a great story to tell about the first time this Tacoma debuted back in 2005.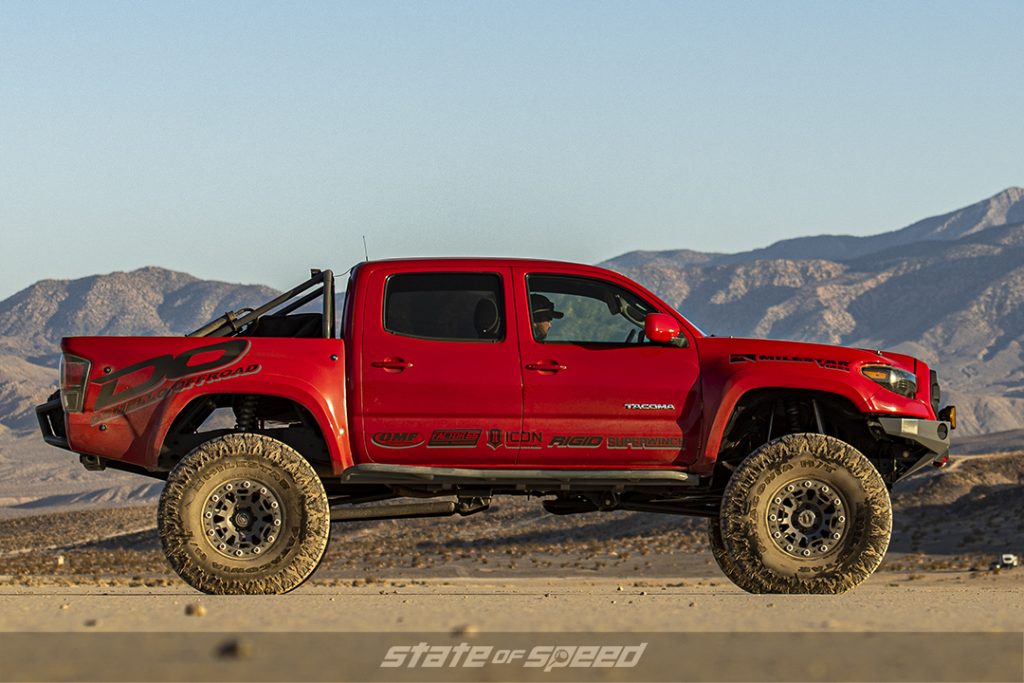 "We had to roll the truck into the Off Road Expo that year due to a missing 3rd link bolt, which was replaced at the last minute with a grade-5 bolt from Home Depot. That detail was forgotten about until the first time it was taken off-road at the Gate Keeper at Duran Falls in Calico, CA. The front axle broke loose when that bolt failed in front of a crowd of 100 people. Needless to say, we were embarrassed BUT it was a humble reminder to never overlook the 'small' things in any scale of truck build."