A C10 Across All Ages
Mike Hegarty's 1971 Chevrolet C10
Found in a town not far from where Mike Hegarty lives was a 1971 Chevrolet C10. From its side of the road beginnings, this C10 has become an OEM Plus conversion using all original GM parts.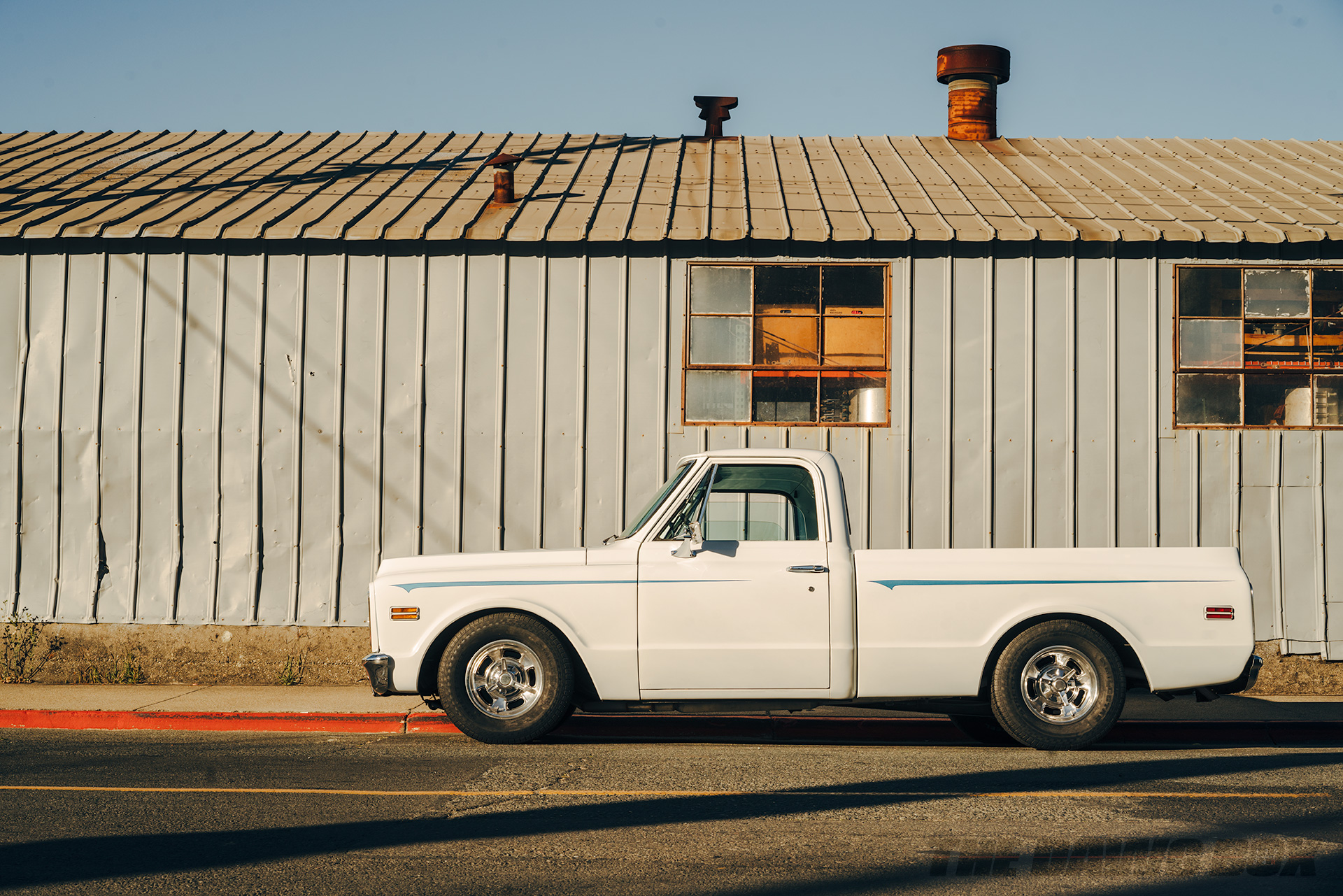 When Mike Hegarty took possession of the '71 C10, the fenders were, strangely, removed. There was no crash damage that he could find and, to make matters worse, they were placed in the bed face down. You might not think that would be a big deal, but it used to have a camper on it with a carpet in the floor. At some point before placing the fenders there, that camper was pulled off. Rainwater collected in the carpet and ruined the front fenders.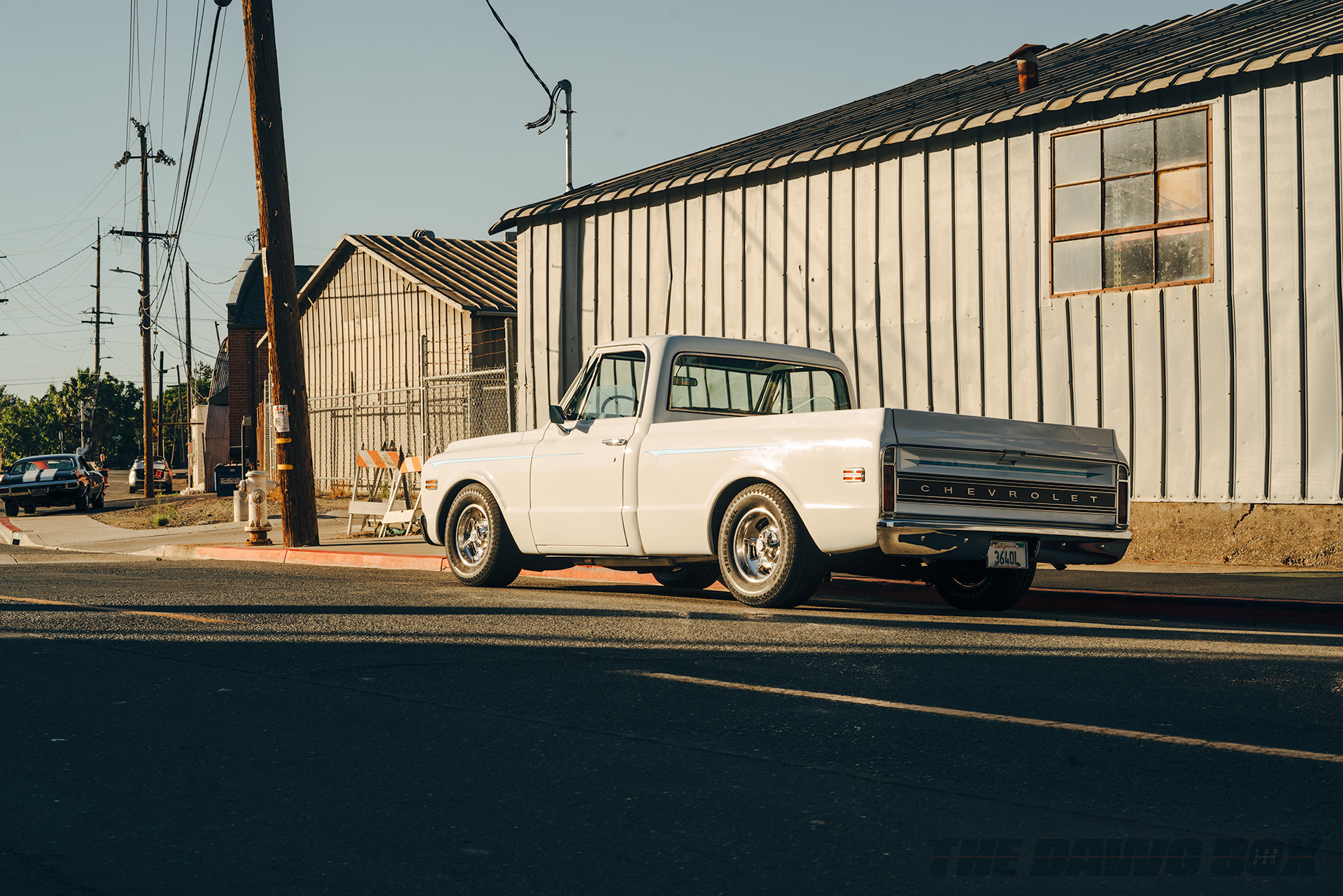 Mike isn't one for reproduction stuff. "I like to use all original GM stuff," Mike admits, "I'm big reproduction fan." He accounts that to fit and finish issues he's had in the past. He found a set of original C10 fenders and began to improve many of the parts on the truck. In a way, he kind of had to as it was a strangely built truck to begin with. It had manual front disc brakes, a manual steering box, a one-ton four-speed transmission, a manual hand throttle (like tow truck chassis had), a rubber one-piece floor mat, no chrome trim, factory painted bumpers, factory air conditioning, and a 3.08:1 rear end with posi-traction. It was an oddball of a truck and the only two options listed on the body tag were for the factory air and the posi-traction. Otherwise, it was no frills or thrills from the factory floor.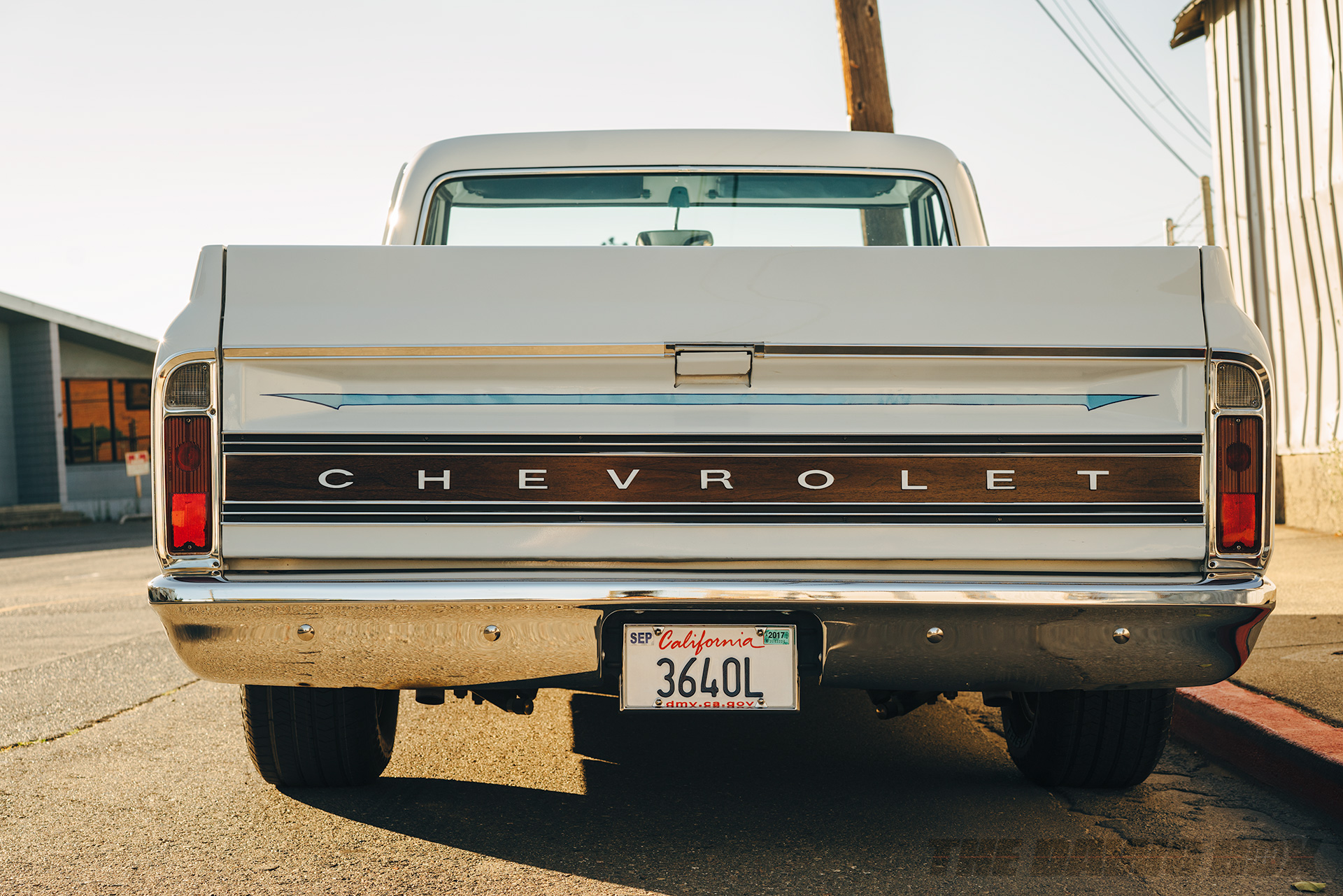 To make it look nicer, Mike searched for improved GM factory parts to replace the boring parts. Again, nothing on this truck is reproduction GM parts. These are all New Old Stock or NOS. The grille, taillights, tailgate trim, tailgate spat, bumpers front and rear, all of it was original from the General from the 1970s. Originally, he was putting it back together to eventually sell as that is something he does and did with his dad, Ed, for many years at Deal Auto Wreckers.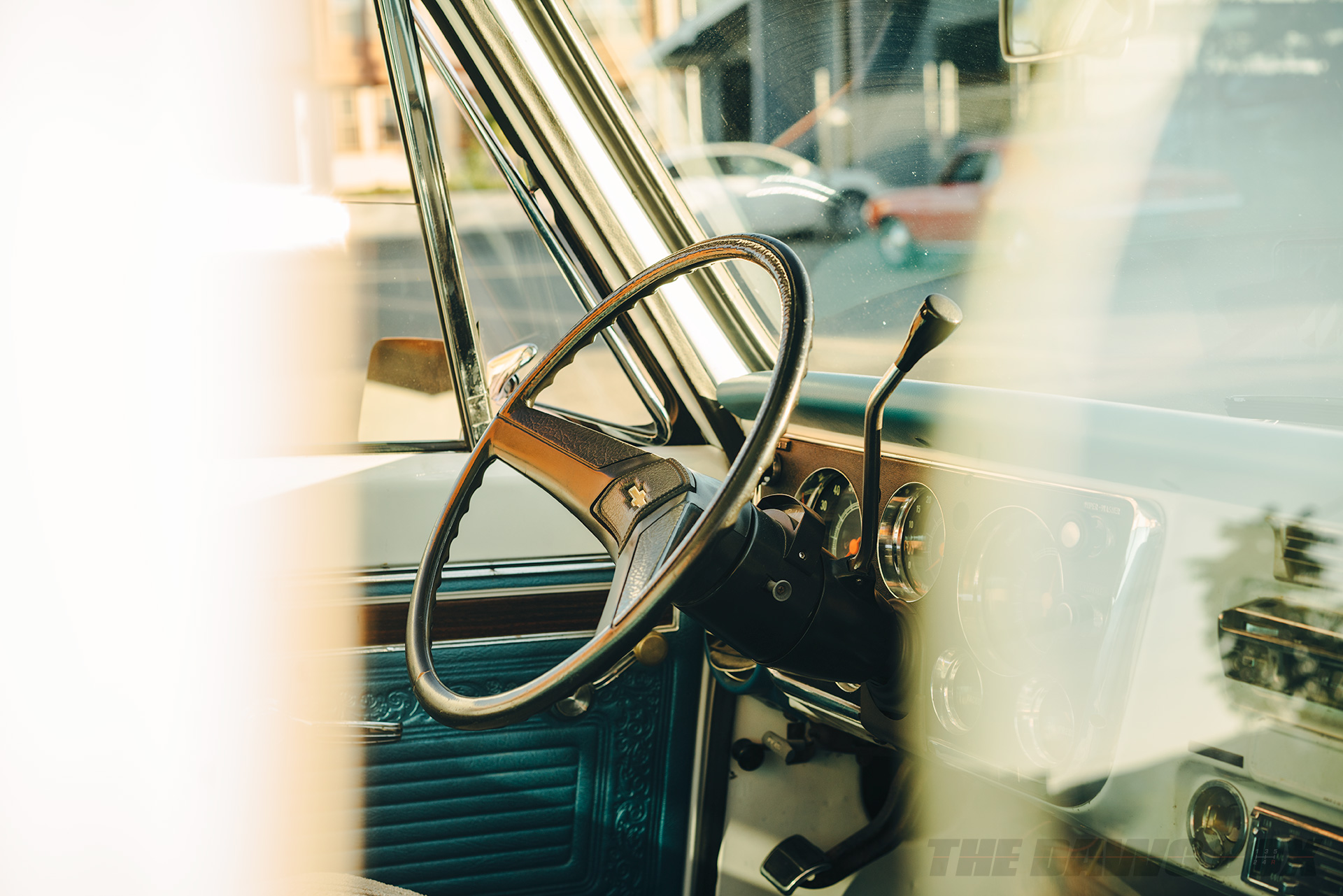 They would get GM cars and take parts off optioned-out junked cars and resell them. Keep in mind, this was also during a time when numbers matching didn't mean anything. As he was putting this C10 back together, Mike started to like its character and continued to improve it with all the original GM parts he could find. He settled with a built Turbo 400 from Broadway Automotive & Transmission in Oakland, CA and was happy with it.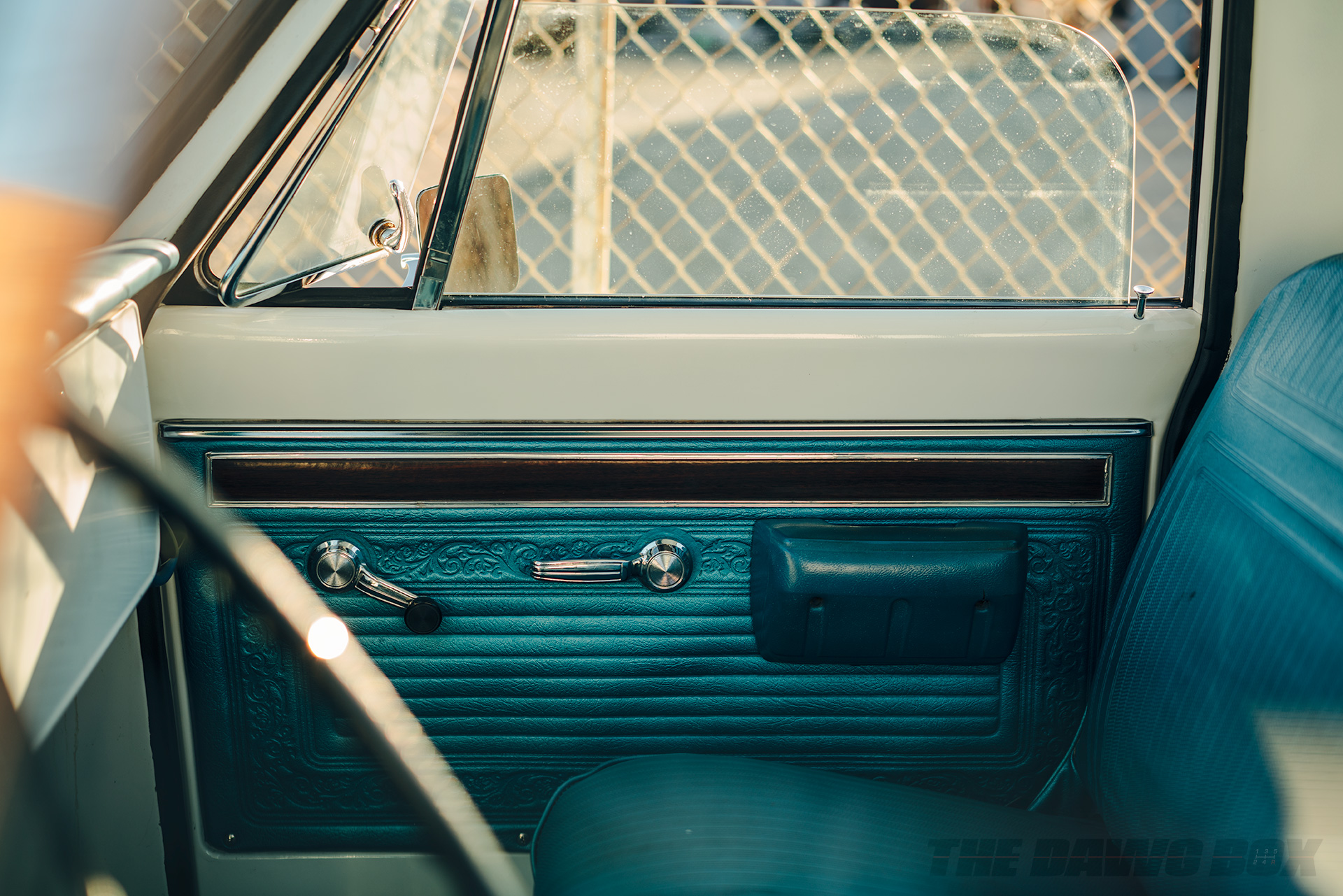 That is until the camshaft of the original 350-cu.in. four-bolt truck engine ground itself flat thanks to low-zinc, non-additive oil. So, out went that old engine and in went a 1969 dated 350-cu.in. Small Block Chevy with a four-bolt main. The heads were over-the-parts-counter GM, road race style angled plug heads made for ripping above 4500-RPM. It also features a 69 to 70 Z/28 high-rise intake manifold with a 780-CFM Holley 4053 DZ carburetor with the matching factory 69 Z/28 air cleaner. He even installed the big pulley alternator that the big-horsepower GM engines came with.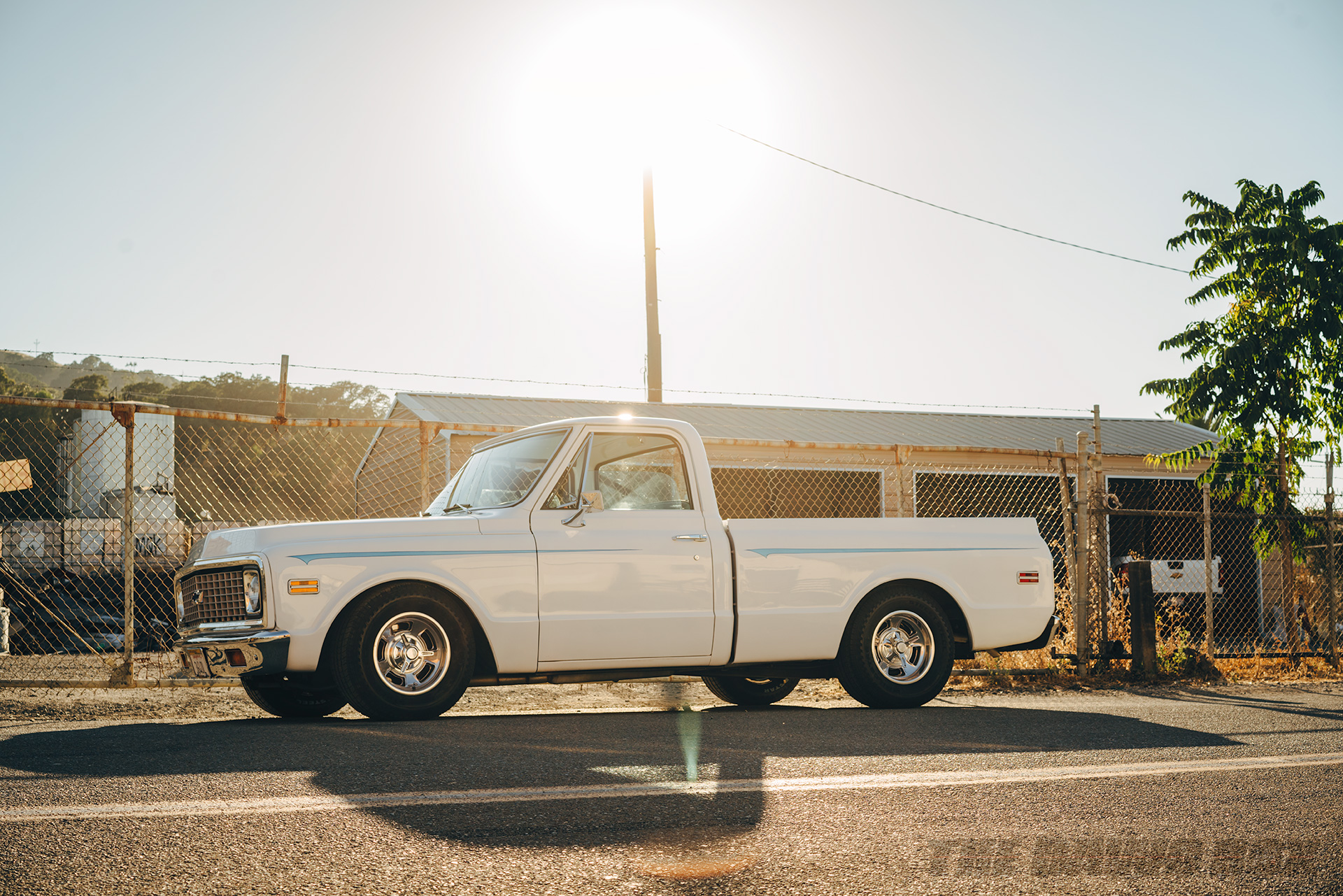 2.5-inch Corvette "Ram Horn" manifolds were installed but required some clearance massaging at the top of the frame rail to fit. While parts of the bracketry had to also be modified, the original A/C system is still installed. "When you open the hood," says Mike, "I wanted it to look like the entire engine was stolen out of a 1969 Camaro Z/28." That also means the steering and brakes were replaced with original GM power parts for a much easier drive. He's also installed all the optional gauges you could originally get save for the original Speed Warning speedometer. "It's a loaded option truck that I've taken off other trucks," says Mike, "so none of it is reproduction."
There are only a few non-GM parts on the truck but the part that Mike admits people were more impressed with, even with all the original GM option parts, is the gas cap. Between the cab and the bed is a four-inch wide panel and the gas cap is hidden and flush mounted into that panel. "When you look at the bed," says Mike, "It looks like a stock truck other than the top trim panel and that's where the gas cap is." The only other part that's not GM but are 100-percent original are the Halibrand 15×8.5 wheels with Milestar Streetsteel tires in 275/60R15. The knock-off caps are just original Halibrand caps to cover the lug nuts. The final bit of non-factory upgrade parts is the Early Classic Enterprises suspension kit to give it a lower, but still usable stance and improved handling, especially thanks to the addition of the adjustable Super Track Bar Kit to help center the rear end.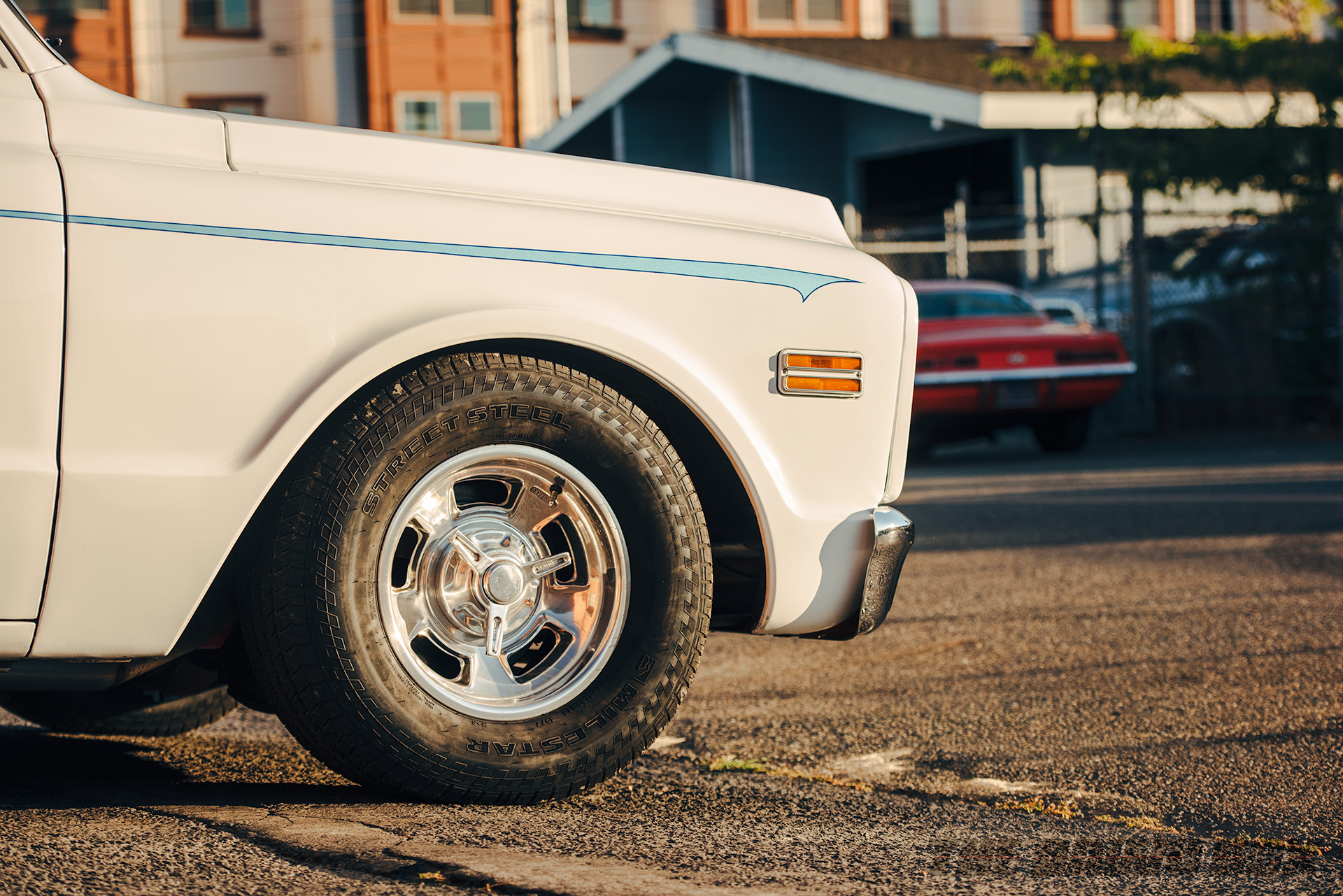 Before we leave you, there is are two interesting stories about the paint and scallops on the sides of the C10. It's a factory GM white for the C10 but was shot by "The Garbage Man," a buddy of Mike's not far from where he lives. "I'm not kidding," he laughed, "It was painted in the nastiest little garage you could ever imagine." His nephew, who is also a vehicle painter over at Eastbay Speed and Custom in Concord, CA, went with Mike to pick up the truck when it was done. He was used to clean body shops and pristine equipment before this. When they arrived at the garage, he asked where it was painted when the Garbage Man said, "It was painted in here." His nephew was flabbergasted and now looks up to him.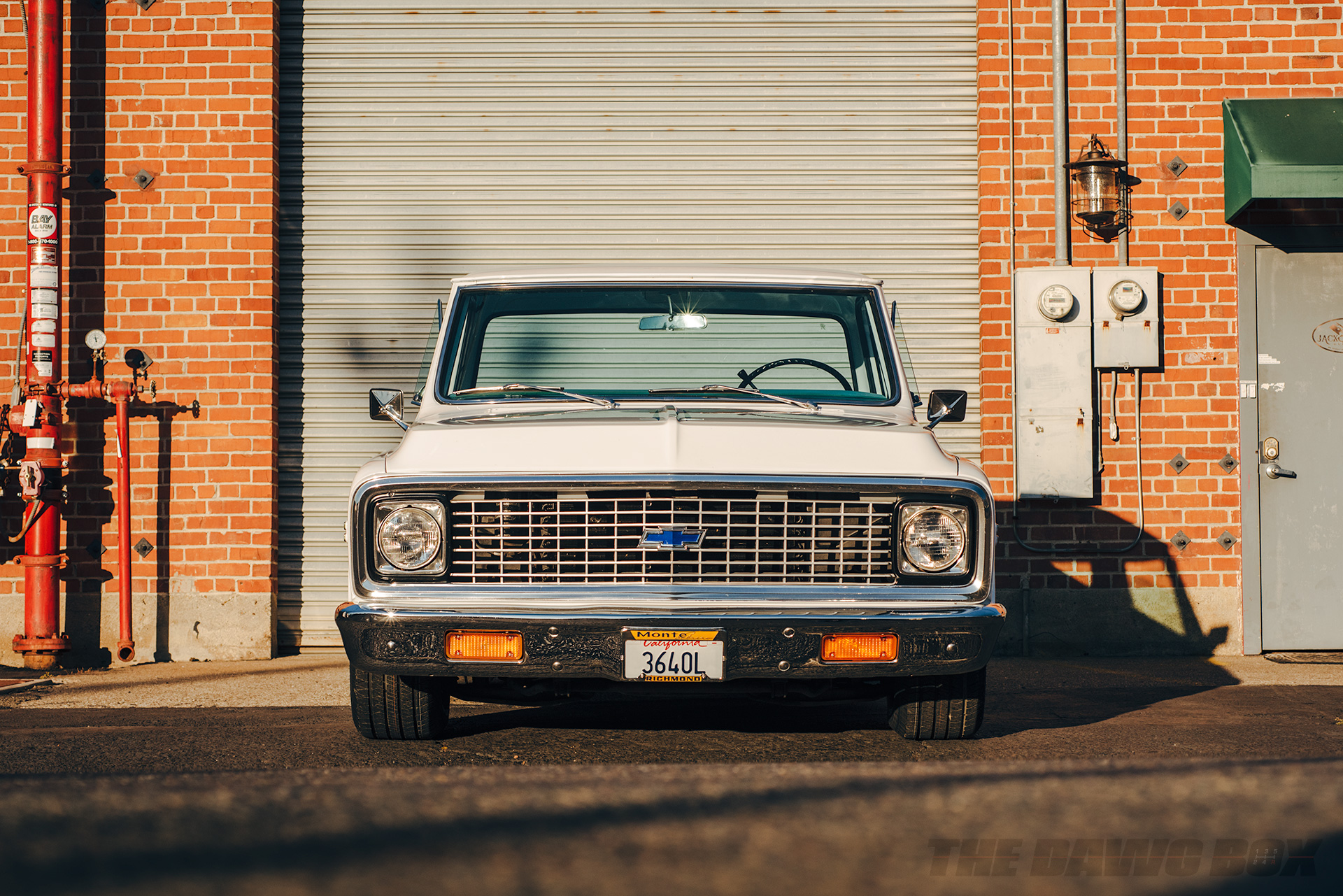 Finally, before taking the truck home and before Mike's nephew met his new painting hero, he wanted to put scallops on the sides of the truck. He knew he wanted them to match the blue of the factory interior, so he called up a local scallop artist who quoted him an astronomical price. He was good, but not that good. So, Mike and the Garbage Man laid some stripe tape down, got it to where they wanted it, and painted the scallops on the sides of the C10.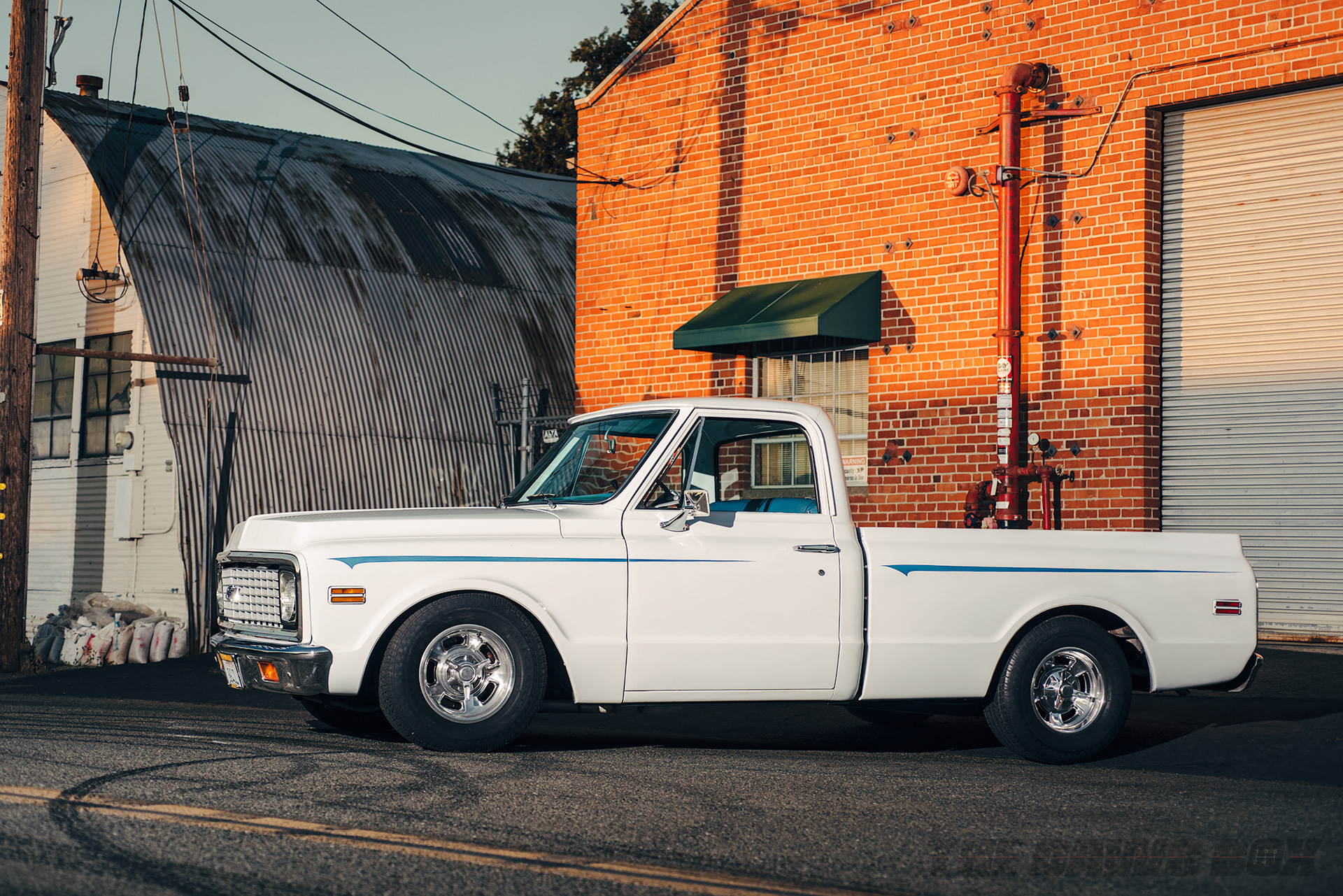 While there is a movement in the modern vehicle building world for "OEM Plus" builds, where high-end option parts are installed on a vehicle, the idea is to make it better than it originally was with factory parts. Mike Hegarty's 1971 C10 shows that this method can also be applied to classic American vehicles, though it may take a little more time, research, and reach. The results are just as impressive in the end, too.