Mercedes-AMG ONE: Bringing Formula 1 to the Road
November 09, 2020 – The new Mercedes-AMG ONE is the ultimate Formula 1 inspired supercar that's ready for road use. Technology has been passed down from Formula 1 to everyday cars for years. From safety features, to new materials, exterior design and more. But Mercedes didn't want to stop there, they wanted to create a road car that utilizes as much F1 technology as possible.

With Mercedes-AMG working together with the Petronas Motorsport team, the Mercedes-AMG ONE was born. Featuring a turbocharged 1.6 liter V6 with four independent motors, the ONE is able to put out over 1,000 hp, with a top speed of 217 mph. Speaking of those four electric motors, there is one for each front wheel, one linked to the crankcase, and one in the turbocharger itself.

Another important statistic the ONE is able to put down is its incredible 0-200 kph (0-124 mph) speed, falling under 6 seconds. Compare that to the Chiron which does it in 6.5 seconds. This is all thanks to those front axle motors which are capable of 50,000 rpms alone. Also, selective torque distribution allows for extra high levels of vehicle dynamics. These abilities matched with a Race Start function and that electric motor in the turbocharger, allowing for zero turbo lag, give the ONE its quickness.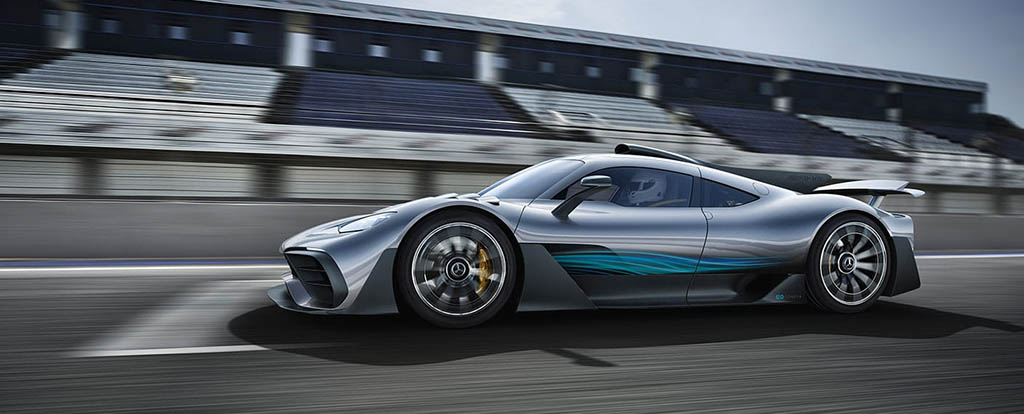 The power and handling of the ONE are definitely impressive, but it doesn't stop there. The efficiency of the Mercedes-AMG ONE is equally impressive. An EQ Power+ hybrid drive system allows for multiple driving modes, from only electric to highly dynamic. A regenerative braking system also recoups up to 80% of braking energy.

When it comes to its looks, the ONE evokes the premium class of motorsport with muscular proportions. The exterior is filled with numerous air inlets, while the car rides on forged aluminum wheels. The interior on the other hand is very minimal, with lightweight bucket seats and a Formula 1 inspired steering wheel.

The production of the Mercedes-AMG ONE is planned to be 275 units at a price of $2.72 million.