Milestar XPDN4 Cascadia: An Overland Trek Through Oregon's Many Exciting Landscapes
Adventures are best when shared with good company to experience the high times together and overcome any obstacles that may present themselves along the way as a solidified unit. Plus, what fun is cracking a celebratory cold one alone when setting up camp for the night? This is what Milestar Tire's XPDN4 Cascadia overland event is all about. While, yes there is much celebration to be had while settling in at the campsite (with plenty of frosty beers to go around), this journey was mapped out to send the 10 participating vehicles through gorgeous central Oregon, over the Cascade mountains and finally onward to the serene coastline, which is quite a wide range of landscape and temperature changes. 
Day I: Blast Off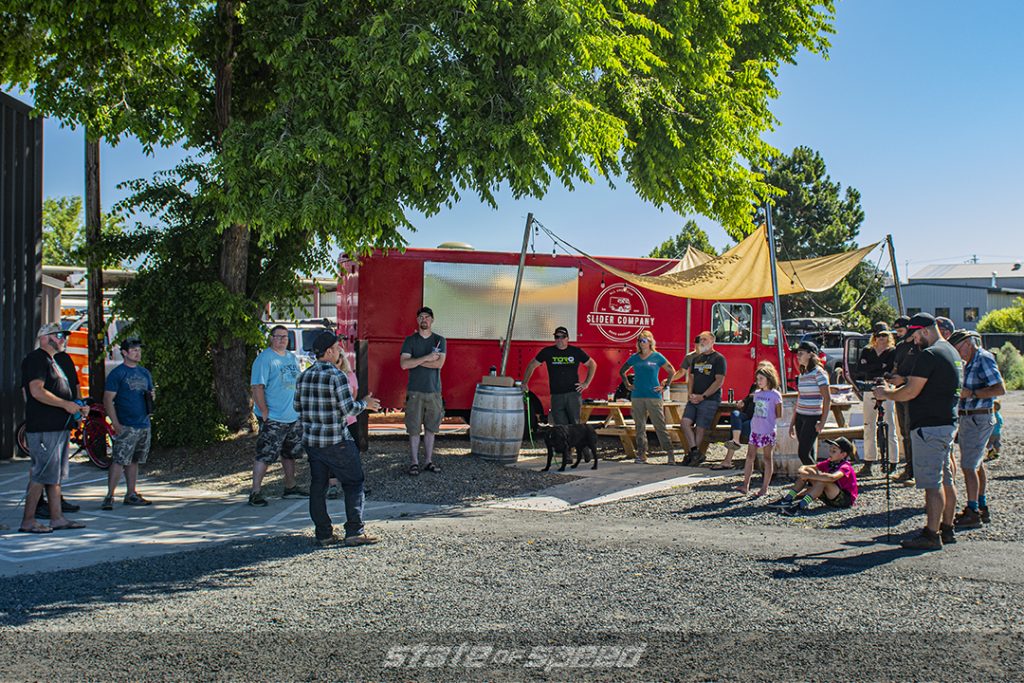 XPDN4 officially kicked off on July 11, 2022 at Spoken Moto, a small café in Bend, Oregon. It was here where Martin Castro of Milestar Tires welcomed and briefed representatives from Torq-Masters, Turtle Back Trailers, Adventure Rack Systems, Van Compass, Modern Jeeper , Gambler 500, Sons of Smokey, Anderson Design Fabrication, Ready Rig 4×4 and MB Quart of the logistics covering the next few days on the trail. Up until this point, everyone was simply told to come prepared to camp and to be ready to encounter some cold weather. That's all the information they had to go on up until the morning meet-up but once everyone chowed down and loaded up on caffeine, the caravan hit the road with confidence the trip was going to be a blast. The vehicle group was diverse as it was capable of the journey as it comprised of a Ford Transit van on 37's, a diesel-swapped Chevy Colorado on 40's and a 15-passenger van, a Toyota Tundra, Tacoma, and a pre-runner two-door 4Runner, a Jeep JL and two Gladiators, oh and a Subaru Wilderness too!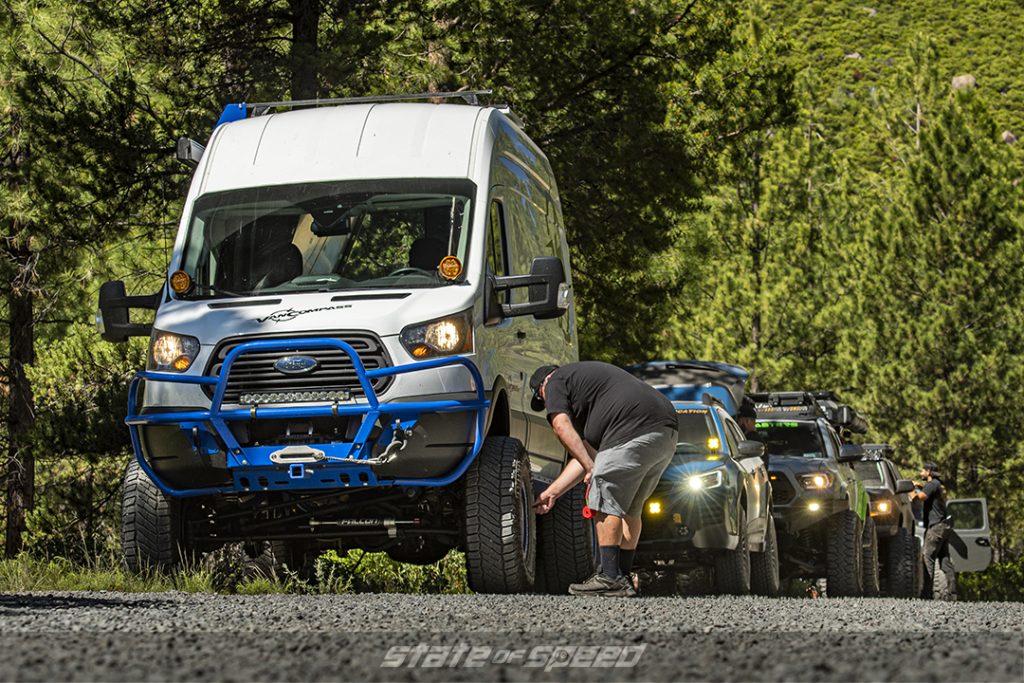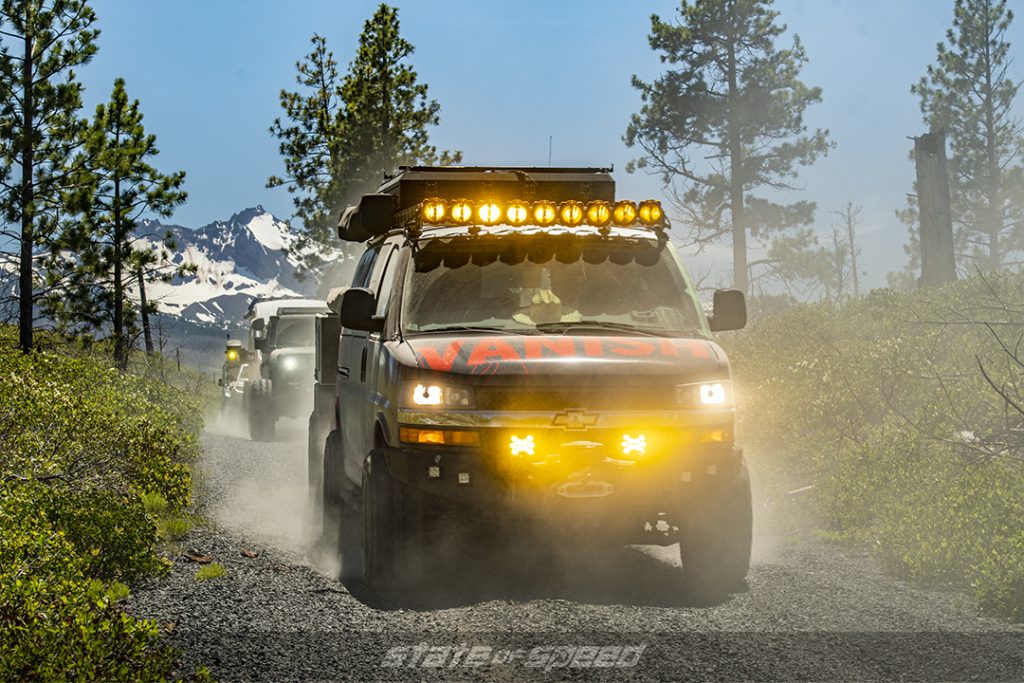 …the caravan hit the road with confidence the trip was going to be a blast

.

..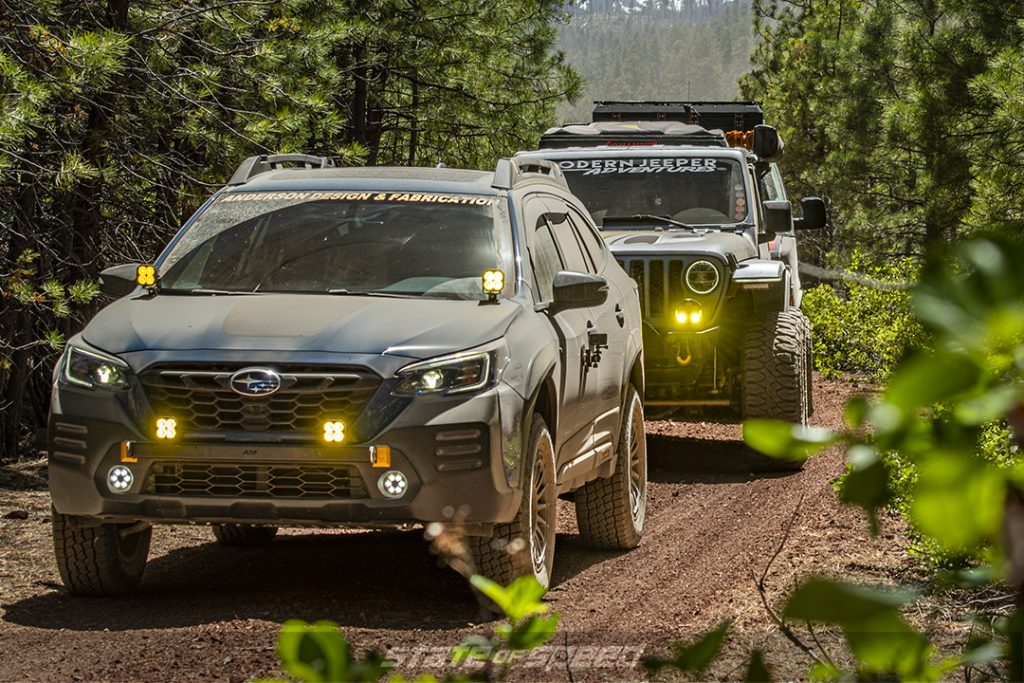 The drivers were first led through the Deschutes National Forest over dirt and winding forest service roads that took them past a crystal clear alpine lake and amazing views of the snow capped Three Sisters volcanoes, which are the prominent landmarks of the central Oregon Cascades. After crossing Highway 20 near the town of Sisters, the crew then headed northeast and soon left the pines behind with a high desert scenario in front of them. The crew then hopped onto a Bureau of Land Management (BLM) road that led them straight into a dead end comprised of barbed wire and boulders (thanks to the homeowner who lives just above the road), which forced them into a slightly different direction but were still able to locate their rendezvous for the evening—the South Perry Campground on Lake Billy Chinook.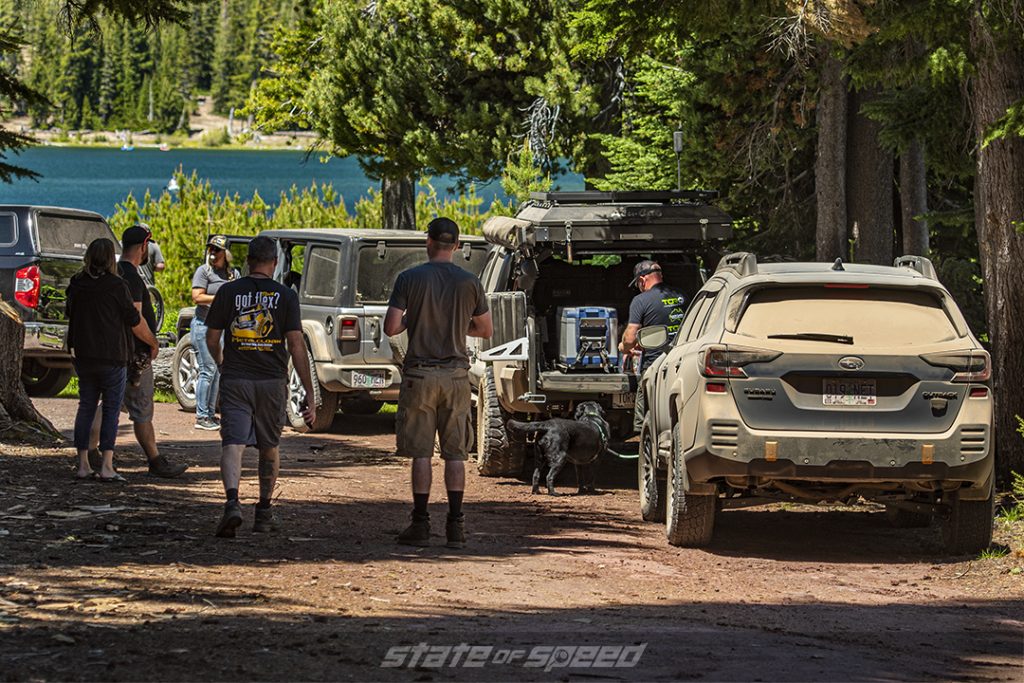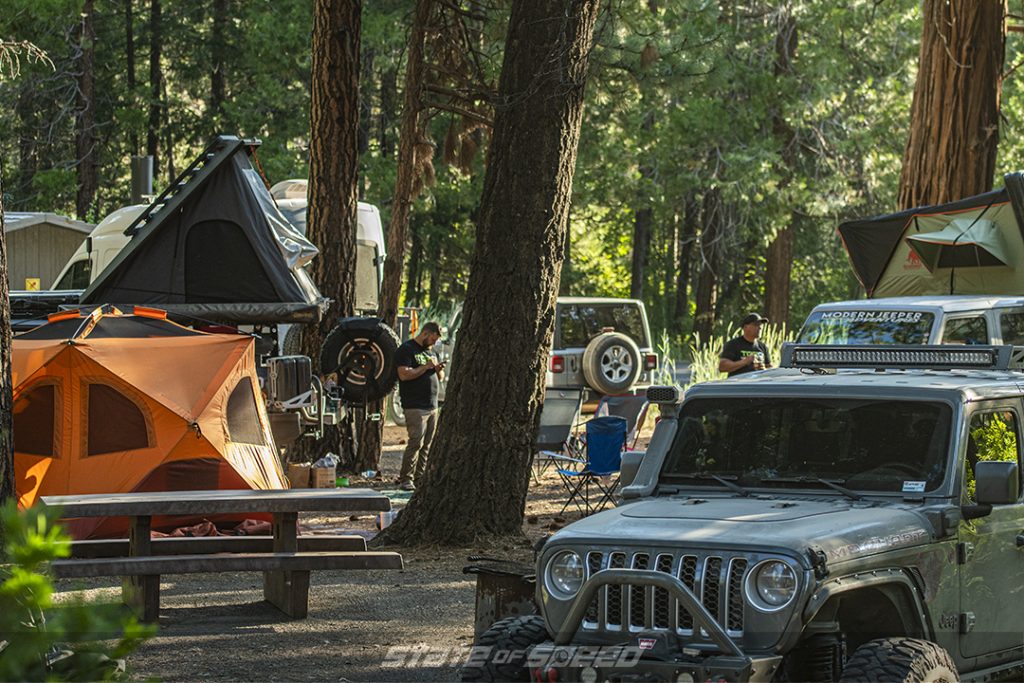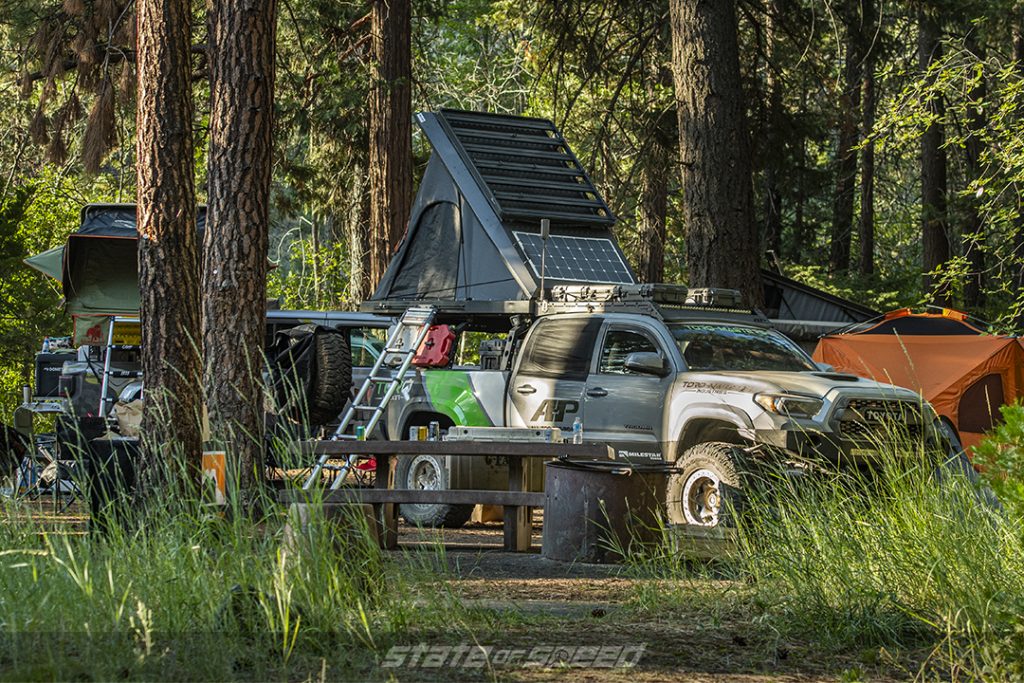 After a long day behind the wheel, the weary group of adventure seekers were greeted with a catered dinner from El Sancho Loco Taqueria in Bend as well as refreshments from Deschutes Brewery—their very own beer sponsor in for the evening! The total number of miles covered for the day added up to 106, but it was an interesting 106 miles that was enough to tire the crew out while giving them a taste as to what was to come the next morning. 
Day II: Beach Bound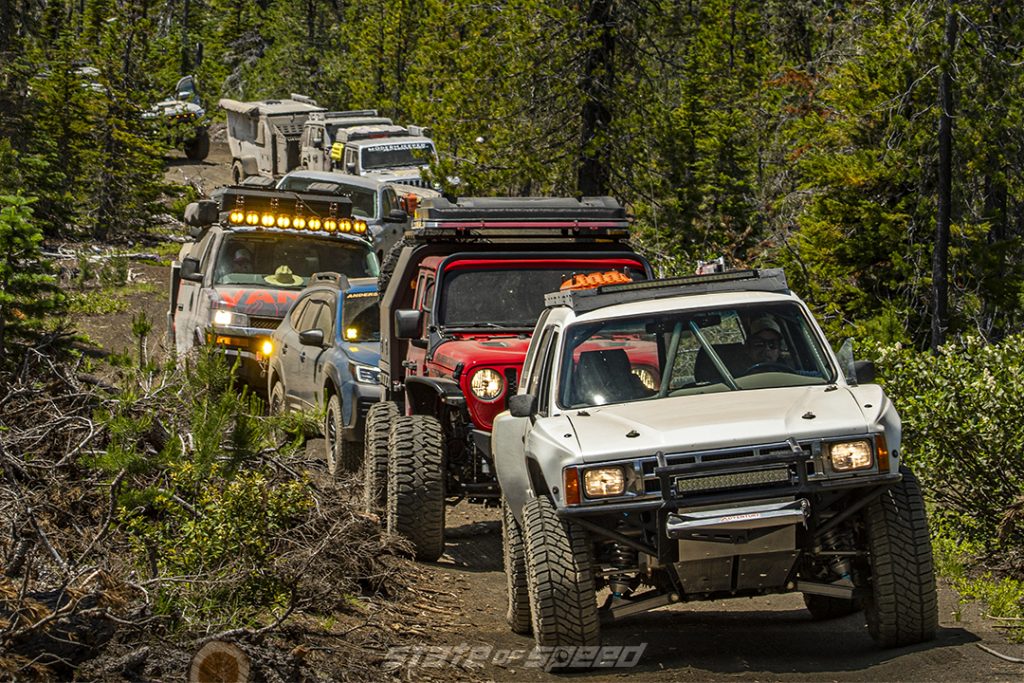 Waking up refreshed and ready to head towards the coast, the crew packed it all in and hopped back into their respective driver seats for a 218-mile stretch that would leave them sleeping in the dunes of the Pacific Ocean later that night. With some ground to cover, the caravan fueled up in Sisters as they embarked west on route 20 toward the Hoodoo ski area. The route led them past Big Lake and onto sections of the Santiam Pass wagon route—a 157-year-old trail carved into the steep hillsides and surrounded by massive pine trees.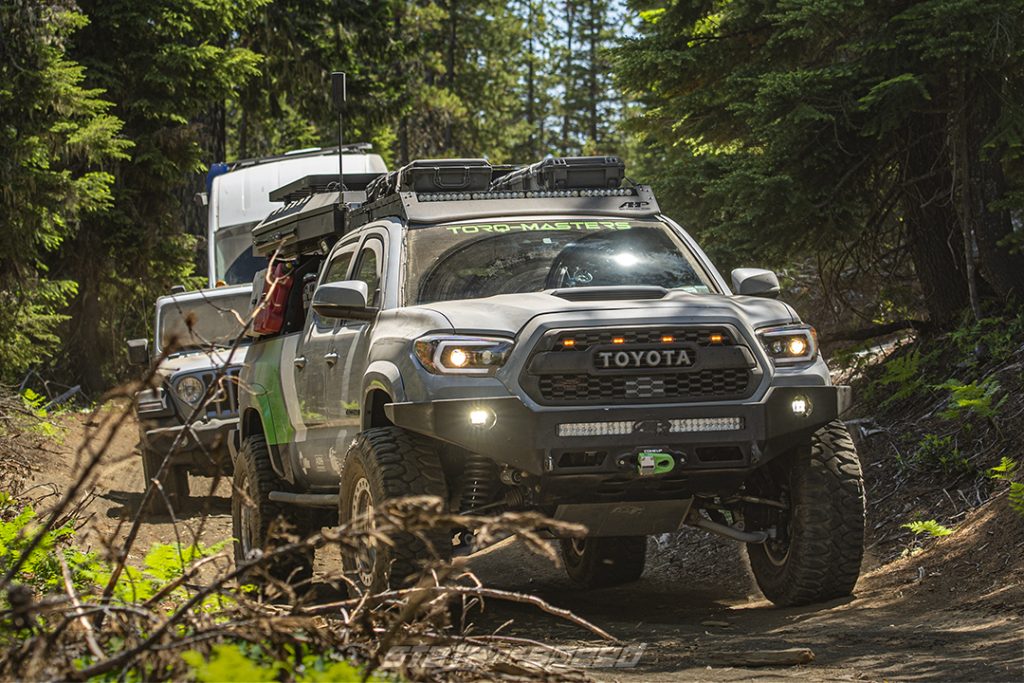 As beautiful and majestic as the giant trees appear, however, they can also pose hazard to this route as the crew found out. Dozens of pines had fallen across the trail at some point, and while they were cut and moved by locals who maintain the trail, there was just room enough room to squeeze a UTV through. With full-size pickups, SUV's and a passenger van needing to get by, the crew had to pull together to make their way through. The two-hour ordeal included plenty of cutting, winching and shoveling in order to clear the way, but they made it thanks to their combined variety of onboard tools and teamwork most of all.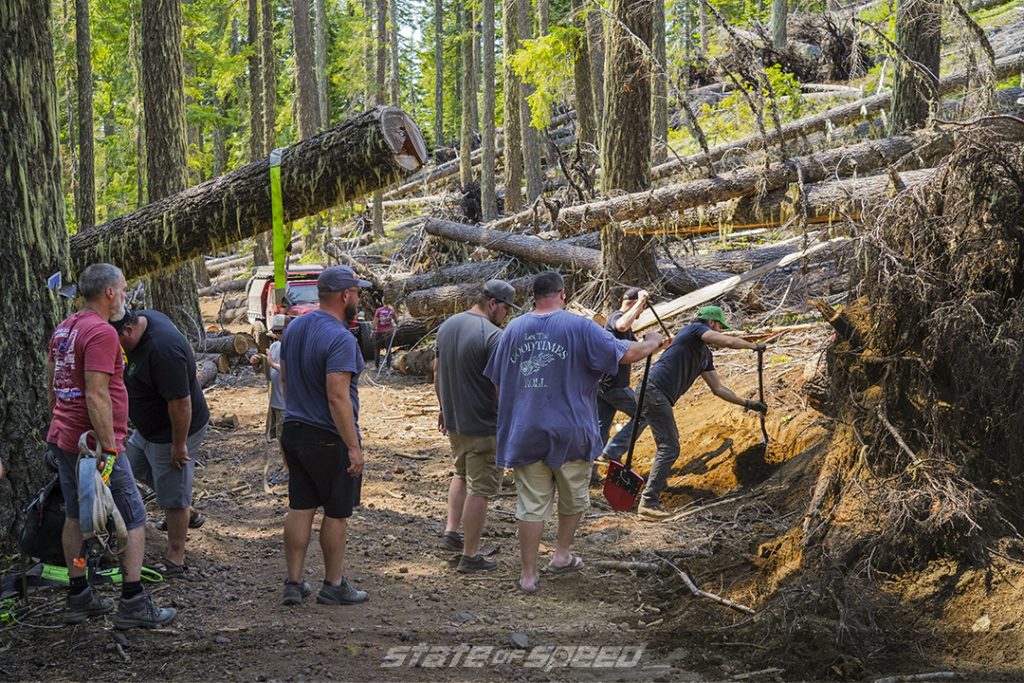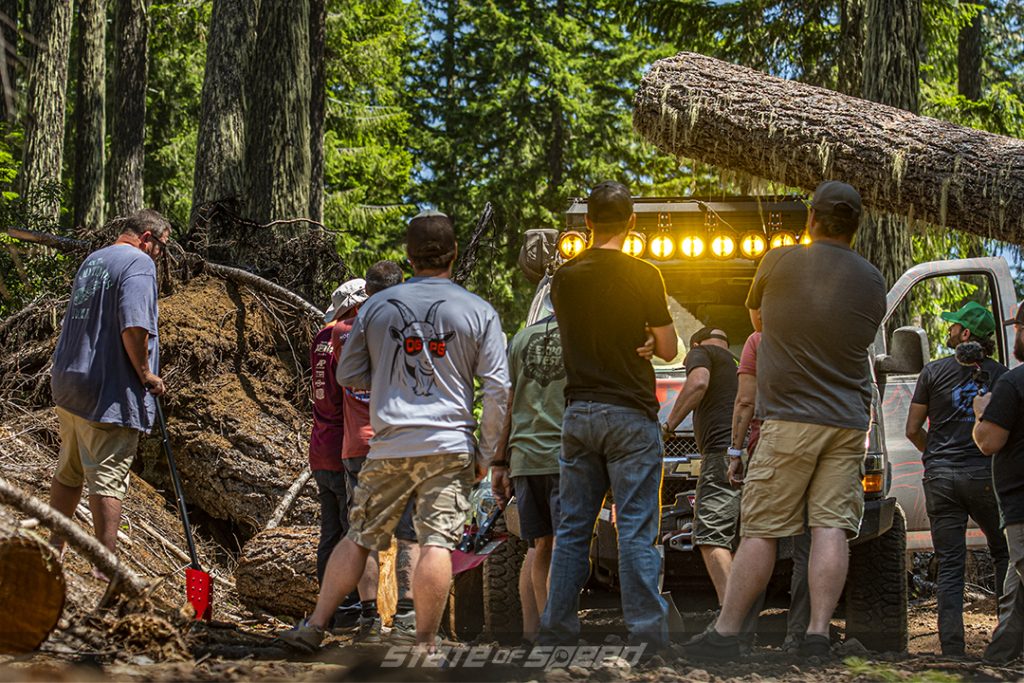 …As beautiful and majestic as the giant trees appear, however, they can also pose hazard to this route as the crew found out

.

..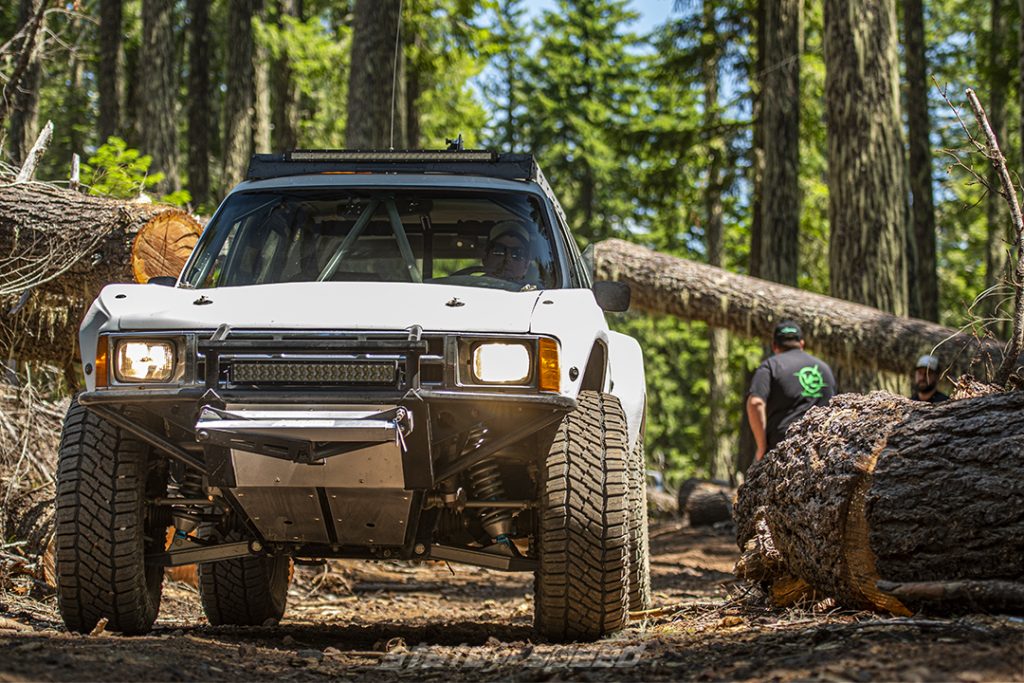 Only a two-hour scenic cruise on pavement was left to reach the coast, which everybody did safely around 8PM. Again, the crew was greeted with a wonderful catered dinner, this time from Bill & Tim's Barbeque & Tap House in Eugene. BBQ at the beach; what could be better? 
Day III: Fine as Wine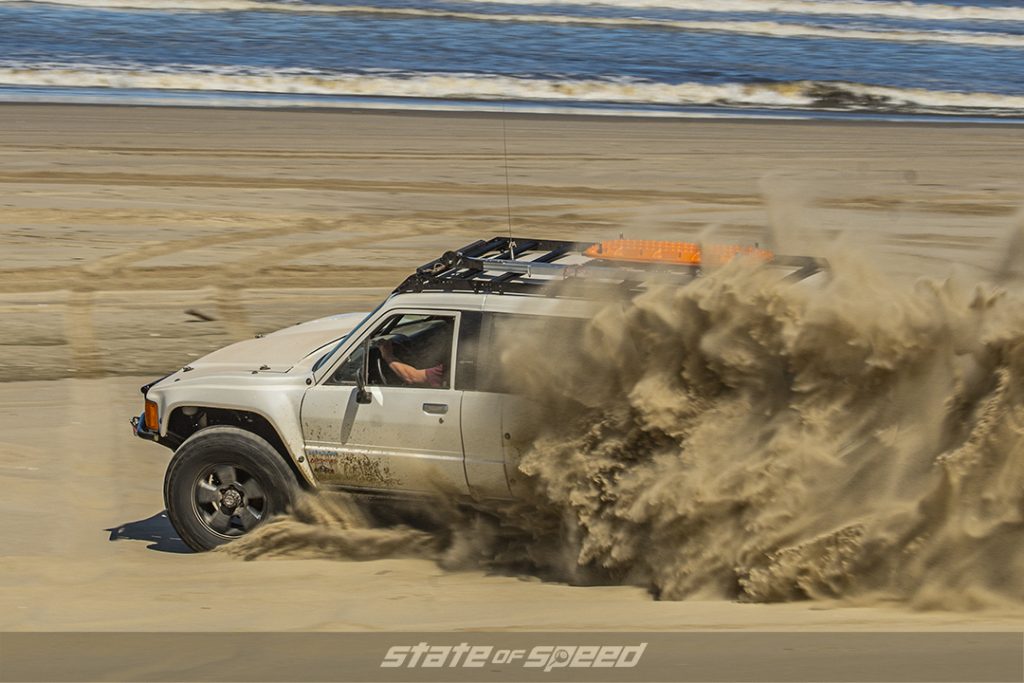 Well, the late start in the morning was definitely nice. The extra time allowed everyone to have a relaxing breakfast, as well as rip around a bit in the sand before making their way back to historic highway 101. The easy 2.5-hour scenic cruise to north to Pacific City would lead the crew to a lunch stop on the shore. This stretch of the Oregon coast is drop dead gorgeous, which is why their route was designed around spending so much time looking at it.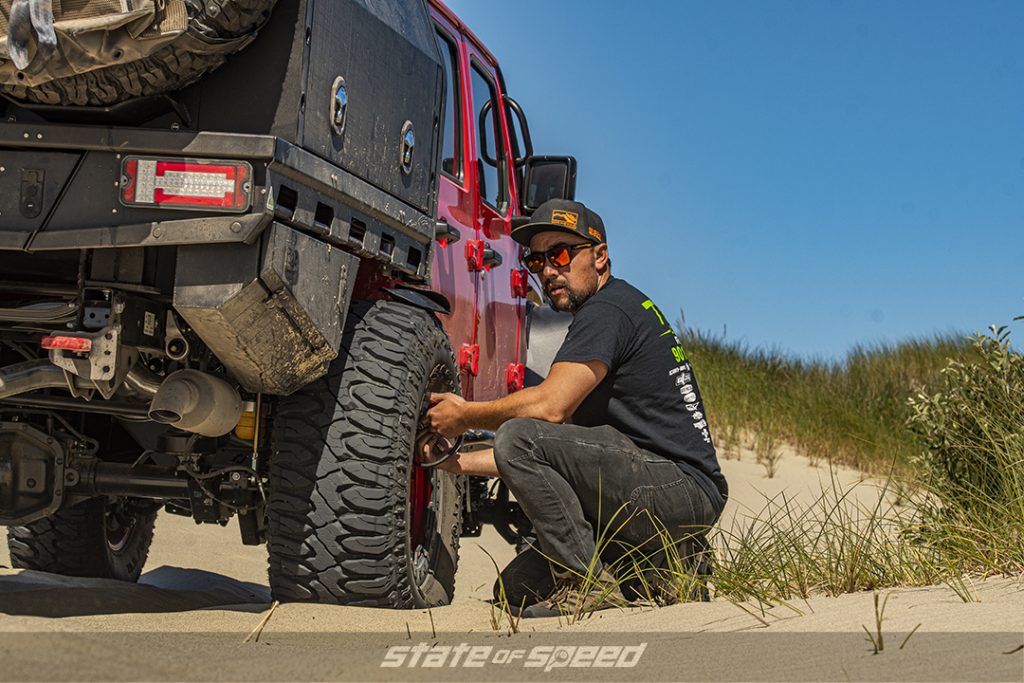 There was still one more stop to make before XPDN4 was to conclude. Old 47 Estate winery in Gaston, Oregon sits two hours east from the coast through the picturesque Willamette Valley. Upon arrival, Benjamin Martin, a veteran and co-owner of Dauntless Wine Company, showed them around and caught them up to speed on his company's mission statement. Along with two other veterans, Benjamin (who just happens to be an ex-off-road industry worker) found his true calling in winemaking, as well as giving back to warriors in need through charitable donations. In fact, 100% of Dauntless' net profits benefit many veteran-oriented charities. Of course, Benjamin did run through the importance of the local geography and the types of grape varietals they are able to grow.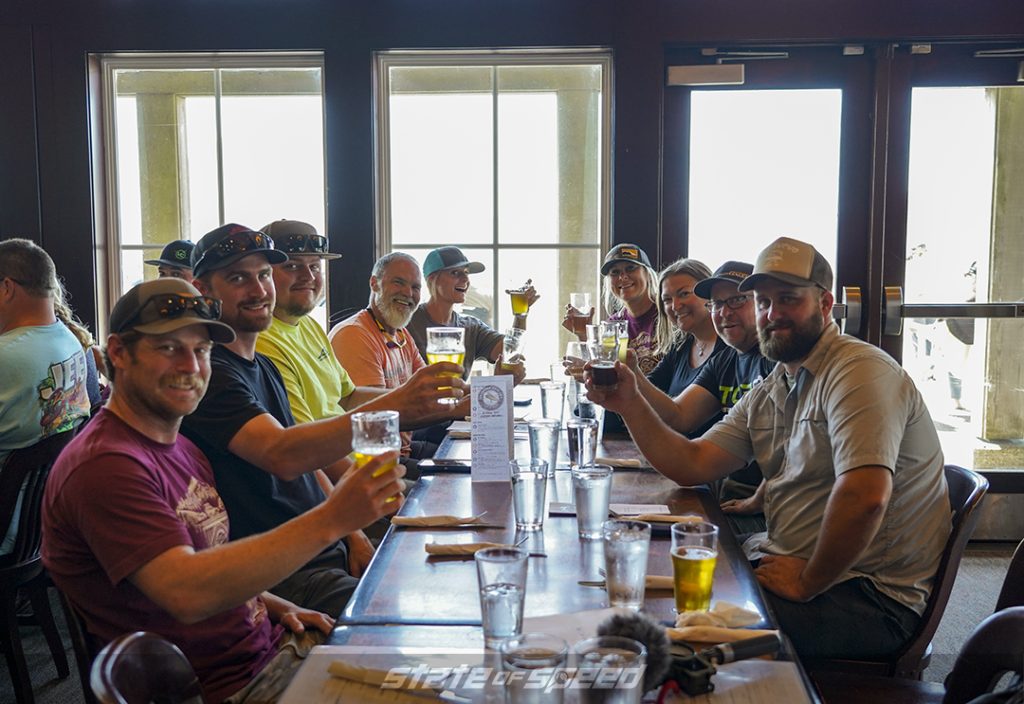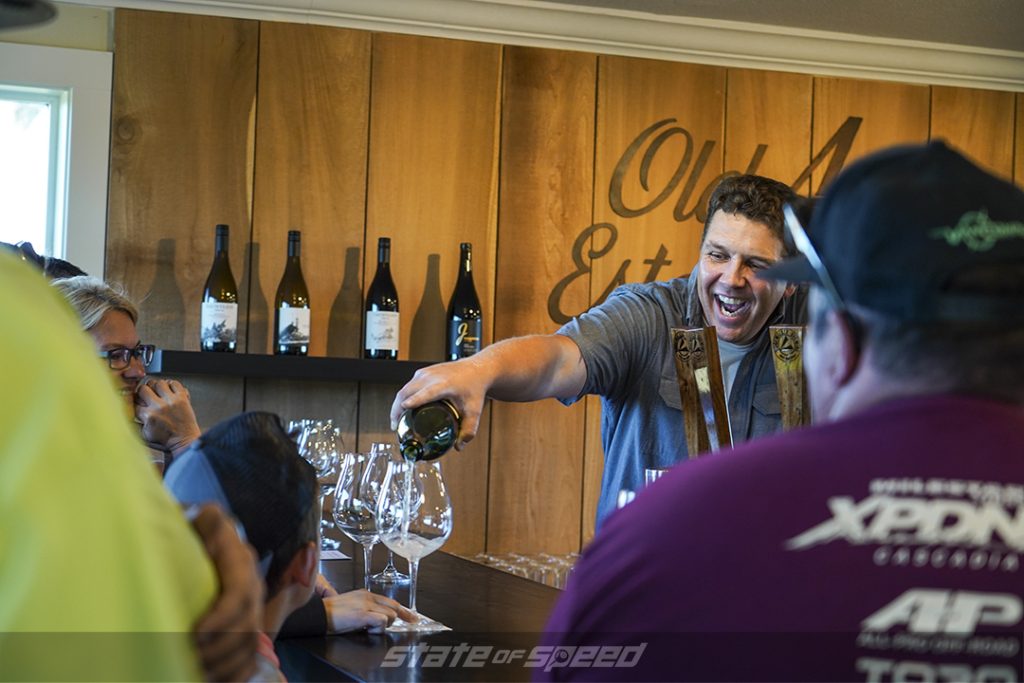 …As beautiful and majestic as the giant trees appear, however, they can also pose hazard to this route as the crew found out

.

..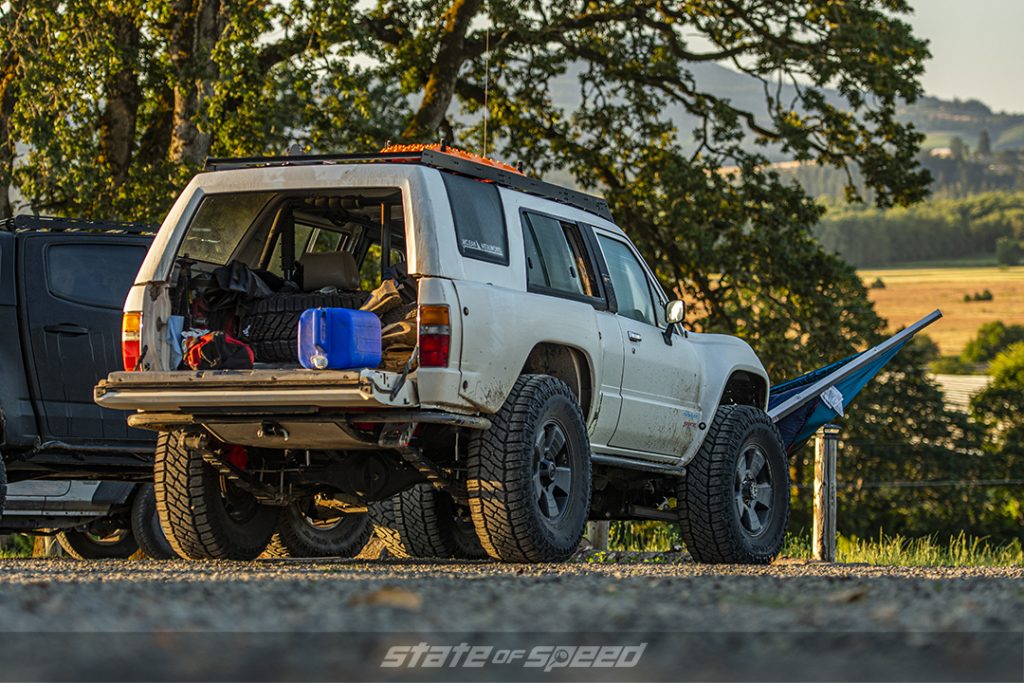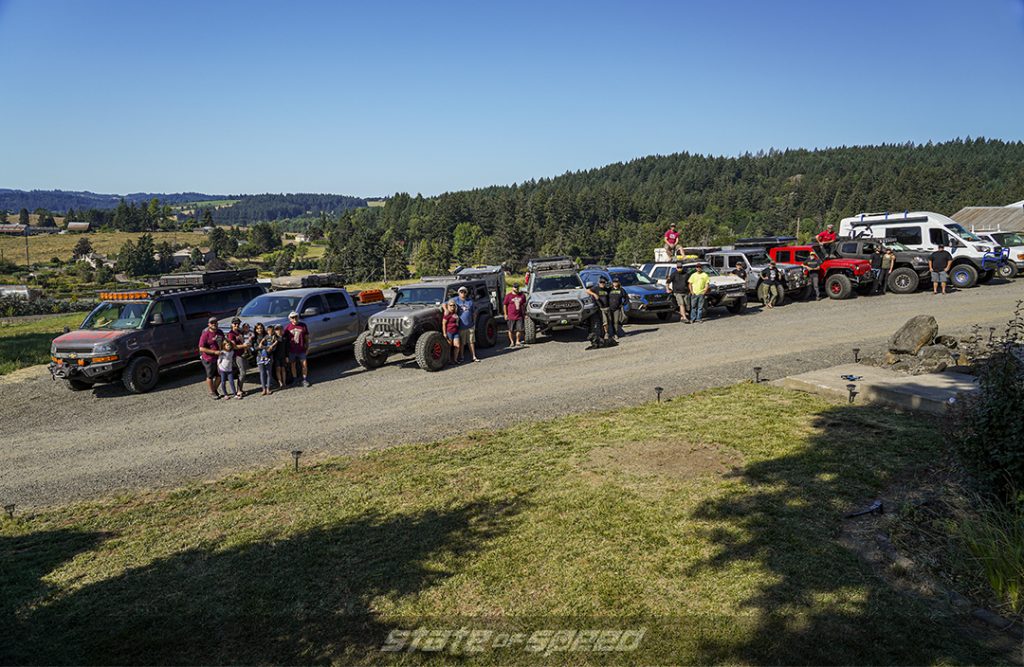 Tasting different wine examples proved to be the most ideal wind down from a 3-day off-road excursion throughout the region. After a fun-filled potluck style dinner, the crew laughed and told stories about their personal takes throughout the trek through Oregon. Even though the trip seemed to flash by, the crew covered some amazing ground through land that is not often traveled. While the good times vastly outweighed any delays the crew experienced along the way, being able to settle in together after hours of driving remained the best part of each day's itinerary. Fellowship is the glue that holds this specialized industry together, and Milestar Tires will once again drive that point home in the next XPDN installment to come.