Hollywood Movers and Shakers
A recent cover of SEMA News featured the face of Troy Ladd, owner of Hollywood Hot Rods, under the headline "How Famous Builders Grow The Industry." Indeed, there are few more famous builders than Troy who recently moved into a new space and continues to garner accolades with his own take on traditionalism.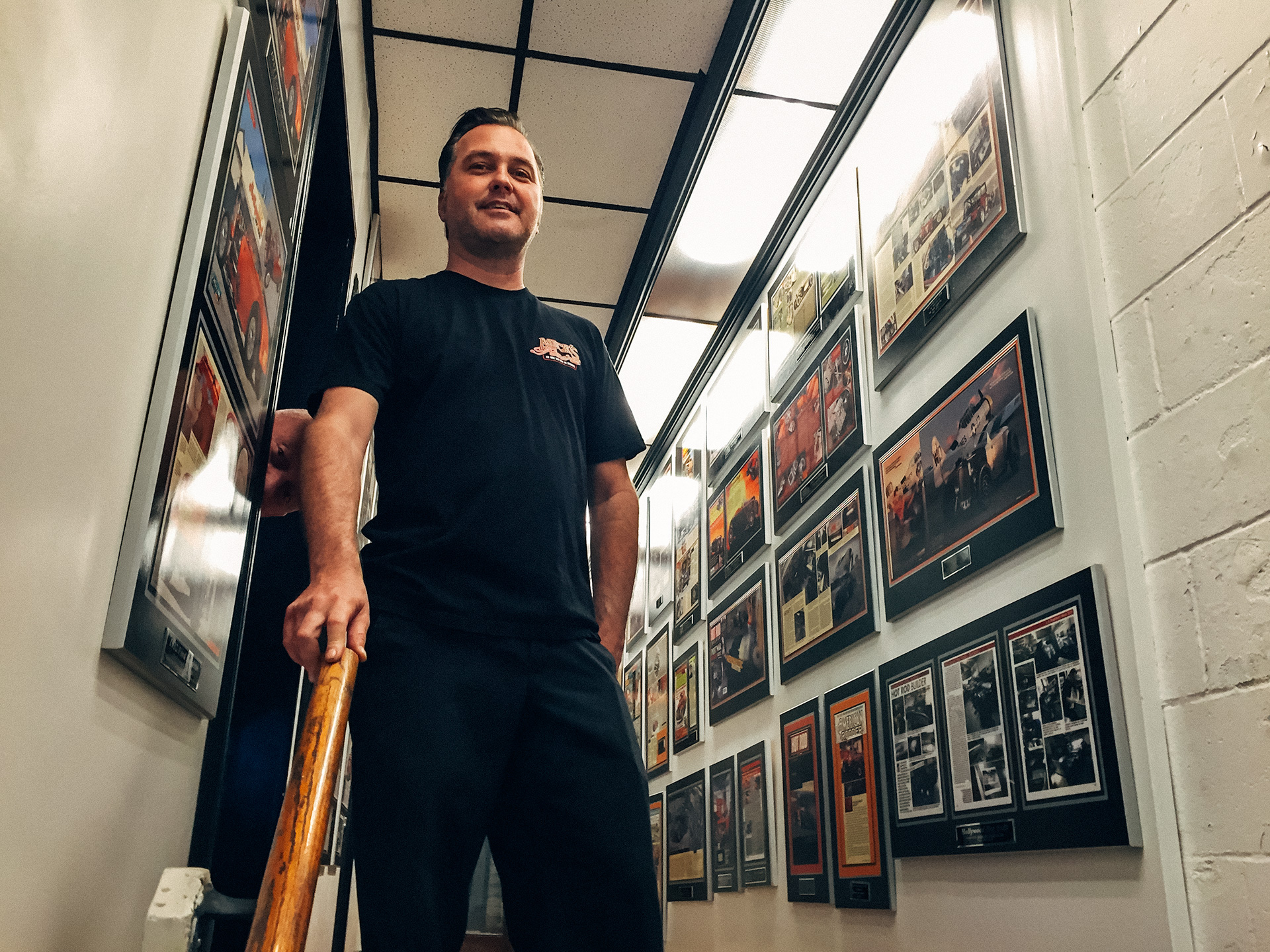 Unlike most hot rod builders, Troy began his second career after studying business and obtaining a Bachelor's degree from Vanguard University in Costa Mesa, California. While he enjoyed building cars in his spare time, he was not happy in a white-collar corporate job and consequently took the plunge in 2002 to hang up the white collar and open his own shop in "Beautiful Downtown Burbank".
Naming it Hollywood Hot Rods was all part of Troy's big plan as he knew that selling T-shirts and other merchandise containing the word Hollywood made marketing sense. And, he was right. His shirts were the number one selling brand in the Petersen Automotive Museum in Los Angeles.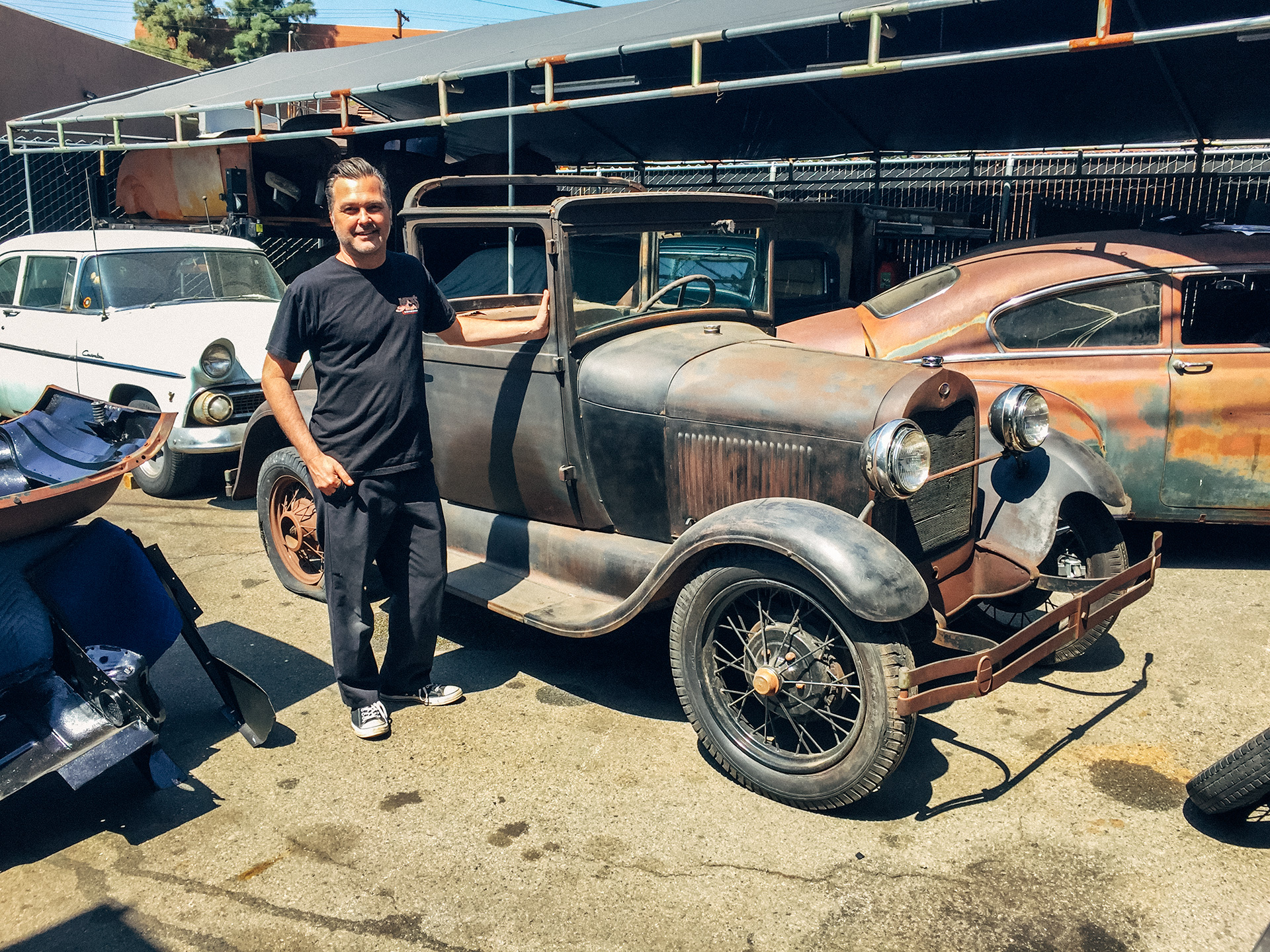 Troy's first shop in Burbank had an unassuming facade located on a small street that ended at Interstate 5. Unfortunately, that building, like so much of Los Angeles is slated for redevelopment and Troy spent has the last couple of years looking for a suitable building to buy. Eventually, he found a 4,300 square foot facility not too far from his old shop at 2617 N. San Fernando Boulevard, Burbank.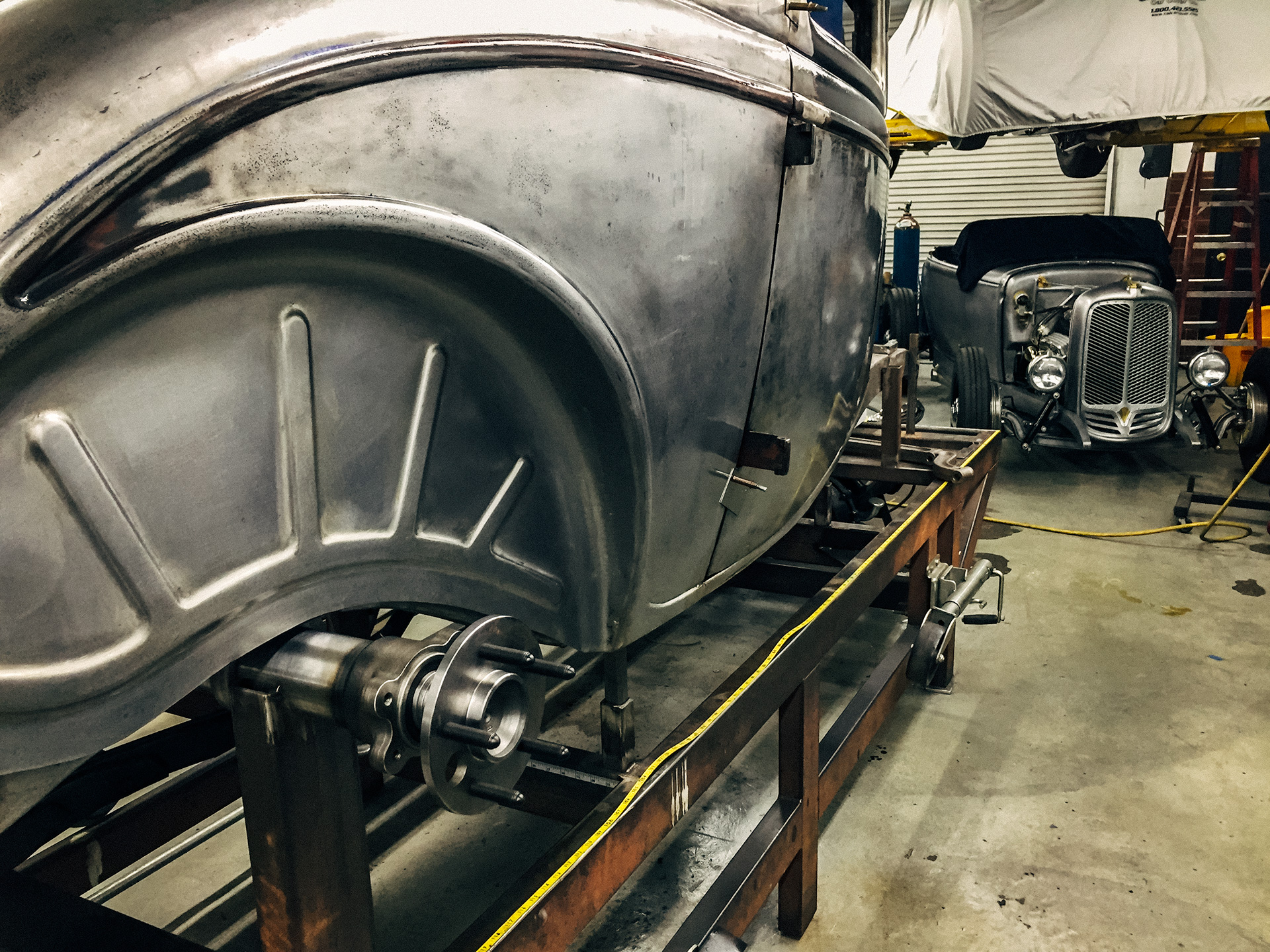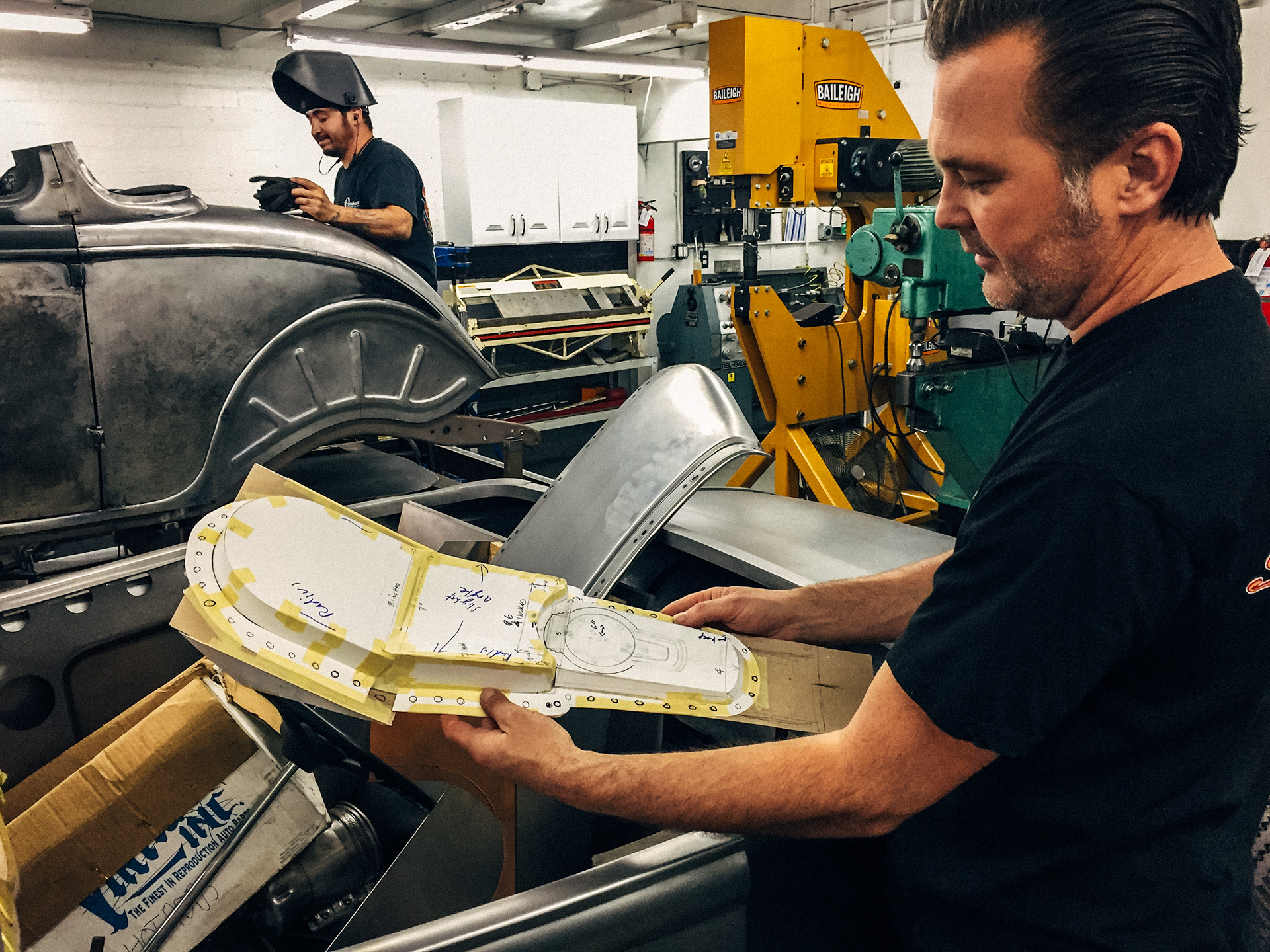 Troy first came to the public's attention when he won the 2005 Goodguys "Rodder's Pick" with "Big Sister" a '32 Ford built on the Rides TV show. Two years later he was a finalist in the Grand National Roadster Show's America's Most Beautiful Roadster (AMBR) competition with "Respect Tradition," a Hemi-powered Deuce Roadster. The copper lowboy went on to win the "Best 1932 Ford Roadster" award at the Goodguys Del Mar Nationals.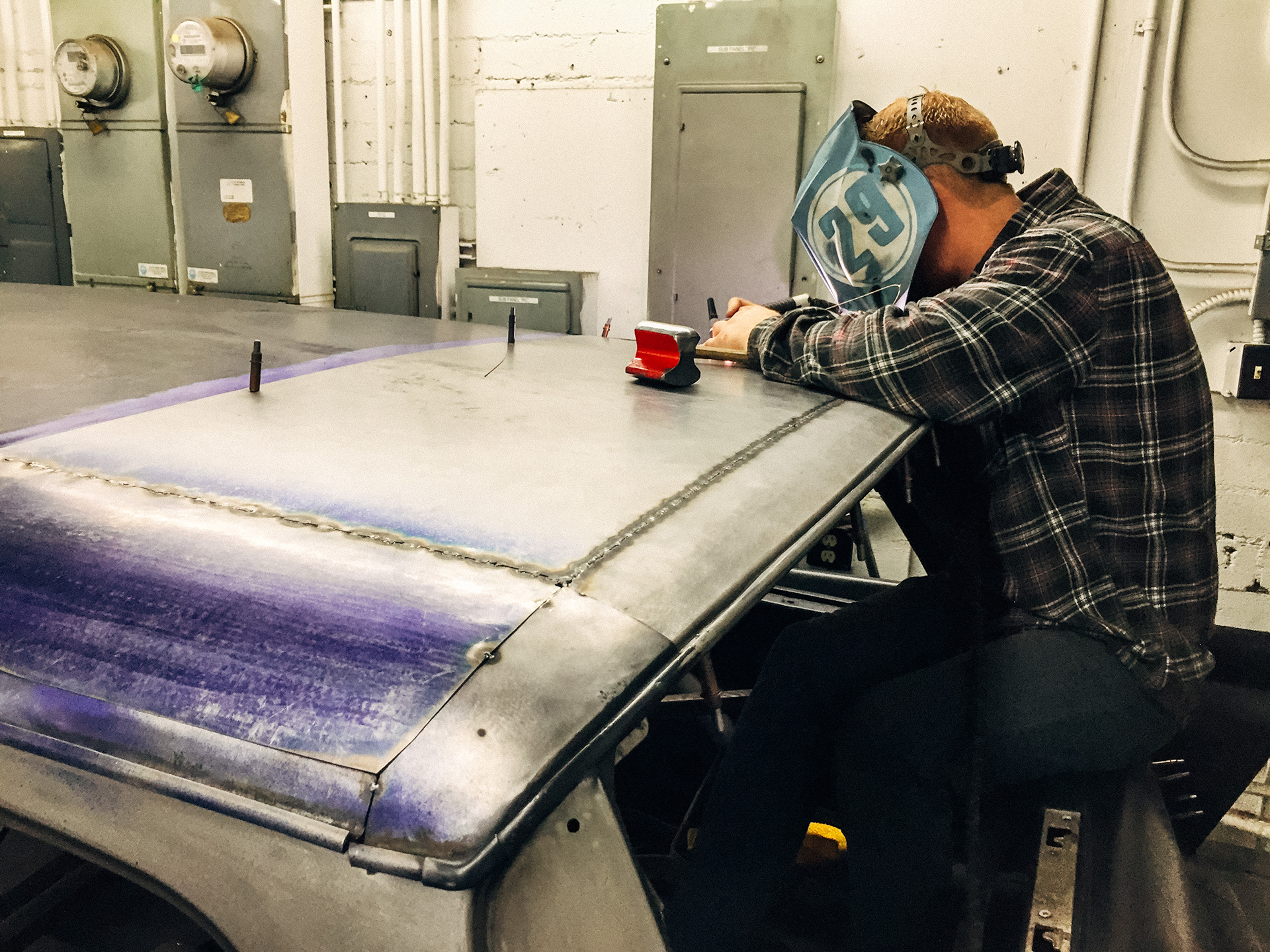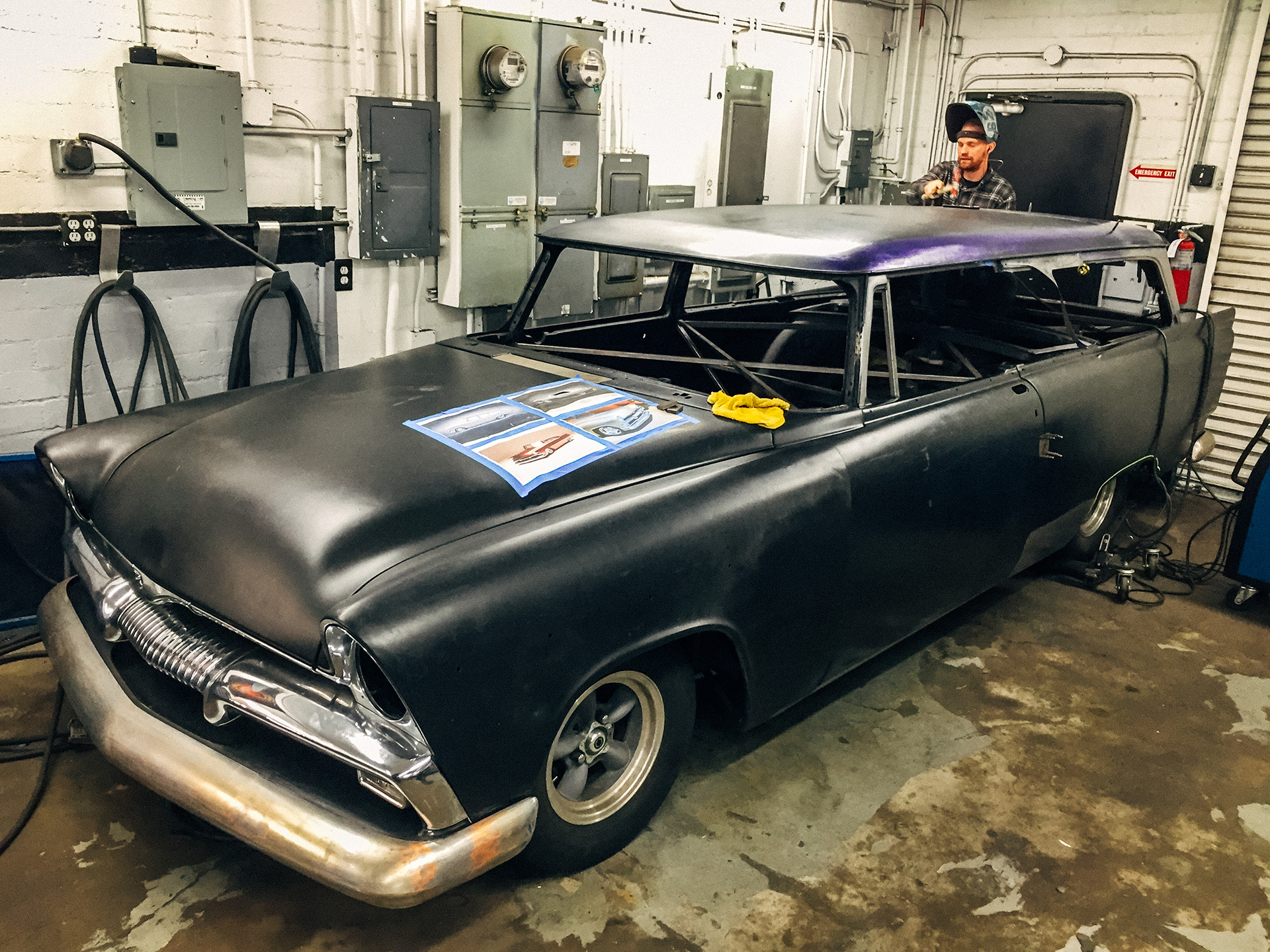 The somewhat untraditional traditional roadster was followed by a string of projects that just continued to enhance the reputation of Hollywood Hot Rods.  One that garnered attention was actually a full-size version of the Monogram "Black Widow" plastic model kit.
This is not a mere hot rod; it is a true coach-built car.
Several more roadster pickups (rpu) followed including the road-race inspired, Ardun-powered "El Correcaminos" (Spanish for The Roadrunner) and the stack-injected, Coyote-powered rpu giveaway car for Raybestos Brake Corp.  That went on to win the SEMA "Showstopper Award" in 2010. Other significant Deuce roadsters included the "Platinum Bomb" and the "Brooklands Special".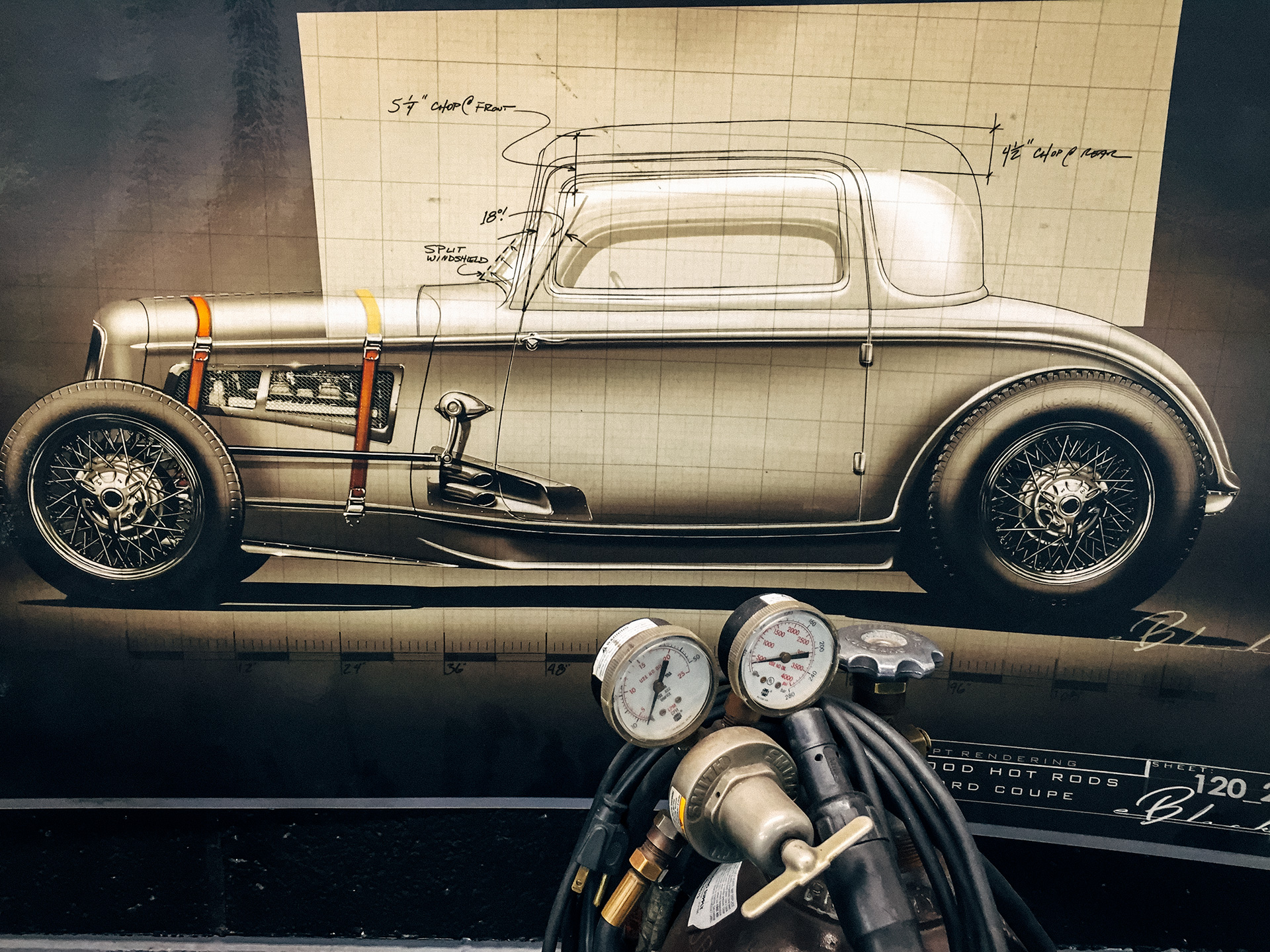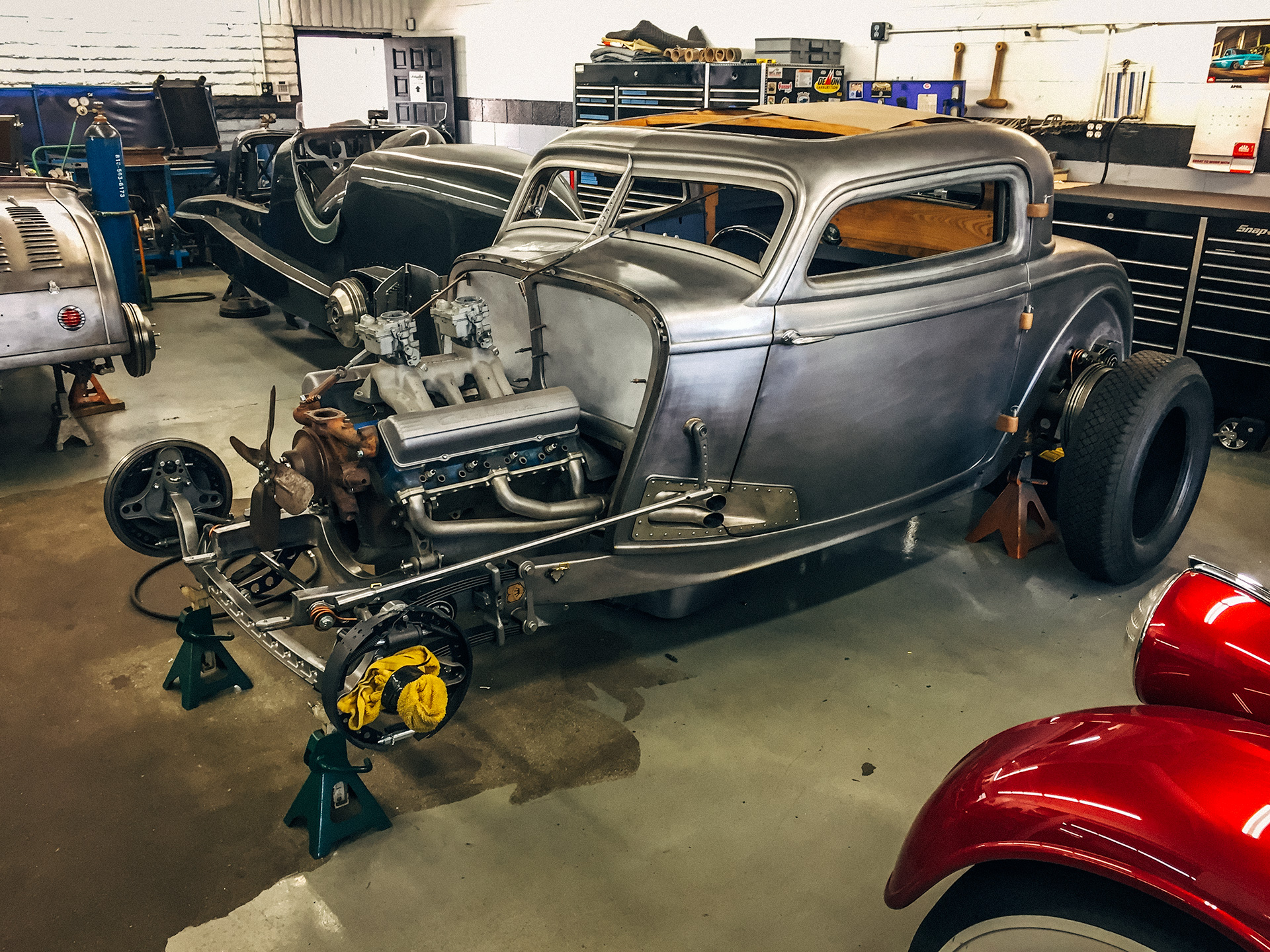 Besides the more traditional hot rods, Troy has also built some notable later-model customs including a '63 Mercury S-22 Comet convertible and a '60 T-Bird called "Hammered". Also to show the shop's versatility there was even a late-model Mustang convertible powered by a 700 hp-x engine. It was a supercar designed for the track yet retained all of the comforts of a streetcar.
In 2012, Troy was named the LA Roadsters' "Builder of the Year" and, the accolades didn't stop. Check the list and he received a significant award almost every year up until last year when the '36 Packard convertible he and his team created for Bruce Wanta won a string of trophies including the AMBR Award, the Custom D'Elegance Award, the Sam Barris Award and the Goodguys Del Mar Street Rod D'Elegance Award.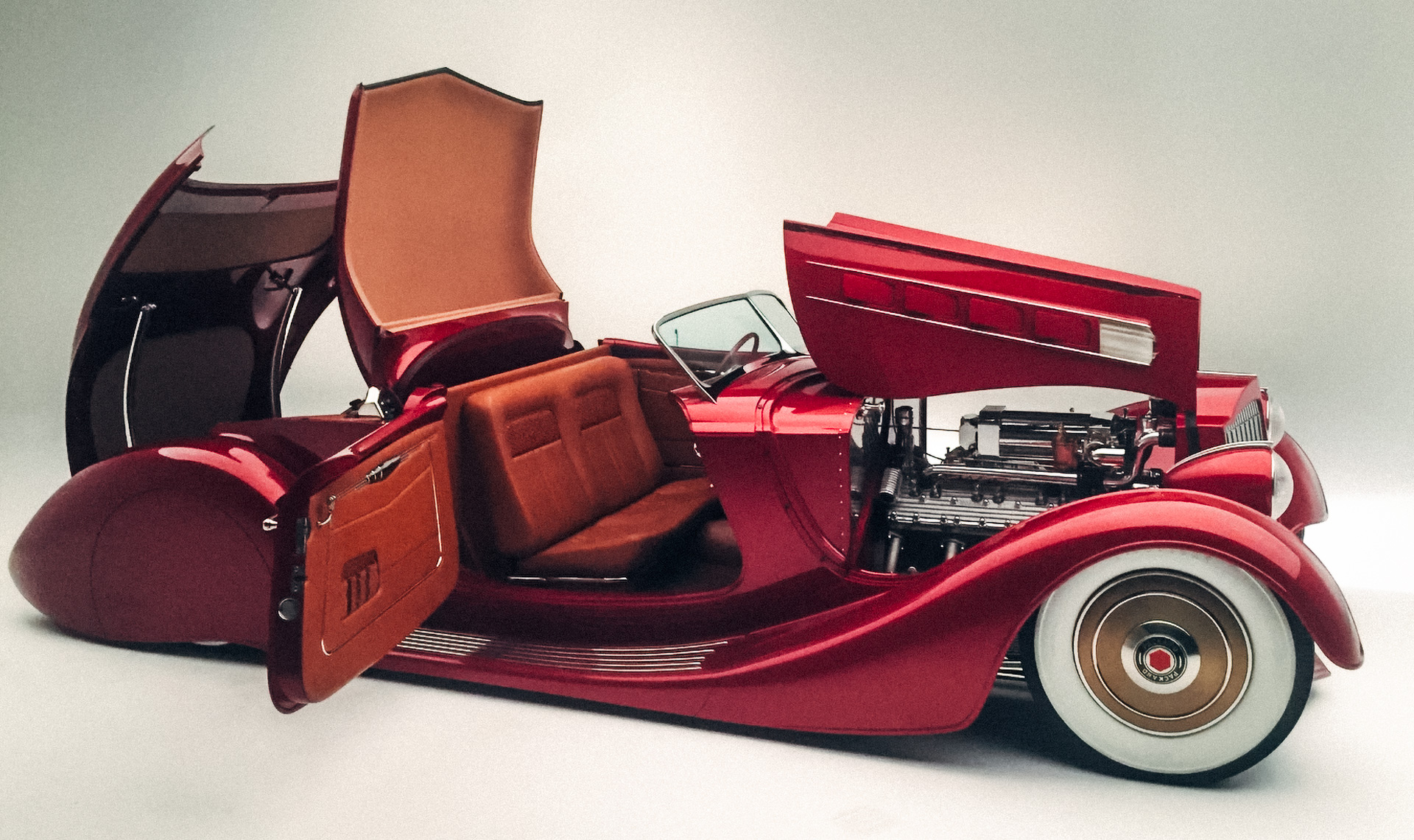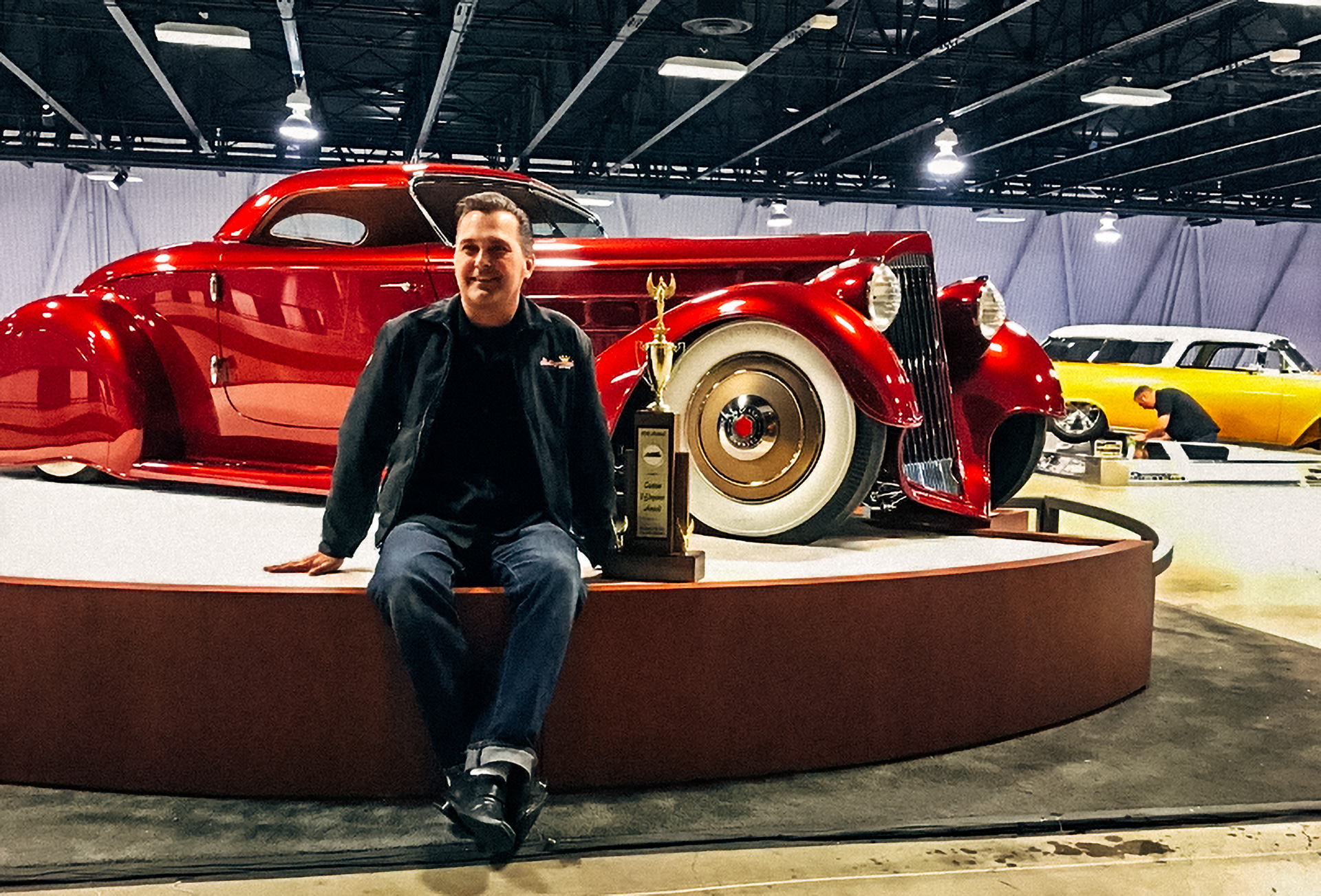 2017 was a busy year for Troy as that was the year he finally found a building and moved shop, however, it was Wanta's "Mulholland Speedster" that became a game changer from its hand-fabricated chassis to it's retractable, cantilevered top that folds down into the trunk. This is not a mere hot rod; it is a true coach-built car.
The new Hollywood Hot Rods is compact but there's room enough for offices and meeting space above the workshop that accommodates about eight cars. We've visited several times recently and there's always cool stuff to see and Troy welcomes visitors. All of the projects are interesting but I particularly liked the Italian-bodied tribute to Edsel Ford's 1934 boat-tail speedster.
Both had more tricks than a magician.
Four cars share that space and they include a Hemi-powered Model A roadster and a highly modified '32 3-window with a split-windshield. In the adjacent shop found a chopped '57 Plymouth wagon having its roof pancaked 1-1/2 inches. Attached to the workshop is a well-equipped machine shop containing lathes, a mill, a plasma cutter, and more.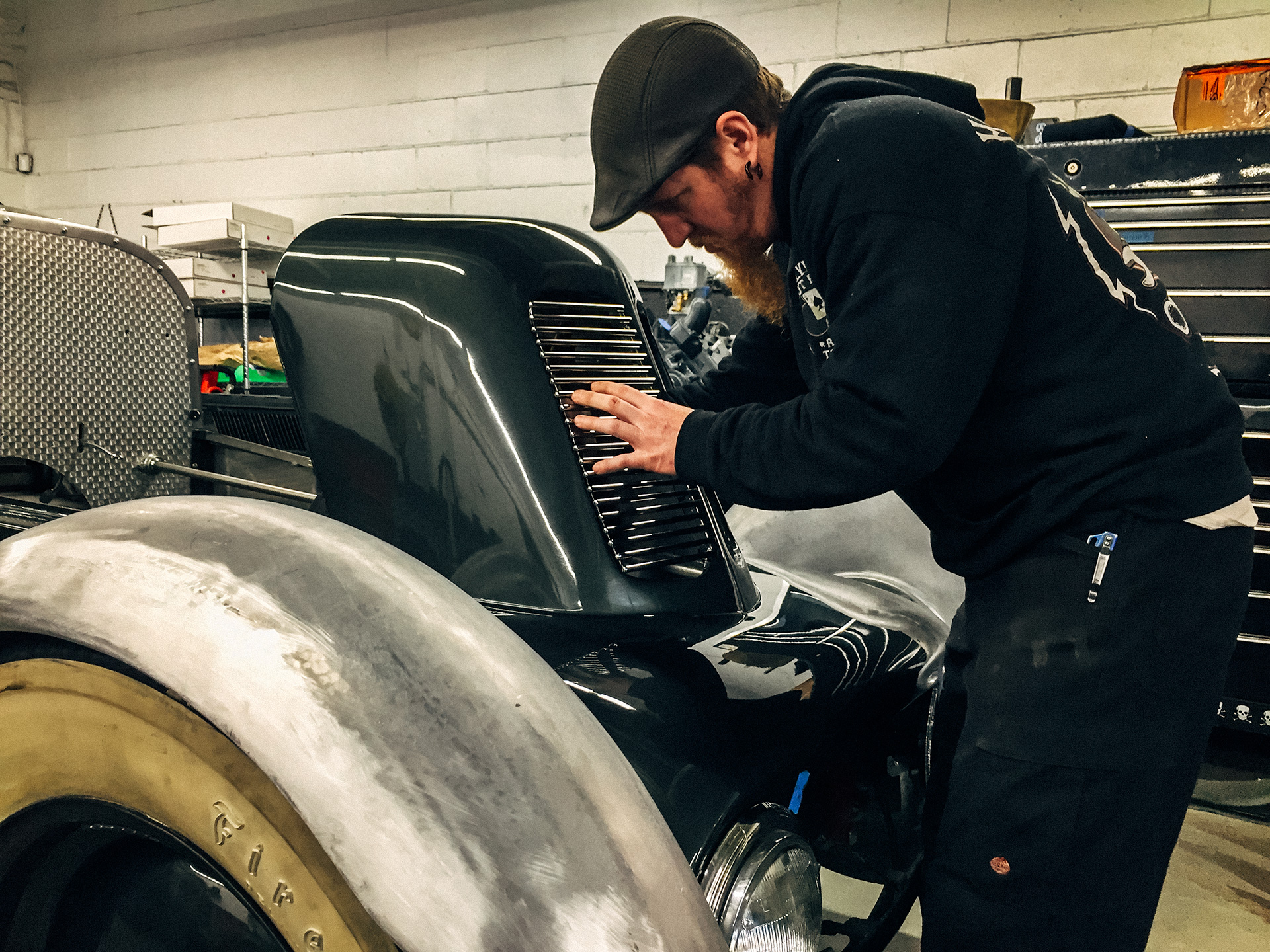 At this year's GNRS, Troy displayed two very distinct, bare-metal roadsters that were an Art Deco-Steampunk mashup with lots of hand-formed brass accouterments. Both had more tricks than a magician.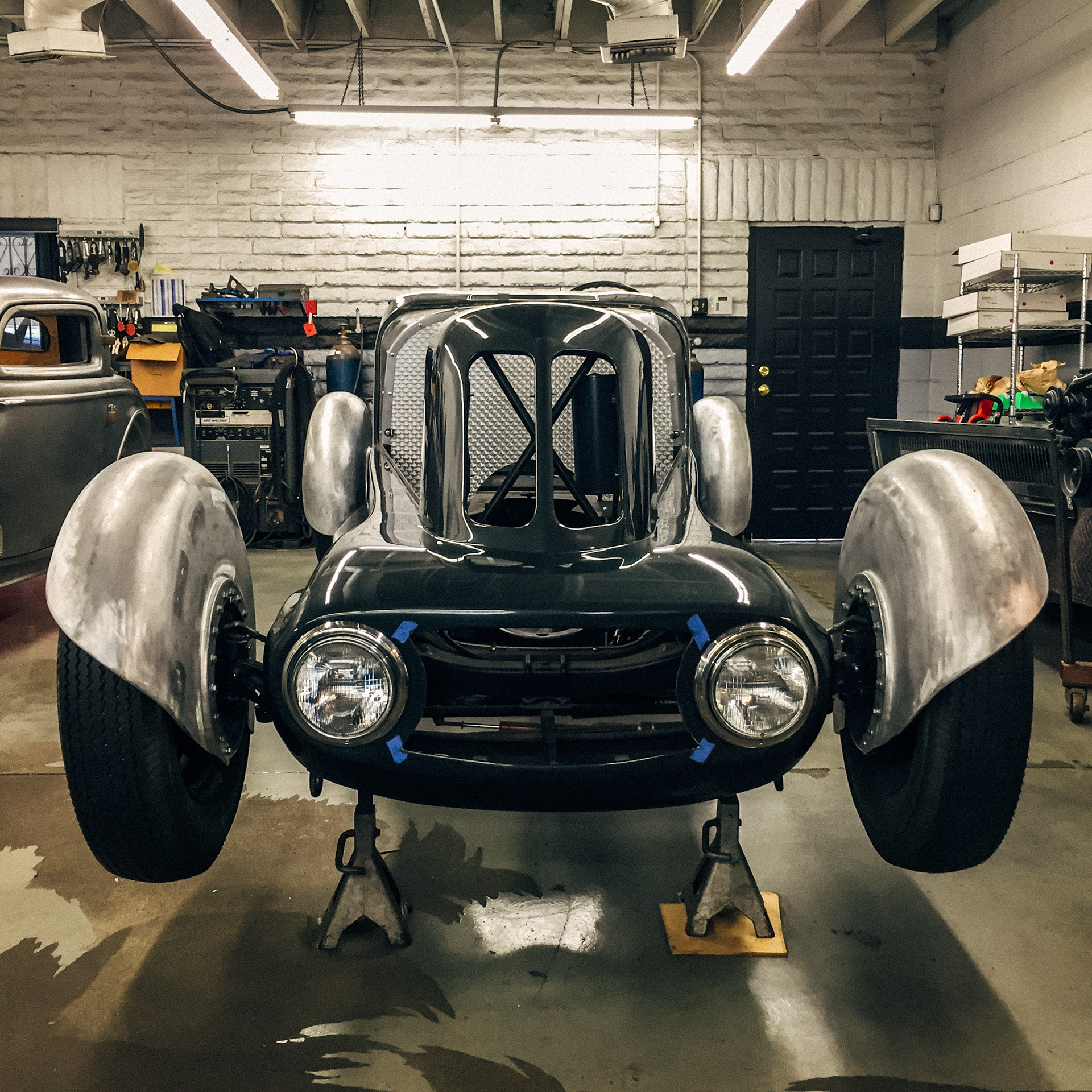 As if that all is not enough, Troy recently teamed up with the original host of Overhaulin' and Power Block on Spike TV, Courtney Hansen, for a new build show called The Ride That Got Away. It's a feel-good show that builds and reunites deserving people with their lost ride. It's airing now. For more information visit: hollywoodhotrods.com