Metallica's James Hetfield Brings Heavy Metal to the Petersen Automotive Museum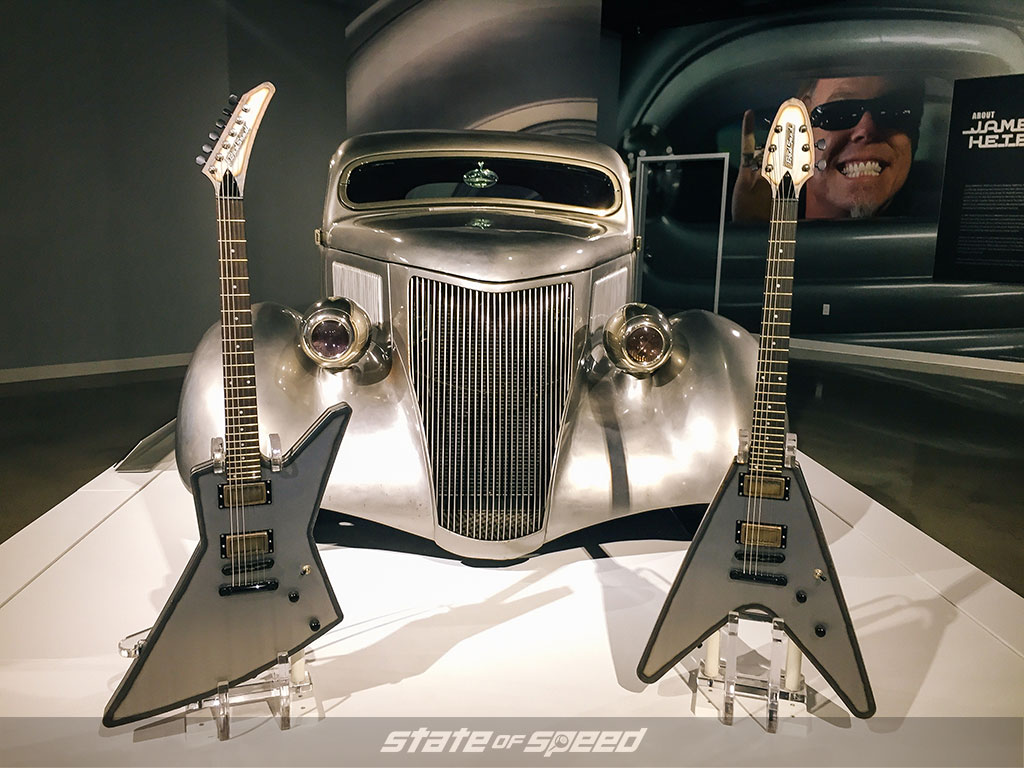 Google World's Largest Concerts and likely as not, Metallica will come up in the top five with 1.6 million people attending Monsters of Rock at Tushino Airfield, Moscow in 1991. The images from that concert are staggering and they form a juxtapositional backdrop to 'Reclaimed Rust: The James Hetfield Collection' a new exhibit at the Petersen Automotive Museum, Los Angeles, CA, featuring the cars of Metallica front man James Hetfield.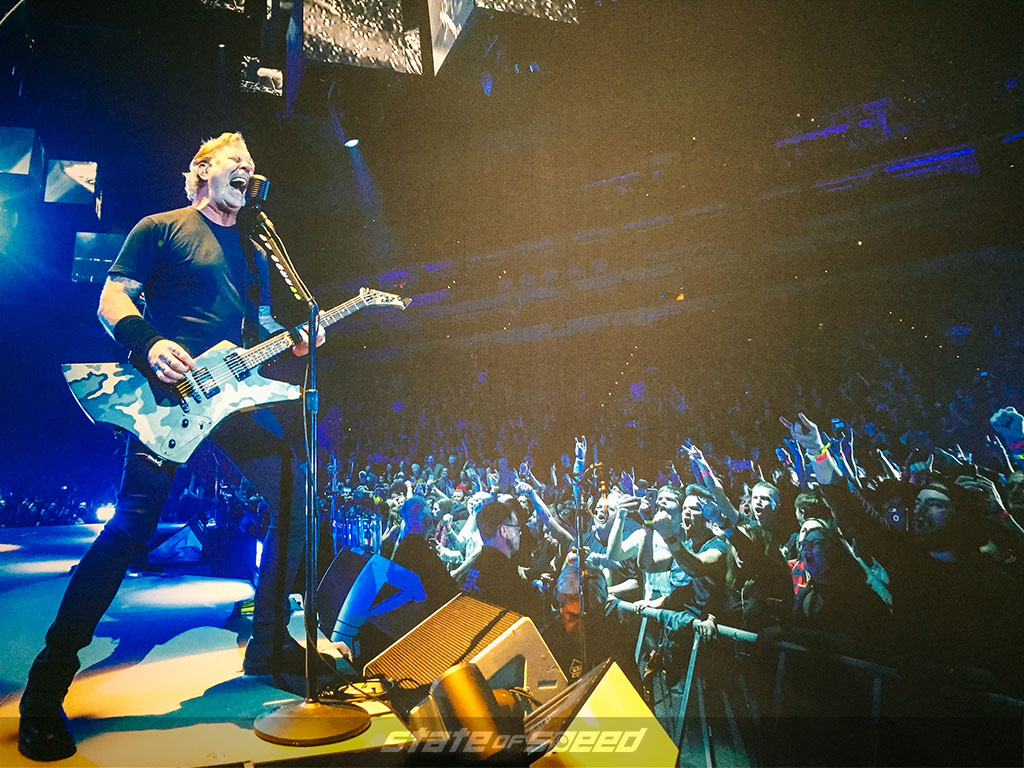 "I believe everyone needs or deserves a second chance or a third chance or a fourth chance. So knock the rust off and continue the story."

James Hetfield, Metallica
Prior to the opening, there was a fireside chat with Hetfield who talked candidly about his love of automobiles, and custom cars in particular. Hetfield was born in Downey, California in 1963, which at the time was the epicenter of the custom car culture saying about the exhibit, "It's historic for me; as do our albums, these cars mark my life for the past 14 years and it's great. I love that they are staying together and that youngsters will be inspired by them." When asked what was behind the name of the exhibit, 'Reclaimed Rust' Hetfield said, "I believe everyone needs or deserves a second chance or a third chance or a fourth chance. So knock the rust off and continue the story."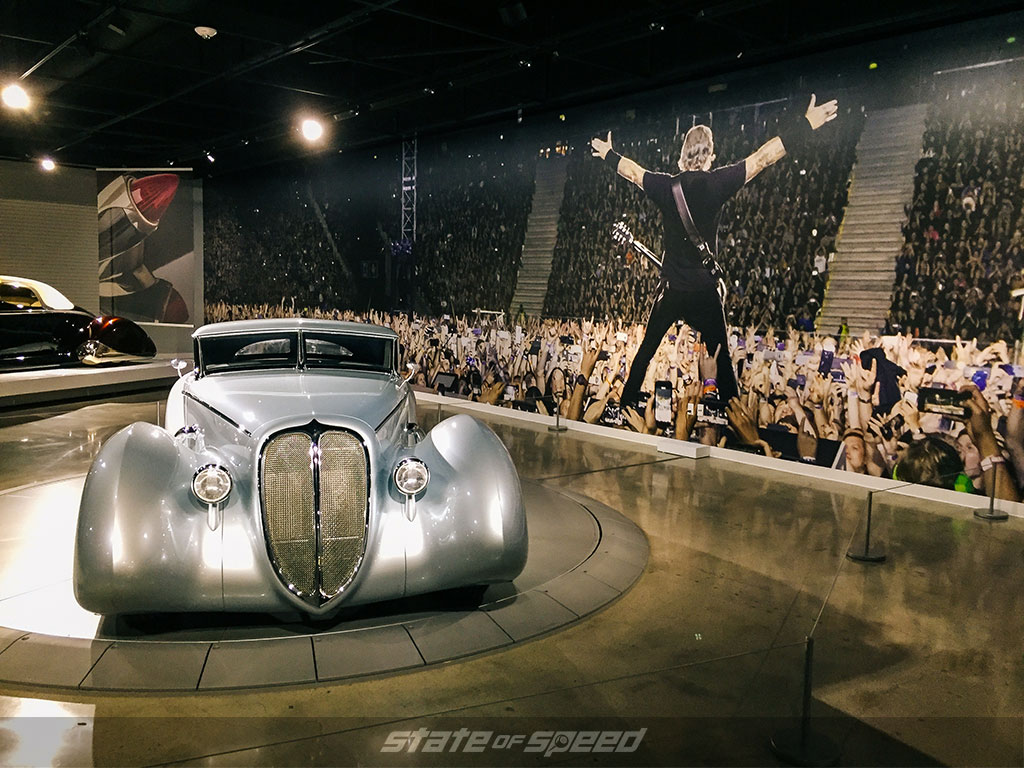 StateofSpeed was invited to the Media/VIP preview but we first encountered James' amazing cars at the 2012 Goodwood Festival of Speed. The Duke of Richmond had invited a number of rock stars to display their cars including Hetfield's 1936 Auburn Speedster 'Slow Burn'.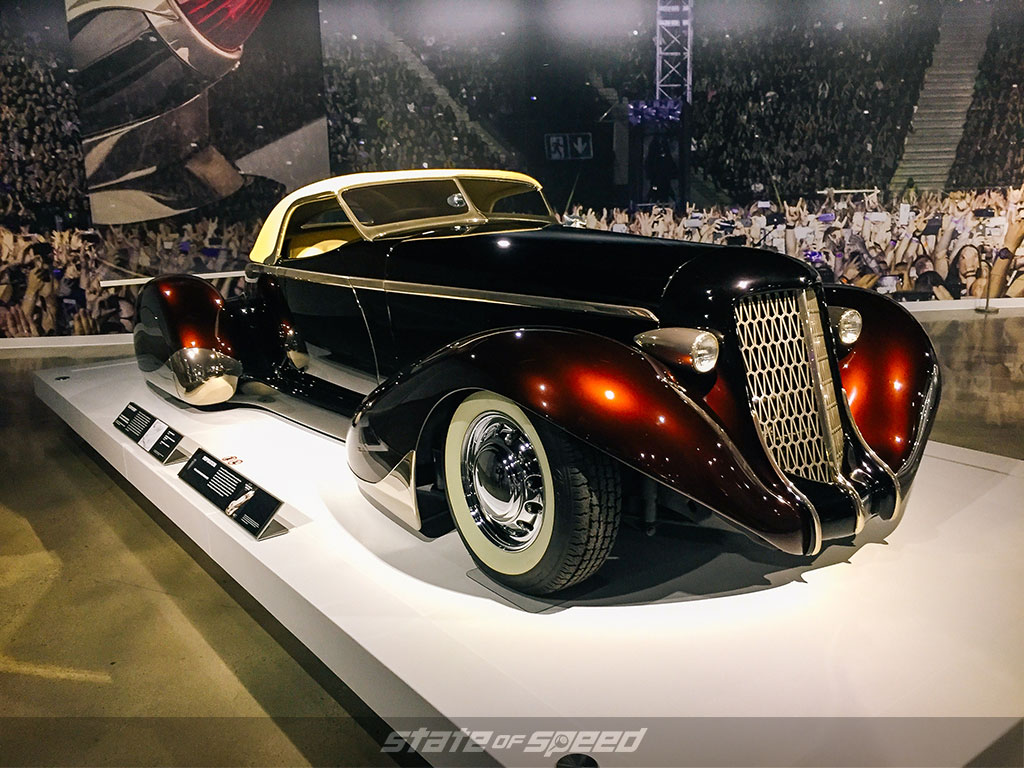 Unfortunately, some typical shipping damage put a slight damper on the proceedings but the Auburn, built by long time Hetfield collaborator Rick Dore Kustoms, showed well alongside Billy F Gibbons' CadZZilla and Jimmie Vaughan's '61 Cadillac.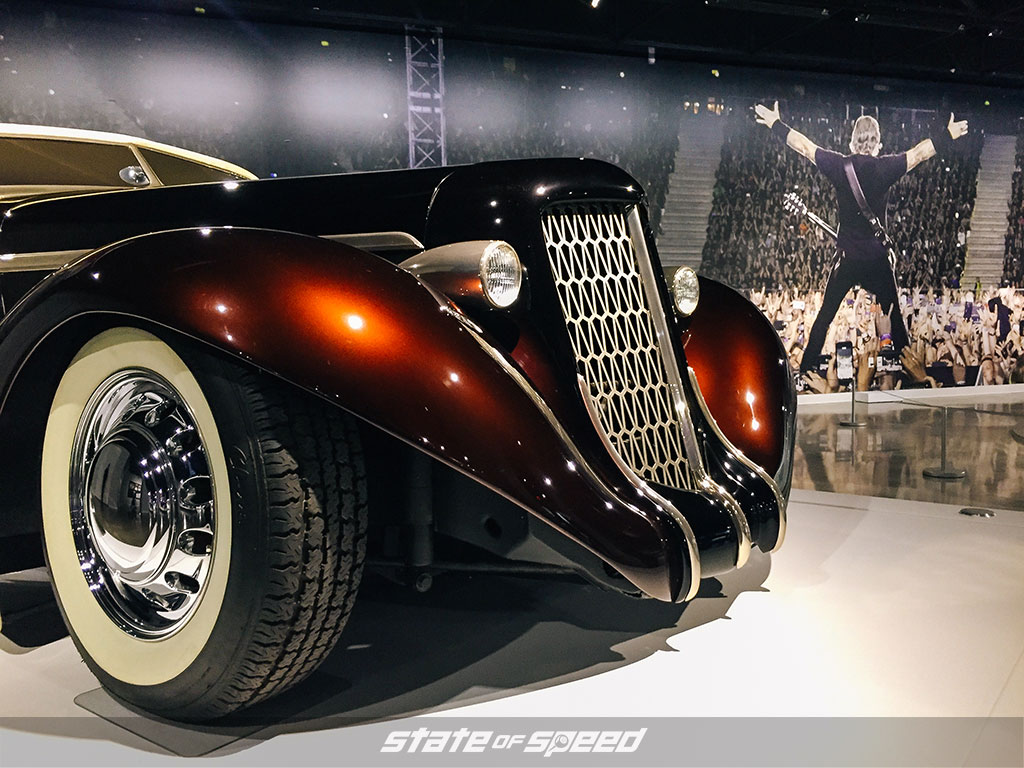 Indeed, five of the 10 vehicles on display at the Petersen Automotive Museum were collaborations between Dore and Hetfield and they included a 1934 Packard-based custom 'Aquarius' and an unrecognizable 1948 Jaguar named 'Black Pearl'.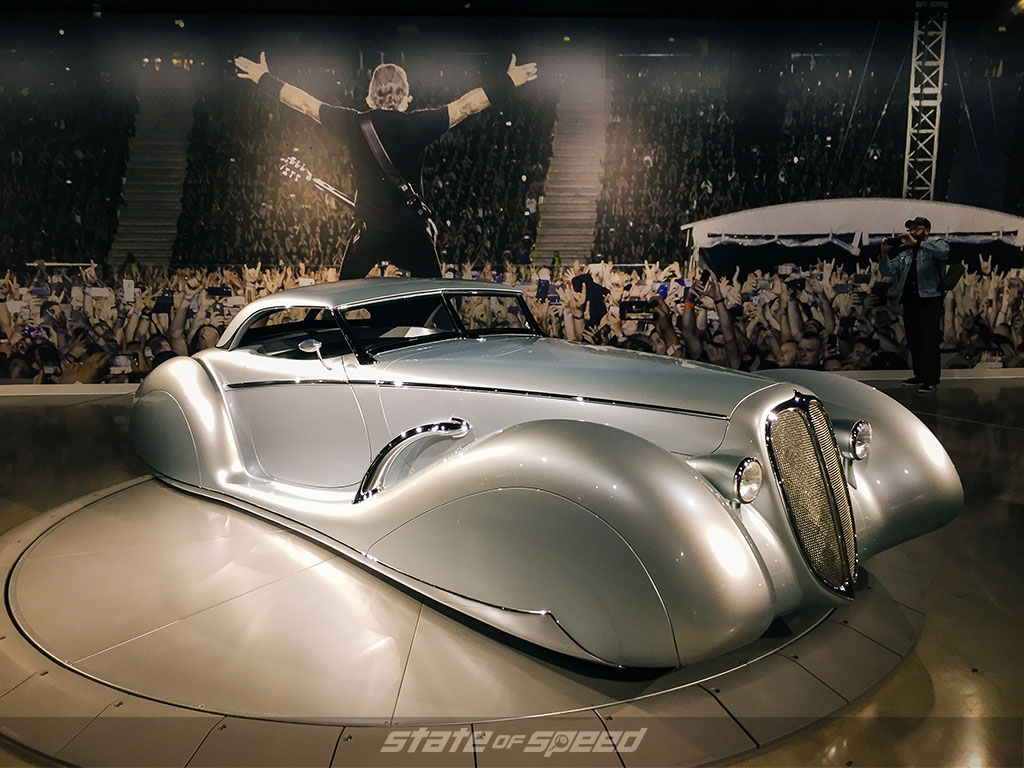 Both these cars and particularly the Packard lean heavily on European styling of the thirties, specifically the French designs of Delahaye and coachbuilder Figoni et Falaschi. Both cars feature swooping, sensual hand-formed one-off aluminum bodies by Marcel's Custom Metal, Corona, CA.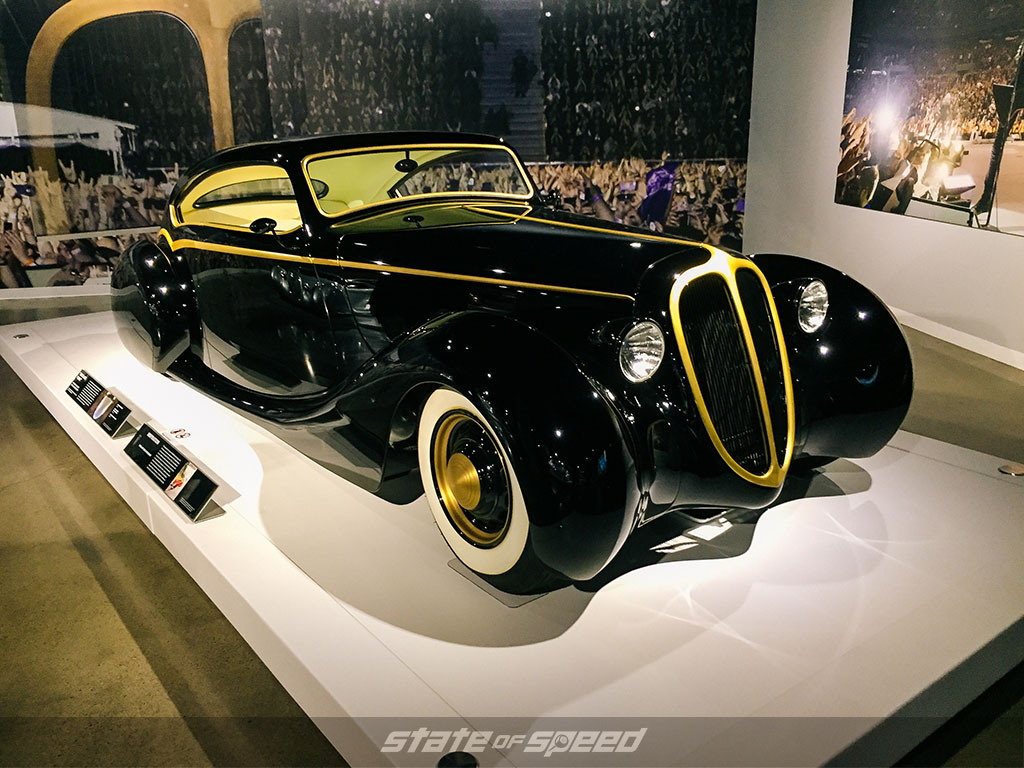 The other collaborations with Dore include the centerpiece of the exhibit, a 1953 Buick Skylark 'Skyscraper' that features, as do some of the other customs, what appears to be a solid but lift-off convertible top. These tops, created in the 1940s are known as Carson Tops, after the Carson Top Shop in Los Angeles that first developed them.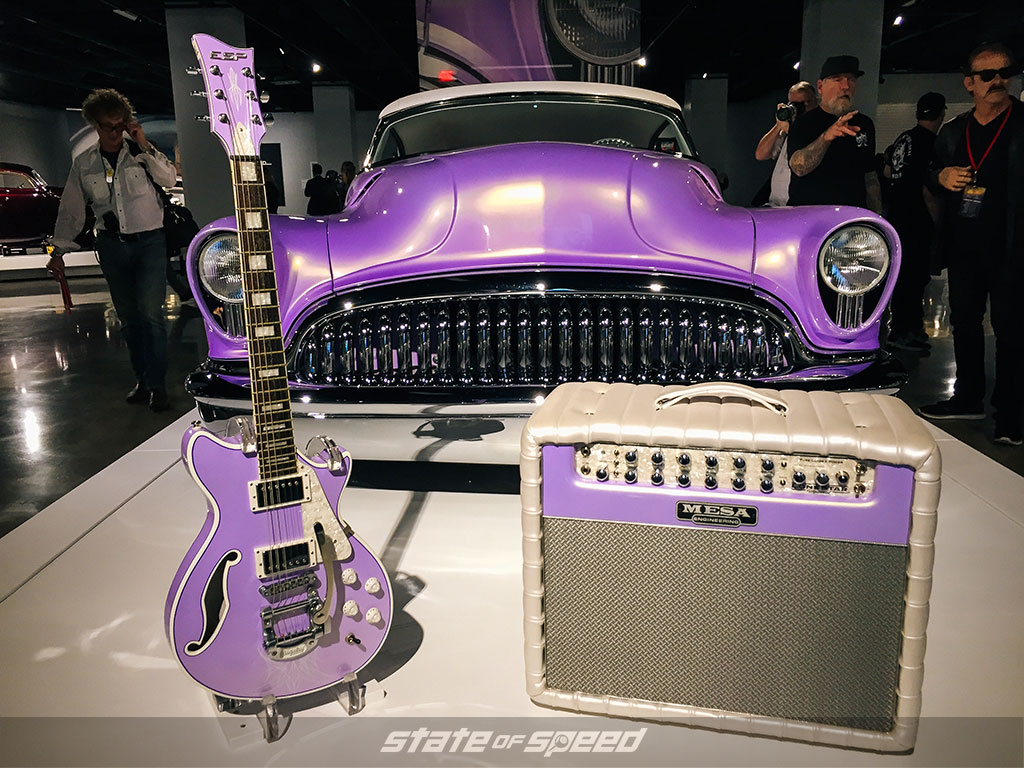 While not as outwardly radical as some of the other collaborations, the 1937 Lincoln 'Voodoo Priest' features more subtle modifications below the stunning Candy Apple Red paint by Darryl Hollenbeck, Concord, CA., including a fully hot rodded Lincoln V-12 by HandHFlatheads. The engine breaths through three classic Stromberg 97 carbs and note the one-piece curved windshield by Timo Tanskannen of Finland.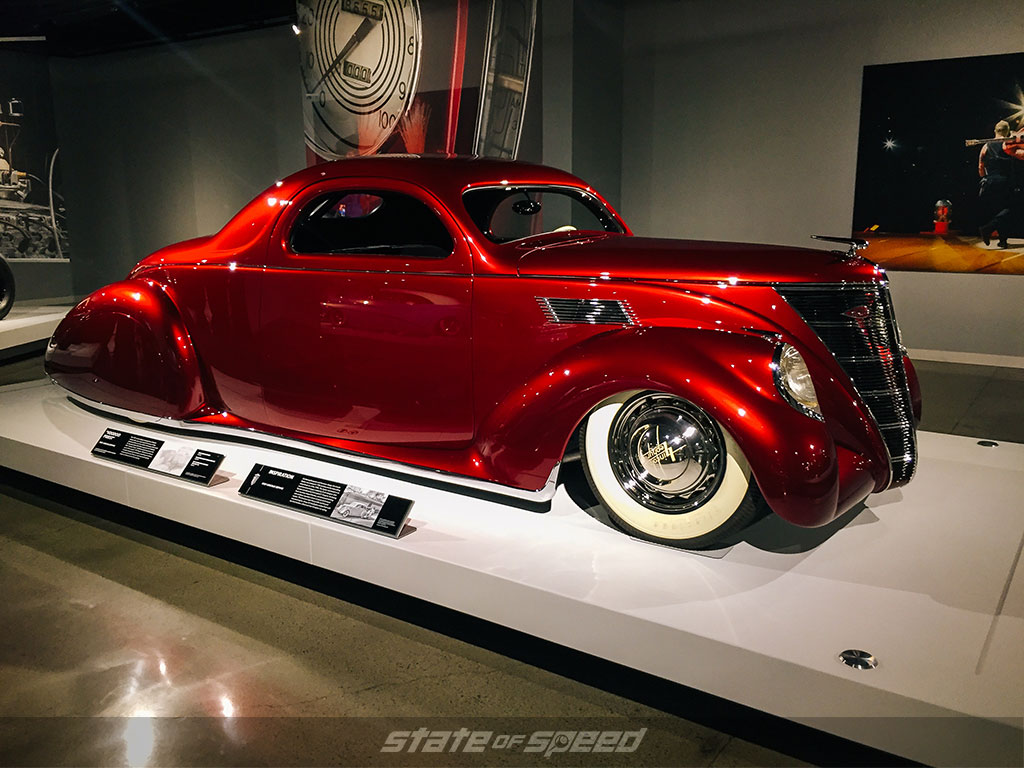 Not all the cars in the exhibit at the Petersen Automotive Museum are radical customs, some are more hot rod than custom. For example, 'Iron Fist' is a tough-looking bare metal, chopped '36 Ford 5-window coupe that has no paint but attitude a-plenty.  Built by Scott Mugford's Blue Collar Customs of Sacramento, CA., the 'Fist' is powered by a small-block Chevy V-8 and protected by a coat of clear by Darryl Hollenbeck.
Also completed by Blue Collar Customs is Hetfield's '56 Ford F-100 pickup known as 'Str8 Edge'. Powered by a 455 cubic inch Oldsmobile engine, the 'Edge' features a 5-window, extended cab with a 2-1/4-inch top chop, a side-opening hood and a '60-'61 Chrysler grille with Thunderbird trim. The wild paint was handled by Jason Haskin.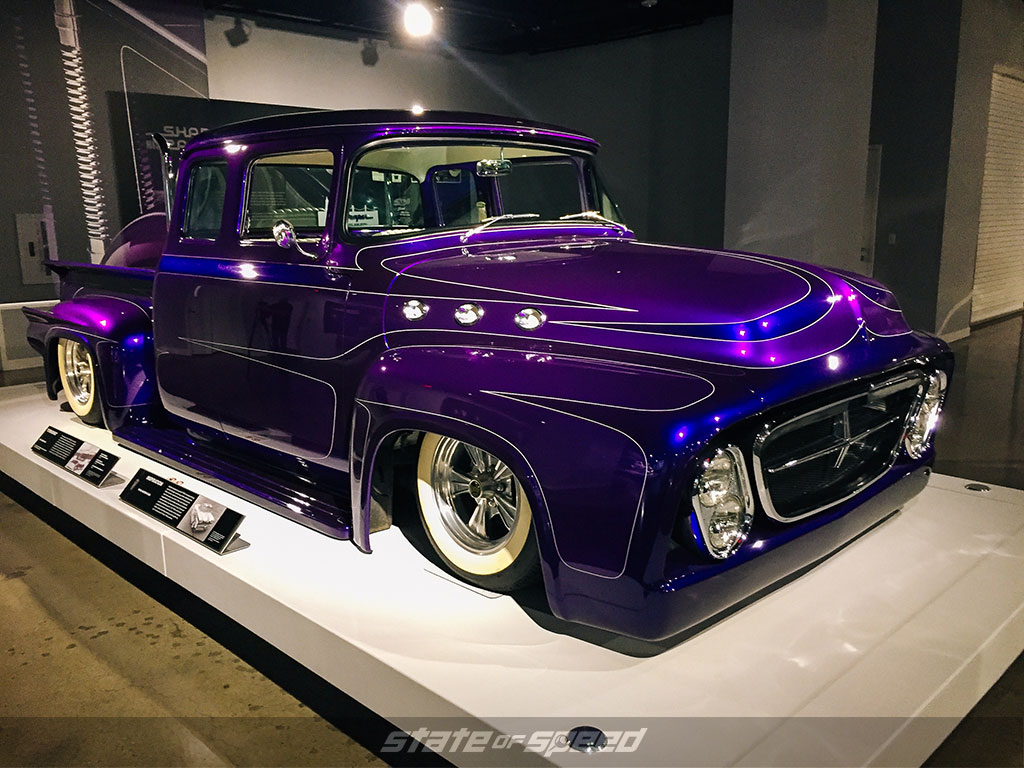 The other late-thirties custom in the collection is the 1937 Ford 'Crimson Ghost'. More of a custom than a rod, the pan-draggin' 'Ghost' is different because of its pillar less door opening and sweeping roofline that flows seamlessly down into the decklid.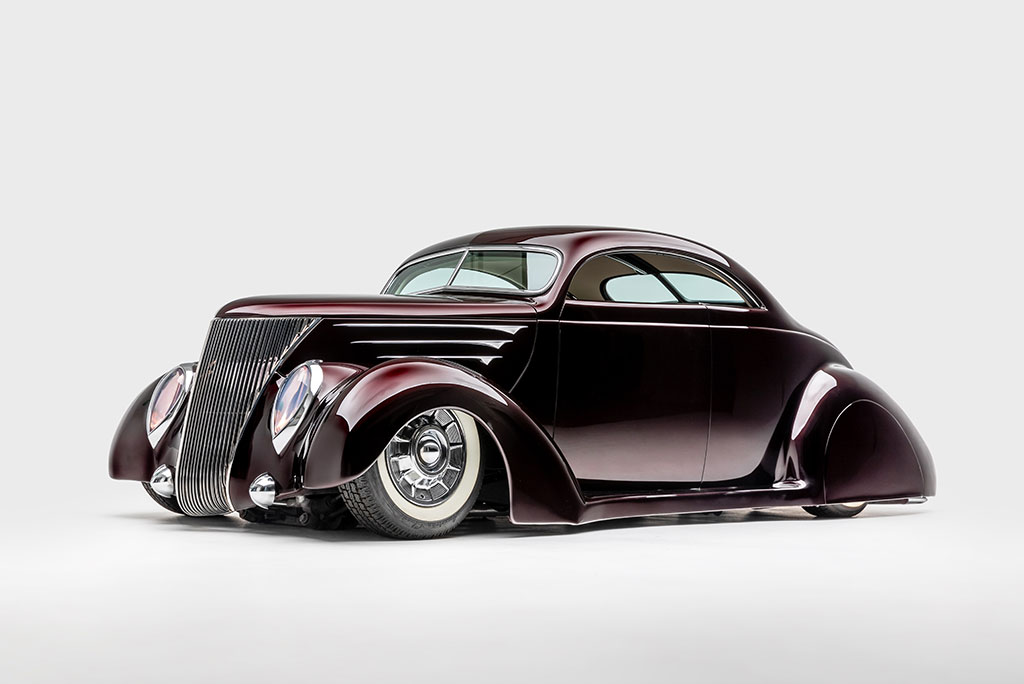 The only real hot rod in the show is a quintessential '32 Ford Roadster tagged 'Black Jack'. Built in the traditional style by Josh Mills of Marietta, GA., it's an original, all-steel 1932 Ford with no parts newer than 1949 on the entire car.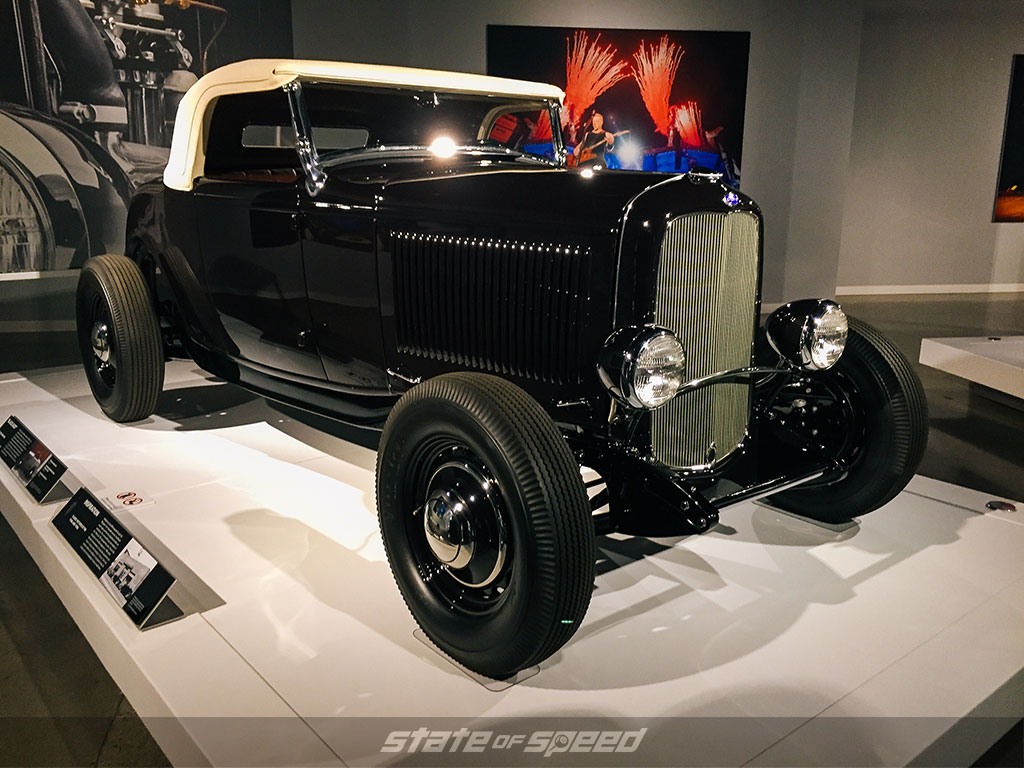 The rod, which is actually brown rather than black, appeared in the 2017 Grand National Roadster Show but did not win the America's Most Beautiful Roadster Award. Instead, that went to Bruce Wanta's Packard built by Troy Ladd's Hollywood Hot Rods. As do some of the customs 'Black Jack' features a padded, lift-off Carson-style top and a flathead Ford V-8 under the hood.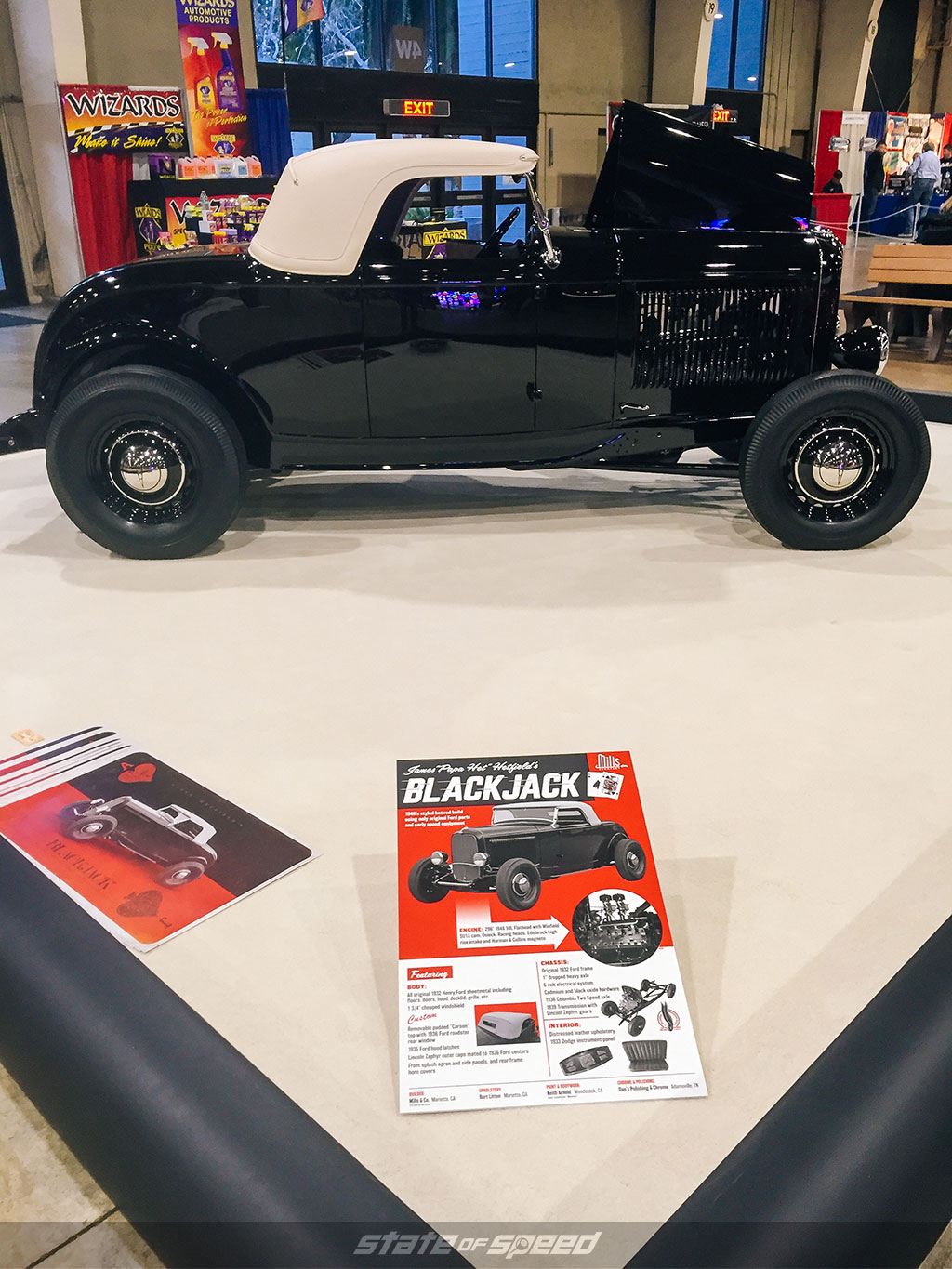 'Reclaimed Rust' is a worthwhile exhibit especially if you are a fan of Hetfield and customs spelt with a 'K.'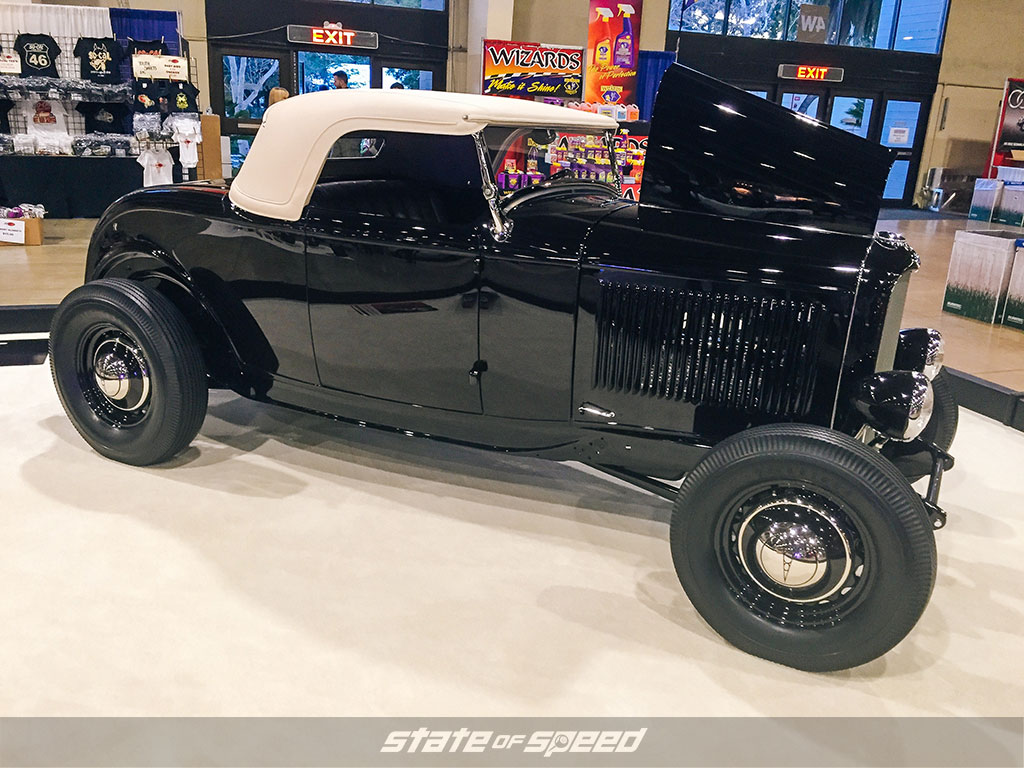 No doubt a little tongue in cheek, the final car on the roster was the 1963 Lincoln 'Dead Kennedy'. Painted satin black and looking a little road worn, the side-piped Lincoln with shaved door handles was perhaps the black sheep of the show and did not express the workmanship of the other cars on display.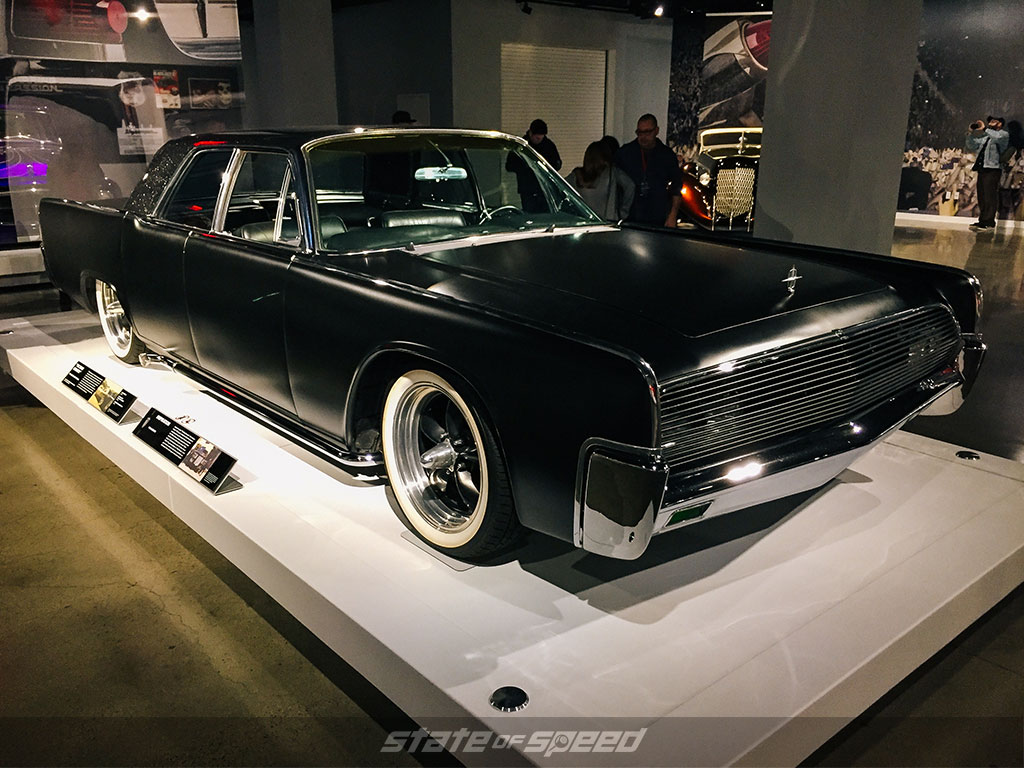 'Reclaimed Rust' is a worthwhile exhibit especially if you are a fan of Hetfield and customs spelt with a 'K.' Incidentally, all of the vehicles on display were donated by Hetfield to the Petersen Automotive Museum and the 'Reclaimed Rust' exhibit, sponsored by ESP Guitar Company, will run through October 2020. For more information visit Petersen.org.