Juggling Mistresses Ain't Easy, But Pin Did It With the 1972 Buick Riviera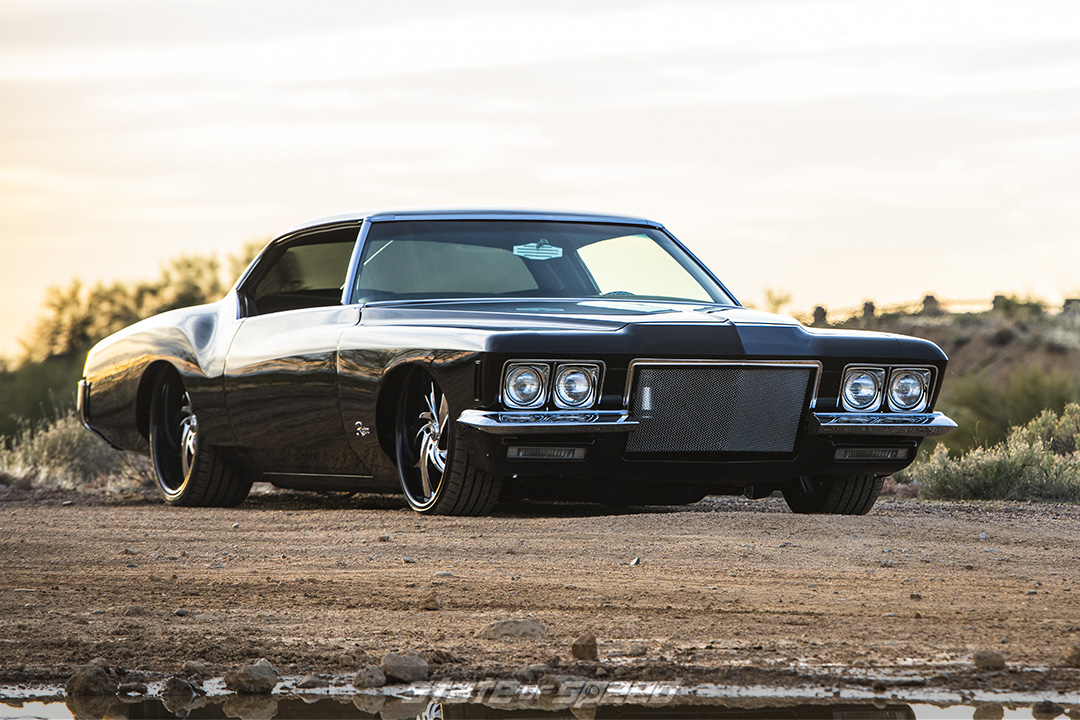 Ladies first, as the old saying goes, is polite. But to introduce the creation before the creator seems an odd way to begin any tale. Let's start with the folks behind the machine pictured here on State of Speed.
Much like Madonna, or the artist formerly known as Prince, Pin goes by one name. Pin told SoS, "it was a name given to me by a friend in the early 90s and it stuck." He gave no explanation but stick it did. So much so, that when he started building cars for customers the question of "Who built it?" always came up, and the reply "Pin Did It" later became the name of Pin's California-based business.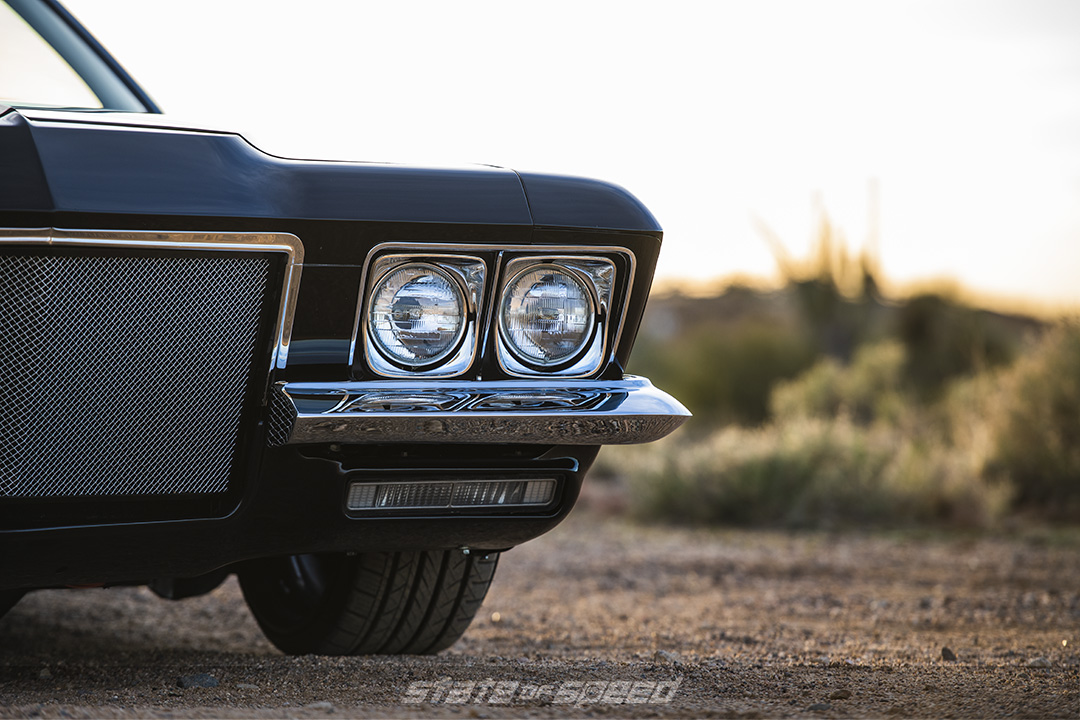 While the nickname, & seriously building cars, came about in the 1990s, his love of cars did not. Born in Detroit, Michigan, Pin was raised in the car scene. His dad was a car guy, and as a Motor City native, Pin developed a love affair for full-sized American cars like Cadillacs, Impalas, and the third-generation Buick Riviera.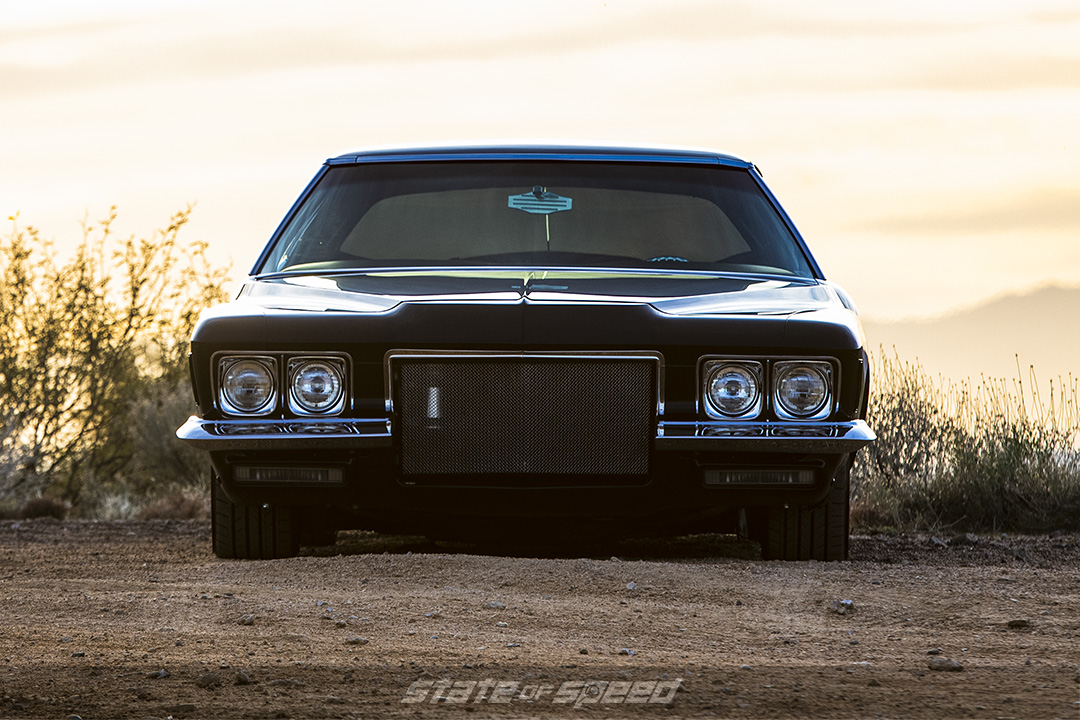 "I've had a thing for Rivieras since I was a kid. My dad had one, and I remember riding in it down to the Detroit River," said Pin. Since then, he has held a soft spot for 'the new for 1971' larger Riviera with boat-tail styling. While now considered iconic, the boat-tail styling was too radical for GM execs and as such, the third generation Riviera was short-lived getting revamped after the 1973 model year.
 The late '60s became a time of rapidly changing safety regulations enforced on car makers. Buick made changes to the Riviera for '72, but there were so many changes in '73 that Pin considers the 1973 Riviera to be a different car. One thing all three years of the 3rd generation Riviera had in common was the standard Buick 455 cubic-inch big-block V8. 
 Now that we've introduced Pin, let's move on to this masterpiece. Pictured here is a 1972 Riviera named "Elvira 2." And yes, the car is named after the 80's horror movie hostess and sex icon Elvira, Mistress of the Dark. Pin said, "When I look at the curvy rear quarter panels, I picture Elvira laying on her couch." When he put it that way, it clicked, and the nickname made sense. 
 But wait, why Elvira 2? That's because Elvira 2 isn't the first Mistress. Pin and team built Elvira 1 in 2014 for the SEMA show and in 2015 when Elvira 1 was featured in the Lexani wheels SEMA booth, it made a huge impact. Their Riviera stole the spotlight from a multitude of hypercars and luxury cars normally reserved for royalty.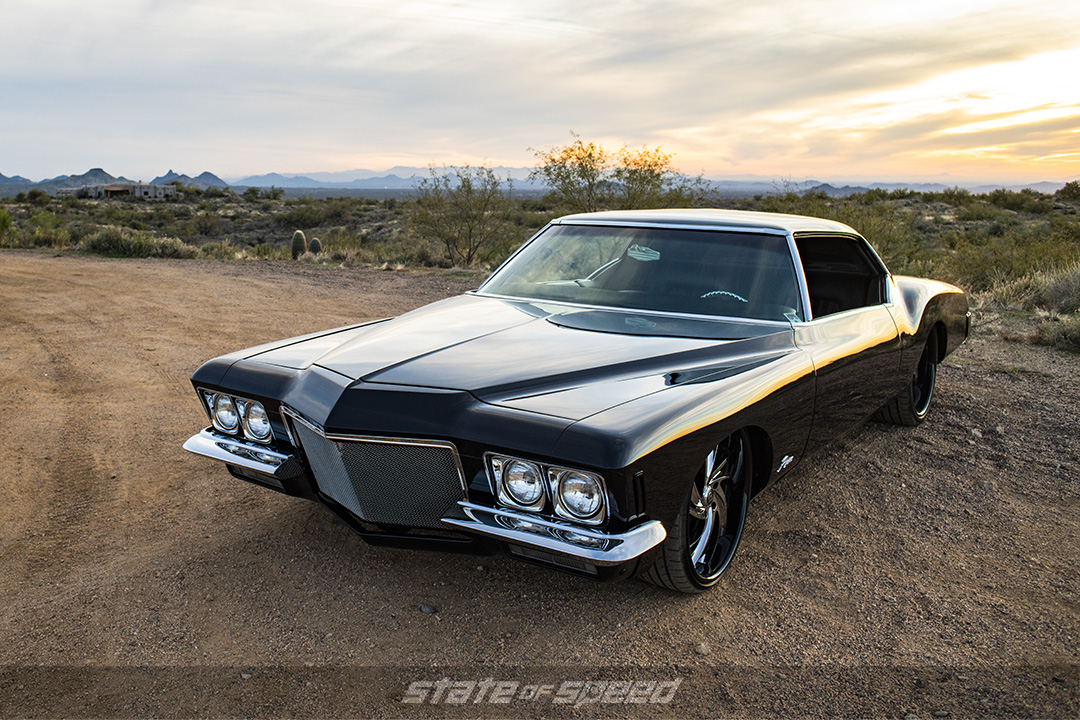 Pin, and his crew built Elvira 1 for Pin and swore he'd never sell it. You gotta hand it to Pin, he stuck to his guns. Even after Lexani's Dubai dealer, who isn't accustomed to hearing no, offered absurd sums of money, Pin didn't sell the car. Instead, Pin promised to duplicate the original, and build Elvira 2 as a car he would sell for the right price. 
SoS asked Pin if Elvira 2 is identical to Elvira 1, to which he replied "People think it's the same car with different wheels. But it's an evolution of Elvira 1. The team and I did several things differently." While we could compare all the similarities and differences between the two builds, let's stick to Elvira 2 for this article. 
…"I've had a thing for Rivieras since I was a kid. My dad had one, and I remember riding in it down to the Detroit River,"

.

..
After the fanfare, Pin's friends & partners started hunting down another Riviera for Elvira 2. They got a tip about a guy in Pheonix, Arizona who had not one, but three, Rivieras. Pin purchased all 3 from the owner, and that same day got a tip about another. Pin went from having one Mistress of the Dark to having a total of five before the day's end. "Elvira 2 was rough when we got her. First thing the guys did was pull the body off the frame, soda blast it all, and get it on a rotisserie to begin a full resto-mod."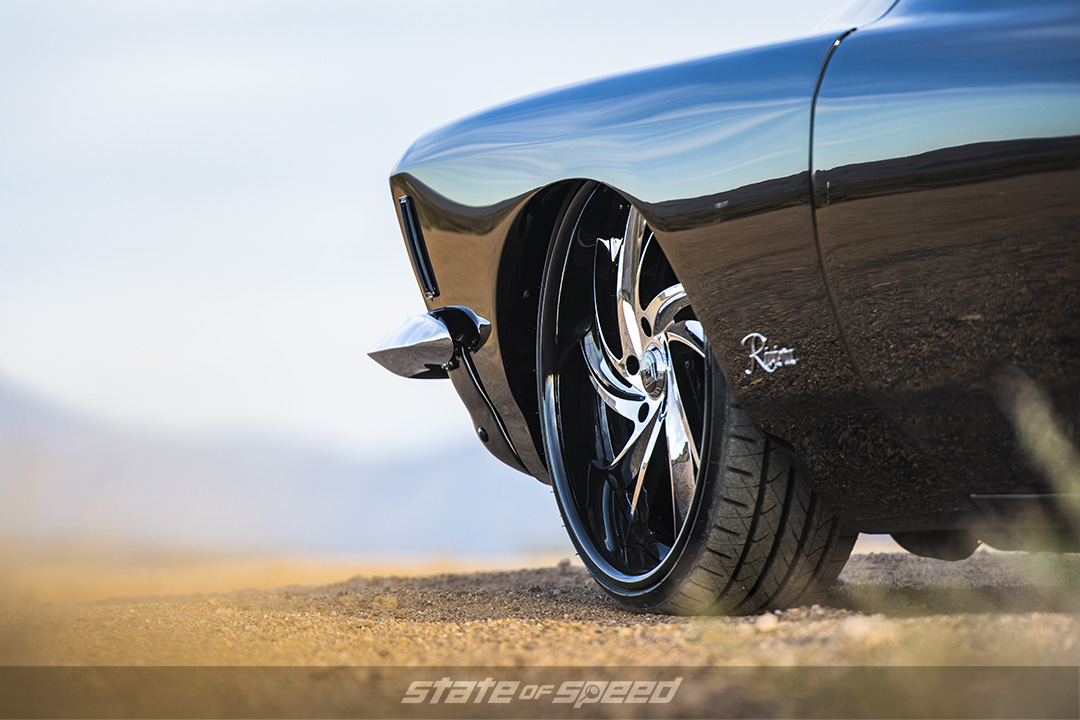 Elvira 2 is far from stock, but much of what makes this build impressive was so cleverly done that it's not obvious. Besides the PPG Corvette Black paint, and freshly re-chromed trim, the next thing that draws your eyes are the custom three-piece Lexani wheels. The wheels are an impressive 22×9 up front and 22×11 rear. Barely noticeable due to the ultra-low aspect ratio are the Milestar MS932 XP+ Ultra High-Performance tires in 255/30R22 and 295/25R22. Behind the Lexani wheels are one-off custom 15" Wilwood disc brakes.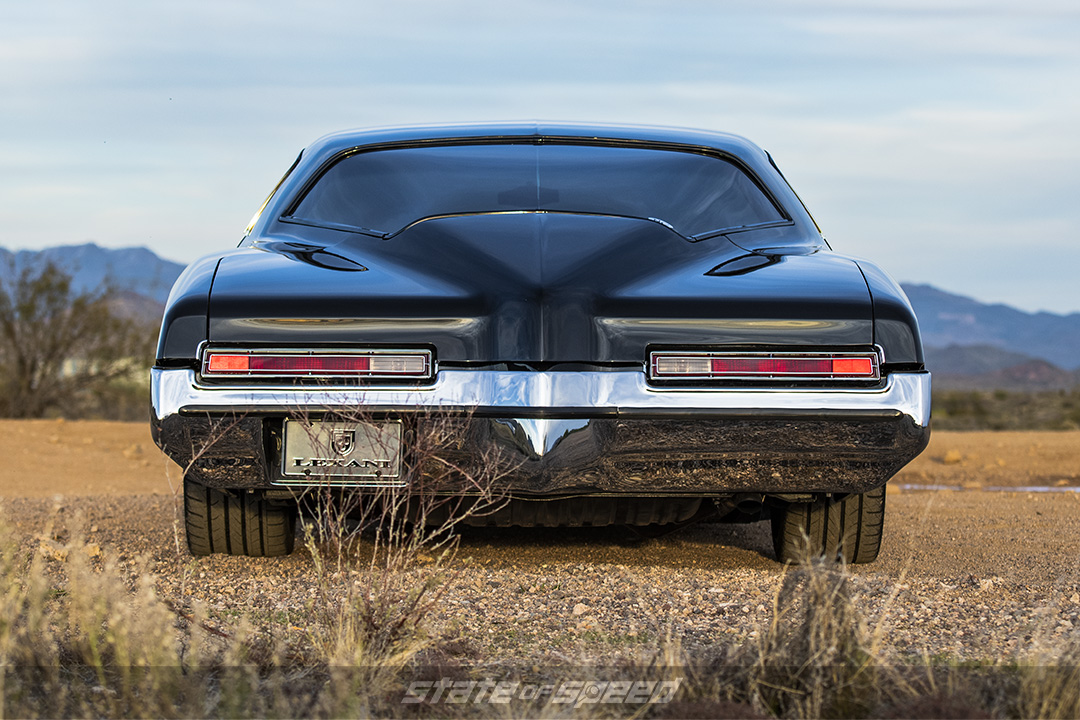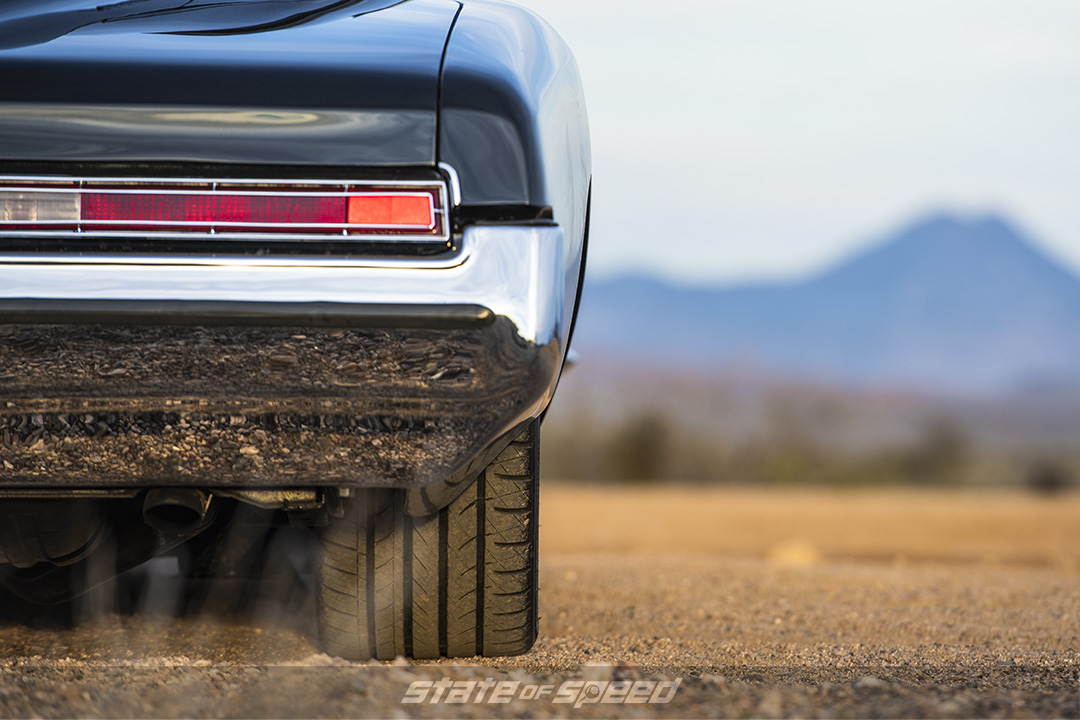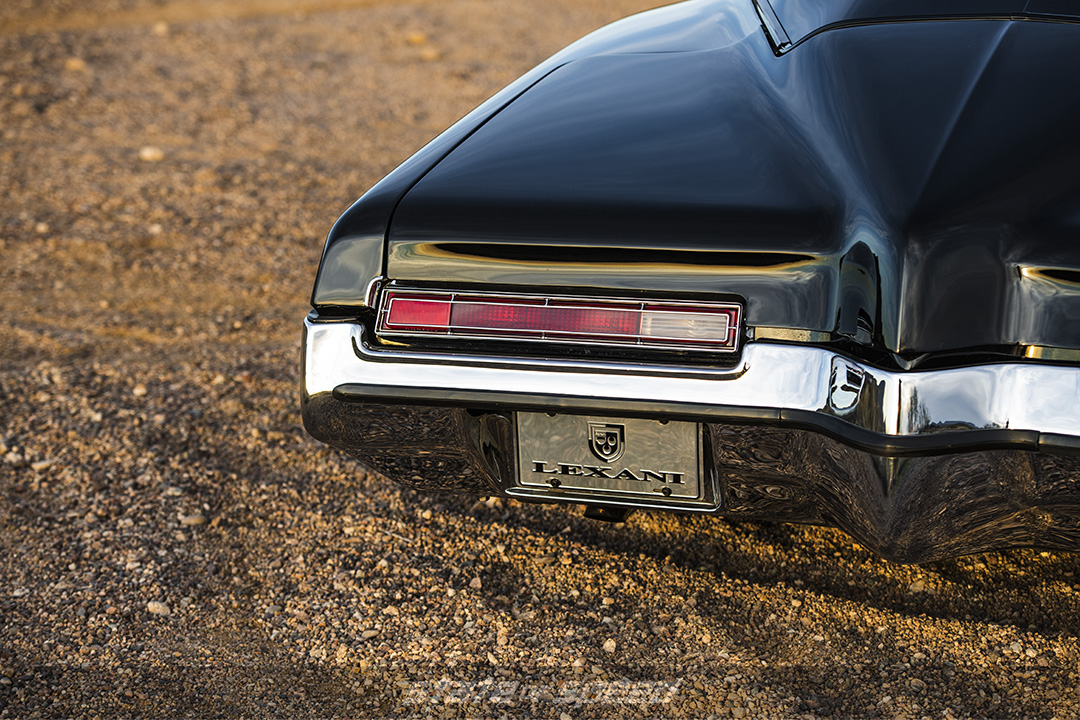 What you can't see, but certainly notice thanks to Elvira 2's stance, is the heavily worked Riviera suspension and adjustable Accuair air-suspension. "The air ride suspension has presets for different heights and will auto-level if passengers get in," said Pin. If you're lucky enough to find Elvira 2 sitting high enough to look under it, you'll also notice the powder-coated frame, suspension components, and the fabricated Currie Enterprises rear end which replaced the factory GM 14-bolt. 
Step a little closer, bend down a little lower, and you'll see the custom touches in Elvira 2's interior. Look below the beltline and you'll notice the front seats. Head restraints became mandatory in 1969, but Pin doesn't like looking through a car with headrests impeding your view. Purists might notice the front seats in Elvira 2 aren't just missing the headrests, but they aren't Riviera seats at all. "These are 12-way full power, adjustable lumbar Cadillac seats heavily massaged for Elvira 2," said Pin. Covering the seats, as well as the interior, is beautiful Relicate Leather. The seats got a long diamond stitch pattern inspired by the Bugatti Chiron.
The dash, and bezels look custom but other than wrapping the dash in leather, they're factory. What was changed is the addition of a Holley Pro Dash gauge cluster and the single DIN Bluetooth-capable Alpine head unit. The center console is custom and houses components of the Rockford Fosgate audio system, and Accuair controls. If you can see through the light reflecting in your eyes, there's a custom billet aluminum steering wheel made by Bill Hancock at Colorado Custom.
By now gearheads are wondering what's under the hood, asking questions like, "Is it all show and no go? Is it LS swapped?" Well, the answer to both questions is no. Both Elvira 1 and Elvira 2 retained a 455 big block, and in the case of Elvira 2, the engine has been massaged by the folks at TA Performance in Scottsdale, Arizona. TA is a specialist in Buick engines and outfitted Elvira 2 with their Stage 1 aluminum cylinder heads, and intake manifold machined for tuned port injection. The bottom end has forged internals and the 455 now sits at 462 cu in of displacement. 
Immediate exhaling of spent gases is handled by a set of TA exclusive Buick big block headers mated to a custom Magnaflow exhaust system, designed, fabricated, and installed by the folks at Magnaflow themselves. Shifting duties are still handled by a Turbo-Hydramatic TH400 automatic transmission built by Hughes Performance turning the 3.73:1 differential ratio inside the Currie housing. 
…"it was a name given to me by a friend in the early 90s and it stuck."

.

..
Pin and team debuted Elvira 2 at the 2018 SEMA show in the Magnaflow booth. Around this time Pin also relocated to Scottsdale, AZ taking the business with him but on a smaller scale. No longer known as Pin Did It, the shop is now called Revelations, Inc. The name is a play on words, taking inspiration from both the Book of Revelation and the sense of elation that comes from revving an engine. "Elvira 2 was the debut build for Revelations, Inc. We're a tight-knit team. I couldn't do this without my guys Steve Edling, and mechanic Cadillac Joe. I also have to give it up to our industry partners. Without a solid team, and great sponsors, none of this would have been possible," said Pin.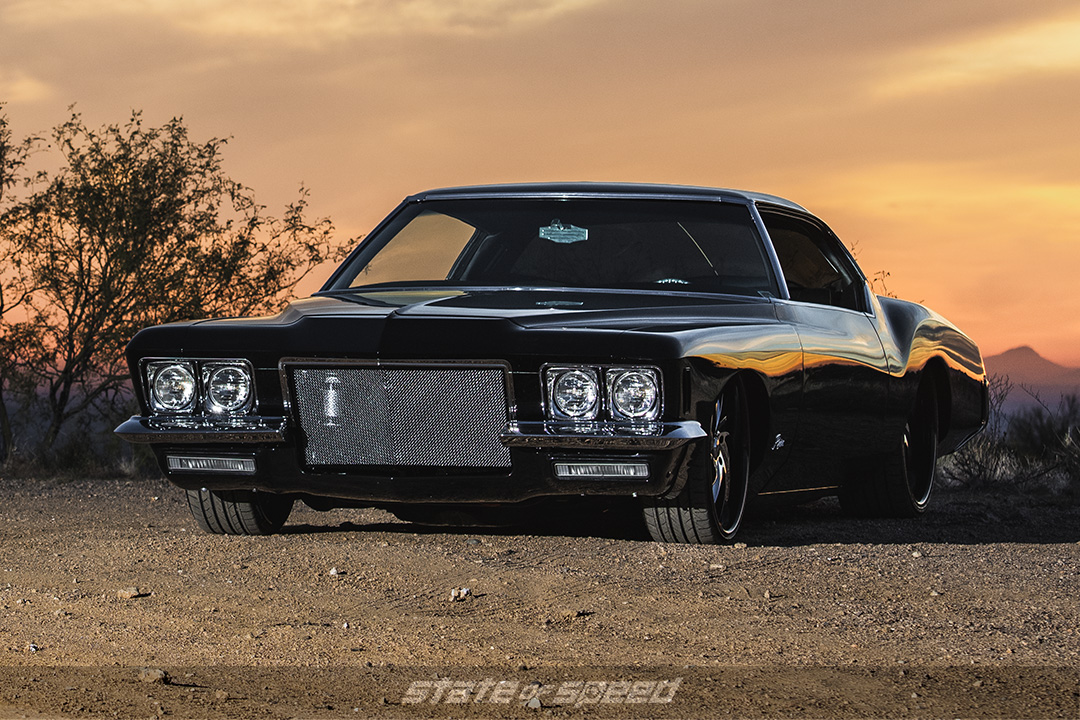 What's next for Pin? When asked, Pin said Revelations, Inc. is working on a full reboot of Elvira 1 taking her even further than Elvira 2. They're also doing a revamp of a 1961 Cadillac convertible they had previously built. This time it's getting a twin-turbo LS3 and they plan to debut it at the 2022 SEMA show. During the interview Pin never mentioned what's in store for Elviras 3 through 5. But perhaps trying to keep two Mistresses of the Dark is more than anyone can handle?