An Award Winning 1970 Ford Mustang Mach 1:
From Boyhood Dreams to Retirement Reality
We recently had a chance to speak with Dennis McGrath after noticing his beautiful pearl white 1970 Ford Mustang Mach 1. This particular car holds a special place in Dennis' heart, and while he only acquired it in the last few years since retiring, his history with this Mach 1 goes back much further; as does Dennis' love affair with the Ford Mustang.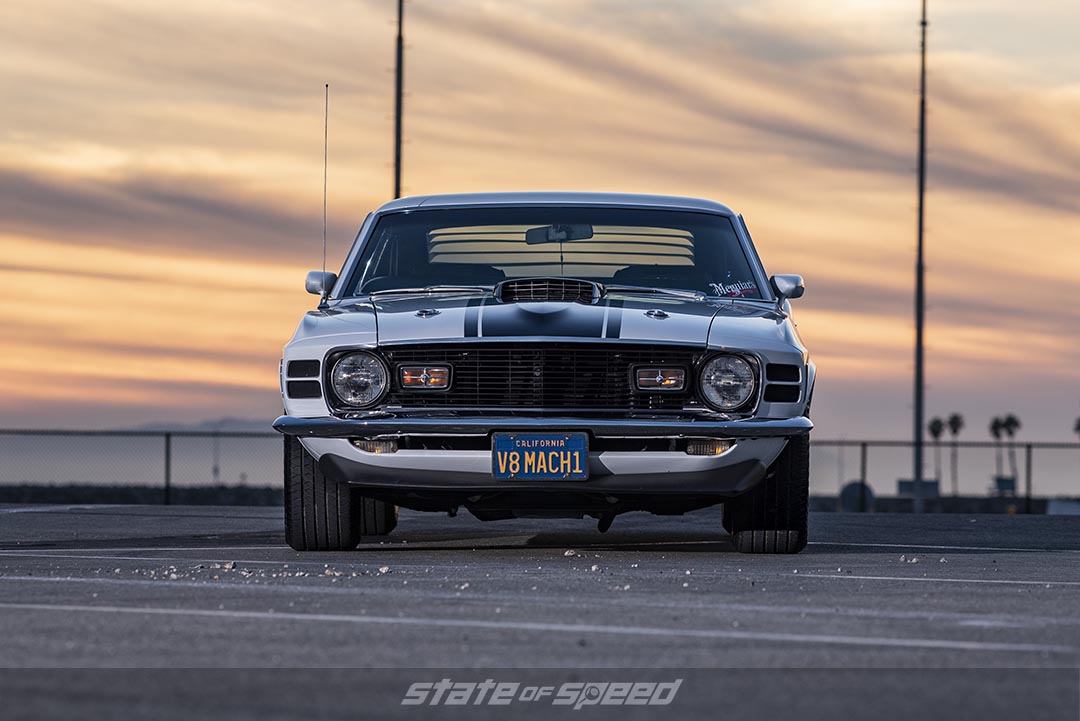 When asked when he first found himself drawn to the car that jump started the "pony car" craze, Dennis stated, "I've loved Mustangs since elementary school. Back then, all my friends and I wore Mustang jackets." However, it wasn't until years later that Dennis acquired his first Mustang, and it wasn't the 1970 Mach1 in this article.
In fact, Dennis' first Mustang was a 1969 Mustang SportsRoof, more commonly known as a Fastback. He bought this car around 25 years ago, and as Dennis said, "it took about 18 years to finish it since I was working at the time." His '69 started life as a fairly base model SportsRoof complete with a 250 cu in Thriftpower I6. That car was a substantial project and became a complete restomod, while the 1970 Mach1 shown here is mostly original.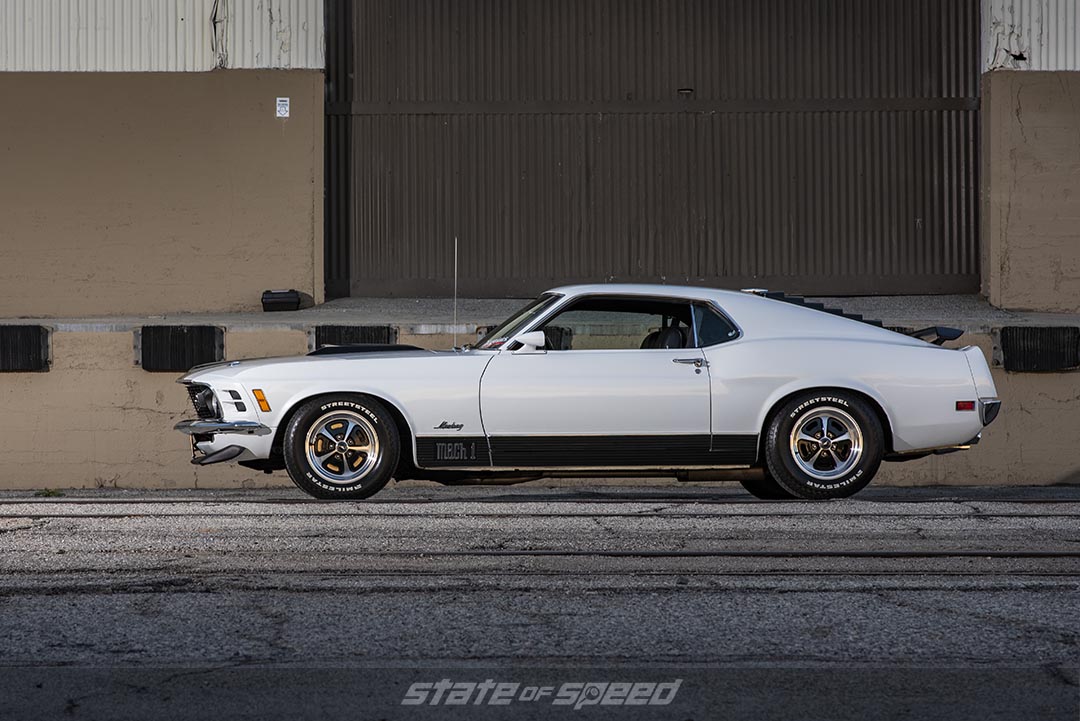 "I've loved Mustangs since elementary school. Back then, all my friends and I wore Mustang jackets."
Dennis is a Southern California native, and is now retired from his career with Ralphs, a supermarket chain also based in SoCal. His very first boss was the second owner of this 1970 Mustang Mach1. He had bought it nearly forty years ago, and kept it garaged for the 35+ years he owned it. Dennis had always been fond of his boss' Mach1, and when his former boss decided it was finally time to sell the car, he reached out to Dennis who didn't even hesitate to say he'd buy it.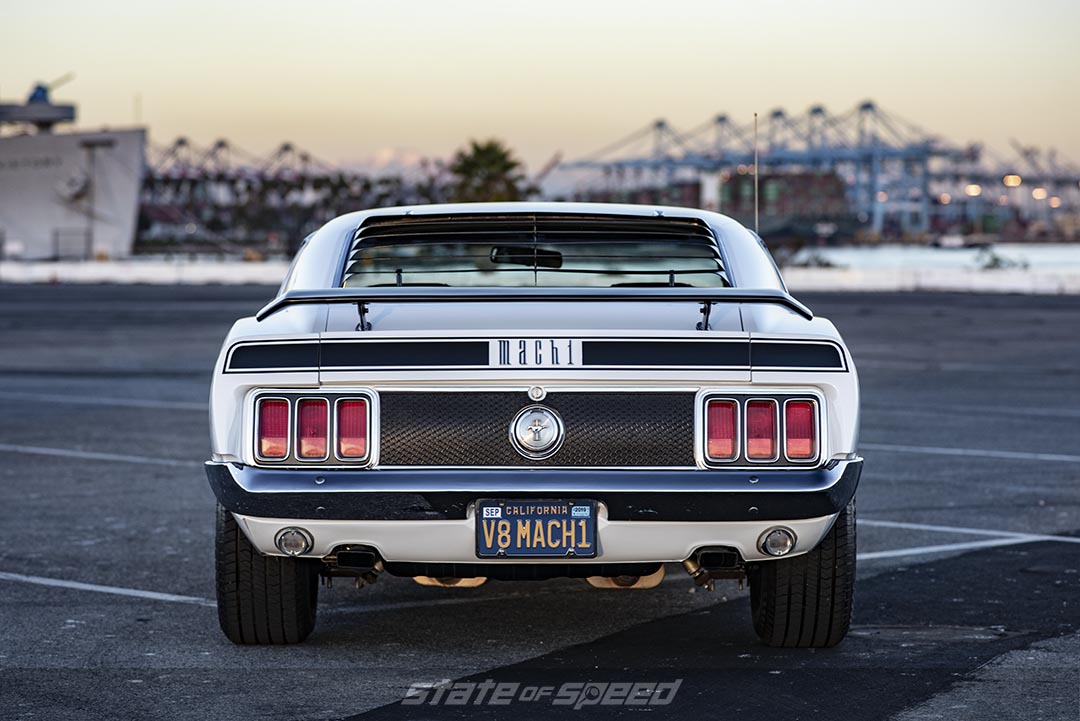 That's where Dennis' wife comes into the story of this Mach1. Since Dennis already owned his '69 Fastback, he decided the '70 Mach1 would be for his wife Jennifer. Understandably, Jennifer was a bit apprehensive about driving such a fine example of automotive history. However, she's grown comfortable with it, and really enjoys the car. So much so, that Dennis' newest project car was requested by his wife. It's a 1955 Chevy big window pickup, which happens to be the same year, make, and model of her brother-in-law's truck that Jennifer learned to drive in.
As we already mentioned, Dennis' Mach1 was lovingly cared for and garaged its entire life. Which meant, that Dennis didn't have a ton of restoration work to do. "I did everything myself, except for paint," he said. Dennis went through the car replacing most of the typical wear and tear items. He purchased new OE style TMI seat covers since the originals were worn. The car still has the original dash, headliner, and wooden steering wheel. Even the classic horn ring still works properly, and as Dennis said, "most of them don't work at all any longer, or if they do, are a bit intermittent."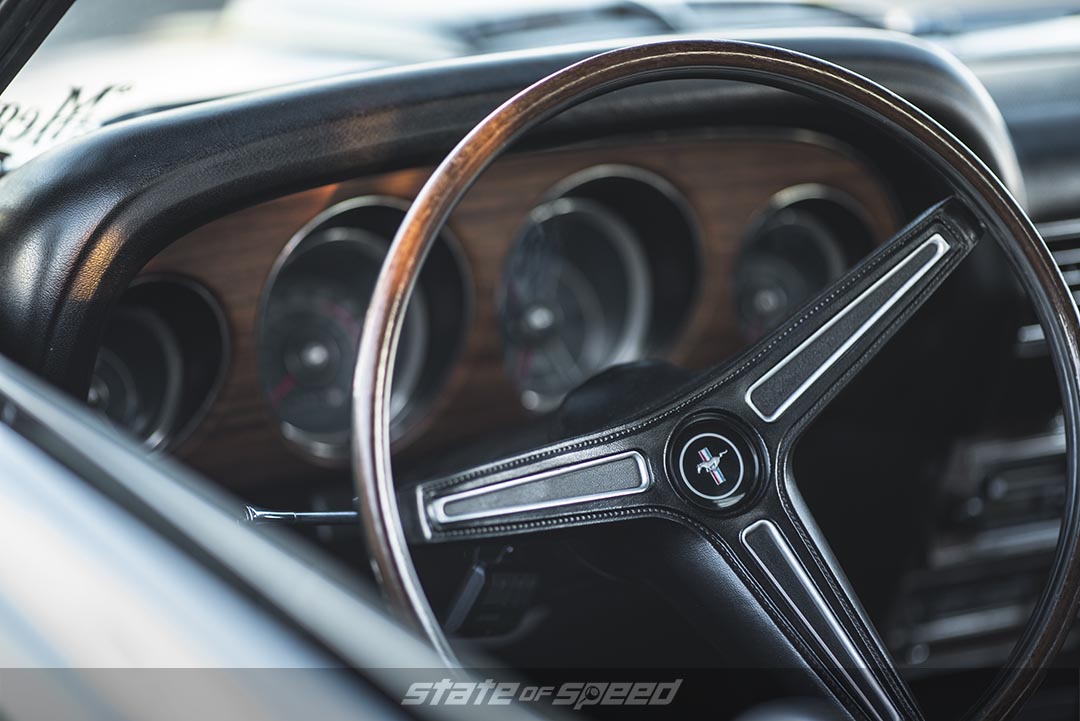 Dennis' restoration job was fairly simple, even underneath the hood. When asked if he rebuilt the 351 Cleveland 2V engine, Dennis chuckled slightly and said, "it only has 94 thousand original miles on it. I didn't need to do anything to it." Sometime during his former boss' 35 years of ownership, he had an aftermarket Crane cam, lifters, and springs installed. "It has a really nice idle with just enough lump in the cam."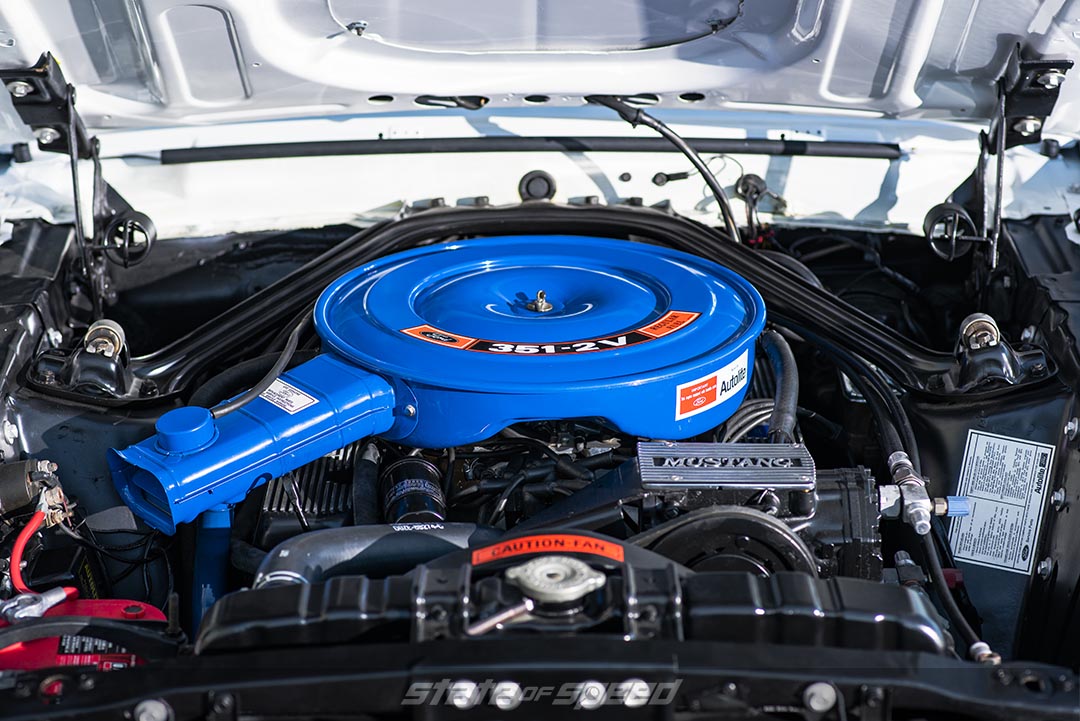 To complement the aftermarket cam, Dennis swapped the original 2-barrel intake manifold and carburetor, to a 4-barrel aluminum manifold and Edelbrock 600 CFM carb. Dennis stated, "this really woke the car up, and even though the 4-barrel Cleveland heads make more horsepower up high, the 2-barrel heads jump off the line quicker."
Besides the intake manifold and carb, Dennis also added a Griffin aluminum radiator and dual electric fans set up to push air from the front while retaining the original mechanical fan. Dennis has never had the car on a dyno, however, Ford rated the 351-2V Cleveland engine at 250HP from the factory. It would be safe to assume that the aftermarket cam, and addition of a 4-barrel carb would significantly move those numbers in the right direction.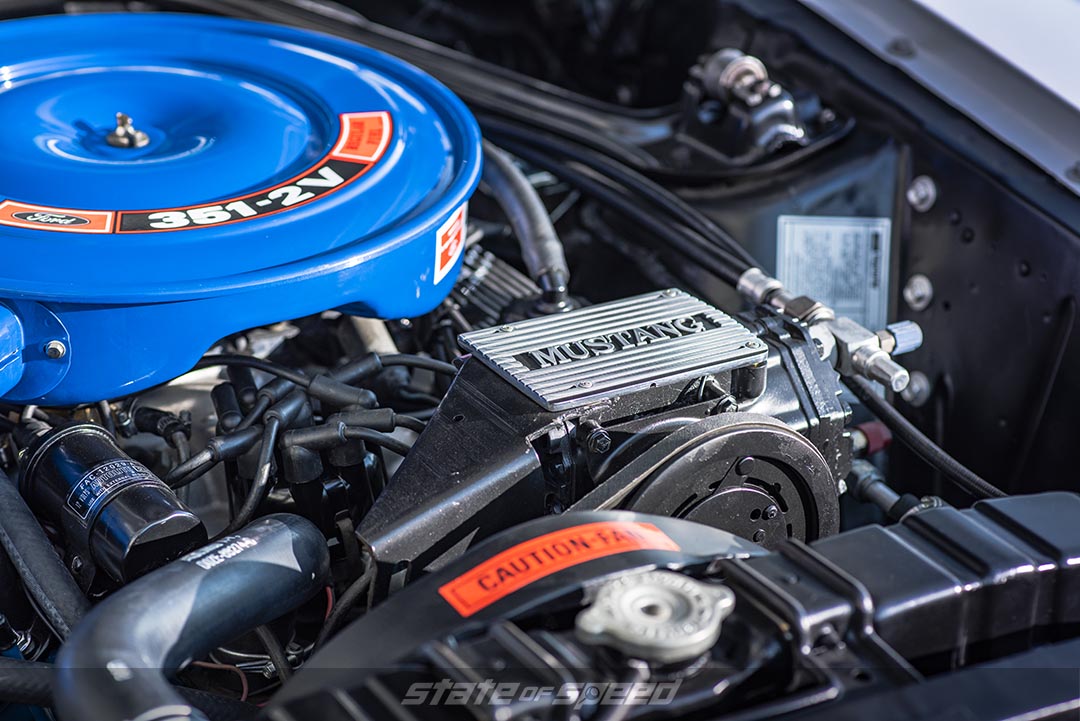 Outside of that, the car is mechanically very original. Wear & tear steering and suspension parts were replaced with units from Moog, and the 50-year-old springs were replaced with aftermarket lowering springs from Hotchkis sport suspension. "It was supposed to lower the car 2 inches out front and one in the back," said Dennis. He continued, "but it was more like 3 inches up front and 2 in the rear." Dennis said he checked, and everything still cleared, so he was happy with it.
Behind that 351 Cleveland is Ford's FMX automatic transmission which connects to the stock 3.0:1 final drive in a Ford 9" open rear end. Getting that power to the ground are some classic-looking Milestar Streetsteel radial tires complete with raised white lettering. In the front, Dennis runs a 235/60R15 with a slightly wider 245/60R15 outback. These are wrapped around a set of 15" American Racing VN500 wheels which give the factory look of a Magnum 500 wheel, but with aluminum construction.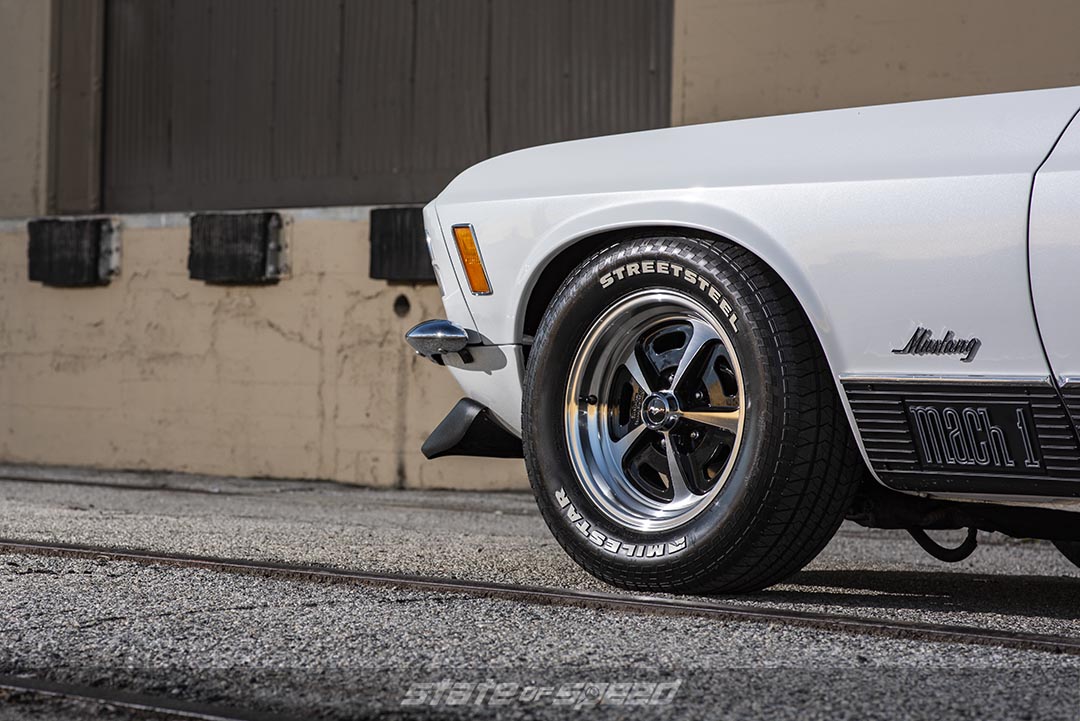 "It only has 94 thousand original miles on it. I didn't need to do anything to it."
The paint is about the biggest area where Dennis strayed from the original. While the Ford Mustang  Mach 1 was originally white, the color he chose was a Lexus Ultra White Pearl. When asked why he chose this color, Dennis replied, "I was going to repaint it the original white. But the body shop I use does a lot of work for a Lexus dealership. I saw all these white cars coming and going, and decided I wanted the brightest white out there." He also mixed it up a little with all the badging and stripes. Instead of using decals, all the stripes and badges are painted on. For that Dennis chose a black pearl with a touch of blue pearl mixed in giving it a color-changing effect in certain lighting.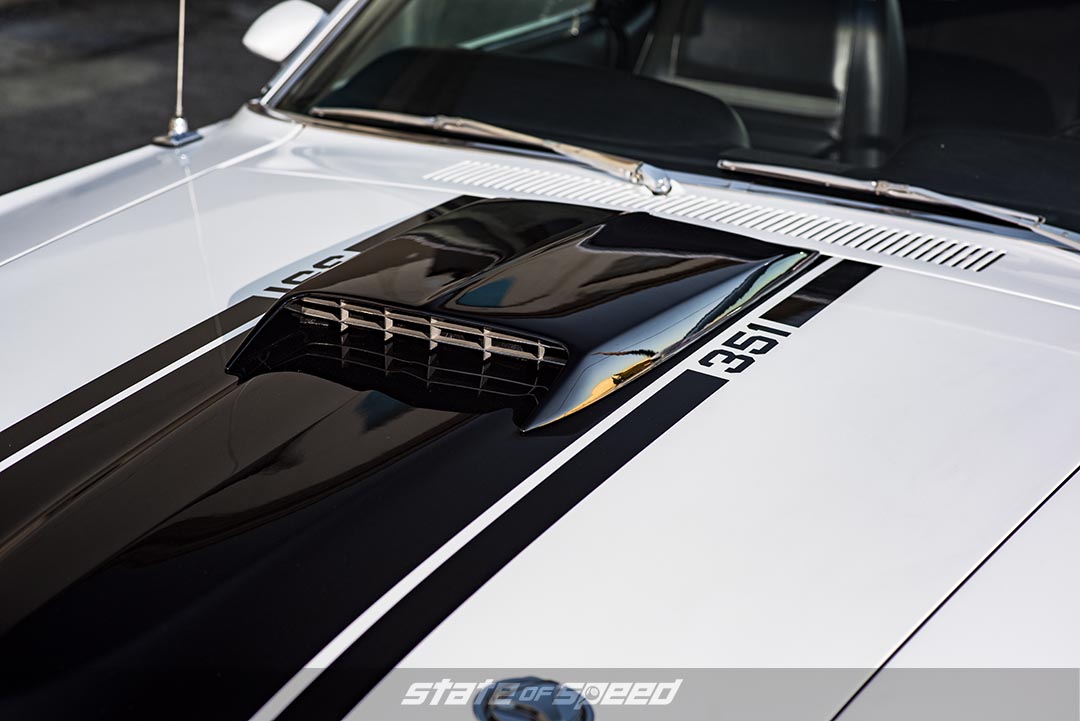 If you don't believe that life begins after retirement, Dennis McGrath is here to prove you wrong. While his first build took 18 years while working, Dennis has completed 2 cars and started a pickup truck build in the 5-1/2 years since he retired. Although the '66 Mustang A-Code convertible project already sold, we're looking forward to seeing how his '55 Chevy big window turns out and hopefully doing another feature here. If his past builds are any indication of the future, it's sure to be another show winner.